8 Best Lok Lok Places In Singapore To Fill Your Lok Lok Cravings [2022]
Gee, 3 years ago
8 min

read
9738
Similar to Malacca's sate celup, Lok Lok is a communal dish consisting of various deep-fried foods such as meats and vegetables. That is served on a skewer and lastly, dipped into delicious thick homemade sauces. No doubt, the best Lok Lok is found in travelling vans in the streets of Johor Bahru – across the causeway. It is also best eaten while being seated next to the dusty road and surrounded by a bunch of good friends. Despite how unhygienic Lok Lok may seem, however, it is a truly unique experience on its own. Once you get used to it, of course!
Here in Singapore, finding the legendary Lok Lok vans are a rarity but that doesn't mean that there are no shops that serve them. Several Lok Lok restaurants are making waves here due to the growing popularity of Lok Lok among Singaporeans.
So without further ado, here is the list of the Best 10 Lok Lok places in Singapore. That are not just your regular steamboat on a stick.
True to its name-sake, Malaysia Local Delights serves Singaporean style Lok Lok. But albeit, with a Malaysian twist. You find that their Lok Lok has a slight Malaccan flavour. Aka is similar to the infamous Capitol Satay Celup outlet located at Lorong Bukit Cina in Malacca. Served in a typical buffet style, the restaurant offers a wide array of 70 different dish sticks and 22 sauces. Other than the usual assorted meats and skewered vegetables, you have to try their abalone skewers.
It is perfect for those who have a taste for the unusual. Novelty freaks can go for the iconic Angry Bird fishcakes or the eccentric sounding but popular "Sweet Intestines" meats. The soup bases here are also to-die-for! With 8 different soup bases to choose from, we recommend that you go for their bestselling Penang Prawn soup. For dipping purposes, pair your dishes with their special nutty peanut sauce.
| | |
| --- | --- |
| Address: | 224 Tanjong Katong Rd, Singapore 437015 |
| Opening hours: | Monday to Sunday, 5 pm to 2 am |
This old-timer is another Malaysian style Lok-Lok establishment that is catered to suit the taste of Singaporeans. However, their satay sauce bears zero resemblance to the Malaccan style of Lok Lok as aforementioned above. What makes Chuan Le Xiang unique is due to its 25-year-passed down Singapore family kept secret extracted from Satay Bee Hoon. Imagine skewers of chunky delights fried to perfection. That is then finally dipped into their delicious homemade satay based sauce.
As a result, you get to enjoy the best of both culinary worlds. Aka Lok Lok infused together with local satay bee hoon. Besides the hot-selling satay based sauce, you can also opt for their chicken and mala which is equally good. Since each stick goes as low as $1, this is the best place for all your Lok Lok cravings!
Address:
23 Neythal Rd, Singapore 628588
Opening hours:
Tuesday to Sunday, 5.30 pm to 10.30 pm
Closed on Monday
Unlike other Lok Lok buffet establishments, Zaolek Lok Lok is a notch above the rest due to its unlimited dining options. For starters, it offers up to 60 different types of skewers. Ranging from standard items to the more premium types. Here, all of their ingredients are sourced freshly from the best food suppliers in the region. But we recommend you skip the boring stuff such as processed fishballs and go for their stand out dishes instead.
Highlights at Zhao Lek are their giant, sea harvested fresh tiger prawns. Firm to the bite outside but juicy in the inside, these whoppers are best eaten either boiled or bbq-ed. So to get the most out of its naturally sweet taste. For that extra savoury kick, paired them together with Zhao Lek's huge variety of sauces.
Address:
28, #01-03 Tai Seng St, Hainan Foodcourt, Singapore 534106
Opening hours:
Monday to Thursday, from 10 am to 3 pm
Friday, 10am to 3pm – 5 to 10.30pm
Saturday, 10am to 2pm – 5 to 10.30pm
Sunday, 5 to 10.30 pm
Can't get over the recent cheese craze? As overhyped this culinary trend might be, JQ Pot promises that it does not jump directly into the stereotypical bandwagon. Unlike other similar Lok Lok outlets, JQ Pot uses nothing but the highest quality cheese that makes you scream "I want more!". The cheese used is a heavenly infusion of both nacho cheese and mozzarella, resulting in a boiling pot of gooey melted cheese.
To get the best out of the cheesy goodness, all you have to do is to dip the skewered ingredient of your choice into it until it is fully cooked. Then, you can continue downing the addictively warm melted cheese like water due to the unlimited free refills. If cheese is not your thing, you can go for their other more standard soup bases options that are available on the menu.
| | |
| --- | --- |
| Address: | 157 Kitchener Rd, Singapore 208529 |
| Phone: | +65 8187 9797 |
Let's be honest. Lok-Lok is not something for those with a weak stomach due to its unhygienic cooking methods. But fret not as Steamov(Shi Shang Lok) Lok Lok is here to change all that. The restaurant provides each patron with their hot pot so that they can pick out the skewers that they want as it passes by on the conveyor belt!
Aside from that, Steamov Lok Lok is one of the only Lok Lok restaurants in Singapore that offers more than 10 soup bases. With uniquely appetizing names such as Tomato Pot, Spicy Mushroom and, Black Chicken Pot, soup enthusiasts are in for a soupy treat. Additionally, it is no kept secret that all the soup bases are prepared with the freshest ingredients and simmered for hours for that full flavour. So that you can enjoy drinking them to the very last drop!
| | |
| --- | --- |
| Address: | 325 New Bridge Rd, Singapore 088760 |
| Opening hours: | Monday to Sunday, 11 am to 6 am |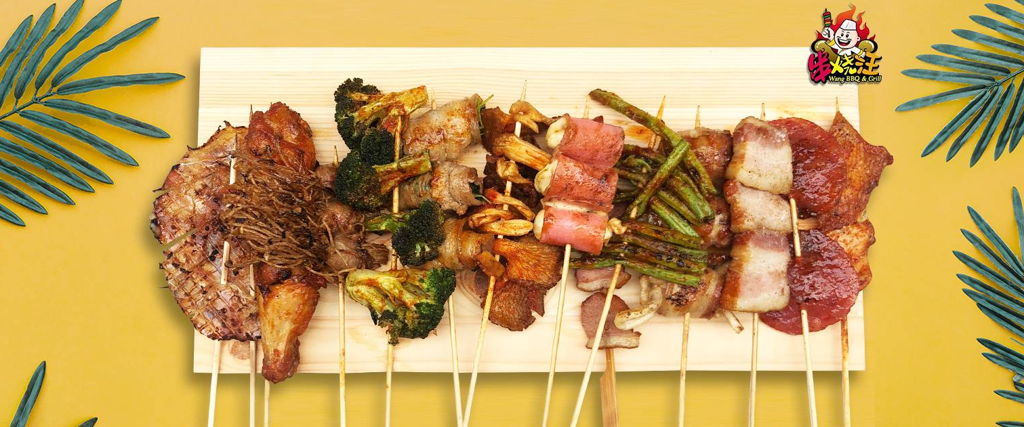 As one of Singapore's pioneering Lok Lok stalls, Wang BBQ and Grill may seem like your typical Lok Lok seller at first. But as you savour their skewers of delectable goodies, you soon discover that there is more than it meets the eye. Selling more than 55 types of Lok-Lok, they cater to not just the regular palate but those with a more acquired taste as well. Fancy an East Meets West fusion of soft bouncy udon wrapped in succulent pork belly?
Well, Wang BBQ and Grill got you covered with this unusual style of Lok Lok. As the saying goes, with great food also comes with a heavy price tag. Therefore, expect to wait for at least 45 minutes for your Lok Lok to be fully cooked. As you sit around, you can enjoy the vibe of the bustling crowd since the stall is located at the popular Chomp Chomp food court.
Address: Chomp Chomp Food Centre, 20 Kensington Park Rd, Singapore 557269
This Lok-Lok stall is reputably known as one of the best Lok Lok sellers in Singapore. With fans coming in even as far from Malaysia, Hong Leng Satay Bee Hoon & Lok Lok is an entity in its own right. Serving a great variety of skewers such as assorted meats to the freshest seafood, you can opt from two soup broths to dip the skewers in.
However, we recommend that you go for straight for their signature sate based broth – a heavenly thick nutty mixture that consists of finely crushed peanuts and spices. Sweet and savoury altogether, it is the perfect condiment for dipping your favourite Lok Lok. Also equally as good is their clear chicken broth. Light tasting but fully flavoured, it is so delicious that you can even drink it on its own!
Address:
Old Airport Road Food Centre, #01-141, Old Airport Rd, Singapore
Opening hours:
Thursday to Sunday, from 4 pm to 9 pm
Closed on Monday to Wednesday
This And Mo Kio eatery is one of the newer Lok Lok outlets in Singapore. The stall is located just right inside a coffee shop, where they sell Johor Bahru style Lok Lok – minus the burning price tag. Offering a brilliant assortment of meat and vegetable products, their Lok Lok is the freshest in town due to one reason. All of these deep-fried skewered delights are stored immediately inside specially heated food warmers to keep its freshness and crisp intact.
At merely $1 per stick, you get your best bang of the buck despite Lok Lok being slightly more expensive here. Also, you get your choice of signature dipping sauces – all fully homemade by the stall's proprietor. With Loklok 1991's by Daniel and Meng, now you can eat all the delicious and cheap Lok Lok you want anytime!
Address:
340 Ang Mo Kio Ave 1, Singapore 560340
Opening hours:
Monday to Sunday, from 6 pm to 2 am
Closed on Thursday
With that, we conclude our list of Best 8 Lok Lok Places In Singapore – from homegrown to Malaysian style. Whether they have a timeless or current appeal, you know that you can count on them anytime for satiating your Lok Lok cravings. Well, not just your typical good old fashioned type of Lok Lok, but the "crème-de-la-crème" of all its kind here!
However, if you fancy something more conveniently halal, then check out our list of Best 10 Halal Food Delivery In Singapore!
Written By: Lim Su Yee
Related posts
Subscribe for newsletter
* You will receive the latest news and updates on Singapore's best trends!