19 Best Foldable Bicycles in Singapore [2022]
Emily Hopkins, 2 years ago
18 min

read
70965
Foldable bicycles offer great convenience to the user. Gone are the days of worrying if our precious bicycles will fit in public transport, cars, or vying for those limited parking racks. Thanks to the latest and ever-improving designs of foldable bicycles, it has never been easier to bring your bicycle along wherever you go.
If you're in the market for a foldable bicycle, look no further! The research we've done will introduce you to the ins and outs of all things foldable and help you narrow your search to find the best foldable bicycle for you. With that, here are the 19 Best Foldable Bicycles in Singapore. Ride on!
Reasons for a Foldable Bicycle
i. It is Convenient and Portable
You might ask: "Why foldable bicycles? What's wrong with our usual one?" One word – convenience.
It might be hard to navigate around with a bicycle, especially when you need to drop it off at the nearest MRT station before work. With a foldable bike, you are able to fold it down to a neat and compact size before you bring it along into the MRT or bus.
ii. It is Easy to Operate
The notion of folding and unfolding a bicycle might sound overly cumbersome for some, but it's much easier than you think. Most foldable bikes have a 3-step mechanism to fold/unfold. Simply retract the seat and handlebars, and fold your bike in half. That doesn't sound too hard, does it?
iii. It is Space Friendly
In land-scarce Singapore, storage space is always a concern when we make purchases. Thankfully, such worries are negated with foldable bikes. They can fit almost everywhere. You can store them under an armchair, inside the storeroom, under your bed, or even hang them up on the wall.
iv. High Resale Value
There is a rise in demand for foldable bikes. It is popular, even in the second-hand market. So if you decide to sell it at any point in time, you can most likely get a good resale figure.
Bolt Classic® Foldable Bike



Best Overall Bike | Highly Affordable

Why Bolt Classic?
✔️ Prices from $390
✔️ Affordable and Sleek
✔️ Extremely Comfortable
✔️ Picks Up Speed Fast
✔️ 3 Steps Folding Process
✔️ Free 7 Days Trial
Visit Shop
The birdy



Best Lightweight Foldable Bike

Why The Birdy?
✔️ Prices from $2,849
✔️ Lightweight At Only 10.9 kg
✔️ Large Selection of Bike Models
✔️ Multiple Colours Available

Visit Shop
Brompton Foldable Bike



Good Overall Choice

Why Brompton?
✔️ Prices from $2,580
✔️ Designed for Day to Day Use
✔️ Small Wheels for Fast Acceleration
✔️ Can be Further Customised
Visit Shop
Price: $390 $450 (Discounted Price)
Folded Dimensions: 60(H)x83(L)x63(W) cm
Weight: 14.8kg
Gears: 7-speed

The Bolt Classic® foldable bike pretty much has everything we would look for in a bike..
Not only is the bike very comfortable, but it's also fast! Just a light push on the pedal lunges the bike forward, which is one of the reasons this was our favorite bikes from this list (so fun!)
Another very surprising thing about Bolt is that they offer a free 7 day trial! They are the only company in Singapore to do so – from our research. Basically, if you decide the bike is not for you, you can simply return it to them and get a full refund – no questions asked!
We thought this was super convenient because it means you can just order the bike and try it in your own home! This is a god-send for lazy people like me that hate travelling from one end of Singapore to another just to try something hehe.
But going more into the bike details themselves: another surprise is that this bike is quite high-tech for its price range. It has a specially-designed "Capisco" bike saddle, a special V-tuned Geometry™ and a MaxAbsorb™ suspension frame – which make the Bolt Classic a joy to ride one – because it's such a smooth ride. Kind of like how it feels to ride in an electric car on a very flat road!
Made from very light aluminium alloy, the Bolt classic is very easy to carry around. It actually weighs only 14kgs which makes it a good commuting companion.
We also found the folding process to be fast and easy! It took us about 3 steps and 6-8 seconds to fold and unfold the bike once we learnt the process.
Overall, you would be pretty crazy not to think about getting this bike! It really is a risk-free purchase, seeing as you can return it and get a refund. And chances are you probably won't, because this bike was one of the most fun and good-looking bikes to ride out of this list.
Our verdict: this bike deserves all the great reviews it has! It's affordable, it's sleek and it's extremely comfortable and fun to ride. Really good value for money, and highly recommended!
Notable features:
Comfortable, light in weight, and portable.
Designed in Germany – high quality
Very ergonomic and sleek-looking
The only company in Singapore to offer a 7-day free trial
Free delivery, free return
2. The birdy – Best Premium Light Weight Bicycle
Price: $2849
Folded Dimensions: 60(H)x72(L)x33(W) cm
Weight: 10.9kg
Gears: 9-speed
Did you know that Birdy Bicycle is made in Taiwan? Their bicycle has outstanding features designed for excellent performance, comfort, and quality.
This is ideal for those looking for fast foldable bicycles. Birdy Bicycle is known as the record folder. The fastest folding time for Birdy is known to be 4.9 seconds. Though it takes some time to get used to the folding before you can do it with ease, it will be very convenient once you get the hang of it. Practice makes perfect!
In addition to Birdy's fast and compact folding capabilities, its quick and sporty ride features make Birdy one of the most impressive folding bicycles on the market.
It has a sturdy frame making it ideal for different types of terrains. The bike offers full suspension that makes bumpy rides bearable.
Other notable features of the birdy includes:
Light in weight about 10.8 to 11 kilograms.
Seat position can be adjusted to rider heights from 1.45m to 1.85m.
It has different brands that are ideal for different lifestyles such as racing or speeds.
Available in 17 colours.
Price: $2580
Folded Dimensions: 58.5(H)x56.5(L)x27(W) cm
Weight: 11.78kg
Gears: 6-speed
Ranking in third is Britain's largest manufacturer of bicycles. Rest assured that the brand name is synonymous with quality and years of product expertise. The Brompton Foldable Bike is ideal for those looking for foldable bikes to commute from home to city areas.
Brompton bikes are designed with small wheels for fast acceleration and increased maneuverability through busy streets. Due to its compact-ability, it can easily be carried onto all forms of public transport, in the boot of a car, and can be stowed away under your office desk or a table in a bar.
Moreover, it was designed mainly for day-to-day city use in mind, and Brompton considered transporting items for one daily needs too.
Thus, Brompton comes up with a simple and convenient way to carry all of your essentials safely, securely clipped onto the front of your bike.
Features
Their Brompton bags are compatible with all handlebar types.
Each Brompton folding bike can be custom made to your exact specification.
Price: $599
Folded Dimensions: 64(H)x62(L)x20(W) cm
Weight: 9.8kg
Gears: 9-speed
Auric Mint Foldable bicycle by PassionGadgets is one of the most sought-after foldable cycles due to its amazing features. The bike is easily foldable and can effortlessly be carried around in lifts, public vehicles and it can even be kept in the office space. The bike is lighter than most other bikes with T3 weighing 8.3 kg while T-9 weighs 9.8 kg. The bike is also indorsed on MRT which will enable you to avoid the hassle of commuting by bus or looking for a shared bike.
Auric Mint can support a load of up to a maximum of 120kg making it perfect to carry items and also easily use for commuting. The bike saddle boosts performance efficiency and reduces chafing on the inner thighs.
Other features:
Available in 10 different colours.
Offers test rides
Comes with Freebies (Worth $259)
Price: $599
Folded Dimensions: 99(H)x60(L)x21(W) cm
Weight: 9.9kg
Gears: 11-speed
Reach brand offers the best riders on the road. The durable frame makes the bike ride on rough terrains easy and enjoyable.
The alloy rims give the bicycle wheels an excellent stiffness. Other features that will make you love the GT include:
The wheel-set comes with an anti-loosening device.
The superb speed that makes road rides comfortable.
It comes with a travel case packing.
Price: US$2160
Folded Dimensions: 97(H)x50(L)x27(W) cm
Weight: 11.8kg
Gears: 9-speed
IfMove is a very slender foldable bike with very high performance. The bicycle is made by the in house Pacific Cycles. It is one of the quickest commuter bicycle available. The bike can be folded and rolled on a bus or train near you. When folded, the bike takes a very compact size making commuting very easy.
Features
Removable wheels that are detachable hence easy to maintain.
Large tires make riding very smooth and easy.
Study rims make bumpy rides bearable.
The bicycle has won many awards. It won the reddot design award in 2013 and the Golden pin award.
Price: US$885
Folded Dimensions: 32(H)x91(L)x25(W) cm
Weight: 8.4kg
Gears: 1-speed
Carryme foldable bike is very light and compact. It weighs 8.4 kilograms, making it one of the lightest foldable bicycles. Like other foldable bicycles, it can get into lifts, shopping malls, workplaces with limited spaces, and buses.
If you are looking for a lightweight folding bike, CarryMe is the right one for you.
Features
Available in many unique colours.
The bike comes with three wheels having a low step. It makes it possible for young and older people to get on and off the bicycle.
Stands upright when folded, making it economical with space.
The bicycle offers a sturdy and smooth ride.
Has small built wheels and telescopic seats that accommodates riders of all weight.
Get your carryme Foldable online. Facebook | Instagram.
Price: $1599
Folded Dimensions: 32(H)x97(L)x55(W) cm
Weight: 10.5kg
Gears: 1-speed
CarryAll folding bike is ideal for children, older people, and people who need special care. It's fitted with a two-wheeled rear base that helps the bicycle self-balance. The rider will, therefore, not need any assistance in riding. The stability offered by CarryAll bicycle is perfect on footpath rides.
Notable features of this bike include:
Has three 8 inches wheels.
Like all foldable bicycles, it is compact and folds easily.
Safe and very stable to ride, making it ideal for a family weekend ride.
The bike leaves a small footprint.
Price: $360
Folded Dimensions: 78(H)x66(L)x38(W) cm
Weight: 13kg
Gears: 7-speed
Decathlon is ideal for both family weekend rides and daily commutes. The bicycle is easy to fold and unfold. Another great feature is its lightweight and a good speed of 7.
The compact design and versatility put the Decathlon Tilt among the best foldable bicycle in Singapore.
Key Features
Lifetime warranty on the bike.
Study and well built.
Transmits power excellently while the centre of gravity remains a minimum.
Price: $850
Folded Dimensions: 78(H)x66(L)x38(W) cm
Weight: 11.6kg
Gears: 10-speed
The Banian D10 Foldable bicycle is one of the best brands from My Bike Shop in Singapore. The bike brand focuses on value and eco-green aspects. Banian D1with an aluminium frame and fork10 is a durable and sturdy foldable bike on all road terrains. It weighs 11.2kgs, making it easy to carry around. The bike uses hollow tech BB, a great improvement from the basic crank non BCD.
Besides the above features, the bike also comes with a mechanical disc brake and a ten-speed faster than the seven or 8. A customized short nose that is lighter is available. You can also upgrade the bike with faster tires, a lighter saddle, and a banian magnetic. The Banian foldable bike is your perfect foldable bike since it also comes with a warranty on parts. Its warranty, however, does not cover wear and tear.
Other notable features of the Banian foldable bike include:
It's easily foldable
The bike can be easy to accessorize
It comes with a warranty on parts.
Price: $850
Folded Dimensions: 38(H)x79(L)x72(W) cm
Weight: 12.1kg
Gears: 8-speed
The Link D8 foldable bicycle from Tern Bicycles Singapore is a versatile travel bike. It is ideal for travelling, riding, or when commuting using automobiles, trains, and buses. The bike is fitted with an Andros handlebar stem, a tool-free riding position, and can be adjusted to any position. It also has a Shimano Claris rear derailleur, which is responsive and shifts gears easily.
Additionally, the bike has a Schwalbe big apple tire fitted with Kevlar for protection against punctures. The bike folds in less than 10 seconds. Besides, it can perfectly fit under a desk.
You will also love its 2.0 Magnetix lock, which latches your bike in place when you fold. You can also accessorize it with a rear rack, integrated lighting, and fenders to top it up.
Other key features include:
The bike can be fully accessorized
This foldable bike is versatile
It has a warranty on parts.
Price: $1035
Folded Dimensions: 113(H)x29(L)x58(W) cm
Weight: 10.63kg
Gears: Single-speed
The Strida LT is a stylish, comfortable, and convenient bike in the market. You will love the fact that the bike opens and can fold in 10 seconds with ease. Bored of having to soil your hands with grease as you fix the gears and chain? You don't need to worry; the bike is fitted with a belt drive free from oil and will leave you pristine and clean.
The bike is light in weight to carry around. In addition to the great features, you can bring the bike around town as you commute. It also comes with a rack that holds your bike in place once you have folded. As though that is not enough, the cycle requires very minimal maintenance and has a weight limit of 100kgs.
Other notable features include:
The bike is lightweight
It has a belt drive of about 50,000 miles
It has a plastic folding foot
Price: $1499
Folded Dimensions: 65(H)x78(L)x38(W) cm
Weight: 12.8kg
Gears: 10-speed
Camp Gold Foldable Bike is a high-performance bicycle for those who need a smooth and fast ride. It performs well in uneven and elevated terrains. The foldable bike is equipped with a 20-inch tire, a ten-speed derailleur, an adjusted stem, and a seat pump.
Another great feature of this foldable bike is the high-performance hydraulic brakes, brake levers, and Shimano brake levers. Do you get worried about how difficult it is to lift your bike? It would help if you rested easy since the cycle is light. It's only 12.8 Kgs. You also enjoy a maximum load of 110kgs.
Other features include:
It has durable wheels
It has a full load of 110kgs
The bike is foldable and easy to fold without any tools.
It has an adjustable stem.
Price: $849
Folded Dimensions: 61(H)x63(L)x30(W) cm
Weight: 9.7kg
Gears: 9-speed
Camp Light Foldable is a light foldable bicycle that is ideal for everyday runs. With this bike, you can change gears smoothly when going up or down a slope during your ride. It also comes with a nine-speed SENSAH MX0 derailer, a 6060 aluminium alloy frame, and a TEKTRO brake system.
Another functionality of the Camp lite foldable bicycle is convenience. You can fold the bike easily without any tools. The experts understand the hustle of carrying a heavy bicycle around. The cycle is only 9.7kgs. In addition to these great features, the motorcycle has 16″ wheels and a maximum load weight of 110kgs
Other features include:
The bike is light in weight
It has a load weight of 110kgs
It has a nine-speed Mensah MXO derailer
The bicycle is sturdy
Price: $1299
Folded Dimensions: 63(H)x60(L)x38(W) cm
Weight: 13.1kg
Gears: 6-speed
The Camp Royale foldable bicycle is ideal for those who commute to work in different transport means. You can fold the bike into a box-sized dimension which is similar to a trolley.
Like other foldable bicycles, it has a sturdy and robust frame made from Chromoly steel, a size 16″ wheel, and a speed of 6. It's also light enough with a total weight of 13.1 kg. Similar to other foldable bicycles of its kind, it has a maximum load of 110kgs. It also comes with a five-year warranty on the frame under regular use. Though pricey, the bicycle lasts longer and is worth every penny.
Other key features include:
The bicycle is sturdy
It has a lightweight
It has a one-year warranty on parts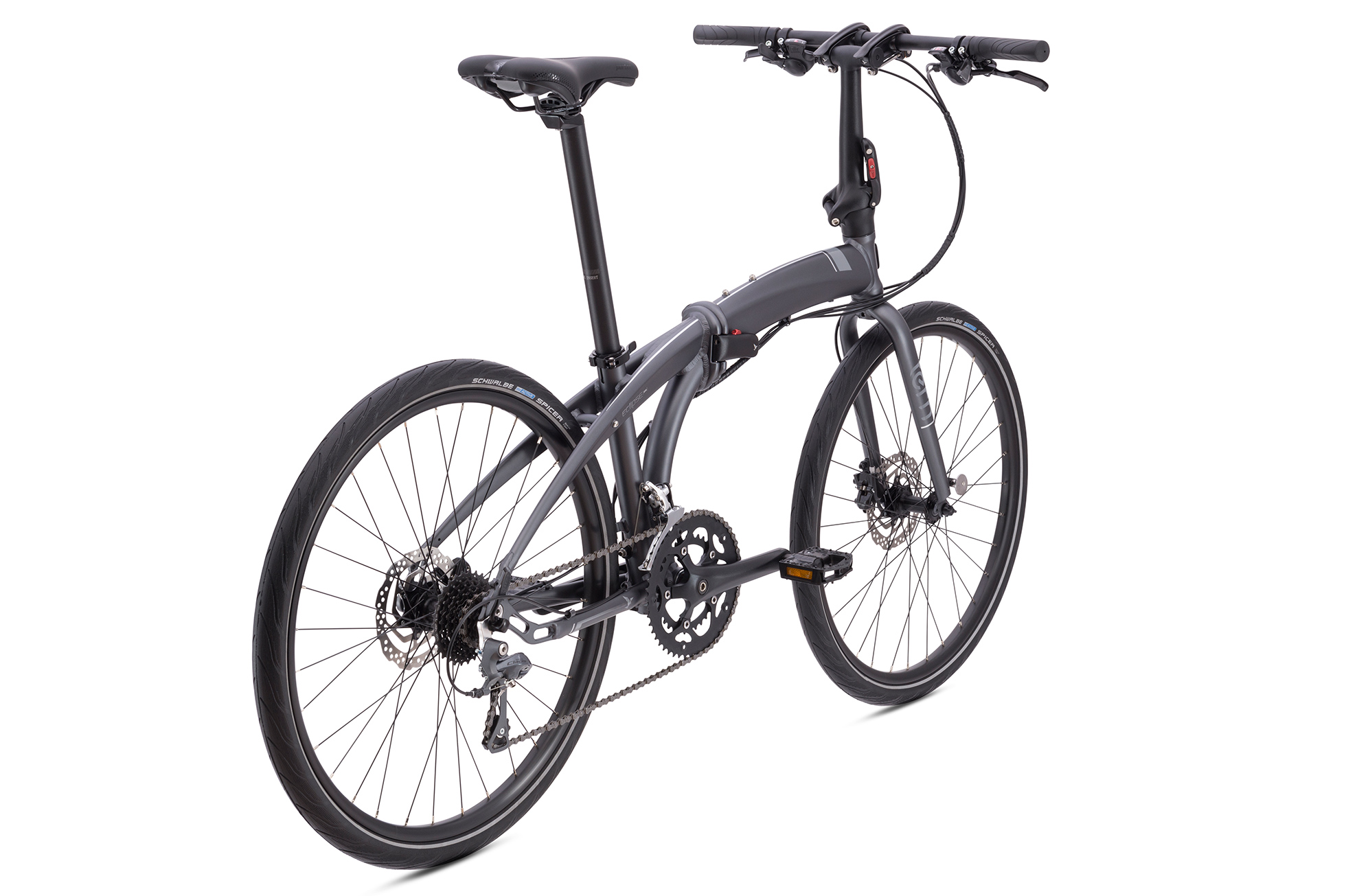 Price: $1199
Folded Dimensions: 75(H)x91(L)x44(W) cm
Weight: 13.1kg
Gears: 8-speed
The Eclipse has a foldable quality, just like other bikes. Its wheels are size 26″, the height of the stem can, however, be adjusted. It has a hydraulic brake disc and handlebars that can be changed. These features make riding very easy and comfortable.
The Eclipse comes with fenders that are very useful during the rainy days. The lightweight is another plus that makes folding and unfolding quick.
Such unique specks make the bicycle the best foldable bicycles in Singapore.
Price: $299
Folded Dimensions: 66(H)x83(L)x35(W) cm
Weight: 12.7 kg
Gears: 7-speed
The EuroMini Zizzo is lightweight and has Shimano components. It has a seven grip style shifter speed, and like other foldable bicycles, it is foldable and easy to carry around.
The frame has magnetic material that makes it very easy to fold and store. Zizzo's pedals are foldable with aluminium speed brakes that help navigate sharp corners on roads.
Key Features
The bike comes when it is fully assembled and ready to ride.
Powerfully built and of good quality.
Lightweight.
Price: $3900
Folded Dimensions: 83(H)x79(L)x35(W) cm
Weight: 8.9 kg
Gears: 10-speed
The Tyrell foldable bike is one of the Japanese bicycles that performs well and has great aspects. It was created in 2010 by Dahon, who called them the Minvelos town series. The bike has a sense of authentic history, chic, and culture.
The Tyrell foldable bike has been upgraded over the years. It offers aesthetic value. What's more, the bike is easily collapsible, has speed, and is elevated. The 2021 series does not have a handlebar but comes with a drop bar, and it is perfectly equipped with a perfect Shimano 105 format. Besides, the bicycle occupies less space and can easily be folded and kept in small spaces.
Other features include:
It has Shimano 105 format
The bike is light in weight
This foldable bike has a strong frame.
Price: $950
Folded Dimensions: 68(H)x62(L)x38(W) cm
Weight: 13 kg
Gears: 6-speed
The 3Sixty bicycle is a Korean foldable bicycle that is popular in Singapore. The bike is of high quality and made from innovations in Korea. With this bicycle, you'll enjoy exceptional value on a compact foldable bicycle that has a 16-inch wheel. With a variety of colours available, you can choose one that best suits your taste.
What's more, the 3Sixty folding bicycle often undergoes improvements for the folding format. With a total weight of 7.4kgs and a titanium frame, the bike is durable and light to carry around. Therefore, you can be sure to get convenience in your everyday use. Besides, the bicycle has a warranty on the parts. You rest easy with the knowledge that your bike has a lifetime guarantee once you purchase it.
Other key features include:
The bike is lightweight
It's compact in design
Its stem is adjustable
It has a higher load capacity
In Short
These best foldable bicycles in Singapore come in handy for your commuting or recreational needs. Your choice of the foldable bike will depend on the size of the wheel, budget, durability, and warrants.
In general, we recommend for buyers bear quality in mind as the most important buying factor. The entry price might be higher, but quality components and design will save you in overall maintenance costs down the road.
If you are interested in renting a bicycle instead of buying, you can check our list of bicycle rental stores and bicycle shops in Singapore to get bikes for exercising or running a quick errand. If you fancy yourself a more adventurous sort, we recommend you check out our list of the best mountain bikes in Singapore.
Looking for more fitness equipment to keep fit? We have a list of treadmills and resistance bands you can invest in to replace exercising out of your home. Besides, you can keep track of your fitness with these fitness trackers we have.
Happy cycling!
Emily Hopkins
I'm an accomplished and detail-driven content writer with copious experience in producing compelling, engaging and flawless content for a variety of blogs and websites for several years.
Related posts
Subscribe for newsletter
* You will receive the latest news and updates on Singapore's best trends!
Trending Posts
May 30, 2023

What is Matcha? Matcha...

May 31, 2023

TLDR: In this article,...

May 31, 2023

TLDR: As an audio...