17 Best Durian Cakes in Singapore You Should Check Out [2022]
Zoya, 3 years ago
18 min

read
45616
Durian is one of Singapore's most iconic fruits. When our friends from overseas come to visit, we would often bring them out to our favourite durian stall to have a feast! Over the years, many Singaporeans have innovated with the fruit to come up with a wide variety of dishes. Some even use it in savoury dishes like durian fried rice and durian pizza!
With so many different durian stalls and durian products, it's hard to know which are the best selling ones that are worthy of your choice. After much deliberation, we've come up with a list of our top favourite durian cakes based on durian quality as well as taste! Today, we go back to the classics to look for the best durian cakes in Singapore. If you love durian and you love cake, this article is for you! So stay with us till the end!
Our Verdict: Really delicious durian cakes, with great variety! The durian flavour is creamy & delicious. Highly-recommended for a special treat!
Highlights:
No preservatives added
Premium Mao Shan Wang Durians
Hand-crafted and Baked Fresh Daily
Now, nothing can beat a cake made using the king of fruits. And when you combine it with one of the best desserts in the world, you're in for something special. Here at Durian Bakery, they offer plenty of delicacies with each being different from the next. But their Musang King Durian Mille Crepe Cake is really something else!
It is extremely rich in flavours and filled with a creamy bitter-sweet mixture of Black-Gold and Old Tree. But the flavours aren't overpowering, but delicate which is really surprising. The recipe will leave you feeling as though you've ventured into a new world. The flavours are only accelerated as they are freshly baked using only MSW durians and offer you a 2-hour delivery service.
The Durian Bakery even provides you with services where you can add candles, a birthday topper or even a gift card with your personalised messages for your loved ones. The Durian Bakery hand-bake their delicious cakes daily. So if you want your hands on their delicious baked products we suggest that you order it soon as possible as they get sold out pretty early. This cake is perfect for any celebration, and to show your appreciation and love for someone you care for.
Highlights:
No preservatives added
Freshly baked daily
Uses fresh durian
Cakes & Cupcakes is a brand that is all about serving the best quality Cakes & Cupcakes to you. Using only the best quality ingredients, from the best Musang King to the freshest Fromage Blanc, you are sure to fall in love with their sweet treats.
Their durian cake is one of their best-selling items. With 20 thin layers of crepe and fresh Mao Shan Wang durian stacked together, the team at Cakes & Cupcakes manages to create a cake with a magical kueh lapis type of texture. It is definitely a different kind of heavenly experience for your exquisite taste palette!
Cakes & Cupcakes also carries a wide range of other durian baked goods such as their signature musang king polo pau. So, if you are a durian lover, this is one brand that you should keep an eye on. Be sure to pre-order or catch them as early as you can to avoid disappointment! They are very popular! Alternatively, you can order now and get it at your doorstep within 3 hours with free delivery for each purchase above $50!
Address
The Commerze @ Irving Place
Contact Information
admin@cakesandcupcakes.sg
Business Hours
Monday to Saturday: 10.00 am to 7.00 pm
Sundays and public holidays: 10.00 am to 7.00 pm (pre-order only)
Highlights:
Premium Mao Shan Wang Durian used
Island-wide delivery in only 90 minutes
Great rewards program
Imagine the most delicious durian cake ever created. Now imagine something that is ten times better, and that's exactly what the durian cakes from Golden Moments taste like. But it's not just us who think so; famous celebrity and patisserie chef, Jeanette Aw endorses them too! They have some flavour profiles that you could never imagine going well together, but they do and they do so gorgeously.
Their Signature Galaxy Mao Shan Wang Durian Cake has to be one of the best durian cakes we've ever tasted, and the combination of cheese mousse, premium MSW durians, and the layers of coconut will leave you wanting for more!
Not a fan of coconuts? Then perhaps their Forever Love Golden Durian (MSW) Cake will do the trick. This cake brings together the classical goodness of chocolate and durian in one pretty hand-crafted cake package. Or celebrate the gentlemen in your life with their Mr. Gentleman Golden Durian (MSW) Cake which comes with an adorable moustache-shaped topping.
Or just go with their mouth-watering Hokkaido Durian Cheesecake. Actually, we can't decide and we're sure that you won't be able to either. Each of them deserves to be tried, and life's too short to indulge in a slice of heaven. Or two; you get the drift.
| | |
| --- | --- |
| Address | 110 Lor 23 Geylang, Victory Centre, #07-13, S388410 |
| Contact Information | : +65 8766 8960 |
| Business Hours | Monday to Sunday from 10:00 am to 09:00 pm |
| Social Pages | Facebook | Instagram |
Highlights:
Gourmet durian cheesecakes
Halal-certified
Same-day delivery available
Cat & the Fiddle offers 17 flavors in their gourmet cheesecake selection, all of which are Halal-certified. They have an online shop where you can opt for self-collection or have the cake delivered directly to your home. Among their 17 different types of cheesecakes, there are flavors such as Classic New York Cheesecake and Milo Dinosaur Cheesecake. And of course, the reason you are reading this article, they have a Musang Fury Mao Shan Wang Durian Cheesecake!
This delightful treat features a golden brown exterior, the Musang Fury is conjured with rich and creamy quality cream cheese and a generous portion of pure aromatic Musang King pulp. Musang King durian is highly coveted for its rich bittersweet flavour, creamy texture, and well regarded as the cream of the crop. This luscious cheesecake is undoubtedly a decadent indulgence!
The online bakery is managed by award-winning chef Daniel Tay. With their same-day delivery option, you will be able to secure your cheesecake supply!
Highlights:
Innovative flavours
Generous ingredient use
Fresh ingredients
Burnt Cakes' rendition of the ever-so-popular durian cake sees a perfect blend of durian with two different cheese creams. Thus, you will get a durian cheesecake batter burnt into a blackened crust and a rich indulgent (slightly savory) cheesy molten center.
Innovating on the typical durian cake flavor, Burnt Cakes offers flavors such as Durian Sea Salt flavor. For their decadent durian cake, you will find 125g of fresh D24 durian meat filled in the creamy burnt cheesecake that comes with a hint of coconut cream and sea salt.
The innovative flavor is something that you do not want to miss out on. In addition, their use of fresh ingredients will make you come back for more.
| | |
| --- | --- |
| Address | NA |
| Contact Information | helloburntbakes@gmail.com |
| Business Hours | NA |
Highlights:
Locally inspired cakes
Soft and fluffy durian cakes
Fresh Mao Shan Wang durian used
Located in a conserved shophouse in Katong, Singapore's rich heritage district, Sinpopo Brand serves authentic and traditional local gourmet food refreshed for the most discerning of palates. Our Joo Chiat menu boasts personal renditions of familiar local dishes, especially Peranakan food reminiscent of the Katong district in particular.
On top of their signature savoury dishes, the brand also serves up wonderful durian cakes. Their durian cakes feature soft fluffy cake layers generously filled with pure Mao Shan Wang durian and light cream. As if that wasn't enough, they have topped it off with more Mao Shan Wang durian and lightly coated it with a soft cake crumb!
The brand also features many other locally inspired dessert options for you to try! Dining at Sinpopo is a truly gastronomical experience, whether you are here for a casual bite or dinner with family and friends.
Highlights:
Many size options
Customizable cakes
Wide variety of durian products
Four Seasons Durians was established in the early '70s along Thomson Road as a fresh fruit stall. In 2002, a baking instructor named Victor Chan decided to take over the company and change its image to be a full pledge thematic store, not only focusing on the durian fruit itself but durian infused products.
Their classic durian cake is their signature cake and comes in their best-selling design. It features durian puffs atop silky fresh cream encasing 100% pure durian puree layered with a soft fluffy sponge. Unlike other durian cake shops where you are unable to choose the type of durian that is used in your cake, Four Seasons Durians allow you to customize that option. In addition, their cakes come in a variety of sizes: 0.5 kg, 1 kg, 1.5 kg, 2 kg as well as 3 kg! So, whatever your preference, this brand has got you covered.
On top of their durian cake, Four Seasons Durians offers other options such as Durian Mochi, Mao Shan Wang ice cream, as well as their ever-popular Durian Puff.
| | |
| --- | --- |
| Address | 1 Senoko Avenue #03-03 Foodaxis@Senoko Singapore 758297 |
| Contact Information | +65 6484 1619 |
| Business Hours | 11.00 am to 9.00 pm, daily |
Highlights:
Premium durian
Uses the freshest ingredients
Convenient ordering
Just Durian is a brand that prides itself in being the best durian supplier in Singapore. They are able to provide more than 10 varieties of premium or top-grade durians to their customers. The team at Just Durian guarantees that all their durians are fresh from the plantation and that your experience of ordering from them will be convenient and simple with just a few clicks.
In addition, the brand also offers both traditional durian cakes and also the western style durian flavored cakes. Both durian cakes are must-try items. Their chilled oven-baked durian flavor cakes are suitable for all occasions.
In addition to cakes, the brand offers durian ice cream, crepe, coffee, pancake, as well as mooncake! However, because the brand strictly uses only the freshest ingredients that are available, the durian cake may not be always available. So be sure to check with the team before heading down or placing your orders! But we promise you, the hassle will be worth it!
| | |
| --- | --- |
| Address | NA |
| Contact Information | +65 6850 5451 |
| Business Hours | 10.00 am to 10.00 pm, daily |
Highlights:
Fresh durian used
Great service
No artificial flavoring and coloring
Ms Durian is a bakery that freshly bakes their durian creations daily in small batches, without artificial flavoring and coloring! Located at the far corner of the newly-opened Poiz Centre, this durian-specialty café serves up delectable durian desserts.
Their ever-popular durian mousse cake consists of Mao Shan Wang durian mousse with gula melaka. In addition, the cake is topped with lightly salted macadamia nuts and finished off with light cream. Customers love that the cake layers are soft and fluffy, infused with rich durian fragrance and the sticky sweetness of gula melaka!
Before you know it, you would have finished your cake! But fret not, they have many other options like durian ice cream, durian puff, and durian pudding!
| | |
| --- | --- |
| Address | THE POIZ CENTRE #01-70 Singapore, Singapore 347697 |
| Contact Information | +65 6962 0057 |
| Business Hours | 11.30 am to 9.00 pm, daily |
Highlights:
Affordable
Fresh ingredients
Pre-order basis
The Whisking Well is a store that operates on a pre-order basis. This means that you will get your bakes fresh with every order. Known for using premium ingredients to serve high-quality bakes that will not break your wallet, The Whisking Well offers their cakes for just $38. Furthermore, all their cakes are handmade from scratch with no preservatives or additives, so you get quality at its freshest with every bite.
In addition, they constantly seek to develop new and unique flavors. On top of their Mao Shan Wang Durian Cake, they have innovative flavors such as Latte Burnt Cheesecake, Mixed Berry Jam Drop Burnt Cheesecake, as well as Matcha Burnt Cheesecake.
For affordable, innovative, and fresh cakes, be sure to check them out!
| | |
| --- | --- |
| Address | 183 Jalan Pelikat, #01-73 S573643 |
| Contact Information | thewhiskingwellsg@gmail.com |
| Business Hours | NA |
Highlights:
Affordable
Simple and unpretentious shop
Many delightful flavours
Serving mouth-watering Swiss Rolls and bringing home-baked goodness to everyone since 1997, Rich & Good Cake Shop is a very popular cake shop among Singaporeans. A specialist in swiss rolls, the bakery offers at least 10 flavours daily, catering to taste buds of all ages. From the crowd-pleasing during flavour, to the fragrant kaya flavour, there is something for everyone.
The unpretentious shop offers cakes that are simple yet delightful. Therefore, it is no wonder that during its opening hours, there seems to be always customers waiting patiently in line to buy from the bakery. In addition, all their cakes are extremely affordable too!
While you are there, do not miss out on their other goodies such as chiffon cakes, walnut cakes, almond squares, as well as pistachio cornflakes cookies.
| | |
| --- | --- |
| Address | Rich & Good Cake Shop #01-232 Jewel Changi Airport 78 Airport Boulevard Singapore 879666 |
| Contact Information | +65 6908 4089 |
| Business Hours | 12.00 pm to 9.00 pm, daily |
Highlights:
Unique durian cake
Affordable cakes
Fresh ingredients used
The Cake Shop was founded by a team of passionate and dedicated bakers who are committed in baking the most delicious cakes and pastries around. Using only the freshest ingredients they can find, you can be sure that you are served the best quality cake you can ever have.
The brand has evolved to become one of a premium distributor and wholesaler for cakes and pastries to some well-known restaurants, cafes, supermarkets, hotels as well as bakeries. Their online store is a leading online shop in Singapore providing cakes and gift deliveries within Singapore. They also provide competitive prices, good after-sales services, and on-time delivery.
Their Handcrafted 3D MSW Durian Cake is interestingly in the shape of a durian. Your cake will definitely be the talk of your party or event. In addition, it is made with fresh durian that will have you coming back for more!
The Cake Shop provides same-day delivery service seven days a week, including Sunday, within Singapore to provide a high level of customer service.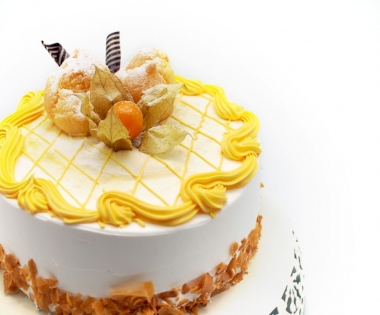 Highlights:
Open daily, even during public holidays
Freshly baked daily
Affordable cake
The Pine Garden is a heartland-boutique bakery with more than 32 years of history, that purveys good old freshly-baked goods alongside modern creations of decadent cakes. Their products perpetuate a truly Singaporean heritage and they strive to bring the best of service personalisation to our customers.
Their flagship outlet was founded in 1984 and founded favour of the local community since. Today, their customer base has expanded beyond just the community of Ang Mo Kio. Apart from closing for nine days during the Lunar Chinese New Year period, they are opened every day (even though public holidays) from 8.30 am to 9.30 pm, so that they meet the needs of their customers.
Pine Garden's Mao Shan Wang Durian Cake is one of the best durian cakes in Singapore. It features a generous amount of Mao Shan Wang durian pulp sandwiched between a soft vanilla sponge, and delightfully topped with mini durian puffs!
At just $53, you are definitely getting your money's worth with this decadent cake! So go ahead and order from their website today!
Highlights:
Vegan durian cake
Healthy ingredients
Established since 2009
Established in 2009, Delcie's Desserts and Cakes is the first in Singapore to bake and market its healthier cakes. Using mostly organic low-GI plant-based ingredients, the innovative bakery stands out from conventional ones as a pioneer of delectable desserts and cakes for health-conscious consumers and those with diabetes or allergies. What makes the bakery anomalous, is its dedication to creating delicious and nutritious cakes that are egg-free, dairy-free, gluten-free, and cane-sugar-free. They are also naturally cholesterol-free and trans-fat-free.
Delcie's wonderful pastry creations make it possible for anyone with a hearty appetite to enjoy cakes and desserts without having to feel guilty. Over the years, they have garnered a good number of awards and accolades. This recognition is a testament to the hard work and commitment from our bakery to provide excellent quality cakes to customers with specific dietary requirements.
Delcie's Durianian Cake is a vegan option that features layers of generous fresh D24 durian puree in between layers of sugar-free organic vanilla-infused cake. This is a great option for those who want to indulge without feeling too sinful!
Address
34 Whampoa West #01-83 Singapore 330034
Contact Information
+65 6282 2951
Business Hours
Monday: 11.00 am to 6.00 pm
Tuesday to Sunday: 11.00 am to 8.00 pm
Highlights:
100% pure durian used
Affordable options
Available for events and birthdays
Sunlife Durian Puffs & Pastries is a proudly homegrown durian-specialty bakery established in 2009, most famously known for a wide range of 100% Pure Durian Pastries. Their pocket-friendly and fuss-free pastry bundles serve also as the perfect solution for Wedding Celebrations, Corporate Workshops / Events, Birthdays, Milestone Celebrations, and more!
Their durian cake is available in the flavours of D24 or Mao Shan Wang. Whichever flavour you choose, you will definitely treat yourself to a rich and indulgent cake! The low-Fat cake is made without butter and features 3 Layers of vanilla chiffon cake, 2 layers of 100% pure durian filling (D24/MSW). The cake is also beautifully topped and decorated with fresh cream and colourful macarons!
While you are making your purchase, be sure to add some of their specialty durian puffs into your cart. These cute little puffs are filled only with 100% pure D24 fresh durian puree, with no additional mix-ins of cream, sugar, or preservatives!
| | |
| --- | --- |
| Address | 1 Woodlands Square, #B1 – K10, Singapore 738099 |
| Contact Information | +65 6925 8516 |
| Business Hours | 10.00 am to 10.00 pm, daily |
Highlights:
Homegrown brand
Established since 1985
Awarded "Best Cake Shop in Singapore" & "Best Durian Cakes"
Temptations Cakes Shop is a homegrown cake shop in Singapore, baking delicious cakes & pastries since 1985. Over the decades of their operation, Temptations Cakes Shop has been presented with awards like "Best Cake Shop in Singapore", "Best Durian Cakes" by a number of Singapore media publishers.
Since it was established, the brand's Premium Durian Cake has been a bestseller among loyal customers. This cake will be heaven for all the durian lovers out there. Uniquely created with a special blend of premium ingredients and crowned with gold sprinkles, this is a real treat for all Durian connoisseurs.
Temptations Cakes Shop also specializes in custom cakes for birthdays, weddings, corporate events, festive celebrations like Christmas as well as anniversary parties. The team will be happy to help you craft a cake according to your requirements!
Address
42 Joo Chiat Pl, Singapore 427766
Contact Information
+65 6440 9200
Business Hours
Monday to Friday: 11.00 am to 7.00 pm
Saturday to Sunday: 9.00 am to 7.00pm
Highlights:
Affordable cakes
Wide variety of durian cakes
Established since 1992
Emicakes is a bakery in Singapore that almost needs no introduction. The household name has been established in 1992 and since then, it has been known as Singapore's number 1 Durian Cake Maker.
If you are a fan of durians, you must definitely try their very popular durian cakes. The King of fruit is available in a wide variety of soft spongy cakes, stuffed full of your favorite type of durian. Made from fresh and real D24 or Mao Shan Wang durians, you and your guests will be asking for another slice right away. So, be sure to grab more than one when you purchase from them. It helps that each cake is affordable too!
Emicakes' famous durian cakes are more than 20 years in the making and are in constant demand at parties, events, and for anyone who just wants a taste of this luscious treat regardless of the occasion! You can't go wrong with the best Durian cake maker in Singapore! So, go ahead and order a cake from them now!
To conclude:
It is no secret that durians, widely considered to be the king of fruits, have always been a favorite consumed by Singaporeans nationwide. Durians are an absolutely decadent treat with its rich, creamy, and bittersweet flavors, coupled with its distinctive aroma. And what better way to satisfy our cravings for the buttery flesh of this exotic fruit than to celebrate it with handcrafted durian cakes? Check out any of these cakes listed from the brands above and you will surely be able to satisfy your durian craving!
If you are looking for other cake options, check out our article for the best Basque Burnt Cheesecake shops in Singapore here!
​
Zoya
Queen of Obscure References and occasional writer. When not exercising my thumbs on Instagram, you can find me looking for good author bios on Google.
Related posts
Subscribe for newsletter
* You will receive the latest news and updates on Singapore's best trends!