17 Best Gaming Chairs in Singapore For Comfort & Quality [2022]
Emily Hopkins, 3 years ago
18 min

read
15875
If you are a serious gamer, you would know that your gaming chair is a vital part of your setup. Since we put in a lot of hard-working hours into gaming, the level of comfort from our sitting positions would affect our posture and ultimately our focus and energy levels. With a comfortable gaming chair, focus and in-game performance could be prolonged and it could even save you a few trips to the gulag.
Our list entails the best gaming chairs in Singapore for the year 2021 rated based on the value-for-money, comfort, and durability of the gaming chairs. A good gaming chair would especially make more sense now than ever because we would probably spend the majority of 2021 in quarantine. Looking at the bright side, more time to game I guess!
So now that you know what to look out for in the gaming chairs, it is time to get started on our list!
ErgoTune Supreme


Best Overall Gaming Chair

Why ErgoTune Supreme?
✔️ Price from $599
✔️ ATLAS Lumbar Support System
✔️ Class IV Hydraulics Systems
✔️ TriTune™ Headrest 4 Axis Adjustments
✔️ TrueTilt™ Seat Recline up to 136°
✔️ 12 Years Warranty
Visit Shop
Martiangear Astronaut


Most Affordable Gaming Chair

Why Martiangear Astronaut?
✔️ Price From $488
✔️ Quality Vegan Leather
✔️ Memory Foam Lumbar Cushions
✔️ Adjustable 4D Armrest
✔️ 12 Years Warranty

Visit Shop
Secretlab Titan 2020 Prime Series

Good Overall Choice

Why Secretlab Titan 2020 Prime?
✔️ Price From $529
✔️ Made of 2.0 PU Leather
✔️ Multi-functional Tilt Mechanism
✔️ 5 Years Warranty
Visit Shop
The ErgoTune Supreme sports a clean, minimalistic look to fit into most setups, but most importantly — hits the critical adjustment points to get you into a comfortable posture so you remain composed to triumph over your opponents.
Price: $599
With 11 different adjustment points, the ErgoTune's Supreme doubles as a gaming chair and a #WFH office chair. With this chair, you'll have the option to choose between Charcoal Black and Coral Red colours. You'll have the option of assembling it yourself or requesting for someone to do it for you, but if you do pick the former option, don't fret! The process is fairly simple, unlike other chair installations. It actually takes 15-20 minutes, with a comprehensive manual, video and a toolkit to supplement.
This gaming chair is suitable for people of up to a substantial 150kg, between 150cm to 190cm in height. The ErgoTune Supreme is crafted to fit your body without a glitch, and its adjustment points permit for that capably. It has a seat pan that can be adjusted backwards and forward and a height-adjustable backrest. This ergonomic chair is fitted with lumbar support called ATLAS (Auto-Tuning Lumbar Area Support), which adapts to your spine's natural curve. Meanwhile, the adjustable TriTune headrest supports your neck and shoulders when you need to lean forward, and focus on the make it or break it moments.
Tailored for Natural Comfort
Other amazing features of the ErgoTune Supreme are the adjustable points including the armrest, which is height modifiable and entirely rotatable, along with the headrest, which is height, depth, and tilt-adjustable up to 60°. For mobile & tablet gamers, the 5D armrest can be extended inwards to support your forearms as you battle it out in Mobile Legends or even when you're using a controller in a game like FIFA. For PC gamers, you can even extend the width of the armrest out so your hands are in optimum position when making precise inputs on your keyboard and mouse in competitive games like DOTA and Valorant. ErgoTune Supreme also has exceptional build quality in its materials: PU caster wheels that evenly distribute weight, a solid aluminium wheelbase that provides a durable foundation, as well as a top-of-the-line Class IV hydraulics system.
Highlights:
Exceptional value for a high-end ergonomic chair
TriTune™ Headrest with 4 axis of adjustments ensures it is where your neck is and adapts to however your head moves, with always-on support for your neck & shoulders
12 year warranty, an investment in your lifelong comfort
Science-backed ergonomics to strengthen posture and eradicate pain
Adjustable and affordable
Can be tailored to your body for effortless & natural comfort
Aluminium base & smooth manoeuvrable wheels offers a great foundation that prevents tipping
Comfortable and breathable DuraweaveTM Hybrid Mesh material enables you to stay cool and sweat free all day long
ErgoTune's ATLAS™ Lumbar support auto-adapts to your every motion so your spine's natural curve will never be left unsupported
TrueTilt™ Recline (Seat Recline) enables you to recline up to 136° for instant resting and relaxation
Price: $488
And here comes the star of best gaming chairs in Singapore, Martiangear astronaut. Martian Gear crafts gaming chairs from quality vegan leather, fabric, and mesh. Having had the opportunity to use it, we are confident that it's a prodigy and would never disappoint. The astronaut gaming chair is the most comfortable and durable gaming chair you can find in Singapore.
Sit Back and Relax
For absolute relaxation, it is made from a breathable soft fabric and a high-density cold moulded memory foam. Besides, it's comfortable, sturdy, and durable for your comfort. It has a hard steel frame, which offers firm support for your spine hence avoiding back pain while studying or working.
This premium gaming chair has a heavy base with wheel casters and silver accents, giving your office and home a sleek and stylish look. With adjustable armrests which extends in 4 directions, your forearms will be comfortable regardless of your sitting position. Another great feature of the chair is its dual-wheel casters, which helps the seat move quickly. With a 155 degree fully reclining seatback, you get to easily relax and adjust the chair independently to your perfect position.
To find out more, you can read more our review on MartianGear!
Highlights:
The chair has a twelve-year steel frame warranty
Adjustable 4D armrest
It's sturdy and sophisticated
A breathable soft fabric that keeps it cool
Luxurious head pillows and memory foam lumbar support cushions
The chair has adjustable parts with a solid wheelbase making it very durable
Price: $529.00 (2.0 PU leather version)
This is yet another king of the list. Enter the Secretlab Titan 2020 Prime Series. This chair uses 2.0 PU leather on its seats, which are 4 times more durable than the average PU leather. Other features include amazing build quality with an aluminium base, full-length adjustable backrest, and memory foam cushions. One thing that stands out about Secretlab chairs is the multi-functional tilt mechanism which allows for keeping good posture during long hours of gaming. The ergonomics on this chair is just simply amazing!
If this 2.0 PU leather is not enough for you, or if you are truly hardcore, the titan 2020 series offers 2 other variants of chair materials:
One being the soft-weave fabric version which comes at $579. This is just a $50 top-up from the previous version and is worth it if you like more fabric material with a cool weave finish to it.
Softweave version
The other would be the holy grail of chairs, which is the Napa leather version which sits u back $1099. If you are a true baller, or just want to flex your chair game, say no more. This is the one you should be looking at.
Napa leather version
This chair is one of the most comfortable, durable, and aesthetically-pleasing gaming chairs you can find. What's more, you are supporting a local brand.
Highlights:
130kg of weight capacity
Aluminium frame material
PU caster wheels
Leather cover material
Cold foam padding
Adjustable backrest
Multi-tilt mechanism
Memory foam cushions
5-year warranty
Price: $299.00
The Tesoro Zone Balance is a good overall gaming chair for anyone who is getting their very first gaming chair or even a second. This chair comes at a reasonable price of $299 for its comfort and durability.
It is made of quality materials such as a high-quality steel frame for long-term use, PU caster wheels, and upholstery made with faux leather and cold foam. It has a weight capacity of 120kg and an adjustable backrest (up to 180 degrees) for full spinal support.
The height of the armrests could be adjusted to suit your setup. This is one of the important features to have in gaming chairs.
Highlights:
120kg weight capacity
Steel frame material
PU caster wheels
Faux leather cover material
Cold foam padding
Adjustable backrest, headrest, and armrests
Good ergonomics
Price: $399
The KaneX Nemesis is an eye-catching gaming chair that feels as good as it looks. It has a PU leather finish and High-Density Cold Cure Cut Foam, which allows for better pressure absorption and even weight distribution. It also has good ergonomics and provides great support in the lumbar area. Although it is slightly pricey, it is truly one of the best gaming chairs in Singapore.
Highlights:
Good looking design
Great ergonomics
Steel frame
PU leather
Price: $489.00
The Vertagear PL4500 offers wireless control functions such as PC and mobile integration for full RGB LED lighting. This means you could sync the LED lighting of the chair with the audio of your games.
The chair has a standard metal base for the frame structure. Moreover, the backrest and seat are padded with coffee-infused fibre to prevent odour and increase breathability. This unique technology is patented by Vertagear. The backrest can be locked into different angles, while the PENTA caster wheels ensure that there are smooth and quiet gliding movements.
Overall, it is a great chair that comes with unique features and great lumbar support. Worth to take a look at it!
Highlights:
180kg weight capacity
Metal frame material
High-resilience foam
PVC leather cover material
Adjustable height, backrest, and armrests
Wireless control for LED lighting
Unique odour control technology
Lumbar support
Price: $669.00
If you heard of DXRacer, you would know that it is the higher-end brand of gaming chairs. Many YouTubers and gamers use DXRacer. This is one of the most comfortable gaming chairs on the market.
The DXRacer King Series KS06 definitely sits among the best gaming chairs in Singapore. However, it can cost you a bit because DXRacer chairs are not cheap. If your lifestyle involves many hours of gaming or working or studying for long periods, this chair could offer you the comfort you need and would be a great investment.
Highlights:
117kg weight capacity
Metal frame material
PU caster wheels
Polyurethane leather cover material
Foam padding
Adjustable height, backrest, and armrests
Well-known brand
Price: $299 (Early bird Promotion), $399 (Normal retail price)
BLACKWOLF Racing Academy is established in 2019 to create a training platform for both race drivers and e-sport drivers alike.
With BLACKWOLF background in motorsport and e-racing, they have now evolved into the arena of gaming chairs. This is where the experience contributed to the performance and design of the newly created gaming chair series.
The newly launch series consists of 3 series. BLACKWOLF Pack, BLACKWOLF Alpha Series, and BLACKWOLF Legend, with the latter being the highest range amongst all.
Early-bird promotion for the first series, BLACKWOLF Alpha Reaper is now on soft launch at $299 for the first 10 orders and will retail at $399 once the promotion is over. The Reject Shop is appointed as the official distributor in Singapore.
Highlights:
The Best Build Quality & Perfectly Ergonomic
Rocking-Function with Locking System
Rocking Pressure Adjustor
3D Ergonomic Backrest
Steel Structure
Finest Core Materials
Wider Armrests Made For You
Price: Approximately $410 (converted from Philippines pesos)
Founded in 2009, Fantech is a Filipino company which prides themselves on their design of gaming chairs. The Fantech ALPHA GC-183 is a gem when it comes to comfort and adjustability. It has a thick foam seat which allows for long hours of sitting and also has an adjustable backrest up to 180 degrees, which means you can be literally be lying flat on the chair. However, it is rather similar to Singapore's Secretlab chairs because of its multi-functional tilt mechanism and its focus on comfort. Thus, it could be a good buy if you are not yet ready to invest that much into a chair, but that being said, it does not come cheap as well. For this price and quality, I would say it is still worth it for what it could offer as its indeed one of the best gaming chairs you can buy in Singapore.
Highlights:
The Best Build Quality & Perfectly Ergonomic
Wider 2D Armrests Made For You
More Comfort U-Shaped Head Pillow And Lumbar Pillow
Multi-Functional Tilt Mechanism
Finest Core Materials
Full-Length Backrest Recline
Durable PU Wheels Smooth Casters
Stability and Safety Class 4 Hydraulic Pistons
Strong Nylon Plastic Base
Better Thighs Support
Price: $398
Now that we are slowly making our way to the top 3 of this list, here comes the big boys which could really separate the casuals from the pro gamers.
The Apol Kraken just comes shy of top 3 but don't sleep on it! It has very similar comfort and features with the top 3 and is often underrated. You could see it has very similar details with our top 2 later on in the list. I have been seeing more and more of the Apol Kraken and judging from online reviews, I would say this often overshadowed chair could be the next big thing.
Highlights:
120kg weight capacity
Aluminium alloy base
PU Leather cover material
Cold cure foam padding
Adjustable backrest
Multi-tilt mechanism
Price: $499.99
The Vertagear Racing Series SL5000 is one hell of a chair! It has a bucket seat design, which many sports car seats have which keeps your bottom firm in the seat. Imagine that with a memory foam seat and backrest. Armrests and backrests are also adjustable to suit the gamer's setup. I would recommend this chair if you want to stay in the zone while feeling like you are in a race car.
Highlights:
150kg weight capacity
Steel frame material
Density foam
Leather cover material
Adjustable backrest
Multi-tilt mechanism
Memory foam cushions
Price: $1780
Herman is a fully immersive gaming chair best for whichever game you ought to play. The seat allows a smooth alignment to your body, ensuring you achieve the maximum comfort you deserve. It comes with a posture fit adjustment feature to provide steady support to users' lower back and spine.
Manufactured with smooth and comfortable fabric materials, the seat also features a graphite frame. This is sturdy enough to support up to 136kg weight capacity. It is flexible so you can customize your preferred height. Likewise, its adjustable lumbar support is located beneath the mesh backrest. Overall, Herman Miler Aeron chair has many features and is value-for-money.
Highlights:
Comfortable
Ergonomic design
Adjustable lumbar support
Graphite frame to boost durability
Price: $459
Noblechairs is a real hero when it comes to the world of gaming. To be specific, we are talking of a comfortable seat with a big armrest, taller backrest, and wide seat. This chair is best known to cater to huge users. It is one of the spectacular and time-proven gaming seats in Singapore, providing the maximum convenience and choice for discerning users. Constructed of superior materials, Noblechairs promises longevity without pretension. It is also constructed of steel frame and cold foam to boast durability.
The chair has an internal lumbar support feature constructed beneath its smooth and breathable cover. This allows it to provide steady weight support of up to 150kg. However, users can adjust the amount of support they need using a knob right on the side of the chair.
Combining its sophistication level, sleek design, and SciFi gaming appearance, Noblechairs Hero doubles as the best gaming chair known out there.
Highlights:
Comfortable
Supports weight up to 150kg
Excellent design
Durable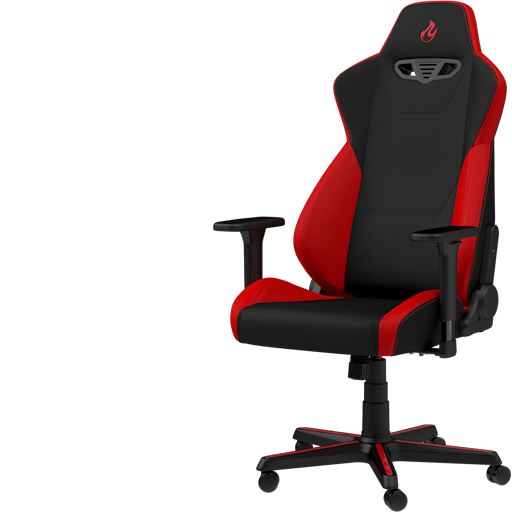 Price: $300
The first thing you will notice about this chair is its sleek design. It is completely versatile! Nitro s300 gaming seat is a perfect option that is worth the value for your money. Its design is nothing than just short of excellence.
The seat is ergonomically crafted with every gamer in mind, thanks to health-enhancing adjustment technology. It allows users to stay comfortable regardless of the long hours of gaming sessions.
Nitro s300 features 3D armrests, which are adjustable to your preferred comfort. Interestingly, the seat allows users to shift these armrests inward and backwards, forward and outward. The seat is constructed with high-quality materials so you can be sure of the durability. Nitro s300 is a perfect gaming seat for those seeking comfort when playing games all day. What sets this seat apart from its rivals within a similar price range is the fabric cover, which is smooth and breathable.
Highlights:
Allows weight up to 135kg
Quality materials
Comfortable seat
Reasonable pricing
Price: $187
Respawn-110 is a premium gaming chair with a perfect finish, which gives off a compelling look. It is an all-around performer regardless of your gaming experience level. There is no doubt that this bonded leather seat with metal frames has increased stability. It offers a high-quality gaming experience for every game enthusiasts.
Respawn-110 allows weight up to 125kg. It also offers a padded armrest, adjustable to your preferred comfort. For additional comfortability, this seat comes with flexible lumbar pillows to cater to every users' needs.
Although Respawn-110 offers a 155 degrees reclination, this seat is specially constructed to provide optimum comfort right from head to toe. Owing to its many advanced features, this chair is a perfect choice priced reasonably to fit your budget.
Highlights:
Comfortable
Durable materials
Extendable footrest
Price: $141
UMD gaming chair lives up to its name. It features an ergonomic design that allows users with optimum comfort during the gaming session. The chair is fully adjustable to fit users comfortably without any fuss.
Constructed with a reclinable backrest, the UMD gaming chair allows up to 180 degrees rotation to encourage the best relaxation and refreshment. Its rocking features also allow users to lean back comfortably at ease.
UMD gaming chair comes with a series of integrated and adjustable features, including the armrest, height, and backrests, which allow maximum support throughout your gaming session. With so many incredible features, UMD can also be a perfect seat for relaxing activities such as watching your favourite movies, reading, listening to music, and many more.
This is one of the best gaming chairs that can meet your budget reality.
Highlights
Comfortable seat
Affordable pricing
Ergonomic design
Plenty of adjustable features
Blackout gaming chair by the Unknown, perfectly designed for maximum comfort is now available at a discount. This ergonomic and sleek gaming chair is crafted with gamers in mind. It has completely padded 4d armrests to give you a maximum gaming experience. The chair is made with breathable premium PU faux leather of very high quality for optimal aeration and reinforced with steel. It is fitted with 2 high-quality Bluetooth speakers, (Bluetooth 5.0) designed and placed on both sides to give a sound surround system feel. It has an RGB LED that could be controlled by a remote (Interchangeable colour sequence) that best suits your style and preference.
Functionality
If you are a gaming enthusiast, this subtle gaming chair is a must-have since it's very effective in your gaming experience. You can adjust it to your preferred height since it's fitted with a Class 4 gas lift to support up to 180kg max. Besides, you can recline the chair at an angle, 90°- 180°, for relaxation. You can therefore layback, play music from the speakers and relax while enjoying the antigravity feeling.
It has firm foam cushioning, a fully fitted adjustable neck, and lumbar support pillows for maximum comfort whether it's gaming, work, or leisure. The 5 strong nylon star base offers maximum efficiency during gaming. Besides, the legs are reinforced with metal for further support. It is easy to assemble; you can do this with minimal effort. All these functions can be activated simply by connecting to a power bank or a USB port on the computer. UnknownSG currently has an offer on the Blackout gaming chair. By using the promo code "BIS2021", customers can get $20 off on the purchase of this chair. Visit their website and make use of the promo code any day anytime, since has no expiry date.
Highlights:
Wholly upholstered with premium PU leather
Fully adjustable seat height
Enhanced foam-filled fabric seat with neck and lumbar support
5-star base feet and leg rest
Ergonomic, modern, and stylish design
Comfortable 4d padded armrest
Interchangeable colour sequence
Lock recline with 90 – 180 degrees recline and tilt function
High padded backrest/headrest
Fitted with 2 high-quality Bluetooth speakers
Controllable RGB LED to different colours
Class 4 gas lift with maximum carry the weight of 180kg
2-years warranty
To Conclude
The chair is the ultimate support we need as we are seated for a long period of time. You can take off your gaming career with these appropriate gaming monitors, gaming laptops, and keyboards. For leisure gaming, we have a list of free online multiplayer games for you to enjoy.
Also, it can be infuriating if your wifi connection is bringing you interruptions. To keep your game streaming seamless, we have you covered with a list of fibre broadband, wifi routers, and wifi mesh.
With that, have a good gaming session!
Emily Hopkins
I'm an accomplished and detail-driven content writer with copious experience in producing compelling, engaging and flawless content for a variety of blogs and websites for several years.
Related posts
Subscribe for newsletter
* You will receive the latest news and updates on Singapore's best trends!