23 Best Tingkat Delivery As Your One Stop For Home-Cooked Food [2022]
stella, 2 years ago
24 min

read
28008
In today's hectic world, we hardly get enough time to prepare a decent meal for ourselves. Eating out in restaurants is delicious, but it's not something that we should do regularly. A hot, nutritious meal that reminds us of home nourishes both the body and the mind. Not to forget that they're often cheaper in the long run. This is where Tingkat Delivery comes in to save our day!
In the past, Tingkat had no variety of food choices. Nowadays, we have all sorts of Tingkat menus with low-calories, high protein, and food variety. However, it's important to select a good Tingkat delivery service. This is because you will be eating them regularly.
That's why we've compiled a list of the Best Tingkat Delivery in Singapore to help make your decision easier.
Healthy Meals Catering


Best Overall Tingkat Delivery

Why Healthy Meals Catering?
✔️ Price from $5/person/day
✔️ Delicious Home Cooked Meals
✔️ No Processed or Canned Food
✔️ Less Oil, Less Salt, No MSG
✔️ Large Variety of Food
Visit Shop
Mom's Catering


Most Traditional Tingkat Delivery

Why Mom's Catering?
✔️Strictly no added msg
✔️Usage of canola oil for cooking
✔️ Environment-friendly & Quality Certified food grade with U.S. FDA compliance
Visit Shop
Ronnie Kitchen

Good Overall Choice

Why Ronnie Kitchen?
✔️ Price From $9.36/person/day
✔️ Specialised in Chinese Food
✔️ Less MSG, Less Oil, Less Salt
✔️ Microwavable Containers
Visit Shop
Factors When Choosing Tingkat Delivery
With many Tingkat services available in Singapore, it can be overwhelming to choose one that seems to fit your liking. Especially if you are too lazy or tired to cook, take this time to read through these considerations before checking out.
I. Price
If you are intending to subscribe to Tingkat services probably quite often, you might want to consider budget-friendly packages. For instance, there is Tingkat delivery in Singapore that might offer a 10-day option which is more value for money as compared to a 2-day option.
The cost per day will usually be cheaper if you go for the longer day options. Thus, it is important to consider your budget.
II. Food Variety
Food choices are very important. Unless if you don't mind eating the same food over and over again. Especially if you are planning to order for a long, I am sure you would prefer having a variety of different food to choose from.
III. Delivery Hours
Not all Tingkat delivery are able to supply your lunch and dinner. There is some Tingkat food delivery that only serves either lunch or dinner. For working adults, you might probably lookout for a delivery that provides a dinner meal since you will want to be home after work with home-cooked food and you might be too drained to cook yourself.
IV. Special Requirements
Are there any needs that you need to request? Perhaps, food allergies, etc. Not all Tingkat services provide a substitute for those ingredients you want to change out. This is why these are some things you might need to consider before you choose your ideal Tingkat delivery.
With these considerations, here are our top picks of the best Catering Tingkat in Singapore for all your needs for home-cooked food.
As their name suggests, Healthy Meals Catering delivers delicious and freshly made meals, prepared to keep your health as the utmost priority. Ensuring the matter of providing complete daily nourishment to the consumers, they do not offer processed or canned food of any kind. Also, their meals contain less oil, less salt, and no MSG to ensure your well-being. They make sure that you don't get bored by eating the same thing over and over again, so the variety of food that they have to offer is very extensive. From desserts to freshly cooked rice, they prepare all these amazing home-cooked meals just for you.
Amazingly as it seems, Healthy Meals Catering provides all this deliciously healthy food at a very affordable rate. So, you won't have to worry about emptying your wallet. They believe that every person has their own dietary habits and rules. Keep that in mind they provide a relaxed and flexible approach to their meals that are delivered to you at the comfort of your couch. Their package comes with an option to choose between 3 Dishes plus a soup, or straight up 4 Dishes. And, all this delicious food on average costs only 5$ per person a day.
| | |
| --- | --- |
| Address | You can contact the addresses that they serve by calling their number below. |
| Contact | +65 8383 3648 |
| Timings | You can check out their timings right here. |
Highlights
Strictly no added msg
Usage of canola oil for all our cooking
Environment-friendly & Quality Certified food grade with U.S. FDA compliance
Mom's Cooking provides nutritious and wholesome home goodness premium meal catering. Mom's Cooking Pte Ltd was founded to provide high-end meal catering. This service's major goal is to give a nutritional and wholesome, yet economical, alternative to your regular dining requirements. The following are the main characteristics that distinguish them from other tingkat service providers: They use canola oil in all of their cooking: A Cholesterol-Friendly and Heart-Healthy Oil. Their service is environmentally friendly and high-quality Food-grade certification and FDA compliant in the United States: Only paper food containers are used to pack all of their meals.
The meal is good, and the service is good as well because the food provided can be customized to your preferences, such as no prawns and fish instead. It is a great choice for those with allergies. In addition, the portions are big and well-served.
| | |
| --- | --- |
| Address | 15 Woodlands Loop, #02-16 East Industrial Estate, Singapore 738322 |
| Contact | +65 65 9238 5905 |
| Suggested Plan | Their 20-day twin option provides good value for money. |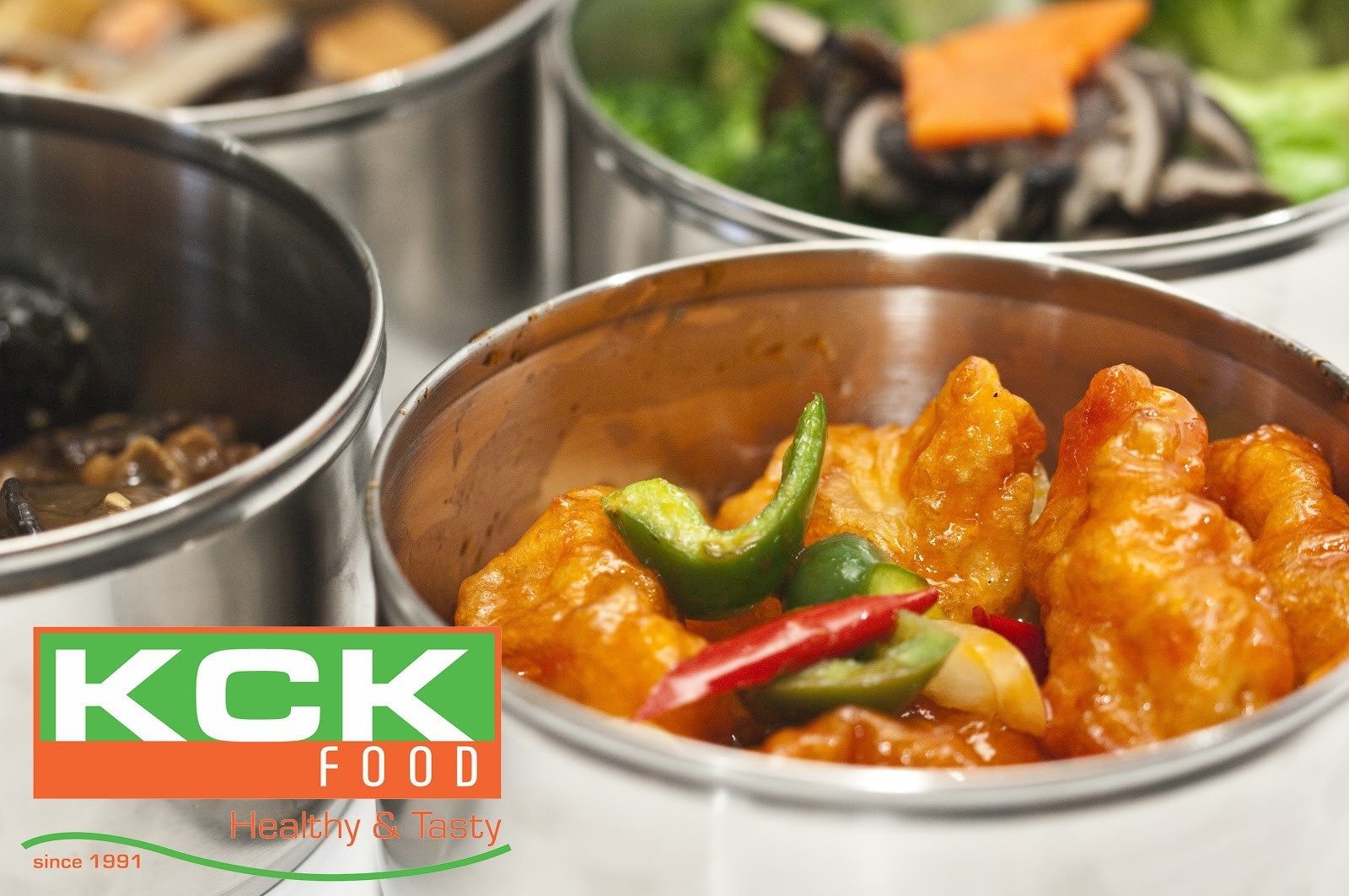 Serving food since 1991, there's a high possibility are that your parents or even older relatives might have enjoyed KCK's Tingkat catering services. Not only do they serve healthy and delicious meals, but they also have excellent customer service. They serve a dinner-only Tingkat menu with local favourites like chicken curry.
Prices start at $82.50 for 2 pax per day for 5 days. That brings the cost per day to around $16.50. However, ordering for a longer duration will provide cheaper meals in the long run.
According to their 20-day plan, the price per day comes down to around $11. Each pax includes 3 dishes and 1 soup with no rice included, so you'll have to prepare the rice at your home (or buy it as an add-on).
They have a rewards point system and even offer benefits like a free pizza on every order of 20 days.
Address
They deliver food to postal areas with codes starting from 73, 74, 75, 79, 80, 79, 54, 53, 82, Choa Chu Kang, Bukit Panjang, selected Jurong postal codes, Bedok area
Contact
+65 6443 5723
Suggested Plans
Their 20-day option provides good value for money.
Plus you may even get a free pizza.
Timings
Delivery timing starts from 3:00 pm to 6:00 pm only from Monday to Friday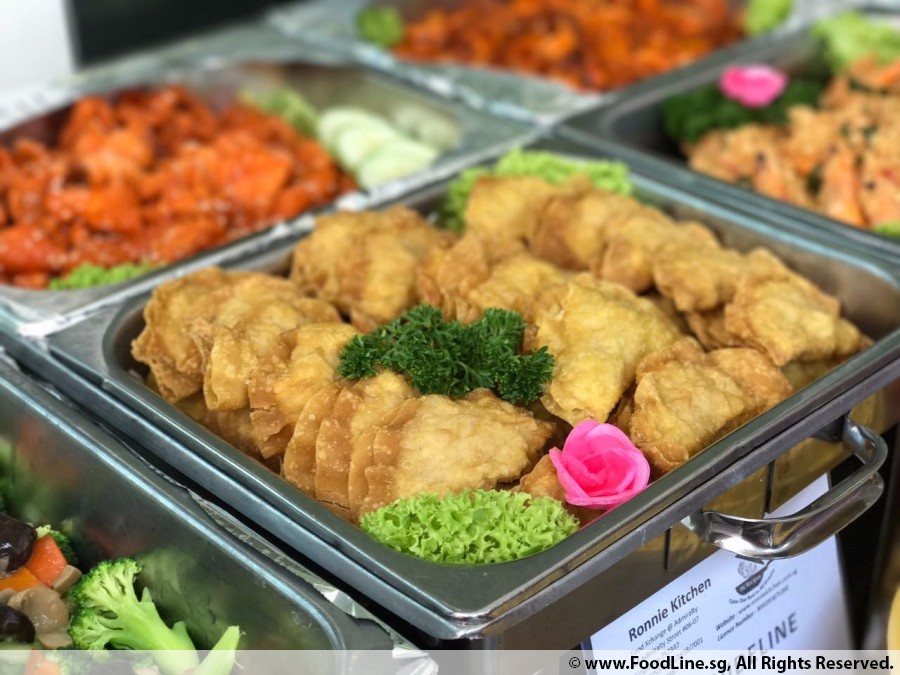 If you are a fan of Chinese food, Ronnie will be a great choice. They specialize in preparing over 100 types of Chinese dishes. The dishes are delicious, consists of less MSG, less oil, and less salt. They also serve generous portions. In addition, all the food comes in disposable microwavable containers, making it easier to heat them.
They have a 20-day plan, but you can choose 3 dishes and 1 soup or 4 dishes. Likewise, they also have Tingkat meals to cater for 5 people. This is a great choice if you have a large family at home. Their 20-day plan for one individual with rice comes up to around $10.21 per day, while the one without rice comes up to $9.36 per day.
If you're not sure about committing to them for 20 days, they also offer a 5-day trial period. They deliver food from Monday to Friday.
| | |
| --- | --- |
| Address | For the locations that they deliver to, click here. |
| Contact | +65 6753-1003 |
| Suggested Plans | Their 20-day plan for a single person without rice is one of their cheapest plans. |
| Timings | Monday to Friday from 09.30 am to 01:00 pm (Lunch) and 03:00 pm to 06.30 pm (Dinner) |
Rich Food has a simple mantra. Deliver only the freshest and most nutritious food right to your doorstep. And this is easily seen in their food, which is scrumptious and extremely healthy and free from MSG. They have many dishes that come in their Tingkat meals, featuring dishes like sweet and sour pork, cereal chicken and many more. They only either do Tingkat lunch delivery or Tingkat dinner delivery.
In fact, no two meals are the same, so you won't ever be bored due to a lack of variety. You can find details of their menu on their website. They have a Menu A and a Menu B, which they rotate. You can opt for either 1 soup and 3 dishes or 4 dishes. Rice is also available (both white and brown).
They offer a special 5-day plan for new customers to try them out. Their 10-day plan without any rice comes to around $12.95 per day and serves two people, while their same 20-day plan comes to around $12.84 per day.
| | |
| --- | --- |
| Address | N/A |
| Contact | +65 6261 4600 |
| Suggested Plans | Their 20-day plan without rice comes to be one of their cheapest plans and serves two. But you can also use their 5-day trial to experience them. |
| Timings | Lunch (10.00 am to 1.30 pm) and Dinner (3.30 pm to 7.00 pm) |
Don't be fooled by their name. Fatty Daddy Fatty Mummy is the healthiest Tingkat delivery out there. In fact, they're so healthy that they're even good for the elderly in the family. They have a menu that has absolutely no processed food items. They are the first-of-its-kind to serve such healthy Tingkat meals in Singapore. It has no canned food, no MSG, less salt and oil, and very nourishing soup. This comes in dinner and lunch.
If you don't want to go all healthy, you can choose their regular Tingkat. Their regular Tingkat has no MSG and less salt and oil. This is perfect for working parents and comes only in the dinner variant. Besides, they offer food from a variety of cuisines like local favourites to Nonya to Western.
Their portion sizes are generous in their 10, 12, 16, and 20-day plans. You can check out their page for regular promotional offers and their monthly special menu.
| | |
| --- | --- |
| Address | To check their delivery address, check here. |
| Contact | +65 6100 0087 |
| Suggested Plans | You can contact them directly about their plans. |
| Timings | Lunch is served from 10:00 am to 01:00 pm |
Providing Tingkat delivery services for over a decade now, Kim's Paradise has a simple motto "Good food comes from a Good heart with Great passion". Staying true to this, they prepare meals using only the freshest of foods, and to make sure that their food is up to their high standards, they conduct strict quality tests every day.
They do checks on their hygiene, cleanliness, and food quality taste. Moreover, they have over 200 dishes that are less in salt and oil. Their plans for 10 and 20 days at $12.305 and $10.96 per day respectively. They have an 8-day trial as well.
Do check out their website for the several promotional schemes that they offer regularly.
| | |
| --- | --- |
| Address | Delivers to most areas. Except for the CBD area. |
| Contact | +65 6255 1000 |
Bringing the taste of familiar Asian dishes to your doorstep, Mei Hao 99 offers over 400 dishes, and their menu changes monthly. This is ideal for those who are looking for food variety. That's not all. You can even request them to make sure that they don't add certain things to your food.
Their plans are very flexible that allows you to opt for 4 days per week and prolong the dinner period to 5 weeks without any additional charges.
Likewise, their dishes come in free containers. Their 20-day plan for 2 people without rice round up to $243.96, which comes to around 12.19 per day.
| | |
| --- | --- |
| Address | To check their delivery address, check here. |
| Contact | +65 6659 8133 |
| Suggested Plans | Their 20-day plan for 2 people is the cheapest but as the plan goes up, they offer certain benefits like free soup. |
Savoury Kitchen is one of the best Tingkat delivery services that provide healthy and nutritious meals at an affordable price. They have more than 200 dishes that are prepared using less oil, salt, no added MSG, and 100% vegetable oil. That's not all, their meals round-up to be around $5 per person each day.
They provide lunch or dinner delivery in two options, the normal meal Tingkat and the healthy meal Tingkat. This makes it perfect for large families who may have individuals with different needs. These packages come in 10-day and 20-day packages. You can check out their meals for the week regularly on their website.
Their lunch Tingkat for one person comes with 4 dishes and is only available for 20 days, coming to $10.96 per day. Their dinner Tingkat for one person costs the same but provides you with the option of either 3 dishes and one soup, or 4 dishes. Rice is not included in any of their packages.
| | |
| --- | --- |
| Address | To check their delivery address, check here. |
| Contact | +65 6315 0820 |
| Suggested Plans | Their cheapest plan is for 5 pax, 20 days coming to $5.14 per person |
| Timings | You can check their delivery timings over here. |
Getting delicious dishes like Hainanese Chicken Rice, Ee Fu Noodles, Fried Hokkien Mee and the menu gets changed daily. And the average cost comes out to be only around $5.00? These are the few things that make Select Catering so popular among the masses.
Their most well-known plans are the Economical plan and the Deluxe bundle. The Economical arrangement accompanies 3 dishes and 1 soup, or 4 dishes. The same goes for their Deluxe bundle.
Their Economical bundle costs $4.28 per individual every day with no rice and $4.82 with rice. The Deluxe arrangement with rice costs $5.35 without rice and $5.89 with rice per individual every day. You can even opt for brown rice if you want to eat more healthy.
They have special meals on Thursdays, or ordering for more than 3 months, and getting a discount of $30. Ordering 4 pax and above gets you a special dessert or fruits every Wednesday.
Providing Tingkat delivery services for either lunch or dinner for 10 or 20 days, FongFu is definitely one of the cheaper Tingkat services. Featuring dishes like Kung Pao Chicken and Signature Beancurd, they provide 3 dishes and soup or 4 dishes for each meal. If you decide to opt for both, they will serve you a different menu. If not, then you can check out their menu on their website.
Their 10-day plan for 2 persons comes up to $133.75, which costs around $6.65 per meal. This does not include rice which will cost another $8 per person. Ordering their 10-day plan will get you your food in microwavable containers. Their 20-day plan gets you food in Tingkat or microwavable containers (according to preference). The cost of 20-day plans for 2 people comes to around $5.6 per meal.
They run several promotions as well, which get you things cheaper or with more benefits.
| | |
| --- | --- |
| Address | They deliver Lunch and Dinner islandwide, except Sentosa |
| Contact | +65 6262 6565 |
One of the most versatile Tingkat delivery services, Happy Mama Papa is perfect for when you need food that is healthy and delicious for long periods of time.
They cook their food with less salt, less oil and no MSG. Moreover, they prepare their soup using a double boiling method which is more nutritious and delicious. Their meals are easy to digest, which is perfect for the older ones in the family.
What makes them stand out from other Tingkat delivery services is that they deliver food from Monday to Sunday. This makes it an excellent option on the weekends. Meals can cost as low as $8.80. If you're not sure about committing them for so long, you can try out their 7-day trial first.
They offer various add-ons like speciality rice which is healthier and come in various flavours like yam and garlic.
| | |
| --- | --- |
| Address | They offer islandwide delivery |
| Contact | (+65) 88287028 |
| Suggested Plans | Definitely try out their 7-day trial with the speciality rice as an add-on to get the best idea of their menu. |
| Timings | Monday to Sunday from 10:00 am to 01:00 pm (Lunch) and 03:00 pm to 07:00 pm (Dinner) |
Next up, we have Hong Choo. This might be familiar to many as they also do offer buffets as well. Moreover, their Tingkat delivery is delicious and healthy. Customers rave about how delicious their food is, especially their soup, which is flavoursome.
They prepare food that is less in salt and oil, which is an excellent choice. Furthermore, they do not use any MSG in their food. The majority of their dishes are made with fishes, which is ideal for all fish lovers out there. Besides, the quantity is enough for one so it is a value-for-money choice.
You can either opt for tiffin carriers or even microwavable boxes. And if you're hesitating about committing to them without trying them out, you can opt for their 10-day trial first. We're sure you'll love it.
| | |
| --- | --- |
| Address | No. 5 Lorong Bakar Batu, #08-04, Macpherson Industrial Complex 348742 |
| Contact | (+65) 6858 3170 |
| Suggested Plans | Their 20-day package for one pax costs $160 if you opt for microwave container. |
This is the best Tingkat delivery service that you can opt for if you're a new mother. They've designed their dishes in a way that supplements maximum nutrition so that they can recover quickly. Filled with herbs and nutritious ingredients, these dishes will nourish both your body and soul.
But that's not all the benefits that they offer. They can even provide you with meals that promote lactation if required. Some of these clean-eating food items include salmon, broccoli, ginger and the wonderful slice fish with egg in ginger broth.
Each meal also comes with a drink of red date tea, which is a great traditional option during postpartum. You can opt for a trial meal of lunch or dinner to make sure that this is the one for you. In addition, you get several benefits as well like a $20 swimming voucher, etc.
Happy eating and recovering!
Address
81 Tagore Lane, TAG A, #01-11, Singapore 787502
Contact
+65 6727 5599
Suggested Plans
20 days lunch + dinner = $1228
28 days lunch + dinner = $1688
Timings
Mon – Tue: 09:00 am to 08:00 pm, Wed: 9:00 am to 07:00 pm, Thu – Fri: 09:00 am to 08:00 pm, Sat, Sun & Public Holiday: 10:00 am to 07:00 pm
Aiming to give a touch of nostalgia to their food, they serve food made with careful precision using quality ingredients. The concept of Tingkat is what they proudly flaunt and follow.
From their Rendang to Chendol, their food is absolutely amazing. Talking about prices, they are a joint which keeps things very affordable without compromising on the quality. Patrons can't help but get drawn to their sets offer the best food selections at killer prices.
So, if you are looking for nostalgia delicacies that have a hearty home-cooked feel, it is strongly recommended that you look no further.
| | |
| --- | --- |
| Address | 119 Owen Rd, Singapore 18924 |
| Contact | +65 62913574 |
| Suggested Plans | Try their set menu. They deliver island-wide however their prices are affordable and cheap. |
With high-quality home-cooked meals in an extensive variety of food, the folks at Le Xin Catering Group sure do know how to spoil their beloved customers. Known for its excellent flavours, they deliver you food that is worth coming back for more.
Their Tingkat plans are versatile from trial plans and long-term plans such as for families. Due to their efficient delivery services and affordable prices, they are in high demand. Likewise, their food has many 5-star reviews from satisfied customers.
From chow fried rice to mee goreng and even their sambal fried rice, nothing that comes from their kitchen is less than a masterpiece, and they lovingly deliver it all as your leisure suites.
| | |
| --- | --- |
| Address | 15 Woodlands, #02-55, Singapore 738322 |
| Contact | +65 68179119 |
| Suggested Plans | Their trial plans for five to ten days come highly recommended! However, they have some of the cheapest long term plans as well. |
| Timings | Monday to Sunday from 09:00 am to 10:00 pm |
Serving the best home-cooked meals with love to several loyal customers, the folks here have been doing this for a long time. Besides, they take pride in ensuring good service and food quality. Their food will ensure a nostalgic flavour that will remind you of your childhood.
They have an extensive array of various plans that might suit your needs best. From their trial plans to their twenty-day plans to ensure that no one is left hungry and dissatisfied. Their prices might seem a bit high, but they charge reasonably for the products they produce.
They serve primarily in Tingkat, though they also use microwavable and disposable containers. They have various set choices with three to four dishes, one soup and rice. Their meal sizes are considerably large, so one is guaranteed to have a filling and satisfying meal.
| | |
| --- | --- |
| Address | 600 1 Beach Rd, #02-14, Golden Mile Tower, Singapore 199589 |
| Contact | +65 65612104 |
| Suggested Plans | Their twenty-day plans are the most recommended and their Delux sets with four side dishes and one soup is extremely popular and one must give it a try. Their five-day trial plans are popular as well. |
| Timings | Monday to Sunday from 12:00 am to 06:00 pm |
If you think that Tingkat is just your average meal, Royal Cuisine Group will change your viewpoint. Their menu consists of several international dishes like the famous Korean kimchi chicken and the tangy Tom Yum Seafood Soup.
All of the meals comprise over four dishes that cost you as low as $4.80 per meal. These dishes are also cooked with less salt with no added MSG. This makes it a good meal option for those who are health conscious.
Choose from either white rice for $1 per meal or brown rice for $2 per meal. This is an excellent option for those who need their carbs during their meals. If you prefer something fancier, then go for their speciality staples such as Creamy Carbonara and Pad Thai for only an additional $3 per meal.
| | |
| --- | --- |
| Address | 10, Blk A Raeburn Park, #01-28 Singapore 088702 |
| Contact | +65 8858 2263 |
| Timings | Monday to Sunday from 12:00 am to 06:00 pm |
Serving food on a pay-per-use credit system, AMGD is one of the most flexible Tingkat delivery options in Singapore. To start, you purchase a certain number of meals. The more meals you purchase, the lesser each meal costs. For instance, one meal costs $17, whereas if you buy 50 meals costs $12.5 per meal, which is valid for 90 days.
They serve healthy food choices, which are low in calories. There is a variety of dishes such as Triple-Fix, which consists of quinoa, topped with cajun chicken and greens. Also, you should try their delicious Memory, which is Teriyaki Baked Salmon with mixed greens and nuts.
Good food and health, here we come!
| | |
| --- | --- |
| Address | 28 Tai Seng Street #03-01 Sakae Building, Singapore 534106 |
| Contact | +65 87819323 |
| Timings | Their fifty-meal credit plan costs $12.5/meal and is valid for 90 days. If you get more than one meal delivered or paired with someone else, then no delivery charges. |
Serving Halal-certified delicious food to your doorsteps with a wide variety of food, Cusina is a must-try. There are many kinds of cuisines you can choose from. It ranges from Malay, Japanese, Chinese and even Western. You also get the flexibility to mix and match your daily Tingkat menu to enjoy a new dining experience. Cusina also changes their Tingkat menu every month so that their customers will have new food variety.
With a minimum commitment order of 3 days and availability of 1-day ad-hoc order, they are quite flexible in their services. Also, you can order anywhere, anytime, and even during public holidays, with no extra fees for delivery. They also accommodate special dietary requests for less spicy food or boneless chicken.
With no MSG, less salt, less oil and good taste quality, they aim to provide healthy food to the working people in the family and elderly, so that you don't need to stress about your daily meals.
| | |
| --- | --- |
| Address | 12 Kallang Avenue, #02-10 Singapore 339511 |
| Contact | +65 93804729 |
| Suggested Plans | Their daily menu which costs around $28 for one meal for 2 pax, $38 for three is definitely a good way to try them out. |
Do you like to have your food on the spicier side? Then you'll absolutely love the food from YassinKampung. They specialize in seafood and Chinese Malay fusion dishes served in Zi-Char style (Chinese home-cooked dishes).
Most Tingkat caterers avoid providing spicy food due to many reasons, but YassinKampung provides spicy food on their menu. In fact, they even provide a large variety of them. Spicy dishes like dry chilli beef, Kang kong belacan, and sambal sotong are some of the best dishes that they serve.
The eatery has two options. One is a 10-day service while the other one is 20 days service with options for 2-6 people. So, it is ideal, regardless if you are a couple or a family. The menu changes after a 4-week basis, so you can expect various signature dishes from them.
| | |
| --- | --- |
| Address | 676 Woodlands Drive 71, #01-03, Singapore 730676 |
| Contact | (+65) 6920 1188 |
| Timings | Monday to Sunday from 11:00 am to 12:00 am |
ReLacto is one of the best appraised specialized Tingkat delivery services created by Tian Wei Signature that provides proper meals that can promote recovery from childbirth daily. Tian Wei Signature serves nutrient-dense meals for mothers in their critical period after birth, namely the confinement period. With every mother's needs in mind, Relacto offers a wide-ranging nutritious menu specially curated by their award-winning chef and in-house dietitian.
ReLacto's dishes are packed with lactation-boosting ingredients and each meal set is accompanied by 600ml of lactation drink to ease a mother's burden in improving her breastfeeding experience. They hold on to the belief that the right diet for breastfeeding is not just about boosting milk production, but also providing what is best for the newborn; in terms of healthy growth and proper development. The Chef-recommended traditional dishes preserve the classic, homely feelings one gets when they are served with foods from their own kitchen at home while the fusion dishes bring out the fresh tasty flavours, creating an exciting recovery period.
ReLacto's top milk-boosting dishes like the Thai style steamed seabass, fenugreek garoupa fish soup, steamed prawns with garlic vermicelli & broccoli, and braised chicken with ginger and coriander sauce are always recommended.
| | |
| --- | --- |
| Address | 81 Tagore Lane, TAG A, #01-11 Singapore 787502 |
| Contact | +6563601000 |
| Suggested Plans | Their 28-day plan is always great for new mothers, but you can try out their 7-day trial before opting for it. |
| Timings | Monday to Sunday from 10:00 am to 07:00 pm |
Foodline is one of the most popular food delivery services in Singapore. They have various plans when Tingkats are concerned, and the variety they offer with their food is simply unbeatable.
Every package comes with 4 dishes and 1 soup. They also offer free desserts with certain options and there is something for everyone. Their plans are versatile as well. You can choose their five-day plans if you want to take a trial before going for the ten-day or twenty-day packages.
Their food quality and delivery services are highly praised by their loyal customers. One of the popular plans includes their twenty-day package, which costs $160.50 for 1 person.
| | |
| --- | --- |
| Address | 51, Taicang AVE, #03-03 Pixel Red, Singapore 533941 |
| Contact | +65 61000029 |
| Suggested Plans | Their five-day trial plans can be a good choice however their twenty-day plans are extremely cheap and they also give extra perks with certain packages. |
To Conclude
With that, these are our best catering Tingkat menu and Tingkat meals delivery services presented to you. Be it you looking for confinement food for to-be mothers or healthy Tingkat for dinner, we hope you will enjoy these services and let us know more about your experiences.
For other food delivery to enjoy at home, you can grab our list of sushi delivery, pizza delivery and steamboat delivery. This list will bring you wide variations of cuisines for you to taste in the comfort of your home.
Besides, you will need a drink and dessert to enjoy after your meals. We have prepared a list of cake delivery and bubble tea delivery to order from home. Similarly, you can check our brands of tea, instant coffee, local brands of honey, and Manuka honey to try out.
Related posts
Subscribe for newsletter
* You will receive the latest news and updates on Singapore's best trends!
Trending Posts
May 30, 2023

What is Matcha? Matcha...

May 31, 2023

TLDR: In this article,...

May 31, 2023

TLDR: As an audio...