30 Best Mattress to buy in Singapore for every budget [2021]
Joanne, 4 weeks ago
28 min

read
3096
An essential starter guide to owning your very first mattress; at its best
Are you having a hard time sleeping even though you are worn out from your day? Or are you looking for a new bed for your BTO? Getting enough quality sleep helps us in protecting our quality of life, physical wellness, as well as mental health.
Because of the hectic and fast-paced lifestyle we are leading every day, it is important for us to attain restful sleep daily for a subsequent productive day ahead. In order for us to do so, it is critical for us to choose the right and suitable bedding furniture. We have talked about pillows singapore but what about mattresses?
Certainly, buying a mattress can be as stressful as first-time prawning or trying to get a driving pass from your private driving instructor. Most individuals are clueless about how to go about selecting the best mattress since there are so many types of mattress and a wide variety of brands in Singapore.
When you have a quality mattress, great sheets, and a good duvet with the perfect fill, it all works together to give you the perfect sleep
One thing is for sure, you will get what you pay for. Therefore, pricing should not always act as a deciding factor for a worthy purchase over a quality mattress. Besides, a mattress is something you use for a really long time and something that you sleep in every night!
In this article, we will focus on the top 30 mattresses, based on trusted user reviews. These mattresses are manufactured by notable mattress brands that are widely available in Singapore.
Factors to consider when buying a mattress
Buying a mattress may seem to be easy, but many buyers do not really know what they are looking for. I remember going bed shopping with my mother a few years back, and lamenting at how long it took for her to decide. Of course, now I understood why it took her so long to look and decide on the mattress that she eventually decided on.
In the next section, we will be covering the 3 main differences among mattresses available on the market: Type, Size, as well as thickness.
1. Types of Mattresses
How do you decide what mattress is suitable for you? First, you will need to determine whether you want a spring mattress, foam mattress, or hybrid mattress. Here is a compilation of everything you will need to know to decide between spring, foam, as well as hybrid.
Type/
Price
Features
Pros
Cons
Lifespan
Standard
Innerspring
($)
Metal Coils are surrounded by supportive layers on the bottom and comfort material on the top (Medium to Firm)
• Back Support
• Budget-friendly
• Less durable than foam
• Springs can be noisy
5 to 8 years
Foam
($$)
Layers of different-density foams to offer advanced softness without sacrificing support (Soft to Medium)
• Helps with joint pain
• Absorbs motion of restless sleepers
• Durable as compared to Innerspring
• Some foams trap body heat
• Softness can have sinking feeling
8 to 12 years
Hybrid
[Both spring & foam]
($$$)
Multi-layer bed that combines memory foam, latex or gel along with innerspring
(Medium)
• Offers pressure point relief and back support
• Regulates temperature better than pure foam mattresses
• Good for couples with different firmness preferences
• Expensive
• Does not absorb motion as well as foam
8 to 10 years
2. Mattress Sizes
Finding your bed size should be easy since most mattresses are universally sized. For people who always have a hard time differentiating between the sizes of Single as well as Super Single, this sizing guide will be helpful.
| | | |
| --- | --- | --- |
| Sizes | Dimensions | Suitable for |
| Single | 190 cm x 91 cm | 1 child/ petite adult |
| Super Single | 190 cm x 107 cm | 1 adult |
| Queen | 190 cm x 152 cm | 2 adults |
| King | 190 cm x 182 cm | 2 adults + 1 child |
3. Mattress Thickness
Mattress thickness varies between brands. Generally, high-end and trusted brands will provide us with a thicker and more durable mattress. On the contrary, mattresses that are lower in price will be thinner and perhaps less comfortable.
With the guide above, let's look at the best mattresses in Singapore.
The top 30 best mattresses to highly consider for your next purchase are classified below:
Highlights:
Hybrid mattress
Pressure-relieving foams
Great customer service
120 night free trial
Origin Mattress is well-known for its hybrid mattresses that utilize materials like memory foam, latex, and pocket springs to establish the ideal sleeping experience. Their Hybrid Mattress is also made with pressure-relieving foams that cater to both support and comfort throughout your body. This is perfect for those for are looking for good night support after much hectic activities such as a day of intense aerial yoga session or rock climbing.
With Origin, one can get a top-quality mattress at a lower price in relation to other brands. Ranging from $399 to $829, it is amazing that we are able to acquire a hybrid mattress at such an affordable price in Singapore.
In addition, Origin provides a very buyer-friendly retail service. It offers buyers a 120 Night Free Trial, and provides a full refund in case of dissatisfaction, making Origin the only risk-free mattress in Singapore.
Not only that, each mattress comes with a 15-Year Warranty. Therefore, this is perfect for those who worry about the maintenance after purchase.
In addition, Origin Mattress has one of the speediest deliveries island-wide, with a free 2-Hour Delivery option for all purchases. Coupled with their 120-Night Trial, this makes shopping for hybrid mattresses very convenient.
Likewise, you can read our Origin Mattress Review to find out more information!
| | |
| --- | --- |
| Address | 2 Kallang Pudding Rd, #02-04, Singapore 349307 |
| Contact information | +65 6977 9637 |
| Business hours | 11 AM to 5 PM, Daily |
Highlights:
Established since 1987
Affordable
Durable
Whenever we talk about mattresses, Seahorse Mattress will surely come to our mind. Renowned for their value-for-money mattresses, they have been hugely popular in Singapore since 1987.
Their mattresses, including the cheaper models, are famous for their durability as well as sturdiness. They can last for years with proper care and maintenance. The cheapest mattress is priced at only around $300. Thus, this mattress can bring buyers a good level of support and comfort even at a low price.
Highlights:
Widely used in 5-star hotels
High quality
Simmons Mattress is one of the top selections in mattress providers as accredited by prestigious 5-star hotels worldwide. Their mattresses are widely used by hotels such as Shangri-La, Marina Bay, and Marriot. These hotels are known to provide high-quality and luxurious mattresses that allow hotel guests to have a comfortable sleep during vacations.
With this, buyers can be assured that they will get a good sleep when they purchase a mattress under the Beautyrest series. Prices range from $1210 to $7570. Though pricey, it will be a good investment as every night will feel like you are being brought back to your vacation. To top it off, an additional feature is their luxurious pillow tops made of wool, silk, as well as cashmere that will be a perfect match for their mattresses.
Highlights:
Established since 1881
Produced in collaboration with orthopaedic surgeons
Good ergonomic support
Sealy Mattress is yet another long-running mattress manufacturer renowned worldwide. Founded in 1881, the company started fabricating their Posturepedic mattress range in the 1950s, which is specially made for individuals who have sleep problems due to poor posture. The brand collaborated with orthopaedic surgeons to produce mattresses that would aid people to get a good night's sleep while still providing them with the support required for their bodies.
Sealy Posturepedic mattresses comprise the Palatial Crest and Exquisite which are constructed with layers of high support materials. In addition, each Posturepedic mattress is tied to a 10-year guarantee. Prices also come in a wide range for you to explore based on your budget!
Highlights:
One-stop-shop for all your furniture needs
Natural latex foam mattress
100% online store
Established in the 1990s Easyhouse is a one-stop furniture store that operates fully online. As a result, they are extremely budget-friendly! Easyhouse's goal is to provide an easy platform with an extensive selection of mattresses as well as furniture to create your lovely home.
At Easyhouse, you can find latex mattresses from across many different brands. They sort their mattresses by type, firmness, price, brand as well as size. So, no matter your budget or preferences, you can surely find one that suits you!
The brand is also often praised for its fast and reliable service. Even though they do not have a physical store, their staff are very responsive through WhatsApp to answer any questions that you may have.
| | |
| --- | --- |
| Address | – |
| Contact Information | +65 8866 8168 |
| Business Hours | Monday to Saturday: 10 AM to 6 PM |
Highlights:
Able to customise level of firmness
Established since 1970s
Great support
Tempur Mattress has been making high-end mattresses since the 70s. Fun fact; their mattresses are first created by NASA as cushion supports for astronauts. Since then, the materials that were used for this innovation were integrated into a sturdy mattress that will provide us good amount of good night sleep now.
Besides, the best deal about Tempur is that you will have the option to choose what kind of firmness you like your mattress to be. Moreover, they have all the firmness levels ranging from soft to firmest which is good for those who have specific needs.
However, their manufactured mattresses tend to be costly at around $3000 each. Hence, you will have to be prepared for the costs when shopping for a mattress with Tempur.
Highlights:
Affordable
High quality materials
Free shipping
Noa mattresses; originated from Canada, are largely welcomed by the locals in the Singapore Market due to the high-quality mattresses that the company is able to offer. With prices starting from $349, their mattresses also employ high-quality materials like memory foam, pocket springs, and latex.
What provides them with an edge that most homeowners adore is their 100-night sleep trial offer that is bundled with free shipping and returns.
This will help consumers like you feel better and at ease with their choice of mattress before making an actual purchase.
| | |
| --- | --- |
| Address | Plaza Singapura District Booth at NomadX 68 Orchard Rd.#03-65 to 68 Singapore, 238839 |
| Contact information | +65 31382655 |
| Business hours | 11 AM to 9 PM, Daily |
Highlights:
Regular and hybrid forms
Good for those with back problems
Free from harmful chemicals
Baton Sleep mattresses are available in either regular or hybrid variants. In addition, users can make a selection depending on the firmness level of the mattress itself. Hybrid foams, like other mattresses in this list, utilize memory foam instead of normal mattress foam. This is so that it is firmer and appropriate for individuals who have sleeping or strained backs problems.
Baton Sleep's mattresses are also ideal for homeowners who have kids present at home as their mattresses are Certipur certified. This fundamentally means that all materials used in the manufacturing of the mattresses are free from harmful chemicals.
The company also offers a 30-day free trial so users can trial either their regular or hybrid mattresses first before finalising their actual purchase.
| | |
| --- | --- |
| Address | 110 Eunos Ave 7, Level 2 Comfort Design Building, Singapore 409573 |
| Contact information | +65 6747 4809 |
| Business hours | Saturday to Thursday: 9 AM to 6 PM |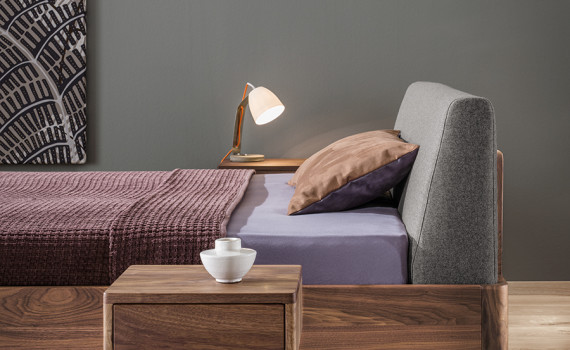 Highlights:
Eco-friendly mattresses
Open pored and breathable structure of bed
Ergonomically designed
Established in 1988 by two biologists, dormiente has been making natural mattresses, natural latex mattresses, futons and solid wood beds in addition to natural duvets, pillows, slats. All of their products are made in Germany and with a particular focus on health, orthopedic requirements, ecology, as well as sustainability.
With a whole range of certifications, their latex mattresses have open pored and breathable structures, follow the contours of your body, support your spine perfectly, as well as support disc regeneration.
If you need an expert's opinion, you can book a 1-hour private mattress trial where specialists will recommend mattresses and pillows based on height, weight, body profile, sleeping position as well as specific orthopedic concern areas.
| | |
| --- | --- |
| Address | 315 Outram Road, #11-10 Tan Boon Liat Building, Singapore 169074 |
| Contact Information | +65 9748 4468 |
| Business Hours | Wednesday to Sunday: 11 AM to 6 PM |
Highlights:
Adaptive fabric
High quality materials
Much like the Origin Mattress, HipVan Mattress also advertises the comfort and support of their mattresses to potential consumers widely, due to their memory foam, latex, and pocket springs materials.
This well-known mattress brand is certainly well capable of providing the user with a cool and invigorating sleep even during the hot summer in Singapore, as Adaptive Fabric is being used to cover the mattress.
Besides that, the mattress also comes with a pillow topper that has the ability to absorb body aches to keep one energized and prepped for the next day.
| | |
| --- | --- |
| Address | 19 Kallang Ave, #01-155, Singapore 339410 |
| Contact information | +65 6291 1725 |
| Business hours | Wednesday: 11 AM to 8 PM |
Highlights:
100-day free trial
100% Natural Organic Latex Mattresses
Custom sizes available
European Bedding carries a range of eco-friendly latex mattresses, ergonomic slatted bed bases, pillows as well as sheets. The brand takes pride in its 7 zones latex mattresses as well as ergonomic slatted bed bases which really make a great difference to the comfort and support you will get for a good night's sleep.
Because of the natural latex layers, you get a mattress that is certainly made for superior comfort and progressive support, allowing your spine to be comforted in its natural alignment. The mattresses are available in multiple heights as well as densities to cater to different ages, builds, sleeping positions and personal preferences.
Not only that, you can even have a King-Size mattress with one firmer and one softer side based on you and your partner's sleeping preference. There's size customisation too, with them crafting mattresses to fit yachts as well as ultra-wide mattresses for families.
Address
32 Eng Hoon Street Singapore 169780
Contact Information
+65 9628 9610
Business Hours
Monday to Friday: 9 AM to 6 PM
Saturday to Sunday: 10 AM to 7 PM
Highlights:
100% natural or organic latex mattress
Free returns and 100-night sleep trial
Mattress recycling service
Willow Mattress offers a 100-day free trial for you to try out the quality of their mattresses. If you do not like the mattress after 100 days, you may return the mattress free of charge. On top of that, they offer 15-year warranty, free delivery, and home setup so you do not have to do it yourself! Willow Mattress will also help you to pick up your old mattress for recycling!
The brand specializes in 100% natural latex mattresses that come at an affordable price. All of their eco-friendly mattresses are hypoallergenic, dust mite resistant, as well as antimicrobial. In addition, they are customizable!
Their mattresses feature a 3 layer adjustable comfort system because they understand that their customers come in different shapes, sizes, and weights. Not only that, Willow understands that we all have different sleeping positions and general personal preferences for firmness.
Furthermore, another feature is the 7 zone sleep system which allows the mattress to match the support level to the different parts of the body for the best sleep possible.
Address
315 Outram Road #01-10 Tan Boon Liat Building
Singapore 169074
Contact Information
+65 8787 7817
Business Hours
11 AM to 5 PM, Daily
Highlights:
Designed in Singapore and 100% made in Belgium
Ultra premium Sonocore® Latex
Woosa is a brand that is established by Singaporeans. The founders began with a goal of wanting to find a balance for local sleeping preferences in support, comfort, as well as quality to create the perfect mattress.
Woosa's mattresses are made entirely in Belgium using only the highest quality materials sourced all across Europe, such as ultra premium Sonocore® Latex and their very own Woosa Cloud Foam for a quality night's sleep.
They have two main types of mattresses: the Woosa mattress, and the Mysa mattress. The former is constructed with the best Latex and Memory Foam. On the other hand, the latter is constructed with 6 calibrated layers, including their signature Sonocore Latex and a Woosa Cloud Foam top. It is wrapped in Silver Microtencel fabric from Italy.
Woosa's signature Woosa Cloud Foam gives you quality comfort by cushioning pressure spots like hips shoulders, also offering thicker layers of latex and memory foam for deeper levels of progressive support.
Moreover, the ultra fine fibres used in their Microtecel fabric creates better airflow and dissipates moisture quickly- critical in humid Singapore nights.
The brand also offers a 100-day free trial for you to try out their mattresses. You may also choose to head down to their showroom at Tampines!
| | |
| --- | --- |
| Address | 1 Tampines North Dr 1 07-01, Singapore 528559 |
| Contact Information | +65 9848 5822 |
| Business Hours | Saturday to Sunday: 11 AM to 8 PM |
Highlights:
5-year limited warranty
Special fabric for a cooling sleep
Award-winning brand
Four Star is a Singapore brand that offers a collection of mattresses that are unique to the brand. Besides, their mattresses are specially designed for comfort and catered to a wide array of needs. One of the brand's most well-known mattresses is their Chiro Optima.
It is also one of the best high-grade latex foam mattresses in Singapore. Made of biodegradable firm-tex natural fibre, it provides a comfortable firmness to support blood circulation as well as body weight distribution for maximum comfort.
On top of that, it also contains durable hybrid latex sheets that are long-lasting and provide support for your back and spine.
Last but not the least, you can choose to buy their latex foam mattresses online or try them out in-store. The award-winning brand also offers 15-year warranty on their mattresses!
| | |
| --- | --- |
| Address | 44 Kallang Place, S339172 |
| Contact Information | + 65 6296 5966 |
| Business Hours | 11 AM to 8 PM, Daily |
Highlights:
Affordable
100% online
No GST
Sleep Space is a fully online store that is dedicated to providing you with everything related to sleep. Because they operate solely online, they are able to offer lower prices due to their reduced administrative and overhead costs. Therefore, their mattresses are extremely affordable.
The brand's website groups their mattresses in terms of price, brand, type, firmness, as well as type. This makes your shopping process much more simplified as well as organized. They also have a wide range of latex mattress products to complement the mattresses themselves, like latex mattress toppers and latex pillows.
Sleep Space also offers many options for flexible payments. In addition, with no GST and delivery in 4 to 10 working days, you are well on your way to better sleep!
| | |
| --- | --- |
| Address | – |
| Contact Information | +65 6677 7645 |
| Business Hours | Monday to Friday: 9 AM to 5 PM |
Highlights:
Children-friendly design
Eco-friendly mattresses
Made from natural and synthetic latex
Ibenma is a one-stop children's furniture center in Singapore. Besides, the brand carries mattresses for adults as well. Its mattresses are made in Belgium and made from natural as well as synthetic latex.
The mattress is long-lasting, has outstanding elasticity, self-ventilating and moisture regulating, has excellent body support and ergonomics, as well as anti-fungal and hygienic. In addition, all of their latex mattresses are certified and Eco-friendly.
So, if you are interested to check them out, you should head down to their showroom to view and try their mattresses!
| | |
| --- | --- |
| Address | 5 Stadium Walk, #02-07/08, Singapore 397693 |
| Contact Information | +65 6337 7476 |
| Business Hours | 11 AM to 8 PM, Daily |
Highlights:
High quality materials
Great for those with spinal problems
Conforms to body shape of individual
King Koil mattress is an established mattress brand undoubtedly well-known around the globe. They offer different types of mattresses made from high-quality materials such as pocketed springs, latex, foam, or gel mattresses.
Slightly expensive as compared to other quality mattresses, King Koil's mattresses promise to make available firm support while still ensuring you will have your deserved rejuvenating sleep.
Moreover, their Latex mattresses are great options for individuals who have spinal problems since it serves great support and conforms to the body shape of different individuals.
Users will have uninterrupted sleep even if there is movement on the other side of the bed. If shoppers are sourcing for a mattress at a luxury price, then mattresses from King Koil should be one of the key brands to consider.
Highlights:
Custom made mattresses
Firm back support
Naturally cool
Bayshop is a brand that offers an all natural latex mattress that is made of the best materials to achieve a cool and dry sleeping surface without the use of any chemicals.
The brand works directly with their partners in Thailand to bring you the most premium quality latex cores available. In addition, they only use natural latex, with absolutely no synthetic latex or fillers.
They carefully selected the right density formula for their latex cores to provide firm support, but also plush enough to cushion your shoulders and hips to relieve soreness. Therefore, Bayshop's latex mattress is said to be able to perfect your posture through sleep.
Furthermore, you may visit their sleep studio to test out their mattresses to find your perfect fit.
Address
81 Ubi Ave 4, #10-18, Singapore 408830
Contact Information
+65 6816 1885
Business Hours
Tuesday to Friday: 10 AM to 6 PM
Saturday: 12 PM to 6 PM
Highlights:
More than 50 years of experience
100% natural latex
Great support
A premier mattress manufacturer located in Malaysia, Getha Mattress has been around for more than 50 years. The company had established itself as producing premium mattresses that can last for many years.
Getha's mattresses are famous for their 100% natural latex mattresses with their bestsellers such as Getha Nature First Mattresses and Silk Luxury Mattresses which provide us with the assurance that there is an equal balance between support and comfort.
The company generally have a wide array of mattress choices you can opt for, which all are certified to be harmful chemical-free. Since Getha Mattress utilizes natural latex materials, their mattresses are slightly more expensive, ranging from $1500 to $20,000 each.
| | |
| --- | --- |
| Address | 61 Ubi Road 1 #01-32, 1 Oxley Bizhub, 408727 |
| Contact information | +65 9023 5595 |
| Business hours | 11 AM to 8 PM, Daily |
Highlights:
Configurable firmness for both sides of the bed
Free bed frame with every mattress purchase
iCool technology
Hallmark Grandeur mattress by BedOrigin is designed with Ergonosleep system that lets you configure your comfort zones in multiple ways. The mattress's head, body, as well as bottom zones may be set to 3 different levels of comforts: soft, mid or firm.
Their mattresses are made of fabric that features an iCool technology which certainly helps you to sleep comfortably even on Singapore's warm nights. So, if you are often kept awake because of Singapore's weather, be sure to check Hallmark Grandeur out!
While it is slightly pricey, with prices starting from $3299, the high-quality materials will surely make you feel that the mattress is worth the price.
| | |
| --- | --- |
| Address | 33 Ubi Avenue 3 #01-71 Vertex Singapore 408868 |
| Contact information | +65 6214 0351 |
| Business hours | 10 AM to 7 PM, Daily |
For Shopee Supporters
If you are one to make all your purchases, big or small, on the Shopee App, this section is undoubtedly dedicated for you! The remaining best 10 mattresses from this list are available for your purchase on Shopee. With such a big-ticket item such as a mattress, you will surely collect many Shopee coins for you to redeem and save some money off your next purchase!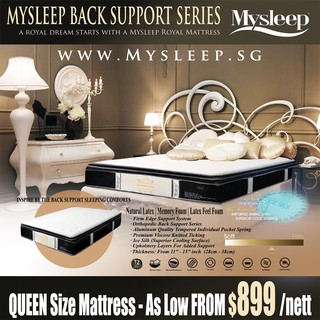 Highlights:
Free next-day delivery
Hotel-grade mattress
Superior cooling surface
MYSLEEP Mattress is an affordable and high-quality premium mattress that is known to be of hotel grade. Selling over 1000 pieces of mattresses monthly, offers memory foam mattresses, latex feel foam mattresses, as well as natural latex mattresses.
All of their mattresses feature a Firm Edge Support System, Aluminum quality tempered individual pocket spring, premium viscose knitting ticking, as well as a superior cooling surface to keep you cool on warm nights.
MYSLEEP Mattress offers free next day delivery. So, if you are looking for a quick yet high quality mattress, this may be a good choice for you!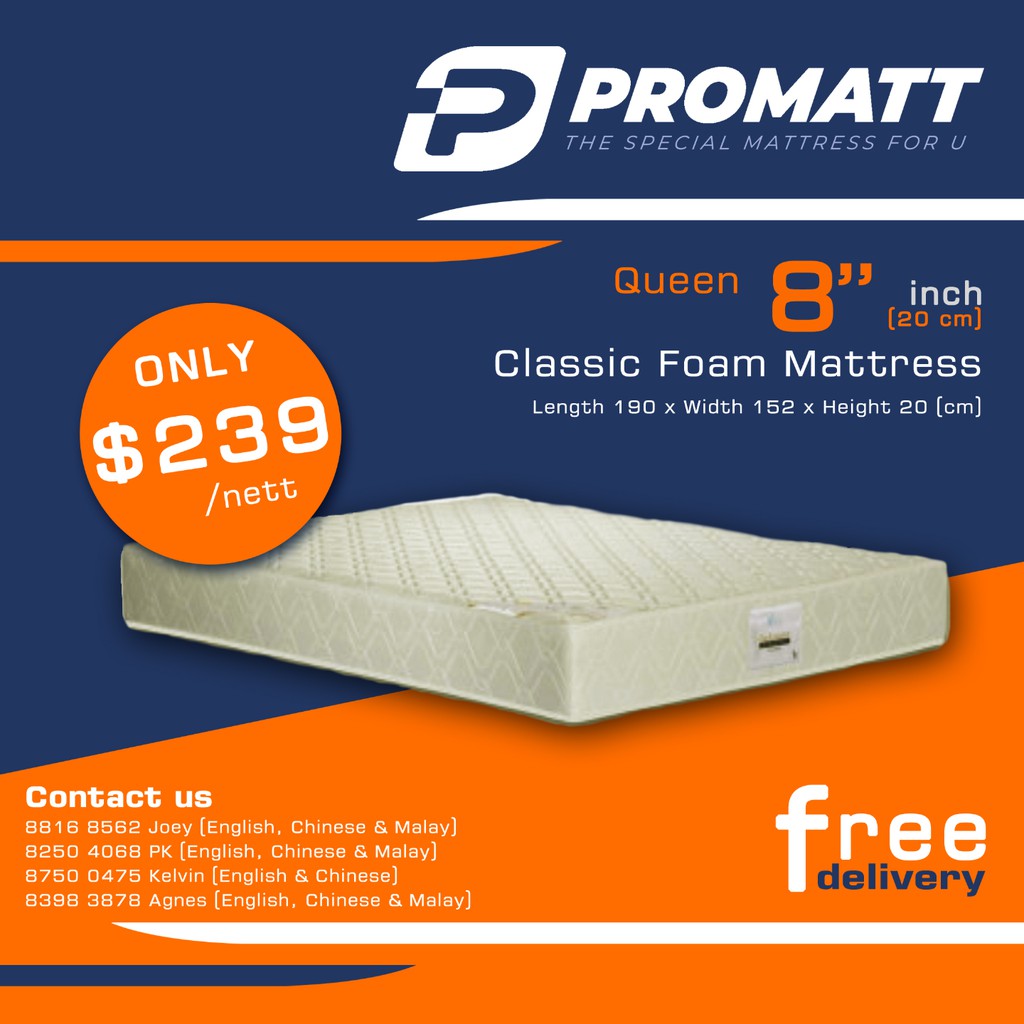 Highlights:
Variety of sizes
Free delivery
Next-day delivery
PROMATT is a mattress brand in Singapore that offers classic foam mattresses. Besides, the mattresses that are offered by them are extremely affordable, with prices starting from $69. They are also available in a wide variety of sizes and thickness so that you can choose based on your budget, needs, as well as preferences.
The brand offers free delivery. In addition, customer reviews left on the brand's page praised it for its quick next day delivery. If you are on a budget, but require a mattress that is comfortable enough for your daily needs, PROMATT will be great for you.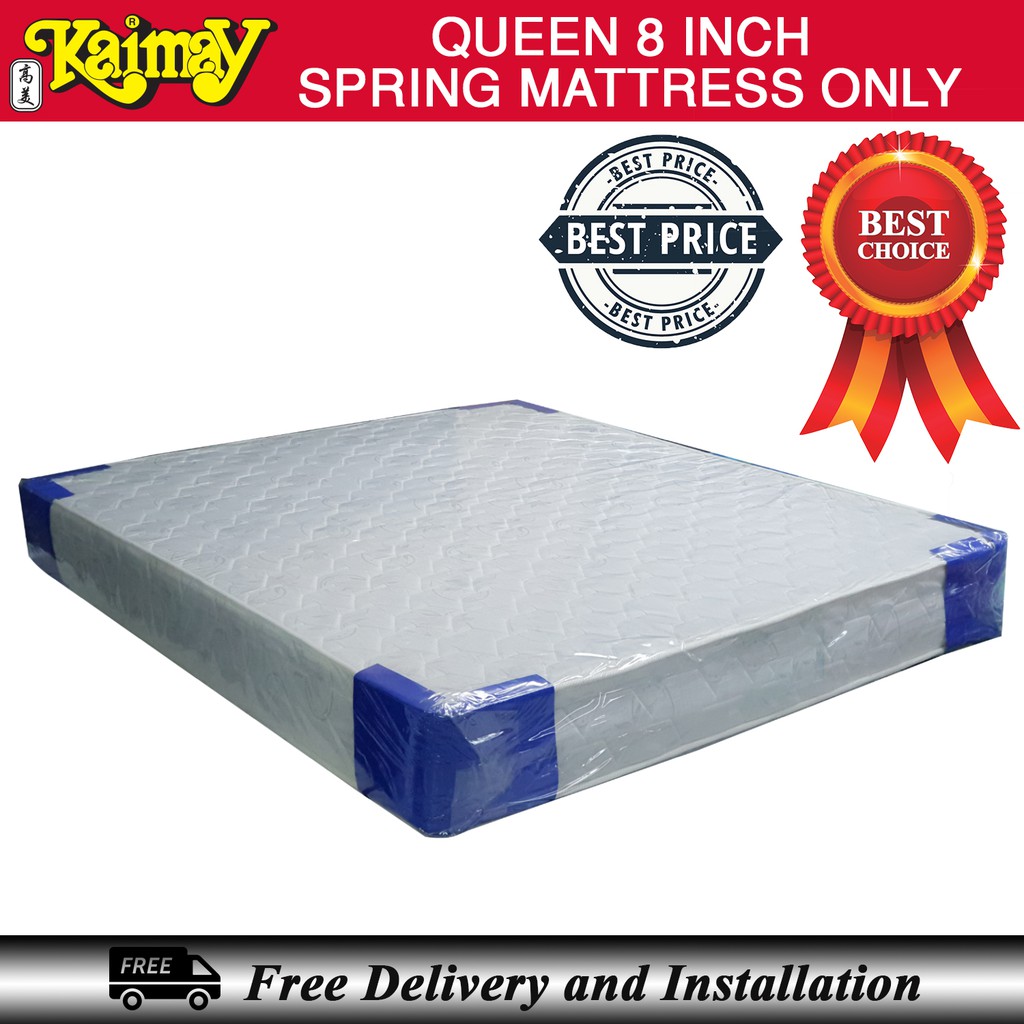 Highlights:
Fast local delivery
Affordable
Free shipping
Kaimay Bonnel Spring Mattress consists of Bonnel Spring, which is known to make a mattress supportive as well as comfortable. This brand is very confident that you will not be able to find a mattress of similar quality at the same price.
In addition to the perks that the brand offers, this mattress will be delivered without delivery fees to your door step. Moreover, if you are urgently in need of a mattress, you will be glad to know that the delivery by Kaimay is extremely efficient and quick.
On the downside, this is only available in Queen size, so it may not be suitable for those looking for smaller beds or king-sized beds.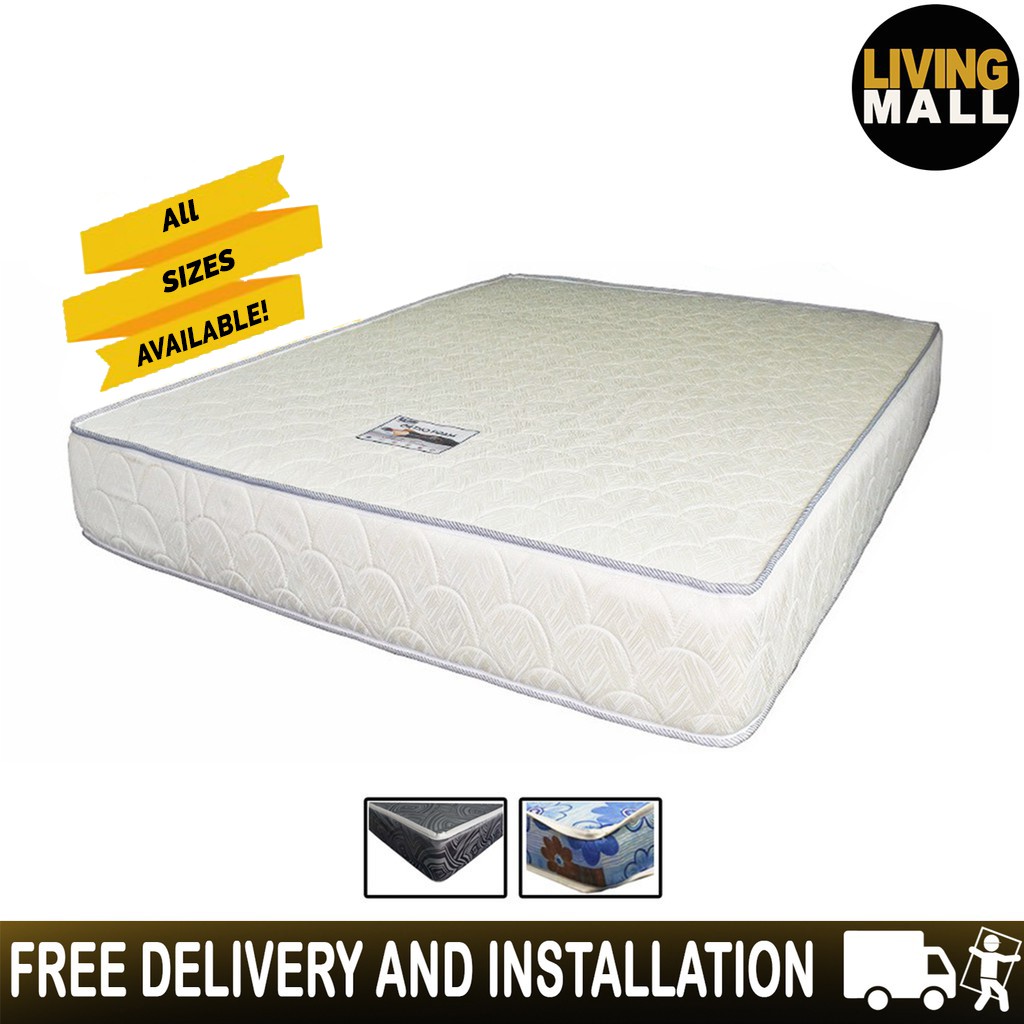 Highlights:
5-Year Warranty
Free Delivery and Free Installation
Living Mall is a brand that sells a wide variety of furniture. They have an extensive range of mattresses that come in all sorts of sizes, quality, prices as well as thickness. The Living Mall Ortho Foam HD Foam Mattress is one of their best selling mattresses and comes in 4, 6, or 8 inches. In addition, all sizes are available for this range of mattresses.
The Living Mall Ortho Foam HD Foam Mattress features orthopedic foam, has a firmness scale rating of 6/10, and is anti-dustmite, anti-bacterial, as well as anti-fungal. This firm and high-quality mattress will surely help you to sleep cool with the support your body needs with minimum disturbance.
In addition, your purchase of this mattress comes with 5 years warranty, free delivery, as well as free installation!
Highlights:
Free delivery
Free installation
Great ergonomic design
InnDesign is a furniture shop that sell a wide range of furniture including cupboards, beds, as well as bed frames. One of their most popular items is their Bonnel Spring Mattress which is anti-fungal, has firm support, anti-dustmite, and great ventilation. On top of that, if you are sick of having to flip your mattress once every few years, you would be glad that InnDesign's mattress is turn free!
Furthermore, many satisfied customers mentioned that the mattress's firmness is adequate, and works to provide pressure relief, support and temperature management. Those with back problems and aches particularly enjoyed sleeping on this mattress.
The brand offers free delivery and installation, as well as a 5-year warranty.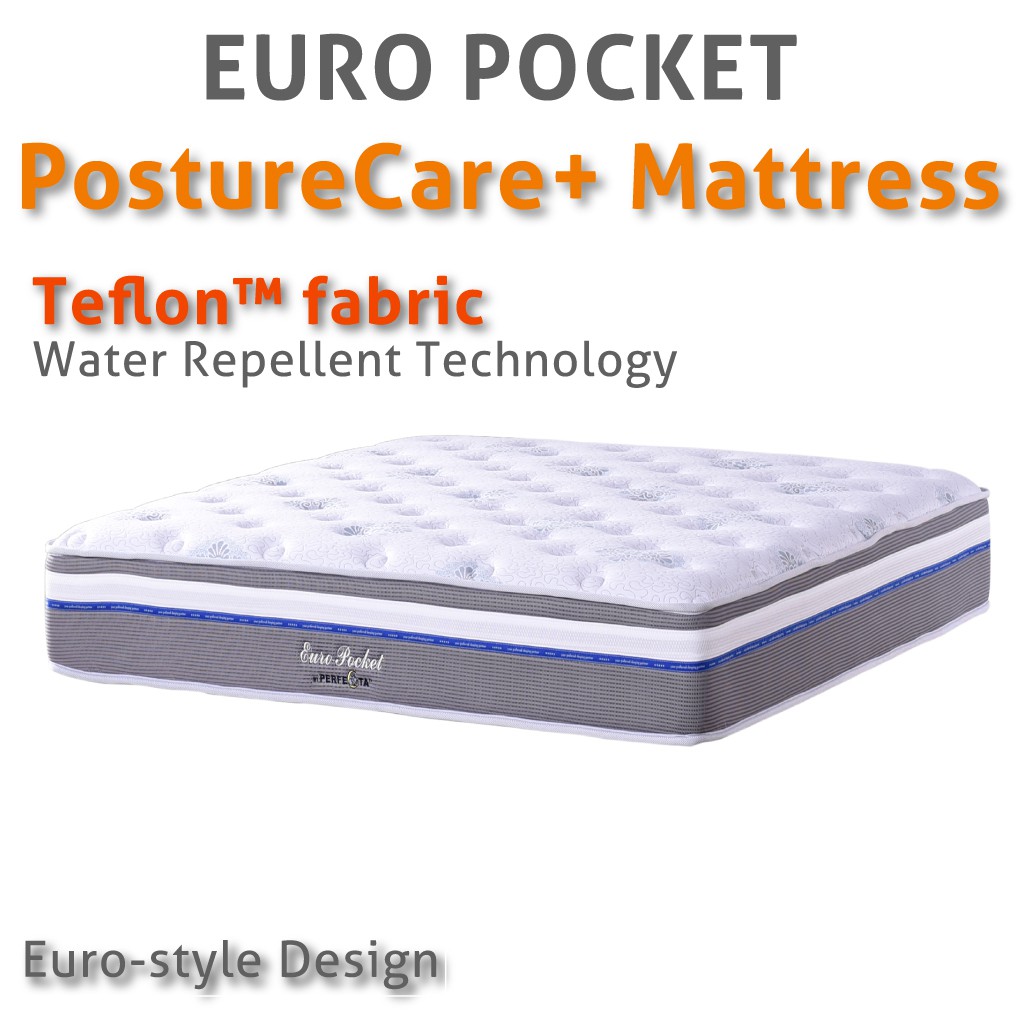 Highlights:
5 Zone Individually Pocket Spring system
Teflon fabric
Fast delivery
The Euro Pocket PostureCare+ Mattress sports a Euro-style design that is anti-bacterial, anti-dustmite, as well as anti- allergy. The mattress is made of Teflon fabric, which is water repellent, anti-pollution, has quick moisture absorption, and is quick drying.
With a thickness of 10 inches, a firmness scale of 8/10, and a comfort level of 8/10, the mattress is great for those with posture problems, back problems, as well as spinal issues.
In addition, this mattress features a 5 Zone Individually Pocket Spring system, which means that each spring in the mattress works independently from one another. This is great for couples because when one party moves, the other party will not be able to feel it and will thus not be experiencing disrupted sleep!
Euro Pocket offers free shipping that is said to be quick and fuss-free!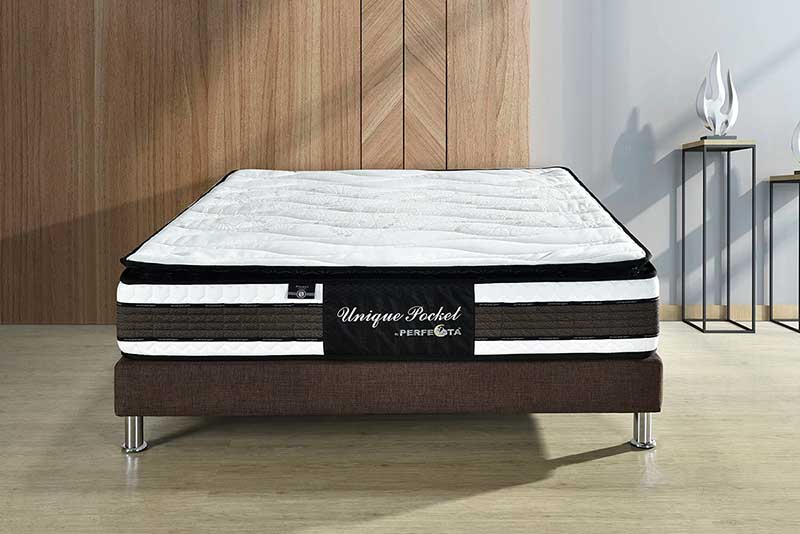 Highlights:
Free and fast delivery
5 Zone Individually Pocket Spring system
Affordable
Univonna's Unique Pocket Mattress comes in Single, Super Single, Queen, as well as King size. At 11 inches thick, the mattress features a premium bamboo fabric as well as a plush pillow top design for maximum comfort and support.
The mattress also features a 5 Zone Individually Pocket Spring system, which is perfect for couples, especially if one or both of them are light sleepers. This is because when you won't be able to feel if your partner tosses often, thus not disrupting any sleep.
The Unique Pocket Mattress is extra firm and is anti-bacterial, anti-dustmite, as well as anti-fungal. Your purchase comes with a 10-year warranty, as well as free delivery that is fast and efficient. With prices starting from just $270, this is definitely a great and affordable option!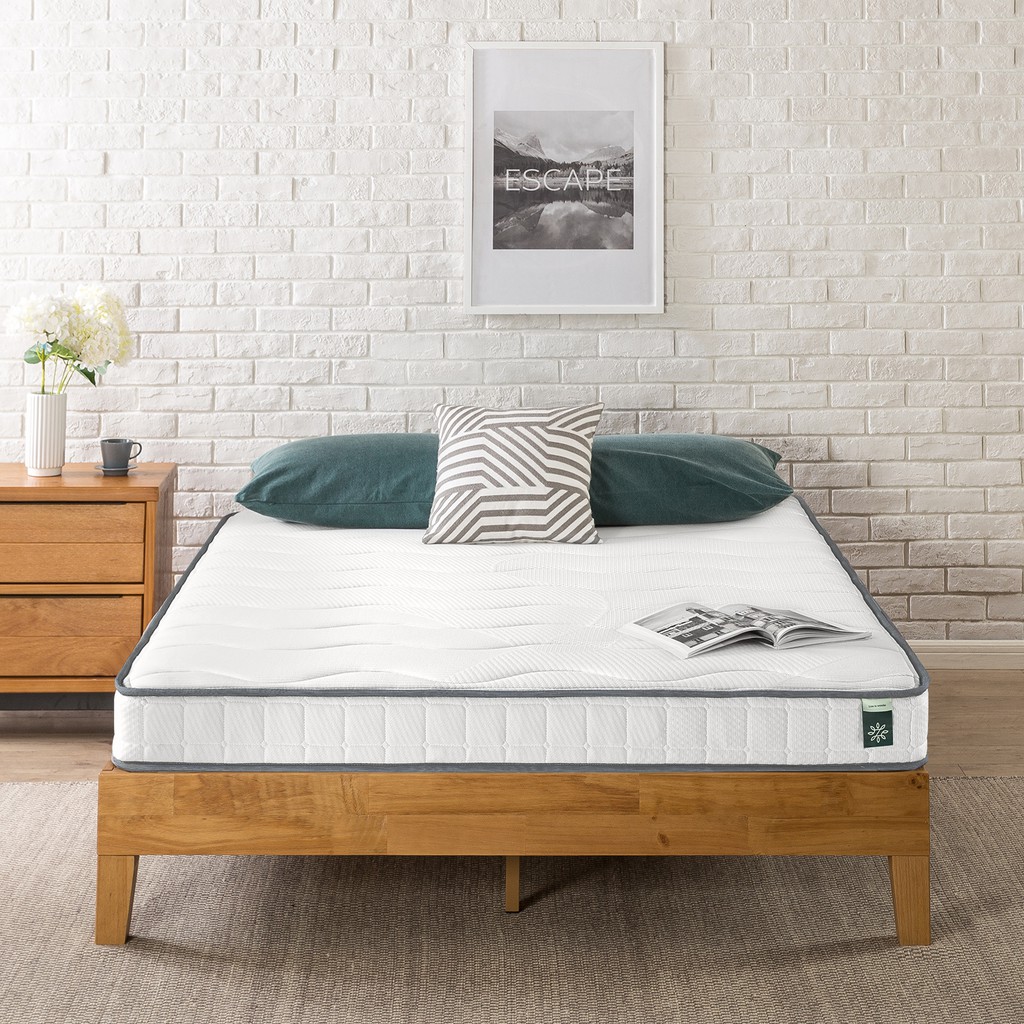 Highlights:
100-day trial
Cetipur certified
Hypoallergenic
Zinus Singapore is a mattress brand in Singapore that makes some of the comfiest mattresses you can sleep on. Furthermore, the brand infuses their mattresses with natural ingredients like green tea, olive oil and charcoal, to eliminate harmful phthalates, chemical flame retardants and formaldehyde. This means that you can sleep with a peace of mind!
The Zinus Bonell Mattress features a soft knitted hypoallergenic poly jacquard cover, soft fiber and it is foam quilted for a luxurious feel. In addition, all of the foam used in their mattresses are Cetipur Certified, which means that they meet strict standards for durability, performance, emissions as well as environmental stewardship.
Moreover, Zinus gives you full 100 days' trial upon delivery so that you are able to thoroughly test your new mattress in the comfort of your own home. On top of that, after your purchase, you have a 10-year warranty so you can shop in peace.
Zinus also has a patented technology that allows their mattresses to be efficiently compressed, rolled and shipped in a box conveniently to your door.
With free shipping, a 100 day trial, as well as a 10-year warranty, Zinus definitely is a trusted choice for all!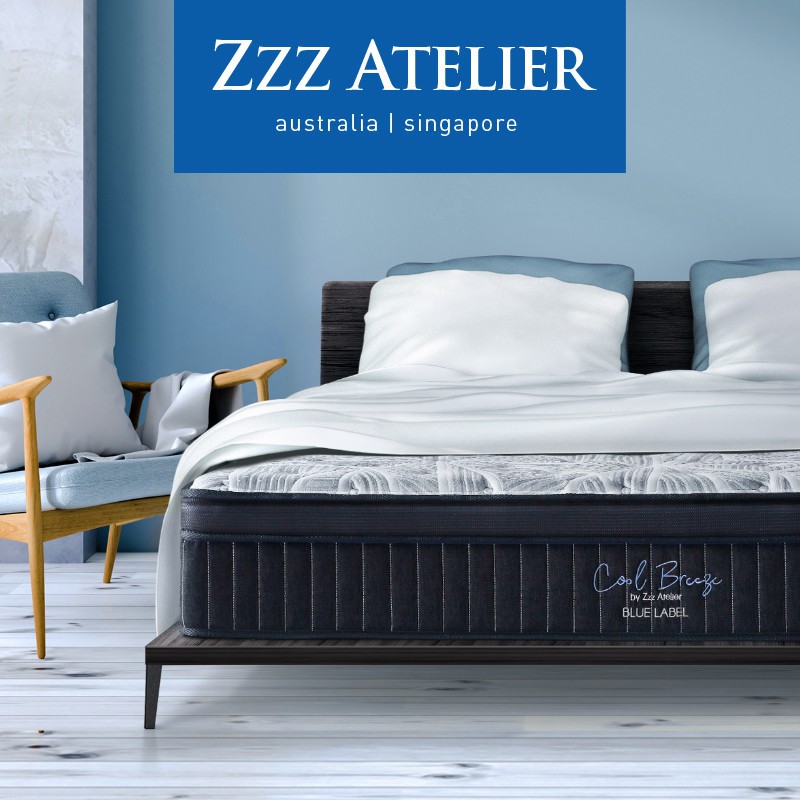 Highlights:
Hypoallergenic
Endorsed by chiropractors
Hotel grade mattress
Zzz Atelier is a brand that is committed to helping you live a healthier lifestyle. They believe that this starts with the best sleep possible. The brand carries premium quality Australian Brand mattresses, which are thoroughly tested as well as endorsed by certified chiropractors.
The Australian brand offers a Chiropedic Blue Label Mattress that is of hotel grade. It features cool gel memory foam, soft conforming foam, high desntiy foam, mini pocket spring, as well as a Turkish organic cotton blend knitted fabric that is hypoallergenic and soft on the skin.
Furthermore, from just $540, you can get a hotel grade mattress that has a plethora of features that will keep you well rested and comfortable!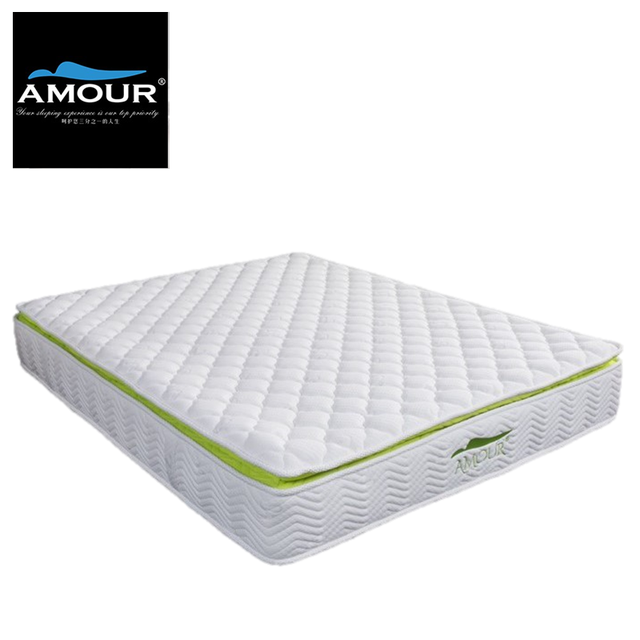 Highlights:
10-year warranty
Damask fabric
Durable
Amour is an online furniture store that offers quality and durable furniture for your home. The brand's best selling mattress is their Sweet Dream Pocket Spring Mattress that is available in all sizes and has a medium firmness rating of 7/10.
The mattress provides firm support for those who have back problems as well as posture issues. It is undoubtedly great for those with allergies as it is hypoallergenic and anti-dustmite.
The Belgian Damask fabric that is used in the construction of the bed is highly breathable as it has a porous surface to encourage ventilation. Therefore, this means that you will feel comfortable even on the hottest nights.
At its price point that begins from just below $200, you are definitely getting a steal. The brand offers free shipping as well as a quick one-day delivery. In addition, your purchase comes with a long 10-year warranty!
In A Nutshell
In conclusion, you can get the best mattresses around from the relevant brand stores, furniture megastores, and online marketplaces. To make your sleep more comfortable, I would certainly recommend you to get a mattress topper to maximise your quality rest.
While it is important for a home quality sleep, you should consider glamping singapore during weekends for some self healing and bonding session. Or perhaps some massage services to ease your muscles before heading for bed. All these undoubtedly help you feel refreshed and keep you going for the next coming week!
If you have read this far, then you are all set for your mattress-shopping adventure. Good luck!
Related Topic: 7 Best Foldable Mattresses In Singapore that are built for comfort
Related posts