25 Best Cake Shops in Singapore You Should Check Out [2022]
Joanne, 3 years ago
28 min

read
38004
Cakes are eaten on almost every occasion: an afternoon tea event, at birthday parties, weddings, even as midnight snacks. There's also an endless variety of cakes: cheesecakes, ice-cream cakes, sponge cakes, and only more to come in the future (Coriander cake? No-thank-you). It seems that along with the evolution of mankind, there might have been a common ancestor with the 'cake', and it's somehow built into our human condition and modern society, or I might just be getting ahead of myself again. But it does beg the question, where are the best cake shops in Singapore?
Are they hiding in those old-school bakeries underneath the blocks? Or are they living it up in those baccarat display glasses in those swanky boutique shops in Orchard? Maybe they're living contently in the homes of one of that ex-banker turned home baker? Will we ever know?

Regardless, here is our list of Best Cake Shops in Singapore. This list compiles our attempt to offer you a perfect place to get that piece of cake that will bring you and your loved one's delight! Keep reading to find out which cake shops take the – cake!
Highlights:
Baked Fresh Daily
Timely Delivery Service
No preservatives added
Premium MSW Durian Cakes
Hand-crafted Cakes and Patisseries
Imagine the most delicious durian cake ever created. Now imagine something that is ten times better, and that's exactly what the durian cakes from The Durian Bakery taste like. They have some awesome flavour profiles that you could never imagine going well together, but they do and they do so gorgeously.
Their Signature Musang King Durian Mille Crepe Cake has to be one of the best durian cakes we've ever tasted, and the combination of flavours, from the premium MSW durians, and the many layers of handmade crepe will leave you wanting for more!
Not a fan of crepes? Then perhaps their various patisseries will do the trick. With their Creamy Snowy D24 Durian Mochi filled with so much durian goodness, to their Dark Choco Musang King Mousse, they'll just leave you spoilt for choice! A mouthful of the fantastic Choco Mousse just brings together the classical goodness of chocolate and durian in one pretty hand-crafted dessert.
The Durian Bakery even provides you with services where you can add candles, a birthday topper or even a gift card with your personalised messages for your loved ones. The Durian Bakery hand-bake their delicious cakes daily. So if you want your hands on their delicious baked products we suggest that you order it soon as possible as they get sold out pretty early. This cake is perfect for any celebration, and to show your appreciation and love for someone you care for. All in all, worthy to kick off our list of the best cake shops in Singapore!
Our Recommendations: Musang King Durian Mille Crepe Cake, D24 Durian Mochi
Highlights:
Wide variety of cakes
Customization services available
Quick delivery
Pulse Patisserie is yet another amongst many of the established cake shops in Singapore. It uses French techniques together with modern flavour pairings. The cake shop has been in business for more than a decade, therefore, offers proficiency in baking. Its founders are all chefs who provide expertise in the making of patisseries. At Pulse Patisserie, the pastry chef builds then layers flavours of cakes and hands them over to a cake artist who decorates. The chef's team produces creative dessert ideas from original creations such as the salted egg york, cream puffs, and thematic croquembouche. The final product is a delicious showcase of the pulse patisserie personas.
The cake shop offers a wide variety of cakes for you to choose from. Some examples include New year's cakes, quick buy cakes, pastries, whole cakes, gift cakes, and gift cards. On top of that, they also offer the service of customization of different cakes such as the kid's cake, wedding cakes, his and her cakes.
If you are in need of a cake urgently, Pulse Patisserie offers a timely delivery service and they even accept last-minute orders to take care of your sweet tooth!
Our Recommendations: JULIET, NAOMI
Address
180 Depot Rd, #01-06 The Interlace, Singapore 109684
Contact Information
+65 8339 4648
Business Hours
Wednesday: 11 AM – 7 PM
Thursday: 11 AM – 4 PM
Sunday: 10 AM – 5 PM
Highlights:
Customized cakes
Timely delivery services
Events planning services available
The Baker's Brew has been in operation since 2015. The business has grown from a humble baking studio to a massive company due to passion, energy, and determination. It shares a love for baking with everyone. The Baker's Brew achieves its aim by offering celebratory and baking classes. It provides a hands-on approach to all its students and chefs. At Baker's Brew, be sure to enjoy recipe-based courses as well as privately hosted parties.
The cake shop also offers customized cakes. It is able to customize a variety of cakes to meet the client's needs. Wedding cakes, birthday cakes, and event cakes are customized to your satisfaction. In addition, The Baker's Brew allows you to place a three-day pre-order for classic cakes and its delivery services are timely and efficient.
In addition to their classic cakes, Baker's Brew also offers cupcakes, loaf cakes, CNY cakes, and Toppers. It offers events planning services such as parties, dessert tables, studio rentals, and co-corporate works. The phrase 'too much of a good thing' doesn't apply here as they have six shops to grab a slice of their cake today!
Our Recommendations: Roasted Pistachio and Rose, Earl Grey Lemon Loaf
Highlights:
Bestselling classic cakes – honey yuzu & guava lychee fresh cream cakes
Inspired by lush botanicals and whimsical colours
Customized cakes, sweets, and dessert table
All cakes are freshly made
Zee & Elle is a sophisticated shop that aims to fulfill people's vision of having a wonderfully memorable day. The cake shop ensures that all its products are customer-oriented. It's helmed by dreamers and wander lusters who are creative and will leave your special day memorable in every way. You get a variety of minimalistic and original cakes inspired by creative and adventurous bakers. They also explore new techniques and new flavours that leave customers craving for more.
The cakes that are offered by Zee & Elle range from a classic and simple fondant cake to a creative edible balloon cake to beautiful and extravagant cakes draped with edible gold.
Because the team draws inspiration from nature, think trees, the sea, and other natural beauties, you can expect your cake to be adorned with wreaths of leaves and real flowers. Whether you choose an animal theme, ocean theme, or garden theme cake, you can be sure that the cake you receive for the birthday party will be a feast for the eyes! They also have an in-store menu every Thursday to Sunday with a selected range of whole cakes, sliced cakes & tarts.
Our Recommendations: Honey Yuzu Cream Cake, Guava Lychee Cream Cake
Address
524 MacPherson Rd, Singapore 368215
Contact Information
+65 6200 5393
Business Hours
Tuesday to Saturday: 10 AM – 5 PM
Sunday: 10 AM – 3 PM
Highlights:
Handcrafted cakes and pastries
Quality ingredients
Freshly baked
The Patissier is a leading boutique bakery founded and based in Singapore since 2000. It takes the very best of traditional French baking techniques and translates them into innovative and original sweet indulgences. Their handcrafted cakes and pastries are always freshly-baked with the finest ingredients, are perfect for special occasions or even as a daily treat.
Their signature Passion Fruit Meringue Cake is well-loved by their customers and is almost always sold out! If you are not a fan of Meringue, check out their chocolate cakes, cheesecakes, tarts, or other celebration cakes that are offered on their extensive menu. They even have a Croquembouche celebration cake that will definitely wow your guests!
Their baker was rigorously trained in London and returned with a mission of localizing traditional baking of the French into the modern technique. The new techniques transform great cakes such as strawberry shortcake, dacquoise, and buche aux marrons into cakes that people of Singapore can identify with.
With Amazing birthday cakes that can be customized and delivered on time, a wide variety of quality cakes that will bring happiness to your celebration, many cake flavours such as Earl Grey-flavoured, Yuzu-flavoured mousse, Mascarpone, and Valrhona chocolate, The Patissier is definitely one of the best cake shops in Singapore!
Our Recommendations: Passion Fruit Meringue Cake, Citrine Rhapsody
| | |
| --- | --- |
| Address | 4 Mohamed Sultan Rd, Singapore 238955 |
| Contact Information | +65 6737 3369 |
| Business Hours | 10 AM – 5 PM, Daily |
Highlights:
Affordable
Bestselling cheesecakes
Wide variety of cakes
Pantler is a cake shop that offers cheesecakes that cheesecake lovers like. It has the bestselling classic cheesecake that is affordable. The cake has a golden brown top and crumbles well. Overall the cake is well balanced, fluffy, creamy, and well textured. The delicious taste of zest sweetness is every cake lover's dream. The cake house also makes pastries and bread. You will also love that the ingredients used to make pies, sandwiches, and cakes are sourced from France and Japan. The end product is therefore authentic to the origin of the bakers and well customized for Singaporeans.
The cake house offers the following many varieties of cakes such as the opera cake that is stickier and a better alternative of the chocolate cakes. Cake orders which can be placed three days in advance. On top of that, Pantler offers complimentary delivery within the CBD If you place orders of more than $100!
Our Recommendations: Opera Cake, Classic Cheesecake
| | |
| --- | --- |
| Address | 474 River Valley Rd, Singapore 248359 |
| Contact Information | +65 6221 6223 |
| Business Hours | NA |
Highlights:
Over 50 years of experience
Old school cakes
Wide variety of cakes
Lana cake shop has been around for five decades. To get amazing birthday cakes, you need to place a three-day prior booking to allow customization and decorations. The shop's interior is a throwback to how cake shops looked in the past. The cake house crew uses old-school pastel buttercream. There is a house favourite of chocolate fudge cakes that is a very rich and fluffy sponge. with chocolate frosting, you can be ordered at the cake shop any time. The taste is the same delicious taste throughout the five decades.
The cake shop offers a wide variety of cakes, and if you do not find what you would like, you would be glad to know that Lana cake shop offers excellent customization for their birthday cakes and wedding cakes!
Lana cake shop offers in-store pick-ups, but if you are too lazy to head down, you could opt for their timely and efficient delivery service instead!
Our Recommendations: Chocolate Fudge Cake
| | |
| --- | --- |
| Address | 36 Greenwood Ave, Singapore 289239 |
| Contact Information | +65 6466 5315 |
| Business Hours | Tuesday to Wednesday: 10 AM – 6 PM |
Highlights:
Customization services
Timely delivery
Wide variety of cake options
The Dark Gallery is perfect for chocolate fanatics. These delectable treats will certainly satisfy anyone with a craving for something sweet and delicious!
Dark Gallery works with European brands such as Cacao Barry, Valrhona to bar manufacturers that offer unique cacao beans. The beans are made to a smooth dark and rich chocolate texture that simply tastes divine.
One of the most popular picks is their Petite Dark Chocolate Ice Cream Cake ($49) as their signature 80% dark chocolate ice cream takes center stage, sitting atop a bed of dark chocolate cake, glazed with dark chocolate sauce and adorned with dark chocolate shavings, berries, and gold dusting.
Dark Gallery also offers a wide variety of cake flavors which include non-ice-cream cakes. Other flavors include Roseberry dark chocolate and 72% Venezuelan mocha. Customisation services are also available!
Our Recommendations: Petite Dark Chocolate Ice Cream Cake
Highlights:
Fresh cakes
Wide variety of tea ckes
Excellent ambiance
Looking for healthy and fresh cakes that are not made from baking powder, preservatives, or artificial leavening agents? Then Flor Patisserie is the right place for you. All cakes are made naturally.
The pastries and cakes are made beautifully with Japanese floristry to produce wonderful cakes. Flor Patisserie also offers a wide variety of tea cakes. The cakes include green tea sponge cake and matcha. The cakes offer a mix of French and Japanese fusion.
For those of you who love to spend quality time at a beautiful café, you do not want to miss out on this establishment with an excellent ambiance. If ambiance was a factor in this list of cake shops, it would definitely take the cake. The walls are painted white, mounted with a chalkboard with blue signage. It's a perfect cake shop for catching up with friends.
If you prefer to have your cake delivered to you, this shop offers an excellent delivery service. You can simply make an order online or call in for your preferred cake.
Our Recommendations: Happy Farm, Dino Dino
Highlights:
Special flavours are offered at celebrations
High quality ingredients
Gift boxes with custom messages
Plain vanilla is a cake shop that makes plain vanilla cupcakes with passion and quality ingredients. The ingredients include French butter, Madagascar, Bourbon vanilla, Valrhona chocolate, and Belgian chocolate. The passionate chefs work to bring out the best desserts and cakes that cake lovers enjoy.
At Plain vanilla, regular cupcake flavours are available daily and Special flavours are offered at celebrations. For example, rose-flavoured cupcakes frosted with cheese were baked on mother's day. Monthly special bakes are updated on their Facebook page.
They also offer gift boxes with beautiful messages such as sorry, love, Thank you, and with encouragement messages. Such gift boxes help you have a personal touch with your loved ones.
Red velvet cupcakes are the signature cake of Plain Vanilla. The ingredients used to make the cake include, Valrhona cocoa cake butter, and Vanilla cream cheese icing topping. With its use of quality ingredients, this cake shop is the perfect place for cake lovers out there!
Our Recommendations: Butterscotch Banana Cake, Blueberry Loaf
| | |
| --- | --- |
| Address | 1D Yong Siak Street Singapore 168641 |
| Contact Information | +65 8363 7614 |
| Business Hours | 8 AM – 7 PM, Daily |
Highlights:
Affordable
Classic cakes
Timely delivery
The Fabulous Baker Boy offers comfort food that you can enjoy openly without any secrecy. It offers a variety of sourdough pastries and delicious cakes. You will get that surprise at the diva named cakes. A Beyoncé cake goes for $9.50 per slice while Diana Ross goes for $9 a slice.
At this establishment, you can find classic cakes such as Sugar Brandy and Strawberry shortcakes.
Bookings are available as well. You, however, need to pre-order seven days before your due date. This just goes to show how popular this bakery is! Like other cake shops, you can order online and they will your cake on time.
Our Recommendations: Big Lub Carrot Cake, Lady Marmalade
| | |
| --- | --- |
| Address | 1D Yong Siak Street Singapore 168641 |
| Contact Information | +65 8951 7716 |
| Business Hours | Tuesday to Sunday: 9.30 AM – 6.30 PM |
Highlights:
Organic cakes
Affordable
Diabetic-friendly cakes available
Delcie's Dessert sets itself apart from other cake shops by offering desserts and good cakes. It offers organic treats that are free from dairy, sugar, and egg. It operated as an online bakery then set up a brick-and-mortar shop located on the Upper Serangoon Road.
Delcie's Dessert offers a wide variety of cakes at affordable prices. A Chocolate Mud Fudge cake goes for $40 and savoury banana Walnut Teacake at $38. These cakes are calories-free. For those who are looking for something a little more unique, this cake shop also allows for customization services.
In addition, the cake house also offers gluten-free and Diabetic-friendly cakes. A variety of other pastries such as tea cakes, finger-sized cakes, and dessert in cupcakes are available too!
With its excellent delivery service, you can call in and have your cake delivered to your doorstep.
Our Recommendations: Chocolate Mud Fudge Cake, Banana Walnut Teacake
Address
34 Whampoa W, #01-83, Singapore 330034
Contact Information
+65 8951 7716
Business Hours
Monday: 11 AM – 6 PM
Tuesday to Friday: 11 AM – 7.30 PM
Sunday: 11 AM – 7.30 PM
Highlights:
Headquartered in Paris
Wide variety of creamy and tasty cakes
Timely delivery service
Angelina is a branch of the international food chain Angeline headquartered in Paris. With high-end clients such as Coco Chanel, the cake shop undoubtedly offers quality cakes worth checking out. It's Singapore branch is a cosy and luxurious tearoom that serves tea, pastries, and coffee at Marina Bay Sands.
The signature cake on their menu is the Mont Blanc that sells at S$13.50. It has meringue topping and whipped cream; it's one of the tastiest and creamy cakes you can get in Singapore. With fresh ingredients, the cake house is sure to leave you craving for more with their freshly baked cakes.
The cake house offers customized cakes that are available on order. It also offers a variety of creamy and tasty cakes. With its timely delivery service, you can get to enjoy your cake in no time. In addition, for those of you living around the CBD area, complimentary delivery services are offered by Angelina!
Our Recommendations: Mont Blanc, Trocadéro
| | |
| --- | --- |
| Address | 2 Bayfront Avenue, Canal Level #B2-89/89A, Marina Bay Sands, 018972 |
| Contact Information | +65 6688 7236 |
| Business Hours | 11 AM – 10 PM, Daily |
Highlights:
French pastry with local twist
Wide variety of pastries and cakes
High-quality and fresh ingredients used
Customized cakes are available.
Ciel Patisserie offers French pastry but incorporates local flavours with various pastry and cakes such as gluten-free cakes. At Ciel Patisserie, your cake craving is satisfied.
The in-house selection includes the Ondeh Ondeh, which is sliced and filled with a sweet and pandan aroma. It has a caramelized flavour from gula Melaka. Other classics on their menu worth trying out include their sweet strawberry shortcake. The cake is a favourite of many cake lovers in Singapore. With various cakes made from the finest and fresh ingredients, the cake house is a go-to place for decadent desserts at every celebration and daily treat.
On top of providing a wide variety of quality cakes made from fresh ingredients, the cake shop also offers you timely online delivery. For French pastries with a local twist, put Ciel Patisserie on your list of cake shops to check out!
Our Recommendations: Ondeh Ondeh, Mon Chérie
Address
124 Hougang Ave 1, #01-1444, Singapore 530124
Contact Information
+65 6383 0803
Business Hours
Monday to Wednesday: 11 AM – 8 PM
Thursday: 11 AM – 5 PM
Highlights:
Home-grown local cake brand
Multiple outlets available
Wide variety of chocolate cakes
Awfully Chocolate is one the most recognisable cake shops out there. A home-grown cake brand, they offer chocolate cakes that many cake lovers enjoy. With many outlets on the island, you have no excuse not to check out the cake shop. Awfully chocolate stocks a variety of chocolate cakes. The signature cake includes the chocolate rum and cherry cake that sells at $40. Other cakes on their menu are the chocolate banana cake. All their chocolate cakes sell at $36.
Awfully chocolate customises for birthdays, celebrations, and corporates. If you wish to gift your loved one with that delicious cake, Awfully Chocolate has you covered with their beautiful gift and hamper baskets.
Our Recommendations: Super Stacked Chocolate Cake, Dark Gnache Cake
Highlights:
No preservatives, artificial flavourings or thickeners used
Less sugar and less oil used in recipes
Unique cake in a jar
Grin Affair is a brand founded by a young, innovative entrepreneur who births forth the creative idea of using reusable carriers such as glass jars to serve cakes in them. The 'cake in a jar' idea portrays a unique concept among the many cafes in Singapore. The cakes served in cute little jar containers also make for a great post on your social media!
Grin Affair offers 12 different cakes of unique, tasty flavours that are based on seasonal fruits and are displayed on their decorated boards in the shop, exuding a homey and rustic ambience to customers. Some flavours offered by Grin Affair include Banana Dark Chocolate, Strawberry, Lightly Salted Caramel, Lychee Passionfruit, Honey Lavender, as well as Durian D24. Clearly, whether you prefer light flavours or heavy cakes, Grin Affair's cakes have got you covered!
For those of you who are health-conscious, you would be glad to know that the brand uses natural and real ingredients that you would be able to find in your own kitchen. The team from Grin Affair also feels that desserts should be a part of our everyday lives and should therefore be made of real food. As a result, no artificial flavourings, preservatives, or thickeners are used in their recipes! In addition, Grin Affair uses less sugar in their desserts so that they will not be overly sweet.
Our Recommendations: Lychee Passionfruit, Honey Lavender
Address
Bishan Street 11, #01-408 Block 505d, Singapore 574505
Contact Information
+65 8800 6600
Business Hours
Monday to Thursday: 2.00 pm to 12.00 am
Friday to Sunday: 1.00 pm to 1.00 am
Highlights:
Helmed by renowned chef
Japanese cakes
Handmade cakes and pastriey
Chef Yamashita, a renowned chef in Singapore is the proprietor of this cake shop. The cake shop is famous for creating the perfect handcrafted desserts. The Japanese patisserie at Chef Yamashita will not only satisfy you, but it will be culinary magic.
For those who prefer airy, light, and fluffier cakes, the strawberry cakes will be your perfect pick. The in-house favourite that many cake lovers enjoy is the strawberry shortcake. Other cakes on the menu that you can try out include the matcha roll cake. The matcha flavour is well mixed in the light and creamy cake.
At Chef Yamashita, the cakes are simple yet well-made and tasty. For those who wish to purchase the cakes and pastries at Chef Yamashita for your loved ones, the shop offers hampers and gift sets that can be delivered to you efficiently! For handmade and delicious Japanese-style cakes, be sure to check Chef Yamashita out!
Our Recommendations: Matcha Roll Cake, Strawberry Short Cake
| | |
| --- | --- |
| Address | Blk 1, Tanjong Pagar Plaza, #02-44. Singapore 082001 |
| Contact Information | +65 6604 9709 |
| Business Hours | Tuesday to Saturday: 11 AM – 5 PM |
Highlights:
Customized gift packs are available on pre-order
Complimentary gifts are also available for orders above $100
Timely online delivery
Brunetti is a famous Italian cake shop that offers sweet cakes for cake lovers in Singapore. The cake house has the signature cheese crumble and pear cake. The cake has blackberry jam, cheesecake, pears, and a chocolate chip base. Other cakes include the flourless chocolate soufflé cake and one with hazelnut bavaroise cream and dark chocolate blend making it a delicious and rich cake to taste.
With a variety of cakes on their menu, you can never go wrong at Brunetti. Cakes for special occasions like birthdays, anniversaries, corporates and celebrations are also available. The cake house also offers family cake packages and meals. What's more, the cake house has a dine-in option. Your family can savour their delicious cakes at their cool premises.
Our Recommendations: Pear and Cheese Crumble, Limoncello
| | |
| --- | --- |
| Address | 163 Tanglin Rd, Singapore 247933 |
| Contact Information | +65 6733 5288 |
| Business Hours | 9 AM – 9 PM, Daily |
Highlights:
Japanese patisserie
It provides a variety of cakes from chiffon cakes, chocolate cakes to fruit cakes.
Affordable cakes from just $7
Dulcet & Studio is a Japanese patisserie in Singapore that offers sweet pastries and cakes. It is a go-to place for the perfect chiffon and a lovely slice of your favorite cake. The signature cake that leaves you wanting more treats is the cheese chiffon cheesecake and the choux puffs.
We loved Dulcet & Studio cheesecake because it is creamy, with a sweetness you can savour any time. The choux puffs have the milky cream filling. You will also love the fact that the cake house brings new choux puff flavours regularly. You can, therefore, experiment with different flavours until you find your perfect taste.
The cake house also offers cakes that are very affordable. Their chiffon cakes go from just $7! Coupled with their timely delivery and customization services, this cake shop is surely one that you would not want to miss!
Our Recommendations: Pandan Chiffon Cake, Pandan Roll
| | |
| --- | --- |
| Address | 391B Orchard Rd, #B2-33 Takashimaya Shopping Centre, Singapore 238872 |
| Contact Information | +65 338 9248 |
| Business Hours | 8.30 AM – 9 PM, Daily |
Highlights:
Creative customized cakes
Signature tofu cheesecake
Sliced or whole cakes available
Cake Spade is a cake shop that is conveniently located near Tanjong Pagar train station. The shop sells both sliced and whole cakes, along with creative customized cakes that are great for any celebration.
The cakes and pastries offered by Cake Spade are made without the use of chemical stabilizers and shortenings to extend the shelf life. In addition, to achieve the perfect bite, each cake is carefully constructed with different layers, different textures, and contrasting flavours.
All in all, Cake Spade is a one-stop dessert store, with many of our delectable offerings available for dine-in and take out, and will make a great choice for you to purchase a cake from!
Our Recommendations: Tofu Cheesecake, Lemon Meringue Cake
| | |
| --- | --- |
| Address | 83 Tanjong Pagar Rd, Singapore 088504 |
| Contact Information | +65 6444 3868 |
| Business Hours | 12 PM – 10 PM, Daily |
Highlights:
Homegrown brand
Established since 1985
Awarded "Best Cake Shop in Singapore" & "Best Durian Cakes"
Temptations Cakes Shop is a homegrown shop in Singapore, baking delicious cakes & pastries since 1985. Over the decades of their operation, Temptations Cakes Shop has been presented with awards like "Best Cake Shop in Singapore", "Best Durian Cakes" by a number of Singapore media publishers.
Since it was established, the brand's Signature Chocolate Etoile Cake has been a bestseller among loyal customers. They also have a best-selling Premium Durian cake for all the durian lovers out there.
If you are not a fan of durian or chocolate, do not worry! Temptations Cakes Shop also specializes in custom cakes for birthdays, weddings, corporate events, festive celebrations like Christmas as well as anniversary parties. The team will be happy to help you craft a cake according to your requirements!
Our Recommendations: Signature Chocolate Etoile, Premium Durian Cake
Address
42 Joo Chiat Pl, Singapore 427766
Contact Information
+65 6440 9200
Business Hours
Monday to Friday: 11 AM – 7 PM
Saturday to Sunday: 9 AM – 7 PM
Highlights:
17 flavours of gourmet cheesecakes
Halal-certified
Same-day delivery available
Cat & the Fiddle is headed by award-winning chef Daniel Tay, and with the same-day delivery option that the brand offers, indulging in a cake has never been easier. They offer a wide variety of Halal-certified cheesecakes with whimsical names.
A specialist in the cheesecake department, the brand offers 17 flavours of gourmet cheesecakes and all 17 flavours in their gourmet cheesecake selection are Halal-certified! Among their 17 different types of cheesecakes are flavours such as their Classic New York Cheesecake, Milo Dinosaur Cheesecake, and the crowd favourite, their rendition of a basque burnt cheesecake: the Charred Eclipse.
If you or the cake recipient is a big fan of cheese, you definitely should check Cat & the Fiddle out! They have an online shop where you can opt for self-collection or have the cake delivered directly to your home.
Our Recommendations: Classic New York Cheesecake, Charred Eclipse
Highlights:
Do not contain artificial colouring, fondant or marzipan
Unique flavours of cakes
Ugly Cake Shop is a bakery café and online cake shop that bakes delicious, artisanal cakes in Singapore. All of the cakes and desserts offered by this cake shop do not contain artificial colouring, fondant, or marzipan. The brand insists on using high-quality ingredients such as french cocoa and pure butter in all of their baked goods to ensure that you will get the best eating experience.
Some cakes that Ugly Cake Shop offers include animal cakes, fruity cakes, chocolate cakes as well as vegan cakes. These cakes come in a range of unique flavours such as Salted Caramel with Sea Salt, as well as cakes with a local spin like the Milo Dinosaur cake.
In addition, with every purchase that you make from the cake shop, you will be helping to feed hungry kids in Timor-Leste: Ugly Cake Shop supports undernourished children in Timor-Leste by giving part of their profits to the nutrition fund of a school in Timor-Leste. So, for a cake for with cause, consider Ugly Cake Shop!
Our Recommendations: Milo Dinosaur Cake, Sally Cake
| | |
| --- | --- |
| Address | 535 Kallang Bahru, GB Point #01-06, Singapore 339351 |
| Contact Information | 82288300 |
| Business Hours | Monday to Saturday: 10 AM – 7 PM |
| | |
| --- | --- |
| Address | 183 Jalan Pelikat, The Promenade B1-92, Singapore 537643 |
| Contact Information | 9101 5856 |
| Business Hours | 9 AM – 7 PM, Daily |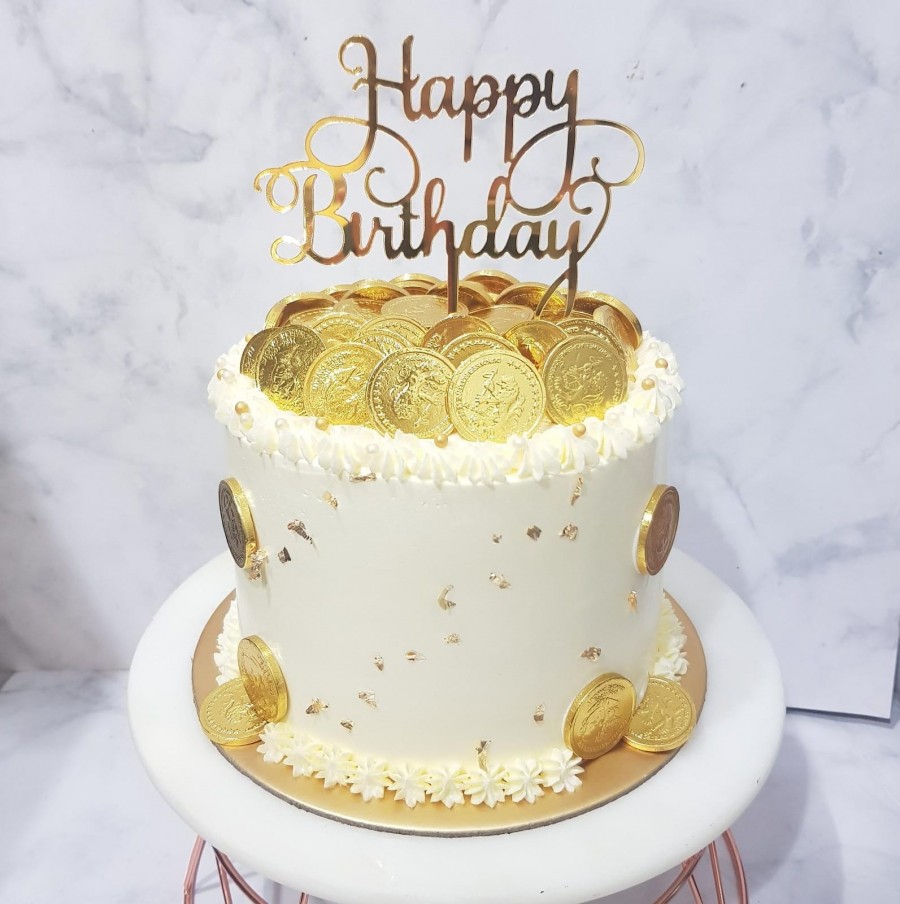 Highlights:
Customized cakes and desserts
Island-wide delivery
Cake accessories and packages available
Yours Sincerely Bakery is a bakery located at Upper Changi Road that offers customized cakes and desserts that are freshly baked with high-quality ingredients. To maintain a high level of quality, the brand insists to avoid mass-producing its desserts.
On their website, you will see that they offer a wide selection of cakes including special project cakes, customized cakes, wedding cakes, gourmet cakes, festival cakes, as well as kids' birthday cakes.
You will find intricately designed cakes that feature a range of different animated characters from Elsa from Frozen to Peppa Pig and Hello kitty. While it is marketed as a kids' birthday cake, there will definitely be adult fans of the character who will greatly appreciate this cake design!
If you are looking for something unique, consider Yours Sincerely's signature Money-pulling Cake, Piñata Surprise Cake, or their newest addition, a Drinkable Cake! Party guests will definitely have an enjoyable time experiencing the cake!
Our Recommendations: Real Bubble Tea Cake, Pinata Cake
| | |
| --- | --- |
| Address | 430 Upper Changi Rd E, #01-105, Singapore 487048 |
| Contact Information | +65 9853 7771 |
| Business Hours | Wednesday to Sunday: 10 AM – 7 PM |
Highlights:
Customized products
Professional team
Trendy bento cakes available
Wrapping up our list of the best cake shops is Cake Inspiration. They are one of the leading companies in Singapore specializing in customized products from wedding cakes, corporate cakes, birthday cakes, longevity cakes, French gourmet cakes, as well as dessert table pastries.
The cake shop is made of a strong and talented team of Cake Artists, Designers, and Pastry Chefs with a wide range of experience in their respective fields. Their design team has extensive skills and is well known in the field of cake creaming, 3D art-making, and building mega cake structures.
In addition, their team of Gourmet Chefs has vast experience in French Pastry preparation from fine dining restaurants, Five-star Hotels, and World-Class French boutiques like Fauchon Paris. The team at Cake Inspiration knows your needs and assure that the products they offer can truly satisfy every customer in terms of visual presentation, taste and quality, and sincere services!
The cake shop also offers trendy cakes like adorable bento cakes that make great gifts for your loved ones. You can even customize the messages that you would like to be on the cakes.
Our Recommendations: Cempedak Lychee Cake, Matcha Red Bean Chiffon Cake
| | |
| --- | --- |
| Address | 253 Joo Chiat Rd, Singapore 427507 |
| Contact Information | +65 6440 4023 |
| Business Hours | 10 AM – 6 PM, Daily |
Our Icing On The Cake (Shops!)
There you have it! Our recommendation of the best cake shops in Singapore. Just a few more tips before you go! When placing your cake orders from these cake shops, always check if they are available. Some flavours are imported and it may take a few days. It is important to check online if there are additional delivery fee on your orders. For customization, you also need to place your order ahead of time. Ensure that the ingredients used in baking your cake do not add more calories if you are on a diet or affect your sugar level in cases of diabetic patients.
Place your orders in any of the listed cake shops of your choice in Singapore today! Need more choices? We've got you covered! Check out these shops for the best durian cake, lava cake, and even tiramisu cake. If you want to try your hands at baking your own cake, check out our article on online cooking classes in Singapore here! Alternatively, check out the best dessert shops if cake isn't what you're feeling now.
Related posts
Subscribe for newsletter
* You will receive the latest news and updates on Singapore's best trends!