22 Best Omakase Restaurants in Singapore [2022]
Joanne, 2 years ago
22 min

read
23840
A Japanese Omakase in Singapore is very common in Singapore, where people here often seek good food surprises when meeting their loved ones.
If you've been living under a rock and the word 'Omakase' is new to you, here's a simple explanation. Basically, Omakase means to put your trust wholeheartedly in the sushi chef who is preparing you a meal.
Every customer's dining experience with an omakase course begins with several plates, starting with the lightest food, and often followed by heavier dishes as well as desserts. All in all, an Omakase dinner is a culinary encounter.
It showcases the best ingredients for this season as well as the in-depth knowledge of the chef. A Japanese Omasake promises multiple forms of prepared sushi, sashimi, as well as nigiri courses.
So, if you find that you are constantly craving Sushi, Sashimi, Unagi, Tempura, and Nigiri after being tempted by the concept of Omakase, this article is for you.
Here are some of the best Japanese omakase restaurants in Singapore that boast of this long-standing tradition.
Shoukouwa Restaurant


Best Overall Omakase

Why Shoukouwa?
✔️ 2 Michelin Star Sushi Restaurant
✔️ Price From $220++
✔️ Best Seasonal Seafood
✔️ Best Fresh Ingredients
✔️ Minimal Cooking/Alterations
Visit Shop
Sushi Kou


Most Exquisite Omakase

Why Sushi Kou?
✔️ Former Shoukouwa Chef
✔️ Price From $380++
✔️ Airflown Ingredients from Japan
✔️ Traditional Edo Sushi Style
✔️ Fresh Fish and Shellfish

Visit Shop
Sushi Airways

Most Instagramable Omakase

Why Sushi Airways?
✔️ Unique Airplane Theme
✔️ Price From $200++
✔️ Artfully Prepared Dishes
✔️ Unique Seasonal Menu
Visit Shop
Highlights:
2 Michelin Star Sushi Restaurant
Best seasonal seafood as well as ingredients
High-quality as well as fresh fish
Shouwkouwa is located at One Fullerton and is the only 2 Michelin Star Sushi restaurant operating in Singapore. Their chefs also take pride in preparing your meal with the best seasonal seafood and ingredients. Each course is carefully prepared with the best fresh fish using minimal cooking as well as alterations.
Their perfect sushi dishes are cooked with high-quality fish using the right proportion as well as temperature. In addition, their chefs will prepare, cook the fish, and you have got to consume this perfect sushi with a pair of chopsticks immediately after the chef serves it.
All in all, Shouwkouwa is really deserving of being on our list of the best Japanese Omakase Restaurants in Singapore.
Address
1 Fullerton Road, #02-02A One Fullerton, Singapore 049213
Contact
+65 6423 9939
Prices
Lunch ranges from $220++ to $480++
Dinner starts from SGD480++
Operating Hour
Tuesday to Saturday: 12:15PM – 3:00PM, 6:00PM – 8:15PM
Closed on Mondays
Highlights:
Fresh fish as well as shellfish
Minimal treatment to ingredients
Produce flown in from Japan
Sushi Kou is a renowned Omakase restaurant in Singapore that introduces as well as redefines the traditional Edo Sushi Style. Only the freshest fish and shellfish are prepared with minimal treatment to bring out the foods' natural flavours. The restaurant also only offers one seating per session for lunch and dinner to ensure customers receive full attention.
In addition, Hokkaido-born chef Yoshio is the former chef of Shoukouwa restaurant that hailed Two Michellin Stars in Singapore. He is a real omakase chef who artfully as well as pleasingly executes every sushi. Moreover, they buy fish that are produced directly from Japan. So, this explains the freshness and authentic Japanese taste.
Address
Ground floor of Holiday Inn Singapore, 11 Cavenagh Road,
#01-13/14 Singapore 229616
Contact
+65 8591 1933| +65 6235 5670
Prices
$380 to $450 (Omakase Courses)
Operating Hours
Wednesday – Sunday: 12:00PM – 3:00PM, 6:00PM-10:30PM
Closed on Tuesdays
Highlights:
Unique dining concept
Bustling location
Seasonal menu
Signature Grilled Lobster with Uni Sauce
Sushi Airways is one of the top omakase restaurants in Singapore and the only one with a unique airplane theme that will have you taking pictures for your Instagram! So, this is the place to go if you miss traveling and want to satisfy that travel bug of yours.
In addition, the restaurant is located right in the middle of the buzzing Haji Lane or Arab Street. Therefore, you get to enjoy this unique dining experience in this popular and vibrant district. Another great reason to visit this restaurant is for its artfully prepared Japanese cuisine by their team of expert Chefs. The restaurant offers enticing Omakase options in addition to a full selection of mouth-watering sushi, sashimi, and seasonal delights.
Omakase options are available at $200 as well as $250 and feature 8 to 10 courses. Its unique seasonal and special menu also changes regularly to reflect the latest arrivals of seasonal delicacies and special creations by their top chefs. One of the best things you will get to experience as part of their omakase is Sushi Airway's Signature Grilled Lobster with Uni Sauce. It is so delicious that some customers say that alone is worth the price that you are paying for the meal!
All in all, it's a gastronomic experience that will satisfy even the most discerning of palates. And I might add, the most Instragramable Omakase in Singapore. Do note that this restaurant's Omakase usually requires at least one day's advance notice. So be sure to book your slot to avoid disappointment!
| | |
| --- | --- |
| Address | 20a Baghdad St, Singapore 199659 |
| Contact | +65 6291 1151 |
| Prices | $200 to $250 (Omakase Courses) |
| Operating Hours | 11:45AM – 2:30PM, 5:45PM – 9:45PM, Daily |
Highlights:
Curated Edomae style delicacies
Personally sourced organic staples
Specially paired with sake as well as wine
Sushi Kimura, a 22-seater fine-dining sushi-ya, provides guests with an intimate setting designed to invoke tradition and the four seasons through the use of centuries-old Noren (room dividers), heirlooms of Chef Kimura, as well as fine Japanese earthen wall plastering, each shade representing a season.
So, to get a dining experience infused with the four seasons, you can head over to Sushi Kimura. Every guest is welcomed with added personal touches from Chef Kimura as an ode to those who have taught him – a ceremonial tea set hand-painted by his master and personally hand-carved stamps on the placemats refecting the Japanese symbol for the current season.
Additionally, each room is divided by a fabric with earth wall plastering for design. Guests can also expect to enjoy every bite of periodical curated Edomae-style delicacies. These delicacies are complemented with personally sourced organic staples as well as a meticulously paired sake and wine list. Above all, this is definitely one of the best Japanese omakase restaurants in Singapore.
Address
390 Orchard Road Palais Renaissance #01-07 Palais Renaissance,
Singapore 238871
Contact
+65 6734 3520
Prices
$120 – $400 (Omakase Courses)
Operating Hours
12:00PM – 3:00PM, 7:00PM – 10:00PM, Daily
5. BAM! – The BAM omakase
Highlights:
Spanish tapas with Japanese techniques
Fresh fish as well as ingredients
Modern ambience
BAM! is the first establishment in Singapore that offers a hybrid of a pub, bar, and restaurant. In addition, the gastro establishment was built overpaying tribute to Shudo or enjoying sake in its most elegant form.
The experience is precisely what it is, serving Spanish tapas infused with Japanese techniques as well as ingredients. Moreover, their omakase course only serves the freshest fish and produce in this season for you. Therefore, their menus are updated regularly.
When you enter Bam Restaurant, it welcomes you with its long bar and an open kitchen with its modern and industrial atmosphere. It has decors as well as bare concrete walls. Also, the De Rigueur Edison bulbs make the vibes even classier.
So, check them out today as they are undoubtedly one of the best Japanese omakase restaurants in Singapore!
Address
38 Tras Street Singapore 078977
Contact
+65 6226 0500
Prices
$160 to $200 ++ (Omakase)
Operating Hours
Tuesday – Friday : 12:00PM – 2:00PM
Monday – Saturday : 6:00PM – 10:30PM
Closed on Sundays
Highlights:
Fresh produce as well as ingredients flown from Japan
Authentic Japanese style
Seasonal seafood menu
Next up, we have Sushi Jiro on our list, a restaurant that has been around Singapore for almost 20 years. Home to one of the finest Omakase experiences in Singapore, Sushi Jiro also serves up authentic Japanese cuisine specializing in fresh produce. They are also all handpicked and air-flown up to 4 times a week from Japan.
Renowned for exquisite Sushi as well as Omakase courses, Sushi Jiro's Japanese culinary team serves up top quality Japanese seafood in authentic Japanese style. You will also be impressed with how every usage of wood elements is naturally symmetrical and proper.
Sushi Jiro offers authentic Japanese cuisines consisting of Omakase courses and a la carte orders. Other dishes include pressure sushi with otoro, seabream, kamasu, sashimi, as well as seasonal kinds of seafood.
Address
Marina Bay 6 Raffles Boulevard, #04-600.
PARKROYAL COLLECTION Marina Bay 039594

No.2 Keppel Bay Vista #02-01, Marina at Keppel Bay,
Singapore 098382
Contact
Sushi Jiro @ Park Royal +65 6445 3055
Sushi Jiro @ Keppel Bay +65 6252 4333
Prices
$30 to $260 ++ (Omakase)
Operating Hours
11:30AM – 2:30PM, 6:00PM – 10:00PM, Daily
Highlights:
Fresh fish as well as produce from Japan
Omakase sets as well as ala-carte available
Housed along Cavan Rd, Mizuya is another gem for you to discover. In addition, there is a 15% off for any alcohol if you order their Omakase courses. You can also order snacks and choose from a range of whiskey.
Here are some of their best menu you surely couldn't resist for more: Fugu Mirin Boshi, Wagyu Tataki, Aburi Sushi, and Shiromi Usuzukuri.
In addition, fresh fish and produce are flown in from Japan every 3 to 4 weeks to provide every customer the best quality food. Thus, the chef here will serve you a different meal every time you dine here.
Address
11 Cavan Rd, #01-04 Cavan Suites, S209848
Contact
+65 6721 9399
Prices
$113 to $180 ++ (Omakase)
Operating Hours
Monday – Saturday: 12:00PM – 2:30PM, 6:30PM – 10:30PM
Closed on Sundays
Highlights:
Tokyo-style sushi
Ingredients directly sourced from a supplier in Japan
Great service as well as ambience
Sushi Ayumu specializes in Tokyo-style sushi, which is also known as Edo cooking. In addition, their food ingredients are directly sourced from the supplier in Toyosu Market in Tokyo and Kyushu. The restaurant is carved with hardwood, undoubtedly giving anyone the aura of Zen.
This restaurant has no windows to ensure that you focus on their food and dining experience. The food is indeed delicious, and they offer impeccable service. You will feel as though Sushi Ayumu transported you to Japan.
Address
333A Orchard Road #04-16 Mandarin Gallery (S)238897
Contact
+65 6733 2114 | +65 9159 0102
Prices
$250 to $420 (Omakase Minazuki)
Operating Hours
Tuesday – Sunday: 12:00PM – 3:00PM, 6:30PM to 10:30PM
Closed on Mondays
Highlights:
Menu changes every month
Specializes in abalone as well as Uni
Fish flown directly from Japan
Chef Takayama has helmed Takayama Japanese Restaurant for years. He had mastered the cooking of the most delicate Abalone as well as Uni in Singapore. He is also the former chef at Mandarin Orchard Singapore. So, if you are often craving for Abalone or Uni, you should try out Takayama Japanese Restaurants' omakase menu.
At the restaurant, you can indulge in a multi-course menu that celebrates seasonal ingredients at the peak of their flavours, as Executive Chef Taro Takayama and his team curate every dish to exquisite perfection right before your eyes.
In addition, at the heart of dining at Takayama is the spirit of omotenashi, or wholehearted Japanese hospitality, graciously delivered in the elegant ambience of this exclusive kappo-style omakase restaurant in Singapore.
Address
6 Shenton Way #01-09/10 OUE Downtown Gallery Singapore 068815
Contact
+65 6224 9864
Prices
$150 to $280 (Omakase Courses)
Operating Hours
Mondays
6:30 p.m. to 10:00 p.m.
Tuesdays to Saturdays
12:00PM – 2:30PM
6:30PM – 10:00PM
Highlights:
Michelin Star Restaurant
Seasonal desserts
Delicate soups
Shinji by Kanesaka is an extension of 1 Michelin star Chef Shinji Kanesaka's Edo-style sushi restaurant. The restaurant was first set up in Tokyo's exclusive Ginza district. The deep-rooted philosophy underpinning this endeavour is simply a passionate desire to share an appreciation for age-old Japanese culinary traditions as well as a goal not to compromise its integrity.
Shinji by Kanesaka pays homage to the core of Japanese culture and the art as defined by kata as well as do. True to the spirit of its heritage, the restaurant is built on a carefully woven foundation of key elements which promises an authentic dining experience.
Besides, there are two Shinji by Kanesaka outlets in Singapore: one is located at the Carlton Hotel and the other at St Regis. Moreover, they both have Michelin stars! Thus, give your utmost trust to their hearts and hands while they artfully serve you some of the first-class morsels (maki and nigiri), delicate soups, as well as a mouthful of cooked dishes.
After you are full from the mains, get some extra room ready for their freshest seasonal desserts. Therefore, this well-rounded restaurant is truly deserving of being on our list of the best Japanese omakase restaurant in Singapore.
Address
Carlton Hotel, 76 Bras Basah Road, (S) 189558

St. Regis Hotel, 29 Tanglin Road, 247911
Contact
+65 6338 6131 (Carlton) | +65 6884 8239 (St. Regis)
Prices
$300 to $500 (Omakase Courses)
Operating Hours
Monday – Satuday: 1:30PM – 3:00PM, 8:30PM – 10:30PM
Closed on Sundays
Highlights:
Seasonal Omakase Menu
Addtional Sake pairing for 3 glass/pax at only $24++
Fresh and Quality produce imported from Japan
Tajimaya Yakiniku was set up with a passionate desire to share an appreciation for the long-standing Japanese culinary tradition of Yakiniku, the grilling of fresh unmarinated meats over a charcoal grill. This restaurant was designed with particular attention to the comfort of its guests. Apart from its modern Japanese interior, the restaurant is complete with a Japanese high-performance "smokeless" grill exhaust system that allows guests to dine in air-conditioned comfort.
Apart from the premium buffet, excite your palate with their 8-course lunch Omakase menu at $88++; 10-course Omakase dinner at $128++ per guest served with the freshest ingredients air-flown from Japan. Before you head down to check this omakase out, do note that reservation is required to be made 4 days ahead!
Address
1 Kim Seng Promenade, #B1-115
Great World, Singapore 237994
Contact
+65 6970 5976
Prices
$88++ to $128 ++ (Omakase Courses)
Operating Hours
Mon to Fri: 12:00PM – 3:00PM, 6:00PM – 10:00PM
Sat, Sun & PH: 11:30AM – 4:00PM, 6:00PM – 10:00PM
Official Pages
Website | Facebook | Instagram
Highlights:
Private dining experience
Carefully selected ingredients
Seasonal ingredients from Japan
The ingredients that are used at Jun Omakase are indeed carefully selected according to the seasons of Japan. On top of that, the chefs at Jun Omakase are undoubtedly extremely skillful and professional! So you can be sure that your omakase experience will feature the best produce throughout the year.
Moreover, the restaurant has 17 counter seats and 2 rooms for events and tables seating, so be sure to make a booking before you head down to the restaurant.
If you're looking to book a private dining experience, you'll be glad that Jun Omakase offers that to its customers upon request and booking!.
Address
3 Church Street #01-01 Samsung Hub
Contact
+65 6224 0311
Prices
$188 to $238 (Omakase Courses)
Operating Hours
Monday – Saturday: 11:30AM – 2:30PM, 5:15PM – 9:30PM
Closed on Sundays 
Highlights:
Inventive dishes
Fresh ingredients from Japan
Ichigo Ichie is a restaurant known for its inventive dishes as well as creative delights. In addition, Chef Akane Eno is in charge of this restaurant situated at InterContinental Singapore Robertson Quay.
Surely, their best-selling experience is the nine-course signature omakase. However, if you feel like treating yourself, splurge on the dinner-only seasonal or chef's omakase options, which promise a more decadent spread.
Moreover, all of their ingredients are flown directly from Japan. Therefore, the restaurant's menu is never fixed. However, there are highlights such as plump scallops sheathed in rice cracker flour, sauté Hokkaido abalone paired with Romanesco broccoli, and Prawn Somen which comprises cold noodles topped with Botan Ebi, Uni, as well as Donburi.
Ichigo Ichie roughly translates to 'for this time only' reflecting the Japanese sentiment of appreciating the unrepeatable nature of a moment. So savour each bite, knowing that you'll never experience this exact omakase moment in Singapore again!
Address
1 Nanson Road #02-07A Intercontinental Robertson Quay Singapore, Singapore 238909
Contact
+65 9018 2897
Prices
$268 to $338 (Omakase Courses)
Operating Hours
Monday – Saturday: 12:30PM – 3:00PM, 7:00PM – 10:30PM
Closed on Sundays 
Highlights:
Edomae sushi
Lunch as well as dinner available
Seasonal ingredients as well as produce from Japan
Sushi Mitsuya is a niche Japanese Sushi restaurant focused on providing an exclusive dining experience and taking the art of Omakase to greater heights. Also, their intimate hinoki-wood sushi counter is helmed by a well-known Head Chef, Ryosuke Harada.
The restaurant specializes in Edomae sushi. Their fish is marinated and can be aged for a few days before being served. Omakase dining menus are available for lunch and dinner that showcase seasonal produce sourced from Hokkaido, Kyushu as well as Tokyo.
Address
60 Tras Street, #01-01, Singapore 078999
Contact
+65 6438 2608
Prices
$130 to $300 (Omakase Courses)
Operating Hours
Monday – Saturday: 12:00PM – 3:00PM, 6:00PM – 11:00PM
Closed on Sundays 
Highlights:
Ten-course sashimi as well as robatayaki course menu
Signature homemade sauces
Extensive list of wines as well as beverages
Opened in October 2017, KYUU by Shunsui is a sister restaurant of Kappo Shunsui, the restaurant achieved Michelin Tokyo Guide's Bib Gourmand fame from 2015 to 2017, and Michelin Plate Singapore from 2018 to 2019. The restaurant uses the freshest and best quality ingredients from Japan for its Sashimi as well as Robatayaki (Charcoal Grill).
Led by Chef Taka Suzuki, they offer a ten-course sashimi meal, a robatayaki course menu, as well as ala carte meals. Robatayaki is also served with their signature homemade sauces, which adds a unique twist to the classic grill experience.
While the course menu is available from 6 pm to 9 pm, an ala carte menu is available from 9 pm onwards for late-night diners. An extensive list of beverages such as umeshu, shochu, highballs, wines, champagne, as well as over 50 different labels of sake are also available.
Address
29 Keong Saik Road, Singapore 089136
Contact
+65 6221 7098
Prices
$130 to $179 (Omakase Courses)
Operating Hours
Tuesday – Sunday: 5:00PM – 11:00PM
Closed on Mondays 
Highlights:
Affordable
Japanese cuisine with Italian as well as French flavours
Convenient location
Bistro Du Le Pin is a popular spot tucked away at the heart of Orchard at Orchard Plaza. This restaurant offers Japanese cuisine with Italian as well as French flavours, earning it the moniker top 'non-traditional' omakase in Singapore.
For those looking for an enjoyable yet affordable Omakase experience, Bistro Du Le Pin may just be the place for you. From just $70, you get to enjoy a 9-course Omakase Set that features the likes of Luffy burrata with tomato, kanpachi sashimi covered in miso sauce, tender beef slices with crunchy garlic chips, as well as assorted sushi.
Because of its prime location as well as a reasonably priced menu, the restaurant is often packed full of customers. Therefore, be sure to make a reservation before heading down to avoid disappointment!
Address
150 Orchard Road, Orchard Plaza #01-34 Singapore 238841.
Contact
+65 6734 5530
Prices
From $70 (Omakase Courses)
Operating Hours
Monday – Saturday: 5:00PM – 10:30PM
Closed on Sundays 
Highlights:
Creative as well as unique culinary expressions
Ingredients imported from Japan
From Niigata Prefecture's Koshi rice to Tsukiji Market's seasonal seafood, every ingredient at Hakumai Sushi & Omakase is imported from Japan. Their team is also headed by a chef that has over two decades of experience in Haute Japanese cuisine. In addition, he is renowned for his authentic Omakase and creative culinary expressions.
Every piece of sushi in Hakumai is also prepared with the finest ingredients. Skilfully pressed with the freshest fish, each piece is also lightly brushed with specially concocted sauce.
Moreover, guests are served with the best quality fish. Premium fishes are also kept chilled throughout their journey from Japan to the restaurant. This is to ensure that freshness as well as the taste are not compromised.
Therefore, to experience a new interpretation of fundamentalist Japanese cuisine, you should not give Hakumai Sushi & Omakase a miss!
Address
International Plaza, #01-50A, 10 Anson Rd, Singapore 079903
Contact
+65 6224 4790
Prices
$88.8 to $128 (Omakase Courses)
Operating Hours
Monday – Saturday: 11:30AM – 3:00PM, 6:00PM – 10:15PM
Closed on Sundays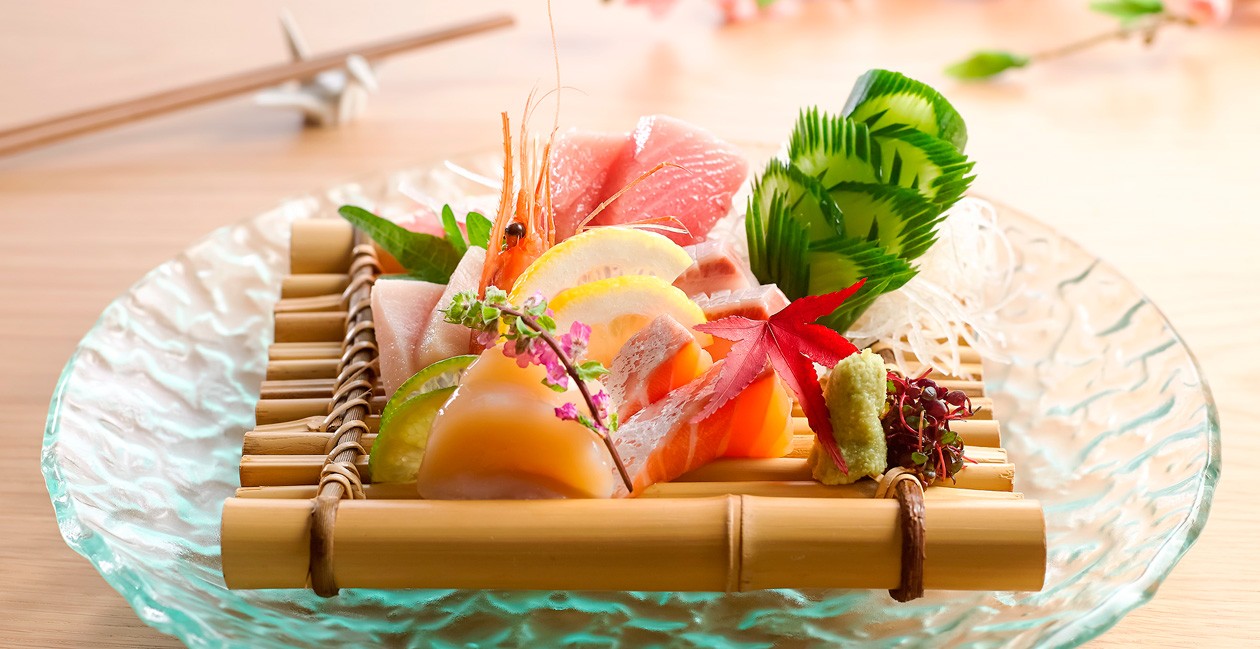 Highlights:
Quality ingredients
Hand-picked beverages
Private dining available
With designer Mallorca chairs, oak-panel counters, as well as intricately designed hand-pressed menus, guests at Sushi Jin can expect a carefully curated dining space. It is not overly extravagant yet exudes a quiet sense of elegance as well as luxurious comfort.
In addition, the pristine setting of Sushi Jin matches with its gastronomic delights. Quality ingredients are also flown in 3 times a week from Tokyo's famed Toyosu market. Furthermore, their sake range is exclusively hand-picked to complement the menu.
| | |
| --- | --- |
| Address | 1 Farrer Park Station Rd, #01-11/12 Owen Link, Singapore 217562 |
| Contact | +65 6443 3378 |
| Prices | $130 to $180 (Omakase Courses) |
| Operating Hours | Monday – Sunday: 12:00PM – 2:30PM, 6:30PM – 9:00PM |
Highlights:
Affordable as well as popular
Inventive Japanese cuisine
Hiryu is also a Japanese restaurant specializing in inventive Japanese cuisine. The restaurant is helmed by Chef Raymond Tan who has been associated with many well known Japanese restaurants such as Sushi Jin, Sushi Murasaki, Kurama Robatayaki, as well as Fat Cow.
Hiryu offers both ala carte dishes as well as omakase options. Prices are reasonable, ranging from S$128 for lunch as well as from S$188 for dinner.
It is advisable to book in advance for lunch due to the popularity of the restaurant. However, you will need to make a reservation if you plan to have dinner here.
Address
39 Tras St, Singapore 078978
Contact
+65 6788 9188
Prices
$128 to $188 (Omakase Courses)
Operating Hours
Monday – Saturday: 12:00PM – 1:30PM, 6:00PM – 9:30PM
Closed on Sundays 
Highlights:
Modern Japanese cuisine
A large variety of sake as well as wine
Established in 2004, Yoyogi is run by celebrity chef Edwin Tan and his wife Jacqueline Goh, making it the most star-studded omakase in Singapore! Besides serving Japanese cuisine, Yoyogi also has a variety of sake for you to indulge in.
Some of their signature Omakase dishes from the courses include baby squid, foie gras parfait, torched Bonito Fish, Squid as well as Sea Urchin Sashimi, Amberjack with Truffles, Pitan Crab Tofu with Flying Fish Roe as well as assorted Sashimi.
After indulging in these delicacies, the restaurant also serves up soft and delightful authentic Mochi for you to end your meal. All in all, this restaurant is definitely worth checking out.
Address
49 Amoy Street Singapore 069875
Contact
+65 9727 8140
Prices
$150 to $250 (Omakase Courses)
Operating Hours
Monday – Saturday: 11:30AM – 2:00PM, 6PM – 10:00PM
Closed on Sundays 
Highlights:
Authentic Kyoto fine dining
Natural flavours as well as quality ingredients
Next, YOSHI Restaurant is an establishment that offers an authentic Kyoto fine dining experience. In addition, it is conveniently located right in the heart of Singapore!
The restaurant also features one of the highest culinary art forms known as Kaiseki. It also features a traditional Japanese multi-course meal derived from 16th-century ancient Japanese tea ceremony rituals. Award-Winning Chef Yoshiyuki Kashiwabara aims to recreate this experience by balancing taste, texture as well as presentation, all of which are hallmarks of kaiseki cuisine.
Using only the freshest seasonal ingredients available in the Toyosu market, Chef Yoshiyuki is a master of preparing the ingredients to accentuate their natural flavours in a "Kyo-Ryori" style. Therefore, food served at YOSHI is not just a dish but a celebration of each season.
At YOSHI, you can choose to enjoy either Yoshi san's Omakase or a themed menu based on a key ingredient. Regardless of your choice, it will be a meal featuring Chef Yoshiyuki's steadfast commitment to ensuring an authentic Kyoto Omakase experience in the heart of Singapore!
| | |
| --- | --- |
| Address | 583 Orchard Rd, Forum The Shopping Mall, #B1-39, Singapore 238884 |
| Contact | +65 8188 0900 |
| Prices | From $328 (Omakase Courses) |
| Operating Hours | Monday – Sunday: 12:00PM – 1:30PM, 7:00PM – 9:30PM |
Highlights:
Unique dining experience
Premium fish selection from Japan
Rare wines, sakes, as well as Japanese liquors
Many tourists and locals in Singapore always indulge themselves with zen atmosphere and Japanese-style fine dining at Ki-Sho.
Ki-Sho also offers a unique dining experience in a kappo-style dining room. In addition, guests can eat over the L-shaped hinoki wood. The table can serve 11 guests craving the Omakase set menu. The chefs pick recipes only from seasonal produce as well as premium fish selection directly from Japan. Also, you can enjoy every cuisine alongside rare wines, best sakes, as well as aged Japanese liquors.
Address
29 Scotts Road, Singapore 228224
Contact
+65 6733 5251
Prices
$270 to $550 (Omakase Courses)
Operating Hours
Monday – Satuday: 12:00PM – 2:30PM, 6:30PM – 10:30PM
Closed on Sundays
To Conclude
That wraps up our list of the best omakase restaurants in Singapore! So, give your trust to these omakase chefs to receive pleasant surprises that will surely bring your taste buds to another whole new level. If you are looking for more extraordinary food options, here are some best Michelin Star Restaurants in Singapore.
For a full Japanese experience, you can check our list of ramen stores in Singapore and go on snacks shopping with our recommendations for Don Don Donki.
To try out other cuisines, we have got you covered with our list of Mala Steamboat places, Indonesian restaurants, Thai food places, and authentic Korean barbeque restaurants for a myriad of food choices.
Related posts
Subscribe for newsletter
* You will receive the latest news and updates on Singapore's best trends!
Trending Posts
May 30, 2023

What is Matcha? Matcha...

May 31, 2023

TLDR: In this article,...

May 31, 2023

TLDR: As an audio...