15 Best Online Cooking Classes in Singapore [2022]
Joanne, 3 years ago
15 min

read
5895
Preparing good and delicious food brings us a level of joy and pleasure like no other. Want to cook up different and fresh dishes for your family and friends daily but confused on what to cook or how to cook it? Don't worry; we have curated a list of the best online cooking classes in Singapore!
Highlights:
They are unique to prepare fascinating and mouth-watering food
They ensure a level of playing and complete interaction for participants.
24 hours open
Food Playground is a hands-on cooking school offering online and in-person cultural cooking classes and corporate team building workshops since 2012. The company operates out of a pre-war heritage shophouse in the heart of Singapore's Chinatown. It also has a unique social mission of providing flexi-work employment opportunities for stay-at-home mothers and active seniors who have limited avenues to return to the workforce.
These Food Playground hand-on online cooking classes are trendy among the Singaporeans where you learn multiple food items from these virtual classes. When you want to cook delicious food items with your team, you must go to this cooking class.
The virtual classes help in building the group together by offering unique programs. The programs are designed so that every member of your team gets appropriate work while cooking an excellent dish.
Prepare your dishes with different presentations after learning from Food Playground classes. After your cooking class, you will walk away not only knowing more about the Singapore food culture and heritage but also with more motivation and "courage" to try out local cuisine!
| | |
| --- | --- |
| Address | 24A Sago St, Singapore 059020 |
| Contact Information | +65 9452 3669 |
| Opening Hours | 24 hours, daily |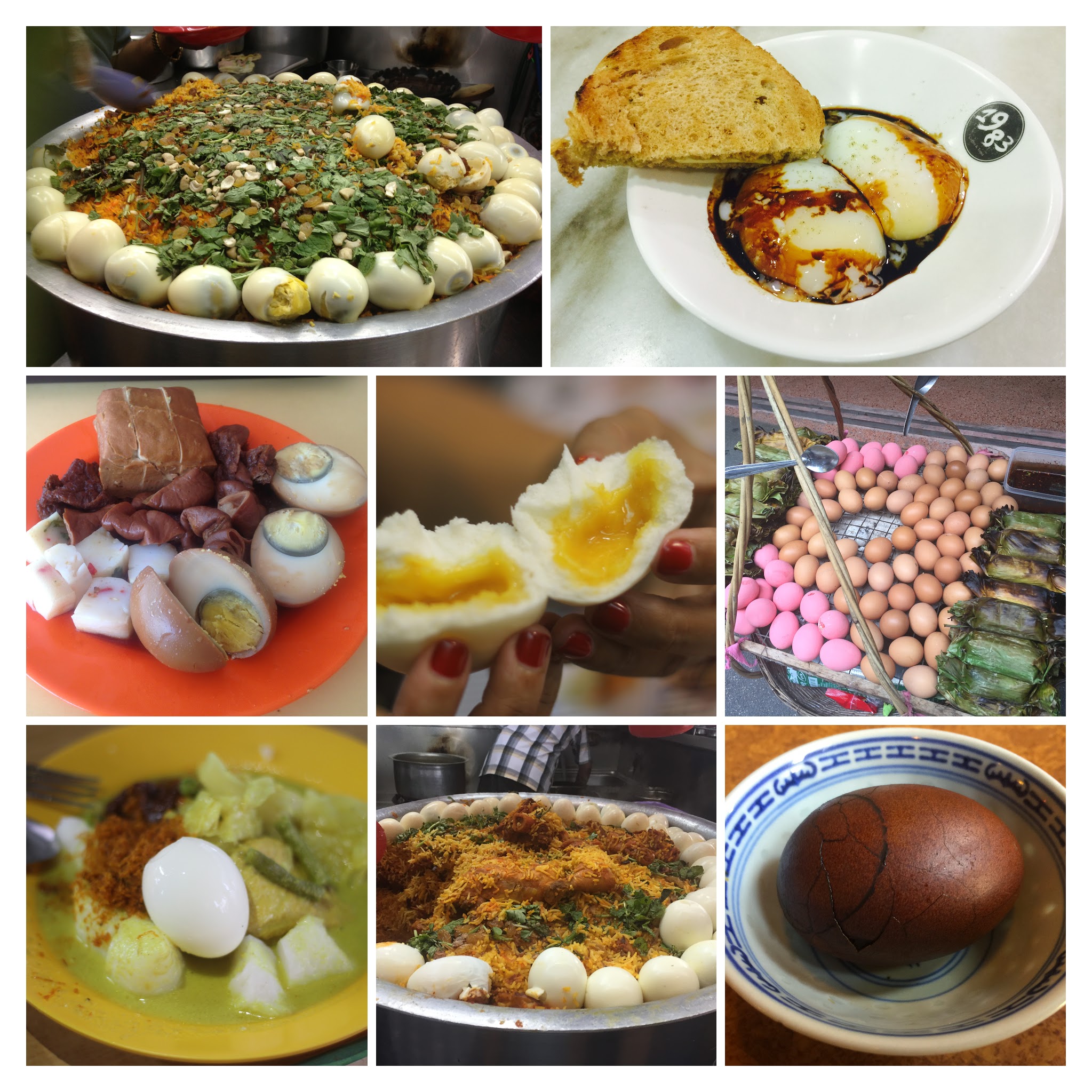 Highlights:
Have hands-on free experience with Singaporean Chefs
Learn to cater to the ultimate cocktail party with stylish plating
Hands-on challenges
Wok 'n' Stroll offers passionate and amazing virtual Singapore cooking classes. They help in providing hand-on challenges to their clients so that people can learn signature dishes very well.
The excellent chef of this cooking class helps people in learning numerous Asian food items named Malaysian Nasi Lemak, Chinese Dim Sum, Indian Biryani, Popiah, Laksa, Singaporean Noodles, Thai, and Vietnamese dishes.
You will start loving this cooking class because they help teach grandma dishes with the use of Singapore's unique ingredients.
| | |
| --- | --- |
| Address | TEKKA MARKET, Singapore 210665 |
| Contact Information | +65 8338 3571 |
| Opening Hours | 24 hours, daily |
Highlights:
Easy to follow and prepare side-by-side
Provides best after class support when you are preparing a dish
For all expert levels
Private classes available
Whether you are a complete beginner or own some baking equipment, but unsure how to use them, JusBaking is just the right place to start. You can choose from exciting recipes like egg mayo bun, cheese stick, hot dog, and cheese bun. Most of these are specially created for these classes.
At JusBaking, the team of teachers truly understand if your baking session fails and you need help. That is why they provide after-class support, so you have an opportunity to ask them questions anytime.
The comfortable class size of the Jusbaking virtual class is great for beginners. You can quickly learn all the amazing dishes and also, these dishes are very easy to follow. The professional team of this cooking class provides great support and confidence to their students. You can learn the use of baking equipment with this cooking class.
| | |
| --- | --- |
| Address | Rivervale Walk, Block 107, Singapore 540107 |
| Contact Information | +65 9233 7935 |
| Opening Hours | 8.00 am to 9.00 pm, daily |
Highlights:
Easy learning from the leading chefs and bakers with their exceptional team members
Raise your passion in the cooking classes that help in the weekly repertoire.
Wide range of dishes to learn
Brettschneider's Baking and Cooking School is headed by Dean Brettshneider. For the uninitiated, Dean is a global-based professional baker as well as patissier with an international following. He is also an award-winning author of twelve cookbooks as well as a presenter and judge on multiple TV shows. Dean also co-owns and is the founder of the successful artisan bakeries Baker & Cook and Plank Sourdough Pizza in Singapore.
At this cooking school, you will be able to attend classes taught by none other than Dean himself. Through the classes, you can also learn and discover the simple science behind baking beautiful breads, pastries, cakes and tarts. With weekly classes, you will also be able to ignite your passion for cooking.
Therefore, with such a professional team behind the cooking school, you can be sure that your learning and cooking education are in great hands!
You can have the best weekend with this cooking class, and this virtual class is great as an indoor activity. You can make numerous cakes and puddings with the unique cooking class. They also help their customers by teaching the five days of bread baking courses.
| | |
| --- | --- |
| Address | 1 Greendale Ave, Singapore 289495 |
| Contact Information | +65 6463 5508 |
| Opening Hours | 8.00 am to 9.00 pm, daily |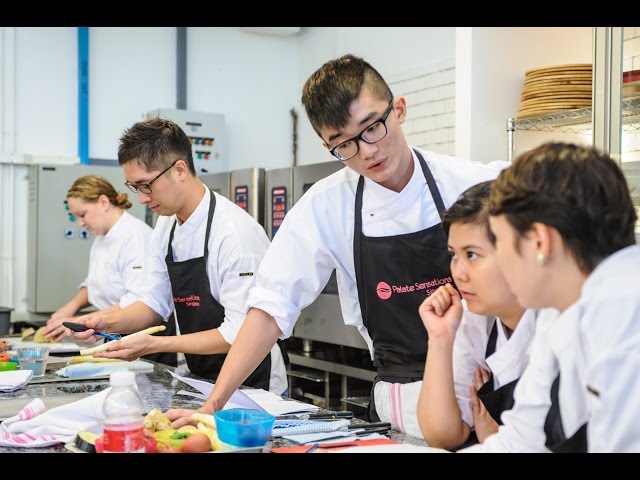 Baking classes for adults and children
For all abilities and levels
Wide variety of classes
Famous world chefs to bring Singaporean Kitchen at your home.
Over the past decade, Palate Sensations Culinary School has helped countless home gourmands realize their dreams of becoming proficient cooks. The school has also helped professional chefs to improve their culinary and baking skills.
A highly sought after and leading training centre in Singapore, the school offers hands-on cooking as well as baking classes for adults and children of all abilities and levels. They also offer studio rental facilities, corporate team building activities, private parties as well as consulting services for businesses seeking proven expertise in the F&B industry.
Here, you will be spoilt for choice with the largest variety of cooking classes offered in Singapore. Focusing on culinary techniques instead of merrily replicating recipes, their classes offer in-depth learning experience with a hands-on approach.
The school's state-of-the-art open concept kitchen is staffed by an Executive Chef, a Cuisine Chef, a Pastry Chef, an Operations Manager, as well as a team of guest chefs from renowned restaurants in Singapore. Focusing on culinary and baking techniques, courses cover a span of international cuisines. You can choose from French, Italian, Mediterranean, and Asian cuisines like Chinese, as well as Peranakan and Vietnamese.
| | |
| --- | --- |
| Address | Chromos #01-03, 10 Biopolis Rd, Singapore 138670 |
| Contact Information | +65 6478 9746 |
| Opening Hours | NA |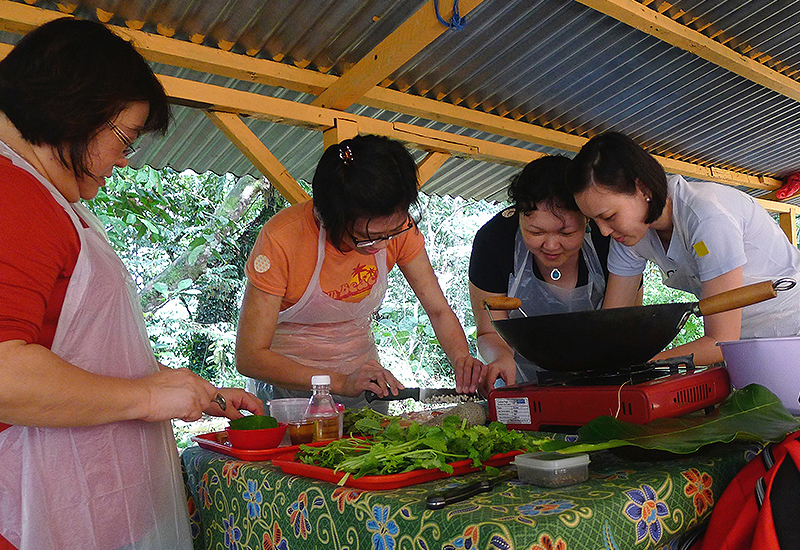 Highlights:
Get a feel of a touch of magic in the home kitchen with these virtual classes.
A discovery for recreation of authentic tastes of Singapore
Friendly vibes
At Cookery Magic, you will discover how to recreate the authentic tastes of signature Singapore and Asian dishes. Not only will you learn to cook them, you will also learn about the stories behind them in this Singapore cooking class.
From the casual classes, you will pick up the basics, add to your Asian food repertoire, or take your belachan up a notch. You will get a taste of real Singapore, served with cultural insights, good humour and a touch of magic in a cozy home kitchen.
Cookery Magic's virtual cooking classes offer an authentic and traditional cooking experience to their clients. This virtual cooking class also provides Singaporean and Asian cuisine classes.If a casual and fun cooking class is what you are looking for, this one is right up your alley!
| | |
| --- | --- |
| Address | 117 Fidelio St, Singapore 458492 |
| Contact Information | +65 9665 6831 |
| Opening Hours | Monday to Saturday: 11.00 am to 2.00 pm |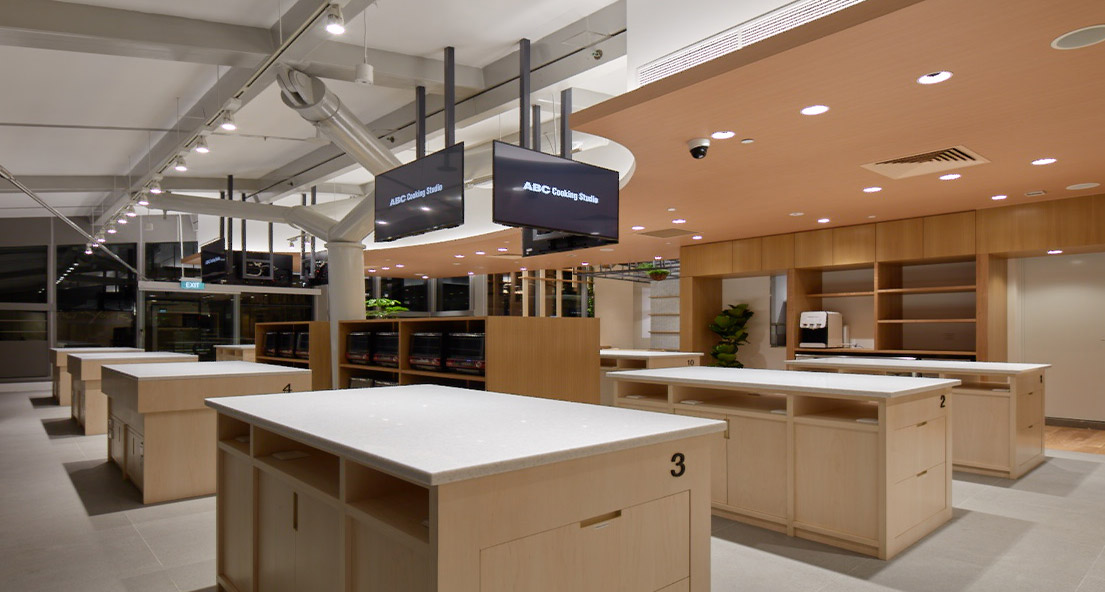 Highlights:
Famous Singaporean chefs to bring a smile on your dining table with their dishes
Provide new courses every day for new learning and unique.
Casual environment
Fun and friendly team
From beginner to expert level
ABC Cooking Studio offers a wide variety of lessons such as Japanese-style cooking, bread, cake, and traditional Japanese snacks from beginners to master level. The classes are great for those who want to brush up on their culinary skills.
They ultimately focused on the professional and traditional cooking style. In addition, they provide a weekend as well as regular classes to their clients.
This studio will also plan your lessons such that groups are kept small and compact. This is so that experts can focus on their students and give you their undivided attention. All in all ABC Cooking Studio is a great place that provides a fun and enjoyable lessons in a friendly and casual environment!
| | |
| --- | --- |
| Address | 391A Orchard Road #03-12 Takashimaya S.C |
| Contact Information | +65 6694 6259 |
| Opening Hours | Monday to Saturday: 11.00 am to 2.00 pm |
Highlights:
Affordable, hands-on cooking class for all ages
Singapore-based cooking school
Wide range of cuisines
Commune Kitchen is a Singapore-based cooking school that offers affordable as well as hands-on cooking classes across a broad spectrum of cuisines. You can choose from Chinese, Southeast Asian, Middle-eastern cuisines among others. For those who have dietary restrictions, you would be glad to know that Commune Kitchen offers Gluten-free as well as Vegetarian cooking classes!
Some popular cooking classes include traditional Chinese dumplings, Xiao Long Bao (soup dumplings), gluten-free dumplings, as well as middle-eastern dishes. These cooking classes are sought after by both locals and tourists alike.
In addition, all courses are taught by professional chefs in a state-of-the-art kitchen in Downtown Gallery. Apart from weekly cooking classes, Commune Kitchen also accepts bookings for kids parties, corporate team building sessions, and private cooking sessions for up to 30 people.
| | |
| --- | --- |
| Address | 6A Shenton Way, #03-02/03 OUE Downtown Gallery, Singapore 068815 |
| Contact Information | +65 8821 4805| info@communekitchen.com |
| Business Hours | Monday to Saturday: 10.00 am to 8.00 pm |
Highlights:
French cuisine
For all skill levels
Able to learn technical skills
Whether for leisure, self-advancement or for mid-career change, the online courses offered by Ti Yan Academy will provide you with all the essential basics you need to master the French Cuisine such as French onion soup, Beef bourguignon, Chicken "cordon bleu" as well as macarons!
With the step by step explanations, tips, as well as guides given by professional chefs, cooking will become a piece of cake! From the online classes, you will also learn all the technical skills and know-how that will make you an accomplished cook.
Below each video recipe, you will also find recipe card that will allow you to adjust the ingredients depending on your number of guests, and you will even be able to print it for easier reference.
In addition, for those who want to professionally take up cooking or pastry, you will have access to academic textbooks that shed light on all the rules needed to work in a professional kitchen. In this professional formula, you will also have quizzes to help you progress in your knowledge acquisition. At the end of the final quiz, you will even get a certificate showing that you have successfully passed the test!
| | |
| --- | --- |
| Address | NA |
| Contact Information | https://tiyan-academy.com/contact/ |
| Business Hours | NA |
Highlights:
Halal recipes
Suitable for children and adults
Easy to follow
Nestled among shop-houses along Simon Road, the Chantilly Culinary Studio offers a neat and bright setting fully equipped for hands-on delivery of baking as well as cooking classes. The studio is also committed to maintaining a Halal environment.
Approaching cooking and baking with the philosophy of simple, fresh and natural, Cecilia, the owner of Chantilly Culinary Studio, focuses on equipping participants with basic skills as well as knowledge to turn a recipe into really good tasting food.
Classes are suitable for children and adults alike. You can choose to learn how to cook dishes such as cookies, cakes, pasta, as well as tiramisu.
| | |
| --- | --- |
| Address | 1 Hacienda Grove, Singapore 457908 |
| Contact Information | +65 9763 1483 |
| Business Hours | NA |
Highlights:
Sweet and savoury recipes available
Affordable classes
Kid-friendly recipes available
With a love for capturing the beauty in the simplest things, the founder of Whisk Management wanted to share with clients her experience as a baking and cooking instructor. Using her expertise in Japanese cooking and her experience as a trained instructor, her goal is to reach out to those in need of time and an extra pair of hands.
The online lessons are $30 per lesson and each lesson lasts for 1.5 hours. The recipe of your choice will be provided to you a week before the lesson. So, you will have ample time to stock up on the necessary ingredients. In addition, instructors will only work with what equipment you have at home. So, you do not have to worry about having to purchase any kitchen equipment. For those of you who wish to take up classes with your kids, you would be glad to know that kid-friendly recipes are available too! However, do note that classes will commence only when a minimum of 5 students are enrolled.
Some recipes that you can choose from includes Basque Burnt Cheesecake, Tart Dough, Oyakodon, Okonomiyaki and even Tonkatsu!
| | |
| --- | --- |
| Address | NA |
| Contact Information | +65 9731 5554 |whiskmanagement2020@gmail.com |
| Business Hours | NA |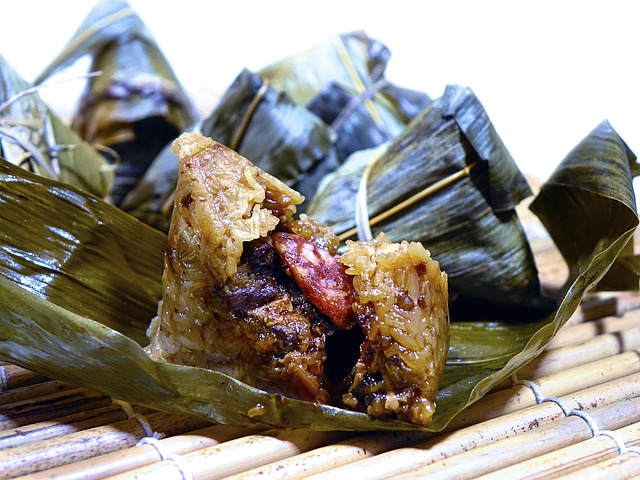 Highlights:
Supportive environment
Live cooking demo
Taught by professional chefs
Cooking Class Singapore is a cooking training centre which provides hands-on classes for a board variety of cuisines, patisserie and baking. Their hands-on classes focus on classic cooking and baking techniques. All of Cooking Class Singapore's courses are taught by professional chefs who aim to provide a fun, engaging, as well as supportive environment for those who seek to broaden their culinary horizons.
People from all walk of life and tourists attend the centre's classes hoping to further and upgrade their cooking skills. By joining the Online Live @ Home Cooking Class series, you can be able to learn some of these cooking techniques right from the comfort of your home.
Some recipes include Rice Dumplings, Goya Champuru, as well as Pan Seared Chicken Breast with Olive Topenade.
| | |
| --- | --- |
| Address | NA |
| Contact Information | +65 6816 1998 |
| Business Hours | 9.00 am to 10.00 pm, daily |
Highlights:
Free Zoom cooking classes for kids
Simple recipes
Only basic equipment needed
The Cooking Club is built on six years of expertise in delivering children's culinary courses. Since 2014, they have been teaching the wonderful skill of cooking to children, through after-school programmes and summer camps. It was only natural then, that as the world moved online in 2020, they did too!
So, get your Sunday plans sorted and leave the cooking to the kids! In The Cooking Club's hour-long interactive online Zoom cooking class for kids, your junior chefs will learn a delicious recipe, practise their cooking skills, and at the end, have a delicious meal or baked good to enjoy for your lunch – all while cooking along with an international community of over 200 families!
Chef Tim will be cooking along with you and your junior chefs. You will get personal feedback throughout, and can ask for help at any time. It is fun for the whole family! Besides, all you need are some simple ingredients and basic kitchen equipment to sign up!
| | |
| --- | --- |
| Address | NA |
| Contact Information | NA |
| Business Hours | 24 hours, daily |
Highlights:
Multi view sessions
Can be viewed on multiple platforms
Convenient meal kits
International recipes
D'Open Kitchen provides high quality, multi view sessions on many different platforms such as Zoom, Microsoft Teams, Youtube Live or even Facebook Live. The centre is able to organise interactive virtual team building activities and games during the session for your corporate team building sessions.
D'Open Kitchen is also able to provide you with meal kits which will include all the required ingredients and recipes for the virtual cooking class. So, you will be able to whip up a delicious meal from the comfort of your own home while being carefully guided by their in-house chefs.
You will be able to pick from recipes from Singapore, Italy, Japan and even Korea! In addition, there will even be a Q&A session for everyone to clarify your cooking doubts to ensure you walk away with all the information needed to be the next Master Chef!
| | |
| --- | --- |
| Address | NA |
| Contact Information | +65 8228 6217 |
| Business Hours | NA |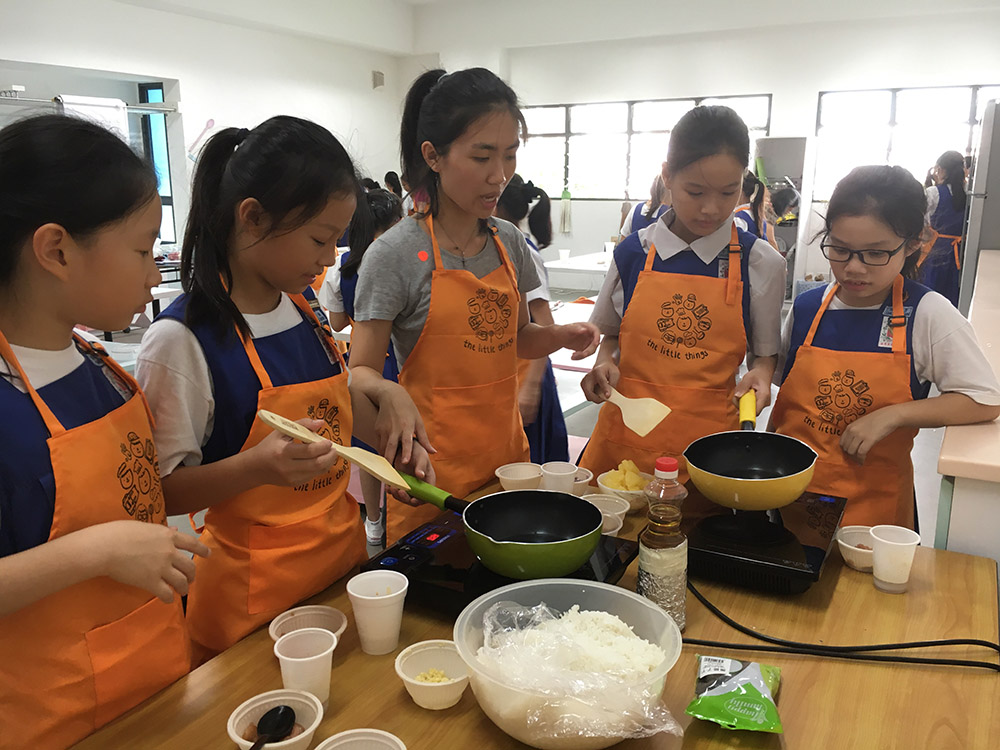 Highlights:
Parent-child classes
Interactive and fun
Affordable classes
Helmed by Emily Yeo and Valerie Lee, The Little Things presents a unique concept to kids cooking classes. They seek to bring more children into the kitchen to explore a world of food, ingredients, getting their hands dirty… and of course, to savour the fruits of their labour!
While whipping up their feasts, children will pick up other crucial life skills, including language, numeracy, science, problem-solving, working in teams, and much, much more.
Parents and children will team up to complete challenges issued by the facilitators. This includes shopping for the ingredients themselves, coming up with their own recipe interpretations together, as well as preparing the dishes. With different cuisines for various weeks, there's always an interesting class to sign up for.
Due to COVID-19, The Little Things now offers our well-loved workshops virtually too! From birthday parties, play-dates, to corporate workshops and even incursions, the brand is taking the cooking and baking right into your homes now!
| | |
| --- | --- |
| Address | 244N Upper Thomson Road, Singapore 574369 |
| Contact Information | +65 6456 3140 |
| Business Hours | NA |
Your kitchen needs to be perfect, and perfection comes with taste. It brings a smile when your face when you enjoy different and delicious occasions. So what are you waiting for? Its time to prepare different mouth-watering and flawless dishes for your family. Get through the best Singaporean classes online so that you can have a stomach-full of dishes at your place. We have helped you by listing the top seven Singaporean online cooking classes. Keep serving your family with the best one from the day itself.
Related topic: 7 Best Online Graphic Design Courses in Singapore
Related posts
Subscribe for newsletter
* You will receive the latest news and updates on Singapore's best trends!