10 Best Zi Char Stalls in Singapore to Satisfy Cravings [2022]
Joanne, 2 years ago
10 min

read
4780
Zi char or Tze Char 煮炒), is an important part of our local food tradition. A warm and hearty meal at a zi char stall never fails to bring back memories. The best part? It is incredibly cost-effective, making it ideal for people from all walks of life. Every Singaporean will definitely have his or her own favourite zi char stall. The discussion on who gets the title of "The Best Zi Char Stall in Singapore" will start certain food wars and disagreements. What's more, each zi char stall offers unique and delicious speciality dishes that you will not be able to find elsewhere. Today, we try our best to put an end to the food war to round up the best zi char stalls in Singapore for you to satisfy your food cravings!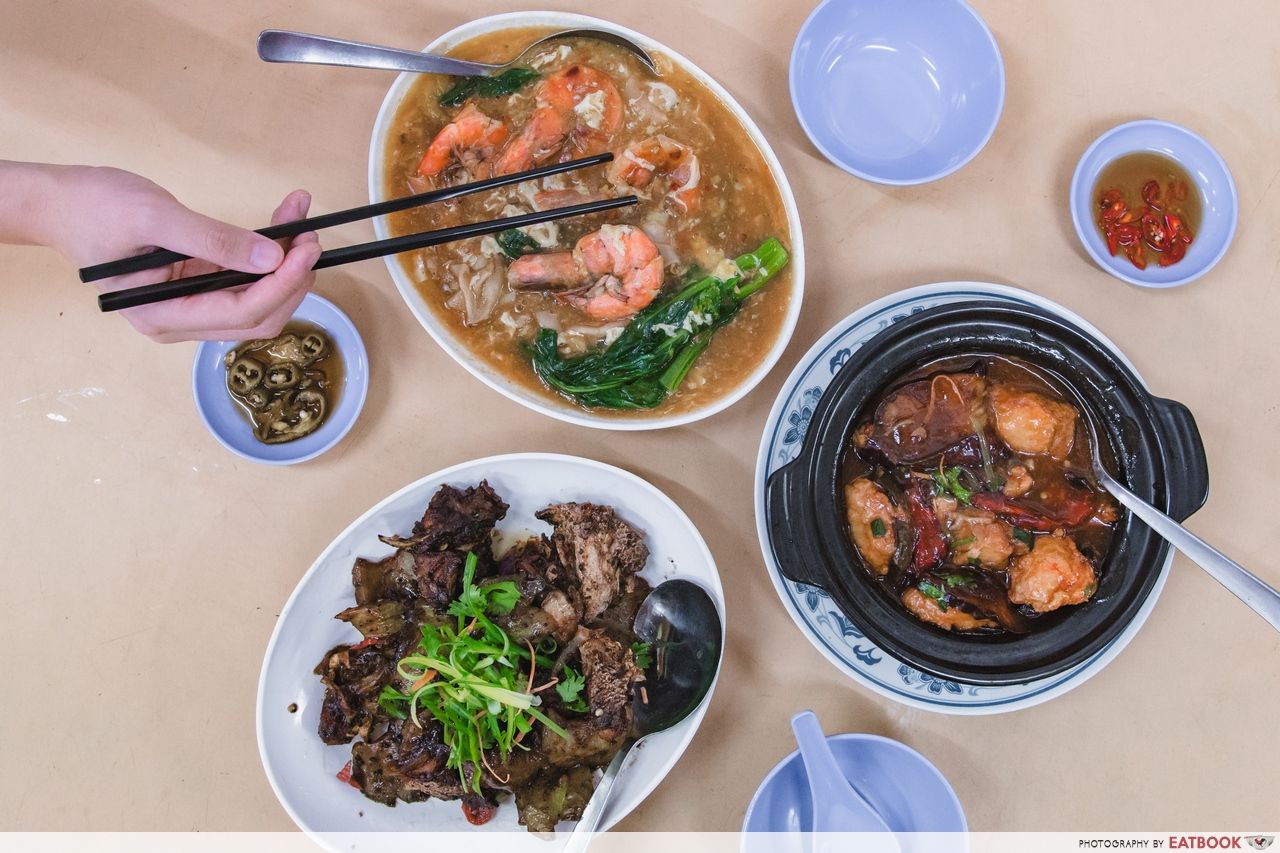 Highlights:
Halal dishes available
More than 40 years of experience
Wide variety of dishes
Popularly known for their Big Prawn Hor Fun and Claypot Yong Tau Foo, Kok Sen Restaurant is a zi char stall with close to 40 years of history. The Cantonese-style zi char restaurant's claypot dish features a wonderful thick gravy and, on top of that, it comes with a thick piece of tofu that is crispy on the outside and fluffy on the inside.
Some other signature dishes offered by Kok Sen Restaurant include Big Prawns Horfun ($16, $32, $48), Big Prawns Bee Hoon Soup ($16, $32, $48), Crispy Noodles with Shrimp Omelette ($12, $18 $36), Kung Pao Frogs Stir Fried with Dried Chilli ($20), Cereal Butter Squid ($14, $21, $28), Sambal Kangkong ($10, $14, $18), Black Pepper Beef ($14, $18, $24), and Thai Style Fried Rice ($6.50, $13, $19).
If you eat Halal food, be sure to mention it to the staff as they do have Halal menu items and the great news is that it also has halal clay pot dishes for you to feast on!
| | |
| --- | --- |
| Address | 30 Keong Saik Rd., Singapore 089137 |
| Contact Information | +65 6223 2005 |
| Opening Hours | Tuesday to Sunday: 11.30 am to 2.30 pm, 6.00 pm to 10.30 pm |
Highlights:
Affordable prices
Simple and homely dishes
Unique dishes
Run by a young hawker, Hao Kee Seafood Deluxe at Toa Payoh is well-known for its simple and homely dishes. Particularly, they are known for a unique dish: Chao Ta Bee Hoon, or burnt bee hoon. This pancake-like dish has a crispy exterior and sees squid, prawns and fish cakes on the inside. Sweet and savoury, this dish will satisfy any craving that you have. The pork lard bits that are served along with the bee hoon adds a great texture to the overall dish.
Another dish that Hao Kee Seafood Deluxe is known for is their Curry Fish Head. Rich, creamy, and not too spicy, this dish is perfect for sharing. Paired with the Chao Ta Bee Hoon, you will definitely be back for more!
| | |
| --- | --- |
| Address | 203 Toa Payoh N, Singapore 310203 |
| Contact Information | +65 8688 1382 |
| Opening Hours | Wednesday to Monday: 11.00 am to 2.00 pm, 5.00 pm to 10.30 pm |
Highlights:
No MSG or chicken stock
Based on seasonal price
Popular among locals
If you love crab bee hoon, you will not want to miss out on the one from Long Ji Zi Char. This spot has been the go-to spot for many locals during dinner time. Sporting an old-school look, this restaurant's crab bee hoon is to die for. For health-conscious consumers out there, you've got to know that no MSG or chicken powder are used in the stock. Yet, the restaurant is able to achieve a rich and thick gravy that leaves you coming back for more.
If you still do not understand what wok hei is, this dish is the perfect definition of wok hei as the chef cooks the vermicelli almost to the point of being burnt. At just the perfect consistency (not too wet and not too dry), this dish is great for sharing. We'd recommend you get a bigger portion, though, because you are going to want more!
| | |
| --- | --- |
| Address | 251, 253 Outram Road Singapore 169049 |
| Contact Information | +65 9790 5682 |
| Opening Hours | 5.00 pm to 10.00 pm, daily |
Highlights:
Only 13 items on the menu
Steamed and work-based dishes available
Fresh ingredients used
If this is the first time you are hearing of this place, congratulations! You found a gem! Established in 2014, Sik Bao Sin is a zi char place that has a limited menu of only 13 dishes. Unlike other zi char places, Sik Bao Sin only offers dishes that are to be served with rice. This means that you will not find the usual zi char options like hor fun or noodles.
Instead, you get to indulge in signature creations like Steamed Fish Head, Tofu Prawns, Ginger Chicken, and Steamed Pork with Salted Fish. While the steamed dishes are great, many customers flock to Sik Bao Sin for its wok-based dishes. For example, for Sweet & Sour Pork lovers, you would be glad to know that Sik Bao Sin's dish has no artificial colouring used and unlike the soggy pork served at other stalls, the batter here is delightfully crunchy.
You would find that the dishes here will set you back about $15 to $30 each. But trust us, it is going to be worth it!
| | |
| --- | --- |
| Address | 592 Geylang Road, Singapore 389531 (Between Lor 34 & 36) |
| Contact Information | +65 6744 3757 |
| Opening Hours | Tuesday to Sunday: 11.45 am to 2.30 pm, 5.45 pm to 9.30 pm |
Highlights:
Traditional dishes with a creative twist
Open till late
New dishes all the time
Two Chefs Eating Place is a stall that is continuously innovating and experimenting with traditional zi char classics, serving up intriguing and delectable dishes like their stellar Butter Pork Ribs with a sweet-savoury milk powder and their XO Salted Egg Yolk Prawns.
We recommend that you come with a bigger group so that you get to try more of the 50 different mouthwatering dishes that are offered by the stall. One of their most popular dishes is the mentioned Butter Pork Ribs with milk powder. Whether you prefer a sweet or savoury dish, this dish will be able to satisfy your belly. Tender and moist, be sure to order more to avoid having to snatch up that last piece
The chefs at Two Chefs Eating Place describe themselves as a stall that serves high-class dishes at zi char prices. Definitely, one to check out!
| | |
| --- | --- |
| Address | 410A Sin Ming Ave, #02-01, Singapore 570409 |
| Contact Information | +65 6451 3812 |
| Opening Hours | 11.15 am to 2.15 pm, 5.00 pm to 11.15 pm, daily |
Highlights:
Great supper place
Consistent quality in food
Affordable
Tian Tian Seafood Restaurant is a great option for affordable outdoor seafood dining. You can visit this place with friends and family, and enjoy their Zi Char and Chinese cuisine. Their must-try dishes for first-time visitors from their menu is the Bamboo Clams with Garlic and Steamed Prawns which is loved by most of the customers.
With their consistent quality and humble service, they are one of the best seafood restaurants in Singapore. What's more, for night owls out there, you would be glad to know that Tian Tian Seafood Restaurant is open to 3.00 am daily! You can add this new spot to your list of supper places to get your midnight hunger pangs satisfied!
| | |
| --- | --- |
| Address | 239 Outram Rd, Singapore 169042 |
| Contact Information | +65 6324 1082 |
| Opening Hours | 5.00 pm to 3.00 am, daily |
Highlights:
More than 30 years of history
Excellent cooking
Old school eatery
If you love enjoying some good, and hot seafood in a relaxing atmosphere in a homely and old-school environment, then perhaps you need to head to the Sin Hoi Sai Seafood Restaurant. In fact, we're sure that you're already familiar with their outside seating arrangement which is superbly comfortable. Their menu is all seafood like fishes, squids, lobsters to crabs as well as other classic dishes.
If this is the first time you are heading to the restaurant, you should try their deep-fried crab with Chinese wine, the Salted Egg Crab, butter crab, black bean sauce crabs, and even their spring onion & ginger crabs. Place your order, grab your plate, sit back, and enjoy the view on the outside.
For those who are culinary experts, this restaurant was even placed on the Singapore Michelin Guide with a Michelin Plate awarded to them. Definitely one to put on your list.
| | |
| --- | --- |
| Address | 55 Tiong Bahru Rd, #01-59, Singapore 160055 |
| Contact Information | +65 6223 0810 |
| Opening Hours | 4.00 pm to 4.00 am, daily |
Highlights:
Innovative dishes
More than 30 years of history
Prices kept affordable
Established more than 30 years ago, New Ubin Seafood is a restaurant that is famous for serving true blue Singapore's zi char cuisine. Through the years, the restaurant has revamped its menu to innovate and create new versions of the traditional cuisine to satisfy the palate of the new generation. Years may pass but New Ubin's legacy will always remain.
Try their Crab dishes, Steamed Egg Custard with Uni Sauce or Porridge with Tofu Butter! Many of their loyal customers say that New Ubin's food is still great and affordable. They can guarantee that if you love char cuisine, this restaurant is definitely worth the visit.
| | |
| --- | --- |
| Address | 30 Victoria St, #02-01B/C Singapore 187996 |
| Contact Information | +65 9740 6870 / +65 6466 9558 |
| Opening Hours | 11.00 to 3.00 pm, 5.30 pm to 10.00 pm, daily |
Highlights:
Delicious signature dishes
Prepared using a unique style of Chinese cooking
Offers both classic and unique dishes
Crab at Bay is a zi char restaurant known for their crab bee hoon. Aside from the usual zi char fare such as kangkong sambal, Crab at Bay also serves unique dishes developed by their chefs.
Crab At Bay takes special pride in their signature dishes, Bee Hoon Crab and Black pepper Crab. Both are prepared in a unique refined method of Chinese cooking. Bee Hoon Crab is a feast to the eyes and is stewed in celery and shitake mushroom, which brings a gentle bitterness and robust, earthiness to the crab and gives a comprehensive flavour that awakens your taste buds.
The Black Pepper Crab is equally delightful and is infused with the aroma of black pepper, which gently caresses the olfactory senses of the one who enjoys it. Besides two of these dishes, they have more classic options like chilli crab and butter garlic lobster. It isn't hard to see why this restaurant is on our list of the best zi char stalls in Singapore.
| | |
| --- | --- |
| Address | 540 Macpherson Road Singapore, Singapore 368223 |
| Contact Information | +65 6743 8366 |
| Opening Hours | 11.00 am to 2.00 pm, 5.00 pm to 10.30 pm, daily |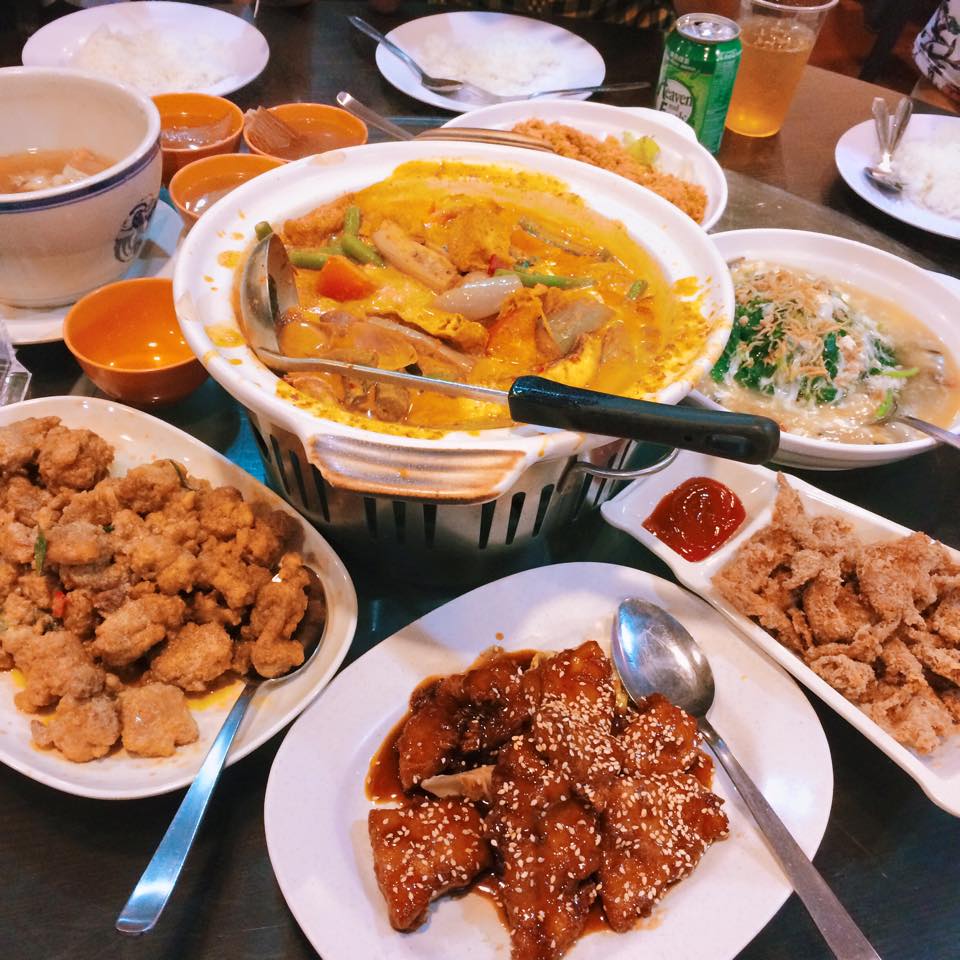 Highlights:
A wide range of dishes offered
Affordable prices
No service charge
Sum Kee Food is a local zi char restaurant loved by many. The restaurant is a short walk from Telok blangah MRT station. Ultraman Chicken ($12, $18, and $24) is a playful spin on their salted egg chicken dish and a must-order at Sum Kee.
If you're buying rice and sides, the Olive Fried Rice ($6) is a good option. It has a distinct flavour that complements many of the dishes served here. They also offer Sum Kee Family Sets, which is a budget-friendly option that even comes with a complimentary Longan Tofu dessert.
With a wide variety of dishes, it's the perfect place for get-togethers or celebratory lunches. In addition, the restaurant does not charge for service and parking. So if you are hesitant to drive for fear of the high parking fees, you can forget about that worry!
| | |
| --- | --- |
| Address | 2 Telok Blangah Street 31, Singapore 108942 |
| Contact Information | +65 6737 3233 |
| Opening Hours | 11.00 am to 2.30 pm, 5.00 pm to 10.00 pm, daily |
If you are hungry just from reading this article, you are not the only one! Satisfy your hunger with any of these best zi char stalls in Singapore. If you are too lazy to move, check out some delivery options. Perhaps some of the best sushi delivery or some late-night food delivery services for you to Netflix and chill to!
Related posts
Subscribe for newsletter
* You will receive the latest news and updates on Singapore's best trends!