5 Best Zero Waste Products You Can Get in Singapore [2022]
, 3 years ago
7 min

read
1650
The Zero Waste movement has gained traction as a way to limit the amount of waste generated through our consumer consumption patterns. Interested in starting a Zero Waste Lifestyle but not sure where to begin? Our list of the best Zero Waste products will help you kickstart your new alternate lifestyle in a hassle-free fashion.
But first, what exactly is a Zero Waste lifestyle, and what does it hope to accomplish? As consumers, the products that we consume oftentimes generate unnecessary waste. The careless disposal of these wastes leads to more environmental pollution and damage every single day. Embracing a Zero Waste lifestyle means combating this pollution by decreasing the amount of rubbish we produce, ideally to zero. We know it might seem like an idealistic goal that is out of reach. However, these products on our list will help to minimize the amount of waste that we produce.
Ranging from drinks stores at hawker centres to the prevalence of bubble tea in our society, it is no surprise that disposable plastic straws are among the top wastes that we produce as consumers. Hence, reusable straws are one of the most popular items to help kickstart that Zero Waste lifestyle that you're after.
Lightweight and easily portable, carrying your own reusable straw while on the go is a hassle-free task. There are many different varieties of reusable straws available such as metal, glass, and bamboo to name a few. Metal straws stand out from the list as not only the most popular option but the most durable as well. These straws are sturdy and can be thrown into your bag without any fear of them breaking. An important point of caution to raise is that metal straws must be dried properly to prevent the straw from rusting. Interested in purchasing one? Look no further than Seastainable Co.
The regular metal straw set from Seastainable is really the full package as it comes with a pouch, one regular straw, one bubble tea straw, and a cleaner. This all in one package has everything you need to jump on the reusable straw bandwagon. Apart from kickstarting your Zero Waste lifestyle, your purchase is directly helping to conserve our oceans. Seastainable is a business that supports marine conservation in Singapore and around Southeast Asia. They channel their profits to environmental organizations in need. Hence, you can feel good about starting your own Zero Waste lifestyle while helping out the marine conservation scene when purchasing the metal straw set from Seastainable Co. Visit their website to find out more about their mission and purchase your very own straw set today. Very useful zero waste products.
When on the go, single-use zip-lock bags have wide-ranging applications such as carrying our lunches to work or helping us sorting our toiletries when we travel. After being used once, we throw these zip-lock bags away, generating unnecessary waste upon each use. Well, Stasher bags serve that exact same purpose in a Zero Waste fashion.
(Source: stasherbag.com)
Stasher bags are made from platinum silicone which does not degrade over time, making them durable and long-lasting. This also means that they have wider applications to the traditional zip lock bag as Stasher bags can be subjected to the freezer, microwave, oven, and even the dishwasher. Rest assured that stasher bags have been certified safe for food after passing stringent food safety tests. Available in multiple sizes and colours, they are well suited for any occasion and application. By using Stasher bags, we can stop our repeated use of zip-lock bags and take that step towards a Zero Waste lifestyle.
Furthermore, as a brand, a portion of Stasher's profits goes to aiding non-profit organizations like Surfrider and 5 Gyers that are dedicated to ocean conservation. Head over to iHerb to pick up yours to help out the ocean conservation scene and kickstart that Zero Waste lifestyle.
Produce bags are a popular alternative to hold your groceries without generating plastic waste. Instead of taking multiple plastic bags at the supermarket to hold your products only to throw them away, having your own produce bags will make grocery shopping more convenient while generating no waste. Dedicated produce bags are durable and washable, making them a much better choice than flimsy supermarket plastic bags. As an added bonus, most produce bags are more breathable than plastic bags, allowing your produce to stay fresh. Due to these reasons, we recommend the grocery bags from The Sustainability Project.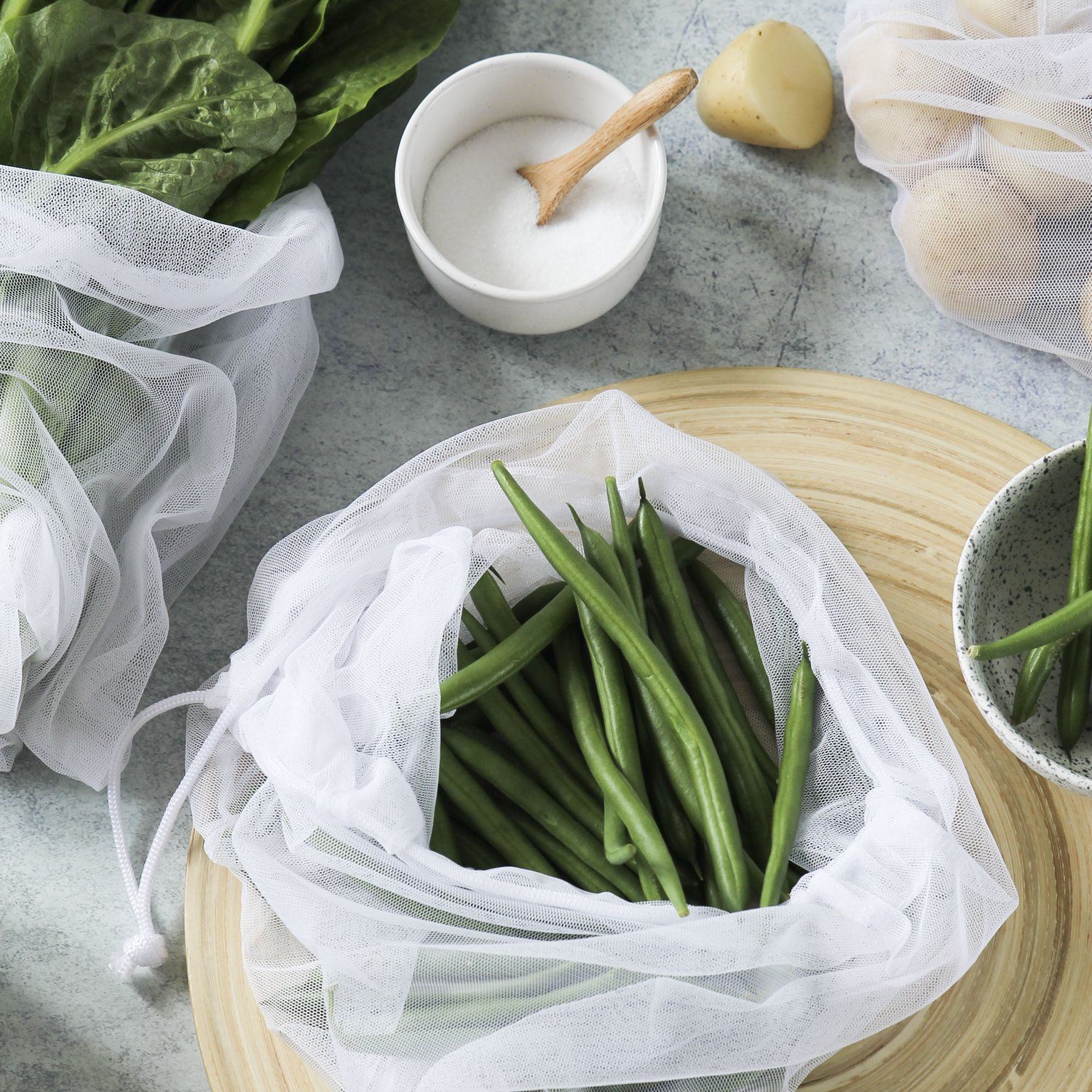 The Sustainability Project is a Singapore-based business that aims to promote a Zero Waste lifestyle in the community. Through these aesthetically pleasing grocery bags, you too can begin your Zero Waste journey. Crafted using a mesh that is lightweight, these produce bags easily beat out plastic bags found along grocery aisles. A produce bag holder is also available and can store up to 8 produce bags, making your next grocery run a breeze. Head over to The Sustainability Project to ditch those plastic bags and begin your Zero Waste grocery runs.
We love our food in Singapore. However, using disposable plastic cutlery when we order take-out leads to stunning amounts of waste being produced. With reusable cutlery, we can enjoy our food and feel good about not creating unnecessary waste.
Your Sustainable Store is a great place to go pick up your very own set of reusable cutleries. Coming with a spoon, fork, knife, chopsticks, and a beautiful carrying case, the Travel Bamboo Cutlery Pouch Set checks all the boxes. Not only will this set reduce your personal plastic waste production by replacing disposal utensils, but the cutlery is also crafted from organically grown bamboo which is the world's fastest-growing sustainable crop. Bamboo is also biodegradable, making it an environmentally friendly choice. The pouch interior is lined with food-safe medical-grade ProCare waterproof fabric, ensuring that your utensils are stored in a safe place. For those interested in the aesthetics, you'll be spoiled for choice as the pouch comes in 20 different designs.
Your Sustainable Store is a Singapore-based online store with the goal of making aesthetic and affordable sustainable products easily available. Join the Zero Waste movement by picking up your cutlery set from their website today.
Why stop at reusable cutlery? Take the next step and bring along a food container the next time you intend to head out and order take-out. After consuming take-out, most of us generate extra waste when we dispose of our take-out containers. However, by using your own food container to take food, we can easily prevent this. If you're looking for a basic and affordable food container, the Ikea 365+ Lunch box is a great choice. A must-have zero waste products.
With removable inserts, the Ikea 365+ Lunch box offers convenient customization for whatever meal you're planning to have. The Lunch box is also microwave-safe and dishwasher-safe, leading to a hassle-free dining experience. It also pairs nicely with the Stasher Bags mentioned previously when needing to bring food with you on the go in a Zero Waste way. Available on the Ikea website, a Zero Waste lifestyle is just a few clicks away.
"You must be the change you wish to see in the world.". This famous quote by Gandhi speaks volumes about how we have to be proactive in making change. A Zero Waste lifestyle requires a change of habits and isn't something that can be achieved immediately. However, through these products, you have the tools to kickstart this new journey to conserve our beautiful planet!
Related posts
Subscribe for newsletter
* You will receive the latest news and updates on Singapore's best trends!
Trending Posts
May 30, 2023

What is Matcha? Matcha...

May 31, 2023

TLDR: In this article,...

May 31, 2023

TLDR: As an audio...