10 Best Weighted Blanket To Buy In Singapore For Restful Sleep [2022]
stella, 3 years ago
10 min

read
6876
A weighted blanket does just as it says: it is a blanket with added weight. Weighted blankets are unusual in that they are packed with fabrics such as glass beads rather than cotton or down to make them thicker. This weight is spread uniformly throughout the body, giving the impression of being softly embraced. The weighted blanket's deep touch pressure is meant to make you feel secure, calm, as well as at ease.
Weighted blankets are also known as therapeutic blankets because pressure from the extra weight mimics a therapeutic technique called deep pressure stimulation. In turn, the blanket is able to relieve pain, lessen anxiety, as well as improve your mood. To reap the benefits of a weighted blanket, check out these top-rated weighted blankets to buy in Singapore to help you achieve a deep and restful sleep!
To sum up, we have made a list of the top 3 choices, for the best-weighted blankets in Singapore and they are selected based on affordability, and quality.
Highlights:
Machine washable
Hypoallergenic
Anti-odor, anti-bacterial
Made of natural cotton
Origin Sleeps is a brand that offers sleep accessories that are constantly evolving. Having gone through dozens of sleep trials, more than 10 different product tests, and 100 density changes before making it to market, you can rest assured knowing that you will be getting the best quality out of their products.
Designed in Germany by a team of experts, the team is confident that their products will prove to be one of the best available in Singapore, matching even the best and highest priced brands in terms of features and function. Besides, the brand offers free delivery and a 30 days trial. If you are not satisfied with your purchase, the brand will take it back and offer you a full refund. Talk about confidence in their own products!
The brand's weighted blanket is one of its most popular products. The Sleeps Nano™ Weighted Blanket relaxes you, using the comforting weight of nano-beads to help guide away restlessness. For a better, deeper sleep all around. Featuring a Nano-Bead Technology that enhances feelings of safety, and comfort, the weighted blanket also sports a natural cotton cover that is v breathable. You will not feel hot even with that additional weight.
In addition, the blanket is machine washable and very easy to clean. Most importantly, Origin Sleeps designed the weighted blanket with comfort in mind. It is anti-odour, anti-bacterial, and hypoallergenic. Great news for those who suffer from allergies!
Address
MactechBuilding 2 Kallang Pudding Road #02-04, S349307
Contact Information
+65 6977 9637 | enquiry@originsleeps.com
Business Hours
Monday – Sunday
11:00 AM – 5:00 PM
Highlights:
Hypo-allergenic
Non-toxic
Even distribution
Designed with smaller compartments for even weight distribution, Weavve's weighted blanket helps you relax by stimulating the feeling of being held or hugged. The evenly distributed glass microbeads are the star of Weavve's Weighted Blanket. Non-toxic and rounded to create a smooth, uniform fill, they are gentle enough for people with physical sensitivities.
In addition, every component of the product has been tested and certified to be free from harmful levels of over 100 individual substances from 17 groups of chemicals. So, you do not have to worry about there being any harmful or toxic substances in the weighted blanket!
This weighted blanket is also hypoallergenic and non-toxic with a breathable fabric that is machine and dryer-safe. The blanket's hypoallergenic fill provides relief for those with allergies. It also provides ample warmth and adequate breathability whilst having an ideal fluffiness-breathability-warmth ratio for a cosy sleep in all seasons.
Ongoing GSS promotion ends on 11 July 2021.
10% off with min. spend of $150 [Code: GSS10]
15% off with min. spend of $300 [Code: GSS15]
20% off with min. spend of $500 [Code: GSS20]
Coupon code: Use promo code WVXBIS20OFF for $20 off with a minimum spend of $150.
| | |
| --- | --- |
| Address | 80 Genting Lane, #02-01 Singapore 349565 (Visit By Appointment Only) |
| Contact Information | hello@weavvehome.com |
| Business Hours | NA |
Highlights:
Features food-grade mini glass beads
100% cotton quilt
Local brand
JUMPBY2 is a local brand with a mission to source more innovative products, that bring convenience to people, entertainment, and comfort. From manufacturing to quality control to logistic and customer service, the team at JUMPBY2 ensures that all of their customers will receive their parcels happily.
Their weighted blanket is made of 100% cotton and features food-grade mini glass beads as weights as well as cotton fillings. Regular nights with the weighted blanket can help in calming your body, improving sleeping habits, as well as reducing unnecessary extra body movements. Not to forget, it is extremely comfortable! Even though it weighs about 7kg, you don't feel its heaviness when you are lying down.
Every blanket that you purchase will come with a free 100% cotton quilt cover that works with the weighted blanket to enhance your sleeping experience. Easy to wash and put together, this weighted blanket by JUMPBY2 is definitely one that you should not miss out on.
| | |
| --- | --- |
| Address | NA |
| Contact Information | info@jumpby2.com |
| Business Hours | 24 hours, daily |
Highlights:
Premium quality
5.4 kg
Velvet softcover
This blanket has been specially designed to soothe restlessness, aid relaxation, and promote better quality sleep. Its weighted filling creates a gentle, even pressure across your body which fosters a sense of stillness and calm, helping you to switch off for the night. A velvet soft cover ensures you feel both comfy and cosy, plus it's removable, allowing it to be washed and dried easily. This is specifically for adults as users must be able to lift the weight of the blanket easily.
The blanket is machine washable and has a removable cover made of 100% polyester (exclusive of trimmings). Its cover is made of 100% cotton, the lining is made of 100% polyester, and the weighted blanket's filling is made of 100% polyester and glass microbeads.
Weighing 5.4 kg, this weighted blanket is just the right weight to be suitable for people from all walks of life. Beautifully packaged, this weighted blanket by Marks and Spencer definitely ticks all the boxes for a premium weighted blanket.
| | |
| --- | --- |
| Address | Multiple locations: See here |
| Contact Information | +65 6733 8122 |
| Business Hours | 10.00 am to 10.00 pm, daily |
Highlights:
Inner pockets
Glass bead technology
Weighted insert with 5 loops
This weighted blanket by Sleep Comfie may just be the solution to all your sleeping problems. It is filled with glass beads that place deep pressure on your body. This helps to increase the "happy chemicals" in your body (serotonin and melatonin) which helps you to achieve deeper and more restful sleep. Sleep Comfie Premium Weighted Blanket with Duvet Cover made entirely of 100% Bamboo Fiber.
Sleep Comfie's weighted blankets weigh 9kg. For adults, they are available for a variety of bed sizes, from super single, to queen and king sizes. Whatever your body weight is, there will definitely be one that is suitable for you.
Address
388 Yishun Ring Road
03-1667 Singapore 760388
Contact Information
(65) 9338 8623
Business Hours
Monday – Sunday
10:00 AM – 10:00 PM
Highlights:
Hypoallergenic
Premium glass beads
Even weight distribution
Adorable designs
This kid-weighted blanket by Hugzz moulds to your child's body like a gentle hug. The pressure relaxes the nervous system and helps to alleviate stress, as well as anxiety. In turn, it encourages your child's body to rest as well as encourages serotonin production, which lifts his or her mood. When serotonin naturally converts to melatonin, your child's body will take the cue to rest. This means a calmer mind and deeper sleep.
Hugzz's weighted blanket is filled with high-quality hypoallergenic premium glass beads and nestled among soft polyester layers, that are safely sewn in. The beads stay put in their squares for equal distributions of weight.
For those who are worried that the weighted blanket might cause their kids to sweat during sleep, fret not! Breathable Cotton Layers sandwich 2 soft polyester layers that cushion the hypoallergenic glass beads ensure that your child will have restful nights.
Get yours here!
Address
12 Little Huggz
Singapore
330055
Contact Information

86470307
Business Hours
Monday – Sunday
10:00 AM to 10:00 PM
Highlights:
Affordable
Machine-washable
Durable and breathable material
In order to help you sleep better, Serenity Living created a weighted blanket covered in bamboo cloth that was developed after several rounds of research and testing. When you combine the softness and weight of the blanket, you get the sensation of a comforting hug wrapped around your shoulders and chest.
Soft and refreshing to the touch
The Serenity Blanket is covered in quality bamboo fabric, which is very breathable and silk-like in appearance, allowing you to stay cool while yet enjoying great comfort.
Additionally, the blanket's glass bead contents allow it to retain far less heat as compared to standard duvets that employ polyester or cotton fills.
Get yours here!
Highlights:
Cover is machine washable
Glass beads
premium micro-plush duvet cover
When the Gravity Weighted Blanket is used, it stimulates the sensation of being held or hugged, resulting in increased serotonin and melatonin levels as well as a decrease in cortisol levels.

In our 2019 sleep study, 72% of participants reported deeper, more restful sleep, and 76% reported falling asleep faster when they used the Gravity Blanket.

When combined with the outer removable cover, which is made of luxurious breathable fabric in three modern neutrals, you have the best-weighted blanket and the best-looking blanket you've ever owned.
Get yours here!
Highlights:
BambooFiber
Premium cotton
Different sizes
This weighted blanket from Cuddles is a healthy sleep-assisted blanket designed to weigh 10% of your body's weight. It weighs between 4 kg and 11 kg.
Made of 100% cotton, the blanket is comfortable as well as soft to the touch with a delicate texture. For those of you who have skin allergies, you'd be glad to know that this blanket is also skin-friendly, as it is made without any toxic or harmful inks or dyes. With a three-dimensional cutting process, the blanket features delicate stitching, quilting, as well as setting process to make the filling even and well-distributed.

Get yours here!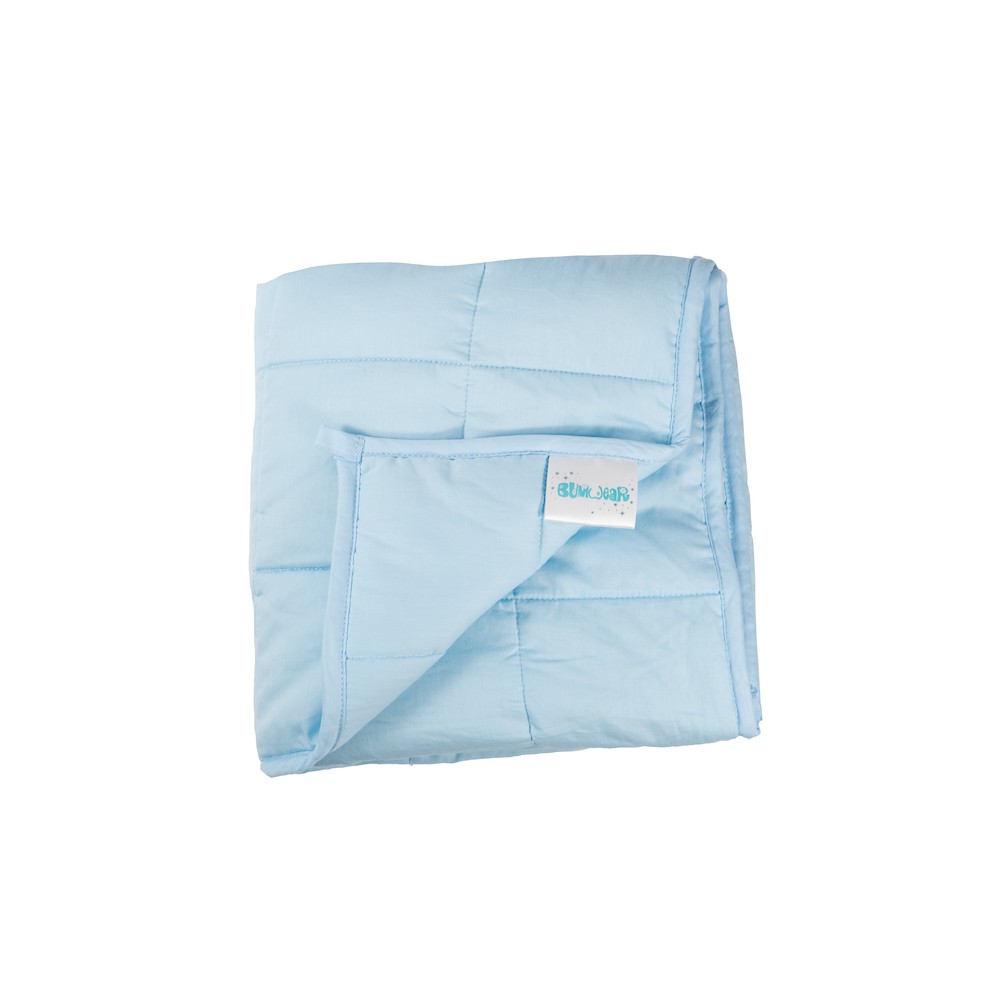 Highlights:
Aids in Sensory Processing Disorder
Hypoallergenic Glass Beads
Multi-Layer Design
Suitable for people with anxiety, autism, ADHD insomnia, as well as other sleep problems, this adult weighted blanket adopts a premium polyester material that is soft, breathable as well as skin-friendly.
Filled with hypo-allergenic, non-toxic, odourless, as well as lead-free glass beads, the blanket is also suitable for those of you out there who have sensitive skin or skin allergies.
The appealing bandage design of this blanket helps to fix the beads in place so that they do not move about easily. What you get is a blanket that is more evenly distributed. You do not have to constantly shift the beads about, which can be a tiring process, especially if you get a heavier weighted blanket. The blanket also sports an invisible zipper design, that is smooth to manoeuvre and durable.
Get yours here!
Address
12 Little Huggz
Singapore
330055
Contact Information

86470307
Business Hours
Monday – Sunday
10:00 AM – 10:00 PM
So, there you have it, the best-weighted blankets that you can find on the market. Just pick any one of the above and you will be sure to achieve deep and restful sleep so that you can feel recharged and ready to own another day! Be reminded though, that weighted blankets shouldn't be used by anyone that can't move freely beneath the weight. Though they're sometimes used as a therapeutic means for children, it's important for you to speak with their paediatricians first.
If you are looking to purchase more bedding essentials, check out our guide to the best pillows, mattresses, mattress toppers, as well as latex mattresses in Singapore here!
Related posts
Subscribe for newsletter
* You will receive the latest news and updates on Singapore's best trends!