Best 11 Wedding Florists To Get Bridal Bouquets in Singapore
zoya, 1 month ago
11 min

read
91
When it comes to weddings, they're definitely one of the most awaited and happiest moments in the life of any bride. And you can't think of a wedding, without a bridal bouquet coming to your mind. Often used as a symbol for weddings, each part of a bridal bouquet is a symbol of something. The flowers are a symbol of the desire to want happiness and satisfaction in marriage while the ribbon that holds them together represents fellowship.
Apart from symbolism, the bridal bouquets also add to the beauty of the bride, making her look even more beautiful and elegant. With this much value, it is crucial to have a good-quality bridal bouquet that goes well with the dress of the bride. Hence, we bring to you a list of the best 11 wedding florists to buy your bridal bouquet from.
We start this list with the Royal Blooms. The Royal Blooms are a team of two people with one aim, to bring a smile on the face of the bride by providing her with the most gorgeous bouquets. They create their bouquets using only the freshest selections of the week. Being one of the best wedding florists, they understand that a wedding is a once-in-a-lifetime event and try their best to make it the bride the happiest moment for the bride. They take immense pride in their creative work.
As we mentioned before, their bouquets are extremely creative and use a variety of flowers. Some of the flowers they use in their arrangements include roses, delphinium, Matthiola, dahlia, and the list goes on and on. You have plenty of options to choose from so that your bouquet matches seamlessly with your dress. Royal Blooms also offers a wide range of bespoke floral arrangements which include boutonnieres, floral arches, venue decoration, bridal essentials, and much more.
| | |
| --- | --- |
| Prices: | Prices start at $128 for their Scarlet Love Bridal Bouquet |
| Address: | 16 Upper Boon Keng Road, #01-1109, Singapore 380016 |
| Contact Details: | +65 9800 5801 |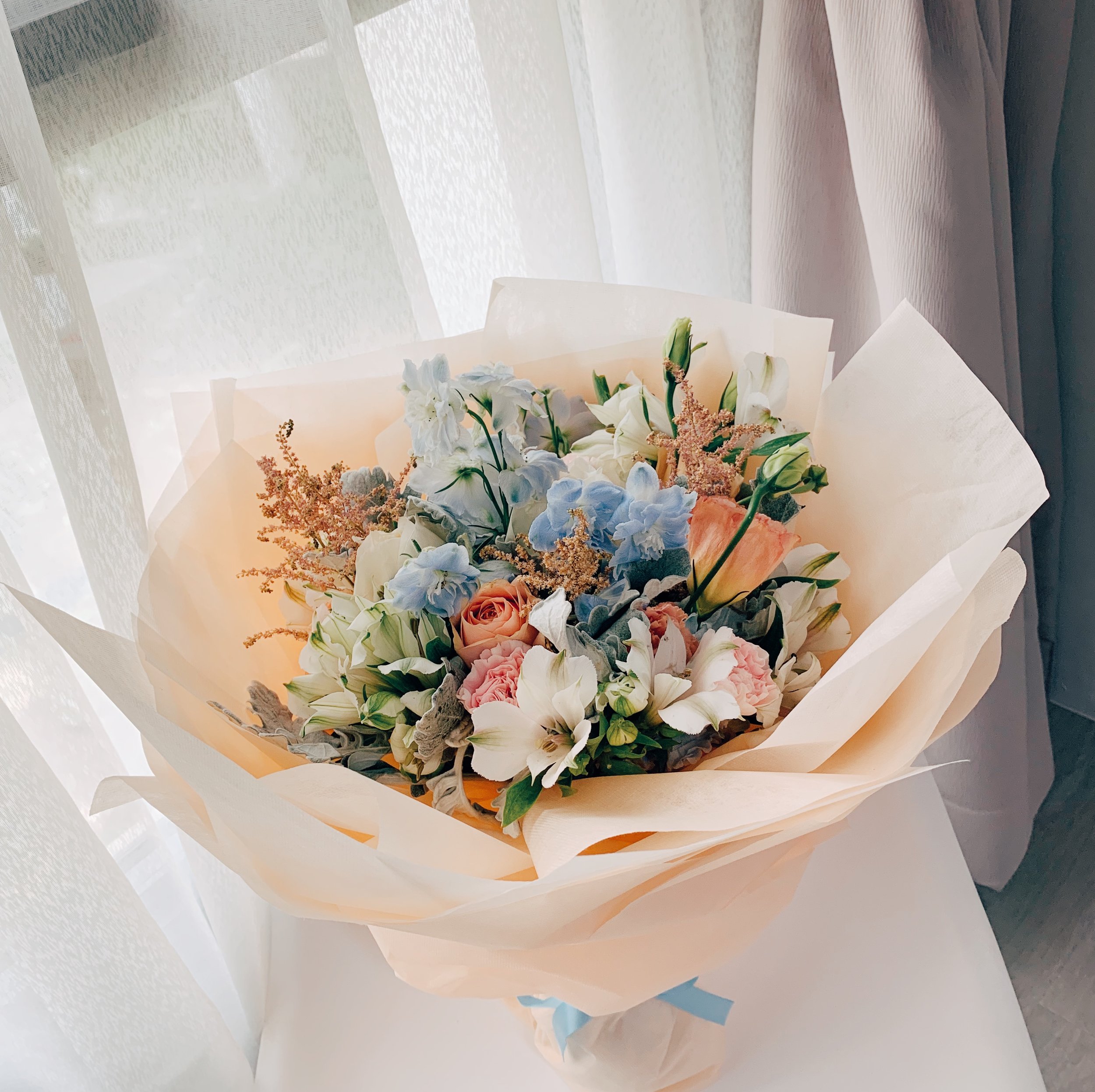 Do you have a tight budget and want to spend slightly less on your bridal bouquet but still wish to buy from one of the very best wedding florists? Well, Elly Sera Florist is the one that you are looking for. Over at Elly Sera, they understand that everyone has to stick to a certain budget when it comes to floral decoration or bridal bouquets.
And that's exactly why they provide a list of bouquets that are both affordable and stunning. Almost all of their offerings are customizable, which means that you can choose which flowers you would prefer to have in your bouquet. They use also the finest and most fresh blooms in each batch.
That's not all, Elly Sera makes sure that your bouquet maintains its sturdiness by tying it using a special technique and the stem looks extremely elegant on the bouquets too. You can also hire Elly Sera for their beautiful floral styling for a wedding which is also customizable. They provide plenty of wedding packages through which you get bridal bouquets, wedding flowers, floral styling, wedding car floral decoration, regular bouquets for bridesmaids etc.
Price: Prices start from $75 for their Stella, Kym and FreeStyle bridal bouquets
Contact Details: +65 8892 6625
If you're looking for something that is totally out of the box, then you should certainly check out Boenga. Boenga is loved dearly by their clients for the amazing services and bouquets that they provide. Their bouquets are very recognizable for their brilliant creativity and originality. They are so unique that they give an almost aesthetic vibe to the bride.
The founder of Boenga has been awarded several international awards for his work with flowers. Also, you can also purchase personalized bouquets so that means you won't be able to find anything that is pre-made. Don't be worried though. All that you need to do is provide them with what you want, and you'll soon have a bouquet that meshes well with your idea and personality in your hands. Is it any wonder that they're among our top wedding florists?
Their flowers are extremely fresh with vibrant and vivid colours. Along with bridal bouquets, Boenga also provides several other wedding services like wedding planning, wedding decorations, lighting, flower arrangements etc.
| | |
| --- | --- |
| Price | Prices vary as they are all custom-pieces. |
| Address | 40C Harding Road, 3rd Floor, Singapore 249548 |
| Contact | +6564231400 |
Planning to go all the way out at your wedding? If you're looking for some high-end bouquets which are creative and have unique designs, then you should certainly check out Dan Takeda. Having worked with several high-end brands like Louis Vuitton and Gucci, they are some of the best wedding florists we have in Singapore. They create each of their bridal bouquets keeping in mind the ecstatic smile of the person who is going to carry their bouquets. Truly a magnificent way to capture these special moments in memory.
Dan Takeda is also famous for its overall floral management services for weddings and other functions. They provide a unique aesthetic that will please anyone who sees their floral decoration and also provide packages for their floral management. These services include floral styling & decorations, bespoke creations for event/display pieces. Some of their wedding-related services include pin-on corsages for parents, Posies for bridesmaids, Boutonniere for grooms and event venue decoration.
They take orders 1-3 months in advance, so be sure to place your orders in advance.
| | |
| --- | --- |
| Price: | Prices start at $150 for bridal bouquets |
| Address: | 41 Macnair Road, Townerville Singapore 328584 |
| Contact: | +65 8223 6999 |
FloralsBy Benita is a flower house which has a special interest in flowers for weddings. They specialize in customizing romantic wedding bouquets and arrangements. In the opinion of Benita, one of the most important floral pieces in any wedding is definitely the bridal bouquet. It should reflect the personality and taste of the bride. And that is exactly why before providing any bride with their floral bouquet, Benita spends some time to understand the vision of the bride. Add to this her sense of creativity and only the choicest of flowers and you have a bouquet that will make you the envy of everyone.
To bring in the freshest of blooms in a variety of hues and colours, Benita relies on her network which brings in the best batches all the way from countries like Kenya, China, and Holland. Her bridal bouquets are wonderful creations of thought, lushness, and romance. They definitely won't disappoint you.
Pricing: A bouquet generally costs $250. Use of premium flowers like David Austin roses will cost extra. A cascading shape will also cost extra.
Contact Details: You can fill out her form in her website.
Wanna bring some magic to your wedding, then try out Floral Magic. They're a team of highly qualified individuals who are led by Lucy, a member of the American Institute of Floral Design. What makes them so different is that they don't just rely on magic. They focus on the technical details. Might sound boring but they focus on the arrangement and structures, blending them seamlessly to achieve the perfect colour, form, and textural balance in bouquets.
They love their work and can create all sorts of bouquets, vibrant and bright ones, or soft and romantic ones. Every bouquet makes the day more magical. Bridal bouquets aren't the only thing that they're good at. They also combine their evocative and expressive works with their fresh and colourful ideas. Top that with their passion to create amazing floral creations that result in amazing crafts. The other services provided by Floral Magic includes floral styling and decoration, normal floral bouquets, corsages, and more.
| | |
| --- | --- |
| Prices: | Prices start from $160 for their ready-to-go bridal bouquets. |
| Address: | 334 King George's Avenue, Singapore 208571 (Ground floor unit, within King George's Building) |
| Contact Details: | +65 6337 6398 |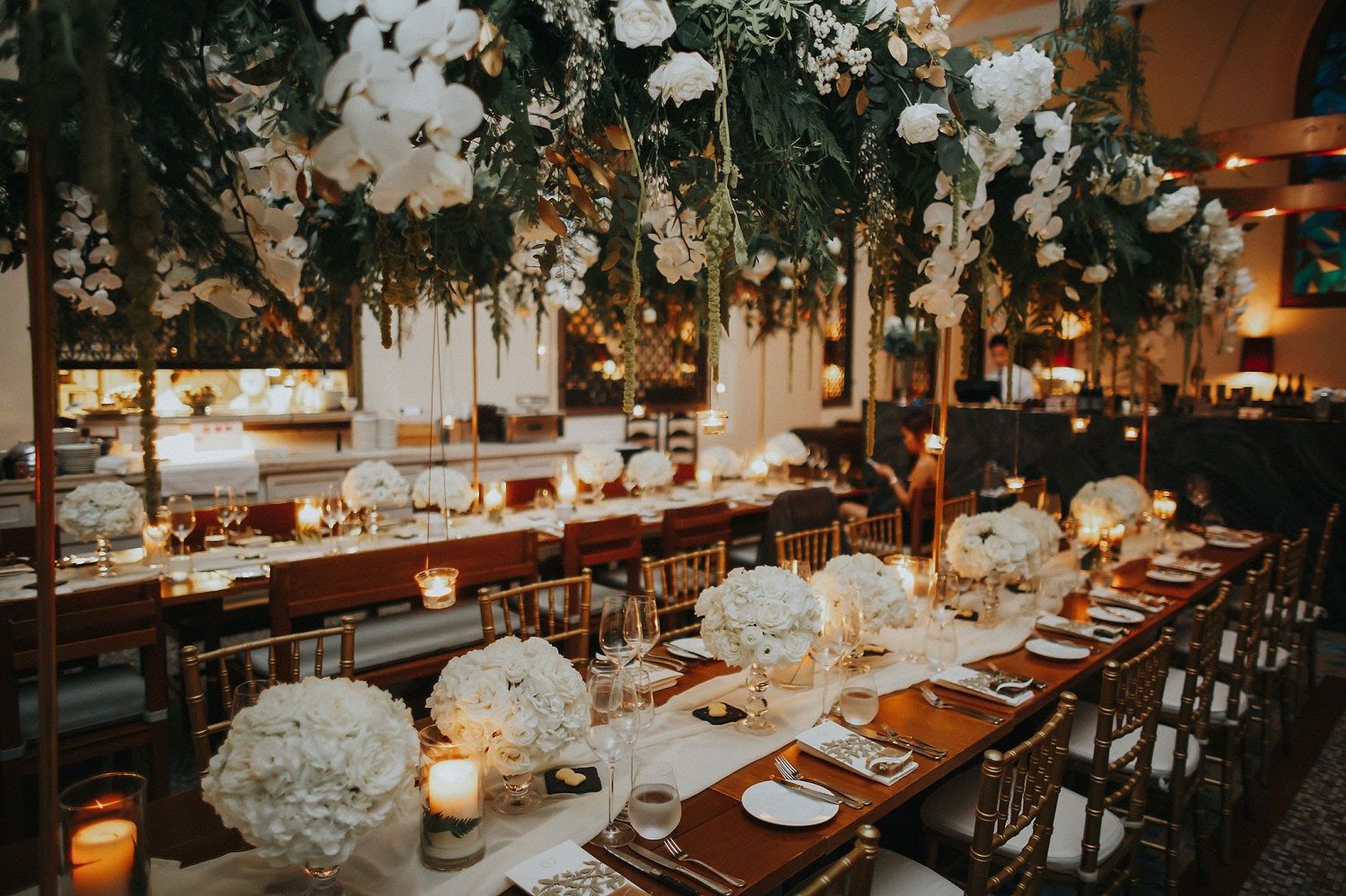 CC Lee Design are one of the leading floral design firms in Singapore. Concept and design-centric, they have a great range when it comes to providing brides with personalized bridal bouquets. These bridal bouquets depend on the personal budget and design preferences of the bride. They are happy to claim that their creations have never failed to mesmerize anyone.
CC Lee has a dedicated team of talented and passionate individuals who uphold the commitment of providing quality services to each client. Along with providing bridal bouquets, CC Lee Designs is also great at total hotel floral management, weddings, and florals for special events.
| | |
| --- | --- |
| Prices: | Prices vary as they are all custom pieces. |
| Address: | 994 Bendemeer Rd, Singapore 339943 |
| Contact Details: | +65 6294 7975 |
Weddings are very difficult to plan and take lots of effort. Due to the enormous amount of work that you need to put in, it's not uncommon for brides to order their bridal bouquets in advance. If you're facing a similar situation, then A Better Florist is here to rescue you. A Better Florist provides some of the best last-minute floral services for weddings. Their bouquets are crafted by hand, are of good quality, and come with a free 90-minute delivery.
The flowers that A Better Florist use is selected from farms in Cameron Highlands. They offer plenty of arrangements in all sorts of colours, hues and arrangements so it shouldn't be difficult for you to choose one that you like (and goes with your dress).
So if you're looking for a last-minute bouquet or are just looking for services like delivering fresh blooms for your loved ones, A Better Florist is the place to visit. That earns it a place on our list of wedding florists.
Prices: Prices start from $100 for bridal bouquets
Contact Details: +65 3163 1525
They have a really interesting name, but that's not what makes them one of the best wedding florists. Unlike other wedding florists, the creators over at Triceratops create pieces that are raw, rugged, and unexpected. All of their floral artwork is done with a single purpose to bring something unique to the bride and spread the art.
Triceratops is one of the wedding florals which take a fresh approach of providing their services online. This makes it easier to approach because you can place your order anytime. Just give them details like your budget, your basic vision and other information. This lets them come with a creative bridal bouquet that goes well with you.
For other wedding related services, they're really famous for their centre-piece arrangements and decorations which add a different vibe to the wedding.
Address: 2 Kallang Avenue, #07-10, S339407
Contact Details: +65 6444 7848
If you're looking for something that is colourful, vibrant, and seems so bright that there's no way that nobody likes it, then you should try contacting Poppy Flora Studio. With Poppy, you will find the wild, unique and untamed side of floral design. The creations of poppy floral Studio are all amazing and are loved by their clients.
The work of this floral studio involves sourcing and creating masterpieces along with perceiving them in all directions to enhance it. This gives a beautiful and imaginative design that is loved by all. For their designs, Poppy Flora has seen features in multiple publications and features. They have also worked with clients like Chanel, Bvlgari, Google, and many more such famous names.
Apart from bridal bouquets, they also provide wedding floral arrangements, floral arts, etc. If you're still not sure, you can even join one of their classes and experience the wonder yourself.
| | |
| --- | --- |
| Prices: | Prices vary as they are all custom-pieces. |
| Address: | 9A Dempsey Road, Singapore 247698 |
| Contact Details: | +65 9188 1247 |
Have you ever thought about creating your wedding bouquet? After all, there's no one who can make something that symbolizes you better than you. And over at Adorninglory, they help you do exactly this. Adorninglory believes in giving new life to your ideas and thus only provide bespoken wedding bouquets.
And that's not all, they can also craft flower accessories which are crafted by hand and made using the finest and lightest material. A wonderful way to ensure that it passes the test of time. Every piece is unique and lovely yet dainty accessories are added for the extra wow.
Apart from floral bouquets and accessories customization, they also do provide services for wedding reception decoration. Do check them out to bring your story to life.
Contact Details: [email protected]
Prices: Prices tend to vary, so do send them a message asking for the current rates.
That completes our list of the best wedding florists. Now that you have plenty of options for your bridal bouquet, why not check out our article on the best bridal makeup artists? We're sure that you'll love it too.
zoya
Queen of Obscure References and occasional writer. When not exercising my thumbs on Instagram, you can find me looking for good author bios on Google.
Related posts
Subscribe for newsletter
* You will receive the latest news and updates on Singapore's best trends!
Trending Posts