8 Best Bridal Boutiques in Singapore [2022]
Zoya, 3 years ago
10 min

read
4629
You obviously can't have a wedding without the perfect wedding dress now, can you? They say that you'll know the perfect one the very moment you try it on. But now we have so many choices when it comes to wedding dresses. Are you going for something vintage, something classy, something graceful but alluring, something that follows tradition or are you thinking of something out of the box?
Bridal boutiques will not only you find the perfect dress, they'll even create it for you. In addition, they usually also offer services like photo-shoots, makeup so basically the one-stop place to shop for your wedding.
It's time for you to browse through our list of the Best Bridal Boutiques in Singapore. We've included all the best ones, to make sure that you say your vows in style.
When it comes to wedding gowns, it's really hard to get someone who does it better than the Europeans. European wedding gowns are a category of their own, and they always manage to give a fresh yet elegant look to the bride. That's why if you want to walk down the aisle feeling like a European Queen, definitely visit Luna Bianca Bridal Boutique.
They specialize in European dresses of the finest quality, which are hand-picked and brought all the way from Europe. And if you want something that is exclusively for you, you can even get an in-house designed piece, created under the guidance of Helen Wang, the resident fashionista. Also adhering to the European sense of providing fashion to all, they offer all the six basic silhouettes.
This means that you will find the gown that will perfectly compliment you no matter your body type. If you're on a tight budget, you can even rent out the gown. They also provide other services like wedding photography to capture the memories and bridal bouquets. Check out their packages for weddings and pre-weddings and be sure to avail of their promotional offers.
| | |
| --- | --- |
| Address: | 21 Tan Quee Lan Street Heritage Place #01-02, Singapore 188108 |
| Contact Details: | +65 6338 9839 |
| Timings: | Monday to Sunday from 12:00 pm to 9:00 pm |
| Pricing: | All of their packages are customizable. |
As much as we like to go on and on about the perfect dress, finding it is an experience to cherish as well. La Belle understands this more than anyone and provides a luxurious one for you. The moment you enter their 3-story building, you will have a bridal specialist assigned to you to handle your fittings and help you decide on the dress.
They have the widest variety of styles imaginable, ranging from the more demure ones to the more extravagant ones. There's even a special selection for our plus-size ladies. They take into account your preferences, height, weight and body type to recommend the perfect one for you. You can either browse through their signature collections or get a gown personalized for you for purchase or on a rental basis.
Apart from this they also have a suit and tuxedo collection, wedding makeup, styling, videography, photography. Any service that you might require for a wedding, they've got it. This one-stop store for weddings also has a blog to help you through the finer details. We recommend booking an appointment before visiting so that you receive the personal dedicated service.
| | |
| --- | --- |
| Address: | Address: 87 Tanjong Pagar Rd Singapore 088508 |
| Contact Details: | +65 8585 4356 (Whatsapp) and +65 6327 3983 (Telephone) |
| Timings: | Monday to Saturday from 12:00 pm to 9:00 pm and Sunday from 11:00 am to 8:00 pm |
| Pricing: | Prices start at $1600 for bespoke rental pieces and $1800 for off-the-rack rental pieces. |
One of the best bridal boutiques out there, The Gown Warehouse knows exactly what every bride wants. A dress that makes them look gorgeous while not breaking the bank. That's why they've got every sort of dress that you can imagine and you can either rent or purchase them at affordable prices.
For brides who would prefer a more elegant look, they have the Refine collection. The more feminine lovers have the Cheongsam, the Unveil collection for dresses that look like they are the stuff of dreams, and much more. Basically, no matter what dress you have in mind, there's a high chance that they have it. Apart from bridal dresses, they also have partners for services like make-up, florists, jewellery, and even heels.
Their Be Yours Picture is one that is really popular among customers. A personalized pre-wedding shoot lets your personality shine through the frame, combining the usual wedding shoot elements with a more casual vibe. So if you're tired of the usual photography that doesn't feel like you at all, you can try this one out. Whether you're a rocker-chic, guy next door, let your personality come through the lens.
Gown Warehouse's gown rental starts at $788.
Address:
25 Lichfield Road S(556845) Singapore, Singapore 556845
Contact
Details:
+65 6734 3998
Timings:
Monday to Sunday from 11:00 am to 8:00 pm
Tired of looking for dresses that are really different from the crowd, but only finding the usual princess-type dresses and designer gowns that are way out of your price range? If that's the case for you, then Frieda Brides is here to rescue you. One of the few bridal boutiques that offer dresses that are out-of-the-box, Frieda Brides is the perfect choice for you.
Whether you're looking for something with a Bohemian vibe, or even modern designer gowns at affordable prices, Frieda Brides has them all. They're a firm believer of the notion that good quality and design shouldn't equal you breaking the bank, and that's why the vast majority of their collection is affordably priced. You can either rent or purchase a dress from them. They recommend coming in at least 8 months before your wedding date.
If you want to design your gown from scratch, then you can do that too. Their in-house designer, Eelyn Tang of Love, Yu, will help you with it. You can even purchase your wedding accessories from them. They have this awesome sale section where you can get dresses up to 80% off. They do not offer wedding packages, but they are connected with several stylists and make-up artists and can help you get a good deal. Visits are by appointment only.
| | |
| --- | --- |
| Address: | 45A (Level 2) Kampong Bahru Road, Singapore 169360 |
| Contact Details: | +65 9045 8979 (Whatsapp) |
| Timings: | Tuesdays to Fridays from 12:00 pm to 8:30 pm, Saturdays from 10:00 am to 6:00 pm |
| Pricing: | Rental prices start at $1280 to $1880, purchases cost $2000 to $4980. Personalized gowns start at $2800. |
If you love scrolling through Pinterest and looking at those elegant and timeless pieces, then The Louvre Bridal is the place to visit. Taking inspiration from the Louvre Museum where it takes its name from, the Louvre Bridal takes pride in paying focus to the details and artistic craft of creating a bridal gown. Their dresses are not only really exquisite but also unique to them.
The Louvre Bridal features collections which majorly include gowns from designers from Korea, Japan, and bespoke pieces. Their collections from Korea give the perfect blend of femininity and unique to give out that perfect romantic vibe. Their Japanese collections scream of elegance and are extremely regal and dainty. Let's not forget their sensual designer pieces and bespoke collection which lets you be your own fairy godmother.
They provide the complete wedding experience providing not only the wedding gowns but also the pre-wedding photography and wedding planners. You can check out their wedding packages on their website. Now, all that you need to do is choose your dress, walk down the aisle and leave everyone stunned at your wedding.
Address:
91 Bencoolen Street (Sunshine Plaza) #06-06, Singapore 189652
Contact
Details:
+65 8878 0918 / enquiry@thelouvrebridal.com
Timings:
Weekdays: 11am to 8pm
Weekends: 10am to 7pm (By appointments only)
Pricing:
All of their packages are customizable.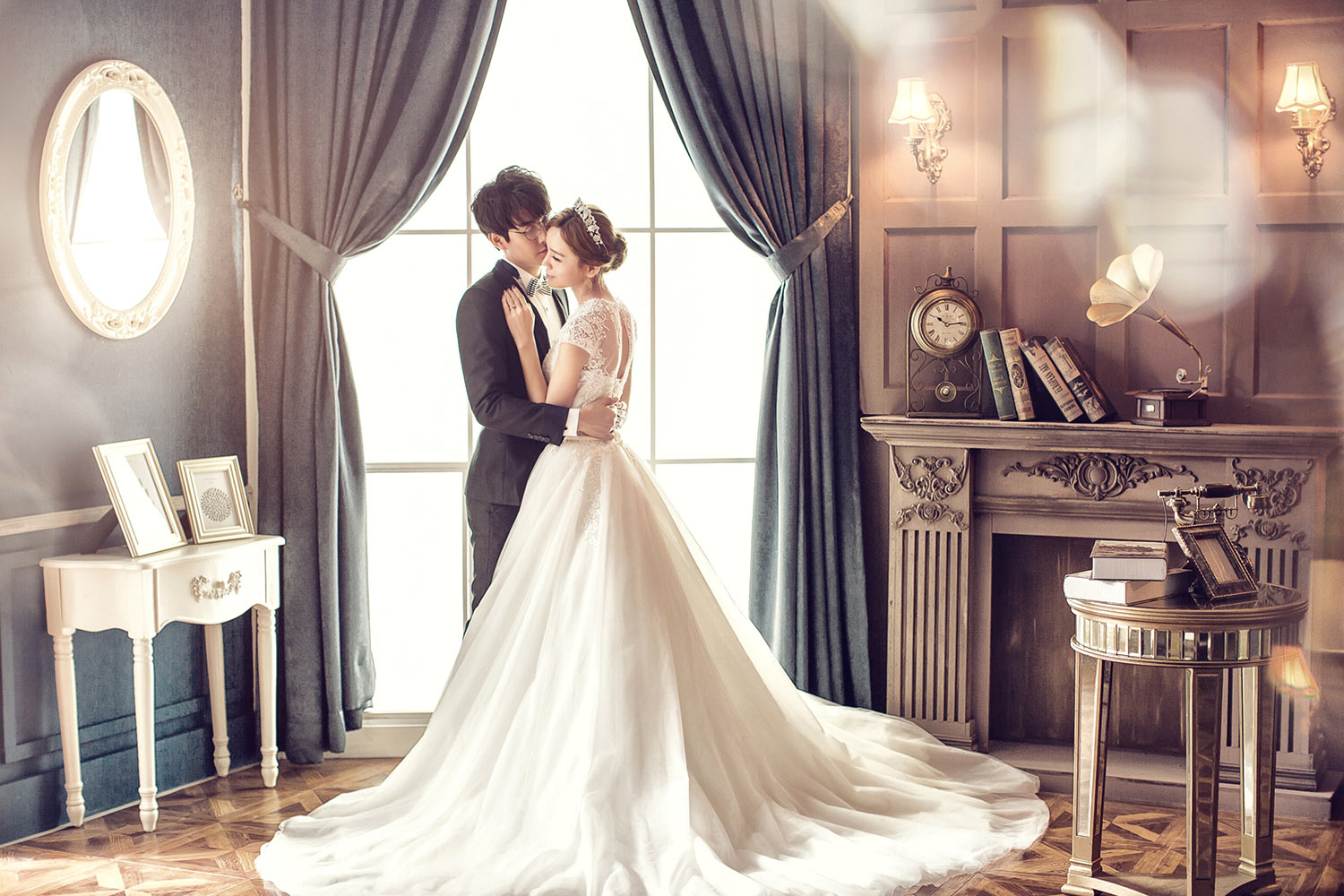 Catering to your inner fashionista, My Dream Wedding is one of the bridal boutiques to satisfy your inner need to have a wedding that brings your story to life. They help you create the most beautiful memories of your wedding experience and turn this entire experience into something that you will look back on fondly. One of the top bridal boutiques, they've got branches all over Asia.
When it comes to gowns, they carry sophisticated styled gowns from top designers, which are crafted with the utmost thought put into the details. This is a measure of their commitment to providing only the best for you on your wedding day. You can either rent the gown or even purchase a made-to-order gown for yourself. Apart from their gowns, they are also particularly famous for their international photography services.
Their latest offering is the Korean-themed studios, which are created by designers from Korea. There are over 70 of them and each studio offers a different vibe from the minimal to the contemporary. This is the best way for you to satisfy your desire to become a 'Hallyu Star' even if just for a day. Check out their website for the regular offers that they keep putting up.
Address:
52 Tras Street #01-01, Singapore 078991
Contact Details:
+6564381237
Timings:
Tuesdays to Sundays from 12:00 pm to 9:00 pm.
(Closed on Mondays)
Pricing:
Wedding gown rentals start from $760.
Bridefully Yours understands that your wedding dress isn't just meant to look pretty, it should empower you and fill you with a sense of confidence. That is why they try to help you figure out the perfect dress for you whether you're the type of person who loves dainty princess gown or a bride with a wilder and chic side.
They cater to the modern-day woman, who is not bound by tradition but brings out something that is truly you. The best part is that all of their dresses are priced the same, so you can pick up any dress that you fall in love with without worrying that it might be more expensive than the other. In addition to the gown rental, you also get rental accessories like the veil, petticoat, jewellery, and even hair accessories.
And that's not all, after all, the wedding gown isn't everything that you need for a wedding. That's why they also offer several wedding packages that include services like the suit for the groom, the bouquet, and you even get a free flower bridal car decoration. All of these services are provided by their partners, who are experts in their own field.
Address:
5160 Paya Lebar Road, #08-05 Orion Building, Singapore 409022
Contact
Details:
hello@bridefullyyours.com
Timings:
Mondays to Sundays from 10:00 am – 7:00 pm. Closed on Thursday.
Pricing:
Wedding gown rentals start from $890 for one gown.
The Red Wedding is slightly different from the other bridal boutiques on this list. They specialize in the rental and sale of traditional Chinese wedding attires – Qun Kua & Ma Kua. It can be really tough to find the proper attire in Singapore, and this was exactly what led to the creation of The Red Wedding.
Seeking to honor and preserve the beauty of Chinese weddings, it is customary to wear the Qun Kua as a sign of an auspicious wedding. You can find plenty of Qun Kuas of different sizes and designs over at The Red Wedding. You can even find a matching Ma Kua, shoes, hairpieces, and even jewelry. They offer the classic Qun Kuas for the more traditional bride and those who would like to offer a modern twist can opt for the Qun Kuas that use beads and sequins instead.
Apart from the sale and rental services, they also provide services for makeup and hairstyle that will pair perfectly with your outfit, a concierge service if you need a pair of extra hands, and even a wedding chaperone service. You'll need to make a prior appointment with them though.
| | |
| --- | --- |
| Address: | 392 Yishun Avenue 6, Singapore 760392 |
| Contact Details: | +65 9843 5577 |
| Timings: | Monday to Thursday from 4:00 pm to 9:00 pm, Saturday to Sunday from 11:00 am to 6:00 pm |
| Pricing: | You can request them for a quote. |
That ends our list of the best bridal boutiques. It's an important choice to make, so take your time and decide which one suits you best. Meanwhile, why not visit a facial extraction clinic to pamper yourself? After all, a little self-pamper goes a long way.
Zoya
Queen of Obscure References and occasional writer. When not exercising my thumbs on Instagram, you can find me looking for good author bios on Google.
Related posts
Subscribe for newsletter
* You will receive the latest news and updates on Singapore's best trends!
Trending Posts
May 30, 2023

What is Matcha? Matcha...

May 31, 2023

TLDR: In this article,...

May 31, 2023

TLDR: As an audio...