20 Best Waxing Salon In Singapore to Get You That Smooth Skin [2022]
Zoya, 3 years ago
18 min

read
5496
Getting rid of unwanted hair to get those amazingly smooth skin is something very desirable. We love a full mane of hair on our head, but anywhere else? We remove it. That's because not only do you look better, but it's also more hygienic. But getting rid of those annoying and pesky hairs can be a huge task. Shaving is easy and painless, but we're left with stubble, and the hair grows back coarser.
Waxing is amazing and gives us long-lasting results, but it isn't very pleasant to do at home. It's really easy to burn ourselves when dealing with hot wax, and we can even irritate our skin. That's why it's highly recommended to get it done by an expert.
Here are the list of the Best waxing salon in Singapore to help you get that smooth and satiny skin.
Supersmooth Singapore is an amazing waxing salon that is taking over the world of beauty by storm. Although they're really popular for their innovative laser hair removal, they also offer a variety of waxing services.
They offer all sorts of waxing services such as Brazilian, hair removal for arms, legs, underarms, and even facial hair. If this is your first time getting waxing and you're afraid of the pain, then you should really try them out. Their staff are really friendly and know what they're doing so the pain is minimum. In fact, they're so good that you'll find customers singing their praises about the wonderful services.
| | |
| --- | --- |
| Address | 144 Robinson Road, #02-01 Robinson Square S(068908) for their Robinson Square Salon. |
| Contact | mail@supersmooth.com.sg |
| Timings | Monday to Friday from 11:00 am to 9:00 pm. Saturday from 10:00 am to 6:00 pm. It is closed on Sundays and Public Holidays. |
Liquid SKIN started its journey all the way back in 2005, so it's been around for a while. In this long time, they've amassed such a long list of waxing salon services that you'd start wondering where to begin with.
Apart from the usual leg, arm, and bikini areas, they also offer waxing services for the sides, the nose, hips, neck, forehead, and even cleavage. Perfect for those who are stuck in a hairy situation. They've also got some unique services like the STU Hollywood (bikini line) and nose wax. Their website has details about all these services, including the prices and even the time it normally takes. That way, you get the perfect rough idea about the time you'll need at the salon.
We love a waxing salon that thinks about the busy ladies. Booking an appointment is really fast and easy too.
| | |
| --- | --- |
| Address | 10 Tampines Central 1, #04-17, Tampines 1, Singapore 529536 for their Tampines Salon |
| Contact | +65-68058194 and theliquidskin@gmail.com. You can also book an appointment online. |
| Timings | Monday to Sunday from 10.30 am – 8:00 pm |
Blush is a hair-removal specialist and uses only top-quality depilatory waxes which are imported all the way from Australia. Even their pre-wax and post-wax care products are of premium quality so if you're looking only for the best products, Blush is the place to visit.
This premium quality wax has several advantages over regular wax, like prevention of hair breakage, redness and it reduces the pain that you normally feel. It also contains a unique titanium dioxide technology which gives you a better overall finish. They provide waxing services for all parts of the body and even offer combos which are a great deal to save money. Their prices are very competitive and their settings comfortable.
Their website has an extremely detailed FAQ section that discusses everything that you should know before and after waxing.
| | |
| --- | --- |
| Address | 220 Orchard Rd, Singapore 238852 |
| Contact | +65 9199 7313 |
| Timings | Monday to Friday from 11 am to 8 pm. Saturday from 11 am to 6 pm. Sunday and Public Holidays from 11 am to 6 pm. They may be closed during certain public holidays. |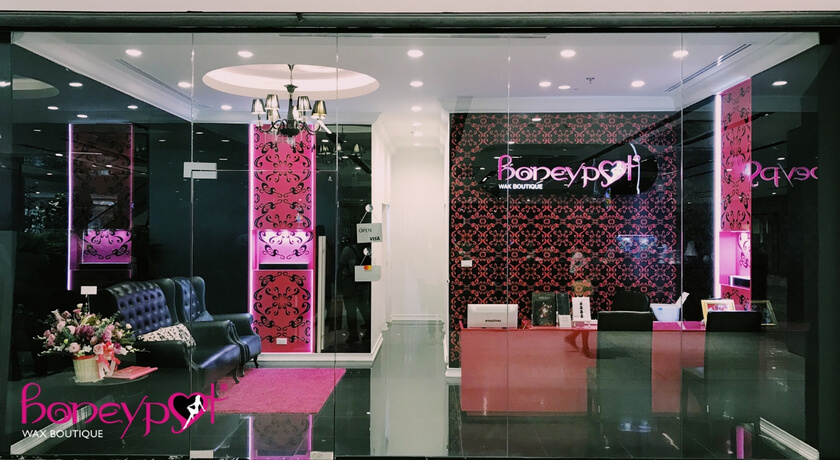 When it comes to wax, it wouldn't be wrong to say that Honey Pot is among the best. Equipped with their very own unique blend of in-house wax and professionals, they're here to help you eliminate all the fuzz on your body. They offer many services like full body wax, the legs, snake trail, etc. But what really sets them apart is their Brazilian wax.
Forget about the usual Brazilian, Honey Pot takes it a step above by offering 6 different variants like the Hollywood and L'amour. Definitely allowing you to experiment around. They offer plenty of after-care products too, to make sure that your skin isn't irritated.
You can check out their Facebook page for any promotional offers they tend to run every now and then.
Address
391 Orchard Road, 05-15 Ngee Ann City, Singapore 238873
Contact
+65 6235 6686 (phone) and +65 9668 8176 (whatsapp)
Timings
Monday to Saturday from 11.00 am – 8.30 pm
Sunday and Public Holidays from 11.00 am – 6.30 pm
Who says that waxing has to be something we dread? At Pink Parlour's, you'll feel just like a princess with its pretty salon and perfect services. You'll be so amazed by them that we're sure that you won't even realize when your service is over.
They're famous for their premium treatments and especially their Brazilian waxes, so if it's your first time getting one, we couldn't recommend a better place. Waxing is done really fast and the pain is minimum too. It isn't only women who come here to get a Brazilian wax though, even guys can't resist their popular 'boyfriend wax'.
They offer plenty of packages and deals so be sure to visit their website to get the best deals. This is one waxing salon we recommend visiting even if it is just for the experience.
| | |
| --- | --- |
| Address | 10 Tampines Central 1, #05-09/10 Singapore, Select State, 529536, Singapore |
| Contact | +65 6100 8266 |
| Timings | They have over 15 outlets, so we suggest going through their website to find the closest to you. |
If there's one thing that Strip brings to the table (apart from their wicked sense of humour), it's the fact that they make sure that you're always in great hands. How do they do that? Well, they make all of their employees attend an 8-week boot camp of regular training before they can serve their first customer. So you can be sure that whoever is servicing you has been through rigorous training (wax on, wax off).
That's not all; they use their very own exclusive formulated wax. It's a Strip Berry Chocolate Wax & Strawberry Virgin Wax. Not only does it sound like it smells absolutely delicious, but it also reduces pain immensely and reduces discomfort. They also have a no double-dipping policy to ensure hygiene.
This waxing salon offers services for guys too, so you could plan a couple's date at this salon.
| | |
| --- | --- |
| Address | They have plenty of outlets, so you can check them out by clicking here. |
| Contact | Call 6337 8747 or SMS / WhatsApp 8127 8747 |
| Timings | Monday to Sunday from 9:00 am to 9:00 pm |
Move past modern wax, we're moving back to the ways of old. Sugar (Ed) uses sugaring to remove all this unwanted fuzz from your body. Sugaring is a technique that was used in ancient times and uses an edible mixture of water, lemon juice, and sugar to form a sugar-soluble paste. This method is less painful than the usual waxing methods and they apply the paste at body-temperature.
This makes sure that your skin never gets scalding and leaves it smooth. They price their services at a pretty reasonable rate too. And if it's your first time at Sugar (Ed), they also offer certain discounts. Sounds like a pretty sweet deal to us.
They offer services including arms, legs, Brazilian for both men and women. Check out their page for promotional services and flash-sales.
| | |
| --- | --- |
| Address | 79, East Coast Road, Singapore 428784, (Opposite i12) for their Katong Branch. Check out their other locations here. |
| Contact | +65 6816 6530 for calls and +65 9162 6628 for WhatsApp |
| Timings | Monday to Friday from 11:00 am to 8:00 pm. Saturdays and Public Holidays from 10:00 am to 6:00 pm. |
When it comes to providing beauty and sustainability at the same time, Beauty Matters is definitely ahead of the curve. They focus on using premium products that are not only gentle but only environmental-friendly. They have the mission of delivering only the best services to their clients in a setting that feels like home.
Beauty Matters import their wax from Italy and Australia and use pre-care items like pre-wax lotion to help reduce pain. In addition, they offer a free smoothing gel-cream to provide extra comfort after the procedure. Their prices are extremely competitive and their services excellent. They have a no-frills full body-waxing package that is one of the best-priced packages.
Do check out their Instagram and Facebook pages where they often provide great deals.
| | |
| --- | --- |
| Address | Central Branch-: 214 Bedok North St 1, #01-183 Singapore 460214 |
| Contact | +65 92270086 for both phone and Whatsapp |
| Timings | Monday to Saturday from 10:00 am to 8:00 pm. Sundays and Public Holidays from 11:00 am to 6:00 pm |
Sometimes life can get really busy and hectic and we have very little time to spend at waxing salons. And that's exactly where Cecilia Westberry comes in. She's a one-woman waxing salon and so fast that you won't even have time to figure out what's happening. Cecilia's been in the industry for over 20 years and it's really hard to get someone with that experience come by.
Not only are the prices really good (Brazilian costs only around $48 and that includes the GST), you can even call her over to your place to help you glam up for a big event. An expert coming to our place and performing really quick services while keeping our pockets happy? Sign us up anytime.
Note: House-call services do charge an additional fee of $32/$55 depending on the service.
| | |
| --- | --- |
| Address | Blk Holland Close #01-20 |
| Contact | Whatsapp/SMS +65 92719422 |
| Timings | Monday to Friday from 08:30 am to 7:00 pm. Saturdays from 8:30 am to 6:00 pm. |
If you want something that gives you an intimate and cosy experience, you should visit Beauty Lane Singapore. They really celebrated 27 years of their salon and have acquired a loyal clientele in those 27 years. They utilize wax that is imported all the way from Spain and offer a full body waxing service for women.
Definitely visit these Singapore's multi-award winning beauty specialists.
| | |
| --- | --- |
| Address | 144 East Coast Road Singapore 428834 |
| Contact | +65 6344 64187 |
Wax Factor is a waxing salon specialized in waxing for ladies and gentlemen, vulva care, airbrush tanning etc. They offer a wide range of beauty treatments in hair removal and treat hyperpigmentation through skin rejuvenation. With an experienced team of professional therapists, your waxing experience is sure to be a comfortable and smooth one. And that's why they've earned a place on the top waxing salons.
But that's not all that they have going for them. The Mediterranean theme of their salon gives a cosy yet tidy vibe. Even the reception area showcases a line-up of their most popular products. After all, a little window-shopping never hurt anyone. They even run amazing promotional offers like getting the 1st trial of Brazilian for $38 and the Boyzilian at $58.
| | |
| --- | --- |
| Address | 181 Orchard Road, Orchard Central, #04-18, Singapore 238896 |
| Contact | +65 6634 4818 |
| Timings | Monday to Sunday from 11:00 am to 9:00 pm |
Rupinis specializes in body waxing, eyebrow threading, facial waxing, facials, massages, so you know that it's a one-stop salon for all of your beauty needs etc. With rates that are really affordable and top-notch services, they are one of the most preferred waxing salons in Singapore. They have a central theme of holistic beauty care. And they even manufacture their own beauty products, which make use of both modern and traditional techniques.
Established in 1994, they have several other business chains and all of them have really versatile rates starting from as low as $6 to $200. That way you can choose one that best fits your budget. For even better offers you can visit their website for offers, price lists and even enquiries. So if you're on the hunt for a salon with years of experience, great services and affordable rates then you've found the one.
| | |
| --- | --- |
| Address | You can check out their addresses here. |
| Contact | You can check out their contact details right here. |
| Timings | You can check out their store timings here. |
Ipanema Beauty Club is a unisex beauty salon, so it is a great choice for everyone. With over 13 years of experience, they offer you some of the best experiences in beauty by giving you a rather relaxing and comfortable experience. They offer plenty of services like the spa, manicures, threading and hair colouring experts as well.
But they still offer plenty of services related to waxing like full-body, specific parts, a Brazilian or Boyzilian as well. With membership programs of different durations, you also gain plenty of extra benefits and special discounts for students and pensioners. You'll feel right at home with their salon atmosphere, and you can even get your nails done at the same time. That's a win-win situation if you ask us.
Be sure to check out their Facebook page for various promotional offers as well.
| | |
| --- | --- |
| Address | 150, Orchard Road, #03-43 Orchard Plaza Singapore, Singapore 238841 |
| Contact | You can check out their contact details right here. |
| Timings | Mon to Fri: 11:00 am to 09:00 pm, Sat to Sun: 10:30 am to 07:00 pm |
If you're looking for someplace which is organic, then perhaps you should give The Organic Room a try. It is a woman-only beauty and waxing salon which offers some of the best organic facial and body treatments. These are sure to leave you feeling very rejuvenated and refreshed. Lead by Sharifah Fazzeleen, a holistic facialist with over ten years of experience, you are in great hands.
Offering sugaring services, this parlour pays extra attention to the details, and maintain high-quality. Coupled with their organic products, and you'll understand why they have so many customers raving about their services all over the Internet. It is also an award-winning brand and has bagged several awards in the past.
They have a website where you can check out for some great offers, so don't miss out on that.
| | |
| --- | --- |
| Address | Bugis Cube, 470 North Bridge Rd, #04-03, Singapore 188735 |
| Contact | ​+65 8808 4786 |
| Timings | Mon to Fri: 10:00 am to 09:00 pm, Sat to Sun: 10:00 am to 07:00 pm |
Ambeau Wellness has been around since 2008, and have a team of experts who are highly trained to care for your beauty needs. From waxing services to threading, spas, and even hair-cuts, this store has it all. This waxing salon was rated amongst the Top 3 beauty salons in Bedok so you can rest easy. They also strive to offer the best experience at rates that are easy on your pockets.
They use only the latest technology, and the cosy atmosphere of the salon also adds to the welcoming and relaxing experience, which you're sure to appreciate while you wait for your appointment. If you want to get some pretty sweet deals then you can choose to book your appointment online. You can even avail of a free consultation if you need one.
| | |
| --- | --- |
| Address | Block 742, 01-3087 Singapore 470742 |
| Contact | + 65 6284-0752 |
| Timings | Monday – Saturday: 10:00AM – 07:00PM, Sunday: Closed |
A unisex beauty salon that specialises in waxing, spray tans, facials, manicures and even CPL treatments, BB Beauty is here to provide you with great quality services and a friendly experience. Now, to make sure that you don't feel uncomfortable in any way, they have all-female therapists so that you can avoid those awkward moments.
Prices are clearly stated so that you avoid any hidden costs, they don't hard-sell and their quality is top-notch. To cater to their customers, they also use only the best quality waxes imported all the way from Australia. They also sterilise their equipment after every use, which is really crucial during this time. They also provide waxing services for men.
And if you're a student, then they've got some rather stellar deals for you.
| | |
| --- | --- |
| Address | You can check out their addresses here. |
| Contact | You can check out their contact details right here. |
| Timings | Monday to Friday: 10:00 am to 08:00 pm, Saturday: 10:00 am to 07:00 pm, Closed on Sundays |
Looking for a place to get a full-body wax, then Nude is the place you need to head to. One of the more popular unisex beauty salons in Singapore, they specialise in full body waxing. Even their fees are really affordable, with their fees for waxing starting as low as $6, which is comparable to Rupinis. Their staff are well-trained and provide great customer service too.
Your first experience is sure to be a great one, and you'll find yourself becoming a regular here. Their customers rave about how their skin was never burned, and how their sessions were great. So if you're looking for a place to get rid of all that fuzz off your body, then you need to check Nude out.
| | |
| --- | --- |
| Address | You can check out their outlet addresses here. |
| Contact | You can check out their contact details right here. |
| Timings | Monday to Sunday: 11:00 am to 09:00 pm |
Offering both waxing and sugaring services, Nice Beauty spoils you for choice so be free to experiment and play around. You might be familiar with their former name, IShine Beauty and Hair, but now they've expanded their range of services. Offering services like threading, hair-treatments, sugaring and waxing so you have everything you could need for your beauty needs.
You can even get a free professional consultation before you take any of their facial treatments, and they're up-to-date with their trends too. Their packages are really amazing too, with you getting benefits like 2 extra sessions, and benefits worth $20, $50, $100 or even $300. But if you're not one for package deals, then you can try their promotional offers for some good deals too.
| | |
| --- | --- |
| Address | 68 Serangoon Rd, Singapore 217973 |
| Contact | +65 6291 6626 |
| Timings | Monday to Saturday: 10:00 am to 09:00 pm, Sunday: 10:00 am to 08:00 pm |
On the hunt for some home-based waxing salon services? Wax Loft is a popular hair removal service, which caters to your needs in the comfort of your own home. Offering services like the Brazilian wax, full-arms and legs, bikini-line etc., you get both high-quality service, products, and hygiene. All of this at pocket-friendly prices as well.
With several excellent reviews on their social media which attest to a good experience, booking an appointment with them is very easy. They offer very flexible appointment options, and there are even night-appointments should you need them. This is the best option for you if you want to get your wax done after a long and tiring day and don't feel like leaving home.
| | |
| --- | --- |
| Address | Singapore Jurong West, Singapore 640408 |
| Contact | +65 8693 4633 |
| Timings | Usually from Monday to Sunday: 09:00 am to 10:00 pm |
Bare Beauty is filled with CIDESCO and ITEC certified therapists who have gone through intensive training, to give you the best possible services. A great beauty and waxing salon; they offer a wide range of beauty services making use of the latest technology to give you the best experience of waxing. They use a special Hive extensive range of premium waxes which they import from the UK, which is ideal even for the most sensitive of skins.
On top of that, they train their professionals in man-scraping, so for our male audience, you won't feel any unnecessary pain or discomfort. Check out their various packages for males and females, and experience their professional range of waxing products in a clean and sanitised working environment.
| | |
| --- | --- |
| Address | 31 lowland Road Singapore, Singapore 547424 |
| Contact | +65 8693 4633 |
| Timings | Monday to Sunday: 11:00 am to 09:00 pm |
As much as we love waxing, we can't hide from the fact that it's really painful, and getting it done every month can be scary. That's why we're bringing you a bonus section on Estheclinic. Estheclinic is an award-winning beauty clinic that provides IPL permanent hair removal.
It is painless, super quick and extremely safe. Not to mention that it's safe for all skin types. Can't resist a clinic that loves being inclusive. Their IPL technology has a patent and is twice as fast as regular IPLs. So if you're trying to get rid of all the fuzz on your body, once and for all, Estheclinic is where you should be heading.
| | |
| --- | --- |
| Address | 424 Joo Chiat Road, Singapore, 427643 for their East Coast Branch |
| Contact | +65 6344 0121 |
| Timings | Monday to Friday from 10:00 am to 8:00 pm, Saturday from 9:00 am to 6:00 pm |
That ends our list of the best waxing salon in Singapore. If you're looking for similar content, do check out our article on the best eyelash extension salons in Singapore. We have a feeling that you'll love it.
Zoya
Queen of Obscure References and occasional writer. When not exercising my thumbs on Instagram, you can find me looking for good author bios on Google.
Related posts
Subscribe for newsletter
* You will receive the latest news and updates on Singapore's best trends!