10 Best Water Heaters in Singapore [2022]
Emily Hopkins, 3 years ago
8 min

read
9872
Water heaters offer a perfect rewarding feeling of having a hot shower after a long day. It is, therefore, a must-have appliance in any home. Many homeowners are always stuck at which water heater to choose from the many appliances in the market.
The choice of your water heaters will depend on your family size, budget, the storage capacity of the water tank, and the available space in your home. After examining the factors mentioned above, here is our selection of the ten best water heaters in Singapore.
Andris lux storage water heaters are Italy designed and very energy efficient. They are ideal if you need to cut down on your electricity bill.
The key features of the water heater are as follows:
Copper heating element.
The heater comes with a five-year warranty in case of leakage.
You get a one-year internal parts installation.
Thirty litres' tank capacity.
Excellent customer care service. As a result, the product has a 5-star rating.
Other than the above features, Ariston has a net weight of 13 kilograms, is installed with a safety release valve, has a thermostat and the tank is coated at 850 degrees Celsius. These features make the tank very user friendly, hence safe for all family members.
Ariston Aures Luxury water heater has the following key features:
The italian design is sleek, hence efficient.
Anti-scalding feature on the system.
Soft-touch and has good functions that can allow three shower user profiles.
Unlike other water heaters that will occasionally have problems with temperature, Ariston has instant temperature and heating.
It is Energy-saving since it heats instantly.
The heater comes with a one-year warranty.
The voltage is 230v.
Other than the above features, Ariston Aures Luxury has a constant temperature that offers superior comfort while showering, the showerhead has five spray options, has an adjustable handrail, and very reliable due to the coated PCB. Its great features make the shower very user friendly.
Princeton instant water heater offers a comfortable hot shower experience. The water pressure is strong; as a result, it comes in a rain shower showerhead that makes bathing luxurious and relaxing. Coming from a trusted brand in Singapore, reliability, quality, and high safety standards are thus guaranteed.
The key features of 707 Princeton instant water heater are as follows.
Water-saving and very energy efficient.
Durable and hence lasts longer.
Very high water pressure.
It has a minimalistic and modern design that looks classy in any bathroom.
Instant water heating saves energy.
Excellent customer care and free delivery within Singapore in most online stores.
The heater has a two-year warranty on parts with Singapore manufacturers, together with a 5-year warranty on heater elements.
Excellent features that are designed to exceed the recommended safety standards.
Fitted with a warming indicator.
Rubine instant water heater is ideal for people living in apartments where the water pressure fluctuates. For this reason, the water heater comes with a booster pump that ensures water pressure is at a desirable speed.
In addition, Rubine water heater comes with a rain shower and handheld shower. Such an important feature caters to the needs of different family members. The showerheads have pre-installed water saver chips installed in the shower set. For this reason, you will enjoy long showers at optimal power and water bill.
Other key features that will suit your needs include:
Friendly to the environment.
The heater has a five-year warranty on heating elements together with two years on other parts.
The minimum water flow rate is 2 litres per minute.
Available in white and black colour.
Heater weights 1.3kgs
With the ability to increase water pressure, Rubine water heater is ideal for people living in apartments.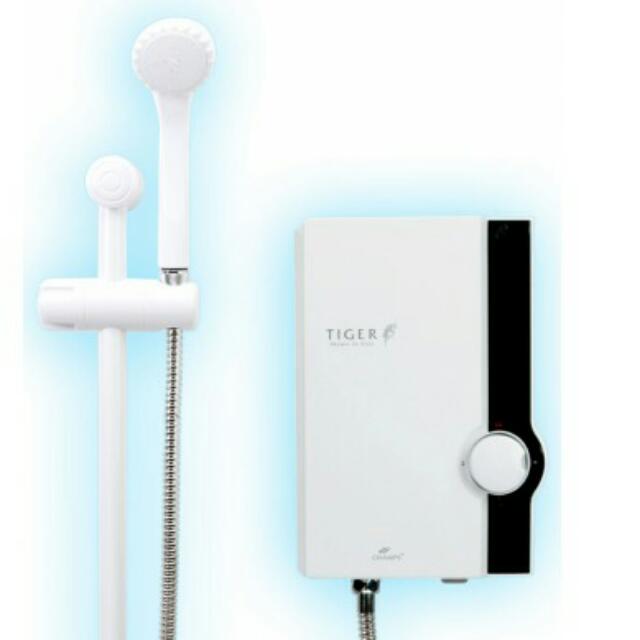 Champs water heater has a very high water pressure that brings a rejuvenation feeling. It also saves you lots of water and electricity bills. It is a perfect opportunity to enjoy hot showers or bathtubs time as many times as you wish during the day.
Champs water heater contains an anti-scalding device fit inside for your safety. It is very user friendly hence, does not need one to switch many controls to shower.
Other key features of champ's tiger water heater include:
The heater has a five-year warranty.
It is fitted with an ipx5 device that prevents the internal circuit against water splashes.
Comes with a massage shower set that offers a refreshing shower feel.
The heater has a flow rate of 3 litres per minute.
A weight of 0.8 kilograms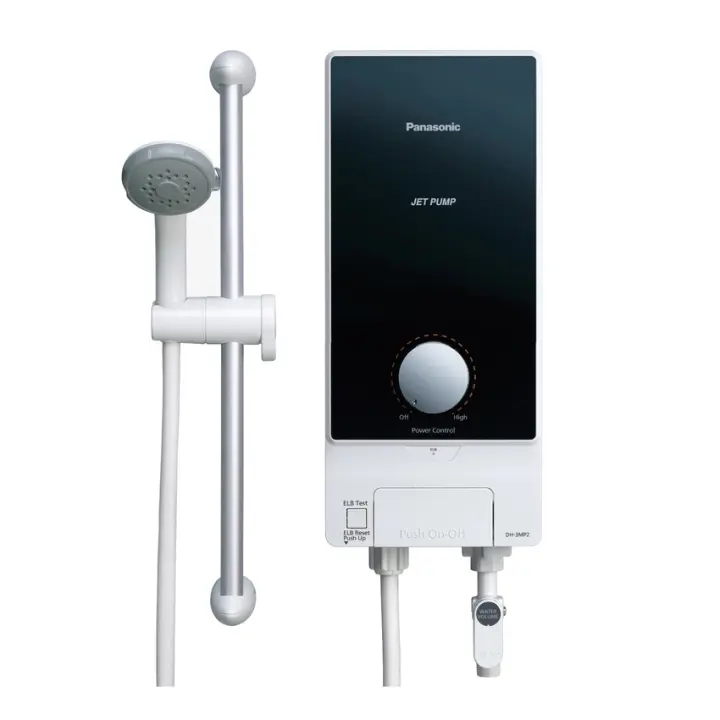 Panasonic heater is very efficient, cost-effective, and user friendly. The product has safety features like those of costly heaters. The heater's heating, together with water pressure are recommendable.
Key features of the Panasonic water heater included:
They have safety points fit within.
It has a plastic heater case fit around it.
The heater has a one-year warranty.
It can generate hot water instantly.
It has a sleek modern design that looks good in most bathrooms.
Available in different colours that are family-friendly. The colours include white, black, grey, black silver, and gold.
Panasonic water heater is ideal for families on a budget that needs a quality product.
Ferroli SDN series heaters are very efficient to use. You only need to press the power button and voila! The warm shower is in place. It's beautiful and sophisticated look gives it a classy look in your bathroom.
Ferroli heater comes with a temperature stabilizer which ensures there are minimal changes in water temperatures. This feature is important in ensuring you do not get burns when temperatures rise. The showerhead has various spray options which are spray massage, massage, and usual spray. You can always choose whichever pleases you; to have a regular bath or a soothing full body massage.
Other key features of this water heater included.
You get instant hot water by the press of a button.
Very energy efficient.
It has a massage option.
You get a five-year warranty.
User friendly and very easy to use the heater.
Mistral is a popular brand trusted by many Singaporeans. Its heaters are very popular in hotels and residences. The brand gives customers enough value for money. With nearly fifty years into the business, the brand has continued to offer great quality as well as grace to its customers.
Mistral water heaters are very reliable and safe. The company has also produced products that are environmentally friendly and very energy efficient.
These water heaters are slim, making them ideal since they occupy less space. The heaters also have good performance in temperature control. Storage water heaters have a slim design that sits well in most bathroom designs.
Other key features of the Mistral water heaters include.
You get a 5-year warranty on elements together with a one-year warranty on internal spare parts.
The heater is splash-proof.
Has an installed anti-scald device, thus making it very safe and reliable.
It is fitted with a sliding shower set.
The heater saves energy on your power bill.
Champs has established itself in providing water heaters in Singapore. It provides clients with a sophisticated technology in most products. It's water heaters meet most global standards. The water heater designs are also modern and sleek.
The company provides very reliable showers that function well. The designs get a regular upgrade to meet customer needs. The electric water heaters are the most modernized in the Singapore market.
This heater provides every property with a luxurious shower experience, backed with a reliable water system. The design is also subtle and elegant, which is meant to match almost any bathroom look, whether it's a residential or hotel-type unit.
Key features if champs instant water heater include:
Is specifically designed to prevent internal circuits from causing water splashes.
Saves a lot of water since it comes with stop valves that allow you to control water flow.
Energy-efficient.
Comes with a massage shower set that gives a refreshing shower experience.
It is fitted with anti-scalding safety devices. This ensures that water temperatures do not rise rapidly to cause burns while taking a shower.
Rheem manufacturers do not have a variety of water heaters like other companies. They, however, manufacture very safe storage heaters and of high quality. The standard models have fair prices and offer value for money.
This company offers highly efficient products. The tanks are made with the latest energy-saving technology and coated with insulating material. This insulation makes the tank retain heat longer, therefore, saving on electricity bills.
The key features of the Rheem water heater include:
Net weight of 3.4kgs.
Very power efficient.
Comes with a temperature control system.
Comes with an anti-scalding system.
Fitted with an electronic ELCB safety device.
It has a one-year warranty on leaks together with a five-year warranty on heating elements.
It is anti-splash proof and anti-rust.
The shower has a flip start flow system.
It is fitted with a Pvc flexible hose thus making showering appropriate for the young and elderly.
Once you pick the water heater that is ideal for your family, always ask the vendors about installation and delivery. In most cases, the water heater cost may not include the installation costs. The cost will depend on how easy or difficult the installation cost is. Don't hesitate to ask all the questions you may have before making a purchase.
When your water heater is installed, ensure proper use all the time. When you notice leaks, problems with the heating elements, or fluctuations in water temperatures, always seek professional help. You should check if your warranty covers the problem or not.
Emily Hopkins
I'm an accomplished and detail-driven content writer with copious experience in producing compelling, engaging and flawless content for a variety of blogs and websites for several years.
Related posts
Subscribe for newsletter
* You will receive the latest news and updates on Singapore's best trends!