21 Best Water Dispensers in Singapore [2021]
Hopkins, 6 months ago
17 min

read
3145
"Water is life" – a common yet true saying since clean water is the basic necessity of mankind. You might be thinking why would you need to purchase the best water dispensers in Singapore when clean water is easily accessible everywhere here?
Well, although tap water is safe for drinking in Singapore, some still choose to boil it to kill 'germs'. However, this is a common household misconception as boiling water actually gets rid of the essential nutrients required by the human body.
This is exactly why you need a water dispenser; an ultimate solution for clean water that not only saves time but also provides the chilled filter water with all essential nutrients. Hence, here is our list of the best water dispensers sold in Singapore!
Benefits of A Water Dispenser
Water dispenser uses different purifying techniques to provide you with fresh and chemical-free water that still contains all the essential nutrients. In addition, you can get cold and warm water instantly. The ease of use, durability, and health benefits makes it an essential home appliance.
Factors for Considerations
Buying water dispenser can be tricky. With so many different options available in the market, it could be a hectic task. Before we begin, let's have a look at the key factors to consider while buying a water dispenser.
Type: Dispensers are available in different types. Look for your storage space and type of usage before buying a water dispenser. They can be differentiated based on wall-mounted, tabletop, and free-standing water dispensers and types of filters.
Price: Price can be a major factor when choosing the right water dispenser for you. Some manufacturers offer products in an affordable price range, while others are ridiculously expensive and definitely not worth your money. Always try to buy a water dispenser produced by an authentic manufacturer that lies in an affordable price bracket.
We have shortlisted the best water dispensers in Singapore. You do not have to go through the trouble of searching hundred of products and wasting your time and energy.
Salient Features:
Custom temperature setting
In-built UV led sterilisation
Filter change indicator
Clock/ memory settings
Specialized quantity control
Energy-saving mode
Advanced reboiling system
Tankless purifier
Cosmo Quantum is one of the best water dispensers that is in high demand around the globe, including Singapore. It is available in two different colours (Black & White) with a unique and stylish design that appeals to the stylish customer. This product passes water through six different filtration steps that filters with a precision of up to 0.0001 micron.
With many functions featured in this water dispenser, you will find yourself with hot and cold water instantly, which helps making morning coffee or tea more convenient in the morning. Furthermore, their specialised quantity control comes in water volume of 180ml, 220ml and up to 1000ml which is good that you don't have to manual stop your water in case it overflows.
Moreover, it is available for you to choose alkaline or non alkaline option. Cosmo Quantum is for those that can't accept comprising or going cheap on your health. Get this water dispenser for you and your family now!
Salient Features:
4 Temperature Settings
Convenient & Time Saving
4 Stage Filtration System
Self-Maintaining System
Direct to Consumer Business Model
Sterra Water Purifier is available in Grey and White. It comes with a modern and sleek design. They are active in understanding their consumer's needs and to keep their water purifier affordable.
With Sterra, getting hot water is no longer inconvenient. There are 4 different temperature settings for you to choose from. You can choose from 4, 25, 40, and 87-degree Celsius (cold, room temperature, warm, and hot water) of your liking. For all newborn parents out there, this purifier provides the optimal warm temperature for baby formula.
Furthermore, their 4 stage filtration system will allow you to removes impurities such as suspended solids, chlorine, pathogenic bacteria and odours from your water supply.
Likewise, they have a self-maintaining system which is a unique feature of theirs. Their nozzle can be pushed in for automatic sterilization for users to clean. You can check out their website on Sterra's to find out more.
Salient Features:
Saves Power
Occupies less space
Maintenance-free
Stylish exterior
If you want a water dispenser that occupies less space and can be mounted easily anywhere, then this is the best product for you. It is already in high demand in Singapore due to its unique style and tested filter system. Its main feature is that it has four filters that provide germ-free water with all essential nutrients. Moreover, this dispenser requires no maintenance at all.
Salient Features:
Powerful Filtering features
Attractive body
Automatic cleansing
This specific Water Dispenser is a product that removes chlorine, viruses, and bacteria from your water. Likewise, it also has an automatic cleaning mechanism that helps you to save time cleaning.
This dispenser comes with a smart control panel with sensitive touch keys. It is also user-friendly and comes with a child-lock key which is great for families with young children. This is certainly one of the best water dispensers in Singapore!
Salient Features:
High Storage Volume
Automatic maintenance
Attractive Design
This is an ideal water dispenser if you are looking for a product that has high storage capacity. This product is best suited to remove germs from your water since it has four purification steps. It has a one year warranty that increases customer satisfaction regarding this product.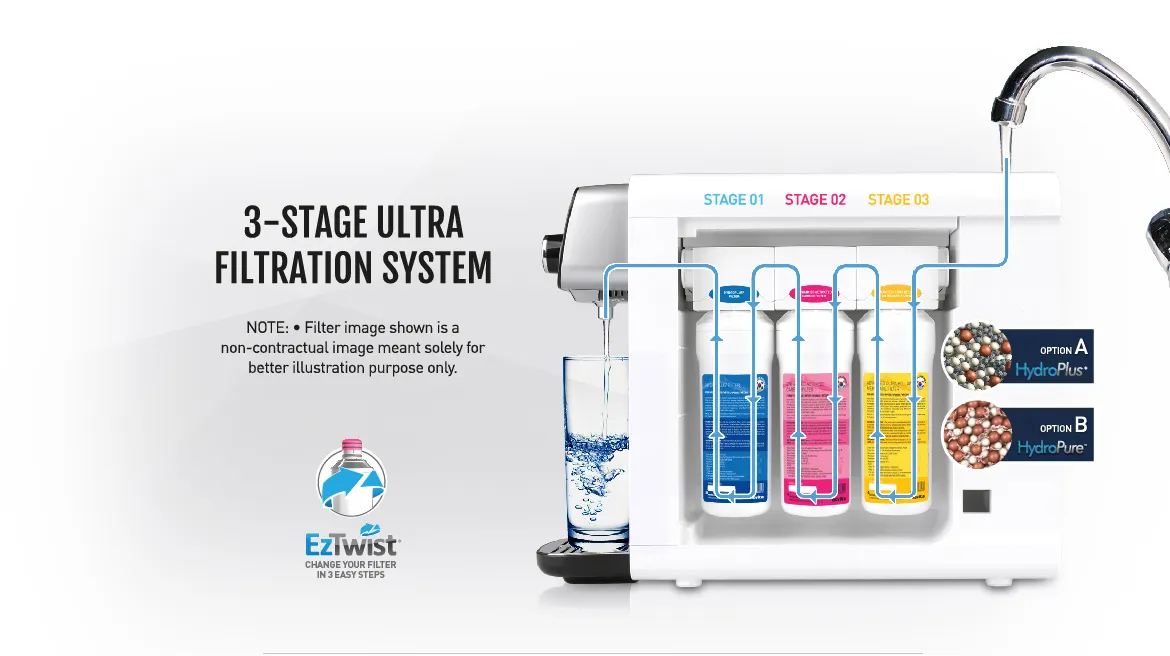 Salient Features & Services:
Extremely affordable
1 Year Warranty
Unique and Smart Design
This economical yet reliable dispenser in Singapore provides germ-free water. It has a unique design that occupies very little space and provides the maximum features. Its filter is almost maintenance-free, so the maintenance cost of this dispenser is almost equivalent to nil.
Salient Features & Services:
A personalised consultation and aftersales service
Professional team that provides recommendations
High quality
Pure Water Dispensers Pte Ltd is dedicated to providing high quality direct pipe-in water dispensing and filtration products and services. This water dispenser by Pure Water sports a sleek and minimalist design that will go well with your modern home or office.
When you purchase from them, you can rest in peace knowing that the team provides specific after-sales service that matches your needs. Furthermore, unlike many brands that may merely recommend you their most expensive product, Pure Water's professional team provides recommendations that are personalized to each consumer.
Salient Features & Services:
Quality water filtration system
Most competitively priced provider in Singapore
Easy installation
Drink Star is a brand that has been providing Singapore with clean and healthy water consistently for the past 10 years. They diligently serve commercial and residential clients. They also provide water dispensers to government agencies.
The DS 516TT is Drink Star's most hot selling water dispenser. It features hot and cold temperature dispensing, chilling, easy installation, as well as a high-quality water filtration system.
The brand is also known for having many promotions. They are currently giving their customers 2 cartons of can drinks with every purchase of this water dispenser. It is no wonder why they are the most competitively priced water dispenser provider in Singapore!
Salient Features & Services:
Wide range of water dispensers
4 stage water filter system
Customized installations and solutions
Established in 2005, 828 Water Dispenser offers different types of water dispensers for your needs. Unlike many other brands, this water dispensers from 828 Water Dispenser can either be floor standing or placed on a tabletop.
Their floor standing water dispensers are suitable for offices and homes with space to spare. It provides hot and cold water and is usually used in living halls or office reception and pantry areas. On the other hand, their tabletop water dispensers are suitable for homes and offices which are smaller. These dispensers are slim and can fit well into small spaces.
All of their water dispensers also feature a unique 4 step Ultra-filtration system that ensures that the water you consume is of high quality. You may also choose to add on an Alkaline and minerals pack that can infuse your drinking water with the essential minerals your body needs, such as Potassium, magnesium and calcium.
On top of all these amazing features, these 818 Water Dispensers are all aesthetically pleasing. Say goodbye to chunky and large water dispensers!
Salient features
Equipped with the right water sterilizing system to ensure your water is hygienically safe
Contains ceramic balls that purify your dispensed water to the very end
It does not consume a lot of power when operating
Offers 6 temperature options to choose from
Small in size hence saves space
This award-winning water dispenser/ purifier is absolutely for you if you are looking for something that does not occupy a lot of space and will complement your kitchen interior. Its modern design is among one of the best designs that we have witnessed in this industry. What's amazing about this particular water dispenser is that it measures 8.8cm in diameter and therefore occupies very little space making it convenient to rest perfectly at any position.
Moreover, it is very easy to operate. It has a smart wheel that enables you to control the volume and temperature of the dispensed water easily. Besides, you can effortlessly pick your preferred water temperature from their 6 different water temperatures available.
Conveniently, it has a PIR sensor that can detect when people are near the vicinity and immediately propels the readiness of the device.
Salient Features
Connects to the water source
The holding capacity is unlimited
Offers 7 temperature options to choose from
This water dispenser is guaranteed to give you an easy time and great service. With the above temperature options, you will be able to collect water in temperatures that best fit your needs. Whether it is for making a quick cup of coffee, tea or a baby's formula, the Livingcare dispenser has got you covered.
It is designed in a way that will help you and your family drink clean water free from bacteria and germs. The product is outfitted with antibacterial and antioxidant elements that kill all the microorganisms that may be inside your water. What's even more appealing is its smart feature that automatically sterilizes its built-in filters for maximum and lengthy performance.
Salient Features
Can only occupy 2L of water
Offers four temperature options: 500c, 800c,900c, and 980c
We can all agree that when we are busy and locked in our rooms, going to the kitchen to get a glass of water feels like a cross-country hike. What makes this water dispenser to be one of our favourites is its ability to take up very minimal space. Its sole aim is to ensure that you are close to your water throughout the day because its small size allows it to rest perfectly on a shelf or side table.
It heats your water to four different temperatures depending on your needs. You can even quickly prepare different tea versions and baby formulas using this dispenser. If the 2L capacity is too small for you, you can opt for the 4L version. To prevent any accidental scalding, the dispenser automatically shuts down after 30 seconds of inactivity.

Salient Features
Prevents contaminants hence providing a lasting freshness
Works with a specific kind of bottle
Equipped with safety locks to prevent accidents
The above water dispenser comes with key highlights that make it user-friendly and safe to use. It is designed to use a specific bottle for a particular reason. The bottle is readily delivered to you whenever you need it. When you connect it to the dispenser to collect water, it automatically compresses the water within, lowering the chances of contaminants from being drawn into your water through the air.
Moreover, the product is kids-friendly, especially for children when they are retrieving water. It locks automatically, which is ideal for toddlers from getting scald.
Salient Features
It is tankless and conveniently slim
It offers 5 levels of temperature options to choose from
Comes with antioxidant properties for hygiene care
Efficient self-cleaning system
Outfitted with a 4-stage filtration system
The water quantity can be controlled
The Hydroflux H-2300 comes with an efficient 4 stages water filtration system that ensures you get clean water. It is also fitted with the latest sterilizing properties that cleanse the pipes to safeguard your hygiene. The function of the ultraviolet light is to clean the outlet after every hour for about 15 minutes.
This water dispenser and purifier have modern technology that enables users to preset the ideal quantity of water to dispense.
The intervals available are 120ml, 550ml, and 1500ml of water. This is helpful, especially when you are watching your water intake.
Salient Features
Small in size to fit on a shelf or kitchen table
Holds 2L of water
Offers 25ºC, 45ºC, 50ºC, 55ºC, 85ºC, 99ºC temperature options
Comes with a safety lock
Can precisely measure 150ml and 300ml volumes
The Bluepro design focuses on purity and producing water that is clean and healthy. As it heats the water, the steam is directed to the nozzle for sterilization and decontamination. The nozzle is also designed in a way that it does not produce any hazardous splashes or drips.
Besides, this water dispenser can heat the water to 99-Degrees Celsius. Whether it's tea or coffee, you can brew your favourite beverage in a jiffy.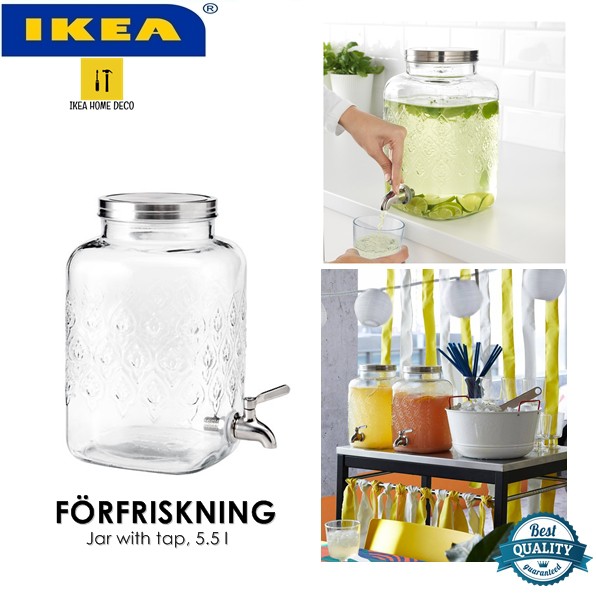 Salient Features
Budget-friendly
Made of glass
Holds 3L of water
In this case, the IKEA KALASFINT water dispenser is an alternative since it is cost-friendly, requires no electricity, and is easy to move around. Besides, it is also easy to store, so you can decide when you want to use it.
This glass water dispenser allows you to monitor the reduction of the water during the day. It can also serve you in other areas, especially during family gatherings and parties. If the 3L capacity is not sufficient, you can opt for the 5L dispenser instead.
Salient Features
Hot water whenever needed
Saves on space
Fit for modern homes thanks to the minimalist design
Long lifespan refills
This particular dispenser features a mind-bending 8 cm width making it the slimmest water dispenser in Singapore. The minimalist tankless design is ideal for any modern home.
It gets even better with the Tamal bullet series, where you get to choose up to 4 different water filters. This series will filter particles such as bacteria and tiny parasites. Likewise, this dispenser also provides you with alkaline water.
Salient Features
Hot water on demand
A capacity of up to 3L
Outlet sprouts with a rate of flow of up to 8ml/s
You don't have to wait for hot water for too long to make your favourite cup of hot chocolate. With the TOYOMI Instant Boil Water Dispenser FB 6108, you get hot water within seconds. How impressive. Having saved your precious time, you now have more time to enjoy your hot beverage.
One special feature of this dispenser is the transparent water tank, which you can easily recognize when it is time to give the tank a refill. It is equipped with a smart user-friendly feature such as a programmed system. This estimates the amount of water for a cup or bottle. Likewise, you don't have to press the screen when filling up your cup.
The child lock feature will also ensure safety even when you are not around. You will love the LCD with a modern and comfortable user interface.
Salient Features
Instant hot water
Energy-saving and convenient
Easy setting up
Looking for a convenient solution to clean and expedient drinking water at home, this is where to start. This water dispenser comes with a water filter, a kettle, and a container all in one setup. The 3M HCD2 Water Dispenser connects easily to your source of water in your house.
Operating on the carbon technology, the 3M AP2-G filter reduces sediments and chlorine to 0.5 microns and removes 99.95% of other compounds that may be in the water. Other compounds include lead. Besides, the dispenser comes with a UV system that promises to sterilize your drinking water by 99.9%. Isn't this great?
You will love how easy it is to get hot, cold, or even room temperatures water with a simple touch of a button. The appliance comes in a colour combination of black and white or a white version that will blend well with your kitchen decor.
Salient Features
Dispenses alkaline water
Advances 4 times filtration system
If you are living in a tiny condominium, you will surely understand the struggle of trying to fit appliances on your countertop. It is small and compact, which can still fit into the tight corners of your kitchen. With this appliance, you get to enjoy the benefits that come with alkaline water.
Whether it is regulation of the blood PH or immune support, you will get all these with the AquaNova Alkaline Water Dispenser AQN365TS. This dispenser fits easily into your water supply in the house and has the hot, cold, and ambient water dispensation function for your convenience. The AquaNova water dispenser also comes with a 4 stage filtration system that purifies and ensures you get clean water whenever needed.
Salient Features
No installation needed
2 touch dispensation
Easy to change bottles
Sleek Design
Price: 528 SGD
Searching for a bottled dispenser that can stand alone in your dining room? Look no further, the Frigeria Bottom Load Hot & Cold Water Dispenser is all you have been looking for. This bottled dispenser has a bottle drawer at the bottom making it very easy and convenient to replace whenever necessary.
Moreover, the bottle is hidden in the drawer which is aesthetically pleasing for most people. It comes with a matte black finish that will blend well with whatever decor you may have in your kitchen or dining area. The two-step operation is as simple as it gets, get your cold or hot water easily and conveniently!
In Conclusion
All these dispensers are truly among the best water dispensers in Singapore. They are all designed to fulfil our basic need for nutrients-rich clean water. Conventional methods of cooling and boiling water have become obsolete.
Along with any of these water dispensers, you can now enjoy your drinks almost instantly. From coffees, teas to even honey, we got you covered with different brands of instant coffees, irresistible teas, local brand honey, to even Manuka honey to stock up your drink pantry with.
Along with a water dispenser, you can check out our air purifiers, and dehumidifiers for a safe home, an air fryer for your frying needs and a massage chair to gift yourself with. Besides, we also have a list of household items such as coffee tables, aroma diffusers, and places to buy tablewares for you to refurbish your home with.
Hopefully, this list has helped you in finding the right water dispenser!
Hopkins
I'm an accomplished and detail-driven content writer with copious experience in producing compelling, engaging and flawless content for a variety of blogs and websites for several years.
Related posts
Subscribe for newsletter
* You will receive the latest news and updates on Singapore's best trends!
Trending Posts
April 1, 2021

There is no denying...