7 Best Water Dispensers in Singapore [2021]
Joanne, 4 months ago
7 min

read
816
"Water is life" – a common yet true saying since clean water is the basic necessity of mankind. You might be thinking why would you need to purchase the best water dispensers in Singapore when clean water is easily accessible everywhere here?
Well, although tap water is safe for drinking in Singapore, some still choose to boil it to kill 'germs'. However, this is a common household misconception as boiling water actually gets rid of the essential nutrients required by the human body.
This is exactly why you need a water dispenser; an ultimate solution for clean water that not only saves time but also provides the chilled filter water with all essential nutrients. Hence, here is our list of the best water dispensers sold in Singapore!
Benefits of A Water Dispenser
Water dispenser uses different purifying techniques to provide you with fresh and chemical-free water that still contains all the essential nutrients. In addition, you can get cold and warm water instantly. The ease of use, durability, and health benefits makes it an essential home appliance.
Factors for Considerations
Buying water dispenser can be tricky. With so many different options available in the market, it could be a hectic task. Before we begin, let's have a look at the key factors to consider while buying a water dispenser.
Type: Dispensers are available in different types. Look for your storage space and type of usage before buying a water dispenser. They can be differentiated based on wall-mounted, tabletop, and free-standing water dispensers and types of filters.
Price: Price can be a major factor when choosing the right water dispenser for you. Some manufacturers offer products in an affordable price range, while others are ridiculously expensive and definitely not worth your money. Always try to buy a water dispenser produced by an authentic manufacturer that lies in an affordable price bracket.
We have shortlisted 7 best water dispensers in Singapore. You do not have to go through the trouble of searching hundred of products and wasting your time and energy.
Salient Features:
Custom temperature setting
In-built UV led sterilisation
Filter change indicator
Clock/ memory settings
Specialized quantity control
Energy-saving mode
Advanced reboiling system
Tankless purifier
Price: 1,999 SGD
Cosmo Quantum is one of the best water dispensers that is in high demand around the globe, including Singapore. It is available in two different colours (Black & White) with a unique and stylish design that appeals to the stylish customer. This product passes water through six different filtration steps that filters with a precision of up to 0.0001 micron.
With many functions featured in this water dispenser, you will find yourself with hot and cold water instantly, which helps making morning coffee or tea more convenient in the morning. Furthermore, their specialized quantity control comes in water volume of 180ml, 220ml and up to 1000ml which is good that you don't have to manual stop your water in case it overflows.
Moreover, it is available for you to choose alkaline or non alkaline option. Cosmo Quantum is for those that can't accept comprising or going cheap on your health. Get this water dispenser for you and your family now!
Salient Features:
Saves Power
Occupies less space
Maintenance-free
Stylish exterior
Price: 2,399 SGD
If you want a water dispenser that occupies less space and can be mounted easily anywhere, then this is the best product for you. It is already in high demand in Singapore due to its unique style and tested filter system. Its main feature is that it has four filters that provide germ-free water with all essential nutrients. Moreover, this dispenser requires no maintenance at all.
Salient Features:
Powerful Filtering features
Attractive body
Automatic cleansing
Price: 1,318 SGD
This specific Water Dispenser is a product that removes maximum chlorine, viruses, and bacteria from your water. With an automatic cleaning mechanism, it also saves time. It can be used without filter despite its filters having a durable warranty, which saves cost. It is the best-known water dispenser in Singapore!
Salient Features:
High Storage Volume
Automatic maintenance
Attractive Design
Price: 1,100 SGD
The best and most recommended water dispenser if you are looking for a product that has high storage capacity. This product is best suited to remove germs from your water since it has four purification steps. It has a one year warranty that increases customer satisfaction regarding this product.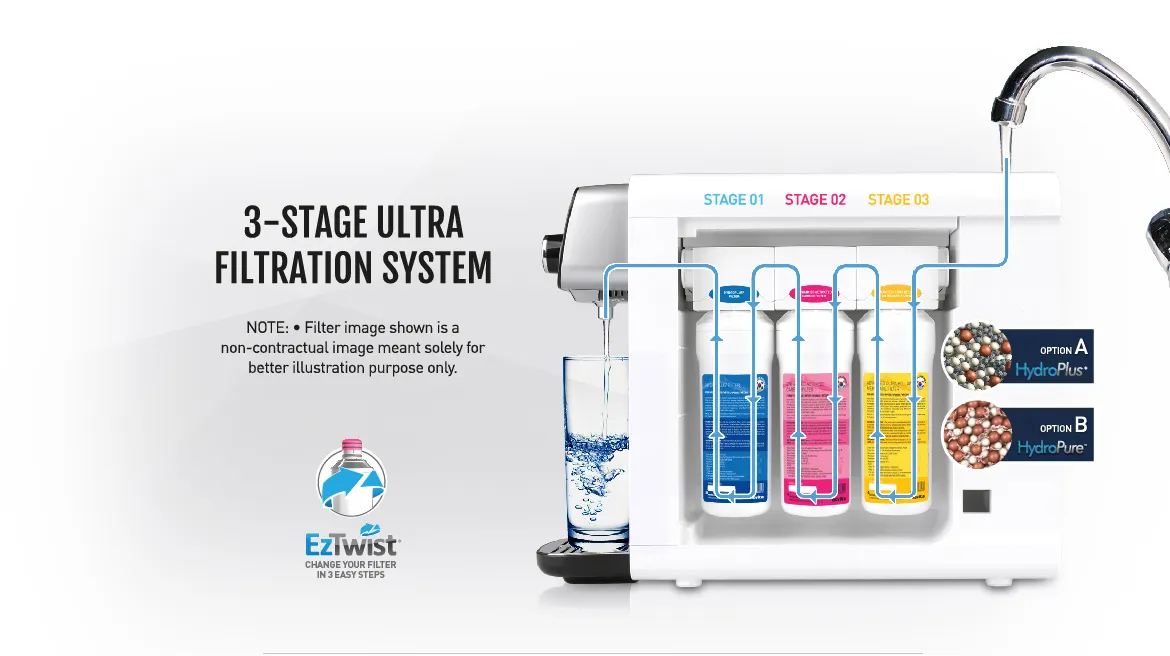 Salient Features & Services:
Extremely affordable
1 Year Warranty
Unique and Smart Design
Price: 499 SGD
This economical yet reliable dispenser in Singapore provides germ-free water. It has a unique design that occupies very little space and provides the maximum features. Its filter is almost maintenance-free, so the maintenance cost of this dispenser is almost equivalent to nil.
Salient Features & Services:
Personalised consultation and aftersales service
Professional team that provides recommendations
High quality
Price: Consult for price
Pure Water Dispensers Pte Ltd is dedicated to providing high quality direct pipe-in water dispensing and filtration products and services. This water dispenser by Pure Water sports a sleek and minimalist design that will go well with your modern home or office.
When you purchase from them, you can rest in peace knowing that the team provides specific after sales service that matches your needs. Furthermore, unlike many brands that may merely recommend you their most expensive product, Pure Water's professional team provides recommendations that are personalized to each consumer.
Salient Features & Services:
Quality water filtration system
Most competitively priced provider in Singapore
Easy installation
Drink Star is a brand that has been providing Singapore with clean and healthy water consistently for the past 10 years. They diligently serve commercial and residential clients. They also provide water dispensers to government agencies.
The DS 516TT is Drink Star's most hot selling water dispenser. It features hot and cold temperature dispensing, chilling, easy installation, as well as a high-quality water filtration system.
The brand is also known to run many promotions. For example, they are currently giving their customers 2 cartons of can drinks with every purchase of this water dispenser. It is no wonder many of their customers cite that they are the most competitively priced water dispenser provider in Singapore!
Salient Features & Services:
Wide range of water dispensers
4 stage water filter system
Customized installations and solutions
Established in 2005, 828 Water Dispenser offers different types of water dispensers for your needs. Unlike many other brands that only offer water dispensers that are of a single design, the water dispensers from 828 Water Dispenser can either be floor standing or placed on a table top.
Their floor standing water dispensers are suitable for offices and homes with space to spare. It provides hot and cold water, and are usually used in living halls or office reception and pantry areas. On the other hand, their table top water dispensers are suitable for homes and offices which are smaller. These dispensers are slim and can fit well into small spaces.
All of their water dispensers also feature a unique 4 step Ultra-filtration system that ensures that the water you consume is of high quality. You may also choose to add on an additional Alkaline and minerals pack that infuses your drinking water with the essential minerals your body needs such as Potassium, magnesium and calcium.
On top of all these amazing features, the water dispensers provided by 818 Water Dispenser are all extremely aesthetically pleasing. Say goodbye to chunky and huge water dispensers!
In Conclusion
All these dispensers are truly among the best water dispensers in Singapore. They are all designed to fulfil our basic need for nutrients-rich clean water. Conventional methods of cooling and boiling water have become obsolete.
Along with water dispenser, you can check out our air humidifier Singapore for a safe home, air fryer Singapore for your frying needs and the best massage chair to gift yourself with. Hopefully, this list has helped you in finding the right water dispenser!
Check out here for more related articles:
Best Mop Singapore for a cleaner home environment
Best aroma diffusers Singapore to keep your home smelling fresh
Related posts