20 Best Water Dispenser in Singapore For Instant Hot & Cold Water [2022]
Emily Hopkins, 2 years ago
24 min

read
36001
Water dispensers provide great convidence to the user: providing instanteous access to clean water. While tap water in Singapore is generally safe for consumption, water dispensers double up as a kettle and refridgator all in one device. Why go through the troubles of boiling water and waiting for it to cool just to get that refreshing cool glass of water? It does'nt stop there. Water dispensers take it up a notch by cleaning those pesty microscopic impurities in our water supply, through their inbuilt purifriers and filtration systems (Brita you say? Haven't heard of it).
This is exactly why you need a water dispenser; an ultimate solution for clean water that not only saves time but also provides water at your temperature of choice, all at the touch of a button. Hence, here is our list of the best water dispensers sold in Singapore!
Cosmo Quantum


✔️ Tankless Design
✔️ In-Built UV Sterilisation
✔️ Instant Hot Water
✔️ Easy Filter Replacement
✔️ Automatic Self-Cleaning
✔️ 6 Stage Purification
✔️ 30 Day Free Trial
Visit Shop
Wells The One



✔️ Long-lasting Water Pipes
✔️ 6 Temperature Settings
✔️ Automated Water Drainage
✔️ Automated Sterilising
✔️ Smart Water Purifier
Visit Shop
Coral Pure Natural



✔️ 3 presetting dispensing volumes
✔️ Filtration with USA NSF 58C)
✔️ Comes with a lifetime warranty
✔️ 9 filters with 15 stages filtration

Visit Shop
How do you choose a water dispenser?
There are many factors to consider when deciding if a water dispenser is the right option for your home. You need to think about where the dispenser will be situated, for how many people it needs to hold a sufficient amount of water, and who the dispenser is for – Is it for an office or an individual household occupant? There are also considerations depending on whether you want to be filtered or just normal tap water.
Benefits of A Water Dispenser
Water dispenser uses different purifying techniques to provide you with fresh and chemical-free water that still contains all the essential nutrients. In addition, you can get cold and warm water instantly. The ease of use, durability, and health benefits makes it an essential home appliance.
Factors for Considerations
Buying a water dispenser can be tricky. With so many different options available in the market, it could be a hectic task. Before we begin, let's have a look at the key factors to consider while buying a water dispenser.
Type: Dispensers are available in different types. Look for your storage space and type of usage before buying a water dispenser. They can be differentiated based on wall-mounted, tabletop, and free-standing water dispensers and types of filters.
Price: Price can be a major factor when choosing the right water dispenser for you. Some manufacturers offer products in an affordable price range, while others are ridiculously expensive and definitely not worth your money. Always try to buy a water dispenser produced by an authentic manufacturer that lies in an affordable price bracket.
Water Flow Rate: The flow rate is important; this refers to how quickly the water comes out when it is poured from the nozzle. Not all dispensers are equal in this respect, so this is something else you should consider when choosing a dispenser.
Noise Level: Some units are heavier than others and will consequently make more noise as they pour water out of the nozzle. Also if there are children around when the dispenser is being filled then it could cause upset; noisy machinery isn't very pleasant to be around.
Design: If you are choosing a dispenser for an office, then the appearance of the unit is likely to be important. You want it to fit in with your house design while not being too obtrusive or standing out.
Tank vs Tankless
What's the benefits of having a tank vs having a tankless water purifier? We'll share more below.
Space:
Tank: By having a tank inside, your water dispenser would be required to store a minimum amount of water, taking up more space and being bulkier and heavier.
Tankless: Without a tank, you'll be able to enjoy having a slim and modern looking design that is light and easy to move should you want to do any cleaning.
Electric Saving:
Tank: For water dispensers with tanks, heating would be required around the clock to ensure that the hot water tank is constantly being kept warm/hot even when it's not in use. This will of course increase electricity cost since it has to be kept running 24/7.
Tankless: For water dispensers without tanks, instant heating is done and would only use electricity when you require hot water to be dispensed, saving you lots on electricity bills.
Hygiene:
Tank: By having a tank inside, it is a place which would store up bacteria and algae. This would require for it to be sterilised and cleaned at least once every few months to prevent any bacteria buildup that would make it unhygienic.
Tankless: Without a tank, there isn't place for bacteria to build up and would reduce the risk of bacteria or algae buildup. Keeping it cleaner and more hygienic to be used.
We have shortlisted the best water dispensers in Singapore. Our top 3 choices are chosen based on hygiene, water quality and maintenance requirements. You do not have to go through the trouble of searching for hundred of products and wasting your time and energy.
Our verdict: this water dispenser deserves all the great reviews it has! It's tankless, it has UV sterilisation and it's even has 3 customisable temperature settings!
Salient Features:
Custom temperature setting
In-built UV led sterilisation
Filter change indicator
Clock/ memory settings
Specialized quantity control
Energy-saving mode
Advanced reboiling system
Tankless purifier
6 Step purification process
Cosmo Quantum is one of the best water dispensers that are in high demand around the globe, including in Singapore. It is available in two different colours (Black & White) with a unique and stylish design that appeals to the stylish customer. This product passes water through six different filtration steps that filters with a precision of up to 0.0001 microns.
With many functions featured in this water dispenser, you will find yourself with hot and cold water instantly, which helps to make morning coffee or tea more convenient in the morning. Furthermore, their specialised quantity control comes in water volumes of 180ml, 220ml and up to 1000ml which is good that you don't have to manual stop your water in case it overflows.
Moreover, it is available for you to choose the alkaline or non-alkaline option. Cosmo Quantum is for those that can't accept comprising or going cheap on your health. Get this water dispenser for you and your family now!
Really simple and easy to use as well!
Price: $1,599 until further notice (U.P. $2,298)
Capacity: Unlimited – Connected to water source
Temperature Options: 5-10ºC, 30-45ºC, 89-97ºC (3 customisable presets)
Dimensions: 41.8(L)x18.5(W)x39.4(H) cm
Salient features
Equipped with the right water sterilizing system to ensure your water is hygienically safe
Contains ceramic balls that purify your dispensed water to the very end
It does not consume a lot of power when operating
Offers 6 temperature options to choose from
Small in size hence saves space
This award-winning water dispenser/ purifier is absolutely for you if you are looking for something that does not occupy a lot of space and will complement your kitchen interior. Its modern design is among one of the best designs that we have witnessed in this industry. What's amazing about this particular water dispenser is that it measures 8.8cm in diameter and therefore occupies very little space making it convenient to rest perfectly at any position.
Moreover, it is very easy to operate. It has a Body-spin function that enables the faucet to be rotated 180° and a smart wheel that enables you to control the volume and temperature of the dispensed water easily. Besides, you can effortlessly pick your preferred water temperature from the 6 different water temperatures available.
Conveniently, it has a PIR sensor that can detect when people are near the vicinity and immediately propels the readiness of the device.
Capacity: Unlimited – Connected to water source
Temperature Options: 6°C, 27°C, 36.5°C, 50°C, 70°C, 85°C (6 customisable presets)
Dimensions: 18(L)x45.5(W)x47(H) cm
Salient Features
Coral Pure is a water filtration company that specialises in producing premium water systems, including Coral Pure 365 Shower Filter, Premium 4, Premium 5, Premium 7, Premium 8++, Premium 9 and Premium 9 Compact. Premium 9 & 9 Compact has the most pre-eminent specs and amazing features which will definitely interest you!!
Coral Pure offers more than just a water dispenser. The Premium 9 system produces the most comprehensive structured antioxidant alkaline hydrogen crystal energizing mineral water that can build immunity and increase overall health!
Money-back guarantee on the highest filtration specification, with 9 filters with 15 stages filtration. You can get your money back if you are able to find a system with higher spec than Coral Pure's Premium 9 within 30 days from installation date!!
On top of that, Coral Pure is committed to improve health and well-being by offering a ✨Health Improvement Guarantee!!✨
Try out Coral Pure's Premium 9 for 3-6 months and experience health improvement! If you do not see any improvement in your health, after drinking minimum 3 litres of room temperature P9 water daily, ask for a 100% refund! Pay only for installation and dismantling costs ($149 + $149). T&Cs apply.
Highest spec filtration of 0.0001 micron and highest certification on filtration in compliance with USA NSF Ansi 58.
Thorough removal of Fluoride, Heavy Metals, Chloride, Sulphate and harmful Total Dissolved Solid (TDS).
Generates 100% Natural Antioxidant Alkaline Hydrogen Crystal Energizing Mineral Water alike to mountain spring water, suitable for all age groups.
A proven system supported by numerous testimonials on health improvement!
Slim tabletop dispenser that comes with 7 temperatures (from room to hot), and 3 pre-set dispensing volumes (250 ml, 500 ml, and 1000ml). You'll be able to get instant hot water within three seconds, making it convenient for both office and home use.
Zero Power on standby (NO heating tank).
The Premium 9 series uses heavy duty and reliable filters, which makes it a top-notch product in Singapore. The filters have a service life of up to 10,000 litres purified water for drinking and 10,000 litres for washing and cooking (total 20,000 litres), or every 12 months, whichever comes first. It's also neat and easy and use. Maintenance cost is low, with only an annual filter change requirement.
Families/ offices which do not require a table top dispenser can opt for Premium 9 compact, which comes with a lead-free faucet, providing high quality ambient alkaline hydrogen crystal energizing mineral water with similar water quality and premium taste like Premium 9.
Coral Pure Natural Premium 9 has 9 filters, 15-stages of filtration.
First is the 5 Micron PP Sediment filter which removes dirt, rust, and sand particles.
The second and third stages entail the removal of 99% chlorine, odour, bacteria and organic chemicals using high-quality NSF Ansi 42 certified 5 Micron carbon block filter.
Fourth is the effective reverse osmosis (RO) membrane which removes hard water contaminants, harmful chemicals, fluoride, and viruses as it is the only certified filtration to remove Total Dissolved Solid (TDS) and arsenic.
The fifth and sixth stages include breaking down of water molecules to allow easy absorptions of minerals in the body using a high-quality Post RO carbon from bamboo, negative ion ceremic mineral and Far Infrared ray energy tourmaline stones. Create neg ORP / antioxidant hydrogen and oxygenated water.
Stage seven improves the quality of clean water by adding more than 72 types of natural minerals such as Calcium, Magnesium, Sodium, Potassium, Iron, Zinc essential to the human body using the Organic Coral Mineral Alkalinity Filters to improve immunity.
Stages 8 to 15 allows the powerful antioxidant to easily remove free radicals and improve the quality of water using Negative Ion Alkalinity Antioxidant Hydrogen Filter. It contains high-quality negative ion balls, mineral stones, negative potential balls, tourmaline balls and various types of Crystal stones to introduces essential minerals such as calcium, iron, Zinc, Magnesium, Selenium into water, creating neg ORP / antioxidant hydrogen and oxygenated water that greatly improve immunity, defer ageing and improve overall health like that of natural mountain spring water.
From here, you'll be able to enjoy the best tasting water rich in hydrogen, alkaline, dissolved oxygen and antioxidants. Make your count by choosing the right system! Order today to enjoy the perks of this premium water filtration system! Price is inclusive of delivery and installation.
Price: $4,590 Promotion (U.P. $5,598)
Capacity: Unlimited – Connected to water source
Temperature Options: 45°C, 55°C, 75°C, 85°C, 90°C, 100°C
Dimensions: 40(L)x15(W)x38(H) cm
Salient Features:
4 Temperature Settings
Convenient & Time Saving
4 Stage Filtration System
Self-Maintaining System
Direct to Consumer Business Model
Sterra Water Purifier is available in Grey and White. It comes with a modern and sleek design. They are active in understanding their consumer's needs and keeping their water purifier affordable.
With Sterra, getting hot water is no longer inconvenient. There are 4 different temperature settings for you to choose from. You can choose from 4, 25, 40, and 87-degree Celsius (cold, room temperature, warm, and hot water) of your liking. For all newborn parents out there, this purifier provides the optimal warm temperature for baby formula.
Furthermore, their 4 stage filtration system will allow you to removes impurities such as suspended solids, chlorine, pathogenic bacteria and odours from your water supply.
Likewise, they have a self-maintaining system which is a unique feature of theirs. Their nozzle can be pushed in for automatic sterilization for users to clean. You can check out their website on Sterra's to find out more.
Price: $1,699 until further notice (U.P. $2,199)
Capacity: Unlimited – Connected to water source
Temperature Options: 4ºC, 25ºC, 40ºC, , 87ºC
Dimensions: 50.9(L)x18.2(W)x 40.3(H) cm
Salient Features
Hot water within seconds
Safety lock features
Stainless steel anti-bacterial tank
An efficient direct pipe-in for cold, hot, and room temperatures.
Wattermaxx offers three water dispensers; for home use, office use, and heavy-duty purposes. The fact is, that no matter which dispenser you choose, all models are designed to purify water at your convenience. Watermaxx uses high-quality materials during construction so you can be sure of the durability.
The Watermaxx WM 2104F/T water dispenser is one of the popular models as it can be used both in small offices or homes. The dispensers feature an ergonomic design that can perfectly match your kitchen countertop or office. It is relatively small, meaning you can install them anywhere. Users will love how space-saving they are.
Watermaxx WM 2104F/T dispenser comes fitted with smart and user-friendly features. It is easy to use and can allow users to adjust their preferred water temperature and volume. Also, it's equipped with powerful 4-stage water purification with several steps of filtering systems, from sediment filtration, pre-carbon filter, post-carbon filter, to silver carbon filtration.
There are no long waiting hours because Watermaxx WM 2104F/T water dispenser allows hot or cold water within seconds. It also comes with an excellent LCD to give you a better user experience. The dispenser is perfectly engineered to purify and dispense the amount of water needed automatically. Even better, it comes with safety features to ensure protection even when left untampered.

Capacity: 1.1L (Hot Tank), 3.2L (Cold Tank)
Temperature Options: 8-10ºC, 85-90ºC
Dimensions: 30(L)x39.5(W)x 54(H) cm
Salient Features:
Saves Power
Occupies less space
Maintenance-free
Stylish exterior
If you want a water dispenser that occupies less space and can be mounted easily anywhere, then this is the best product for you. It is already in high demand in Singapore due to its unique style and tested filter system. Its main feature is that it has four filters that provide germ-free water with all essential nutrients. Moreover, this dispenser requires no maintenance at all.
Price: $2,399
Capacity: Unlimited – Connected to water source
Temperature Options: 12ºC, 90ºC
Dimensions: 32(L)x8(W)x43(H) cm
Salient Features:
Powerful Filtering features
Attractive body
Automatic cleansing
This specific Water Dispenser is a product that removes chlorine, viruses, and bacteria from your water. Likewise, it also has an automatic cleaning mechanism that helps you to save time cleaning.
This dispenser comes with a smart control panel with sensitive touch keys. It is also user-friendly and comes with a child-lock key which is great for families with young children. This is certainly one of the best water dispensers in Singapore!
Price: $736.16
Capacity: 0.8L (Hot Tank), 0.4L (Cold Tank)
Temperature Options: 15ºC, 30-45ºC, 90ºC
Dimensions: 44(L)x27(W)x57(H) cm
Salient Features:
High Storage Volume
Automatic maintenance
Attractive Design
This is an ideal water dispenser if you are looking for a product that has high storage capacity. This product is best suited to remove germs from your water since it has four purification steps. It has a one year warranty that increases customer satisfaction regarding this product.

Price: $642
Capacity: Unlimited – Connected to water source
Temperature Options: 10ºC, 80ºC
Dimensions: 34.6(L)x47(W)x43.4(H) cm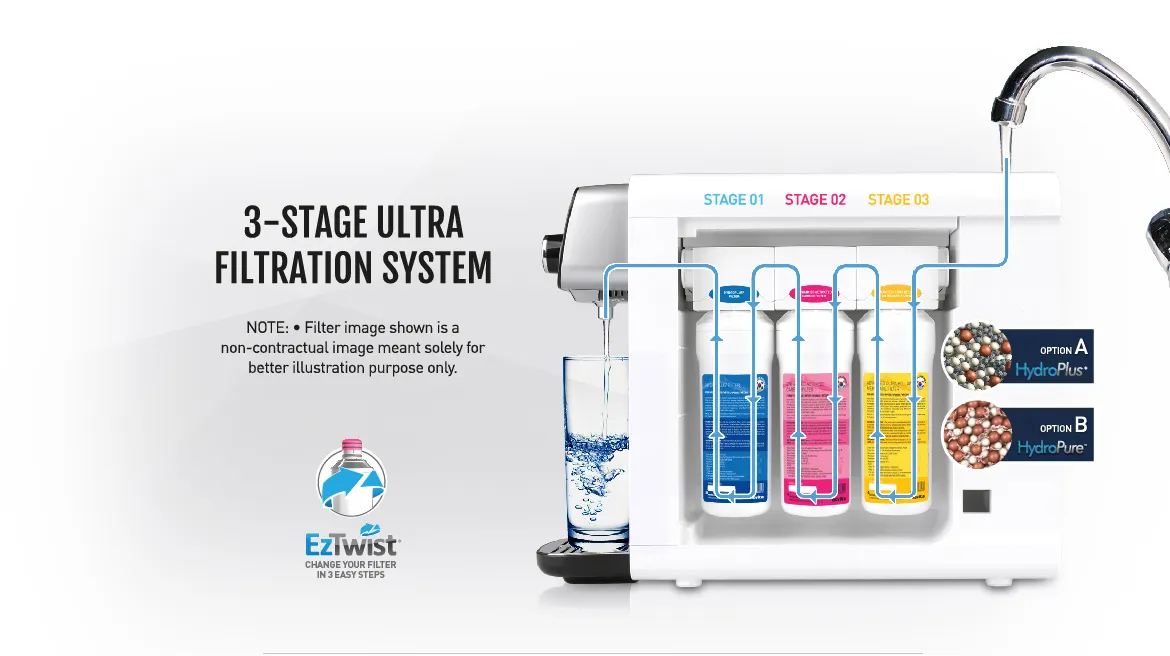 Salient Features & Services:
Extremely affordable
1 Year Warranty
Unique and Smart Design
This economical yet reliable dispenser in Singapore provides germ-free water. It has a unique design that occupies very little space and provides the maximum features. Its filter is almost maintenance-free, so the maintenance cost of this dispenser is almost equivalent to nil.
Price: $599 until further notice (U.P. $699)
Capacity: Unlimited – Connected to water source
Temperature Options: 4°C to 37°C (customisable)
Dimensions: 11.5(L)x43.6(W)x34.1(H) cm
Salient Features & Services:
A personalised consultation and aftersales service
Professional team that provides recommendations
High quality
Pure Water Dispensers Pte Ltd is dedicated to providing high quality direct pipe-in water dispensing and filtration products and services. This water dispenser by Pure Water sports a sleek and minimalist design that will go well with your modern home or office.
When you purchase from them, you can rest assured that the team provides specific after-sales service that matches your needs. Furthermore, unlike many brands that may merely recommend you their most expensive product, Pure Water's professional team provides recommendations that are personalized to each consumer.
Capacity: 1.4L (Hot Tank), 3.4L (Cold Tank)
Temperature Options: 4-12ºC, 87-92ºC
Dimensions: 23(L)x52(W)x51(H) cm
Salient Features & Services:
Quality water filtration system
Most competitively priced provider in Singapore
Easy installation
Drink Star is a brand that has been providing Singapore with clean and healthy water consistently for the past 10 years. They diligently serve commercial and residential clients. They also provide water dispensers to government agencies.
The DS 516TT is Drink Star's most hot selling water dispenser. It features hot and cold temperature dispensing, chilling, easy installation, as well as a high-quality water filtration system.
The brand is also known for having many promotions. They are currently giving their customers 2 cartons of can drinks with every purchase of this water dispenser. It is no wonder why they are the most competitively priced water dispenser provider in Singapore!
Price: $370.16
Capacity: Unlimited – Connected to water source
Temperature Options: 10ºC, 90ºC
Dimensions: 31(L)x31(W)x51(H) cm
Salient Features & Services:
Wide range of water dispensers
4 stage water filter system
Customized installations and solutions
Established in 2005, 828 Water Dispenser offers different types of water dispensers for your needs. Unlike many other brands, these water dispensers from 828 Water Dispenser can either be floor standing or placed on a tabletop.
Their floor standing water dispensers are suitable for offices and homes with space to spare. It provides hot and cold water and is usually used in living halls or office reception and pantry areas. On the other hand, their tabletop water dispensers are suitable for homes and offices which are smaller. These dispensers are slim and can fit well into small spaces.
All of their water dispensers also feature a unique 4 step Ultra-filtration system that ensures that the water you consume is of high quality. You may also choose to add on an Alkaline and minerals pack that can infuse your drinking water with the essential minerals your body needs, such as Potassium, magnesium and calcium.
On top of all these amazing features, these 818 Water Dispensers are all aesthetically pleasing. Say goodbye to chunky and large water dispensers!
Price: $1,180
Capacity: 2.8L (Cold Tank), Unlimited – Connected to water source (Hot tank)
Temperature Options: 5ºC, 90-100ºC
Dimensions: 23(L)x48(W)x50(H) cm
Salient Features
Connects to the water source
The holding capacity is unlimited
Offers 7 temperature options to choose from
This water dispenser is guaranteed to give you an easy time and great service. With the above temperature options, you will be able to collect water in temperatures that best fit your needs. Whether it is for making a quick cup of coffee, tea or a baby's formula, the Livingcare dispenser has got you covered.
It is designed in a way that will help you and your family drink clean water free from bacteria and germs. The product is outfitted with antibacterial and antioxidant elements that kill all the microorganisms that may be inside your water. What's even more appealing is its smart feature that automatically sterilizes its built-in filters for maximum and lengthy performance.
Price: $2,488 until further notice (U.P. $2,788)
Capacity: Unlimited – Connected to water source
Temperature Options: 7 ºC, 9 ºC, 11 ºC, 20 ºC, 45 ºC, 70 ºC, 90 ºC
Dimensions: 13(L)x39(W)x32(H) cm
Salient Features
Space efficient
Offers four temperature options
We can all agree that when we are busy and locked in our rooms, going to the kitchen to get a glass of water feels like a cross-country hike. What makes this water dispenser to be one of our favourites is its ability to take up very minimal space. Its sole aim is to ensure that you are close to your water throughout the day because its small size allows it to rest perfectly on a shelf or side table.
It heats your water to four different temperatures depending on your needs. You can even quickly prepare different tea versions and baby formulas using this dispenser. If the 2L capacity is too small for you, you can opt for the 4L version. To prevent any accidental scalding, the dispenser automatically shuts down after 30 seconds of inactivity.
Price: $68
Capacity: 2L
Temperature Options: 50ºC, 80ºC, 90ºC, 98ºC
Dimensions: 20(L)x35(W)x15(H) cm

Salient Features
Prevents contaminants hence providing a lasting freshness
Works with a specific kind of bottle
Equipped with safety locks to prevent accidents
The above water dispenser comes with key highlights that make it user-friendly and safe to use. It is designed to use a specific bottle for a particular reason. The bottle is readily delivered to you whenever you need it. When you connect it to the dispenser to collect water, it automatically compresses the water within, lowering the chances of contaminants from being drawn into your water through the air.
Moreover, the product is kids-friendly, especially for children when they are retrieving water. It locks automatically, which is ideal for toddlers from getting scald.
Price: $290++
Capacity: 12L
Temperature Options: 6ºC, 87ºC
Dimensions: 27(L)x33(W)x132.6(H) cm
Salient Features
It is tankless and conveniently slim
It offers 5 levels of temperature options to choose from
Comes with antioxidant properties for hygiene care
Efficient self-cleaning system
Outfitted with a 4-stage filtration system
The water quantity can be controlled
The Hydroflux H-2300 comes with an efficient 4 stages water filtration system that ensures you get clean water. It is also fitted with the latest sterilizing properties that cleanse the pipes to safeguard your hygiene. The function of ultraviolet light is to clean the outlet after every hour for about 15 minutes.
This water dispenser and purifier have modern technology that enables users to preset the ideal quantity of water to dispense.
The intervals available are 120ml, 550ml, and 1500ml of water. This is helpful, especially when you are watching your water intake.
Price: $2,662
Capacity: Unlimited – Connected to water source
Temperature Options: 4°C, 40°C, 70°C, 87°C, Ambient
Dimensions: 18(L)x51.4(W)x40.7(H) cm
Salient Features
Small in size to fit on a shelf or kitchen table
Comes with a safety lock
Can precisely measure 150ml and 300ml volumes
The Bluepro design focuses on purity and producing water that is clean and healthy. As it heats the water, the steam is directed to the nozzle for sterilization and decontamination. The nozzle is also designed in a way that it does not produce any hazardous splashes or drips.
Besides, this water dispenser can heat the water to 99-Degrees Celsius. Whether it's tea or coffee, you can brew your favourite beverage in a jiffy.
Price: $135 until further notice (U.P. $270)
Capacity: 2L
Temperature Options: 25ºC, 45ºC, 50ºC, 55ºC, 85ºC, 99ºC
Dimensions: 26.4(L)x16.3(W)x29.5(H) cm
Salient Features
Hot water on demand
A capacity of up to 3L
Outlet sprouts with a rate of flow of up to 8ml/s
You don't have to wait for hot water for too long to make your favourite cup of hot chocolate. With the TOYOMI Instant Boil Water Dispenser FB 6108, you get hot water within seconds. How impressive. Having saved your precious time, you now have more time to enjoy your hot beverage.
One special feature of this dispenser is the transparent water tank, which you can easily recognize when it is time to give the tank a refill. It is equipped with a smart user-friendly feature such as a programmed system. This estimates the amount of water for a cup or bottle. Likewise, you don't have to press the screen when filling up your cup.
The child lock feature will also ensure safety even when you are not around. You will love the LCD with a modern and comfortable user interface.
Price: $108
Capacity: 3L
Temperature Options: 5-10ºC, 30-45ºC, 89-97ºC
Dimensions: 21(L)x30(W)x30(H) cm
Salient Features
Instant hot water
Energy-saving and convenient
Easy setting up
Looking for a convenient solution to clean and expedient drinking water at home, this is where to start. This water dispenser comes with a water filter, a kettle, and a container all in one setup. The 3M HCD2 Water Dispenser connects easily to your source of water in your house.
Operating on the carbon technology, the 3M AP2-G filter reduces sediments and chlorine to 0.5 microns and removes 99.95% of other compounds that may be in the water. Other compounds include lead. Besides, the dispenser comes with a UV system that promises to sterilize your drinking water by 99.9%. Isn't this great?
You will love how easy it is to get hot, cold, or even room temperatures water with a simple touch of a button. The appliance comes in a colour combination of black and white or a white version that will blend well with your kitchen decor.
Price: $1,688
Capacity: Unlimited – Connected to water source
Temperature Options: 5-6ºC, 85-88ºC, 100ºC
Dimensions: 29(L)x49.7(W)x47.4(H) cm
Salient Features
No installation needed
2 touch dispensation
Easy to change bottles
Sleek Design
Searching for a bottled dispenser that can stand alone in your dining room? Look no further, the Frigeria Bottom Load Hot & Cold Water Dispenser is all you have been looking for. This bottled dispenser has a bottle drawer at the bottom making it very easy and convenient to replace whenever necessary.
Moreover, the bottle is hidden in the drawer which is aesthetically pleasing for most people. It comes with a matte black finish that will blend well with whatever decor you may have in your kitchen or dining area. The two-step operation is as simple as it gets, get your cold or hot water easily and conveniently!
Price: $528
Capacity: 19.5L
Temperature Options: Hot, Room Temperature, Cold
Dimensions: 31(L)x36(W)x104(H) cm
In Conclusion
All these dispensers are truly among the best water dispensers in Singapore. They are all designed to fulfill our basic need for nutrient-rich clean water. Conventional methods of cooling and boiling water have become obsolete.
Along with any of these water dispensers, you can now enjoy your drinks almost instantly. From coffees, teas to even honey, we got you covered with different brands of instant coffees, irresistible teas, local brand honey, to even Manuka honey to stock up your drink pantry with.
Along with a water dispenser, you can check out our air purifiers, and dehumidifiers for a safe home, an air fryer for your frying needs, and a massage chair to gift yourself with. Besides, we also have a list of household items such as coffee tables, aroma diffusers, and places to buy tablewares for you to refurbish your home with.
We hope this list has helped you in finding the right water dispenser!
Emily Hopkins
I'm an accomplished and detail-driven content writer with copious experience in producing compelling, engaging and flawless content for a variety of blogs and websites for several years.
Related posts
Subscribe for newsletter
* You will receive the latest news and updates on Singapore's best trends!
Trending Posts
May 30, 2023

What is Matcha? Matcha...

May 31, 2023

TLDR: In this article,...

May 31, 2023

TLDR: As an audio...