13 Best Washing Machines in Singapore [2022]
Emily Hopkins, 2 years ago
12 min

read
27246
Believe it or not! The first drum washing machine appeared in 1905. It wasn't until 1920, that we had the opportunity to see the first electric washing machines. Although these appliances may not be the most fun item in your home, without a doubt, it is one of the most useful. The ugly truth is that for many people buying a washing machine is not on their priority list. People often think about buying a new unit when the old one stops working or they have to move to a new place.
If you make a purchase in a hurry, you can end with something that doesn't suit your needs, and that does not offer you a useful lifetime according to your expectations. Washing machines help you save your precious time! But the best part is that they help you skip the tiresome job of washing your laundry by hand.
However, with the passing of the years and the advances in technology, washing machines have also evolved. Nowadays people can find endless options that make choosing the right appliance a little more complicated.
That's why today we have decided to break down a list that will help you choose the perfect washing machine for your home. Below you will find general tips to consider before buying a new appliance and our top washing machines right now in Singapore.
Make a Smart Purchase Get One of the Top Washing Machines in Singapore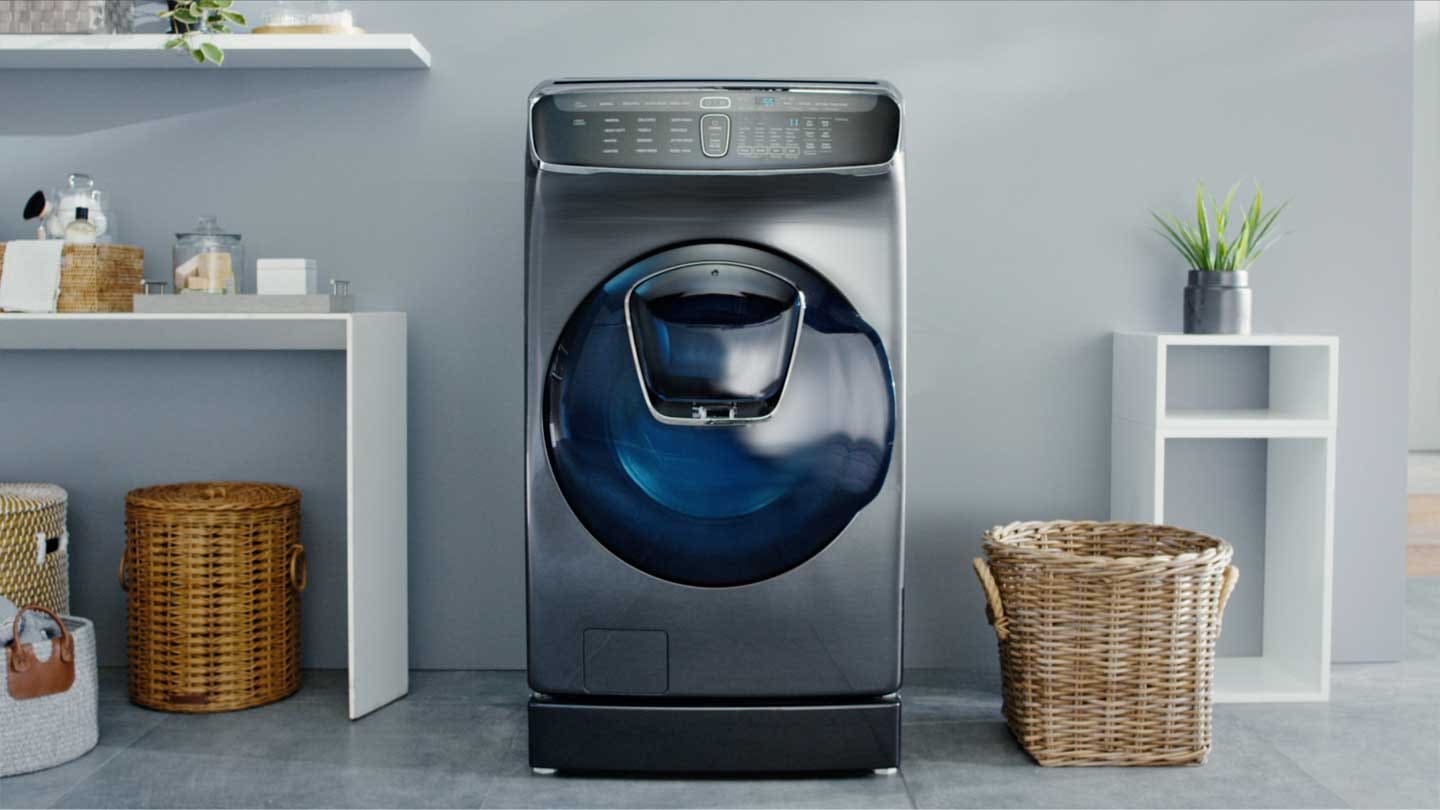 Price: $3,299
Load Capacity: 21/3.5kg
Get the best of two worlds in one unit. This is what it offers the new Samsung WR24M9940KV. The perfect combination with a front and top washing machine capable of handling 21 kg and 3.5 kg. Resulting in 2 washers and 1 dryer in a single appliance.
This washing machine may seem pricey at first, but it's worth every penny. It comes with AddWash™ technology that offers you the best care when washing your clothes.
Besides, it has Vibration Reduction Technology, EcoBubble, and Air Turbo Drying System. All this combined with an ergonomic design and smart control somethings perfect, easy, and quick, where do you have all the control.
Highlights
2 washers and 1 dryer in the same unit
Front Loading
AddWash™
Air Wash technology
Vibration Reduction Technology
EcoBubble that helps remove dirt up to 40x* faster
Bubble Soak technology
Smart Control using a smartphone app
Price: $899
Load Capacity: 8kg
The Samsung WD80J6410AW Washer offers reliability in just one click. This frontload has a capacity of 8 kg and includes a washing machine and a dryer. Making it the perfect option for families of 3.
Among its specs, we can emphasize that it offers you the opportunity to complete your washing in 59 minutes. That's right! Thanks to its powerful cleaning process and its 1400 spin speed. This Samsung appliance also comes with Eco Bubble technology that helps you save energy, even when you wash with cool water.
Highlights
Front Loading
Washer and Dryer
Dimensions: 600W x 850H x 680D (with door frame and inlet hose).
Eco Bubble™ technology
Wash in less than an hour
Sanitize your clothes with Air Wash technology
Smart Control using a smartphone app
Price: $1799
Load Capacity: 9kg
The Bosch WAP-28480SG front load washer is the ideal unit for large families due to its capacity of 9 kg. What we love the most about this model is its EcoSilence drive technology. So, you won't have to worry about those noisy washing sessions with this model. In fact, the Bosch WAP-28480SG offers you a quiet performance alongside with the greatest efficiency.
This washing machine can perfectly wash your clothes in up to 65% less time than a regular front load. It also comes with AllergyPlus technology ideal for people who suffered from sensitive skin and allergies. While its VarioDrum's bring you a gentle clean for delicate fabrics.
Finally, this model featured an advanced sensor that helps you to reduce the amount of energy and water used on each cleaning cycle. This means that you can save more money while you are eco-friendly with the environment.
Highlights
Front Loading

EcoSilence Drive

ActiveWater™
AllergyPlus technology
VarioDrum's
SpeedPerfect: clean in less time
Samsung WW90M74FNOR front load washer is the perfect option in the market for people who don't have enough time to wash their clothes. It comes with QuickDrive technology which helps you wash your clothes in half of the time. With the SuperSpeed option, you can finish a washing cycle in 39 minutes. Besides, it helps you save up to 50% and energy consumption by up to 20%.
Among its other features, we must emphasize that it has EcoBubble and AddWash technology to offer you a more efficient experience.
Finally, thanks to its AI-powered laundry assistant you can take control of the cleaning process in just one click with your phone.
Highlights
Capacity 9 kg
QuickDrive technology
EcoBubble™ Technology
SuperSpeed
AddWash™
Laundry Recipe using a smartphone app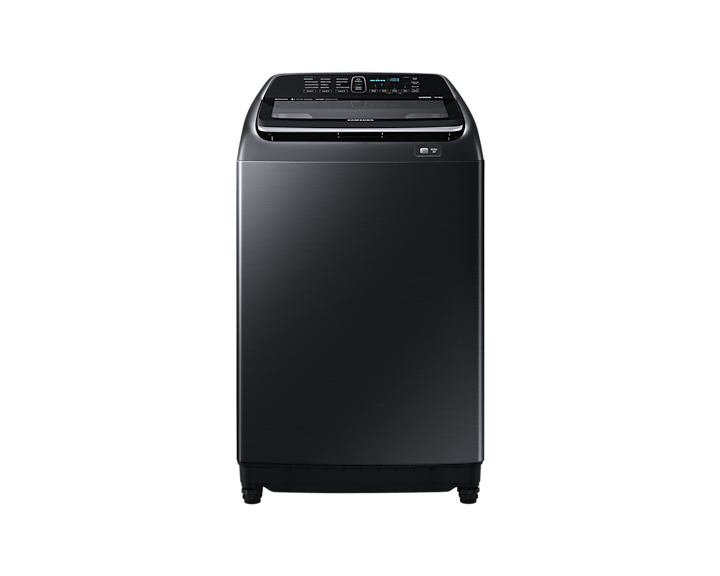 If you are seeking an appliance with a big capacity and reliability performance the Samsung WA16N6780CV/SP washer it's what you need. This appliance comes with active dual wash and has a capacity of 16 kg, ideal for large households.
Among its features, we must emphasize that it has an easy pre-treatment of clothes with Activ DualWash. So, forget about tangles and ruin your clothes, this unit offers a gentle cleaning cycle with a great performance.
Finally, its digital inverter technology offers you a quiet and powerful performance that helps you save energy.
Highlights
Capacity 16 kg
Activ Dualwash
Magic Filter
Wobble technology
Powerful filtration
Quieter and powerful performance
Price: $ 849.00
The LG Th2110dsaw Turbowash 3D Top Load Washing Machine brings to your home the perfect balance between power and efficiency. It has a capacity of 11 kg ideal for large families who are constantly washing clothes over the weeks.
This LG is the perfect deal if we evaluate price and performance. Its TurboWash3D technology generates powerful waves to enhance washing and rinsing. In addition, to save time and energy in every washing cycle. Finally, its ergonomic design offers you a compact structure without sacrificing its capacity. So, you can clean up a large laundry at once.
Highlights
Capacity 11 kg
TurboWash3D™
WaveForce™ + JetSpray
TurboDrum
Auto Tub Clean
Full Stainless Steel Tub & Auto Lint Filter
Auto Pre-wash
SmartThinQ™ technology with Wi-Fi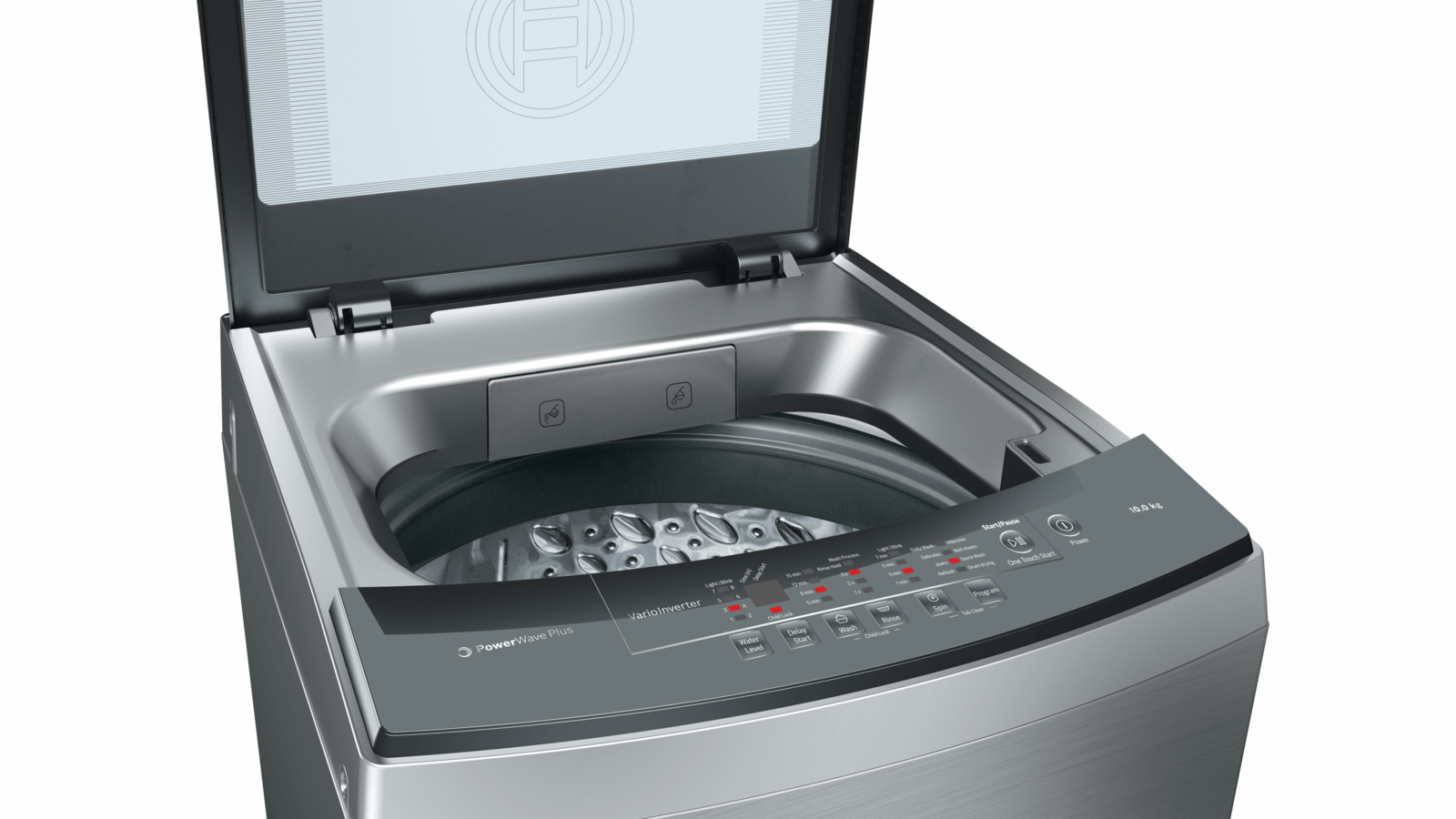 The Bosch WOA104X0SG Top Load washing machine has a capacity of 10 kg. This makes it really convenient for large families.
While its compact structure alongside a wide capacity offers a perfect wash cycle in the shortest time. It also offers a one-touch start feature that selects the best settings for your laundry load. In fact, you can also schedule the wash cycle you want within 24hrs.
Highlights
Capacity 10 kg
Soft Closing Lid
Schedule the wash cycle
Power Off Memory
Tub clean Technology
Via Shopee
Price: $ 429.00
If you are on a tight budget but want a reliable washing machine this model will be for you. Its price makes it an attractive option for many users in Singapore. And although it does not have many of the features of the other appliances on the list, it does its job.
First of all, we need to mention that it has a capacity of 7 kg, and its ergonomic design makes it easier to place in almost any apartment. In addition, it offers functions like a rapid wash, which saves time and energy, and different hygiene programs according to your needs.
Highlights
Capacity 7 kg
Rapid Wash
Ergonomic Design
Easy Ironing Function
Hygiene Programs
Price: $849.00
When price matters, there is no other competitor that can beat Fisher & Paykel QuickSmart WH7560J3. The machine is designed for budget-conscious consumers looking for an averagely priced washer.
Fisher & Paykel QuickSmart WH7560J3's wash capacity is sufficient. So, you can rely on it during family laundry routines. Despite being affordable, Fisher & Paykel QuickSmart WH7560J3 comes with plenty of fancy features. The machine comes with 9 different wash cycles, which allow users to do laundry in less than an hour. It also has a Vortex wash system, allowing you to finish laundry in style.
Fisher & Paykel QuickSmart WH7560J3 is less noisy. So, you can do your laundry without causing trouble. It has a SmartDrive feature to reduce vibrations caused when doing dirty business with your clothes. There is no doubt that Fisher & Paykel QuickSmart WH7560J3 is simple yet effective. With this price, you can get your clothes cleaned without having to break your bank.
Highlights
SmartDrive
7.5kg wash capacity
Vortex wash
9 wash programs
Price: $1079.00
The Electrolux EWF752EQWA Front Load Washing Machine has gained an excellent efficiency rating. It allows you to use less water, thus improving your cost-saving. It is one of the highly advanced washing machines engineered with fuzzy logic.
Electrolux EWF752EQWA Front Load Washing Machine guarantees 99.99% allergen-free when adjusted to 40 degrees. It is also dependable when eliminating dust mites and other insects. The machine is designed with vapour care technology, allowing users gentle washing without having to worry about wrinkles on clothes. The Woolmark apparel is another feature you can fancy about this washing machine. It allows optimal washing conditions for your wool clothes. With this machine, you can do laundry without any hassle.
Highlights
Child lock system
7.5kg wash capacity
15 wash program
Woolmark apparel care
Price: $1599
Panasonic 10KG Econavi NA-120VX6 is an outstanding and time-proven washing machine. It is undeniably one of the best indispensable washers that you need in your home. To be precise, we are talking about a comfortable yet easy-to-use machine. The unique design is renowned to provide the best results possible. You will also love the ActiveFoam system it has. With it, you can surely do laundry within 49 minutes.
Panasonic 10KG Econavi NA-120VX6 is an excellent stain remover. Its active speed wash technology allows highly-concentrated foam into the fabrics to eliminate unwanted stains. For clothes, the machine features a stainmaster+, which is combined with foam and water to remove stains. You don't need to be afraid of colour fading with this machine.
Panasonic 10KG Econavi NA-120VX6 is 99.99% allergen-free. There is also no need to worry about your utility bills since it is efficient and can save you both water and energy. Washing your clothes using this machine is a bunch of fun, thanks to its sophisticated LED control panel. You can imagine the ease of use. Panasonic 10KG Econavi NA-120VX6 is a high-end washing appliance beyond its value for money.
Highlights
16 wash programs
10kg wash capacity
Blue Ag+
ActiveFoam system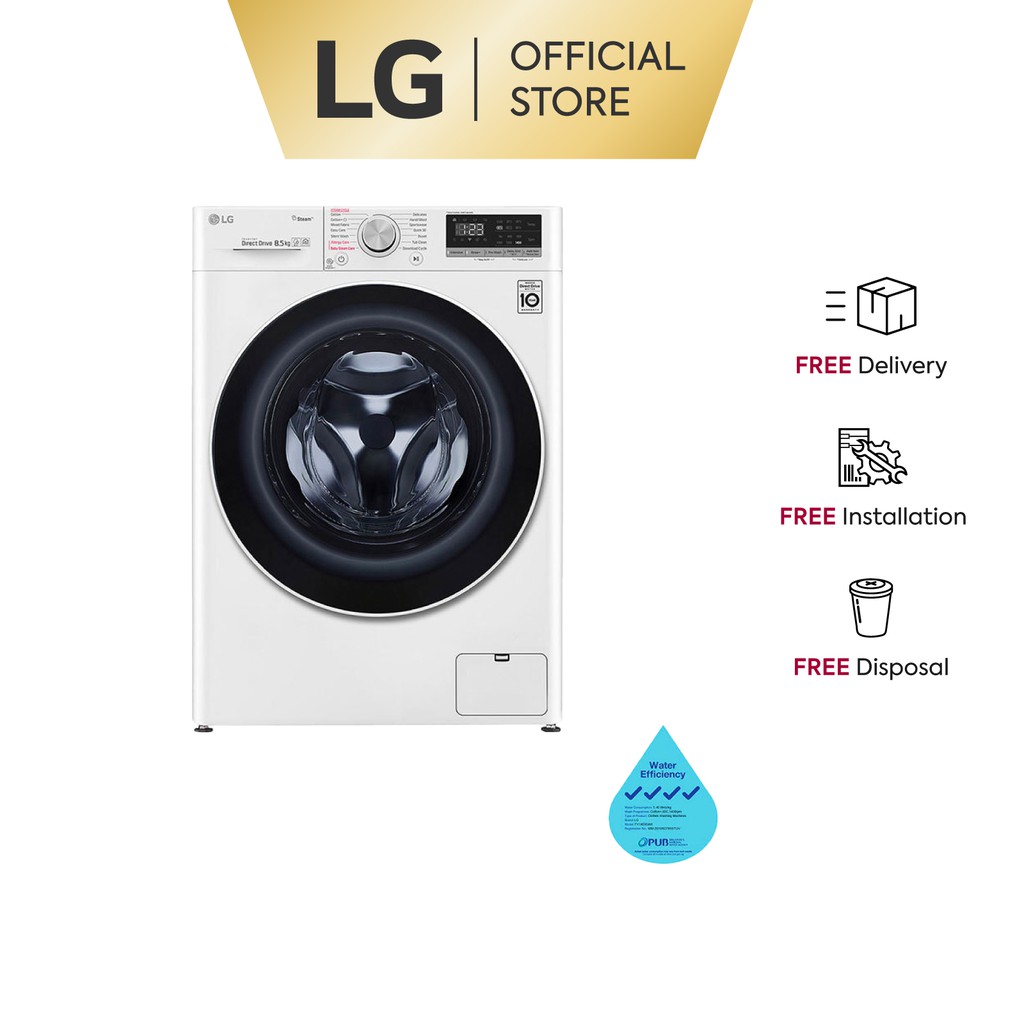 Price: $779.00
LG is one of the leading and trusted companies when it comes to consumer electronics. The LG Front Load Washing Machine FV1285S4W is a complete achievement of their humble offerings. The machine is a fancy, reliable and reputable washer that you can count on for many years to come. From the exterior to its functionality, the LG Front Load Washing Machine FV1285S4W stands out. The first thing you will notice is its sleek appearance. It has an extremely versatile beauty. When you get this machine, you will realize how attractive it is designed.
When it comes to choosing the right washing machine, you want something less noisy. The LG Front Load Washing Machine FV1285S4W delivers earnestly; it is the best choice for doing laundry without the worries of alerting anyone. This machine is also a piece of energy-saving equipment. It allows users to save power, water, and time. It is engineered with detective sensors that calculate the RPM and braking time needed for every cycle.
It also comes with spa steam which is adjusted to 60 degrees to remove dust mites. Besides, it has an NFC download tag that allows users to download programs using smartphones. The feature can as well diagnose possible problems that may occur to the machine. The LG Front Load Washing Machine FV1285S4W is a combination of compelling features for excellent washing results.
Highlights
8kg washing capacity
NFC download tag
14 wash programs
Spa steam
Price: $2849.00
If you are looking for a reliable washing dryer, look no further than this fine contender. The LG F2721HTWV 21/12KG Washer Dryer is a combination of compelling features to help you save water and energy, not forgetting the time too. This model comes with an ergonomic design. The exterior is finely tuned to meet every buyer's needs and desires. Its quality finishing undoubtedly gives this machine a decent look and a heavy-duty feel.
LG F2721HTWV 21/12KG Washer Dryer is especially popular for families with kids. It is also worth mentioning that the machine is Wi-Fi enabled. So you can troubleshoot it via smartphone without any fuss.
Interestingly, LG F2721HTWV 21/12KG Washer Dryer is eco-friendly. Expect your clothes to come out 99.9% free of allergens. It also allows users to easily choose either the normal dry mode, no water for drying, or eco dry mode; thanks to the eco hybrid system. A better way to reduce energy costs! The machine is also generous in size without sacrificing washing efficiency and speed. It comes with 15 programs so you can be sure of ease of use. Here is a chance to finish your load of laundry in fewer minutes; thanks to this turbo wash system!
Highlights
21/12kg dry capacity
Eco-friendly
One in two machine-washer and dryer
Ergonomic design
Turbowash system technology
When choosing a washing machine there are no right or wrong decisions. Everything depends on your daily needs and budget.
First of all, it is important to know what capacity you will require. This will depend on the number of people who will use the washing machine. For example, if you choose a unit of 6 kg for a family of 5, you'd be forcing the appliance and reducing its long-term durability.
Finally, always look for units that offer you water-efficient systems. This feature will help you save time and energy. Which means you will waste less in utilities at home.
Related topic: Top 7 Best Smart TVs in Singapore in 2022
Emily Hopkins
I'm an accomplished and detail-driven content writer with copious experience in producing compelling, engaging and flawless content for a variety of blogs and websites for several years.
Related posts
Subscribe for newsletter
* You will receive the latest news and updates on Singapore's best trends!
Trending Posts
May 30, 2023

What is Matcha? Matcha...

May 31, 2023

TLDR: In this article,...

May 31, 2023

TLDR: As an audio...