21 Vietnamese Restaurants For Authentic Pho in Singapore [2022]
Emily Hopkins, 2 years ago
15 min

read
4471
When people hear the words "Vietnamese cuisine," they either think about Pho, a soup with broth, rice noodles, and meat, or Banh Mi, a Vietnamese bread. But, there is more to these two local dishes that need to be explored. There are tons of Vietnamese restaurants in Singapore, so if you are craving for it, check out this list of the best Vietnamese restaurants in your area:
As the first traditional Vietnamese barbecue in Singapore, the perfect spot to have your barbecue installed is Lang Nuong; which translates to "grill village." You can discover charcoal-barbecued gourmet meat from the first-hand street encounter.
Taste their exquisite Vietnamese marinated gourmet meat and seafood specialties with unique dipping sauces from a broad range of options.
The ambiance parallels that in Vietnam, in addition to its servings. All of these were shipped straight from Vietnam, from furniture to cutlery and the iconic Vietnamese charcoal burner, to bring home the Saigon vibes.
Address: 18 Foch Road Singapore 209260
Contact Number: +65 9235 3548
Situated in the centre of Food Street Chinatown, get a taste of the famed sizzling pancake or also known as the Banh Xeo. This snack is a small crispy pancake produced from rice flour and turmeric powder coupled with meat or vegetarian fillings.
You can measure a strong Banh Xeo by the pancake's crispness, saltiness, flavor, and sobriety of the dipping sauces. More notably, the herbs are available. They perform well enough at Co Ba Quan.
Address: 21 Smith Street, Singapore 058936
Contact Number: 8126 9418
An La Ghien restaurant solely dedicates itself to offering Vietnamese cuisines. Once you step into the restaurant, you will get that Vietnam feel thanks to their furniture and ambiance that are carefully selected to match Vietnam itself. The restaurant is known for its famous traditional Vietnamese barbeque and hot pot that sets it apart from other Vietnamese restaurants. You can confirm this once you taste their cuisine selections
The different cuts of meat that are charcoal-grilled also have an amazing taste that will leave you craving for more. The hotpot platter and barbeque serve a group of two or three and they come with different mixes of proteins and greens for you and your family. You can also get an accompaniment to enjoy and feel like you are in Vietnam. Other amazing dishes for you to try out include pork intestine porridge, duck noodles with bamboo shoots, and minced pork lolot noodles. This is an amazing restaurant to enjoy Vietnamese cuisines in Singapore. Besides, it is suitable for the whole family and gives you the actual feel of Vietnam. Hop into An La Ghien today and get a chance to delight in their savoury selection of charcoal-grilled meat cuts and traditional Vietnamese barbeque.
Address: 45 Geylang Lorong 27, Singapore 388177
Contact number: +65 9430 0863
Little Vietnam provides a comfortable environment with two dining areas — the indoor portion and the alfresco area, mainly delighted for its coffee. The Al Fresco area is built with red lanterns and photos of the Vietnamese business community to appreciate street foods. Mostly raved about getting a cozy place here at night.
Besides, their Rau Cau Dua or Coconut Jelly is the ideal dessert for any season. The cool and soothing taste of its coconut water would blow away the heat, washing away the warmth from the aroma of the street food.
Address: 511 Guillemard Road #01-25, Grandlink Square, Singapore 399849
Contact Number: 6547 8587
The Lucky Saigon set menu is perfect for beginners and will give you the all-in-one Vietnamese cuisine package deal experience. The top-rated Tra Da or Vietnamese Iced Tea includes this array as one of the best Vietnamese restaurants in Singapore.
You'll get a BBQ chicken and egg meatloaf with rice served with a side mango salad appetizer, and the Tra Da, at a price range from $8.80 to $11.90. Satisfy your tummy with this set, then refill it with iced tea.
Address: 17 N Canal Rd, 2nd Floor, Singapore 048829
Contact Number: 6532 3363
Que is one of the finest Vietnamese restaurants in Singapore. It started as a coffee shop but upgraded to serve the best Vietnamese cuisines. The restaurant has moved to 111 Somerset to offer convenience to its customers. Food to try out on their menu include the signature Pho that sells at $10.9, which can go well with beef, wagyu slices, and grilled pork. You can also try out the bun cha que at $8.9. Other picks on the menu include the Banh mi that starts from $8.9.
Que also offers you various drinks such as drip coffee that sells from $4.8 and craft beer. You also enjoy their fresh and tasty foods made from authentic Vietnamese ingredients. Besides, the chefs at Que customize their menus by offering irresistible meals with a perfect mix of ingredients. At Que, your taste bud for the perfect Vietnamese Food will be fully satisfied.
Address: 111 Somerset Road #01-10 Singapore 238164
Contact: quevietnamese@gmail.com
Vietnamese restaurants are all over the city. Yet Vietnamese, Halal-certified restaurants? That is rare. Halal applies to the meat approved and recommended under Islamic Law. For this kind of unusual credential, the Orange Lantern at Vivo City is the only one on our radar so far.
If you want nutritious Vietnamese restaurants in Singapore, this is a perfect spot to meet with your Muslim friends and relatives. Seek and drink their best-selling Avocado Shake or known as Sinh To Bo, as it is served with only Halal-certified ingredients authentically and deliciously.
Address: 73 Killney Rd Singapore
Contact Number: 6732 8032
Running to top the Vietnamese restaurants in Singapore, Sandwich Saigon provides the Meatball Sandwich consisting of a meatball filled Banh Mi. When you're on the road trying different Banh Mi meals, this is it for you.
Their menu offers vegetarian-friendly dishes, so be less worried about changing your diet.
Address: 93 East Coast Road Singapore 428792
Contact Numbers: 6345-3849
Super Ngon Vietnamese Noodle Cafe is the only one in town to sell Pho Ga Tron or dry chicken pho noodles in Singapore. Specializing in Pho in the Hanoi theme, their Pho Ga Tron is hot, tender, and wrapped in fried garlic, onions, peanuts, and sprouts of beans. The crux of this recipe is the Chef's special blend of sauce.
Address: 466 Crawford Ln, #01-08, Singapore 190466
Contact Number: 9152 6622
The Co-Hai Banh Mi offers you a must-try variety of Vietnamese cuisines. At the restaurant, you will find diners conversing in a foreign language and enjoying their delicacies. They provide their top pick on the menu, including the Co Hai Baguette, which sells at $10 and is actually a tasty meal to devour. The dish has crispy skin and is soft inside. It has a generous filling inside that will leave you craving for more.
The Co Hai Banh Mi also has well-balanced ingredients in their meals. You get half radish meat with herbs and half meat. The result is a sweet, sour, and salty meal that has the tasty freshness of herbs. That's not all; the restaurant also stocks hams that are hard to find. You don't need to worry that the ingredients are not authentic. The restaurant imports ingredients to offer you authentic Vietnam foods.
Address: 359 Beach Rd Singapore 199575, Beach Rd, Singapore 199575
Contact:6562916435
Pho Street is another Vietnamese restaurant worth checking out. It stocks the pho noodle from Vietnam. You can take it down with their signature broth, which simmers for eight hours with beef balls before being served. Other top picks at the restaurant are the pho beef shank and PHO3 beef combination.
The restaurant also stocks tasty local delights. One of the must-try dishes is the spring roll and grilled pork belly. Are you worried about small servings? You don't need to worry since Pho street offers generous servings. Ingredients are well balanced to provide tasty meals, neither full of herbs nor with lots of meat. You can also try out the noodles, which are seasoned using Vietnamese sauce. Pho Street also has desserts, including the DT06 Vietnamese stick rice served with black-eyed peas dessert and sweet corn dessert served in coconut cream. You won't let go before trying out the Tra Da drink, which goes well with most Vietnamese meals. As if that is not enough, the glass is offered free of charge as part of most Vietnamese meals.
Address: 24A Senoko South Road Singapore 758099
Contact:+65 6887 8300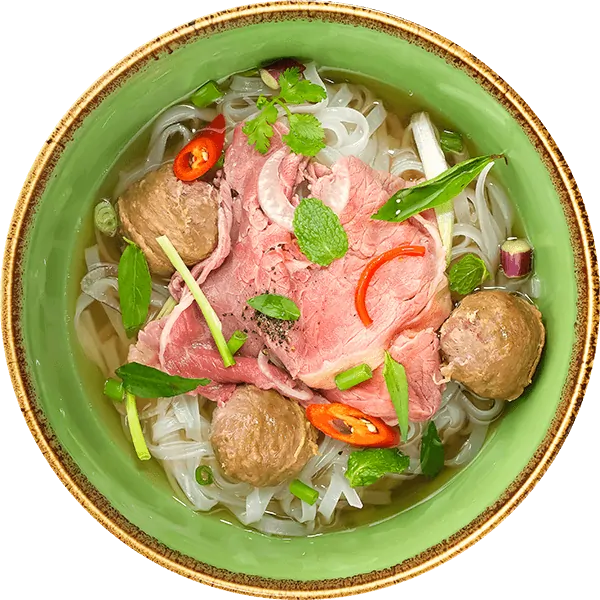 NamNam is a Vietnamese restaurant that offers the best Vietnamese cuisines in Singapore. It has the best pho, including beef balls and beef slices, which sell at $8.90. You can also keep your meat in hoisin sauce or chili sauce according to your preference.
Vegetarians also have their day at the restaurant. You can enjoy a vegan 'pho,' which sells at $7.90. Their menu has the perfect Banh Mi packed and cut, with well-balanced ingredients of herbs and meat to top it all up. Another plus for NamNam is how their meals have well-balanced ingredients. It has a harmony of flavours. The original taste of meat is enhanced and not compromised. Suppose you are still undecided on what to pick at the restaurant, the NamNam signature cold cuts, which sell at $9.90. You can then wash down the scrumptious meal with the Tra Da that sells at $4.50 which is a perfect choice for many customers.
Address: Raffles City/ Wheelock Place/ Suntec City/ Plaza Singapura
Contact:65 6837 2252
Bami Express offers you the best Banh Mi in town. This Vietnamese restaurant sells the best Banh Mi in Singapore. It only sells Banh, and their ingredients ratio is well balanced. It has the perfect mix of saltiness that comes from Vietnamese Soy and chicken floss. You, therefore, taste a sweet and sour taste that has a blend of fresh herbs.
At Bami Express, you get the authentic taste of Vietnamese Banh Mi. Besides, you'll be able to delight in the perfect ham and meat, trust me your first bite will not be the last. You will always come for more fresh and tasty flesh.
Address: #02-02 Tanjong Pagar Plaza, Blk 1, Singapore 082001
Contact: 65 6443 3079
Mrs. Pho restaurant literally takes you to Vietnam with its ambiance. It's tastefully decorated, and with each taste of their meals, you feel the Vietnamese vibe. At Mrs. Pho, you taste a bowl of original Vietnamese pho bowl. The soup is well balanced, while the beef is tasty and has the right mix of spices. The restaurant's signature meal on the menu is the Beef Brisket Noodle Soup, which sells at $8.90.
At Mrs. Pho, most of the meat has well-balanced recipes. The meatballs taste authentic and fresh to devour. For those trying out the Vietnamese cuisines, the "pho" style offered at Mrs. Pho can be a perfect place for your trial.
Address: 346 Beach Road (Opposite concourse)
Contact:65 9173 1083
Long Phung is an established Vietnamese brand restaurant in Singapore. With over ten year's years' experience in the market, it offers you expertise in Vietnamese cuisines. The restaurant is simple and serves you original Vietnamese Food. Their menu picks include the "pho Nam" which sells at $7. It consists of beef noodles and beef brisket. There is also the Com Suon with Op La, which sells at $7.50, consisting of broken rice and BBQ marinated pork.
Those who would wish to experiment with the local Vietnamese foods can try the Ca Thu Sot Hanh, which sells at $8.50. It consists of well-seasoned marcel fish dipped in onion sauce, and you can enjoy it with rice. Other picks on the menu for your trial and pleasure include the Oc Len Xao Dua at $7.50 and is served with fry Zuzu and coconut sauce. You can top the meal with your favourite sauce and what you get will certainly be a mouth-watering experience.
Address: 159 Joo Chiat Rd, Singapore 427436
Contact:65 6440 6959
Little Saigon is a Vietnamese restaurant that offers you the perfect dining area to enjoy authentic Vietnamese meals. Top on their menu is the Dui Cheng Bo, which are deep-fried frog legs selling at $17. If you are not ready to try out new meals, you can attempt the primary pho boat which goes for $11, and a variety of meats also at $11.
Little Saigon also boosts a resident band that will keep you entertained as you enjoy the Vietnamese cuisines. With a team of expert chefs, the meals are of no doubt tasty, and the ingredients fresh, delicious, and well balanced. At Little Saigon, both new diners trying out Vietnam meals or those accustomed to the meals meet their culinary expectations. It's a must-try restaurant if you need to really want to enjoy Vietnamese meals and good music.
Address: Blk E, Clarke Quay #01-02River Valley Road Singapore 179024
Contact: +65-63377862
The Pho 99 Vietnamese Delight has set itself apart with its signature darker soup. Its "pho Tai" sells at $8.50 and is well balanced and aromatic. The soup comes with a few slices of chili padi which makes your soup tastier. Another meal you can try out is the mixed platter, which consists of rice spring rolls with crispy spring rolls that sells at $7.
Pho 99 Vietnamese Delight has an uncomplicated menu. Other picks on the list of options include the bowls of pho, which sells at $9.50, the Com Suon at $9, which consists of rice with chicken, beef, pork, and the noodles with spring rolls at $9. The restaurant offers affordable and tasty Vietnamese foods, thus, becoming a one-stop eatery for many busy workers.
Address: 159 Joo Chiat Rd, Singapore 427436
Contact: +65 6440 6959
The Fat Saigon Boy is a perfect restaurant you can check out for a unique Vietnamese menu. It offers a touch of contemporary Aussie touch on most of the meals on its set menu. The signature dishes on their menu include the Duck Pho, which sells at $13, the spicy crab slider at $6.50, set dinner at $16.50. The restaurant also has one starter, a meal, and a drink.
At Fat Saigon Boy, you get to taste the funky, delicious brands of Vietnamese dishes. Besides, you'll receive large servings, and the ingredients are well balanced to ensure tasty meals. With good reviews on burpple and many keeping the restaurant on their wish list, no doubt this is a must-visit Vietnamese restaurant.
Address: 2 Science Park Dr, Singapore 118222
Contact:65 6221 6784
Uncle Hosho serves you a variety of Vietnamese grub including banh mi, spring rolls, crusty banh mi. The restaurant's signature meal on the menu is the bun cha, a top-liked meal. Their customers can't have enough of these savoury meals.
Something to try out on their menu includes the Bun cha at $12.90 that is an alternative to piping hot pho bowls. The meal is made from a dry-style noodle dish and has rice vermicelli and vegetables on the side. You can dip the meal in the tangy-sweet broth, which floats perfectly in meat slices and pickled vegetables. Like other meals on Uncle Hosho's Tuck-shop, it has various delicacies that you can enjoy all the time.
Address: 100 Pasir Panjang Rd #01-04, Old Behn Meyer Building Singapore 118518
Contact: 6596 24 5761
La Saigon does not only offer you everyday meals in Vietnamese Cuisines but it also provides high-quality Vietnamese coffee. You will enjoy the authentic taste of its Vietnamese coffee which comes from local farmers. Its brew is therefore fresh and tasty. You can try out the cuppa, which can go down well with the crusty Bahn mi at $7 or the pho at $14.90.
What's more, La Saigon sells you the best coffee from the best Robusta beans hand-picked and sun-dried. The restaurant has among the finest drip coffee that sells from $4.50 for its black coffee and $5.50 for white coffee. On visiting the restaurant, you rest easy knowing that your coffee will be an authentic taste of Vietnam's coffee culture.
Address: Alexandra Central #02-26 321 Alexandria Road Singapore 159971
Contact:65 6250 7120
Thien Long Vietnamese Food offers you affordable Vietnamese cuisines in Singapore. The restaurant is centrally located in Orchard Towers, offering authentic and inexpensive Vietnamese foods. You can try out their signature stir-fried beef and noodle salad that sells at $6. They also have a large serving of pho, with assorted bites, which is tasty and a must-try when out in town.
Thien Long Vietnamese Food will wow you with their expertise in preparing meals. At the restaurant, you get your beef and a variety of drinks at unbeatable prices.
Address: 400 Orchard Rd #04-08 Orchard Towers Singapore 238875
Contact: +65 8619 9997
Whether you miss the traditional Vietnamese food or you are just out here for a taste, do not miss the authentic and delicious dishes from Vietnamese restaurants in Singapore for an unforgettable experience.
Related topic: 13 Best Halal Restaurants to Check Out in Singapore
Emily Hopkins
I'm an accomplished and detail-driven content writer with copious experience in producing compelling, engaging and flawless content for a variety of blogs and websites for several years.
Related posts
Subscribe for newsletter
* You will receive the latest news and updates on Singapore's best trends!
Trending Posts
May 30, 2023

What is Matcha? Matcha...

May 31, 2023

TLDR: In this article,...

May 31, 2023

TLDR: As an audio...