17 Best Vegetarian Restaurants in Singapore [2022]
Zoya, 3 years ago
17 min

read
5206
A vegan or vegetarian way of living may be sometimes inconvenient. But no one regrets their decision to go completely meat-free. People are becoming more aware of their health and the environment. With a wide range of vegetarian choices in Singapore, it is now the time to go on a meat-free diet. It's not all that hard to find a restaurant that serves delicious healthy foods. From veggie burgers to ice creams, we have listed restaurants that serve an entirely plant-based diet that you'll come back for more.
Vegetarian and vegan food may look like a simple and boring plate of greens. But, read on for our take on the Best Vegetarian Restaurants in Singapore – this could be your first step into veganism!
Are you looking for a dish that contains vegetables, fruits, whole grains, beans, nuts and seeds, and olive oil? Original Sin is your best choice. They are famous for serving Mediterranean Cuisine. As interesting as it sounds, their ingredients are actually sourced from countries bordering the Mediterranean Sea. But what does Original Sin actually means? It represents passion, creativity, and skill in creating delectable food. But that's not all. Not only they are passionate about curating creative vegetarian meals, but they are also praised for their superb customer service! You can expect the delicious mains to be served promptly when you dine in.
Original Sin is the best place to be with your partner for a romantic evening. We recommend booking a seat near the alfresco dining area. The space is absolutely intimate and spacious for two. There's no better place to spend a calm and relaxing evening on a dinner complemented with sparkling wine at Original Sin.
Veganism is a lifestyle that not a lot of people are familiar with. Soul Alife is known for serving 100% plant-based food. Run by a passionate group of vegans; they strive to promote a healthier mind, body, and soul through a plant-based diet. You can find this quaint and picturesque café right at Changi City Point.
Soul Alife offers healthy and nourishing meals at wallet-friendly prices. Their food is MSG-free, palm-oil free, trans-fat-free, cholesterol-free, and furthermore, they are low in saturated fats and salt content!
Check out their buddy set promotion (up to 25% off) available for dinners on weekdays at only $35.90 nett. Consists of 2 mains, 2 drinks, and 3 side dishes – what a steal! Weekday dinner promotion runs from 21 September to 31 October 2020.
Head over to Soul Alife now to enjoy a well-balanced meal that you can indulge without guilt.
The store isn't big. However, a lot of guests can take a while to shop here. Essentially, it's easy to be fascinated by every item you'll find here. I'm sure that this store has the highest density of products labelled "organic" you can find in Singapore. Little Farms is a part café and grocery store. And they are most popular for their fresh produce and all-natural grocery options. Don't forget to stroll down the grocery aisle. You'll find a bunch of vegan and vegetarian snacks.
Among its wide range of organic products, Little Farms carries out a café that serves vegan and vegetarian dishes. They often use ingredients that are available in their grocery store. So, you're 100% sure that they use fresh produce. Suppose you're dining here, best to try their signature avocado dish. They also have wide salad options from tomato salad to vegan burrito. Just name it. They'll serve it for you.
Whole Earth is the first restaurant in Singapore to be awarded by Michelin Bib Gourmand for four consecutive years. Coming here is a delight. Everything feels like nature. You'll see walls coloured emerald green. There are a lot of tables and chairs that can accommodate more people. While a lot of people dine here, you won't worry about too many guests inside. They have a good ventilation system to keep fresh air circulating inside.
You won't regret booking a reservation at Whole Earth. The restaurant serves flavoursome local vegetarian dishes. I'm not a big fan of vegetarian foods, but some plates here are surprisingly good. It makes me think of switching my diet. When you taste the dishes, you may think it has fish or chicken meat on it. But in reality, it's basically full of mushrooms, beans, and other green foods. Dining here is an experience that can last forever. Guests will surely come back for their mutton rendang and meatballs. So, see you!
Real Food has three vegetarian cafes. You can find them at Orchard Central, South Beach and Square 2. You can easily spot them with their Zen-like interiors. We featured Real Food in this article because the vegetarian café serves with no processed ingredients. They are also true to No Artificial Preservatives and No Trans Fat dishes. If you've been to their branch in South Beach, it is quite a nice place. But some fans say Orchard Road outlet looks even better!
When you drop by their Orchard Road outlet, make sure to check their retail space at the front of the Real Food restaurant. This is where you can buy healthy foodstuffs. Of course, there's a bunch of selections, from snacks, milk, to fresh vegetables! We recommend ordering Nourish Your Heart smoothie from the café. Although relatively expensive ($8.80), it contains a lot of good stuff (avocado, coconut oil, flaxseed, etc.).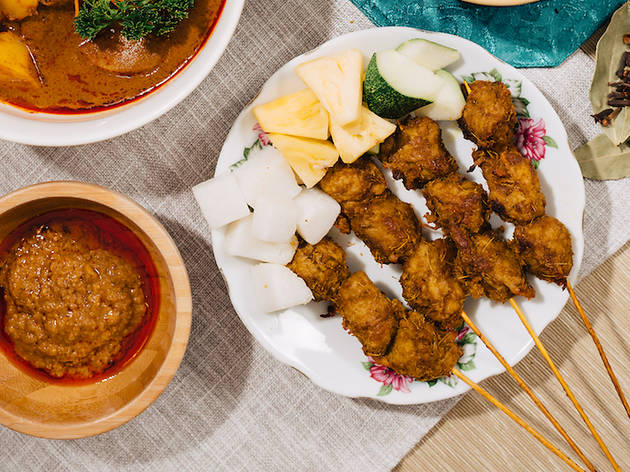 Are you looking for vegan or vegetarian food that doesn't hurt your wallet a lot? Try dining at Loving Hut. If you've meant to visit Loving Hut, you should not wait for too long. Despite the Covid-19, this restaurant is quite packed by a lot of guests. This speaks a lot about their popularity with plant-based eaters. Even if you're not a vegan or a vegetarian, you'll enjoy their dishes' phenomenal selection.
As for the foods, their menu changes as per the locale taste. Aside from the regular vegan menu, Loving hut offers Weekday specials. It's worth it to try this offer. One elder couple orders a weekday dish, and all I can say was it is very large and appetizing. There's also an option wherein you can ask for a special dish from the counter. Just tell them whatever you need or prefer, and they'll serve it for you.
The Boneless Kitchen is a Korean restaurant that only sells vegetarian food. If you think of Korean fare, barbecued meats, and fried chicken comes to mind. Surprisingly, this meatless Korean restaurant will change your mind. Guest dining here says it's extremely rare for a restaurant to serve vegan Korean food. And don't get surprised by how they can cook well without meat! The food and the simple setup alone are worth the trip all the way to the east.
If it is your first time to try Korean style vegetarian food, try out their kimchi pancake. You'll thank them for allowing you to have the opportunity to taste Korean cuisine but plant-based. You'll even find this amusing since Korean food tends to be full of meat. So, their effort to make their cuisine full of veggies are already quite commendable. Serving can range from S$10 – S$20 per pax.
Lotus Kitchen is a 5-star vegetarian restaurant! Try dining hereafter the weekdays. You'll be with a lot of guests. Some even use the restaurant for their wedding reception because of how delicious the food is! You can try varieties of plant-based eats from Asia to Western. The price is quite reasonable, and the staff is amiable. So, ask away! Even their lady boss serves during a busy time.
So, let's get down with the food here. There's no going to be meat on their menu. But food can be surprising as it resembles meat dishes. Moreover, there's always an element of surprise in the dishes. They serve very familiar dishes but are made plant-based. Best if you try their Signature Double-boiled Herbal Tian Ma Soup as starters, it's the best!
Are you tired of your current unhealthy lifestyle? Dine at Frunatic! They started as a wellness café with a lifestyle element but stopped operation after some time. Probably because they are too ahead of their time, today, this place serves 100% natural living food. One of the good things about dining here is that a nutritionist serves at the counter. The dining area is also pretty big. Perfect if you're dining with friends or family, and want them to eat healthy and delicious food.
If you're looking for a place to enjoy some great food that is not only delicious but also super healthy, then your search ends here. Over at The Living Cafe, you get the most scrumptious dishes that are prepared using the most authentic and carefully selected organic ingredients. Using the latest technology combined with the knowledge of the ancient world, the dishes here are designed to be very nutritious.
They use no red meat, cow dairy, white sugar, preservatives or additives, and even no artificial colouring. If you're looking for something gluten-free, then they've got that too. They believe in popularising raw food, and if it tastes and looks this good then we're all for it. If you're someone who enjoys their desserts too, then don't worry, they even serve an array of cakes and other desserts. Plant-based of course! And even their prices are very reasonable. They even offer delivery and catering services.
This one is for the vegans who like to explore and try out different cuisines. So whether you're looking for some familiar comfort food to soothe you after a long day, or are just feeling rather adventurous, Loving Hut Singapore has got your back. From dishes that are fusions of the Asian and European cuisines, to even delicious bowls of great pasta, you are in for a great treat. Did we mention their desserts?
If you're confused about where to begin, then you can check out their week-day specials like the wonderful sesame chicken clay-pot, and the herbal soup set. If you already have an idea about what will satisfy your craving, then you can either visit their physical store or even place an order for takeaway. Their physical store is a treat for the eyes as well with their modern interior as well. It's rare to get vegan food with this much variety and at such great costs as well. You can even hire them for catering.
When you think of Japanese cuisine, the most likely things to pop up in your mind would be sushi, sashimi or even ramen. But did you know, that the Land of the Rising Sun has a cuisine that is well-suited for vegetarians and even vegans? With a fine-dining Japanese cuisine, that not only satisfies your taste-buds but also gives you a great time. Their presentation is certainly Instagram-worthy too.
If you aren't really a fan of Japanese cuisine, then there's no need to cancel this restaurant from your list. They also offer plenty of delectable dishes from Western cuisines. Keeping up with the 'Zen' theme, this place gives you a sense of warmth and relaxation. Certainly a good choice for a meet-up with your friends. If this is your first time here, then the owner, Mr Ho recommends trying out their unagi. An experience you'll cherish for a long while.
If you're someone who is on the transition journey of becoming vegan/vegetarian, then you might be missing meat. Enter Elemen, a restaurant which has the dining concept of offering a natural cuisine without any meat. Their dishes are extremely wholesome, prepared using only natural ingredients, and is so delicious that you'll forget why you were craving meat in the first place.
Their motto of "Love Self, Love Earth" is strong since they serve food that ensures the well-being of their customers, while also taking care of the sustainability of the environment. If you're wondering about the kind of food that they serve, then it's more traditional with a modern twist. From Truffle Carbonara to the Claypot Truffle Fried Rice, all of them are mouth-watering and leave you wanting for more. Don't forget to try out their Tiramisu and their beverages. Vegans, they have plenty of options for you too.
Pollen Restaurant is a one-stop feel-good shop, and we're sure that you'll fall in love with it even if you're not a vegetarian or vegan. It is not an exclusive vegetarian restaurant, but it does have a special menu just for them. Let's not forget about the wonderful scenery too. True to the name, Pollen is surrounded by thousands of gorgeous flowers and is inside a glass dome. The wonderful smell will definitely entice you, while your food gets prepared.
The cuisine is some of the best European cuisines that you'll find in Singapore and has hints of Mediterranean influence. In fact, they have their own garden where they grow their own herbs and vegetables which they use in their dishes. The plating is exquisite and you'll be savouring each and every morsel. You also get complimentary access to the Flower Dome. A great place if you're looking forward to a good lunch or dinner. The prices are kinda pricey though, so keep this one for special occasions or when you have visitors over.
On the hunt for some great Chinese food, then you need to head to Lingzhi immediately. They have a high-end concept and is currently the only restaurant that offers high-quality vegetarian Chinese buffet food in Singapore. They offer both buffet and ala-carte options, and both are extremely delicious and you'll find yourself asking for seconds soon. The ala-carte options seemed more delicious though. The ingredients are natural, fresh and prepared meticulously by chefs to transform them into explosions of flavours.
Even their servers go the extra step and make you feel right at home, from explaining the menu to you to even sharing recommendations. You need to try their House tofu with edamame beans, and the Sauteed monkey head mushrooms with dried chilli. For dessert, you can go with the almond jelly with avocado cream. They offer buffet services only at the Velocity outlet from 15:00 to 17:00 on weekends, so you'll need to book your seats.
If we tell you that burgers can be some of the healthiest food choices, and perfect for vegans too, would you believe us? Sounds too good to be true right? Well the folks over at VeganBurg are here to blew your mind off. VeganBurg is the world's first 100% plant-based burger joint where you get some of the most delicious burgers out there.
Each bite of the burger will result in an explosion of flavour that is wholesome and great for both your taste-buds and your body! They make over 95% of their fresh and from scratch so you know that what you're putting in your body isn't processed. It is also free from cholesterol which is a huge bonus, especially if your levels have been on the higher side recently. The ingredients are also GMO-free and sourced sustainably.
With many famous icons like Paul McCarthy, and Chrissie Hynde fans of this burger, there's no reason why you shouldn't be trying this burger out. After all, you'll be saving the planet and your body, while enjoying a great burger. Sounds like an awesome deal to us!
Nature Vegetarian Delights, established in 2003, focuses on making a difference in people's perception of vegetarian food. Is it just vegetables with rice? No. they make sure that you experience a large variety of vegetarian delicacies. Local delights, Western, Japanese, European, you name it they serve them all. Step in for a whole new experience of dining as you reward your palate with a wide range of delicious vegetarian dishes, waiting to be served for you. Their abacus seed dish is the best that you will ever taste, leaving you craving for more. The coconut oil rice is very fragrant and the "pork" in the trotter dish, made from mushrooms, is a really unique and interesting take among the vegetarian dishes.
Their appetizing sweet-and-sour king abalone mushrooms are a treat for your tastebuds and the delicious sambal four heavenly king is a must-try for everyone. The handmade tau sar biscuits with mung bean fillings are one of their top-selling snacks which really lives up to its name. If you are seeking a healthy diet and do not want to compromise your love for flavours, Nature Vegetarian Delights is definitely made for you.
It's true that long are the days gone where you can only eat roasted nuts and overboil vegetables to eat healthily. Today, a lot of vegetarian and vegan restaurants are sprouting in Singapore. In fact, millennials are becoming conscious health eaters. So, we've written this list to help you find the best vegetarian restaurants you will come back to again and again! If we missed something, but you think it fits this list, comment below!
Zoya
Queen of Obscure References and occasional writer. When not exercising my thumbs on Instagram, you can find me looking for good author bios on Google.
Related posts
Subscribe for newsletter
* You will receive the latest news and updates on Singapore's best trends!