15 Best Vegan Restaurants in Singapore [2022]
Emily Hopkins, 3 years ago
11 min

read
7944
A vegan diet consists only of plant-based foods. As a result, there's an assumption that although vegan meals are healthy, they are often bland and not enjoyable. However, with so many amazing vegan dining options in Singapore, vegan food can be both healthy and delicious. Using this guide on the best vegan restaurants in Singapore, you'll be on your way to enjoying a delicious vegan meal in no time!
Love Burgers? VeganBurg offers a 100% plant-based menu to ensure that vegans everywhere can enjoy a hearty burger. Committed to crafting the best burgers, VeganBurg is also a good choice for those who'd like to sample vegan food for the first time.
With a goal to inspire the world to adopt a plant-based diet, VeganBurg is constantly innovating to create the best vegan burger. The team promises to use only the most wholesome and natural ingredients, providing an environmentally sustainable yet delicious diet option. Furthermore, VeganBurg incorporates local flavours like chilli crab and satay into their vegan burgers, making for a familiar and palatable experience. If burgers are your jam, we urge you to give VeganBurg a try.
For more information, visit their website, Facebook or Instagram.
Providing delicious Korean dishes that are also vegan, The Boneless Kitchen comes in 2nd place on our list. If you're tired of the standard vegan options, The Boneless Kitchen will introduce you to a new world of vegan food.
The Boneless Kitchen sources and directly imports ingredients from Korea for top quality produce. This also guarantees that patrons will have an authentic Korean eating experience. Offering many classic Korean dishes like army stew, kimchi hotpot and vegetable pancakes, you'll be spoiled for choice at the Boneless Kitchen. Hop on the Korean wave and give The Boneless Kitchen a try!
For more information, visit their website or Instagram.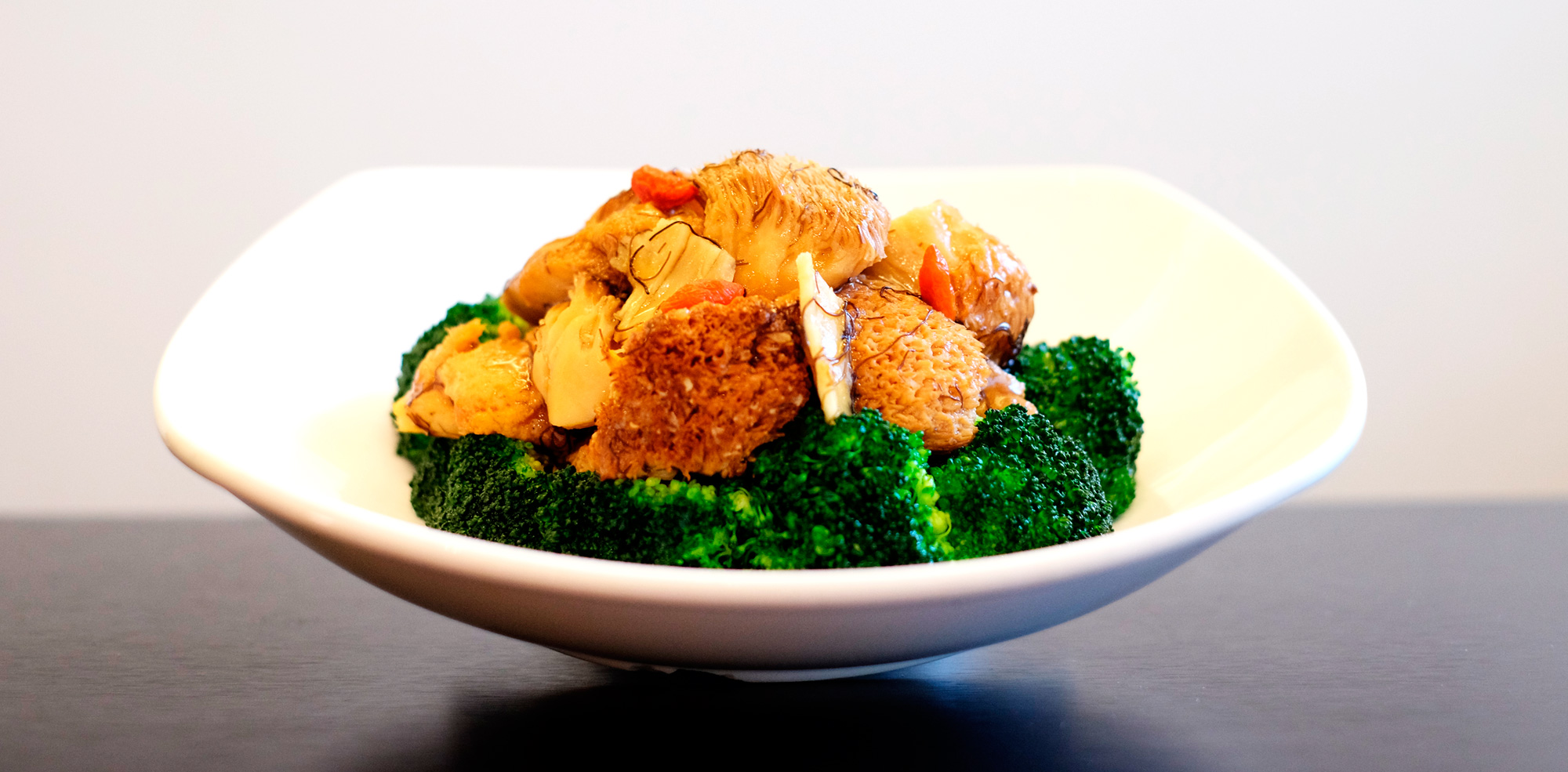 Next on our list is Whole Earth. Dedicated to elevating the standard of plant-based cuisine, Whole Earth offers quality vegan dishes in Singapore.
Their desire to improve the standard of vegan cuisine has driven them to travel the world to source for new ingredients and dishes. Even though they take inspiration on a global scale, the dishes found a Whole Earth are recognisable and close to home. Singaporean favourites like sambal kang kong, nonya curry, and xo rice ensure a vegan experience that is familiar to many Singaporeans
For more information, visit their website, Facebook or Instagram.
Afterglow offers a wide variety of vegan food options. With such an extensive menu available, you'll definitely be able to find a vegan course that fits your palate.
From salads and appetisers to mains and desserts, you'll be left surprised at how many vegan food options are available on the Afterglow menu. Furthermore, every item at Afterglow is gluten-free except for the vegan bread used in burgers and sandwiches. Afterglow also provides the option of swapping these buns to the gluten-free brown rice bun alternative. With a commitment to provide 100% plant-based dishes, those with vegan diets can enjoy the great selection of vegan dishes at Afterglow
For more information, visit their website, Facebook or Instagram.
At Genesis Vegan Restaurant, the myth that vegan food is bland and tasteless will be dispelled. There is plenty of variety offered at this establishment with both eastern and western dishes on the menu.
With ingredients sourced locally, Genesis Vegan Restaurant promises to offer vegan food that is healthy and delicious. Offering Western classics like lasagne as well as Singaporean favourites like Bak Kut Teh, the large variety makes Genesis Vegan Restaurant a great vegan option. Debunking the myth that vegan food can't be delicious, Genesis Vegan Restaurant is one of our top picks for vegan restaurants in Singapore.
For more information, visit their Facebook page.
For a quick and convenient vegan meal, nomVnom is a great option. In a country where life is so fast-paced, nomVnom caters to demands of greater convenience by offering plant-based fast food.
Featuring fast-food essentials like burgers, soups and fries, a complete fast-food experience awaits you at nomVnom. Apart from standard fast-food items, the team at nomVnom is also constantly innovating with their pastries. With a variety of vegan cake options available, they act as the perfect finale for your fast-food vegan meal. If a quick vegan bite is what you need, nomVnom has got your back.
For more information, visit their website, Facebook or Instagram.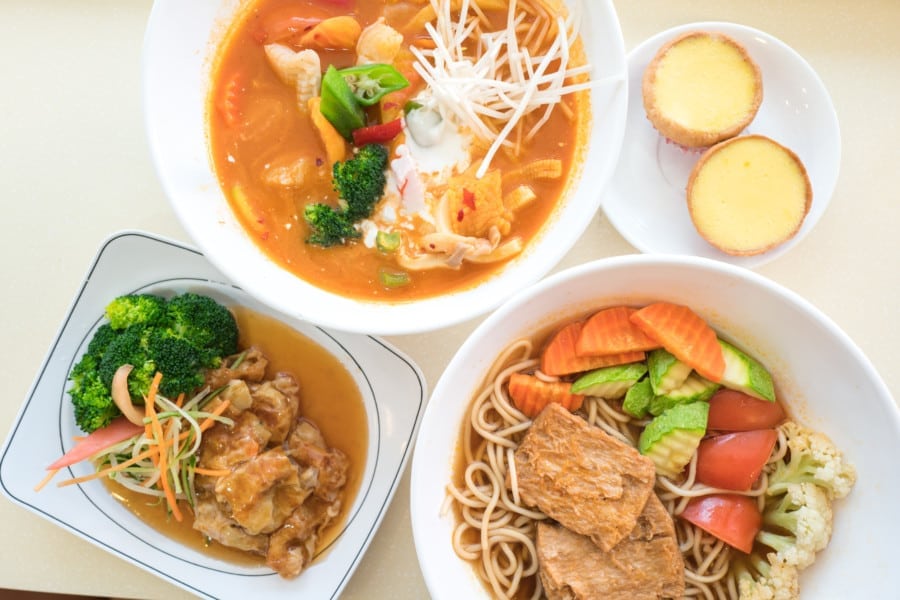 Rounding out our list is Loving Hut. Featuring many vegan dishes from different cuisines, Loving Hut is a great restaurant if you're looking for something new to try.
With their trendy interior, Loving Hut has a modern and sophisticated vibe to it. As you dine in this modern space, their dishes will bring you all over the world. Whether it be through their soba salad, burgers, pasta or hotpot, you can enjoy the best vegan dishes across the globe. Furthermore, Loving Hut also offers classic local favorites like Mee Pok, Nyonya Laksa, and many more! Offering great diversity at affordable prices, Loving Hut is a great vegan option.
For more information, visit their website.
Here is yet another restaurant that we have been waiting to add to our list. If you are looking forward to exploring some of the best vegan restaurants on the Island, then you should check out The Living Cafe restaurant. You will be absolutely amazed by how diverse their menu is. The eatery caters to the needs of different people with different diet plans with its menu being highly made up of vegan-forward dishes.
Their meals are prepared with natural and freshly picked organic ingredients. The cafe aims at providing not only finger-licking meals but also healthy and very nutritious cuisines. Being a vegan restaurant, their meals are completely free of additives or preservatives. Even though the major part of their menu is vegan, you will find side dishes that come alongside white meat or fish. However, they do not offer red meat, refined sugars, or dairy products. The Living Cafe is a true gem for vegans in Singapore.
For more information visit their Website, Facebook or Instagram pages.
Lingzhi is another amazing eatery that serves a high-end vegan menu. It serves both the buffet and la carte menus with the latter standing out the most. The restaurant not only offers mouth-watering cuisines but also top-notch quality dishes. What makes Lingzhi one of the best and unique spots in Singapore is that it is one of the rare places where one can get good and tasty vegetarian Chinese food.
What's even more exciting is that the restaurant also offers a vegetarian high tea buffet which you can enjoy with your vegan friends during a cosy afternoon out. Their menu is not as broad but every meal offered is prepared to cheer you up and keep you wanting more.
For more information, visit their website or Facebook page.
If you are on the hunt for delicious and healthy cuisines as well as great scenery in Singapore, then you should head over to Joie by Dozo restaurant. This restaurant has come to our attention and it would be completely unfair not to add it to this list. With its tasty delicacies and amazing views, the restaurant has without a doubt breathed new life into the vegetarian food scene in Singapore. The eatery combines both the European and Japanese forms of cooking, ingredients, and style of serving. Their menu is quite broad and comprises some of your favourite cuisines such as monkey mushroom, bai-ling mushroom, truffle among many others.
You will not only enjoy delicious healthy food, but you get to enjoy the view as well. The rooftop garden together with the illuminating sunlight gives their dining place a classy ambiance that you will enjoy. This eatery venue is by all means created to give you an amazing and exciting eating-out experience.
For more information, visit their website, Instagram, or Facebook page.
This list would not be complete and conclusive without highlighting the Lotus kitchen. Being a five-star vegetarian restaurant, this eatery venue is very well known by many Singaporeans. The fame of its delicious and nutrition-filled dishes has spread far and wide in the Island and has attracted a lot of people who even book the venue for weddings and other occasions. The eatery offers its guests a variety of plant-based meals from Asia and the western part of the world.
The restaurant is quite affordable and you are guaranteed to get the value for your money. If you happen to visit the place, make sure you have a taste of their double-boiled herbal Tian Ma starter soup which is one of their signature dishes.
For more information, visit their Website or Facebook page.
Are you an ice cream fanatic? Well, if you are and you want to enjoy some delicious vegan ice cream in Singapore, the Smoocht Pantry is where it's at. This ice cream joint is next level and it offers the best vegan ice cream flavours in Singapore. Their ice creams are made of organic crystal brown rice and only contain about a third of calories compared to other ice creams.
If you have a sweet tooth, then this place is a must-visit. The ice cream here is completely free of all things artificial as well as eggs, soy, and refined sugars. Aside from their amazing ice cream, Smoocht restaurant also offers other vegan-friendly dishes such as the truffle porcini Funghi pizza, Mushroom pizza, Monkey head mushroom among a variety of other dishes.
For more information, visit their Facebook or Instagram
If you are looking for a vegan restaurant to grab a quick bite while on the go, the GreenDot restaurant is for you. The eatery brings to the table an Asian flavoured meat-free fast food idea. Since its founding, the restaurant has remained efficient as well as successful by providing healthy and enjoyable meat-free delicacies to its customers.
Their menu is broad and you cannot miss spotting something you like. They serve a variety of savoury dishes such as laksa noodles, black pepper frank, fried mushroom vegetable pot, Thai spicy Konnyaku burger among many other local delights. Who said that vegan food is bland and boring? This joint will definitely prove this notion wrong.
For more information, visit their website, Instagram, or Facebook
If you think that vegan food is tasteless and dull to the eyes, then this restaurant will disapprove of you. Moreover, it is a good place to eat good food and feel marvellous while you are at it. The restaurant is not entirely dedicated to vegans but a good part of their menu contains vegan dishes. This is the kind of place that makes you fall in love with vegan food even though you are not a vegetarian or vegan.
The joint serves some of the best European flavoured dishes with a bit of Mediterranean taste added on top to make things more interesting. It is true to say that these cuisines are prepared using the most authentic and organic ingredients that you could ever find. To affirm this, the restaurant has its small garden where they grow their vegetables and herbs used to prepare the dishes.
For more information, visit their Website or Facebook
The Vege Pot is close to a home for many vegetarians in Singapore. Even though it is just a small restaurant, it has been operational for years and remains one of our favourite vegan joints on the Island. If you are in the mood to eat some healthy green dishes, this is the place to be. The eatery owners have managed to capture a lot of their customers using their technique to include vegetables in their dishes in covert and amusing ways.
You should try the Unagi dish, trust me you'll love it. This appetizer will leave you with a pleasing taste in your mouth and does not even resemble a Japanese grilled eel which it is. Their Monkey mushroom will also leave you coming back for more. Its texture and taste are heavenly. If you love all things spicy, you should definitely try their sambal tempeh which comes with a well-rounded spicy taste.
For more information, visit their website or Facebook page.
Whether you've committed to a vegan diet or not, don't believe those that tell you vegan food is tasteless and unappetising. With this list of the best vegan restaurants in Singapore, you'll know just where to dine for healthy and delicious vegan food.
Related Topic: Best 5 organic food delivery places in Singapore
Emily Hopkins
I'm an accomplished and detail-driven content writer with copious experience in producing compelling, engaging and flawless content for a variety of blogs and websites for several years.
Related posts
Subscribe for newsletter
* You will receive the latest news and updates on Singapore's best trends!