10 Best Tower Fans in Singapore [2022]
Joanne, 2 years ago
8 min

read
5009
With many of us working from home amidst the pandemic, it is common to hear your friends talk about missing their colleagues and their office. However, one common complaint that I hear more often than not is that they miss the "free aircon" that working in the office provides. For some of us, working from home means working in the heat of the forever summer Singapore! If you refuse to splurge on switching on the aircon daily, and the heat is getting to you, it may be time for you to invest in a tower fan.
With upright, vertical builds that typically oscillate from side to side, a tower fan, when well placed, can quickly cast a cooling breeze across an entire room without taking up too much space or using too much energy. On top of that, many tower fans are aesthetically pleasing, and may add on to your instagrammable room!
But with so many brands and options that differ in feature, design, and price, how do you choose a good tower fan? Check out our list of 10 Best Tower Fans in Singapore to help you make a choice!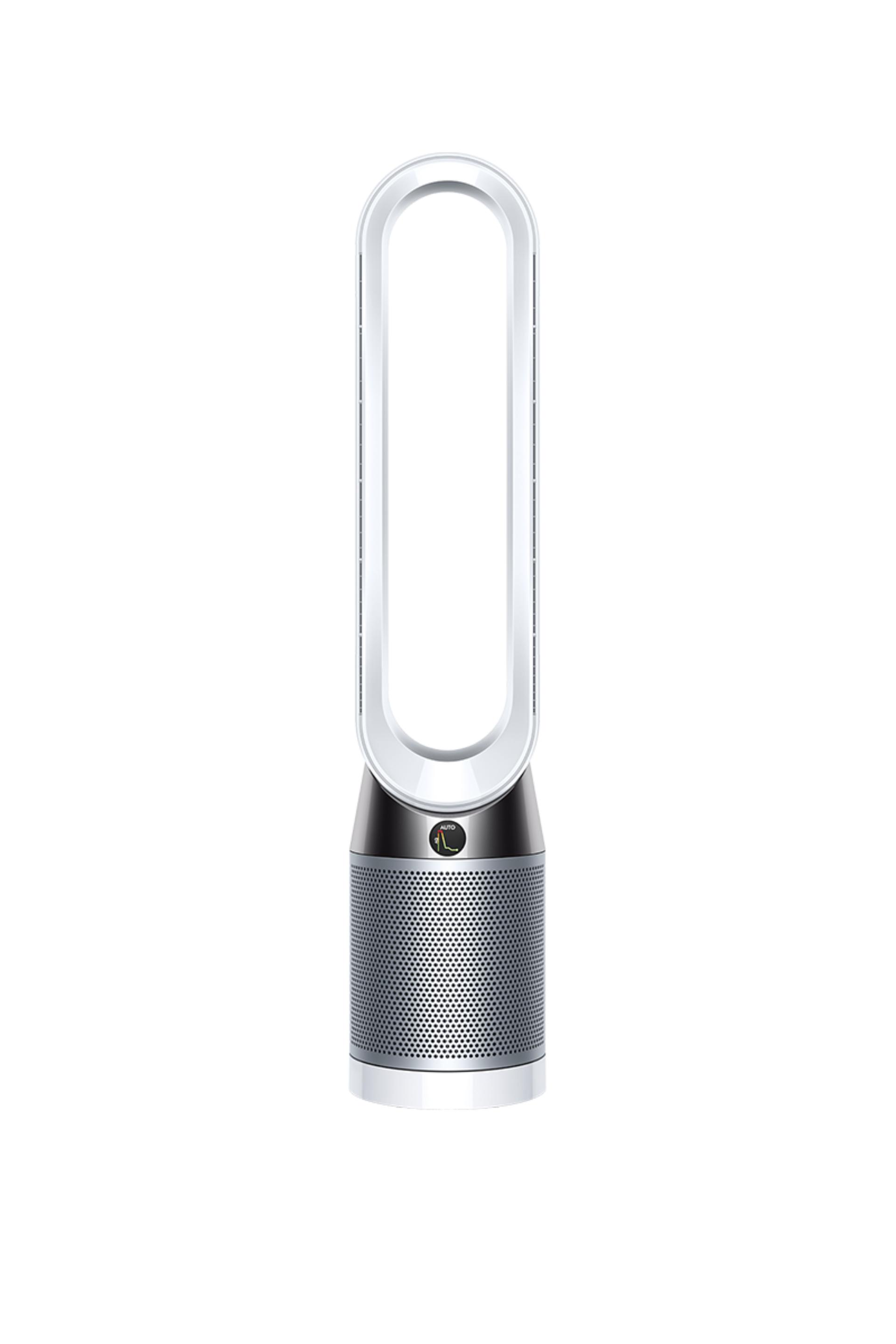 Highlights:
Easy to replace filter
Air-purifying qualities
Bladeless
Dyson is a brand that needs no introduction. Its recent addition, the Dyson TP04 tower fan, is a bladeless fan that boasts 10 speed settings and has an oscillation angle that ranges from 45° to 350°. Because of its powerful strength and wide-reach, the fan has garnered a whole host of great reviews. The tower fan also purifies the air it puts out, removing things like dust and allergens from the air you breathe. The fan's filter is also easy to change, and comes with a built-in notification that tells you when they require replacing!
On top of all these wonderful features, Dyson's tower fan is also a smart device that offers intelligent reporting. Along with the fan is an application that offers a detailed look at the air quality in your home and lets you create custom cooling schedules. Voice control can also be enabled and supported! With a sleek design that makes it look like it belongs in an art museum, and 5 colours to choose from, you would easily find one that can stand beautifully in your living room and suits your taste. This smart tower fan can be purchased at about $899.
2. Honeywell Quietset

Highlights:
Quiet cooling
8 speed settings
Long power cord
Because tower fans are know to generate some noise, some of you who are light sleepers might be concerned. However, you do not have to worry about that with the Honeywell Quietset Tower Fan. Its advanced oscillation system makes it possible for a whole room's reach of air circulation. The slim design makes the fan relatively compact, so it does not take up much space in the room. The fan also features 8 speed settings, along with a longer than usual power cord so that you can easily adjust its positioning. You can also adjust the brightness of the fans LED lights if you are bothered by it at night! Priced at about $240, Honeywell's tower fan is definitely an affordable option for all.
Highlights:
Bladeless
7 hour on/off timer
Smart memory autosave function
This sleek bladeless tower fan by Mistral will fit in completely in your contemporary home. It has 3 wind speed settings that can be set to either natural, normal, or sleep depending on your preference. Even more convenient is its 7 hour on/off timer. With it, you are able to cool down your room while you are still on your way home! The fan's smart memory auto-save function also means that you do not have to set the timer every time you use the fan if you use it regularly. You can get these features in the fan at just over a $100.
Highlights:
Built-in thermal protection against overheating
Suitable for office use and work table
3 Speed setting with oscillation
This adorable tower fan by Powerpac costs below $30 and is a great choice for you if you are looking for a fan for your desk! The 9 inch fan is an affordable option with 3 speed settings with oscillation. It also comes with built-in thermal protection to protect the fan against overheating. With this, you do not have to be afraid of overworking the fan. Conveniently place it on your work desk, or place it on the ground if you sleep on a lower ground.
Highlights:
12 hour timer
Electronic thermometer and colour display
360° oscillation
With an electronic thermometer that displays the room temperature, this tower fan also features a thermostat with anti-freeze. This means that regardless of temperature, the tower fan will regulate the temperature. The fan also features an ionizer to ensure fresh and clean air in your room. With 360° oscillation and 8 speed settings, this tower fan would definitely keep you cool in hot and humid Singapore. You may purchase this fan at the affordable price of $120.
Highlights:
Ionizer function
Bladeless
Strong airflow
This bladeless tower fan is elegant and slim. At a price tag of $110, the tower fan features an ionizer function that cleans the air in your home while it is working to cool your room. The strong airflow with oscillation also means that you will have more circulation of fresher air! The easy to use remote control also makes it easy to adjust the fan settings wherever you are. Clear and simple to use, this fan is for everyone in the family.
Highlights:
Flexible height adjustment
Ionizer
Easy to clean
The simple yet stylish Honeywell HFY-045 Tower Fan is designed for convenience. No tool assembly is required! The $120 fan also doubles as an ionizer which freshens and purifies the air around you. The tower fan comes with a handles for easy transportation and has 3 speeds to choose from. A flashlight is also built into the fan, so that you do not have to walk to the light switch in the middle of the night if you need to look for something! This fan clearly helps you to solve problems you never even thought you had.
Highlights:
Space-saving design
Air purifier
Simple assembly
If someone at home or in your office has asthma, you may consider getting Lasko's tower fan for its air purifying properties. The tower fan, which costs about $300, comes with a built-in air ionizer which also purifies the air and repels pollution. With remote-controlled features, you are put in charge of your environment. The automatic shut off function also means that you do not have to worry about forgetting to switch off your fan when you leave your office or your home!
Highlights:
4 Speed Touch Control
Whole Room Circulation
Powerful air blasts
This energy efficient tower fan by Vornado features a 2-8 hour timer and remote-controlled settings. Vornado claims that by utilizing stationary, high-velocity airflow, it allows the fan to continuously circulate all the air in the room. The fan is designed for smooth and quiet oscillation, so you do not have to worry that your fan makes too much noise during that important virtual conference meeting of yours. All these features come at a price of $420, and packed in a sleek and beautiful product that would decorate any room.
Highlights:
Passive noise reduction technology
3 independently controllable fans and 3 fan speeds
Less than 3 inches thick
Ozeri might not be a household name to many Singaporeans, but a quick search online shows that they have a league of fans with good reviews. This $370 tower fan features 3 independently controllable fans and 3 fan speeds. This means that it can offer up to 9 levels of cooling and customized airflow. The stylish fan is also only 3 inches thick, one of the slimmest options on the market. Ozeri also promises a good night's sleep by utilizing the physics of blade curvature to generate opposing sound waves to reduce blade noise and isolate the soothing sounds of the airflow itself!
We all know how it feels to have to work in a hot and uncomfortable room, especially if you have to make an important presentation to your bosses in it. Don't kick up a sweat! With this list of 10 Best Tower Fans in Singapore, you can decide which fan to get for your home and keep the heat away! If you are looking to get an air purifier along with a tower fan, consider checking out our article on the Best 7 Air Purifiers in Singapore here!
Related posts
Subscribe for newsletter
* You will receive the latest news and updates on Singapore's best trends!
Trending Posts
May 30, 2023

What is Matcha? Matcha...

May 31, 2023

TLDR: In this article,...

May 31, 2023

TLDR: As an audio...