10 Best Toilet Seat Covers in Singapore [2022]
Gee, 3 years ago
9 min

read
4437
Do you know the average bacteria found on toilet seats are somewhere between 50 and almost 300 for household potties and over 1000 for the public varieties? According to a 2017 research by scientists from The University Of Arizona, toilet seats are the dirtiest place in the home. As they harbour all kinds of dangerous bacteria, viruses, and nasty pathogens such as E Coli, Salmonella, and Protozoa. Recent studies have also shown that people do get sick from accidentally touching upon contaminated toilet seat bowls.
Fear not, as here comes the toilet seat cover as your ultimate lifesaver. Other than ensuring you with better hygiene, it also protects you from all kinds of harmful diseases. Gone are the days where toilet seat covers are cumbersome and unfeasible to use. This is because today's modern types are manufactured and marketed accordingly. Say, for example, a variety of brands, types, functionality, and aesthetic appearance as well.
Without further ado, let's check out this list of Best 10 Toilet Seat Covers In Singapore that we have compiled. To quote the infamous saying, "When you've gotta go, you've gotta go!"
First of all, this product is truly the bee's knees and holy-grail of all toilet seats. For starters, it exudes a luxurious ceramic feeling due to its creamy white polished look. This is combined with the solid integration of the highest quality ceramic material used. Aesthetically pleasing aside, installation for this toilet seat cover is a breeze. All it takes is just minutes for its special quick-release function to work – and "voila", it is ready for use!
The manufacturers of this product have also taken consideration of its durability. Hence, therefore, the benefits of a hard surface and scratch resistant feature. After all, the key to a good toilet seat cover is the longevity made for extreme "wear-and-tear". Hygiene freaks and germaphobes will also love this toilet seat cover for one main reason. You can wash it repeatedly to keep it clean – all without losing its naturally beautiful colour.
Where to buy it: www.lazada.sg

For avid travelers, this Singaporean manufactured product is your best bet in contrast to a traditional toilet seat cover. Its disposable toilet seat cover advantage means you can discard it immediately into the bin upon using. Besides coming in handy, it is comfortable and yet hygienic to use altogether. For example, in nasty public toilets when you want to avoid direct contact with their germ-filled toilet seats.
Compact sized and lightweight to the touch, this product can be easily fitted and taken out from hidden corners. This includes pockets, pouches, and in bags. Its biodegradable feature is another outstanding trait due to its being a 100% naturally produced product. One that is devoid of all the hidden nasty chemicals, in contrast to other generic products in the market.
Where to buy it: Shopee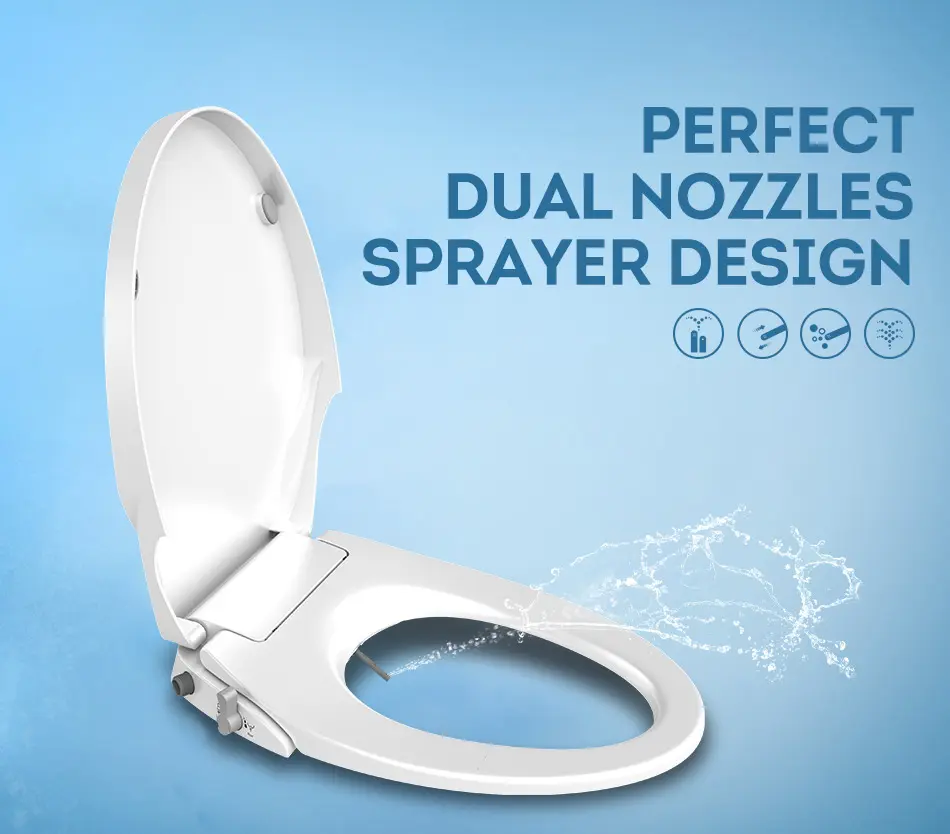 The JOMOO brand is a trusted name that you can trust due to its winning tagline – Bidet Cover Makes Life Healthier. But what gives it a cut above the rest is the product's easy to operate mode – minus the use of dangerous electricity.
With JOMOO, you can forget about having filthy toilet seats as the product features a special built-in nozzle washing. One that is separated accordingly for efficient cleaning and health maintenance. For example, the Bidet washing nozzle takes you from personal hygiene cleansing to a stimulating charged massage. Hence, so that you can get the best of both worlds. Other standout features of Biden are its click of a button cleaning mode, easy to clean inner seat, and noise friendly effect.
Where to buy it: www.lazada.sg
Aesthetically pleasing from its aqua-themed outlook, this toilet seat cover is truly a feast for the eyes. The stunning 3D effects of the marine sea creatures such as dolphins, starfish, and seashells are a sight to behold. But most importantly, you get to enjoy its awesome functionality too. For starters, it is ergonomically designed for maximum comfort and quality. Hence, the installation of cushy polyresin soft close seat – combined with a sturdy-looking toilet lid.
With its special ultra-violet protection, now you do not worry about rubbing away the luscious natural colour of it. Installation is a breeze as all you need is a pair of wrench or pliers to put it in top form. This fancy-looking product is the perfect bathroom accessory for both the young and young-at-heart.
Where to buy it: Shopee
What is the best way to lift and lower toilet seats without dirtying or contaminating your clean hands? Lo and behold, the answer lies in this superb Toilet Seat Cover Sticking Lifter Handle. Despite its simple appearance, do not be fooled by this minor flaw. What it does best is by helping you to lift and lower your toilet seats – minus the hands touching.
One of the best invention ever since the birth of the wheel, this product can be carried and used anywhere. Whether it is to public restrooms or in the comfort of your own home. All you got to do is to place the toilet lifter on the bottom of the toilet seat, before lifting its handle. Completely brand new and made from the highest quality, this special toilet seat cover also comes in a variety of attractive colours. Just pick your choice. White, khaki, light green, or sky blue?
Where to buy it: Shopee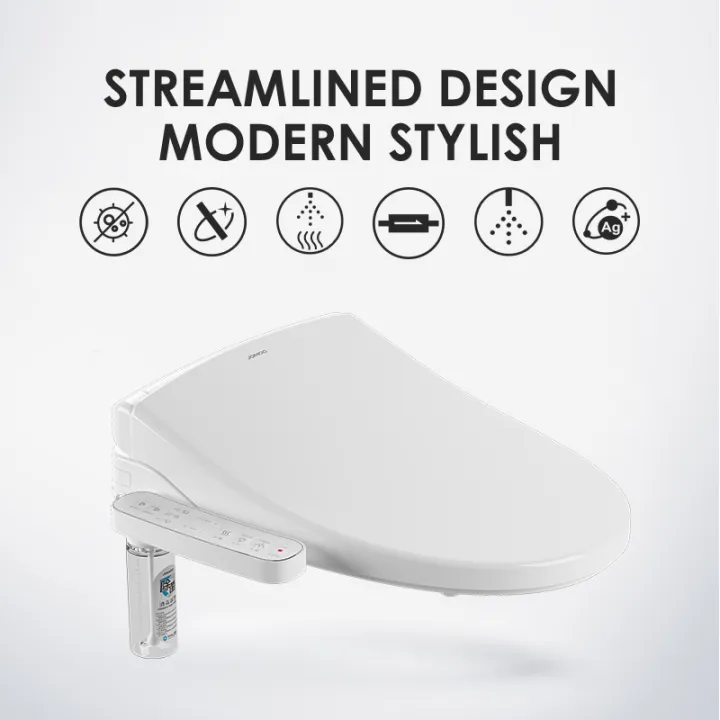 Yup, here comes another review of the JOMOO brand of toilet seat cover – but a different model and functionality, of course. In contrast to the aforementioned one, this model uses electricity instead – via the function of an intelligent toilet system. All you got to do is to fill it up with any type of disinfecting device, self disinfection technology will automatically start disinfection after you have used the toilet.
Besides, it has an innovative water curtain protection to effectively flush down and prevent the formation of bacteria in the air. Other standout features include its antibacterial and multi-protection toilet seat, hygienic self-cleaning nozzle, smart trigger sensor and, etc..
Where to buy it: www.lazada.sg
A toilet seat cover that can warm up your divine booty during those cool and chilly days? Make no haste as this 5pc toilet seat cover will do the job accordingly for you – keeping you warm in the coldest of days in addition to helping you in maintaining the highest standards of cleanliness.
Easy to fit on all kinds of toilet bowls and flexible to use all together, it is a quirky and fun alternative compared to the traditional toilet seat covers. This product is also easily washable despite the thin material used, as it is made from the softest and most comfortable nylon. Functionality aside, it is a good and attractive decoration to spice up a dull bathroom.
Where to buy it: www.lazada.sg
One of the major pet peeves of most people when it comes to toilet maintenance – is none other than the yellowing of toilet seat covers. This happens due to a myriad of reasons such as passing time, age, and contamination, which eventually leads to yucky built-up on toilet seat covers – hence the yellowing. Fret not, as the Quik Release Non-Yellowing Toilet Cover Seats is here to solve your toilet seat yellowing woes.
First of all, it uses a special plastic material that contains UV protection to help prevent discolouration and the spreading of bacteria combined. Secondly, it is ergonomically built so that you can use it in maximum comfort during that special moment of privacy. Other impressive features of this product include its user-friendly mode, long lasting durability, and top-form hygiene maintenance.
Where to buy it: www.lazada.sg
At first glance, this toilet seat cover looks as though it is good enough to be fitted in a royal bathroom due to its plush and velvety posh-liked appearance. But royalty aside, you do not have to be a prince or princess to buy this product.
The budget-friendly price tag speaks for itself for you to get the best of everything all at once – fine washable material that can be used repeatedly and ideally designed to be put up at homes, hotels, and public toilets as well. Did we even mention that the choices of colours to choose from are amazingly eye-candy as well?
Where to buy it: www.lazada.sg
Available in a myriad of kaleidoscope hues such as rainbows and cute little imprinted heartbeats, this toilet seat cover may come as a little bit too striking in appearance at first. But what it does best is keeping your precious booty warm in those cold and windy days. Installation is as easy as a walk-in-the-park as due to its flexible zipper function – that avoids you from dirtying your hands.
Sanitary-wise, this product is meant for perfect hygiene and easy maintenance. For example, you can either opt to hand or machine wash the material after using it. With such a funky and unique outlook, now you can stare at it for hours as you daydream about the stars and the moons.
Where to buy it: Shopee
In other words, the Best Toilet Seat Covers In Singapore can be easily found in the right places – via online or through brick and mortar stores. But regardless of your individual toilet needs and various quirks, the one thing in common that all of these toilet seats cover share is to, of course, ensuring maximum comfort and hygiene for everyone – especially during those times of sudden urge!
If fancy toilet seat covers are not your cup of tea, then check out our list of other mind-blowing consumer goods here!
Written By: Lim Su Yee
Related posts
Subscribe for newsletter
* You will receive the latest news and updates on Singapore's best trends!