7 Best Toaster Ovens in Singapore [2022]
Gee, 3 years ago
9 min

read
6710
Gone are the days when all the best toaster ovens were good for toasting slices of bread, heating pizza, or day-old leftovers.
Ovens functionality has come a long way, and is an indispensable tool in the modern kitchen; and lets you whip up simple and nutritious meals with minimal fuss.
You no longer have to worry about lack of space or having to spend a bomb on expensive, professional style conventional ovens that you may not even end up using.
Things to consider when buying a toaster oven
Most reputable brands carry their own toaster ovens. They may even look similar in terms of knobs and design. As there are slight variations from brands to brands, it is important that you do some research on toaster ovens first before purchasing one.
What functions do you need?
Deciding what you'd put the toaster oven to before purchasing one will prevent you from over- or under- buying one. If you're looking to just toast your bread and reheat refrigerated leftovers, there likely isn't a need for you to spend money on a large capacity toaster oven with additional functions like broil or convection technology.
Higher end toaster ovens come with additional features like broiling and grilling. They may also come with different pre-set programs that use convection technology to cook your food. These may also come with proofing and baking functions so that you can bake cookies or tarts. If you're really looking to achieve such tasks with an oven toaster, chances are you'd be better off getting a convection oven.
What size do you need?
Toaster ovens are usually more compact in size but they do come in slight variations, like 8L, 9L or 10L. This depends on whether you'd use it for your whole family at the same time or it's just for your personal use. Also, the smaller toaster ovens may not be able to fit a 9-inch pizza at one go, so there could be some limitations to what you can do with them.
Do you have space for it?
Toaster ovens typically measure about 16 inches by 13 inches with a height of 9 inches. You'd thus need at least this surface area on your countertop when using it. The good thing about toaster ovens is that they're highly mobile due to their compact size. So you can easily store them away when they're not in use. You won't need much space to keep it stored either!
How much is it?
Like all electronic products, toaster ovens come in a range of prices. You could get one from as low as $29.90 to over $100. This usually corresponds to the functions and power that come with the toaster ovens. Also, the material and build may also come into play.
Does it come with different racks and extras?
To reduce the hassle and cleaning of the toaster oven, make sure that you're getting a toaster oven with a removable tray and a crumb tray. These are preferably removable and non-stick, so that you can wash them easily. If you intend to roast or grill poultry, look out for the griller attachment.
Is it covered under warranty
While toaster ovens aren't too expensive, when compared to other electronics, it's still good to get one that is insured with warranty. Most toaster ovens on Lazada come with at least 1-year warranty, so do look out for them.
Is it easy to clean and maintain?
Toaster ovens are smaller in size and thus have a less interior area to clean. Furthermore, most toaster ovens now come with a removal non-stick tray and a bottom crumb tray. This reduces the contact of your food with the interior area of the toaster oven and effectively cuts down on the cleaning effort required. Toaster ovens are thus super low maintenance appliances that are a great addition to any kitchen.
We've picked out 7 of our favourite toaster ovens that will let you whip up a quick and nutritious meal in the comfort of your home.
9L capacity
1200 watts
An optimal food heating and toasting
Convenient and easy to use
1-year warranty
The Panasonic Toaster Oven NT-GT1 is a compact and lightweight (only 3.1kg) powerhouse that heats up and toasts just about anything in a short amount of time.
It comes with 3 power settings ranging from a temperature of 100 degrees Celsius to 250 degrees celsius. At a high setting, it is capable of thoroughly cooking a chicken drumstick or thigh. Cleaning up is a breeze with a non-stick baking tray and a removable crumb tray.
This oven toaster is ideal for those of us who have space limitations. This is perfect for those who live alone and do not usually need to prepare anything larger than a single portion of food. For a trusty toaster oven meant for daily use, the Panasonic Toaster Oven NT-GT1 is a great choice.
12L capacity
1000 watts
Eye-catching design
2-tier oven
1 year warranty
We admit it. The reason this oven is on this list is its amazingly cute design. It is tiny, lightweight, and 2-tiered, which is why we love it. This design is certainly a conversation starter.
Its beautifully compact design is a great space-save. Large tempered glass windows are also a plus. It also comes with a built-in thermostat and Double safeguard.
Apart from being perfect for reheating, this toaster oven is also equipped to handle making small pizzas or even bake a small loaf of bread. It can also bake small muffins and tarts. Or roast vegetables and bake salmon in it.
Even the kids will find it fun to use this cute toaster oven!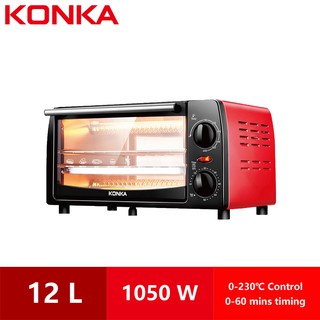 12L capacity
1050w
Quartz tube design for even heating
Multi-functional
Ships from overseas
If you love baking but don't have space or budget to get a conventional oven, this oven might be the perfect solution. Lightweight, compact and multi-functional, this oven gets your toasts and reheating needs perfect. Also, it lets you bake bread, mini muffins and even pizzas! This is the perfect choice for cooking delicious and nutritious food at home.
This oven is solid, durable, and made of a premium material. The quartz tube design ensures food is evenly heated. What we liked was its unique feature – a curved inner tank that makes this compact oven capable of baking an 8" pizza. Temperature control reaches 230 degrees celsius.
The only downside to this oven (hence the 4.5-star rating) is you may have to wait a little longer for it because it ships from overseas. But we think that it might be worth the wait.
Compact yet spacious design
Fits up to 6 slices of bread
Fast and even cooking
1-year warranty
The Cornell Oven Toaster CTO-S10WH is the best choice for fast and even toasting and heating. Featuring a compact design, it is still spacious enough to fit a 9-inch pizza. This allows you to save on countertop and storage space without compromising on functionality. The thermostat temperature control and built-in timer also prevent your food from overcooking – all you have to do is set to the optimal time required!
For an affordable yet excellent functioning oven, the Cornell Oven Toaster CTO-S10WH will definitely bring out that inner chef in you.
---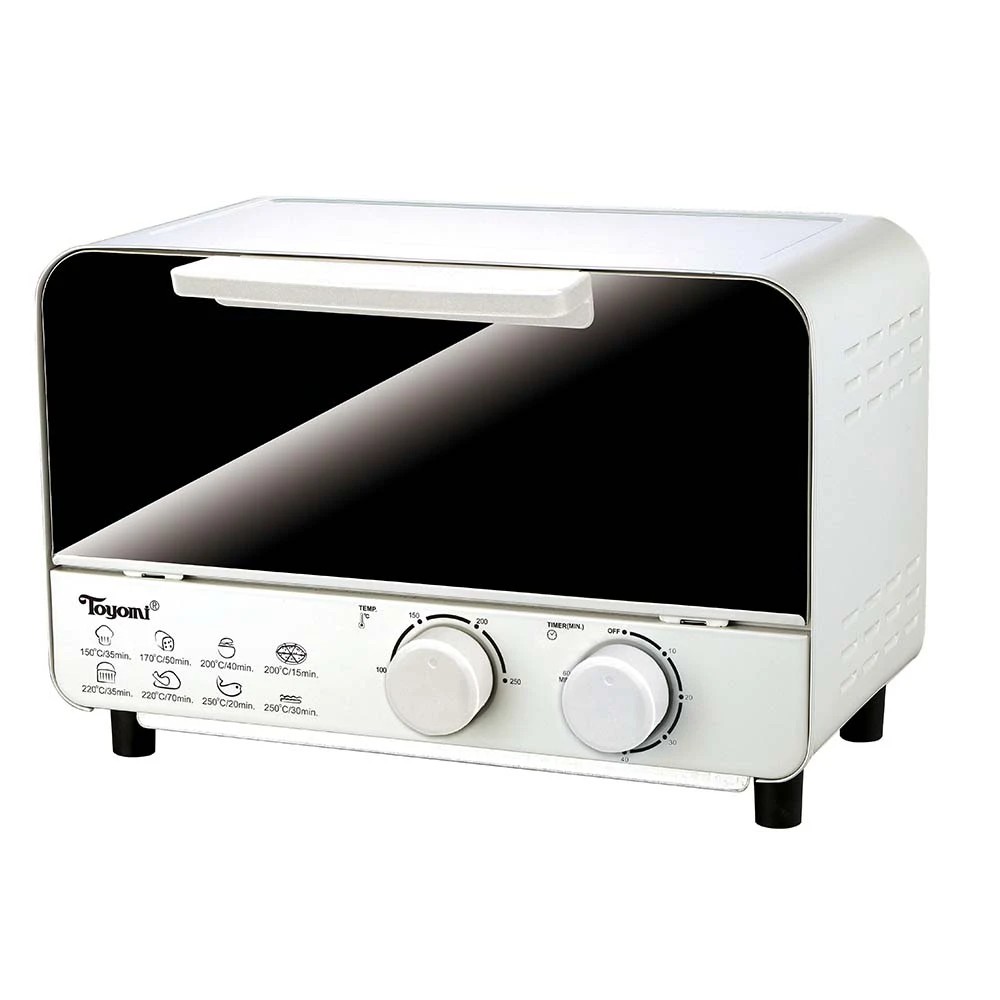 Crumb tray for convenient cleaning
Easy to use
1-year warranty
The Toyomi 11L Electric Oven offers a convenient means of toasting and heating slices of bread, pastries and pizzas. With a removable wire tray and crumb tray at the bottom, cleaning up after is a breeze. There is also a handy reference guide showing the optimal range of temperature and duration required for different food items. Nail that perfect bunch with the Europace Toaster Oven ETO1091S.
---
Perfect toasting results
Compact design
The user-friendly and simplistic design
2-year warranty
The Tefal Toaster Oven Equinox OF550E is a high-performing toaster oven that executes the perfect toasting of bread. It is also able to heat up and reheat food items like pizzas and chicken. The in-built Quartz Heating technology also reduces the heat-up time required, so this saves time for you. With its sleek silver and compact frame, it can fit right into just any kitchen concept.
Enjoy the unrivalled performance and flawless toasting each time with the Tefal Toaster Oven Equinox OF550E.
Perfect for cooking chicken wings
Clear glass panel for easy viewing
1-year warranty
The Sona Oven Toaster SM023A roasts up the best chicken wings in town quickly without much fuss. With 2 selector knobs, all you have to do is set it to your preferred temperature and timing. You can also have a clear view of the food while it's being cooked or heated up.
Perfect for cooking small meals, the Sona Oven Toaster SM023A is a great addition to your kitchen!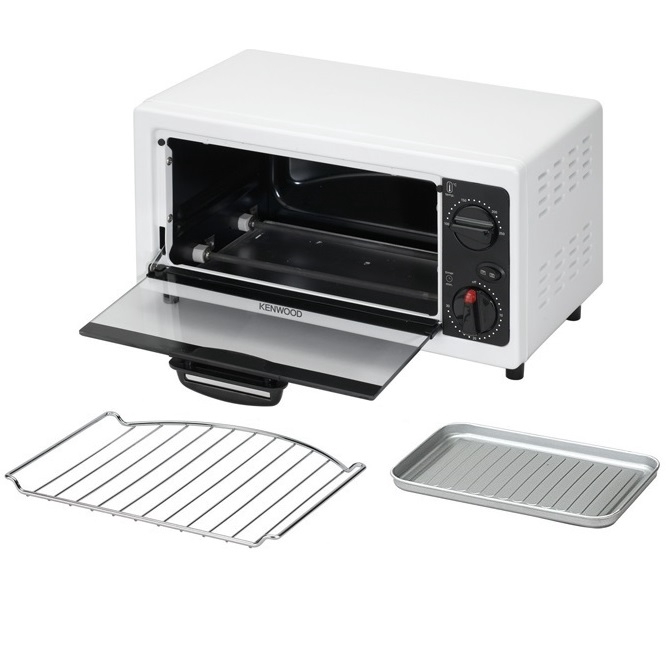 Multifunctional for versatility
Indicator light and glass door for easy viewing
1-year warranty
The Kenwood Oven Toaster is a multifunctional oven that can toast, bake, and grill. Simply get a small spring chicken and hook it up with the grill attachment while watching the magic happen. This is a high-powered oven with a thermostat temperature control, which ensures optimal cooking results.
Double infrared heaters for even cooking
Easy to use and clean
1-year warranty
The Tiger Oven Toaster KAJ-B08S has upper and bottom infrared heaters, which help to reduce uneven cooking. It is easy to use. All you have to do is set the timer and it nails the perfect temperature required for crisp toast and warm pizza. Even though it is compact in size, its interior is spacious and the wide tray fits a single-pan pizza.
For a game-changer oven toaster, the Tiger Oven Toaster KAJ-B08S is reasonably priced.
Great for baking mini tarts
Compact yet multifunctional
2-year warranty
The PowerPac Electric Oven Toaster PPT08 is multifunctional and highly versatile. It comes with 4 functions – reheating, toasting, grilling and baking, so you can get creative in your kitchen just with this one appliance! There are 3 preset heating temperatures, so it is relatively fuss-free and easy to use.
Replace your conventional oven with this great value for money PowerPac Electric Oven Toaster PPT08.
---
To Conclude
With these best Toaster Ovens, you won't have to worry about wasting leftover food. For more oven options, you can find more from our list of microwave ovens and built-in ovens. Curious about what you can make with your oven? You can test some of our listed easy mug recipes out.
To enjoy your meals, you will need proper bowls, utensils, and plates. So, why not make your meal more enjoyable by stocking up on stylish tableware? Here is our list of tablewares for you to check out! Likewise, with that leftover meat and steak, you can accompany them with some high-quality wines and wine chiller to keep your wine chilled.
Happy Toasting!
Related posts
Subscribe for newsletter
* You will receive the latest news and updates on Singapore's best trends!
Trending Posts
May 30, 2023

What is Matcha? Matcha...

May 31, 2023

TLDR: In this article,...

May 31, 2023

TLDR: As an audio...