12 Best Tingkat Delivery in Singapore [2021]
Zoya, 4 months ago
15 min

read
1945
In today's hectic world, we hardly get enough time to prepare a decent meal for ourselves. Eating out for restaurants is delicious, but it's not something that we should do regularly. A hot, nutritious meal that reminds us of home nourishes both the body and the mind. Not to forget that they're often cheaper in the long-run. This is where Tingkat Delivery comes in to save our day!
Gone were the days when Tingkat had no variety of food choices. Nowadays, we get all sorts of Tingkat menu with low-calories, high protein, and you can even switch things up regularly based on your liking. But it's really important to select a good Tingkat delivery service because you're going to be eating them regularly.
That's why we've compiled a list of the Best Tingkat Delivery in Singapore to help make your decision easier.
Factors When Choosing Tingkat Delivery
With many Tingkat services available in Singapore, it can be overwhelming to choose one that seems to fit with your liking. Especially if you are too lazy or tired to cook, take this time to read through these considerations before checking out.
Price
If you are intending to subscribe to Tingkat services for probably quite often, you might want to consider budget-friendly packages. For instance, there are Tingkat delivery in Singapore that might offer 10-day option which is more value for money as compared to a 2-day option.
The cost per day will usually be cheaper if you go for the longer day options. Thus, it is important to consider your budget.
Food Variety
Food choices are very important. Unless if you don't mind eating the same food over and over again. Especially if you are planning to order for long, I am sure you would prefer having a variety of different food to choose from.
Delivery Hours
Not all Tingkat delivery are able to supply your lunch and dinner. There are some Tingkat food delivery that only serves either lunch or dinner. For working adults, you might probably look out for delivery that provides dinner meal since you will want to be home after work with home-cooked food and you might be too drained to cook yourself.
Special Requirements
Is there any needs that you need to request for? Perhaps, food allergies, etc. Not all Tingkat services provides substitute for those ingredients you want to change out. Which is why these are some things you might need to consider before you choose your ideal Tingkat delivery.
With these considerations, here are the best 12 Catering Tingkat in Singapore for all your needs for home-cooked food.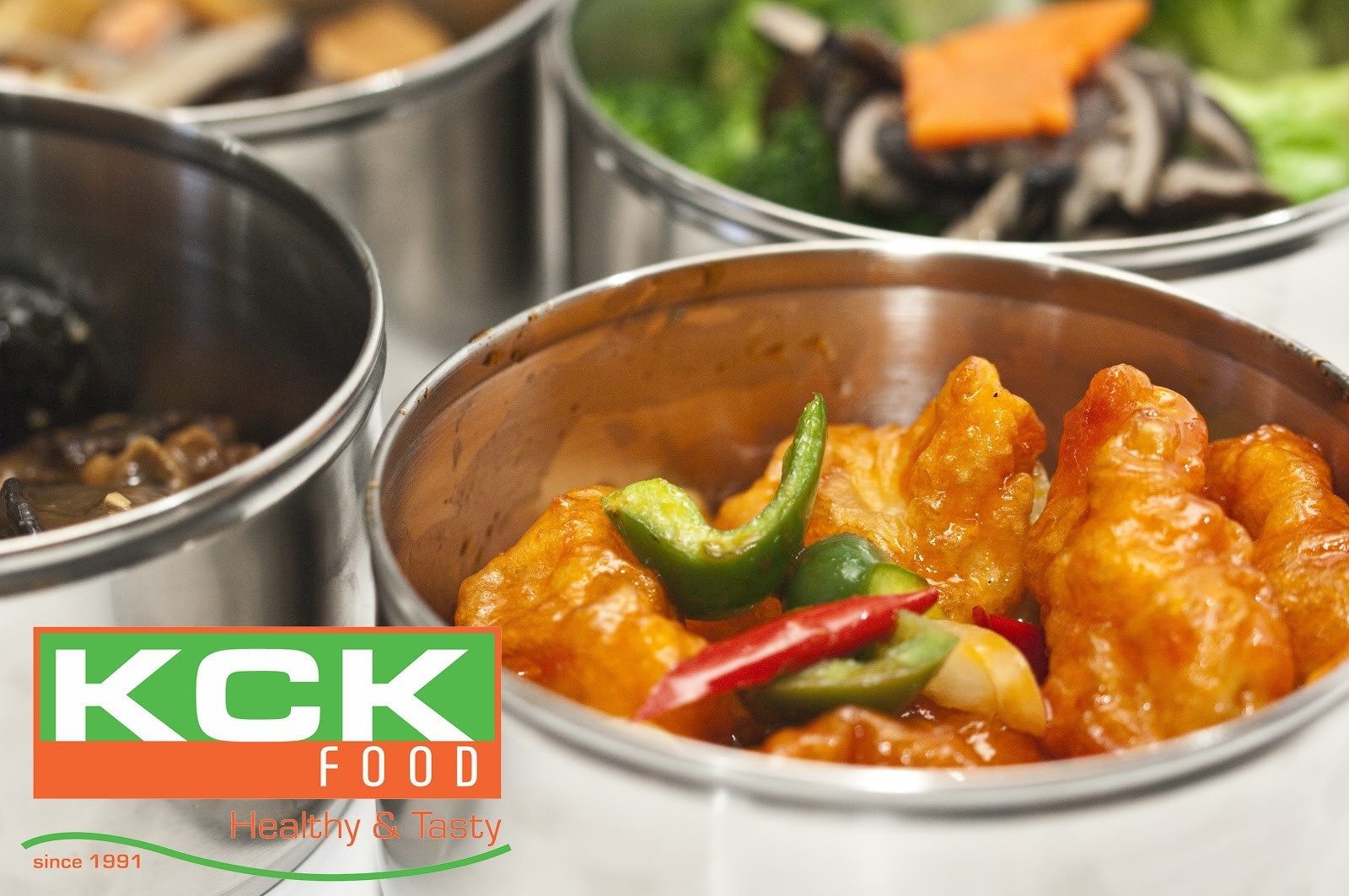 Serving food since 1991, there's a high possibility are that your parents or even older relatives might have enjoyed KCK's Tingkat catering services. Not only do they serve healthy and delicious meals, but they also have excellent customer services. They serve dinner-only Tingkat menu with local favourites like chicken curry.
Prices start at $82.50 for 2 pax per day for 5 days. That brings the cost per day to around $16.50. However, ordering for a longer duration will provide cheaper meals in the long run.
According to their 20-day plan, the price per day comes down to around $11. Each pax includes 3 dishes and 1 soup with no rice included so you'll have to prepare rice at your home (or buy it as an add-on).
They have a rewards point system and even offer benefits like a free pizza on every order of 20 days.
Contact Details
+65 6443 5723
Suggested Plans
Their 20-day option provides good value for money.
Plus you may even get a free pizza.
Timings
Delivery timing starts from 3:00 pm to 6:00 pm only from Monday to Friday
Address
They deliver food to postal areas with codes starting from 73, 74, 75, 79, 80, 79, 54, 53, 82, Choa Chu Kang, Bukit Panjang, selected Jurong postal codes, Bedok area
Rich Food has a simple mantra. Deliver only the freshest and most nutritious food right to your doorstep. And this is easily seen in their food, which is scrumptious and extremely healthy and free from MSG. They have many dishes that come in their Tingkat meals, featuring dishes like sweet and sour pork, cereal chicken and many more. They only either do Tingkat lunch delivery or Tingkat dinner delivery.
In fact, no two meals are the same, so you won't ever be bored due to a lack of variety. You can find details of their menu on their website. They have a Menu A and a Menu B, which they rotate. You can opt for either 1 soup and 3 dishes or 4 dishes. Rice is also available (both white and brown).
They offer a special 5-day plan for new customers to try them out. Their 10-day plan without any rice comes to around $12.95 per day and serves two people, while their same 20-day plan comes to around $12.84 per day.
| | |
| --- | --- |
| Contact Details | +65 6261 4600 |
| Suggested Plans | Their 20-day plan without rice comes to be one of their cheapest plans and serves two. But you can also use their 5-day trial to experience them. |
| Timings | Lunch (10.00 am to 1.30 pm) and Dinner (3.30 pm to 7.00 pm) |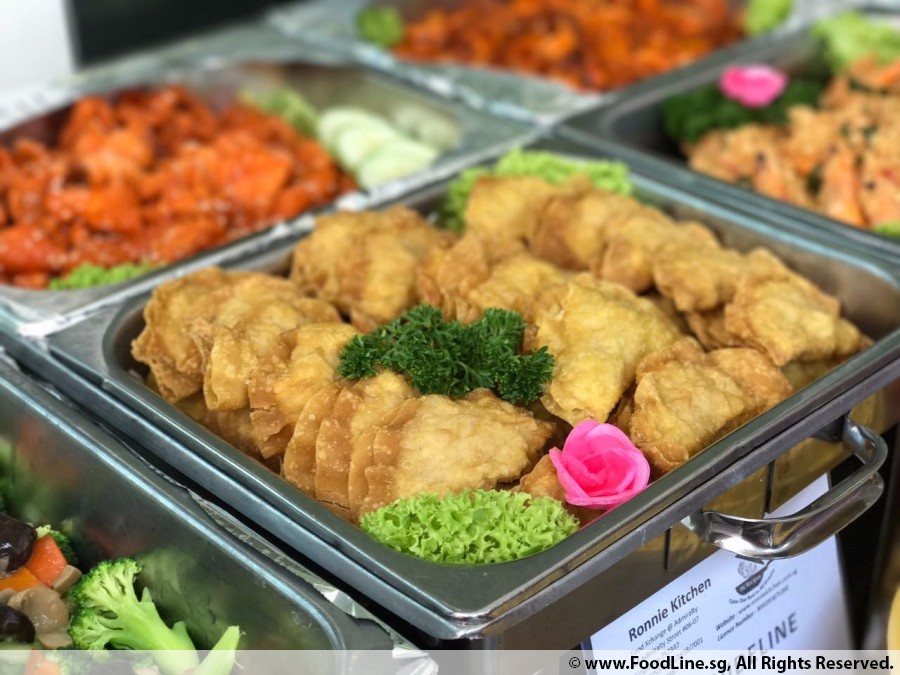 If you are a fan of Chinese food, then ordering Tingkat delivery services from Ronnie would be a great idea. They specialize in preparing over 100 types of Chinese dishes that not only are delicious but also use less MSG, less oil, and less salt. They also serve generous portions. In addition, all the food comes in disposable microwavable containers, making it easier to heat them.
They have a 20-day plan which includes either 3 dishes and 1 soup or 4 dishes. Rice is also optional. There are plans that cater to even up to 5 people which is a great thing if you have a large family at home. Their 20-day plan for one individual including rice comes up to around $10.21 per day, while the one without rice comes up to $9.36 per day.
If you're not sure about committing to them for 20 days, they also offer a 5-day trial period. They deliver food from Monday to Friday.
| | |
| --- | --- |
| Contact Details | 6753-1003 |
| Suggested Plans | Their 20-day plan for a single person without rice is one of their cheapest plans. |
| Timings | Lunch (9.30 am to 1 pm) and Dinner (3 pm to 6.30 pm) |
| Address | For the locations that they deliver to, click here. |
Kicking off our list, we have Hong Choo. This is perhaps one that you already might be familiar with because they do offer buffets as well. However, their Tingkat delivery is not only delicious but also really healthy. Customers rave about how delicious their food is, especially their soup which is really flavoursome.
Coming to the health benefits, they prepare food which is not too oily nor too salty, so if you're looking for that then it's an excellent choice. They strongly discourage the use of MSG in their food as well. Fish-lovers, this is the place for you as well, because a majority of their dishes do tend to feature fish. The quantity is also enough for one, so you do get your value for money.
You can either opt for tiffin carriers, or even microwavable boxes. And if you're hesitating about committing to them without trying them out, you can opt for their 10-day trial first. We're sure you'll love it.
| | |
| --- | --- |
| Contact Details | (+65) 6858 3170 |
| Suggested Plans | Their 20-day package for one pax costs $160 if you opt for microwave container. |
| Address | No. 5 Lorong Bakar Batu, #08-04, Macpherson Industrial Complex 348742 |
This is the best Tingkat delivery service that you can opt for if you're a new mother. They've designed their dishes in a way that supplements maximum nutrition so that they can recover quickly. Filled with herbs, and nutritious ingredients, these dishes will nourish both the body and soul.
But that's not all the benefits that they offer. Healthy eating also enables the mom to get rid of that stubborn weight that she might want to lose, and is a great first step. They can even provide you with meals that promote lactation if required. Some of these delicious food items include things like salmon, broccoli, ginger and the wonderful slice fish with egg in ginger broth.
Each meal also comes with a drink of red date tea, which is a great traditional option during postpartum. You can opt for a trial meal of lunch or dinner to make sure that this is the one for you. In addition, you get several benefits as well like a $20 swimming voucher, etc. Happy eating and recovering!
| | |
| --- | --- |
| Contact Details | +65 6727 5599 |
| Suggested Plans | Their 20-day package for lunch and dinner will cost you around $1688 and early-birds also get a discount of $128. |
| Contact Timings | Mon – Tue: 09:00 am to 08:00 pm, Wed: 9:00 am to 07:00 pm, Thu – Fri: 09:00 am to 08:00 pm, Sat, Sun & Public Holiday: 10:00 am to 07:00 pm |
| Address | 81 Tagore Lane, TAG A, #01-11, Singapore 787502 |
Don't be fooled by their name. Fatty Daddy Fatty Mummy is the healthiest Tingkat delivery out there. In fact, they're so healthy that they're even good for the elderly in the family. They have a menu that has absolutely no processed food items. They are first-of-its-kind to serve such healthy Tingkat meals in Singapore. It has no canned food, no MSG, less salt and oil, and very nourishing soup. This comes in dinner and lunch.
If you don't want to go all healthy, you can choose their Regular Tingkat which has no MSG and less salt and oil. This is perfect for working parents and comes only in the dinner variant. You won't even get bored because they offer food from a variety of cuisines like local favourites to Nonya to Western.
Their portion sizes are also pretty amazing and come in 10, 12, 16, and 20-day plans. Do check their page for the regular promotional offers and their menu which changes every month.
| | |
| --- | --- |
| Contact Details | 61000087 |
| Suggested Plans | You can contact them directly for their plans. |
| Timings | Lunch is served from 10 am to 1 pm. |
| Address | To check their delivery address, check here. |
Providing Tingkat delivery services for over a decade now, Kim's Paradise has a simple motto, "Good food comes from a Good heart with Great passion". Staying true to this, they prepare meals using only the freshest of foods in their state-of-the-art kitchen. To make sure that their food is up to their high standards, they conduct strict quality tests every day.
This is done to check not only hygiene and cleanliness but also taste. It's pretty tough finding someone still showing so much dedication to their craft after so long. They serve over 200 dishes prepared using less salt and oil. Their plans start at for a single person for either 10 or 20 days, coming to $12.305 and $10.96 per day respectively. They have an 8-day trial as well.
Do check out their website for the several promotional schemes that they offer regularly.
| | |
| --- | --- |
| Contact Details | +65 6255 1000 |
| Timings | Monday to Thursday/Friday. |
| Address | Delivers to most areas. Except for the CBD area. |
Bringing the taste of familiar Asian dishes to your doorstep, 338 Catering Tingkat offers the best of both taste and health. They offer over 400 variants of dishes and the menu changes monthly which is extremely amazing and makes sure that you're never bored. That's not all. You can even request them to make sure that they don't add certain things to your food.
You can avoid chilli if you ate spicy food, no pork, fishbone, seafood, lady's finger, brinjals, or bitter gourds. This is very crucial for people who can't assume these items due to allergies or due to certain conditions. Their plans are very flexible and allow you to opt for 4 days per week and prolong the dinner period to 5 weeks without any additional charges
They provide their food in microwavable containers and dishes are available for free containers. Their 20-day plan for 2 people without rice costs $243.96 which comes to around 12.19 per day.
| | |
| --- | --- |
| Contact Details | +65 6659 8133 |
| Suggested Plans | Their 20-day plan for 2 people is the cheapest but as the plan goes up, they offer certain benefits like free soup. |
| Address | To check their delivery address, check here. |
Providing healthy and nutritious meals at a very affordable price, Savory Kitchen is one of the best Tingkat delivery services. They offer more than 200 variants of food which are prepared using less oil and salt, no added MSG and 100% vegetable oil. That's not all, their meals can come out to be around $5 per person per day.
They provide lunch or dinner delivery in two options, the normal meal Tingkat and the healthy meal Tingkat. This makes it perfect for large families who may have individuals with different needs. These packages come in 10-day and 20-day packages. You can check out their meals for the week regularly on their website.
Their lunch Tingkat for one person comes with 4 dishes and is only available for 20 days, coming to $10.96 per day. Their dinner Tingkat for one person costs the same but provides you with the option of either 3 dishes and one soup, or 4 dishes. Rice is not included in any of their packages.
| | |
| --- | --- |
| Contact Details | +65 6315 0820 |
| Suggested Plans | Their cheapest plan is for 5 pax, 20 days coming to $5.14 per person. |
| Timings | You can check their delivery timings over here. |
| Address | To check their delivery address, check here. |
Getting delicious dishes like Hainanese Chicken Rice, Ee Fu Noodles, Fried Hokkien Mee and the menu gets changed daily. And the average cost comes out to be only around $5.00? These are the few things that make Select Catering so popular among the masses.
Their most popular plans are the economical plan and the Deluxe package. The Economical plan comes with either 3 dishes and 1 soup or 4 dishes. The same applies to their Deluxe package. Their Economical package costs $4.28 per person per day without any rice and $4.82 with rice. The Deluxe plan with rice costs $5.35 without rice and $5.89 with rice per person per day. You can even opt for brown rice if you want to eat more healthy.
They have special offers like special meals on Thursdays to pamper yourself, or ordering for more than 3 months, and getting a discount of $30. Ordering 4 pax and above gets you a special dessert or fruits every Wednesday.
Providing Tingkat delivery services for either lunch or dinner for 10 or 20 days, FongFu is definitely one of the cheaper Tingkat services. Featuring dishes like Kung Pao Chicken and Signature Beancurd, they provide 3 dishes and soup or 4 dishes for each meal. If you decide to opt for both, they will serve you a different menu. If not, then you can check out their menu on their website.
Their 10-day plan for 2 persons comes up to $$133.75 which costs around $6.65 per meal. This does not include rice which will cost another $8 per person. Ordering their 10-day plan will get you your food in microwavable containers. Their 20-day plan gets you food in Tingkat or microwavable containers (according to preference). Cost for 20-day plans for 2 people comes to around $5.6 per meal.
They run several promotions as well, which get you things cheaper or with more benefits.
| | |
| --- | --- |
| Contact Details: | +65 6262 6565 |
| Address: | They deliver Lunch and Dinner islandwide, except Sentosa |
One of the most versatile Tingkat delivery services, Happy Mama Papa is perfect for when you need food that is healthy and delicious for long periods of time. They cook their food with less salt, less oil and no MSG. But that's not all, they prepare their soup using a double boiling method which is more nutritious and delicious. Their meals are easy to digest, making them perfect for the elderly in the family as well.
What makes them different from other Tingkat delivery services is that they deliver food from Monday to Sunday. This makes it an excellent option for when you need food even on the weekends. Meals cost as low as $8.80 and if you're not sure about committing them for so long, you can try out their 7-day trial first as well.
They offer various add-ons like speciality rice which is healthier and come in various flavours like yam and garlic.
| | |
| --- | --- |
| Contact Details: | (+65) 88287028 |
| Suggested Plans: | Definitely try out their 7-day trial with the specialty rice as an add-on to get the best idea of their menu. |
| Timings: | Lunch (10am – 1pm), Dinner ( 3pm – 7pm) |
| Address: | They offer islandwide delivery |
To Conclude
With that, these are our best catering tingkat menu and tingkat meals delivery services presented to you. Be it you looking for confinement food for to-be mothers or healthy tingkat for dinner, we hope you will enjoy these services and let us know more about your experiences.
Related Topics:
Zoya
Queen of Obscure References and occasional writer. When not exercising my thumbs on Instagram, you can find me looking for good author bios on Google.
Related posts