12 Best Things to Do in Singapore
Gee, 3 months ago
1
9 min

read
95
Singapore is home to some of the world's most exotic and unique urban environments. This south-east Asian country is not only a great hub for international tourism but also has a welcoming culture. Moreover, when you think of Singapore travel, the iconic Singapura lion from Merlion Park comes to mind. Singapore's exotic tourist hotspots make it one of the hottest tourism centred places in Asia. Here are the best 12 places to look forward to when you visit Singapore.
Singapore's signature Gardens by the Bay are not only one of the main tourist spots, but also a signature attraction in Singapore. The high rise towers, indoor waterfalls, and the garden are one of the best things to witness on your Singapore travel list. Hands down deserving of topping our list of the best places to visit in Singapore!
Gardens by the Bay are not only picturesque and futuristic looking with high rise towers, but also offer a view of the city's skyline.
Standing beneath the spectacular structure and witnessing the indoor waterfall is a must to complete your Singapore travel list.
The garden is located in the heart of Singapore, and the Flower Dome is also ginormous enough to be the biggest greenhouse in the world. The best time to visit these gardens would be on the weekdays to avoid the rush, as it is packed entirely towards sunset and weekends.
Marina Bay Sands is one of the most internationally recognized landmarks and high rise premium hotels. The SkyPark not only offers unparalleled views of the Marina Bay but the entire city's skyline. This hotel has a Michelin star restaurant on board as well as a mall, casino, and the ArtScience Museum inside.
The Marina Bay Sands is not only a great luxury hotel but also a tourist landmark. Tourists always flock around it for photographs of this spectacular building.
Marina Bay Sands is a must-visit on your Singapore travel list. It is a perfect benchmark for the tourism and luxury that Singapore has to offer.
On the list of luxurious tourist spots to cover, the Marina Bay Sands is surely a leader.
The iconic Singapura lion is located in Merlion Park, and this park is one of the main tourist spots in Singapore. Moreover, this also means that you can take iconic tourist photos, and take in the beauty of this majestic park. Definitely an iconic landmark of Singapore and one of the must-have and best places to visit while you're in Singapore.
The half-mermaid, half-lion statue is one place where you should expect crowds at all times.
Merlion Park has no entry fees, and you can visit it at any time of the day. The park is usually packed with tourists gathering for photos with the iconic lion in the background.
You can finish taking photos and touring around the park within an hour and is always saturated with crowds.
When you are crossing off spots off your Singapore travel list, The St. Andrews' Cathedral is a must-visit too. Also, this is one of the oldest buildings in Singapore, and you can find peace and beauty here. If you are a history or culture lover, this Church will be the best place you visit in Singapore.
As a cultural and historical hot spot, the St. Andrews' Cathedral attracts tourists and locals in equal numbers.
You can go there and take a stroll around in the gardens or sit calmly in the Church.
Although you can find people here at all times, it is a must-visit when you come to Singapore and witness its archaic beauty.
When travelling with your family or kids, this tourist attraction is a must-visit. One of Singapore's main attractions, Universal Studios Singapore is the only Universal Studios showcase attraction studio in South East Asia. Moreover, this world-famous attraction is as enjoyable as it is a tourist spot for photographs. Hands down one of the best places to visit in Singapore if you have kids.
Enjoy a range of activities, rides, showcases and souvenir shops to make great memories here on your Singapore travel list.
The best time to visit tourist spots like Universal Studios Singapore would be the weekdays to avoid crowds and long waiting times. Although this is nearly always packed, you can get lucky to get a somewhat less crowd packed experience.
Universal Studios Singapore has Steven Spielberg spot light attractions, as well as Transformers among other franchise attractions.
Sentosa Island is more of an area when we talk about tourist attractions. This pristine island located towards Southern Singapore has the Universal Studios, the spectacular S.E.A Aquarium, among several other attractions. More of a packed tourist spot, Sentosa Island is where you should be staying in Singapore if you are looking forward to a lavish trip. The island also has Singapore's infamous Sentosa Golf Club.
The island is picturesque despite being packed with tourists.
You can reach Sentosa Island by both roadways and cable car.
Sentosa Island also has some spectacular luxury islands located along the coast and exudes exotic beach life.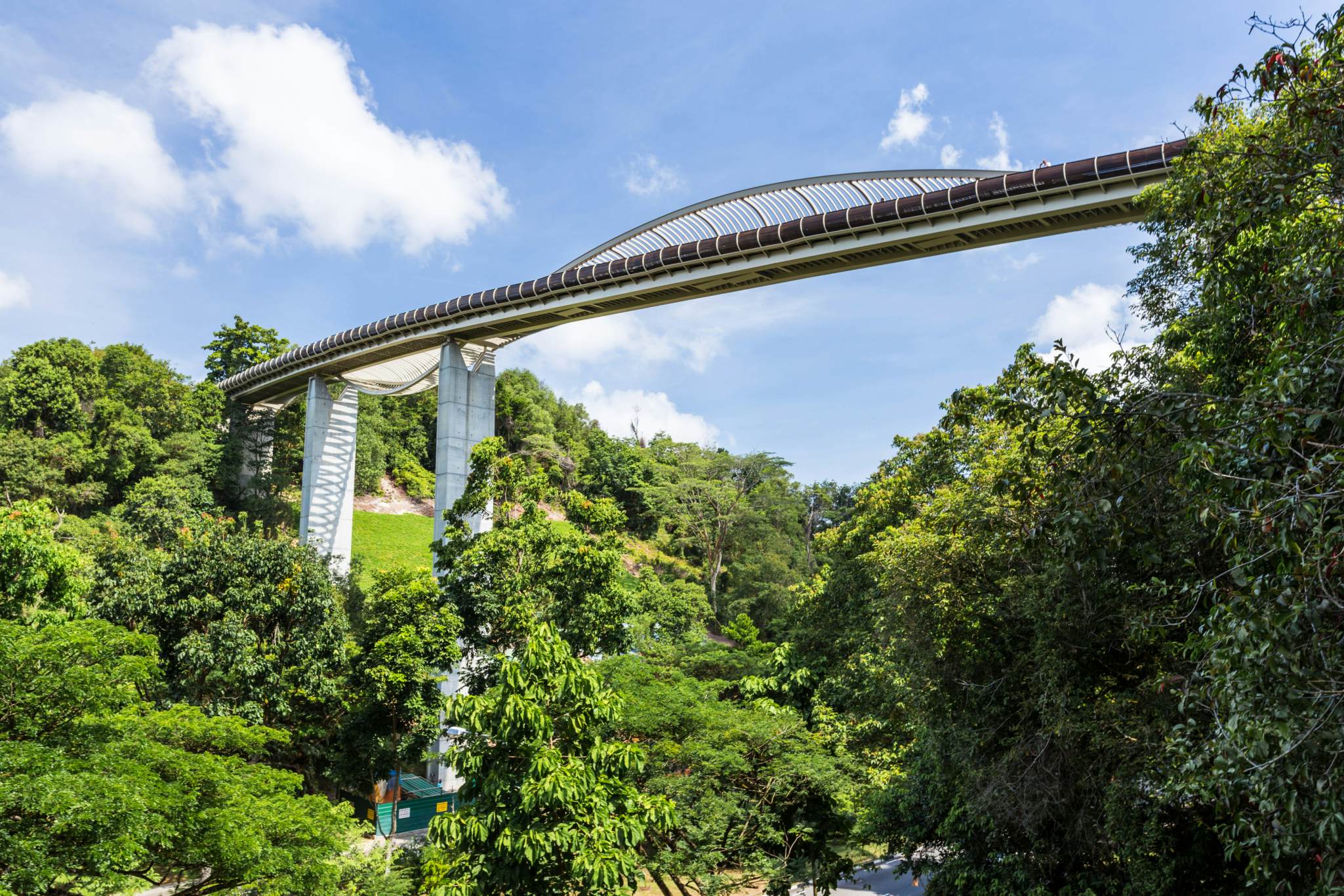 When travelling anywhere, you should always look around for unique natural setups. The Southern Ridges in Singapore is a perfect combination of nature with minimal human interference. You can cross off The Southern Ridges from your Singapore travel list, and this place would call you back. It is a trail that connects the five parks present in Southern Singapore area.
You get to see Singapore's exotic flora and fauna from the bridge and take in spectacular views.
Moreover, The Southern Ridge's canopies, the scenery and different environments make for great photography too.
Because of the path ways and nature, this place is usually not too crowded. But it is perfect for natural and personal photo shoots as well as nature exploration.
Singapore's natural beauty and well-kept tourism are in full display in its parks and reserves. The Sungei Buloh Wetland Reserve is one such pristine natural reserve that shows Singapore's green side. Moreover, the mangroves, wetland, and general ecosystem give it a completely different ecosystem. If you're a nature lover, this place is a must-visit and truly one of the best places to visit in Singapore.
Because of the mangrove and wetland ecosystem, the Sungei Buloh Wetland Reserve is good for nature exploration and wildlife photography.
It is an untouched environment that does not have any man-made infrastructure or interference. So you get to see raw nature, and the trails make this place easy to explore.
The Sungei Buloh Wetland Reserve is an ASEAN Heritage Park and you should also leave it unspoiled when exploring.
This five-story temple is a shrine to Buddhism in Singapore. Also housing several artefacts of cultural and religious importance, it is a must-visit. The exotic-looking shrine is not only a temple but a museum and theatre. You can also pay a visit to the tea house and see the intricate beauty and peace of this building.
Each floor has a different function in this Buddhist shrine and seeing the courtyards and the serenity in this place is a great experience.
The entire experience is not only incredibly calming but also moving. You can see the incredible views around as well as take in the serene chiming of the bells and the peaceful environment.
You would have to visit this and see the crowd, as it keeps on changing, except on weekends when it is busiest.
Are you one of those people who wants to explore the raw side of the places you visit? If yes, then visiting the Pulau Ubin is a must for your Singapore travel list. Moreover, you visit this island in a steamboat, and although there is no commercialization, it is truly worth exploring. Seeing this island shows the raw side of Singapore without all the high-rise buildings and just spend your time here exploring.
While it is not devoid of humans, you can see people living in a country set up that shows the historical way of living.
Pulau Ubin is a place where you can spend time away from crowds.
Moreover, you can get some great natural and country shots as well as rest by its untouched beaches.
The National Gallery of Singapore is home to the largest collection of modern art gallery pieces. Additionally, it also houses the gallery and the used-to-be Supreme Court of Singapore. It should be on your Singapore travel list if you look forward to exploring the city's modern history side.
Usually, the building can be packed and full of people. But if you want to avoid crowds in general, consider booking for weekdays in advance.
You can easily spend a day just exploring and observing what this ginormous building has on display.
Housing a huge 8,000 pieces of art and other items of cultural importance, this is Singapore's photo reel in a building.
Singapore's only and largest aquarium on the island is located on Sentosa Island. Additionally, it is home to over 800 marine species and displays them in their respective environments. On a family trip to Singapore, the S.E.A. Aquarium is a must-visit. Gazing at the spectacle of marine life while standing under or close to huge and small fish alike can be an exhilarating experience. Definitely a must-go and one of the best places to visit in Singapore!
The S.E.A. Aquarium is a complete encapsulation of marine life at the display. As one of the main tourist places in Singapore, this place can become quite crowded. To enjoy it best without too many people around, look to weekdays in the mornings.
It is best to book tickets in advance to avoid last-minute crowding and having to return.
As Singapore's largest aquarium home to a great number of species, this is one place you definitely want to tick off your bucket list.
Singapore is home to some of the most iconic tourist places in the world. That also makes it an expensive tourist city and getting around is easy. But it is best to visit these locations out of season or you do not get to enjoy the complete experience. Singapore's parks, museums, shrine, markets, and natural reserves are spectacles in themselves. One thing you can be sure of is that your camera would be out capturing the exquisite beauty and infrastructure of Singapore at all times!
Written by: Ankit Sharma
Related posts
Subscribe for newsletter
* You will receive the latest news and updates on Singapore's best trends!
Trending Posts