5 Best Thermometers in Singapore [2021]
Megha, 3 years ago
4 min

read
2952
Owing to the COVID-19 pandemic, it is now more important than ever to own a quality thermometer at home. No more idly sitting next to traditional mercury thermometers waiting to get a reading! Keep reading to find out the best 5 thermometers to buy in Singapore to help you get reliable and accurate reading in seconds.
Best Thermometers to Buy in Singapore
Functions: Touch & no-touch modes
Large colour-coded display
Ultra-sensitive sensor guarantees accuracy
Warranty: 1 month
The Braun NTF3000 Forehead Thermometer can be declared the overall best thermometer available in the market. Along with the touch and no-touch functions offered, this thermometer promises accurate reading thanks to its ultra-sensitive sensor. According to Braun, this cool sensor captures "twice as much body heat" radiated from the child/adult's body.
The large colour-coded display is user-friendly and helps you understand the reading quickly. You can bid your worries goodbye, as the in-built positioning system guide you to proper placement using the indicators on screen and the LED light. The only con of this product would be that it is a little pricey, but for the value offered, this is reasonable. This is truly one of the best thermometers in Singapore today.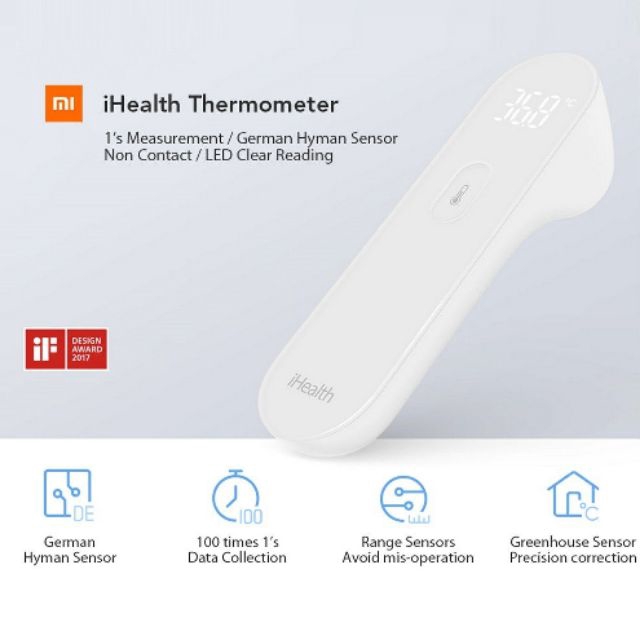 No-touch infrared thermometer
Fast measurement: 1 second (forehead)
Hygienic & Safe: No-touch design
LED backlit
Warranty: 1 month
Xiaomi's iHealth PT3 is an all-white sleek thermometer that offers hassle-free reading in just 1 second with its non-invasive and no-touch forehead design! As soon as the reading is done, the device gently vibrates. Along with its large display and 3-steps for measurement, this device is perfect for the elderly to use.
Another wow factor is the LED backlit display that helps you read easily at night. As per Xiaomi, the in-built distance sensor and environmental sensor will ensure that you get accurate reading. The price at $43.99 on the official website, and $23.90 on Shopee make this device quite the catch! This is one of the best thermometers for value in Singapore.
Fast measurement: 1 second in Ear
Fever alarm: Body temperature over 99.5⁰F/ 37.5⁰C
Select ⁰F/ ⁰C
Easy handling
Warranty: 1 year
Frontier Healthcare, located at Ubi Avenue, introduces the Omron TH839S as a "gentle" thermometer perfect for "infants and young children." A convenient advantage of this product is that it only takes 1 second for measuring temperature. Parents, we know how this is a godsend when the kids/babies make a fuss!
Also, the ergonomic design guarantees easy handling. We believe the option of choosing from ⁰F or ⁰C is also useful depending on what you are more comfortable with. But the best part is the fever alarm that starts beeping when the reading is over normal temperature range. One con would be the lack of non-invasive/no-touch approach. The price at $89 is more affordable compared to other high end models.
Digital thermometer (under the tongue/ armpit)
Quick reading
Water-resistant
Buzzer when reading is done
Omron's MC-245 is a digital thermometer that offers an economic choice if you are looking for a basic thermometer to provide accurate and reliable reading. This device is water-resistant, and will start to beep once the reading is done.
This is a better option for teenagers and adults who may be more tolerant during temperature taking. Compared to tradition mercury thermometers, the digital model still provides faster reading. Grab your own digital thermometer at just $18.00 on Lazada. One of the best thermometers available in Singapore!
No-touch forehead thermometer
Temperature storage: 9 readings
Fast measurement: 1 second
Versatile use
Warranty: 3 years
Bion brings to you its Thermometer HB500 that is a 2-in-1 no touch forehead thermometer allowing versatile use. In addition to measuring your baby's temperature in a quick second, you can also measure temperature of the baby's milk. All you have to do is point the thermometer at the surface of objects!
An amazing feature of this thermometer is its capacity to store up to 9 readings. This helps you easily compare your child's temperature over the course of a fever. It can also be used for taking adults' temperature. With a warranty of 3 years and a reasonable price of $89.90, this is among the top thermometers in the Singapore market.
Which Thermometer Should You Get?
The decision to buy a thermometer involves considering the following factors:
Specific use for family members: If you have a baby (0 to 3 years), the best option is infrared thermometers due to their quick and non-invasive reading. Ear thermometer is appropriate for children up to 12 years, as their ear canals are more developed.
Affordability: Digital thermometers are quite affordable and provide accurate reading. But these will take more time!
Who will use: For elderly, infrared thermometers are easier to use and involve just 3 simple steps!
Written by Megha Hareendran
Related posts
Subscribe for newsletter
* You will receive the latest news and updates on Singapore's best trends!