10 Best Themed Cafes You Never Knew Existed in Singapore [2022]
Joanne, 3 years ago
11 min

read
7957
When it comes to looking for a place with good food and ambience, it is safe to say that Singaporeans are often spoilt for choice with the sheer number of cafes that we have here on our sunny island of Singapore. Cafe-hopping around different cafes is also many Singaporeans favourite pastime! However, as cafes come and go, not many of them are able to stand out from the rest. Today, let's have a look at the best theme cafes in Singapore, all of which are Instagram-worthy and have unique concepts that are definitely worthy of your time to check out!
Highlights:
House made Gelato
Beautiful floral theme
Serves up coffee
Established in 2019 Wishes Café is located at Circuit Road right opposite Circuit Road Market & Food Centre, and serves freshly made Gelatos at unbeatable prices. Unlike other plain cafes, this leading gelato café in Singapore sports a beautiful floral theme that serves as a perfect backdrop for your next display picture. Upon entering the café, you will notice a beautiful, tall, and pink sakura tree that spans the entire ceiling of the shop. The chairs are also in pretty pastel colours to match the floral theme of the café.
As for its menu, you can choose from more than 12 flavours of Gelato, all of which are freshly churned in-house. You can also choose to have your ice cream with some buttermilk waffles which are fans favourite as well. Flavours of Gelatos range from classic flavours like Cookie and Cream, Vanilla, and Ripples Berry to more premium flavours like Japanese Sweet Potato and Pistachio.
Along with your dessert, you can order some artisanal coffee or even traditional kopi to enjoy. Wishes Café is definitely a gem in the heartlands and a café that serves up food and drinks for all to enjoy!
Address
Block 36 Circuit Road #01-414 Singapore, Singapore 370036
Contact Information
9299 6161
Business Hours
Tuesday – Thursday, Sunday: 12 PM to 10 PM
Friday – Saturday: 12 PM to 11 PM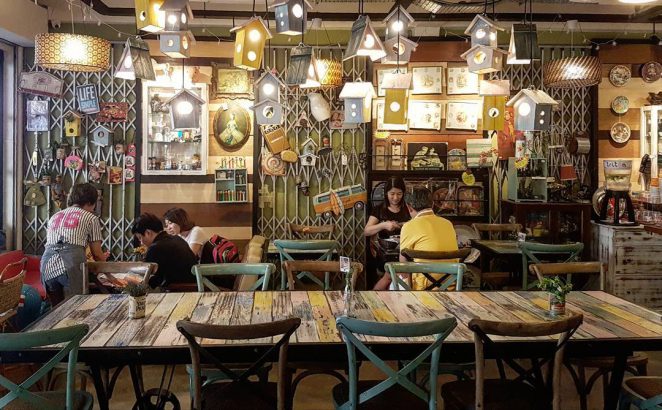 Highlights:
Vintage theme
Wide variety of food
Retail corner to purchase vintage collectibles
Brunches Café is a café with retro vibes that serves a wide variety of all-day breakfast, starters, main dishes, home-made desserts, waffles, specialty coffee and tea, as well as other interesting beverages. All of their food is freshly made daily in their kitchen, and Brunches Café prides itself in omitting the use of any preservatives in their food.
The café is furnished with unique vintage furniture and collections that are photo-friendly. On top of that, guests can choose to bring home these vintage collections as they are available for purchase. Brunches Café even has a retail corner that specially features genuine vintage collectibles and unique products that might catch your eye. Some examples include a four-seater sofa set that was converted from a real vintage Mini Cooper, as well as some jewelry pieces that are unique and genuine.
Brunches Café also allows the use of its venue for parties, celebrations, and other events or activities. You may choose from various dining options such as ala carte, buffet, set meal or even canape style. So, if you are looking for a unique place for your next corporate retreat or birthday party, be sure to keep Brunches Café in mind!
Address
96 Rangoon Rd, Singapore 218381
Contact Information
8337 3343
Business Hours
Monday – Friday: 11 AM to 10 PM
Saturday – Sunday: 10 AM to 10 PM
Fantasy theme
Props available for photo-taking
Unique food options
If you are a fan of fantasy movies such as Harry Potter, this café is definitely on you should not miss out on. Platform 1094 is located at Serangoon Road, and sports a fantasy, Harry Potter theme. From the moment you step foot into Platform 1094, you will be transported into a magical fantasy world, with the mystical décor that colour the whole café.
The interior sports brown wooden floors and tiled walls, with furniture that resemble those from the wizardry school in Harry Potter. Platform 1094 even provides customers with a variety of props like wands and Insta-worthy backgrounds for you to play around with and fulfill your childhood dreams of becoming a wizard.
If you think the magic stops here, you are mistaken! Aside from the props and décor, the food that is served at Platform 1094 also wonderfully fits the theme of the café. Some of them are served in small little cauldrons and others even sport flames! For example, Goblet of Fire is a blue beverage that consists of curacao liqueur and lime juice. It is then torched up with Bacardi 151 rum, giving you a magical moment that is perfect for that Instagram Boomerang.
A feast for the taste buds and the eyes, Platform 1094 is definitely unlike other cafes and is a great place to go for a day of fun!
| | |
| --- | --- |
| Address | 1094 Serangoon Rd, Singapore 328192 |
| Contact Information | 6204 6003 |
| Business Hours | Tuesday – Sunday: 11 AM to 10 PM |
Highlights:
Replica of TV set
Unique menu with hidden references
Props for photo-taking
This one is for the F.R.I.E.N.D.S fans out there! This popular TV show has a large fan base, despite having ended more than 15 years ago! Central Perk Singapore was initially a crowd-funded project that was started by a group of six men. Today, it is a popular restaurant that can house up to a hundred diners!
Central Perk Singapore is decorated to look like the set from the popular TV show, and features various props that were seen on the TV show. For example, a replica of Monica's kitchen as well as the couch from THE Central Perk café from the TV show are all situated within Central Perk Singapore.
The menu of this restaurant also features items that have hidden references and pay tribute to the hit TV series, and that only true blue fans of the show can relate to. For example, you can order yourself a Joey's Fisherman Stew, Oh My God Baby Back Ribs as well as Chandler Green With Milk.
It is also worth noting that Central Perk Singapore is the only Warner Brothers licensed café outside the United States. The restaurant is also always looping episodes of the TV show on a large screen that is at the centre of the restaurant. This is definitely a place to check out if you love F.R.I.E.N.D.S!
| | |
| --- | --- |
| Address | 1 Magazine Rd, #01-01 Central Mall, Singapore 059567 |
| Contact Information | 9025 2524 |
| Business Hours | 11 AM to 11 PM, Daily |
Highlights:
Play with cats while eating
Gourmet drinks and cakes
Wide menu selection
The Cat Café is a combination of all things food in the world: cats, coffee, tea and pastries. The humble café has two locations, one at Bugis, the other at The Rail Mall. Both locations are packed with many furry felines, and you get to watch and play with them while you enjoy a wide range of food including lasagne and gourmet drinks and cakes that are made with love by the team at the Cat Café.
The café is spacious and bright, and a variety of pet toys are also provided for patrons to play with the cats. If you would like to have a cuddly day out with your friend or child, keep the Cat Café in mind! Do note that they do have some rules that you have to take note of, so as to keep both you and their feline companions safe and happy!
| | |
| --- | --- |
| Address | Multiple locations: See here |
| Contact Information | Multiple locations: See here |
| Business Hours | Multiple locations: See here |
Highlights:
Singapore's first dog petting café
10 residential dogs
We're The Furballs is Singapore's first dog petting café. Located in a quiet corner on the top floor of Bugis+, you will be greeted by 10 residential small to medium breed dogs at the café upon your entrance. Visitors will have to listen to some house rules before being allowed to enter, so as not to overwhelm the little furry friends!
You can also grab some dog food for you to feed the residential dogs at the café. We're The Furballs also provides visitors with afternoon tea for you to enjoy while playing with some dogs. Coupled with its tranquil location, We're The Furballs is the best place to head to if you are feeling all stressed out and in need of some peace and calm!
Address
201 Victoria Street, #07-07 Bugis+ Singapore, Singapore 188067
Contact Information
6509 1186
Business Hours
Monday to Thursday, Sunday :1 PM – 10 PM
Friday to Saturday: 12.30 PM – 10.30 PM
Highlights:
Sustainable living themed
Cosy and warm interior
Extensive menu
The founders of Knots Café and Living are lovers of style, design, and eating well, and this is evident once you step into the food establishment located at Paya Lebar. They specialize in beautiful, sustainable, hand-crafted pieces as well as wholesome and nourishing food.
The café even sports a cosy corner that is sells sustainable products and flowers from Xpress Flowers for you to shop around. Knots Café and Living features an extensive menu that serves everything from breakfast items such as waffles, to heavier meal options like Pizza, Burgers, as well as Pasta. You can also choose to have desserts like cakes and pastries!
All in all, Knots Café and Living offers you great food and drinks in a warm and comforting atmosphere!
Address
160 Paya Lebar Rd, #01-07, Singapore 409022
Contact Information
6817 0383
Business Hours
Monday: 10 AM to 5 PM
Tuesday – Sunday: 9 AM to 9 PM
Highlights:
Multiple locations
24/7
Enchanted theme
Mosanco Enchanted Café is a café that features quirky and beautiful décor. The cafe is known to constantly experiment with new flavours and textures to spice up their menu. From Cold Brews to baked treats and main courses, the offerings by Mosanco Enchanted Café will stimulate all five of your senses.
This café sports a beautiful enchanted theme, and amazingly, they are open 24 hours a day, 7 days a week. Furthermore, they offer island wide delivery at 24 hours a day as well! So if you are craving for a midnight snack at a café with quirky ambience, be sure to keep Mosanco Enchanted Cafe in mind! They even have multiple cafes at Bedok and Rangoon Road.
| | |
| --- | --- |
| Address | Multiple locations: See here |
| Contact Information | 8813 1086 |
| Business Hours | 24 hours |
Highlights:
Housed in a restored 1930s chapel
Exquisite dining experience
Great for date night
The White Rabbit is a food establishment that combines classic European cuisine and anachronistic architecture. Established in 2008, it is housed in a restored 1930s chapel on Dempsey Hill and is a critically-acclaimed landmark known for its European classics, outstanding table-side service and overall exquisite dining experience. Some food options include Beet-Cured Salmon, tender House-Made Ibérico Pork Collar Ham, as well as seasonal Persimmon Carpaccio.
The interior of the restaurant features hallowed halls that recall a colonial heritage, abandoned and brought to new glory through beautifully-restored high beams, stained-glass windows and modern furnishings. The White Rabbit stands restored today as one of the most iconic and romantic dining destinations in Singapore, so if you are looking for a place for your next date night, The White Rabbit has got you covered!
Address
39C Harding Rd, Singapore 249541
Contact Information
6473 9965
Business Hours
Tueday – Friday: 11.45 AM to 2.30 PM & 6.15 PM to 10 PM
Saturday – Sunday: 11 AM to 2.30 PM & 6.15 PM to 10 PM
Highlights:
Alice in Wonderland theme
Creative desserts
Hatter Street Bakehouse & Cafe is owned by a pastry chef who trained in a 3-Michelin starred restaurant in Hong Kong. The café sports an Alice in Wonderland theme and is known to incorporate some fun elements into their desserts. Some desserts that the cafe offers includes offered include the Standard Whoaffle, Unicorn Whoaffle, and Choochi Monsta.
The café is decorated with colourful cushions and an overall whimsical and welcoming vibes. There are also murals on the walls of characters from Alice in Wonderland for customers to take photos with!
| | |
| --- | --- |
| Address | 212 Hougang Street 21, #01-333, Singapore 530212 |
| Contact Information | 6988 4591 |
| Business Hours | 1 PM to 10 PM, Daily |
With so many wonderful theme cafes for you to check out on this list, your food hunting weekends will be kept busy for quite some time! Just pick any one of these cafes and start cafe-hopping now! If you are looking for other cafes to explore, check out the best ice cream cafes in Singapore here!
Related posts
Subscribe for newsletter
* You will receive the latest news and updates on Singapore's best trends!