21 Best Thai Restaurants in Singapore To Satisfy Your Cravings [2022]
Emily Hopkins, 3 years ago
18 min

read
8985
Piquant, energizing and unabashed – what's there not to love about Thai Food? Under normal circumstances, countless Singaporeans flock to the country to bask in its glory every year. Unfortunately, that has since become a luxury amidst the Covid-19 pandemic and travel restrictions.
Regardless, we take comfort in knowing that there is no shortage of authentic Thai food right here in Singapore. Here are the ten best Thai restaurants to get your cravings fixed!
Anytime is a great time to have a taste of some Thai food at Gu Thai restaurant in Singapore. The hotel might be well known for its affordable pricing menu, but it also offers exceptional quality Thai food and drinks all the time.
Gu Thai is a hot spot that you should visit for your favourite yum prawn noodles. If you do come, rest assured to get served tangy, sweet, and spicy dishes including Mookata and other grill menus. The hotel also offers you a chance to celebrate a perfect night with your family and friends. It is one of the perfect places in Singapore that you need to enjoy happy hour with your loved ones.
Gu Thai has a team of professional chefs with vast experience when it comes to Thai food preparation. Whether you are craving juicy meat or sticky rice for dinner, Gu Thai offers a variety of Thai cuisine maintained to the right level of flavours. It also provides Thai style barbeque and seafood hotpot on their authentic menu.
Highlights
Top services
Juicy roasted meat
Friendly staff
Reasonable prices
Ample environment
| | |
| --- | --- |
| Address | 96 Sims Avenue, Singapore 387424 |
| Contact Number | (+65) 6514 2710 |
| Business Hours | Mon – Sun, 11.00 AM – 4.30 AM |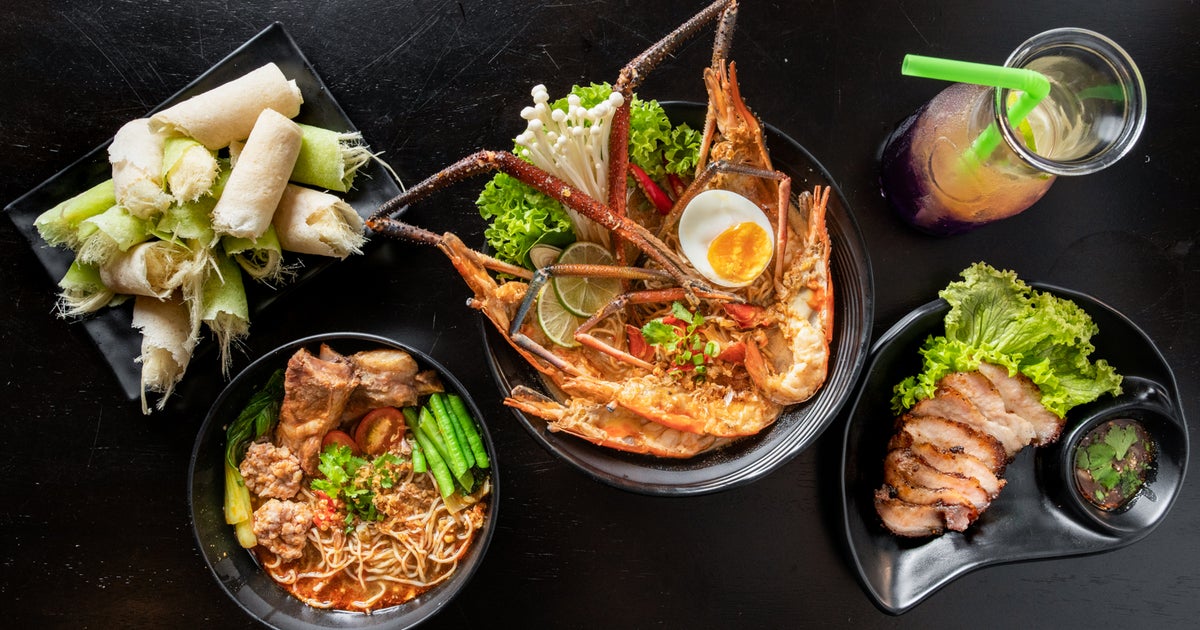 Upon entering Soi Aroy, you'll be greeted by friendly staffs and a cosy atmosphere. Beyond its affable front, the family-ran business is ranked as the number 1 Thai Restaurant on TripAdvisor.
Besides the usual fiery mains, the joint specializes in a flavourful collagen soup base for its noodles, slow-boiled for twelve hours and free of MSG. The broth coats the carbs with a silky film, and your mouth with an endearing stickiness. On top of that, indulge in popular street food like pork skewers and grilled pork cheek. The latter boasts a charred aroma from being grilled with open flames.
Now, you can have the mouthwatering selection delivered to your doorstep via Deliveroo and Foodpanda. Whatsapp them for the full menu and delivery rates!
Highlights
Available for delivery on Deliveroo and Foodpanda
Collagen broth that is slow-boiled by twelve hours
Juicy roasted meats
Address
Sim Lim Square: 1 Rochor Canal Rd, #02-08, Singapore 188504
SMU: 80 Stamford Rd #B1-66 Singapore 178902
Contact number
Sim Lim Square: +65 9641 8988
SMU: +65 8121 6866
Business hours
11 AM – 8 PM daily
Ah Loy Thai is a no-frill Thai restaurant with an inviting environment. The food typically costs more than S$10 due to the huge portions intended for sharing.
Recommended by many, the Pandan Chicken is a fragrant and juicy crowd-pleaser. For those with a more nuanced palate, allow the Thai Garlic Pork to impress you with its appetizing pungency.
At peak hours, Ah Loy Thai is absolutely busy and lively. Utilize their mobile queuing service to get a queue number before going. In addition, make a reservation on their website to avoid disappointment.
Highlights
Free in-house delivery available with a S$70 minimum order
A large portion, ideal for sharing
Pre-order for self pick-up or get queue number via mobile services
Address
9 Tan Quee Lan St, #01-04 Bugis, Singapore 188098
Contact number
+65 8488 6528
Business hours
11.30 AM – 3 PM, 5 PM – 8.30 PM (Mon – Fri)
11.30 AM – 2.30 PM, 4.15 PM – 9 PM (Sat – Sun)
Despite spanning across three storefronts and offering plenty of seating, Diandin Leluk Thai Restaurant can still become crowded during lunch hours. Its frequented by employees of offices located in its proximity.
The restaurant serves up gratifying, pared-down dishes that fill you up without hurting your wallet. For lunch, there are set meals featuring a main course, a drink, soup and dessert. Be spoiled by the wide variety of stir-fry and competitive prices!
As a bonus, Diandin Leluk is open 24 hours from Tuesday to Sunday. The next time longing for Thai food strikes at midnight, you know the place to go.
Highlights
Set lunch available at only S$8.90
Open 24 hours
Wide variety of stir-fry
Address
Golden Mile Complex, 5001 Beach Rd, #01-67/68/69 Golden Mile Complex, Singapore 199588
Contact number
+65 6293 5101
Business hours
Open 24 hours (Tue – Sun)
12 AM – 9 PM (Mon)
Another contender from the Golden Mile Complex, Nana Original Thai Food has the heartwarming quality of a caring grandmother, who aims to stuff you with generous portions around the clock. It is similarly liberal with spices, so be prepared to have your senses stimulated.
True to its name – Nana translates to "diverse" – the unassuming eatery serves a multitude of Thai fares. These include 18 different types of salad and 26 protein-based dishes.
Nana Original Thai Food is available for delivery on Deliveroo and Foodpanda. It has also penetrated the heartland market with shops in Clementi and Yishun. Nonetheless, the one at Golden Mile Complex remains the favourite among its devotees.
Highlights
Open 24 hours daily
Generous portion
Vast selection of salads and meats
| | |
| --- | --- |
| Address | Golden Mile Complex, 5001 Beach Rd, #01-51/52/66A, Singapore 199588 |
| Contact number | +65 6297 8498 |
| Business hours | Open 24 hours daily |
Originally a chef at Parkway Thai Restaurant for 6 years, founders Joe and his wife decided to set up their own restaurant in 2006. Since then, they have continuously blessed Singaporeans with earnest, delectable Thai food.
Take a gastronomical trip to The Land of Smiles with the chef's signature Claypot Crab with Vermicelli. A whole crab perches enticingly atop sleek, dark vermicelli. Note that it requires an advance order at least one to two days prior. Alternatively, sample the succulent Stuffed Chicken Wings: a speciality that takes great patience and skills to debone and pack with fillings.
Address
#01-182 Block, 125 Bukit Merah Lane 1, Singapore 150125
Contact number
+65 6270 8484
Business hours
11 AM – 3 PM, 5 PM – 10 PM daily
Closed on Thursday
Situated on the fifth floor of Park Hotel Farrer Park, the Halal-certified Blue Jasmine is one of Singapore's more premium Thai food providers. The dishes are inspired by the bustling street food culture in Thailand, from where the restaurant imports herbs and spices.
Venture into less-charted territories with the Tom Yum Poh Tek, featuring chunks of fried sea bass in a fiery soup. Furthermore, delight in the fluffy Cha-om Fried Egg, which is paired with fresh vegetables and prawn paste-based Nam Prik Kapi dipping sauce. Wrap up the meal with the Mango & Blue Jasmine Sticky Rice that partially lent the restaurant its name.
Highlights
Vegetarian options available
Certified Halal
Instagrammable Mango & Blue Jasmine Sticky Rice
| | |
| --- | --- |
| Address | Park Hotel Farrer Park, 10 Farrer Park Station Road Level 5 Park Hotel, Farrer Park, 217564 |
| Contact number | +65 6824 8851 |
| Business hours | 11.30 AM – 10 PM daily |
The food at A-Roy Thai comes with a slightly heftier price tag. Nevertheless, that hasn't deterred its customers, who return for original, scrumptious Thai cuisines.
The restaurant has a handful of speciality dishes. The Ho Mok Maphrao Aon, or Seafood Otah in Coconut, is especially coveted for its rich, creamy goodness.
Ah Loy Thai strives to take care of vegetarian diners with an extensive vegetarian menu. In particular, the plant-based Green Curry with tofu and vegetables could satisfy even the most avid of meat lovers.
Highlights
Extensive vegetarian menu
Great service
Creamy Seafood Otah in Coconut
Address
Central: Velocity@Novena Square, 238 Thomson Road #03-61/63 Novena Square (Velocity, E Coast Rd, 205, 307683
East: 205 East Coast Road Singapore 428904
Contact number
Central: +65 6338 3880
East: +65 6970 5028
Business hours
11.30 AM – 3 PM, 5.30 PM – 8.45 PM daily
Nakhon Kitchen has multiple outlets on the island, including in VivoCity and Tampines' Century Square. However, the ones at Compass One and Kovan are the most popular, where queues are a common sight at dinner time.
The food group insists on traditional Thailand cooking methods to deliver authentic cuisines. Their efforts are well recognized, winning the SME of the Year Award for two consecutive years in 2014 and 2015.
Though some customers complain about the less-than-satisfactory portion, Nakhon Kitchen makes up for it with a modest price tag and superb taste. Kick-off your meal with the light, greaseless Thai Prawn Cakes. Then, complement your main course with the Clear Tom Yum Soup: exceptionally cheap, endlessly moreish and lavishly filled with seafood.
Highlights
Affordable, no service charge imposed
Authentic Thai cuisines
Gregarious ambience
Address
Compass One: 1 Sengkang Square #02-30 Singapore 545078
Kovan: 212 Hougang Street 21, #01-341, Singapore 530212
Contact number
Compass One: +65 6962 2010
Kovan: +65 6286 8785
Business hours
Compass One: 11.30 AM – 9.30 PM
Kovan: 11 AM – 10 PM daily
Highlights:
Thai Culinary Team
Traditional Thai Fares with a Modern Twist
At Bangkok Jam, they have been proudly serving unique Thai dishes since their doors opened at Great World in 2007. Helmed by a dedicated Thai culinary team, each ingredient is meticulously hand-picked to convey love in every dish served. Today, their menu presents a mixture of curated dishes refined over the years, as well as traditional classics from the world's beloved cuisine.
Indulge in Thai Classic Dishes from Thai Fish Cakes, Grilled Pork Skewers to Pineapple Fried Rice, and in-house speciality dishes like Grilled Marinated Chicken, Thai Massaman Curry to Souffle Pancakes. Be prepared to be spoilt for choices! Fuelled by the ceaseless passion to better the dining experience in Bangkok Jam, they are devoted to upholding the representative "smiling culture", just like the friendly folks in the Land of Smiles!
| | |
| --- | --- |
| Address | You can find their outlets here. |
| Contact Number | You can check their details here. |
| Business Hours | Mon – Sun : 11.30am – 10pm (Last Order 9.30pm) |
| Official Pages | Website | Facebook | Instagram |
Located right next to one of Nakhon Kitchen's Bedok outlets, the two often draw comparisons. Apparently, some customers prefer Nangfa Thai Kitchen for their superior flavours, concocted with fresh ingredients and an expert measure of spices. The trait can be attested by the gorgeously glazed Honey Chicken, which is deliciously marinated and irresistibly tender.
Apart from that, Nangfa consistently manages to leave an impression and incite loyalty through a dish as ubiquitous as Tom Yum Soup. So, rest assured that the food will be worth the queue, which is guaranteed to be present during peak hours.
Highlights
Islandwide delivery available from S$6
Affordable hawker prices
Recommended by many as the best Thai restaurant in Singapore
| | |
| --- | --- |
| Address | Bedok North Ave 3, #01-166 Blk 136, Singapore 460136 |
| Contact number | +65 6245 5548 |
| Business hours | 11.30 AM – 2.30 PM, 5.30PM – 10 PM daily |
In 1999, Ms Suchana, daughter of Mr Swang, came to Singapore to secure Jai Thai Restaurant's first offshore outpost. Hailed as the most value-for-money Thai restaurant, its success is evident in its expansion with three more outlets. Among them, the ones at Dhoby X'Change and SingPost Centre are certified Halal.
The chain receives a fair share of praise for most of its dishes, but customers seem to have developed a special liking towards the noodles. If you're planning to visit, give the Fried Tang Hoon and Phad Thai a try!
Highlights
Certified halal at the Dhoby X'Change and SingPost Centre outlets
Catering services available
Fried Tang Hoon and Green Curry
Address
Clover Way: 7 Clover Way, Singapore 579080
Dhoby X'Change: 11 Orchard Road, Dhoby X'Change #B1-12 Singapore 238826
SingPost Centre: 10 Eunos Road, 8 SingPost Centre #B1-147 Singapore 408600
An Chuan Building: 27 Purvis Street #01-01 Singapore 188604
Contact number
Clover Way: +65 6258 0228
Dhoby X'Change: +65 6338 5766
SingPost Centre: +65 6346 4940
An Chuan Building: +65 6336 6908
Business hours
Clover Way:
11 AM – 3 PM, 6 PM – 9 PM (Mon – Thu)
11 AM – 3 PM, 6 PM – 10 PM (Fri – Sun, PH)
Dhoby X'Change & An Chuan Building:
11.30 AM – 3 PM, 6 PM – 10 PM daily
SingPost Centre:
11.30 AM – 3 PM, 5.30 PM – 9.30 PM (Mon – Thu)
11.30 AM – 3 PM, 6 PM – 10 PM (Fri)
Closed on Sunday and Public Holidays
The Sabai Fine Thai is one of the best places to visit if you want to have a more sophisticated dining experience. The hotel prides itself on its distinctive and delicious cuisine it offers. They specialize in fancy South-East Asian cuisine.
All food prepared at Sabai Fine Thai restaurant boasts a unique and fresh taste of Thai ingredients. This hotel is certainly a perfect place suitable for a royal setting since workers here serve dishes with some elegant presentation. The hotel also features a luxurious interior design. It also offers a grand ambience that perfectly suits fine dining.
Highlights
Customized Thai foods
Great serving
Suitable for a group gathering
Professional chefs
| | |
| --- | --- |
| Address | 70 Collyer Quay, #01-02 Customs House, Singapore 049323 |
| Contact Number | (+65) 6535 3718 |
| Business Hours | Mon – Sun, 11.30 AM – 9.15 PM |
Tamarind Hill is recognized as one of the top-rated hotels in Singapore, providing customers with exceptional Thai cuisine. Their food preparation comes from unique recipes, flavours, and ingredients. It's actually your perfect choice for group and family gatherings.
Tamarind Hill is a colonial mansion featuring a contemporary set up. It is one of the best places with a beautiful serene setting and ample atmosphere. The hotel has earned much admiration for its variety of dishes and the decent drinks selection it offers. Something on the menu list you should try include the red beef curry, sea bass flown, pandan dried chicken, and many more. The restaurant also offers authentic desserts which are very delicious.
Highlights
Delicious native meals
Cosy environment
Plenty of food selection
| | |
| --- | --- |
| Address | 30 Labrador Villa Rd Singapore 119189 |
| Contact Number | (+65) 6278 6364 |
| Business Hours | Mon – Sat, 6.30 PM – 10.30 PM | Sun, 11.30 AM – 10.30 PM |
Took Lae Dee is one of the famous Thai restaurants offering pocket-friendly food in Singapore. The hotel is well known for its superb star-dish Pad kra Pow. It also provides other signature meals such as sweet pad Thai which comes with delicious spices and chilli flakes.
If you are craving feisty dishes, visit Took Lae Dee and order the papaya salad. The restaurant also provides the local favourites in their menu list. It has a team of professional chefs ready to serve you discreetly. They are fast to respond, so no lengthy waiting time.
Highlights
Available takeaway
Quality food
Affordable rates
| | |
| --- | --- |
| Address | 18 Tai Seng St, Singapore 534119 |
| Contact Number | (+65) 6702 2000 |
| Business Hours | Mon – Sun, 10.30 AM – 8.30 PM |
Kin Moo is continually gaining a positive reputation by providing Singaporeans with mouth-watering Thai dishes at a reasonably priced rate.
Kin Moo's dishes are truly a value for money. They serve a generous portion of the meal that can surely satisfy your hunger. Food preparation entails intense flavours and ingredients that you will never find in other commercialized eateries.
Kin Moo is most popular with their signature Thai wanton mee. This combined eggy and springy dish is something you will never skip whenever you visit the restaurant. You will also love the deep-fried pork lard prepared by professional chefs from Thailand.
Highlights
Pocket-friendly rates
Quality dishes
Professional chefs
| | |
| --- | --- |
| Address | 25 Pandan Crescent TIC Tech Centre, Singapore 188091 |
| Contact Number | (+65) 8795 1188 |
| Business Hours | Mon – Sun, 11.30 AM – 10.00 PM |
First Thai Restaurant is one of the busiest hotels in Singapore, with numerous customers visiting it daily. The cool coffee shop specializes in a wide selection of Thai food. It offers an extensive menu with delicious meals adjusted to suit a palate. Their tom yum is a must-order. It comes with a variety of spices and ingredients.
You will also love the combination of the Gai pad Gra pow with tender chicken. If you are craving olive fried rice, the First Thai restaurant is waving at you. The overall food quality is good, and the service is truly amazing.
Highlights
Spicy tom yam
Decent Thai food
Affordable rates
| | |
| --- | --- |
| Address | 23 Purvis St, Singapore 188600 |
| Contact Number | (+65) 6339 3123 |
| Business Hours | Mon – Sun, 12.00 PM – 10.30 PM |
Baan Ying is one of the most affordable Thai restaurants in Singapore with seven outlets. In their menu list, you will find delicious meals such as Thai basil fry, Thai red curry with chicken, tom yam, and many more.
If you love seafood, you definitely should not miss out on their menu. They surpass every restaurant in providing the best Thai food deals in Singapore, and at a reasonable price.
The hotel also serves quality food and this is done swiftly. It doesn't matter the number of dishes you order; the qualified staff will serve your table quickly as soon as you have a seat. This is because all meals are perfectly placed in the queue and the staff is truly efficient once you make an order.
Highlights
Spicy tom yam soup
Great staff
Experienced in Thai home-style foods
Earn miles in every dollar spent with the Mileslife App.
| | |
| --- | --- |
| Address | 103 Irrawaddy Rd, #02-07 Royal Sq Novena, Singapore 329566 |
| Contact Number | (+65) 9111 7852 |
| Business Hours | Mon – Sun, 11.00 AM – 10.00 PM |
Located at the Far East Plaza, this decently furnished restaurant is a must-visit to Thai food enthusiasts. Unlike before, when this eatery had a few lists of dishes on its menu, Kra Pow Thai has undergone a massive upgrade. The hotel now offers a wide range of Thai dishes that you can imagine.
Kra Pow Hotel boasts many Thai chefs with vast knowledge and experience in cooking Thai style foods. You will also love the fact that they keep rates in your pocket.
Beef brisket is one of the signatures you should try. They make it quite scrumptious. To make it more special, they serve it with intense spices. They also serve two types of Dunkard Noodles-the pork version goes for around $8. The seafood one will cost you about $9. Kra Pow Thai is one of the best restaurants to stop by especially when you don't mind waiting in queues since it's often busy.
Highlights
Fast services
Friendly staff
Quality dishes
| | |
| --- | --- |
| Address | Far East Plaza, 14D Scotts Rd, #03-26/27 Singapore 228217 |
| Contact Number | (+65) 6734 1946 |
| Business Hours | Mon – Sun, 11.30 AM – 9.30 PM |
Sawadee truly delivers and you won't miss any Thai food options here. The cafeteria offers exactly what it says. Food preparation in this restaurant involves using unique fresh ingredients mixed with robust flavours to bring the taste you deserve.
The restaurant offers a variety of dishes on its extensive menu. For standard Thai dishes, you should consider tom yum soup. It is fulfilling and comes with sweet spices. If betel leaf wrap is your thing, have a short walk into Sawadee.
Sawadee is also a perfect reservation for interestingly cooked Otah. Otah is a combination of solid fish mousse, Thai herbs, and coconut milk. It is served on a special plate known as Khanom Krok for a special treat.
While the price may seem higher than the average eateries across Singapore, there is nothing to compromise with the quality. The cafeteria also offers a breathable space suitable for group dinners.
Highlights
Quality food
Professional chefs
Wide variety of dishes
Online orders available
| | |
| --- | --- |
| Address | 9 Tan Quee Lan St, Singapore 188098 |
| Contact Number | (+65) 6238 6833 |
| Business Hours | Mon – Sun, 11.00 AM – 10.30 PM |
Want to try some Thai food for the first time? Time For Thai, a renowned restaurant in Singapore has won the hearts of many and might be a perfect place to start. It is one of the famous dining scenes in Singapore, providing Thai-home-style dishes to discerning customers.
The cafeteria has a wide selection of meals on its menu offering. Some noteworthy Thai signatures served here include steamed sea bass, tom yum, crab cakes, mango salad, and many more. Their menu is comprehensive and never overly expensive.
Other impressive meals served at this cafe are dough fritters and popular pumpkin with Sangkaya. The staff is friendly, and the environment is cool. Time For Thai is truly an incredible hotel that can satisfy your Thai food cravings and stands to its name.
Highlights
Quality services
Offer delivery services
A variety of dishes
Online orders available
| | |
| --- | --- |
| Address | 15 Cheong Chin Nam Rd, Singapore 599739 |
| Contact Number | (+65) 6909 3903 |
| Business Hours | Mon – Sun, 11.00 AM – 3.00 AM |
Of course, there are many more Thai food restaurants that we didn't cover but are equally amazing. But, if this isn't your thing, perhaps Japanese food would be more up your alley. Take a look at some of the best Japanese restaurants in Singapore here.
Emily Hopkins
I'm an accomplished and detail-driven content writer with copious experience in producing compelling, engaging and flawless content for a variety of blogs and websites for several years.
Related posts
Subscribe for newsletter
* You will receive the latest news and updates on Singapore's best trends!