15 Best Thai Food Deliveries To Check Out in Singapore [2022]
sheann, 3 years ago
15 min

read
6349
Let's face it: Singaporeans love Thai food. Back when travelling was a thing, many of us would conveniently take a 3-hour flight to Bangkok for a weekend getaway. Besides spending on tons of clothes and accessories, we would stuff our faces with Tom Yum Soup, Pad Thai, grilled prawns, Moo Ping, and SO much more! There is something truly sensational and delectable about the taste of Thai food that seems to linger in your taste buds even after finishing your meal.
The extremely low price tags also add to why Singaporeans love it so much! While we are currently not allowed to travel to Thailand any time soon due to the travel ban, we still get to have Thai food here, in sunny Singapore. What's more, some restaurants off Thai food delivery! Have your favourite Thai dishes from the comfort of your own home with this list of best Thai food deliveries in Singapore!
Highlights:
Home-style cooking
Specially curated weekly menus
Opens daily
Empress Porridge is a family run business with big dreams of sharing the food they love with everyone! A family of foodies, they firmly believe that communities are built around warm bellies and full hearts.
You can order from the in-store menu of Empress Porridge and dig into real Thai food with authentic flavors. The taste of the food compliments their home-style cooking. In addition, they curate special weekly menus that you can try out. Thus, you can go through the different menus that are upgraded every week to place an order. The usual menu includes soup, 3 main dishes, and flavored rice.
| | |
| --- | --- |
| Address | 1 Lower Kent Ridge Road NUH Medical Centre #01-04 |
| Contact Information | +65 9384 5639 |
| Business Hours | 11 AM to 9 PM, Daily |
Highlights:
Affordable
Authentic Thai food
Large portions
Noodle Thai Thai Kitchen is a restaurant that serves authentic Thai food that's fiery, fresh and delicious. The team at this establishment is passionate about sharing a wide range of Thai dishes that are made using high-quality ingredients, fragrant herbs as well as flavoursome spices.
Their skilled chefs from Thailand are experts in the kitchen and create dishes with perfectly balanced sour, sweet, salty, and spicy flavors. Noodle Thai Thai Kitchen's extensive menu has something for everyone and includes soups, salads, stir fries, curries, noodles as well as rice dishes.
In addition, if you are reluctant to order in because you are afraid of your food turning cold, you can rest assured. This restaurant promises you that their food is hot, so make sure you order a cool Chang draught beer with your meal!
Go ahead and order super delicious food like their flavourful Thai delicacies like basil rice, curries, garlic chicken rice, and fried glass noodle at unbeatable prices! In addition, the portion size is quite filling and can be split if you have a low appetite. Their exquisite menu will savor your taste buds and you will definitely find yourself ordering more than once. Hands down one of the best Thai food delivery in Singapore! So, for Thai food at affordable prices do check them out!
| | |
| --- | --- |
| Address | 327 Beach Rd, Singapore 199560 |
| Contact Information | +65 6909 0759 |
| Business Hours | 11.30 AM to 10.30 PM, Daily |
Highlights:
Homestyle Thai food
Authentic Thai street food
Thai desserts available
E-Sarn – also known as Isan or Isaan – is the Northeast region of Thailand and is famous for its culinary delicacies. The most notable characteristics of E-Sarn cuisine are the use of Khao Neow (Sticky Rice) rather than plain rice, as well as fiery chillies. Popular dishes include Som Tum (Papaya Salad), Larb (Minced Meat Salad) and Gai Yang (Grilled Chicken). These wonderful flavours have all spread to other parts of Thailand, favoured as everyday dishes the locals enjoy!
At E-SARN Thai Cuisine, you can look forward to enjoying a hearty Thai meal that is nutritious and homely. You may start with the olive fried rice and basil minced chicken to get your tastebuds familiar with the chef's creations.
For Thai food prepared by native Thai chefs, place an order through their downloadable menu or contact them through their website!
| | |
| --- | --- |
| Address | 130 Pasir Panjang Rd, Singapore 118548 |
| Contact Information | +65 6473 3716 |
| Business Hours | 11.30 AM to 2.30 PM, 6 PM to 9.30 PM, Daily |
Highlights:
Customizable options
Fresh ingredients
Affordable
Thai To Go is a restaurant that aims to make affordable and authentic Thai fare accessible to everyone in Singapore. The food establishment prides itself on using only the best ingredients prepared lovingly by their very own chef.
Thai to go brings the Thai aroma and taste to your doorstep with their delivery and takeaway service. You can relish Thai food and its flavors by ordering dishes like their mango salad, Otah, and prawn cakes.
The restaurant is also known for its green curry chicken, tom yum chicken, basil chicken, seafood red curry, chicken green curry, as well as homemade fish cakes. You will find a lot of customizable options to choose from as well.
In addition, for our Muslim friends out there, Thai To Go is fully Halal certified! This is definitely a great option for all!
| | |
| --- | --- |
| Address | 18B Changi Rd, Singapore 419737 |
| Contact Information | +65 6396 9696 |
| Business Hours | 10.30 AM to 9 PM, Daily |
Highlights:
Extensive menu
Authentic Thai food by Thai chef
Established since the 1980s
Diandin Leluk has been comfortably ensconced on the ground floor of Golden Mile Complex (or 'Little Thailand', as it's more affectionately known) since 1985. It has since become the favourite haunt of Thai nationals hankering for the authentic tastes of their homeland. It is said that just a sip of their famous Tom Yam Seafood Soup or the first mouthful of their Pad Thai will transport you to Thailand and back!
The food establishment's founders, Johnny Lim and Madam Dian, are a husband-and-wife team who still personally see to the day-to-day operations. Back when Diandin Leluk was just a small stall, Madam Dian who's from the Thai province of Phayao did all the cooking herself. Today, she is still very much hands-on in the kitchen, making the chilli and curry pastes, mango salad sauce and the meatballs from scratch. The restaurant uses only the best and the freshest Thai herbs in their cooking.
Order from an extensive menu with loads of add-ons to devour the Thai aroma from one of the best Thai food delivery in Singapore. The extensive menu has chef specials with rich coconut flavor seafood, soups, as well as pineapple fried rice. In addition, the fusion of spices in green curry, steamed Thai Otak, and bamboo shoot salad will leave you content with your Thai cravings. Overall, definitely one of the best Thai food delivery options in Singapore.
Address
5001 Beach Rd, #01-67/68/69 Golden Mile Complex, Singapore 199588
Contact Information
+65 6293 5101
Business Hours
Tuesday to Sunday: 24 hours
Monday: 12 AM to 9.30 PM
Highlights:
Affordable Thai cuisine
Springy noodles
Uncommon Thai dishes offered here
KinMoo The Thai Noodle House is a Thai restaurant established in 2017. The name of the restaurant literally means "Eat Pork". The restaurant is best known for its Thai-style wanton mee. However, it also offers an array of authentic Thai dishes, some of which are less commonly sold in other Thai restaurants in Singapore.
Some examples include Cha Kang Rao Noodles ($7.90), Mixed Poek Soup ($8.90), Kway Teow or Bee Hoon Nam Kon ($8.90), Pad Thai with Prawns ($8.90), Tom Yum Prawn Soup ($12.90), Chicken Wings ($8.90 – $17), as well as Thai Fish Cake ($7.90).
With quick and efficient delivery, the stall's wanton mee remains springy and al dente! Be sure to check them out!
| | |
| --- | --- |
| Address | Ghim Moh Market & Food Centre 20 Ghim Moh Road #01- 53 Singapore 270020 |
| Contact Information | +65 8795 1188 |
| Business Hours | 11.30 AM to 3 PM, 5.30 PM to 10 PM, Daily |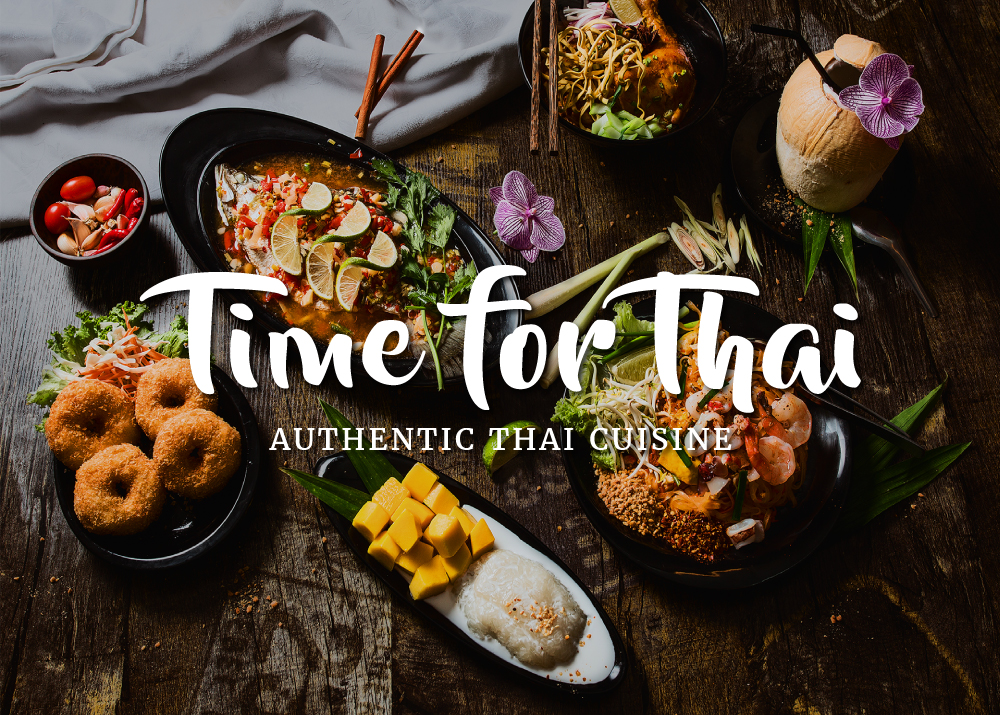 Highlights:
Fresh ingredients
Extensive menu
Free delivery with orders above $70
Using only the freshest ingredients, Time for Thai is a food establishment that offers delicious family meals and serves up authentic Halal Thai food to patrons. It is a great place to order from if you are looking for a taste of Thailand from the comfort of your living room. Their kitchen features the finest of culinary skills to deliver the very best of Thai cuisine.
Besides the usual Thai dishes like Tom Yum Soup, Green Curry and Thai Basil Chicken, the restaurant also serves up signature dishes. One of their best-selling dishes is their Thai Prawn Cake. Made using prawns, onions, garlic, cilantro and more, their prawn cake is then deep fried so you can enjoy the taste of fresh prawns with a crispy outer layer. If you love prawn, you will definitely love it!
Time For Thai offers islandwide delivery (including Sentosa)! You can order from them through this link: https://timeforthai.oddle.me/en_SG/. For orders above $70, the restaurant is even offering free delivery! So, gather your friends and feast on some authentic Thai food for your dinner later!

Address
15 CHEONG CHIN NAM ROAD
SINGAPORE 599739

Simpang Bedok 282
Bedok Road
Singapore 469438
Contact Information
+65 6909 3903 | +65 6909 9404
Business Hours
11 AM to 1 AM, Daily
Highlights:
Drunkard Noodle dishes
Many 5-star reviews
Free islandwide delivery with $120 spent
Krapow is known as one of the hidden gems in the Singapore Thai cuisine scene. They stand out from the rest with their signature Krapow dishes – wok-fried with hot basil, garlic and freshly chopped chilli for extra spice.
You can expect unique twists in all their dishes. For example, their Devil's Fried Rice is served with intense chill, toasted prawn paste and lime. Another item on the menu that you will not often find in other restaurants includes their Drunkard Noodle dishes – spicy stir-fried noodles that include Thai bird's eye chilli.
Of course, those who like to stick with the familiar will also be able to find items such as Pad Thai and Tom Yum on the menu too. If you are looking for the taste of Thailand, be sure to place an order with Krapow ASAP!
Address
Far East Plaza: 14 Scotts Road, #03-26/27, Singapore, 228213
Chinatown Point: 133 New Bridge Road, #02-39, Singapore, 059413
Contact Information
+65 6734 1946 (Far East Plaza) | +65 6694 7706 (Chinatown Point)
Business Hours
11:30am to 8:45pm, Daily (Delivery Hours)
Highlights:
Affordable dishes
Century-egg dishes
Island-wide delivery
87 Just Thai is one of the most popular Thai eateries located in Pasir Panjang, highly reviewed by online personalities and regular customers alike. During peak hours, it is common to see a snaking queue outside the eatery.
If you are looking for fuss-free Thai food, 87 Just Thai is the place for you to hit. Simply order off their Chef Specials menu to get a variety of dishes such as Deep-Fried Century Egg with Hot Basil and Claypot Tang Hoon. You will not have to worry too much about spice either, as reviews state that most of their dishes are not too spicy.
For generous portion servings and delicious Thai dishes, place an order with 87 Just Thai today.
Address
57 Killiney Road, #01-01, Singapore, 239520

Contact Information
+65 6269 8810
Business Hours
Fri – Sun
12:15 PM – 02:30 PM
06:00 PM – 09:30 PM
Mon, Tue, Thu
12:15 PM – 02:30 PM
06:00 PM – 09:30 PM
Highlights:
Around for more than 20 years
Traditional and modern dishes
Excellent customer service
Sawadee Thai Cuisine is an established Thai eatery in Singapore, having been established in 2001. From a humble stall in Orchid Country Club, they are now a full-fledged restaurant in Bugis and has been consistently rated as one of the top 5 Thai restaurants in Singapore.
Their focus is on both presentation and quality, using only the freshest ingredients from Thailand and cooked upon order. You will be able to find unique dishes such as Betel Leaf Wrap – a popular Thai street food that is not commonly found in Singapore.
Do take your time to browse through their menu for an extensive selection of both modern and traditional Thai food. No matter if you are looking for something novel or something to satisfy cravings, you will definitely satisfy your need here.
Address
9 Tan Quee Lan Street, #01-01 TQL Suites, Singapore, 188098
Contact Information
+65 6238 6833
Business Hours
Mon – Sun
11:30 AM – 03:00 PM
05:30 PM – 10:30 PM
Highlights:
Thai Halal Restaurant
Southern Thai Flavours
Islandwide delivery for large orders
Koh NangKam was named after an island situated between two southern provinces in Thailand. It is also a Halal establishment, which means that this is suitable to be shared with your Muslim friends.
A family-run business, they are committed to serving authentic Southern Thai flavours in their dishes. Here, you will find dishes such as Koh Nangkam Massaman Beef – a variation of the Malay beef rendang. Other unique dishes such as Clear Tom Yum is also a must-order on their menu.
Thai food is not hard to come by in Singapore, but authentic Southern Thai food is not something we see every day. Make your order on Koh Nangkam directly for islandwide delivery or through Foodpanda if you live nearby.
Address
4 & 6 Jalan Kledek, SingaporeS199261
Contact Information
+65 6392 2172
Business Hours
11:30 am to 9:30 pm, Daily
Closed on second Tuesday of every month
Highlights:
Premium ingredients
Thai hot pot
Two locations
Soi Thai Soi Nice specialise in Thai-style hot pot, their signature being the Royal Thai Hot Pot that serves up to 6 people. For those that want to enjoy a comforting bowl of Thai hotpot from home, this can be ordered and delivered to your home in a jiffy.
Expect fresh ingredients such as crayfish, tiger prawns and roast pork submerged in homemade Tom Yam broth. As you enjoy your hot pot, the ingredients add flavour to the broth and give it more flavour.
Besides hot pot, they also have other familiar ala carte dishes that you can order such as mango sticky rice and lunch specials that you can order. The next time you are craving some hot pot, be sure to check out Soi Thai Soi Nice.
Address
Raffles City Shopping Centre 252 North Bridge Road #B1-14/15
Contact Information
+65 6261 7106
Business Hours
Sunday to Thursday 11:30am to 9:30pm (Last order 9pm)
Friday & Saturday 11:30am to 10:00pm (Last order 9:30pm)​
Public Holiday11:30am to 9:30pm (Last order 9pm)

Highlights:
Nett prices
Two outlets
Affordable dishes
Soi 47 Thai Food has had numerous media mentions in the few years that it has been around, but has kept its prices consistent. Their affordable prices have encouraged old customers to come back and new customers to try out what they have as well.
Not only is their food affordable, but tasty too. Their kitchen is fully manned by Thai chefs who are extremely familiar with Thai flavours. You will be able to find street favourites such as Fish Maw Soup and Homemade Breaded Prawn Cake among the many other dishes here.
Soi 47 Thai Food has three locations at Toa Payoh, Temple Street and King George's Avenue for you to order from. Be sure to order from them the next time you are looking for affordable Thai food.
Address
BLK 47 Toa Payoh Lorong 6, #01-130, Singapore 310047
111 King George's Ave, Singapore 208559
3 Temple Street, Singapore 058556
Contact Information
+65 9647 4747
Business Hours
11 am – 2.30 pm; 5.30 pm – 10 pm, Daily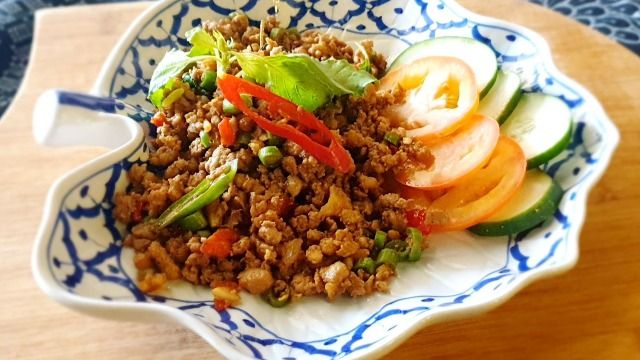 Highlights:
Located in Holland Village
Authentic Isaan cuisine
5-star review on Facebook
Aris 23 Thai Restaurant is conveniently located in Holland Village, making it accessible for delivery no matter where you stay on the island. Ordering from them could not be easier!
They stand out in the Thai cuisine industry as one of the establishments that serve authentic Isaan cuisine. You will find unique dishes such as Pumpkin Sangkaya, a traditional Thai dish made of Thai coconut egg custard. They also have a variety of unique Thai desserts that you can enjoy such as Look Choup and Taku Corn.
Their desserts are not only what they have available here – but they also have main dishes and appetizers that you can try out. Be sure to add all these to your cart before you check out.
Address
18 Lorong MambongSingapore 277678
Contact Information
+65 6463 1003
Business Hours
Mon, Weds, Sun: 11 am – 9 pm
Thu – Sat: 11 am – 10 pm
Tue: Closed
You would think with a name like Joe's Kitchen that the head chef, Joe, would be Singaporean. However, Joe is in fact a Thai native from Northeastern Thailand. With a Thai guy working behind the scenes, you are guaranteed authentic Thai food bursting with flavour.
Here at Joe's Kitchen, you will be able to find dishes made from the freshest ingredients, cooked with Joe's own concoction of spices to bring out the flavour in every dish. From simple comfort foods like fried rice to seasonal items such as crab dishes, you will be able to satisfy all your Thai food cravings here.
Delivery is available through Foodpanda, Deliveroo and GrabFood if you stay nearby. Islandwide delivery is also available with no minimum order, but delivery charges according to distance apply. Be sure to check out Joe's Thai Kitchen the next ime you are craving Thai food.
Address
Blk 125 Bukit Merah Lane 1#01-182Singapore 150125
Contact Information
+65 6270 8484
Business Hours
Daily
11am to 3pm
5pm to 10pm
Conclusion
With the list of best Thai food delivery in Singapore, you can revive your taste buds at the comfort of your couch. You can even place your order beforehand with some outlets and plan for your meals ahead!
If you are looking for other delivery options, check out our other related articles:
Related posts
Subscribe for newsletter
* You will receive the latest news and updates on Singapore's best trends!