11 Best Tattoo Artists in Singapore [2022]
Hui Ning, 2 years ago
8 min

read
5232
Now you are probably looking through tons of tattoo inspirations on Pinterest, thinking of when and more importantly, where to get that amazing tat. Look no further, as here at Best In Singapore, we curated a list of the best tattoo artists in Singapore so you can quickly get your tattoo designs without batting an eyelid!
Highlights:
LGBTQ friendly
Walk-ins welcome
Transparent pricing to be consulted with the Studio
Best realism tattoo artist in Singapore since 2007
Imagine Tattoo Studio is run and managed by tattoo artist Ael, who specializes in all portrait color works and coverup customized tattoos. The reputable tattooist has won "Best in Realism" and "Best in Cover-ups" which are two famous awards at Singapore Convention in 2009. You can find the private art studio in Chinatown, a real hidden gem! As evidenced by the many testimonies available on their site, you can rest assured that your artistic dreams will be realized in the hands of Ael.
Address
3B Trengganu Street, Singapore
Contact
91079181 | imaginetattooing.com
Operating Hours
Monday to Sunday: 13:00 – 21:00
Closed on Wednesdays
Highlights:
Accepts Cash and Nets or Grab Pay Payment for your convenience
Can do piercings as well
Specializes in custom tattoos for customers
Bring along your envisioned image or design over to Ink By Finch Tattoo Studio to let reputable tattooist, Joe Finch and his team create the best tattoo experience tailored for your needs. Joe Finch was exposed to tattooing at an early age from his uncle and he was since inspired to create body artworks that could make clients happy with his passion for tattooing. And we quote "a tattoo that you will be proud of!".
Address
3 Coleman Street , Peninsula Shopping Centre, #02-30 , Singapore 179804
Contact
What's App: 96234477 | Inkbyfinch@hotmail.com
Operating Hours
Monday – Saturdays: 1 pm – 8 pm
Sundays: Closed
Highlights:
Cruelty-Free Tattoos
Customised Tattoos with experts
Artist with the most experience will be assigned for tattoo with ready-design
Create your distinct tattoo designs with the different crew members of Vagabond Ink (VI), each artist equipped with their own unique style. Just a quick introduction of the members and their specialized field: Valerie Yang worked as a glassblower, tattoo artist, and now even a paramedic, she specializes in realism and cover-up tattoos. Peenut Lee specializes in sketch work and line tattoos but eager to work on various designs of tattoos, truly a wild card! Alison Yen taps on many specialties including black and grey realism tattoos. Lastly, Andrew Lim does solid black and colorwork tattoos. Did anything catch your attention yet? Check out their website to find out more and leave burning questions in their enquires section.
Address
333 Kreta Ayer Road, #01-21, Singapore 080333
Contact
NA
Operating Hours
Monday – Saturday: 2 pm – 8 pm
Sundays: Closed
Highlights:
Body piercing services provided as well
Tattooist has over 20 years of experience
The tattoo parlor is always open except for on public holidays
Located in Ang Mo Kio, Dream Body Art Tattoo Studio provides you with professional tattoo services as well as aftercare advice. Expect excellent results from the tattooist that set up Dream Body Art Tattoo Studio all the back from in 2006. You can rest assured to get your customized tattoo expectation met with this experienced tattooist.
Address
157 Ang Mo Kio Ave 4 #01-574
560157, Ang Mo Kio
Contact
NA | Email: suwen@dreambodyart.com
Operating Hours
Monday – Sundays: 12.30 pm – 9.30 pm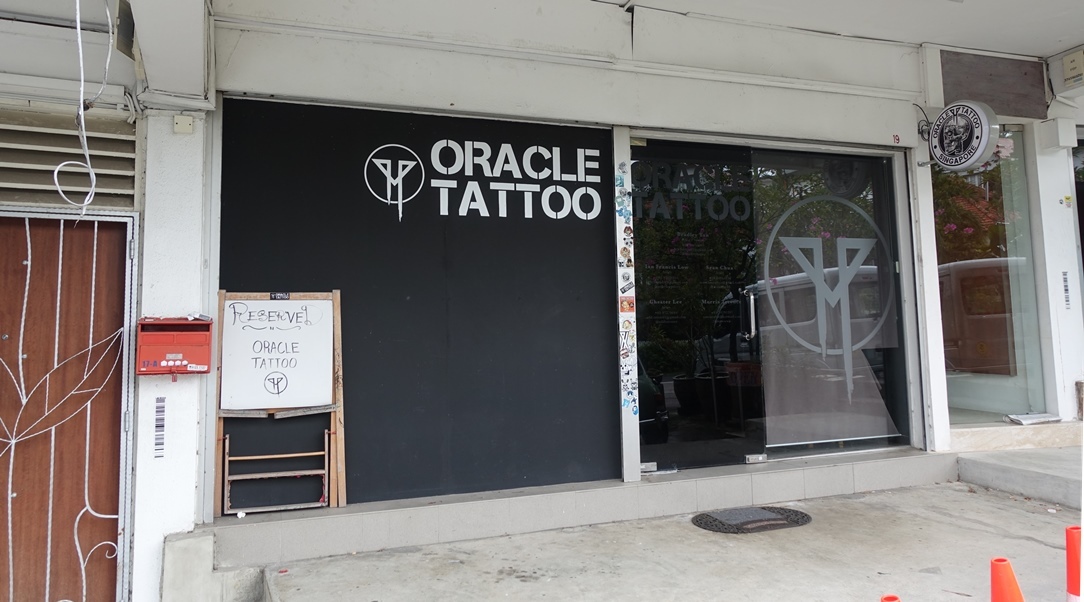 Highlights:
Tattooists are equipped with over a decade of experience and attended proper apprenticeship
Blackout tattoos are a unique alternative to laser removal
Every client gets their tattoo personally designed
Get your tattoo fix by Chester Lee who specializes in sacred geometry, blackwork, OP Art, and dot work, or by Oracle Tatto's founder – Bradley Tan who works strictly on Black and Grey realism tattooing. Hop on the trend of blackout tattoos, commonly used for tribal tattoos, that the Oracle Tattoo is so well-known for!
| | |
| --- | --- |
| Address | 19 Jasmine Rd, Singapore 576586 |
| Contact | Call: 9069 9365 | Bradleytattoo.oracle@gmail.com |
| Operating Hours | Monday – Sundays: 11 am – 7 pm |
Highlights:
Very responsive to clients needs
Easily accessible tattoo parlor near to SGH at Outram Park
The highly experienced tattooist was invited to Holland and UK for conventions and guest spots in 2014.
C.K. Tattoo Singapore was founded by Low Chuan Kai, or CK Low for short, in 2015. CK works strictly on Japanese-influenced style for his tattooing designs, mainly illustrative figures in bold colors and including the flow of expressive elements of nature. He started off as a learner on his own and gained a budding interest in visual arts and thus began a 2-year apprenticeship in 2008. Needless to say, he is an artist expert which shows keenly in his works. Check out his site for his portfolio for some dope tattoo inspiration!
| | |
| --- | --- |
| Address | 77 Kampong Bahru Road #03-01 Singapore 169376 |
| Contact | NA | cktattoosg@hotmail.com |
| Operating Hours | Mondays – Sundays: 1 pm – 10 pm |
Highlights:
Customized tattoos – we do not copy designs
Best rated tattoo studio in Singapore on Google reviews
A broad range of styles
BMF Ink was set up in 2018 by Nina after she decided to set up her own tattoo studio. Nina has been tattooing for 6 years but has been an artist her whole life in a variety of mediums, from acrylic to oil to Chinese calligraphy.

Hundreds of satisfied clients have now been tattooed by us in only a matter of 16 months – just read our reviews to see their praise of our professionalism, artistry, and quality of work.

Address
865 Mountbatten Road, Katong Shopping Centre, #01-93. Singapore 437844
Contact
WhatsApp: 94239655 |
Email: ninachua798@gmail.com
Operating Hours
By appointment only
Highlights:
UV Blacklight Tattoo made of safe, phosphorous-free ink from USA.
Cover Up Tattoos
Custom Tattoo designs
Pain-Free Numbing before the tattoo session begins
Get your tattoo done by a reputable tattoo artist Glenn Tan at his highly accessible new shop at Far East Shopping Centre in Orchard. The team of qualified tattoo artists, Glen, Brandon & Catt are eager to help make your tattoo inspirations a reality. They are the place to go if you are looking for a range of tattoo designs, from simple fine line tattoos to Japanese oriental artwork.
Read up on the multiple testimonies on their site to find out more about their work as well as their well-done portfolio for the body artwork to die for. Do note that they are an appointment-based studio and walk-ins are subject to availability.
Address
545 Orchard Road #06-15
Far East Shopping Centre Singapore 238882
Contact
Whatsapp: 8127 5371 (Do not call for a faster response!) |
Email: ask@inkvasiontattoo.com
Operating Hours
Monday-Saturday: 12 PM-7 PM
Sunday: Closed
Highlights:
Straightforward with their quality services as well as service charge
Best Rated Tattoo Studio in Singapore since 2011
Clients with an unsatisfactory tattoo designs done by resident tattoo artists can have a free of charge redo session, only valid up to 60 days after the tattoo was completed
Living up to their name, this team of friendly tattoo artists is the warm family you never knew to get you cool tats. They aim to provide the best service and experience for each of your tattoos. Familiar Strangers is more than capable of providing a wide range of designs from a small word tattoo on the wrist, which is highly appealing to females, to a full Japanese Irezumi bodysuit.
Visit their site to find out more about their achievements and transparent pricing! Be ready with cash on hand as they only accept cash payments in SGD.
Address
Balestier Plaza, #02-31,
400 Balestier Road, Singapore 329802
Contact
Whatsapp: 97604147 (24Hrs) |
Email: ask@familiarstrangers.info
Operating Hours
Walk-in Tattooing & Consultation on Monday to Saturday from 4 pm to 7 pm.
Highlights:
Unique and professional portfolio with a wide array of amazing designs specially curated for clients
Endorsed an environment in which the work area is disinfected for each client for hygienic purposes
Easily accessible tattoo parlor
8 Volts Tattoo was established in 2007 by Joe Wang. The tattoo parlour is situated in Orchard Plaza, where he and his team, work to bring quality and creative artworks to all customers. Having been awarded multiple awards from various international tattoo conventions for their best works, Joe Wang is highly capable of fulfilling their client's expectations for the perfect tattoo. Their team of experts is also able to give you professional advice on your tattoo designs.
Highlights:
Crew of different personalities and styles
Prioritizes client and artists rapport
Always providing original designs and tattoos to clients
Although not much was introduced about the team, their work shown on their portfolio speaks a thousand words. Elson Yeo prides on never having a single customer unsatisfied with their tattoo design, Nikkie enjoys doing styles in form of black and grey realism and illustration stickers, and Nat Yeo showcases unique and expressive colorful tattoos. The team of tattooists is warm and welcoming to all clients to visit their private studio during normal business hours for any walk-ins, so do drop by!
Address
#02-65 Far East Plaza, 14 Scotts Rd, Singapore, Central Singapore 22, Singapore
Contact
Call: 9247 1099
Operating Hours
Mondays – Fridays: 1 pm – 7 pm
Saturdays only on an appointment basis
Closed on Sundays
In conclusion, tattoos are used to express our thoughts and feelings in artistic ways. Symbolizing our memories or even dreams, tattoos can be anything and everything. Choose the right artist to crave out your envisioned design and your set! Check out related articles like 20 Best Eyebrow Embroidery Studios in Singapore and 16 Best Botox Clinics in Singapore.
Related posts
Subscribe for newsletter
* You will receive the latest news and updates on Singapore's best trends!