10 Best Storage Beds in Singapore You'd Love to Upgrade To [2022]
Rashmi, 3 years ago
9 min

read
7313
Beds are the most important piece of furniture in the house. There are different storage beds and each one comes with its own set of advantages. Let's discuss a few storage options in a bed before you choose your new storage bed.
Types Of Built-In Storage Beds For Your Bedroom
Lift-Up Beds: Whether hydraulic or manual, these are the most spacious storage beds as they give you as much storage space as the size of your bed. The hydraulic mechanism if provided makes it easy to open and close the storage and you don't even need to remove your mattress for operating the storage area.
Shelved Beds: Instead of drawers, these beds have open shelves to store your frequently used items. Some people use these shelves to store pillows and comforters when not in use. Some open shelves in the bed frame also double up as book racks. You can also store items that you'd love to display in your bedroom.
Beds with Drawers: These beds have drawers built in the bed frame itself for storage. There can be 2 or 4 large drawers or smaller ones and you can decide on the size depending on what you want to store. These are super easy to access, although the storage space can be a little compromised.
Beds with Headboard Storage: some beds come with storage space in headboards and even footboards. These are ideal for storing your blankets, pillows, and comforters when not in use. One can also use such storage space for occasionally used items. Although these are also easy to access and operate the floor space of these beds is usually larger than a regular bed and they look ideal in large bedrooms only.
Below, you'll find the best storage beds in Singapore for you. Take a scroll through and find the right choice to declutter your bedroom.
Highlights:
Hydraulic Lift
Spacious Storage
Various Sizes available
If you want to minimize clutter and add space to your bedroom, Alice Storage Bed might be the solution. These storage beds with hydraulic lift have a lot of space underneath the bed for storing your rarely used items. You can divide the storage space into smaller compartments too for easy segregation of your stuff. Storage space in these beds is usually as big as the mattress size. Single beds are 3 feet wide while there are 3.5 feet Super Single beds available. You can also choose a 5 feet queen bed or 6 feet king's bed too.
Price $359.00 – $738.00. Click here to buy
Highlights:
Convenient Lift-up Storage
Lumber Supporting headboard
Leatherette Upholstery
These amazing leather upholstered storage beds are chic and stylish. Just right for your bedroom, Jersey Storage Bed has ample storage space to do away with the clutter around the house. This lift-up storage bed is easy to operate, comes with a stylish frame and a tilted, lumber-supporting headboard. The headboard is upholstered with a black leather-like material that is easy to clean and maintain and looks modish too.
You can team up this bed with a black leatherette sofa or reclining chair in your bedroom to add charm and charisma to your private space. Jersey storage bed is available in Single, Super Single, Queen, and King sizes and you can choose one based on your requirement.
Price: $468.00 – $758.00. Click here to buy
Highlights:
Padded Headboard
Variety of Color Options
10 Year Warranty
When you're sure about the size of the bed you need, this queen size storage bed from Univonna can be a perfect addition to your bedroom. This 5 feet wide bed comes with coloured upholstery on the bed frame and a comfortable cushioned and padded headboard. Not only is this bed appealing by looks, but it is also extremely comfortable. With a noise-free gas lifted hydraulic system that comes with a 10-year warranty, using the storage compartment is a breeze.
The solid wood and fly wood bed frame have high-quality fabric upholstery to finish the look. Made locally in Singapore, the delivery and installation of this bed are free of cost anywhere in Singapore. The mattress is not included in with storage bed that has an internal storage height of a whopping 30cm. you can choose among light sandstone, dark blue, red carpet, or warm yellow colour upholstery for this bed.
Price: $590.00. Click here to buy
Highlights:
Synthetic Leather Upholstery
Hydraulic Lift
Stoppers for Durability
If all you need is a single or super single storage bed, this Chicago storage bed is designed just for you. This simple and elegant bed is ideal for a single person as it has 190cm x 90cm in local single size while super single size measures 190cm x 107cm. Upholstered with synthetic leather, also known as PVC with 6mm stoppers for safety and durability. The use of a hydraulic lift makes storing extra items in a storage compartment without hassle. You can store clothes, extra bedding or anything that you do not use frequently in this lift-up storage bed.
The mattress to floor height is 41cm in this bed. You can use any mattress of your choice with this bed as long as it fits the dimensions. Available in dark brown, cream, and black colour options, this bed is suitable for a single person, kids or to be installed in your guest bedroom.
Price: $299.00 – $349.00. Click here to buy
Highlights:
Attractive Design
Free Mattress
10 Year Warranty
If opulence and grandeur are your styles, this queen bed with a fully upholstered headboard with crystals is the one for you. Modern looking and fancy in appearance, Milton Fabric Storage Bed comes with a German hydraulic lift for ease of use. You not only declutter your home by using the huge storage compartment, but you also add charm and style to your bedroom with this modern-looking and fancy bed. While the 38cm high storage compartment can be utilized to tuck away extra bedding, extra clothes, old books, and whatnot, the bed comes with a 10-year warranty. So get this turquoise coloured bed embedded with crystals on the headboard, and give your bedroom an all-new look and feel. What's more, you get a very solid and firm mattress absolutely free with this bed.
To make this beautiful yours for just $489.00, click here to buy.
Highlights:
High-Quality Material
German Hydraulic Lift
Minimalistic, Modern Design
This wonderful solid Meranti wood bed from a popular brand Absolute Bedding ensures the durability and longevity of the bedframe. The German-made hydraulic lift makes it easy to use the storage compartment. Indeed, the design of the bed keeps the latest and modern design in mind and the beautifully upholstered bed frame gives your bed's looks a new dimension. Minimalistic design, high-quality upholstery fabric, durable, well-treated wood for longevity- together makes this bed a great choice. Available in light grey and dark grey, this queen bed has a mattress size of 152cm x 190cm. Moreover, the 10-year manufacturer's warranty is an added assurance of the bed.
Price: $599.00, click here to buy
Highlights:
Opulent Design
Durable PU Leather Upholstery
Colors and Sizes Available
Amour offers a premium PU leather storage bed with an appealing high headboard covered with durable PU Leather that gives a rich and opulent look without increasing your bed maintenance hassle. Truly graceful and elegant, this bed can add splendour to an ordinary room too. Apart from the appearance, the bed comes with an imported hydraulic lift for an easy close and open lid option. Furthermore, there is ample and deep storage capacity under the mattress area. The base of the mattress is sturdy and firm to support even a heavy mattress. Available in blue and beige colours, this bed comes in 4 size options- single, super single, queen, and king size.
Price: $599 to $1,299, click here to buy
Highlights:
Tasteful Design
Lumber and Spine Support
Hydraulic Gas Pump
As the same suggests, this is a dark grey fabric storage bed by Mega Furniture. Designed tastefully with a smooth and downy headboard that is supportive for your lumbar and spine, the bed has upholstery with a high-quality dark grey fabric. The height of the headboard is about 117cm while it is 20cm thick. While the bed has a large storage capacity, it is also equipped with a hydraulic gas pump by German company Bansbach. The bed is stylish in all ways as the bedsides are also covered with the same fabric as the headboard. You can choose between King size, Queen size, Super Single and Single bed size.
Price: $329. Click here to buy
Highlights:
Thick Upholstered Headboard
Great Storage Capacity
Variants Available
Another magnificent bed with a supportive headboard is this Living Mall Angela Leather and Fabric storage bed. This one comes with a thick foam-cushioned headboard that supports your back, especially lumber for bedtime reads, pep talks, and gaming time! Fabulous looks, sturdy built and great functionality make this bed a great purchase for your bedroom.
This bed is available in upholstery options in leather such as black, cream, dark brown, island, mocha, steel, and white. If you are not interested in using leather, you can choose brown, dark brown, grey, light brown, or purple fabric. Various sizes available in this bed are single, super single, queen and king.
Starting only for $299.90. Click here to buy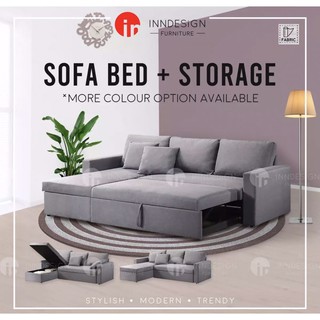 Highlights:
Versatile and Highly Functional
Comfortable and Spacious
Stylish, Modern and Trendy
In case you are looking for a multipurpose storage bed that doubles up as a sofa, this one cannot be missed! You can easily convert this 3 seater sofa to a bed when you have extra guests in the house. The clean-living phenomenon has hit the younger generation so hard that nobody wants large houses that are difficult to maintain. For apartment living and studio apartments, this convertible sofa is the best bet.
This is ideal for times like get-together and weekends when your friends decide to stay over after a few drinks. All you need to do is pull out the convertible sofa and quickly create a bed out of it. The storage space in this multipurpose sofa bed is amazing too. It is available in various colour options such as light grey, dark grey, dark brown, jeans, turquoise, purple, green, orange, yellow and even sand brown.
Price: $599. Click here to buy
Storage beds provide not only comfort and rest to you after a long day but also add aesthetics and appeal to your bedroom. When it comes to storage beds, they help to declutter the house and add more space to your bedroom. Storage beds can be single, queen size, or king-size and you can choose one based on your needs.
Related posts
Subscribe for newsletter
* You will receive the latest news and updates on Singapore's best trends!