Best 7 Places for Delicious Steak in Singapore
Ron Rollorata, 3 weeks ago
0
7 min

read
581
How do you like your steak? Rare? Medium well? Well done? No matter how you like it, we can all agree that steaks will always have a special place in our hearts, and in our stomachs. Sirloin, T-bone, ribeye juicy mouth-watering steaks can be enjoyed with friends, colleagues, partners, family, or even alone! Whether you are celebrating a special occasion or having a hearty dinner, steaks make everything feel extraordinary. We hunted down the best seven places to eat delicious steak in Singapore, perfect for every budget and every mood.
Check out these places when you're on the hunt for some meat lovin'!
First on our list is a Japanese-inspired steak place serving the best of Japanese wagyu beef. Japan's wagyu beef is famous all over the world for its impeccable taste and tenderness. Fat Cow serves A5 to A3 grade Japanese Wagyu – the most exquisite beef you can have. The A grades means the highest quality and the most sumptuous.
Recommended to order are Miyazaki Grade A4 Striploin that irresistibly melts in your mouth, and the Fatcow Premium Donburi for a more Japanese experience.
Price range: $45 – $138
Address: 1 Orchard Boulevard, #01-01/02, Camden Medical Centre, Singapore 248649
Telephone: +65 6735 0308
Open Daily: 12pm – 3pm, 6pm – 10.30pm
Customer reviews:
Customers are aware that food in Fat Cow is more on the expensive side but they recommend visiting the restaurant because you will definitely get what you paid for with the best-tasting wagyu, coupled with good service and nice ambiance.
Meat n' Chill, known for being the meanest steak n' ribs in town, offers huge portions at a wallet-friendly price. You can expect tender, juicy steaks and well-marinated ribs that slide off the bone effortlessly. Flame-grilled steaks and smoked ribs coupled with a variety of side dishes are cooked to perfection for your dining pleasure.
This is a nice cozy place to go with small groups of close friends and family. Pair your hearty meat dish with a glass of your preferred beverage for a satisfying feast!
Succulent meat, tangy sides, and refreshing ciders make a reaaaaaally shiok dinner. An affordable yum in the tum!
Address: 805 Bukit Timah Road, 6th Avenue Centre, #01-04, Singapore 279883
Telephone: +65 8812 4455
Opening Hours: 11.30 am – 2.30 pm & 5:00 pm – 9:00 pm (Tue to Sun), Closed on Mon
Customer reviews:
From a Trip Advisor user Sheue_Horng who gave Meat n' Chill a solid 5 stars!
"A friend recommended us to this restaurant which is easily spotted from the main road. Its warm and rustic interior provided the right ambience for a relaxing dining experience. We were pleasantly surprised by the generous servings and even more delighted when the signature pork ribs and ribeye steak we ordered turned out to be so tasty. I had the ribs and they were amazing! Lean yet tender, so moist and well-seasoned!! The straight-cut fries accompanying the dish were crispy on the outside and soft on the inside. Will definitely come again."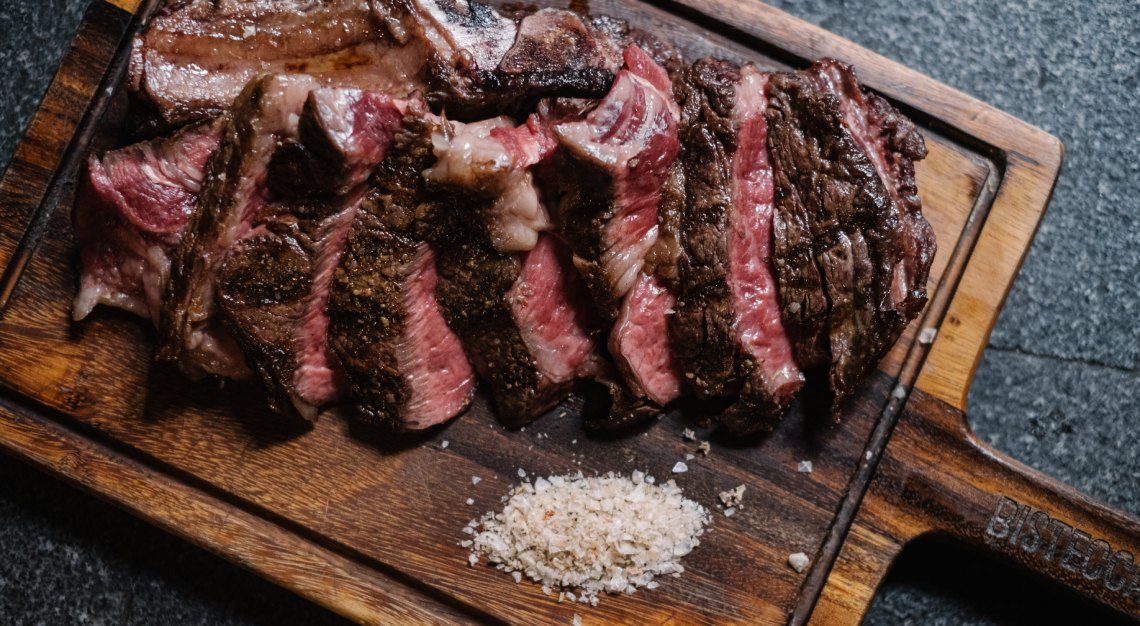 True to its name, Bistecca Tuscan Steakhouse is famous for its Bistecca Alla Fiorentina – a kilo of thick organic wagyu steak made for sharing. Pair it with Bistecca's exquisite wine menu for a well-balanced and spectacular mix of cocktails.
Bistecca offers a wide range of meat and delicious side dishes. Our favorites from the list are their Fiorentina steak and pan-seared scallops. The seared steak was well charred on the outside, while succulently red, rich, and marbled on the inside – the perfect medium-rare. The stunning setting in a shophouse makes Bistecca the ultimate venue for any celebratory occasion; from a romantic date to an intimate dinner party.
You need to pay a good price for the best cut of steak, so don't go in and be concerned about the bill. But all we can say is that the steak is absolutely worth every dollar and cent spent.
Price range: $38 – $198
Address: 26 Mohamed Sultan Road, Singapore 238969
Telephone: +65 6735 6739
Open Daily:
Lunch
Tuesday to Sunday: 12:00 pm to 2 pm (last seating)
Dinner
Monday to Thursday: 6:00 pm to 9 pm (last seating)
Friday to Sunday: 5:30 pm to 9 pm (last seating)
Customer reviews:
Customers love Bistecca for its exceptional steak and service. Some say that the Bistecca steak is the best they've had in Singapore and will keep on coming back for years!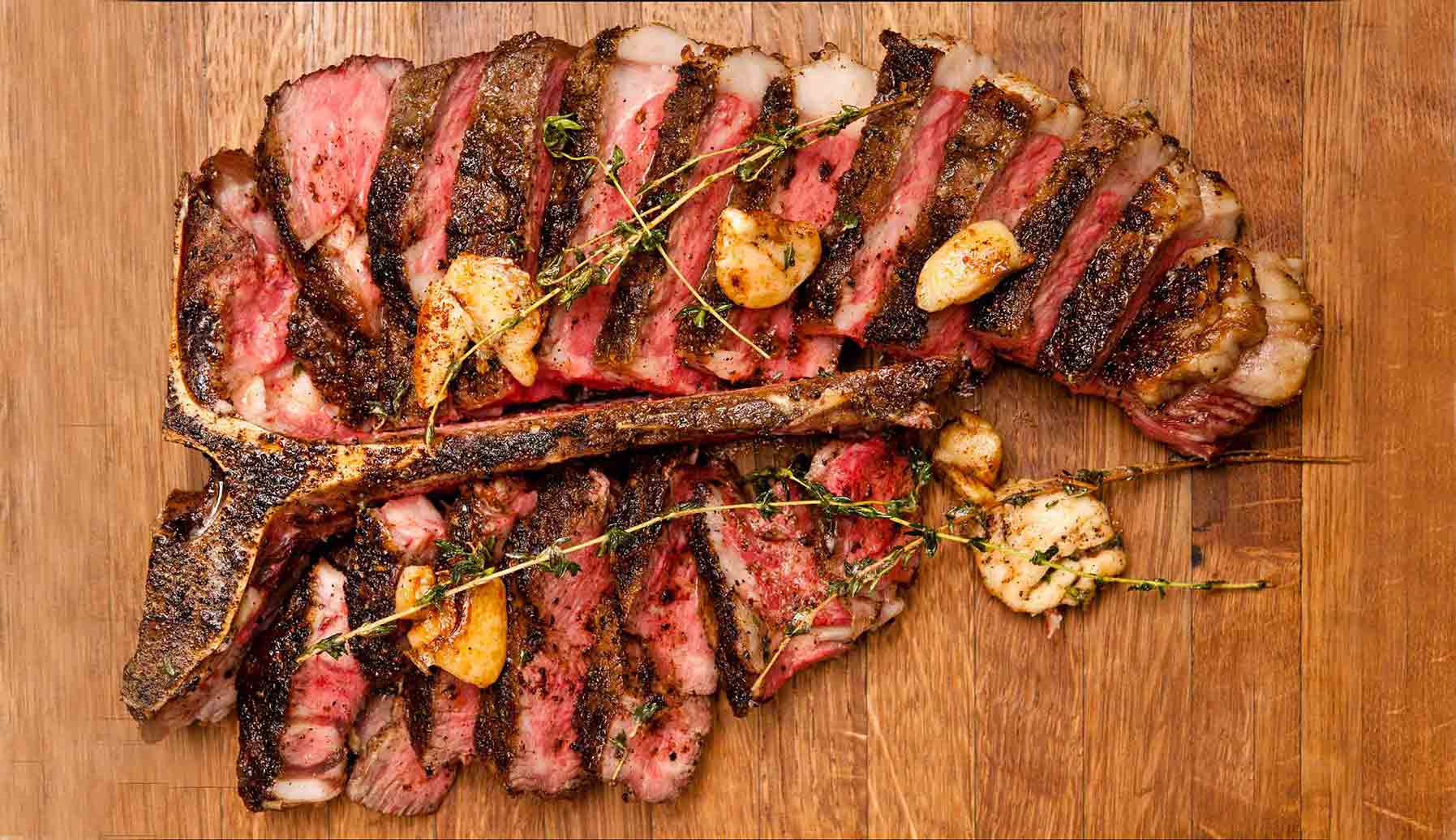 Owned by award-winning celebrity chef Wolfgang Puck who started his chain of steak restaurants in United States, CUT by Wolfgang Puck Singapore is one of the most popular high-end steakhouses in the Lion City.
Located in Marina Bay Sands, the restaurant serves its own contemporary version of the classic steak coupled with modern style interior design created by famous designer Tony Chi. CUT by Wolfgang Puck Singapore is a one-star Michelin restaurant serving premium food and beverages from all over the world.
Try their USDA Prime Filet Mignon and their Australian Wagyu Bone in Rib Eye Steak for an unforgettable melt in the mouth experience.
Price range: $80 – $360
Address: 2 Bayfront Avenue, Suite B1-71, Galleria Level, The Shoppes at Marina Bay Sands, Singapore 018972
Telephone: +65 6688 8517
Open Daily: 5:00 pm to 10:00 pm
Customer reviews:
Patrons of CUT by Wolfgang Puck Singapore say their experience in eating here is nothing but perfect as the restaurant comes with exquisite food and service. This is perfect for celebrating special occasions like birthdays and anniversaries. Seriously, we couldn't find any bad review about this place!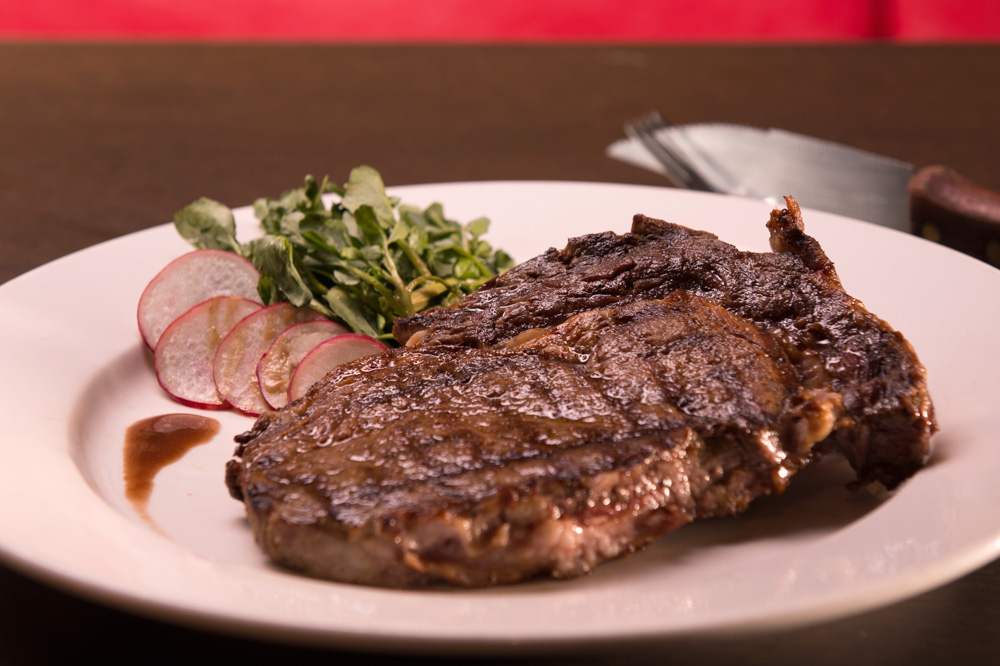 If you want to enjoy amazing steak with an equally amazing view of Singapore's cityscape, head to Wooloomooloo Steakhouse. This restaurant prides itself as a place where "easy comfort meets contemporary elegance".
Order their Prime Ribeye, Beef Wellington or Wagyu Tomahawk for a celebration night with friends and family.
You can also share your experience in social media using their very catchy hashtag #wooloomooment.
Wondering where the name Wooloomooloo came from? We'll save you the hassle of searching about it by telling it here. Wooloomooloo is a town in Australia. You can see bits and pieces of Australian culture when you come in at the restaurant.
Price range: $32 – $100
Address: 2 Stamford Road, Level 3, Swissotel The Stamford, Singapore 178882
Telephone: +65 6338 0261
Open Daily: 12:00 pm to 11:30 pm
Customer reviews:
Most customers of Wooloomooloo say that the food is divine. They leave with a smile on their faces with the excellent food, excellent service crew and a stunning view.
Burnt Ends is an open-concept Australian steak place famous for being one of the World's Top 50 Best Restaurants. This restaurant creates new menus everyday giving you the perfect excuse to come check them out regularly!
Order the all-time favorite Onglet – steak served with caramelized onions and gravy, and the Sanger – composed of grated meat in brioche buns.
Reserve your seat weeks ahead of your intended visit because Burnt Ends is always fully-booked!
Address: 20 Teck Lim Road, Singapore 088391
Telephone: +65 6224 3933
Open Daily: Sunday: 11:45 am – 3 pm
Monday to Saturday: 11:45 am – 11:30 pm
Customer reviews:
User 雪霁 gives 5 stars to Burnt Ends on her review in Zomato:
"Great food, great service, never have to wait for food and rarely missing ordered item. Love this place!! The quality of the food is really good and fresh!!"
When you're feeling a little thrifty but want to splurge on a mouth-watering steak any given time of the day then go to iSteaks Diner, your no frill no fuzz steak place.
Don't worry about sticking to your budget and order a striploin or rib eye for less than $20, but do not be fooled by the cheap prices as iSteaks Diner serve quality meats from Australia and New Zealand without breaking the bank.
This restaurant is located in Suntec City Mall so be prepared for waiting time during crowded hours.
Address: Suntec City Mall 3 Temasek Boulevard, #02-472/473 Singapore 038983
Telephone: +65 6285 8839
Open Daily:
Sunday to Thursday: 11:00 am – 11:00 pm; Friday to Saturday: 11:00 am – 12:00 am
Customer reviews:
Customers who have tried iSteaks Diner were impressed and wondered why they haven't tried the place sooner. Steaks are meticulously cooked to customers' specifications. They offer more value meals with side dishes, and low carb and keto friendly options.
Ron Rollorata
Ron loves travelling and watching sunsets. She also dabbles in travel photography, and wishes to see the aurora borealis someday.
Related posts
Subscribe for newsletter
* You will receive the latest news and updates on Singapore's best trends!
Trending Posts