22 Best Steakhouses For The Juicy & Tender Steak in Singapore [2022]
Zoya, 3 years ago
22 min

read
10850
How do you like your steak? Rare? Medium well? Well done? No matter how you like it, we can all agree that steaks will always have a special place in our hearts, and in our stomachs. Sirloin, T-bone, ribeye juicy mouth-watering steaks can be enjoyed with friends, colleagues, partners, family, or even alone! Whether you are celebrating a special occasion or having a hearty dinner, steaks make everything feel extraordinary. We hunted down the best places to eat delicious steak in Singapore, perfect for every budget and every mood.
Check out these places when you're on the hunt for some meat lovin'!
First on our list is a Japanese-inspired steak place serving the best of Japanese wagyu beef. Japan's wagyu beef is famous all over the world for its impeccable taste and tenderness. Fat Cow serves A5 to A3 grade Japanese Wagyu – the most exquisite beef you can have. The "A" grades mean the highest quality and the most sumptuous.
Recommended to order are Miyazaki Grade A4 Striploin that irresistibly melts in your mouth and the Fatcow Premium Donburi for a more Japanese experience.
Price range: $45 – $138
Customer reviews:
Customers are aware that food in Fat Cow is more on the expensive side but they recommend visiting the restaurant because you will definitely get what you paid for with the best-tasting wagyu, coupled with good service and nice ambiance.
Meat n' Chill, known for being the meanest steak n' ribs in town, offers huge portions at a wallet-friendly price. You can expect tender, juicy steaks and well-marinated ribs that slide off the bone effortlessly. Flame-grilled steaks and smoked ribs coupled with a variety of side dishes are cooked to perfection for your dining pleasure.
This is a nice cosy place to go with small groups of close friends and family. Pair your hearty meat dish with a glass of your preferred beverage for a satisfying feast!
Succulent meat, tangy sides, and refreshing ciders make a reaaaaaally shiok dinner. An affordable yum in the tum!
Customer reviews:
From a Trip Advisor user Sheue_Horng who gave Meat n' Chill a solid 5 stars!
"A friend recommended us to this restaurant which is easily spotted from the main road. Its warm and rustic interior provided the right ambience for a relaxing dining experience. We were pleasantly surprised by the generous servings and even more delighted when the signature pork ribs and ribeye steak we ordered turned out to be so tasty. I had the ribs and they were amazing! Lean yet tender, so moist and well-seasoned!! The straight-cut fries accompanying the dish were crispy on the outside and soft on the inside. Will definitely come again."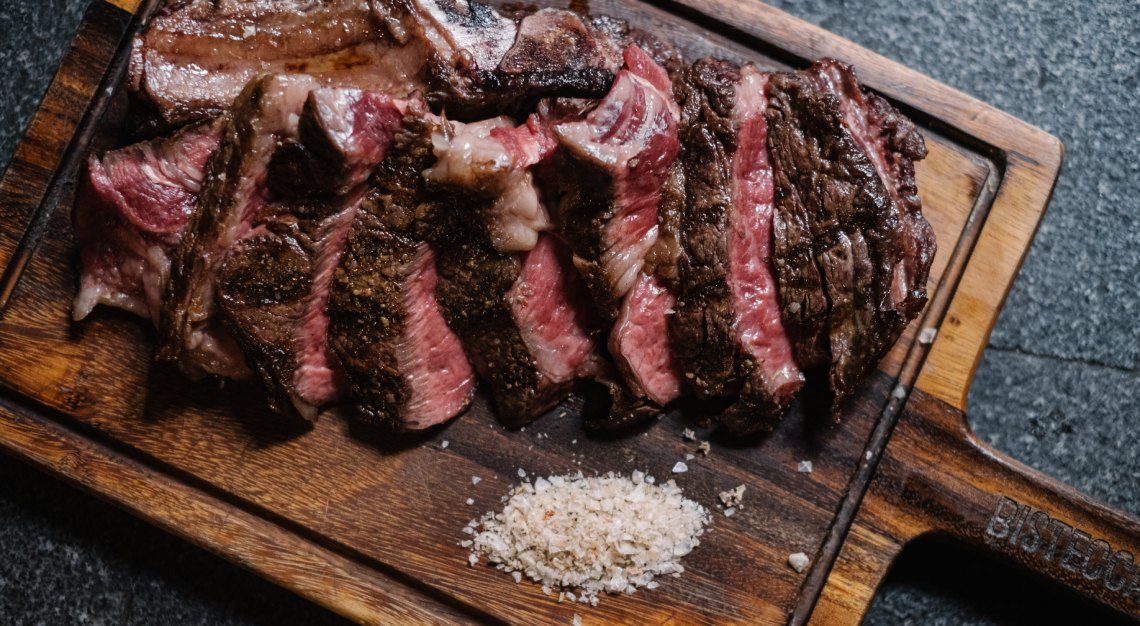 True to its name, Bistecca Tuscan Steakhouse is famous for its Bistecca Alla Fiorentina – a kilo of thick organic wagyu steak made for sharing. Pair it with Bistecca's exquisite wine menu for a well-balanced and spectacular mix of cocktails.
Bistecca offers a wide range of meat and delicious side dishes. Our favourites from the list are their Fiorentina steak and pan-seared scallops. The seared steak was well charred on the outside while succulently red, rich, and marbled on the inside – the perfect medium-rare. The stunning setting in a shophouse makes Bistecca the ultimate venue for any celebratory occasion; from a romantic date to an intimate dinner party.
You need to pay a good price for the best cut of steak, so don't go in and be concerned about the bill. But all we can say is that the steak is absolutely worth every dollar and cent spent.
Price range: $38 – $198
Customer reviews:
Customers love Bistecca for its exceptional steak and service. Some say that the Bistecca steak is the best they've had in Singapore and will keep on coming back for years!
Owned by award-winning celebrity chef Wolfgang Puck who started his chain of steak restaurants in the United States, CUT by Wolfgang Puck Singapore is one of the most popular high-end steakhouses in Lion City.
Located in Marina Bay Sands, the restaurant serves its own contemporary version of the classic steak coupled with modern style interior design created by famous designer Tony Chi. CUT by Wolfgang Puck Singapore is a one-star Michelin restaurant serving premium food and beverages from all over the world.
Try their USDA Prime Filet Mignon and their Australian Wagyu Bone-in Rib Eye Steak for an unforgettable melt in the mouth experience.
Price range: $80 – $360
Customer reviews:
Patrons of CUT by Wolfgang Puck Singapore say their experience in eating here is nothing but perfect as the restaurant comes with exquisite food and service. This is perfect for celebrating special occasions like birthdays and anniversaries. Seriously, we couldn't find any bad review about this place!
If you want a bit of French flair as you indulge your carnivorous cravings then Les Bouchon is a must-visit place. It is a typical French style Bistro known for serving the best quality Steaks. Setting towering standards for marbling and tenderness, they make every meal an experience full of robust flavours and textures. This fancy joint serves the best one of the best steaks in town along with an extensive menu of mouth-watering dishes that'll have you screaming Très Bien! in joy.
The signatures you should try are their Angus Ribeye Steak and French onion soup. Additionally, when you order their steak you also get a free flow of fresh golden home-made fries and a bowl of salad to go with it. The ambience and affordability of food here is perfect for impressing your date.
You can also opt for pick-up or islandwide delivery through Oddle.
If you want to enjoy amazing steak with an equally amazing view of Singapore's cityscape, head to Wooloomooloo Steakhouse. This restaurant prides itself as a place where "easy comfort meets contemporary elegance".
Order their Prime Ribeye, Beef Wellington or Wagyu Tomahawk for a celebration night with friends and family.
You can also share your experience on social media using their very catchy hashtag #wooloomooment.
Wondering where the name Wooloomooloo came from? Wooloomooloo is a town in Australia. You can see bits and pieces of Australian culture when you come in at the restaurant.
Price range: $32 – $100
Customer reviews:
Most customers of Wooloomooloo say that the food is divine. They leave with a smile on their faces with the excellent food, excellent service crew and a stunning view.
Burnt Ends is an open-concept Australian steak place famous for being one of the World's Top 50 Best Restaurants. This restaurant creates new menus every day, giving you the perfect excuse to come check them out regularly!
Order the all-time favourite Onglet – steak served with caramelized onions and gravy, and the Sanger – composed of grated meat in brioche buns.
Reserve your seat weeks ahead of your intended visit because Burnt Ends is always fully-booked!
Customer reviews:
User 雪霁 gives 5 stars to Burnt Ends on her review in Zomato:
"Great food, great service, never have to wait for food and rarely missing ordered item. Love this place!! The quality of the food is really good and fresh!!"
When you're feeling a little thrifty but want to splurge on a mouth-watering steak, then go to iSteaks Diner, your no frill no fuzz steak place.
Don't worry about sticking to your budget and order a striploin or rib eye for less than $20. iSteaks Diner serves quality meats from Australia and New Zealand without burning your wallet.
This restaurant is located in Suntec City Mall, so be prepared for waiting time during crowded hours.
Customer reviews:
Customers who have tried iSteaks Diner were impressed and wondered why they haven't tried the place sooner. Steaks are meticulously cooked to customers' specifications. They offer more value meals with side dishes, and low carb and keto friendly options.
If you want a refined fine dining experience without the stuffy pompousness that comes along with it, then Ruth's Chris Steak House is the place for you.
This joint specializes in their aged USDA prime steaks. The flavours you experience here is guaranteed to be unique. Their meat preparation further enhances the natural depth of umami that one can taste in their prime aged cuts of meat. You cannot deny the appeal of this joint. The prices here are affordable for the fine dining experience. A small 350gram prime ribeye cost you $80 while the larger 450-gram options cost you $100.
To ensure that the meat is just perfect and simply out of the world, this steak House uses its trademark 1800 degree oven to cook the meat to simple perfection. This joint heats their plates to a cosy 500 degrees to ensure that every piece of meat served is sizzling hot.
Their porterhouse steak and prime ribeye are a must-have though patrons also swear by their tomahawks, add in a side of creamed spinach and you are all ready for bliss.
This joint is the definition of luxury and showmanship when it comes to food. Located in Orchard road, this meat eater's heaven is very proud of their services and the ambience that one can enjoy in their joint. Their food is delicious just the way it is. Every piece served in this joint is guaranteed to be a prime cut, and every standing roast here is aged perfectly for over 28 days.
Their meat is slow-roasted over a bed of rock salt, which ensures that all the natural juices of the meat stay put inside the meat further developing its flavours and creating a fiesta in every bite. They also ensure that every dish is perfectly seasoned and they go the extra mile by carving the meat on their famous silver carts. Well, one can't simply be impressed with such table-side showmanship.
If all of that didn't impress you, then their original spinning bowl salad surely will. This place is perfect for impressing a date, so why not give it a shot? The price range is around $60-$180.
This joint is more like your friendly neighbourhood steakhouse, where you can just relax and have a good time with friends and family. With a homely ambience, this student-friendly joint offers affordable food.
Their unique ways of preparing the finest of prime cuts have patrons faithfully lining up for years. Their signature baked potatoes are the perfect sides for their popular tomahawk steaks. Besides, their most popular item is the Angus Ribeye. The juicy meat that one will taste here is guaranteed to be flavoursome, the charcoal that envelopes the meat here adds greatly to the overall texture and taste of the final dish.
If you want to spend an elegant evening with great food in a fine dining establishment, this joint is meant for you. With a spacious location, this place is ideal for formal and family events. This joint has the best cuts of prime quality meat that are cooked to perfection. They have an extensive menu that has a wide range of seafood to choose from.
You should definitely give their bone-in ribeye a try. The juices of the meat are with the natural flavours of the steak. Their steak with asparagus and mashed potatoes is another popular speciality they are proud of. The symphony of textures and flavours that this dish brings to the table is simply beyond comparison.
The perfect thing to do here is to pair your juicy steak with a special drink from their extensive drinks menu. If you are feeling a bit fancy, why not take a gander at their award-winning wine list. Nothing compliments a good piece of meat other than a good vintage white and you simply can't resist the charm of the whole fare. Bring your date to this joint for a perfect romantic evening with great food and a luxurious ambience. A meal here will cost $60 to $300.
The first thing that anyone will notice about this joint is the ambience. The refined, yet casual setting of this joint is very inviting. This joint takes pride in serving American and Australian steaks with an extensive menu. This establishment also serves great wine, which goes perfectly with their top-quality dishes and steaks.
The service here is regularly praised by loyal patrons of this highly recommended steak house. The prices are value-for-money due to the quantity and quality they serve.
Patrons here regularly recommend their striploin steak, which seems to be very popular. Their Hokkaido Wagyu is hands down the most decadent piece of meat you will ever eat. So, if you are looking for a place with great service, great food and affordable prices, then look no further. The price range costs around $15-$98.
This small 52-seater joint is an unconventional steakhouse. The small size of the joint gives the atmosphere a more comfy ambience. This is a popular joint and is usually working at its maximum capacity. This shows a lot about the food they serve. Located near the botanical gardens, this joint has an open grill so you can give them extra points for food entertainment. That open grill will get your appetite going and satisfy your cravings.
Patrons of this joint often talk about their wildly popular flat iron steak, which they use only the best meat and cook to perfection. Besides, because of the grilling, the char that developed on your steak is just magical. They also have an extensive menu for both food and drinks, and they have very cheap prices. The food costs around $22 to $75.
Their wines are all top-notch and go perfectly with the steaks however the other drinks they serve are equally recommended. Get yourself a juicy steak with a glass of your preferred poison and a side of their mushrooms and you will be happily satisfied.
The pristinely marbled beef is renowned throughout the world for its unique flavours and decadent textures. Bizen Okayama brings you this same pristine jewel in the crown of the meat world at the most affordable of prices. Likewise, the ambience and the service is commendable.
This joint is known for importing the best Bizen Wagyu straight from Japan. Their Wagyu are then carefully processed by butchers who are trained in Japan. Their unique preparations bring out the best qualities of the meat. This joint has perfectly mastered the art of steak cooking, which is what keeps them coming back again and again.
Frankly, one can simply not have enough of Bizen wagyu from Bizen Okayama. Moreover, their steaks are affordable, with prices starting from $19. So, this is the right place if you want to enjoy some prime wagyu with your friends.
This joint is another Japanese steakhouse but a bit on the higher end of the budget spectrum. This establishment is particularly known for its excellent service and attentive staff. The food here is no joke either, the finest of Japanese wagyu cooked to perfection with natural juices of the meat oozing out in every bite. Patrons of this joint swear by their grass-fed sirloin steaks and rightfully so, the meat here is not trifled with much. You can taste the natural flavours of the best wagyu in town when you bite into their prime steaks.
The refined fine dining ambience and the top-quality wagyu that is served here makes this the perfect location for a romantic evening with your significant other.
Known for its cosy and comfortable ambience, this joint has plenty of loyal patrons who never get tired of dining here. As the name suggests, they are mostly known for their steaks and their ribeye. Their ribeye, in particular, is extremely famous. Their AUS Wagyu is also a highly recommended item from their extensive menu, which patrons line up for its juicy umami flavours and delicate textures.
The prices here are very pocket friendly as well. If you are craving a good steak, this joint can satisfy those cravings within the cosy price range of $24-$58. Overall, the ambience is best enjoyed with a group of friends, so do give them a visit on your next night out.
If you want to indulge in the most decedent Hokkaido beef while enjoying a comfortable ambience, you should visit this place. This joint serves an extensive variety of dishes. However, their Hokkaido Wagyu Striploin is definitely the one you should go for.
Their Hamburg style steaks are also very popular and patrons also praise their pork chop steak. The price range here is very wide. One can however be satisfied in this joint with anywhere from $19 to $138, so do drop by and taste their meaty wonders.
Just like their name, their ambience is just as comfy and attractive. This joint is known for serving the best quality beef with its extensive side dishes. Each steak comes with three sides, which you can choose from coated fries, buttered corn and coleslaw. Likewise, you also get to choose between two sauces!
The food they serve here is serious business as well. Their NZ prime ribeye, in particular, is what patrons can't get enough of. The prices of these joint offers are extremely pocket friendly. This makes this restaurant a must-visit for all the students looking for a good time and great food. Prices start from $19 and can go up to $53.
This place is popular for giving it's diners the best value-for-money, and that's what keeps its patrons fiercely loyal. This place definitely knows how to handle their meat. Besides, their Angus ribeye is highly recommended, and you should give it a try.
The prices are affordable, and the beverages they serve here go perfectly with the food. The striploin and summer ale combination, in particular, is highly recommended. This place will only cost you around $18-$50.
A very famous French steakhouse, this restaurant is the place of celebration of all things flame-grilled and carnivorous. From steaks, beef skewers, chicken and chef (animal-based) specials, you get it all. The customers are welcomes with a great pun when they enter the restaurant, 'Let's Meat Here'. Loved by many Singaporeans, this is the place to go for a feast for meat.
Their homemade fries, fresh salads, Tender rib-eye steak, juicy skewers, roasted chicken are just a drop in their vast list of items available in their menu which you can enjoy while sitting in a cosy shophouse with two storeys and an alfresco rooftop garden. With affordable pricing, great location, casual and rife succulent flavour with the best neighbourhood dining, Braseiro checks every box in the checklist to be one of the best steakhouses on the whole island. The place has been mentioned in several famous magazines for its best pricing and flavours.
Braseiro has been voted as one of the top 10 best Steakhouse in Singapore under S$30 by Yahoo Lifestyle. The Straits Times recognised the restaurant as redefining what affordable and palatable steaks meanwhile 8 Days Eat Today declared their homemade fries as something to die for.
Okay, we've all heard of Wagyu steaks, but have you ever heard of Picanha? This delicious steak finds its origin all the way from Brazil, where only the prized cut from the rump cap muscle gets used. This cut is full of beefy flavour, and also very tender and juicy because of the fat. Now, you might not be able to travel to Brazil to enjoy this delicious meal, but you could always visit Picanhas' instead!
Now, the dishes may seem simple to you at first, but don't be fooled by appearances (they still look delicious). Just one bite, and you'll be surprised by the harmony of bold flavours. If we've tempted you enough, but you're confused about what to pick, you can go for either their Queen of Steaks or the Picanha Don. Both of these meat bowls feature the Picanha cut, where the Queen of Steaks offers a more buttery and soft experience, while the Picanha Don with its bed of butterfly pea-infused rice, and a variety of toppings is equally delicious.
You can even pair these up with their wonderful array of sides for a complete meal, and to down all of this goodness, don't forget to order their mocktails. Their selection of Asian fruit-inspired mocktails has to be some of the best that you'll enjoy. So what are you waiting for? Grab some friends, and go have a great time. After all, to quote their belief, a good steak should be enjoyed with good people. 'Steaks for The People', everyone.
To Conclude
After your meal, you can enjoy a glass of wine taken straight out of your wine chiller. To best accompany your steak, check our list of high-quality wine and our recommended wine bars to pair with. If you are looking for a good chiller, read more from our list of wine chillers to decorate your room with.
For more places to visit for a good steak, you can visit one of these recommended Wagyu restaurants for the premium steak to savour. Likewise, for other meat and seafood choices, you can look out for our list of Korean fried chicken places, Pork and Beef ribs restaurants, Japanese Omakase restaurants and Seafood restaurants.
Zoya
Queen of Obscure References and occasional writer. When not exercising my thumbs on Instagram, you can find me looking for good author bios on Google.
Related posts
Subscribe for newsletter
* You will receive the latest news and updates on Singapore's best trends!