15 Best Standing Desks to Buy in Singapore [2022]
Emily Hopkins, 3 years ago
13 min

read
20406
The COVID-19 pandemic has grounded many office workers in Singapore into the comfort of their homes and online. Sitting down for long periods will definitely cause all sorts of body aches. In order to maintain a healthy, ergonomic work area, a standing desk is essential to improve your posture in the long run. Thus, here are our top picks of the Best Standing Desks to Buy in Singapore to help you make the right buying decision!
Designed to improve your work performance and health, the EverDesk Max is more than just a height-adjustable table to do work on.
It features helpful tools such as the Health Coach Controller, which is a sleek table-height controller that allows you to pre-set your favourite desk heights. It also doubles as a sit-stand reminder, so that you won't forget what your body needs – a change in position.
Keeping your table clutter-free will also be a breeze because of the UniGroove! A built-in multipurpose organisation tool, use it to manage unruly cables, store miscellaneous items, or customise your desk with accessories such as the Peg Board and modular desk shelves.
You'll have the option of adding monitor arms, a laptop holder, CPU mount, and more as well, so full integration with your #WFH setup is always one step away.
Best of all, the EverDesk Max moves 150% faster, is 30% quieter, and carries 71% more weight (up to 120kg) than other standing desks.
This is due to its dual motor system, anti-collision mechanism, and zero-wobble structure, plus it goes a full 10cm lower and 4cm higher than other desks. This ensures that you get precise sit-and-stand comfort, no matter your height.
Alternatively, if you're on a budget, the EverDesk Lite is light on price, but heavy on ergonomic features. Check out the differences between the Max and Lite here.
You can also consider getting the EverDesk Elevate, which is a desk converter and riser! Available in two sizes, both are durable enough to sustain the weight of two screens, have a fuss-free set-up, and uses a one-click gas spring mechanism so that you can adjust the height easily.
Highlights:
Ultra-customisable. Choose from 3 table top series, each with a variety of colours.
Health Coach Controller: Remembers your preferred heights so you can switch between them easily, and has a customisable sit-stand reminder.
High-tech reliability:

Dual motor to move 150% faster and 30% quieter than most standing desks
Carries up to 120kg
Anti-collision mechanism to detect obstacles when the desk is moving up or down and halt movement before damage is done
Zero-wobble structure to give maximum stability and no distractions while you work

Internationally certified and rigorously tested:

ANSI/BIFMA compliant
Global Greentag certified
Electrically safe
Tested by ICTC, SAA, IECEE

Compatible with many accessories: Castor wheels, Peg Board Panels, modular shelves, cable management tools, under-desk storage, etc.
7-year warranty (with free 3-year extension)
Highlights:
Adjustable height: 70cm – 118cm
Fully customizable options
Quiet Desk Adjustment
Starting Price: $329
From the same team that creates custom PCs, AFTERSHOCK's height adjustable line of desks are the perfect table setups for your sit-standing needs. Out of all the available standing desk options in Singapore, the OMNIDESK Zero is the most value-for-money with the widest range of customisable design and accessories. The OMNIDESK ZERO is the entry-level option to the OMNIDESK line (check out their OMNIDESK PRO 2020 series) and yet it is one of the best and most affordable electric height adjustable desk available in Singapore.
Just like their PCs, the customer's voice matters the most as you even get the choice of ECO Bamboo table tops, monitor arms and CPU stands all in one convenient purchase.
Overall, hands down one of the best standing desks in Singapore.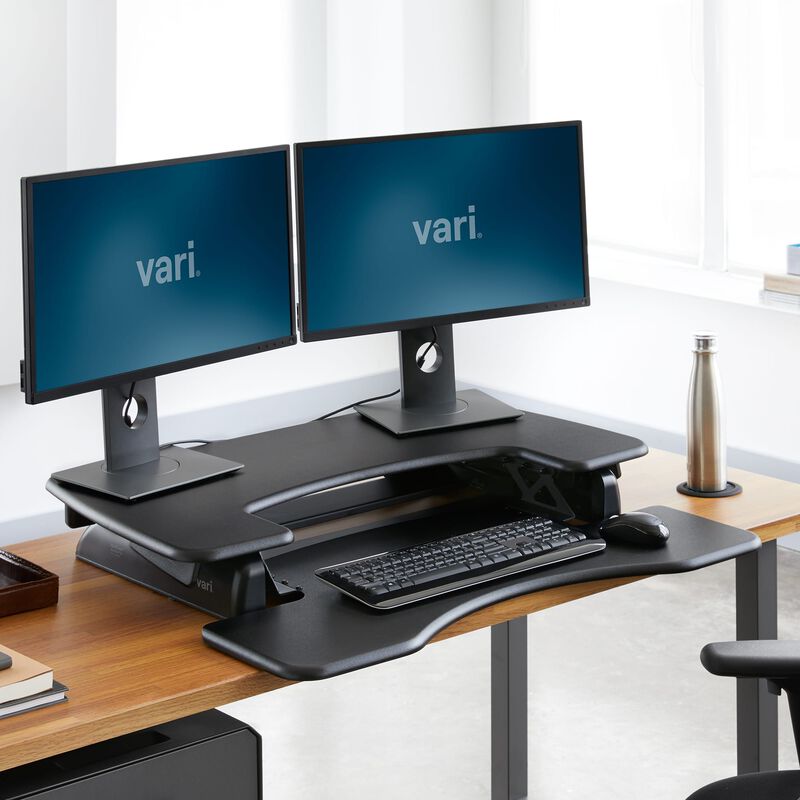 Highlights:
Five levels of height adjustment
Dual handle design
35 x 25.75cm working space
Weigh 35lbs
Comfortable
If you are tired of working long uncomfortable hours, you should try out the VariDesk Pro Plus 36 standing desk. With its heavy base area, VariDesk allows users with multiple tasks to take care of their undertakings without any issues.
Its construction involves high-end materials and a thick steel frame capable of carrying up to two monitors at a time. The top surface has a scratch-resistant laminate finish so you can be sure of the quality. It also doubles much space; so many items can go on it.
The desk offers five adjustment levels. Pushing up and down is easy, and it also locks smoothly. It has a dual handle design so you can visualize the comfort and luxury.
VariDesk is an ideal option for programs looking for multiple screens in their office.
Highlights:
Fitted with USB charging ports
Weighs 6 kg
13-43cm adjustable height range
Removable keyboard tray
80 x 60cm surface area
Unlike other standing desks in this list, FitFit Health Electric Standing Desk is a piece of unique and functional furniture promising to bring a doozy and modern style to your home or office. If you are looking for a standing desk that can truly complement your office, this one is fine-tuned to suit your needs.
The desk provides an automatic operation, so it will be easy to adjust heights by simply pushing a button. It is also defined by dual-colored platforms, whenever you flip one side, another color design appears. Both colors look aesthetically pleasing.
The desk's construction involves multiple compelling features to prevent common problems such as noise and stability. The top surface features quality wood materials mounted on a frame. The base features steel materials. So, you can be sure of its longevity. The keyboard and mouse have their fixed location.
Its top surface offers a large working space that can accommodate a laptop and two monitors. It also comes with a removable keyboard tray and USB charging ports to bring users a taste of the tech world. Most importantly, it's easy to assemble.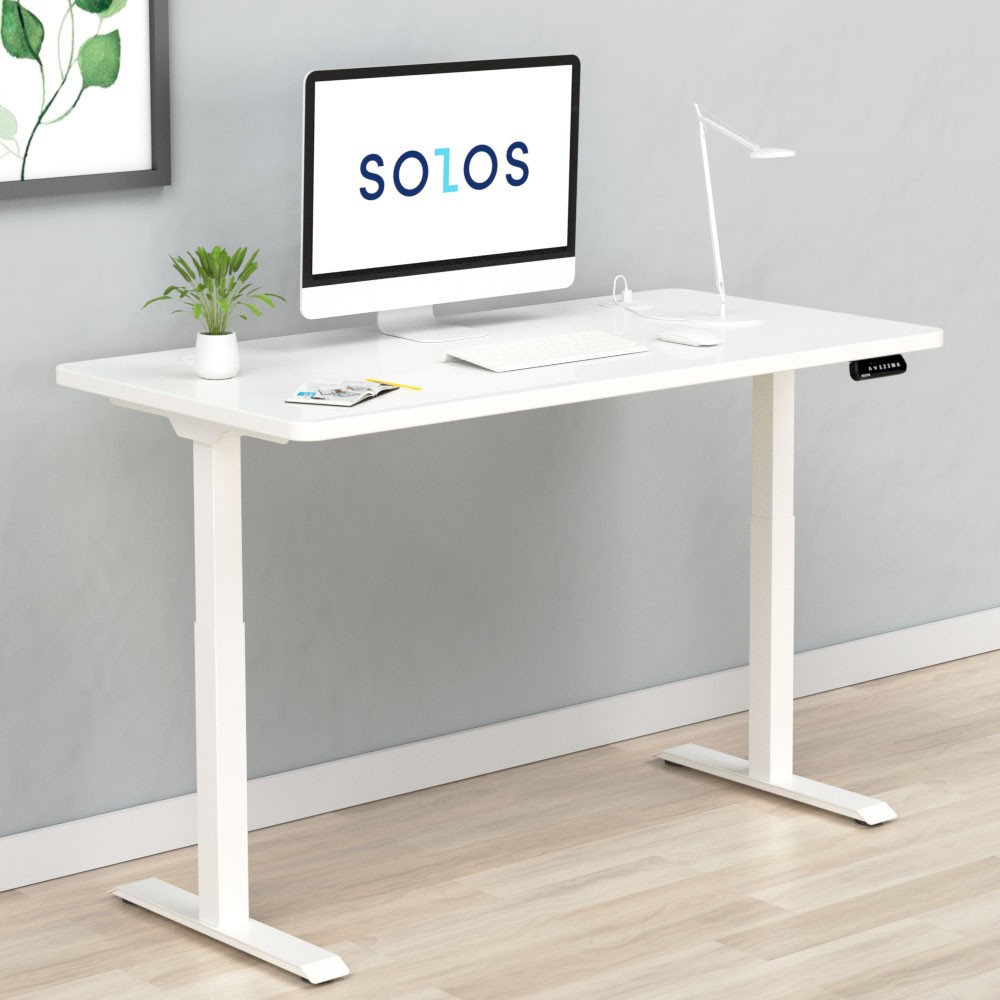 Highlights:
125kg weight capacity
Anti-collision system
Easy to assemble
55 x 27 working space
Signature control features
The Solos Advanced Standing desk has earned its reputation because of its dual turbo motors, a modern feature that makes adjustment easy without disturbing your co-workers. This advanced standing desk allows smooth adjustment to your preferred height, from 8 to 48.4 inches.
The premium finishes undoubtedly offer this desk a smart look and an elegant design, especially popular with users looking for an office desk. It is an all-round performer regardless of working level. The product also can enhance the beauty in your working space.
It is constructed of a top-quality steel frame to improve its strength and stability. Expect to use this desk for many years to come. Other important features to note are the reminder and anti-collision system. Solos Advanced standing desk offers a sturdy working space. With a capacity of 125kg, Solos is a perfect desk for physical documents and computers without any worries of breaking it
Highlights:
Simple and compact desk
8kg in weight
Fitted with safety lock
Ultra-slim design
66 x 47cm working space
This desk is particularly designed for a laptop, but it can also be a perfect choice when reading books. TakeAdesk Ergonomic desk is completely slim and portable, so you can easily carry it around. It also doesn't require too much space making it easier to store.
If you are tight on budget, this desk is an ideal alternative. It is completely flexible as it offers five different height adjustments. It is also worth mentioning that it is best for your back if you convert it to a sitting desk.
TakeAdesk Ergonomic standing desk is ever sturdy with a maximum capacity of 8kg, meaning you can place your laptop, mouse, and keyboard without any fuss.
Highlights:
3 memory settings
Concealed control box with wire tray
The most silent dual motor in the market
Fast movement speed at 38mm/s
Full customization options
Free installation
7years warranty
An adjustable frame that caters to Length 1000 – 2000mm worktop
When it comes to furniture, you need quality and style. Decor Viz satisfies all demands as one of the best standing desk models with the most silent dual motor in the market. It has a simple yet elegant minimalist design. Its stability is nothing than just a short of excellence.
Designed and manufactured in Singapore, Decor Viz offers fancier features, providing the maximum choice and convenience for discerning users. Some of them include a wake-up timer to alert the user to stand up, touch screen digital display, child lock, screen saver, and many more. Full customisation options are available since they manufacture from their factory in Singapore & Malaysia.
It has a 3 column adjustable leg with the widest height range of 620mm – 1280mm. The frames are adjustable regardless of the side of the desk. Decor Viz has a maximum weight capacity of 125kg, so you cannot compromise its stability.
Decor Viz strives to have complete control of your comfort and a concealed control box with a wire tray. It is best suitable for professionals working on large computers and physical documents.
Highlights:
One-touch elevation with memory height and a near-silent motor
Travel height of 50cm, suitable for users up to 2m tall
Easily switchable between single monitor, dual monitor, and laptop
98-degree pillar gradient for optimized eye-screen distance
App tracking and reminders
Large working area 70 x 45cm for all your work essentials
Independent and easy screen height adjustment
The Altizen pro is one of the best standing desks in Singapore, offering an unmatched level of comfort you deserve. It is best known for its ability to track users sitting and standing habits. It's built from laser-cut cold rolled steel which reassures its stability and durability.
Altizen Pro allows the use of app connection. Download the Android or iOS app, synchronize with this desk and customize the number of hours sitting or standing. It also lets user-goals customization through its reminder alerts.
Alitizen pro is an advanced standing desk offering independent keyboard and monitor adjustments. You will love the 98-degree optimal angle for better screen viewing. It is constructed using steel materials, so you can be sure of the durability. The working area is something you will never worry about.
Get this standing desk if you are looking for a convertible desk with 21st-century smart features and numerous positive reviews from customers.
Highlights:
Silent motor with two memory heights
Travel height of 44.5cm suits even a 1.9m tall user
Generous working space
Independent monitor height adjustments with 11 customizable heights
98-degree pillar gradient for optimized eye-screen distance
Altizen Active is completely versatile. It is never noisy since it has a silent motor with two memory heights. The basic features of this disk are no different from others in the list. Nevertheless, it comes with a wireless handset to optimize comfortability.
Altizen is one of the best customizable desks that can upgrade your office to another level. It offers hassle-free height adjustment, which is done manually. You will also love its flexibility. You can easily switch between a single, dual monitor and laptop without any fuss.
Built on quality materials, Altizen is the best value for money. The 80 x 48cm working space is generous enough to allow you to place your working tools like documents, laptop, and phone on the desk. It also boasts a 6mm radius working surface to help users achieve maximum comfort.
Highlights:
Stable adjustable height
Comes with wheels
Strong construction materials
Compact desk
If you are looking for an affordable ergonomic desk, Ecolus is worth consideration. Not only is the standing desk simple in design, but it also offers the comfort of a standard desk. Interestingly, this desk comes with wheels; so you can move it around hassle-free. This also increases its strength and versatility.
Ecolus Ergonomic standing desk is completely customizable. You can decide to use it either for sitting or for standing. It is constructed using premium materials to boost stability and durability.
We can all agree that a standing desk is at its best when it fits the minimalist trend and style. It may appear pretty basic, but this elegant desk is enough for your sofa and also be useful during weekends when you want to sit back in bed with a tablet and cup of tea.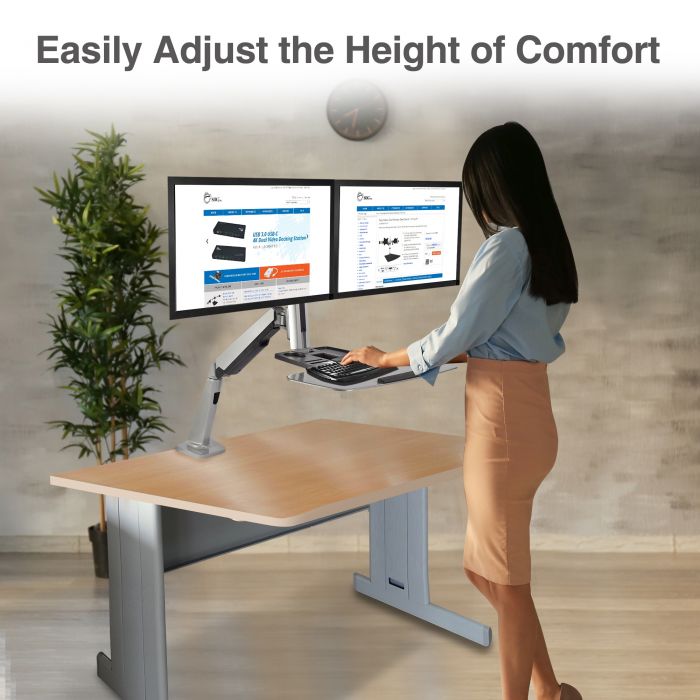 Highlights:
13 x 27 cm surface area
Has a 6kg weight capacity
Compatible mounting patterns
Supports 360-degrees arm swivel
When it comes to quality and functionality, the Standing Desk Converter with Height-Adjustable Keyboard and Counterbalance Monitor Arm is a complete office addition. It is one of the most recommended standing desks with responsive support and ease of use.
The desk offers both standing and sitting comfortable positions. You can also adjust it to your preferred height to fit your style. Its outstanding design allows users to vary the level of stability with ease. It can also help reduce back and neck pains when working because it's constructed with every day's common issues in mind.
Highlights:
Range of adjustability: 65cm – 125cm
Minimalist look
Design also comes in a corner desk option here at $399
Most people are familiar with IKEA and just like any reliable furniture store, they offer the BEKANT line of standing desks in multiple tabletop colours such as black stained ash, white and light oak.
The BEKANT is a wonderful standing desk option at $799. You can check out the electrical version here.
Fret not, this standing desk also comes in a manual height adjustable version with even more colourways at more than half the price at $319, here.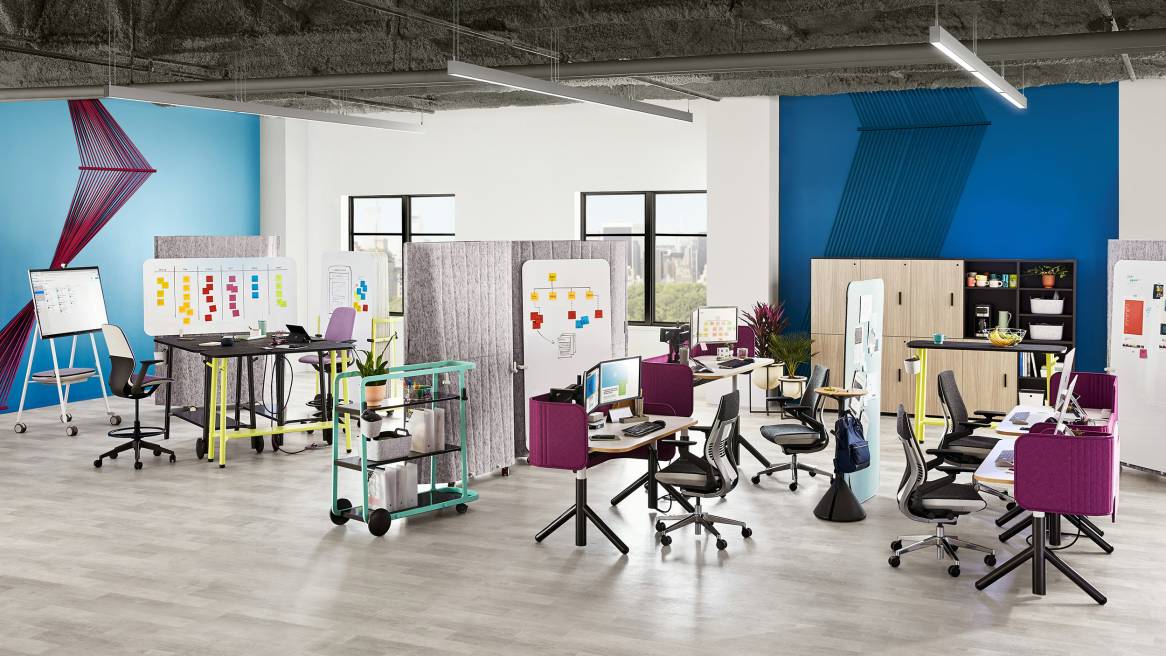 Highlights:
Comes in a fixed desk variant or the electric standing desk with simple touch controller
Range of adjustability: 57.5cm – 123.7cm
Radius corners for child and pet-safe edges
Steelcase is a well-known American-based furniture company and one of the largest in the world. Their office furniture solutions have been widely used in many workplaces in Singapore such as in our hospitals and schools. The Steelcase Flex Height-Adjustable Desk is versatile and reliable as it has hidden directional rollers that integrates stability and mobility.
Highlights:
Sturdy stand
Adjustable feet for uneven floors
Manual Height Adjustable cranks on either side
Range of adjustability: 70cm – 120cm
Looking for a sturdier design, IKEA also offers the SKARSTA for a more industrial look. Get it here at $349. This standing desk is definitely an investment, and is truly one of the best standing desks you can buy in Singapore!
Highlights:
Office design
Sturdy base with electric height adjustability on both sides
Designed for sharable workspace
For a standing desk experience fit for the whole family, the Tito Dual-Sided Adjustable Table is the perfect choice as it can function as a kid's study table, an adult's work area or standing tables all with a click of a button.
Summary
In order to ensure the most efficient Working from home arrangement, it is important to invest in a good standing desk for optimal productivity and comfort. Remember to stay healthy!
Check out our other related articles:
Emily Hopkins
I'm an accomplished and detail-driven content writer with copious experience in producing compelling, engaging and flawless content for a variety of blogs and websites for several years.
Related posts
Subscribe for newsletter
* You will receive the latest news and updates on Singapore's best trends!