17 Best Online Shops to Buy Sportswear in Singapore [2022]
Joanne, 3 years ago
14 min

read
8826
There are a lot of different factors to consider when purchasing sportswear. Whether it be price, material, or aesthetic considerations, choosing the perfect sportswear is not easy. When it comes to online shopping, there are a wide variety of shops selling activewear. This is why we have curated these lists of the best Singapore online shops to purchase sportswear. Using this list, you will be able to identify which store caters to your priorities and pick the ideal one for you and your needs.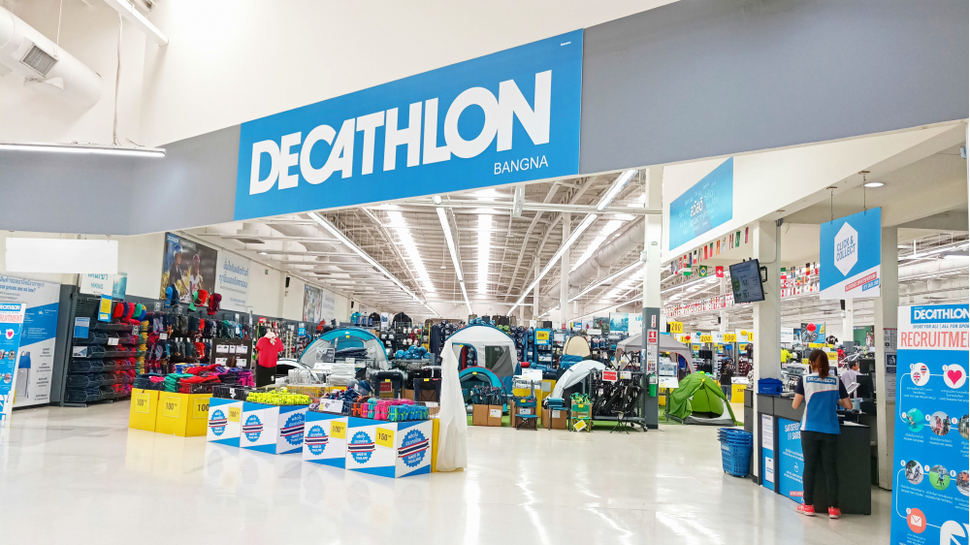 Highlights:
Affordable
Multiple outlets
Wide range of fitness products
When it comes to affordable sportswear, no one does a job better than Decathlon. This store has perhaps the largest variety of activewear available, all at low prices.
The extensive range of products available makes Decathlon our top pick for online activewear stores. Within each product category, there are further specifications created for your convenience. For instance, when it comes to T-shirts and tank tops, there are subcategories for each sport like badminton, boxing as well as tennis to name a few.
In addition, not only does Decathlon sell clothes for all demographics and sports, they sell accessories as well. If variety and affordability are what you look for when purchasing sportswear, we highly recommend visiting the Decathlon online store. Decathlon is truly deserving of topping our list of the best online sportswear shops in Singapore.
| | |
| --- | --- |
| Address | Multiple Locations: See here |
| Contact Information | +65 3110 0100 | support-singapore@decathlon.com |
| Business Hours | See here |
Highlights:
Free returns
Wide variety of activewear
Constant discounts and offers
Next up on our list is ASOS. A popular online store for clothing and fashion, the range of activewear available on ASOS should not be underestimated.
At ASOS, you will find activewear belonging to acclaimed brands like Nike, Adidas as well as Puma. The reason why ASOS is so great is due to the constant offers provided. Due to these great offers, purchasing sportswear from ASOS will save you some cash. Furthermore, returns are free and can be easily arranged. What this means is that you will never have to commit to a particular item. The sports shoe you purchased does not fit, right? Not a problem with ASOS. With excellent customer service, great offers as well as a wide variety available, ASOS is one of the best online stores for sportswear.
| | |
| --- | --- |
| Address | NA |
| Contact Information | https://www.asos.com/customer-care/help/?help=/app/ask |
| Business Hours | NA |
Highlights:
Stylish designs
Free delivery above $50
Both male and female products
For those who are sick and tired of tacky or plain sportswear, Kydra is the online shop for you. At Kydra, you will find sportswear that will inspire you to get active.
Most people have their workout clothes separate from their other apparel items. With Kydra, you will find activewear that is stylish enough to simply wear out. Apart from amazing aesthetics, the activewear found here is highly functional as well.
Furthermore, there is a wide range of options available for both male and female patrons. Offering free delivery for orders above $50, Kydra is the go-to online store for fashionable activewear. Overall, definitely a reputable brand and one of the best online shops selling sportswear in Singapore.
| | |
| --- | --- |
| Address | Vertex 33 Ubi Ave 3, #02-31, Singapore 408868 |
| Contact Information | +65 8823 3127 |
| Business Hours | NA |
Highlights:
Wide variety of sportswear
Carries multiple brands
Male and female products available
Royal Sporting House offers a wide variety of sportswear from the world's biggest brands. In many ways, Royal Sporting House is similar to Decathlon, but for large global brands.
This online store offers an extensive range of sports products for both genders. For each category, you'll be able to filter it according to brands, making it easy to find the brand that you're looking for. Apart from apparel, Royal Sporting House equips you with the relevant accessories for your sport as well. From rackets to swim caps, accessories across a range of sports are available here. If you're a fan of popular brands like Reebok, Nike and Champion, Royal Sporting House is a great online store for you.
Highlights:
Affordable
Wide array of sportswear
Male and female options available
Next up on our list is Asics. Although Asics is a popular global brand, they often have sales on their online store, making their sportswear a lot more affordable.
Being a major sports brand, Asics sells a wide array of sportswear for both genders. Whether you're looking for jackets, shirts or tights, Asics has got you covered. Furthermore, for first-time buyers, Asics is offering you a 10% off voucher for your shopping cart. Also, if you're a POSB/DBS cardholder, you'll get to enjoy 15% off with $150 spent. All in all, Asics is an affordable global sports brand with a wide range of sportswear available.
Highlights:
Designed by women and for women
Functional designs
Minimalistic
Outfyt is a brand that was founded by Stephanie Colhag Yeo. She designs all the pieces that are sold by the brand. Designed by women and for women, Outfyt offers exercise pieces that maximise women's confidence when they are working out. On top of that, their pieces are known to accentuate each woman's beautiful and natural form.
Most of the pieces by Outfyt are inspired by Scandinavian designs. Therefore, they feature clean, simple lines, with a focus on minimalism, functionality, and beauty. The fabric used for all their designs are of high quality and sourced from Italy.
Outfyt also believes in sustainability by removing anything that is unnecessary. Instead, the focus on producing quality products that will last you a long time. The brand is also known for its great customer service. They go the extra mile to make sure that you will get the right fit on your first try!
| | |
| --- | --- |
| Address | 35 Haji Ln, Singapore 189228 |
| Contact Information | NA |
| Business Hours | Tuesday to Sunday: 1 PM to 6 PM |
Highlights:
Founded by Sports enthusiasts
Affordable
Stylish
Founded by two avid sports enthusiasts, Fitta Active is a brand that aims to provide women with affordable and stylish active wear. Fitta Active offers a range of sportswear including sports bras, bottoms, and tops. Their website also features a sales section where you can look out for amazing deals!
If you are looking to buy some sportswear for a friend but are unsure about sizing, Fitta Active also sells gift cards that you can give to your friends. They can use the gift cards to purchase new sportswear and you and your friends can work towards a healthier lifestyle!
| | |
| --- | --- |
| Address | 14 Scotts Road, Far East Plaza #04-119A, 228213 |
| Contact Information | +65 9685 6307 |
| Business Hours | 12 PM to 8 PM, Daily |
Highlights:
Official distributor of many major brands
One-stop shop
Printing and customization available
Established in 2006, SF Sports Trading is a sporting goods store in Singapore that caters a wide array of indoor courts shoes and team apparels to meet all your needs that your sport requires. It is the official distributor for IAM Sportswear, Senoh, Asics, Mizuno, Molten, Mikasa, Mcdavid, LP Support, as well as Rock Tape.
Put simply, it is a one-stop service provider for sports apparels, shoes and equipment. On top of that, because they are the licensed distributor for AirCAT, Mizuno, Mikasa, OBRE, Spalding, McDavid, Molten, FBT, Zamst and various other brands, they are able to provide them at attractive and exclusive prices! They also do customizing and printing of sports and corporate apparels.
| | |
| --- | --- |
| Address | 1013 Geylang East Ave 3, #03-114, Singapore 389728 |
| Contact Information | +65 6745 0061 |
| Business Hours | 11 PM to 6 PM, Daily |
Highlights:
Affordable
Trendy designs
Multiple outlets
Trillactive is a yoga apparel brand established in Singapore in 2017. It started with its founder's passion for bringing in affordable yet trendy yoga apparel clothes with Asian cutting in Singapore.
Today, Trill Active is a true contemporary activewear concept brand that offers uptrend and functional fitness wear that suits Asians. The versatile brand offers pieces for all-rounder sports activities as well as casual wear. Pieces include yoga top, yoga bottoms, sports bras, yoga mats, yoga bags, as well as other yoga props.
The brand has 5 outlets across Singapore where you can conveniently browse and purchase your sportswear. You can also choose to purchase from their online store. Whichever you choose, one thing is for sure: when you shop with Trill Active, you can expect quality, functional, trendy yet affordable pieces!
With this list of the best 9 online sportswear stores in Singapore, you'll never have wonder where to get your sporting gear ever again. The stores on this list cater to different customers and whether you prioritise affordability, aesthetics or brand, you'll be able to find the perfect sportswear store that matches your priorities.
Address
Multiple Locations: See here
Contact Information
+65 8218 4787
Business Hours
Monday to Friday: 10 AM to 6 PM
Saturday: 10 AM to 12 PM
Highlights:
Free delivery for orders above $80
Affordable
Trendy designs
Nue Moves prides itself in its great variety of athleisure wear that feels like second skin. Their products are made affordable to all. As compared to many other brands, Nue Moves products are reasonable priced and great for those who are trying to save some money.
In addition, the designs that are offered by the brand are trendy, minimalistic, as well as functional. Most importantly, they are so comfortable that you may want to wear them as your daily wear! In addition, because the pieces are so trendy and easy to wear, you can easily pair them up with your casual clothes and head out for a day of shopping after working out!
For throw overs, fitted and airy tanks, cropped jackets, biker shorts among others, be sure to check Nue Moves out!
| | |
| --- | --- |
| Address | NA |
| Contact Information | talktonuemoves@gmail.com |
| Business Hours | NA |
Highlights:
Free shipping above $70
Wide range of activewear
Affordable
Born in the sunny island of Singapore, FUNFIT has been in the active scene for over 20 years. Developed by a local in-house team of designers, FUNFIT offers a wide range of swim and activewear is well-loved by many of their customers.
Whether you are just starting out or struggling to keep up with a consistent workout routine, FUNFIT's range of products has got you covered. The brand is also body positive, as it offers a wide range of sizes from small sizes to 5XL.
In addition, FUNFIT understands that not everyone feels comfortable baring it all! Therefore, some of the brand's bestsellers include tankinis and boyshorts which cover up a little more, and feature rash guards which protects your skin while staying conservative.
Highlights:
Breathable
Durable
Comfortable
Established in 2014, BURD Activewear is driven by a passion for fitness and style. The concept for BURD Activewear stemmed mainly from yoga and fashion, and the creators had a vision of creating styles and designs that are unique, of high performance, as well as of high-quality. They hope that fitness enthusiasts as well as fashion-forward customers will be able to enjoy their pieces.
With amazing and quirky designs, say goodbye to boring and plan activewear. The pieces offered by BURD Activewear are also extremely breathable, which is important for activewear. This adds to the comfort level of the pieces.
In addition, customer reviews left by their supportive fans often cite that pieces are extremely durable. However, many customers still choose to repurchase because of the beautiful designs and wide range provided by BURD Activewear!
| | |
| --- | --- |
| Address | NA |
| Contact Information | enquiry@iloveburd.com |
| Business Hours | NA |
Highlights:
Wide range of products
Curated brands
One-stop-shop
Focus Active is a Singapore based activewear boutique that brings you curated pieces from the best brands across the world. We choose our partners carefully for their style, quality, and personality. The brand aims to help customers discover new brands without all the hassle of international shopping. Their goal is to help you move away from the mainstream and to help you express your individuality. The team at Focus Active believes that fitness is for everyone and we want to help our community discover their potential and become the best versions of themselves.
The brand offers a wide range of products including tops, bras, leggings, capris, shorts, towels, as well as accessories and bags. If you are on a budget, the brand has a "On Sale" category where you can often snap up amazing deals and save tons of money on products offered by well-known brands!
| | |
| --- | --- |
| Address | NA |
| Contact Information | hello@focusactive.co |
| Business Hours | NA |
Highlights:
Affordable
Odour-free
Designed to keep you dry
Vivre Activewear is an up and coming Singapore activewear brand designed for daily wear, gym, yoga and other light to medium intensity sports. First launched in April 2014, it has since garnered a strong community of yogis and fitness enthusiasts raving about their apparels. Apart from winning awards for its chic designs, it has also have been featured quite regularly in fitness magazines.
Reasonably priced from $40 to $70, all of Vivre's creations are specially designed to better fit the Asian body frame. Key features include built-in bras for tank tops and moisture-wicking fabrics to keep you dry and odour-free, so you can concentrate on working hard while looking great.
In addition, because all apparels on their site are exclusively designed for Vivre Active, you can be sure that your piece is unique and special!
| | |
| --- | --- |
| Address | 18 Sin Ming Lane, Midview City, #03-09, Singapore 573960 |
| Contact Information | +65 98204518 |
| Business Hours | Monday to Friday: 11 AM to 7 PM |
Highlights:
Affordable
Simple designs
Comfortable
My Whey Stop is an indie activewear retailer in Singapore that is a great option if you are looking for an affordable option. With prices starting from $17, this brand is great for students out there, or working adults who do not want to spend a bomb on sportswear. In addition, the brand often runs promotions and sales. This means that you may be lucky enough to grab deals that are below $20!
For simple, basic, everyday designs, be sure to check My Whey Stop out! On top of activewear, the brand also offers protein powders and supplements for you to get you started on your fitness journey.
| | |
| --- | --- |
| Address | NA |
| Contact Information | +65 96539261 |
| Business Hours | NA |
Highlights:
Affordable
High quality
No minimum order required
If you are looking for a place to print and produce custom-made jerseys for your sports team, PrinteeSG is the place to head. With over six years of experience, PrinteeSG is a brand that offers a wide range of t-shirt printing services at cheap prices, without compromising on quality.
The brand aims to provide quality apparel at competitive prices compared to other shirt printing companies in Singapore. Unlike many other Singapore-based t-shirt printing companies where services and discounted pricings are only offered with a minimum purchase order, PrinteeSG does not require you to have a minimum order in order to process your purchase.
Whether it be dry fit, cotton, jacket, polo, headwear or Muslimah sports apparel, PrinteeSG has got you covered! In addition to printing services, PrinteeSG also carries a branded jersey products such as sports apparel from well-known brands like FBT, Nike, Puma, Adidas, as well as Under Armour. You can choose to buy them without any printing services, or have your logo or preferred design printed or embroidered on!
Address
Printeesg Pte Ltd 80 Playfair Road Kapo Factory Building Block A #06-07 Singapore 367998
Contact Information
+65 9001 6072
Business Hours
Monday to Friday: 10 AM to 7 PM
Saturday: 10 AM to 3 PM
Highlights:
Lightweight, soft, and breathable
Quick drying, no sweat spots
Affordable
Sparks Active is an international online activewear brand that seeks to bring you quality and affordable activewear for working out and wearing out. Launched in November 2020, the brand champions the active lifestyle while being invested in giving back to the community in Singapore and abroad including Myanmar, Nepal as well as Hong Kong.
At Sparks Active, you will be able to find quality kits made from the soft and cotton-like Luxe-rib material and sustainable Tencel that are stylish, versatile, and most importantly, affordable! Some products that Sparks Active offers include size-inclusive tights with pocket panels, tie-dye workout sets, comfy tanks, as well as studio spin shorts.
For those who prefer less revealing workout gear, you would be glad to know that the brand offers jackets and long-sleeved tops on its online store. If you want to try some of their products before purchasing them, you can head down to selected studios in Singapore!
| | |
| --- | --- |
| Address | See here |
| Contact Information | +852 51046996 | hello@sparks-asia.com |
| Business Hours | N.A. |
Shopping for fitness products and activewear may be daunting if you do not know where to get started. But with this list of best online sportswear shops in Singapore, you can start buying your products efficiently!
We have a wide range of articles that may be useful resources for you if you are on a fitness journey. Check them out below:
Related posts
Subscribe for newsletter
* You will receive the latest news and updates on Singapore's best trends!
Trending Posts
May 30, 2023

What is Matcha? Matcha...

May 31, 2023

TLDR: In this article,...

May 31, 2023

TLDR: As an audio...