11 Best Sports Doctor in Singapore [2022]
Joanne, 3 years ago
13 min

read
2988
During the Circuit Breaker period in Singapore, many of us start to exercise at home to keep fit. However, with a lack of proper equipment and space, many of us suffered from injuries. If you are a professional athlete, you must be used to dealing with sprains, aches, as well as pains all your life! However, for many of us, sports injuries are not something we know how to deal with on our own. Whether you are a professional athlete or not, with the help of a sports doctor, your pain and injuries will be more manageable. So, today, we will look at the Best Sports Doctor in Singapore to help you alleviate your pain!
Highlights:
State-of-the-art medical equipment
Customized and quality care
Works closely with other specialists and physiotherapists for a more holistic treatment
Orion Orthopaedic Surgery is led by Dr Mizan Marican, the medical director and orthopaedic surgeon specializing in sports and trauma injuries, as well as degenerative conditions of the hip and knee. His practice is focused on joint preservation and sports injuries (ACL and meniscal surgeries, hip arthroscopy, osteotomies), and joint replacement surgeries of both the hip and knee. He frequently performs partial or total knee replacement surgery for active patients and is skilled in the use of navigated and robot arm-assisted (MAKOplasty®) knee replacements.
He is also one of a few surgeons in Singapore who are trained to perform hip replacement surgery using the muscle-sparing direct anterior approach (DAA). This minimally invasive approach has been shown to significantly reduce recovery and hospitalization time, allowing patients to walk again in just hours after the procedure.
Dr Mizan is also an active sportsman himself, constantly engaging in his favourite sports such as golf, cycling, and tennis, putting him in the best position to understand the conditions of his active patients and customize their treatments so that they may return to the activities that they enjoy.
It is now easier than ever to consult Dr Mizan via virtual consultation. Find out more at contact us.
| | |
| --- | --- |
| Address | 3 Mount Elizabeth, #08-05 Mount Elizabeth Medical Centre, Singapore 228510 |
| Contact Details | +65 6733 4565/+65 9766 4565 | clinic@orionortho.sg |
| Operating Hours | Mon-Fri, 8.30am – 5.30pm; Sat, 8.30am – 12.30pm |
| Social Media | Facebook | Instagram |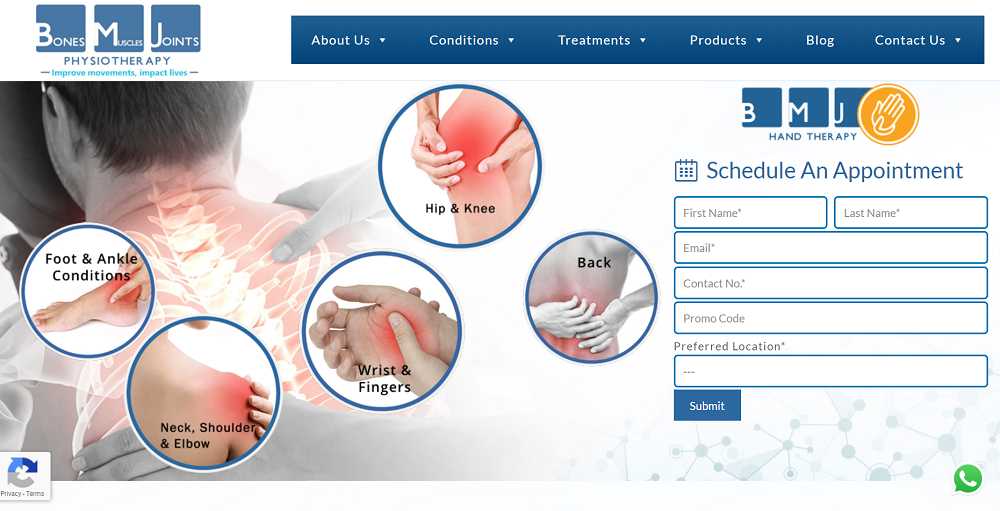 Highlights:
Multiple outlets
Wide range of services
Vast clinical experience
BMJ Therapy is a team of Allied-Health Professionals as well as Massage Therapists. The team has special interests in treating injuries involving Bones, Muscles, and Joints (called musculoskeletal injury). In addition, BMJ Therapists have vast clinical experience and base their treatment on the latest medical knowledge to deliver the best possible care to their clients.
Some treatments provided by BMJ Therapy include post-surgery rehab, postural analysis, home therapy, sports massage, as well as many more. The professionals at this clinic will also be sure to carefully assess your pains so that they are able to give the right treatments to alleviate discomfort.
For those of you who are experiencing pain due to other conditions, you can also consult them for reliable consultations. Specifically, they are experts in conditions concerning the neck, shoulder, wrist, back, knee, as well as ankle or foot!
With outlets across the island at Tampines, Parkway, Kovan, as well as Orchard, it is extremely convenient to book an appointment with BMJ Therapy. So, get your condition checked as soon as possible!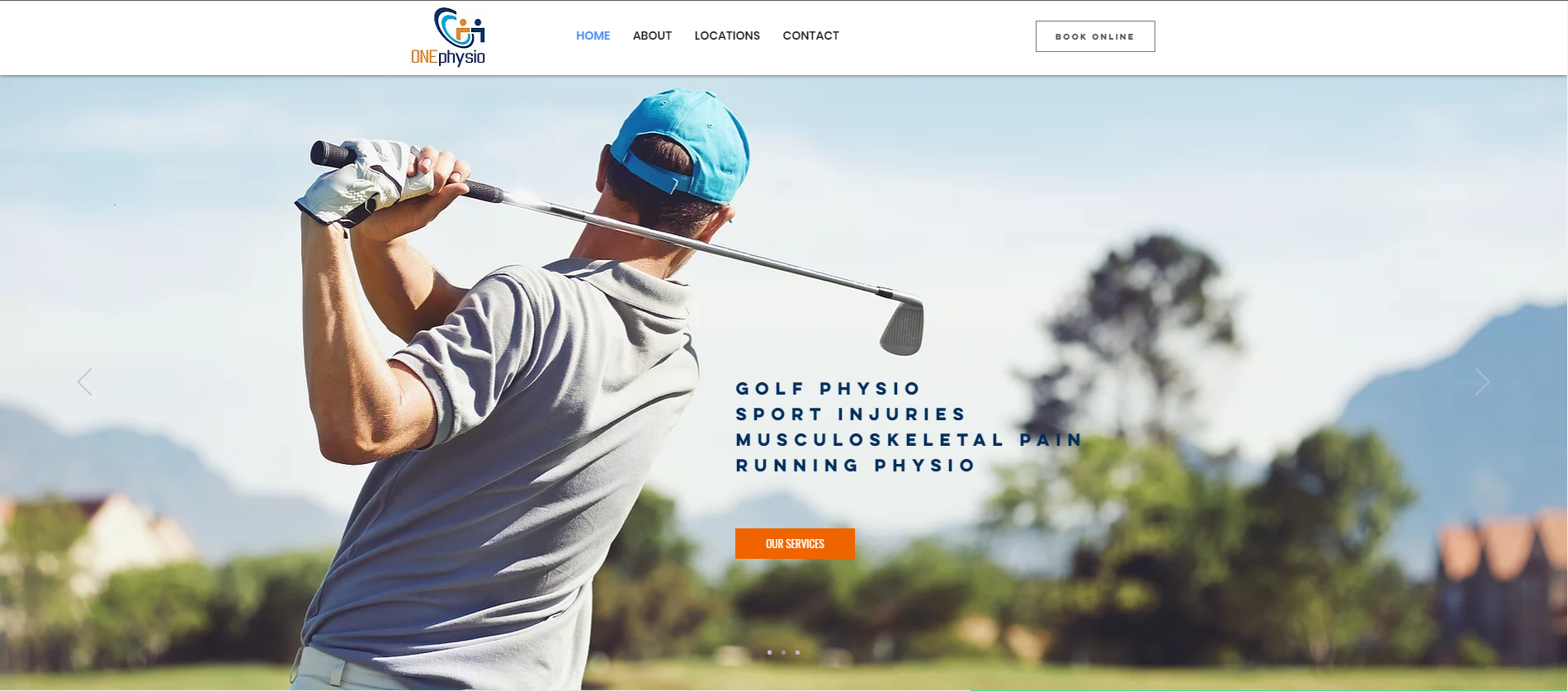 Highlights:
Wide range of services
Australia-trained physiotherapists
More than a decade of experience
Originating from Perth, Western Australia, ONE Physio offers a unique value proposition to its clients: Each practitioner has a unique tie back to Australia, having had the privilege to practice in both public and private healthcare markets. Collectively, they bring their experience to serve a growing Singapore market of ex-pats as well as locals alike.
With a wide range of services, ONE Physio provides Musculoskeletal Pain Treatment, Post Surgery Rehabilitation, Sports Injuries, Running Injuries, Golf Injuries, Pilates, Ergonomic Specialist, as well as Corporate Health and Education.
All in all, with its team of Australia-trained physiotherapists with over 10 years of experience in both public and private healthcare markets individually, ONE Physio has the expertise to assess and manage your musculoskeletal issues.
| | |
| --- | --- |
| Address | Multiple locations: See here |
| Contact Information | See here |
| Business Hours | Monday to Friday: 8.30 AM to 6 PM |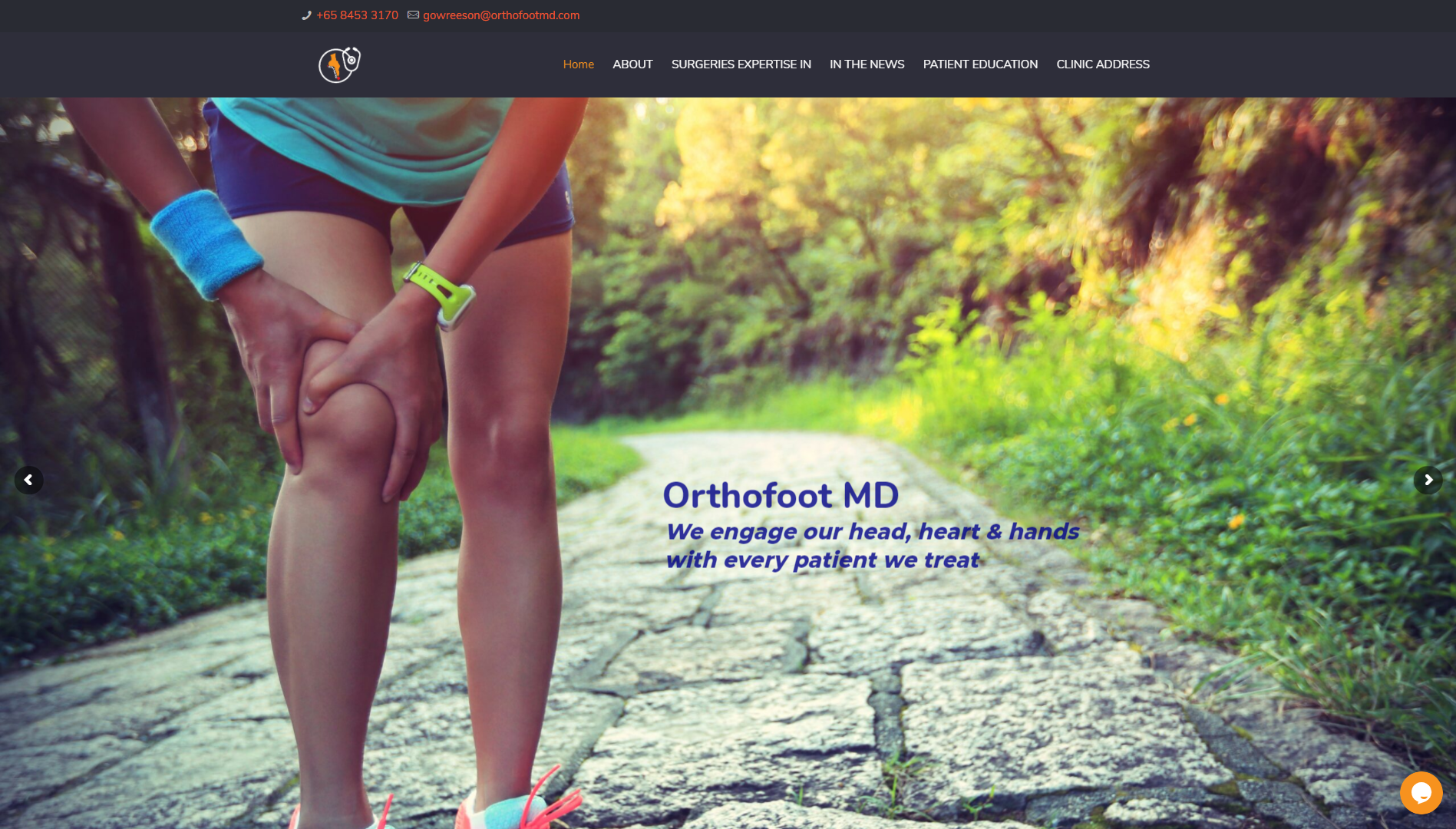 Highlights:
Treatments for a wide range of conditions
Bespoke treatments
Excellent communication
Orthofoot MD is a centre that provides comprehensive care as well as treatment options for a wide variety of conditions affecting the lower extremities. Their team is made up of highly trained physicians, surgeons, podiatrists, physiotherapists as well as staff members. They will work closely with patients to provide the highest quality care in the comfort of a safe, conducive and therapeutic environment.
The clinic is also committed to delivering bespoke treatment for your needs. Their values, as well as experience, are polarized by practices from all over the world, tailored and tapered for the Singaporean patient. In addition, every aspect of your care is coordinated by teams of experts who work together to provide personalized care suited to the needs of individual patients.
The team at Orthofoot MD also thrives on par-excellent communication, not just between patient and professional but also between professionals when discussing patient care!
Address
38 Irrawaddy Road #05-42 Mount Elizabeth Novena Specialist Centre Singapore 329563
Contact Information
+65 6352 0529
Business Hours
Monday to Friday: 9 AM to 5 PM
Saturday: 9 to 12.30 PM
Highlights:
Central location
Individualised sports medicine assessment
For athletes of all levels
The Sports Medicine Lab is a specialist Sports and Exercise Medicine clinic located in SBF Center, in the downtown Central Business District. The clinic provides individualised sports medicine assessment, diagnosis, as well as interventions for athletes from developmental to elite level.
In addition, the clinic offers a comprehensive range of individually tailored investigations and treatments for both injury prevention as well as management of acute and chronic musculoskeletal complaints and for management of medical conditions related to sport and exercise.
This team is led by Dr Cormac O'Muircheartaigh, a Specialist in Sports Medicine whose prior role was the Medical Director of the Singapore Sports Institute. This sports doctor in Singapore uses the knowledge gained from managing elite international athletes as well as utilizes the same principles to assist recreational athletes to achieve their personal goals. All in all, The Sports Medicine Lab is definitely one of the best options if you are looking for a sports doctor in Singapore.!
Address
Singapore Business Federation Medical Center, #03-02, 160 Robinson Rd, 068914
Contact Information
+65 6444 8108
Business Hours
Monday to Friday: 10 AM to 7 PM
Saturday: 9 to 2 PM
Highlights:
Knee injuries such as knee osteoarthritis, knee replacement surgery, ligament injury and reconstruction, cartilage injury and repair, and knee cap dislocation/instability.
Sports and dance injuries such as sprains & strains, fractures, ligament injury and rupture, and contusions.
Shoulder and elbow injuries such as shoulder dislocation and instability, elbow ligament injury, shoulder "keyhole" surgery, and rotator cuff injury and tears.
The Bone and Joint Centre orthopaedic in Singapore ensures that the patient's well-being and health are their priority. The clinic is headed by Dr. Kevin Koo Oon Thien who has more than 15 years of experience in the orthopaedic field. His areas of specialities include joint replacements, sports, and minimally invasive surgery, and foot and ankle surgery.
The Bone and Joint Centre is for the therapy of body joints and bone parts, making it one of the top choices for orthopaedic clinics in Singapore.
Address
3 Mount Elizabeth, #14-15, Mount Elizabeth Medical Centre, Singapore 228510
Contact Information
+65 9898 7781
Business Hours
Monday to Friday: 8.30 AM – 5.30 PM
Saturday, 8.30 AM – 12.30 PM
Highlights:
Team Physician for Singapore's national soccer team
Specializes in serious injuries
State-of-the-art medical equipment
JL Sports Medicine & Surgery is headed by Dr. Tan Jee Lim, who is the Team Physician to the Singapore national soccer team. Besides looking after local national athletes, he also looks after leading athletes in the region.
This sports clinic also specializes in an extensive range of surgeries for serious knee, shoulder, foot, hip, as well as wrist injuries. Utilizing the most advanced as well as efficient medical equipment, the team at JL Sports Medicine & Surgery makes sure that you will be back on track in no time!
It is also worth noting that Dr. Tan is currently a Member of the Sports Medicine Accreditation Committee and was the Immediate Past President of the Sports Medicine Association of Singapore. So, with Dr. Tan in charge, you know that your needs are in great hands!
Address
6 Napier Rd, Singapore 258499
Contact Information
+65 6476 8998
Business Hours
Monday to Friday: 9 AM to 1 PM, 2 PM to 5.30 PM
Saturday: 9 to 1 PM
Highlights:
Wide range of services
State-of-the-art equipment
Professional team
Performance Sports & Rehab Specialists is a group of allied health professionals as well as sports and performance enthusiasts. They believe in optimizing human potential through the manipulation of mechanics as well as sports science.
During your session at Performance Sports & Rehab Specialists, their experienced physiotherapists and trainers will start you on your journey to recovery or greater performance. In addition, the therapist or trainer would teach you exercises to continue doing at home.
The sports clinic is also equipped with state-of-the-art equipment such as an anti-gravity treadmill. This treadmill uses NASA differentiated air pressure technology to lift and support the body while walking or running. This machine is used by many elite athletes including distance runners such as Mo Farah and numerous top football clubs in their regular training schedule. It can also supplement your speed and cardio training with reduced impact on your joints, reducing your risk of injury.
You can also find other equipment such as BStrong for strength training, as well as Athos Training, a wearable technology that analyzes muscle activity and heart rate biosignals.
The clinic also offers a wide range of services. This includes physiotherapy, sports massage, cycling analytics, sports training, as well as shockwave therapy. So, do check them out if you are looking for a reliable and professional sports doctor in Singapore!
Address
101 Irrawaddy Rd, #15-13/14 Royal Square @ Novena, Singapore 329565
Contact Information
+65 6734 3421
Business Hours
Monday to Friday: 8 AM to 8 PM
Saturday: 8 AM to 1 PM
Highlights:
Preventive care
Holistic treatment process
Friendly environment
Dr. Low Wye Mun, also known as Sportzdoc, is a sports medicine doctor who integrates physiotherapy, podiatry, sports nutrition, as well as exercise/fitness training to provide holistic treatment for sports-related and recreational activity injuries, aches, and pain.
With a broad personal involvement in many sports and forms of exercise, Dr. Low draws on his experience to tell you what your injury is, what caused it, how best to heal it, as well as how to adapt your exercise for a speedy recovery.
In addition, on top of treating your injury or condition, Sportzdoc will help you reduce the risk of further or repeated injury. They will also help you understand why your injury occurred, and help you take steps to prevent this from happening again. This may involve changes in your exercise regime, equipment issues (eg. running shoes), stretching exercises as well as managing your training/competition.
So, for a comprehensive treatment, be sure to check Sportzdoc out!
Address
290 Orchard Road #12-01 Paragon
Singapore 238859
Paragon (Tower 1 Lift lobby F)
Contact Information
+65 6681 6616
Business Hours
Monday to Friday: 9 AM to 12.30 PM, 2 PM to 5 PM
Saturday: 9 to 12.30 PM
Highlights:
Highly trained specialists
Personalized care
Full range of treatment options
Singapore Sports and Orthopedic Clinic (SSOC) is made up of a team of highly trained orthopedic specialists. The clinic offers personalized care for orthopedic conditions including fractures, tears, chronic joint pain, osteoarthritis, rheumatoid arthritis, spine disorders, neck pain, tendinitis, as well as other bone and joint problems.
With their experienced orthopedic specialists, related problems from sports injuries can be tackled. This includes Anterior Cruciate Ligament (ACL) repair, Meniscus repair, Shoulder injuries, as well as degenerative changes such as hip replacement. They are also able to offer both surgical options and non-surgical options such as reconditioning programs.
SSOC provides a full range of treatment options, including many unique surgical procedures as well as other technologies. In addition, it is also extremely convenient and easy to schedule an appointment, so you can get the care you need as quickly as possible.
Address
6 Napier Road # 02-10/11/12 Gleneagles Medical Center Singapore 258499
Contact Information
+65 6664 8132
Business Hours
Monday to Friday: 9 AM to 5 PM
Saturday: 9 AM to 1 PM
Highlights:
Personalized care
One-to-one physiotherapy treatment
Comprehensive range of services
East Coast Physiotherapy is a sports injury clinic that assures you personalized care by treating each individual as a whole person and not just as an injury. Established in 2016, they are a unique Physiotherapy Clinic in Singapore specializing in sports injuries, musculoskeletal, as well as neurological conditions.
The clinic provides the highest quality of one-to-one Physiotherapy treatment to all their patients with realistic, accurate, evidence-based treatment, as well as lasting solutions. In addition, the team guarantees quality treatment and quality care to every patient through the highest standard of professional conduct and ethical behavior.
East Coast Physiotherapy's experienced physical therapists also offer a comprehensive range of physical therapy services to help and improve restore the function of our patients after injury, surgery, and illness.
So, if you are looking for a high-quality, evidence-based sports doctor, East Coast Physiotherapy may be your best bet!
| | |
| --- | --- |
| Address | 17 Jln Masjid, #01-02, Singapore 418942 |
| Contact Information | +65 9008 7424 / +65 6208 7228 |
| Business Hours | Monday to Saturday: 9 AM to 9 PM |
Highlights:
Conveniently Located at Mount Elizabeth Novena
Specialized Clinic for Knee, Hip & Sports Injuries
Minimal Waiting Time With Same-Day Appointments
The International Orthopaedic Clinic is headed by Dr. Alan Cheung, who is considered to be one of the best sports doctors in Singapore. As a sports doctor, sports person as well as ringside doctor, Dr. Alan Cheung is dedicated to helping people work out safely.
Dr. Alan Cheung also specialises in robotic surgery, where he would use minimally invasive techniques to treat severe injuries. In addition, being British born and trained in UK/Australia, he is able to bring international perspectives to understand your condition and treat you safely.
The clinic offers a dedicated treatment plan that includes a personalized as well as specific aftercare plan that will be crafted to your lifestyle needs and goals to ensure a smooth recovery. In addition, Dr. Cheung will work closely with you by always putting your appointments first!
| | |
| --- | --- |
| Address | 05-24 Mount Elizabeth Novena Specialist Centre, 38 Irrawaddy Rd, Singapore 329563 |
| Contact Information | +65 6690 2985 |
| Business Hours | Monday to Friday: 9 AM to 5 PM |
So, whatever your injury or pain, the professional sports doctors on this list of the best sports doctor in Singapore will be able to help! With high-quality care and professional doctors, you will be treated and feel better in no time. In addition, if you are looking for more professionals to help you to manage your pain and injuries, check out our article on the best orthopedic clinics in Singapore here!
Related posts
Subscribe for newsletter
* You will receive the latest news and updates on Singapore's best trends!