15 Best Hidden Restaurants & Bars in Singapore [2022]
Rhyza D., 3 years ago
13 min

read
7216
The term 'speakeasy' was once reserved for hidden bars but has since come to be adopted by any establishment that takes on the cloak-and-dagger appearance. Restaurants are following the path taken by their bar counterparts in this small little red dot. Each of these restaurants cum bars offers unique dining experiences on top of their mysterious locations. Searching for them may be potentially frustrating, even with the assistance of a GPS. Fret not for here, we are going to share with you the 15 Best Speakeasy in Singapore.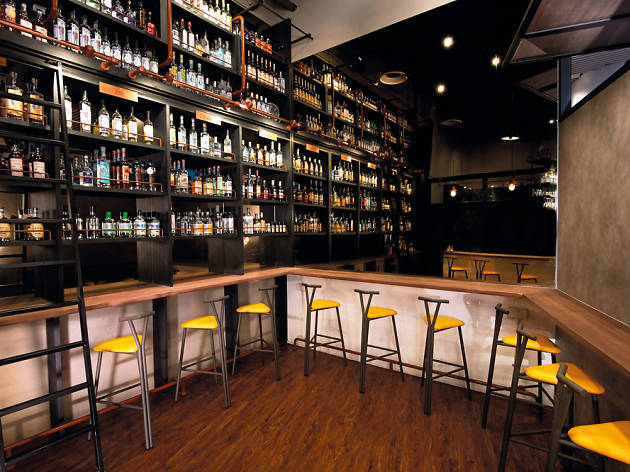 Address: 10 Collyer Quay, B1-09, Ocean Financial Centre, 049315
Opening Hours: Mon-Fri 5 PM-11 PM (Closed Weekends)
Sushi and salad joint by day, The Secret Mermaid transforms into a closed-up "private" bar as the sunsets. Do not be fooled by the completely closed doors; you had probably been able to catch a glimpse of their exquisite alcohol "library" peeking out from the top of their shutters, not to mention some oldies music spilling out from within. Cosy describes the bar's interior all too well; approximately 25 people can fit inside comfortably. The numbers can go up definitely if the crowd do not mind squeezing. Truly one of the best speakeasy in Singapore!
How to get there: Look out for the huge black shutters and a little logo of a fish with legs, denoting "push here."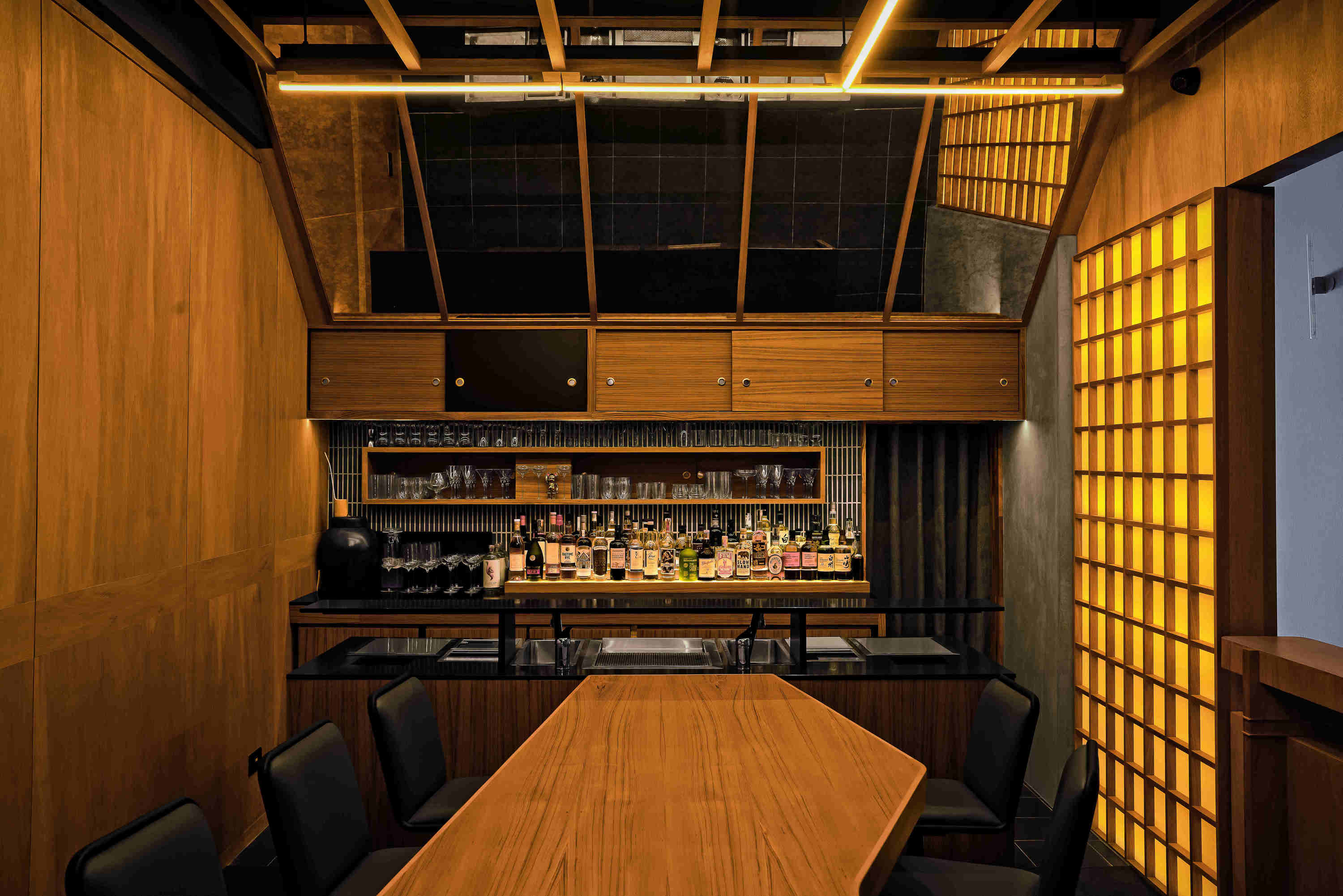 Address: 20 Bukit Pasoh Rd, Singapore 089834
Opening Hours: Mon-Thur 6PM-1AM; Fri-Sat 6PM-2AM
Contact Number: 9011 8304
At street view, this bar doesn't reveal itself as it is located behind Humpback restaurant. You will have to enter a glass door beside the restaurant and head down a corridor decorated with photo frames to find Live Twice at the end. There are over 100 types of whiskeys to select from. Amongst other liquors and spirits, cocktails are also a highlight of the bar, where customers can get some house favourites in the bar itself.
How to get there: Spot the office-like glass door next to Humpback restaurant.
Address: 60 Boat Quay, Singapore 049848
Opening Hours: Mon-Thur 6PM-12AM; Fri-Sat 6PM-2AM
Contact Number: 6535 0838
If food lovers ever adored Chili Crab so much that they wished they could have it in a form other than food, then customers are going to love what Ah Sam Cold Drink Stall has done to one of the most beloved dishes in Singapore. Their famed Chili Crab cocktail is a novelty to look out for, but that is just scraping the surface of the local-inspired cocktails they churn out.
A written menu does not exist in the bar, and neither do "official" names for their mixes. The ambience is localised, like an upscale coffee shop that, despite serving speciality cocktails, would not mind if patrons arrived in shorts and slippers. Hawker food is offered on the menu throughout the night, featuring Singaporean favourites such as Char Kway Teow and Hokkien Mee. Definitely one of the best speakeasy in Singapore.
How to get there: Snuggled next to a mini-mart, look for the subtle signage of the bar and head up the stairs. On the first landing you will find the old-fashioned localised watering hole.
Address: 7 Ann Siang Hill, #B1-01, Singapore 069791
Opening Hours: Tues-Weds 6PM-1AM; Thurs-Sat 6PM-12AM
Contact Number: 6438 4057
If you were looking for the definition of unassuming, the bar entrance to Operation Dagger would be it. Resembling a stairway that is under construction and leads down into a basement, the only way to know you are at the correct place is when you see the symbol above the doorway. As you enter the bar, the first thing you will notice is a floating cloud of lightbulbs dominating the ceiling space. Beyond the bar, you will see shelves that resemble a modern apothecary.
With a cocktail menu that alters every six months, you can expect some unusual concoctions to make an appearance. If customers are feeling peckish, they can also choose from a small menu of bar snacks, which consists of dishes like Banana Fritters and Steak Tartare etc. All in all, a superb speakeasy and indeed one of the best speakeasy in Singapore.
How to get there: To know if you are at the correct entrance, just look out for the unmarked door with six squares illustrated on it.
Address: 26 Seah Street, Singapore 188382
Opening Hours: Mon-Thur 3PM-11.30PM; Fri 12PM-12AM; Sat 12PM-11.30PM (Closed Sundays)
Contact Number: 8339 8966
Tucked stealthily underneath MINT Museum of Toys, Mr Punch Public House's interior hits a nostalgic nerve as soon as you see it. It is as if you have stepped into a teenage room in the 1960s, where colourful and quirky enamel posters dominate your line of sight.
This gastrobar owns a menu of European cuisine as its highlight. You can get an appealing meal of Glazed Short Ribs or Linguine Soft-Shell Crab before proceeding to an evening of cocktails.
How to get there: Just make a trip to MINT Museum of Toys and down the staircase right beside the entrance.
Address: 12 Ann Siang Rd, Basement 069692
Opening Hours: Tues-Thur 6PM-1AM; Fri-Sat 6PM-3AM (Closed Sun & Mon)
Contact Number: 6222 7183
A basement bar that is only accessible via a "private" lift, Catchfly undoubtedly captures the old-world luxe. Besides the velvet-covered furniture, the gold accents and dark marble table surfaces mark this place as relatively swanky. The bar itself stands out more on the exclusive side of things, in which the floor area is able to accommodate an estimated 37 seated pax, and 50 standing at any one time.
With a varied menu of cocktails, spirits and liqueur, you can get a wide range of different mixes for individual preferences. You will not go hungry here either, as the bar illustrates a menu with main and sharing plates, like the Trio of Kebab that constitute prawns, lamb and chicken kebabs, and a Duo of Mediterranean dips with pita chips. Hands down one of the best speakeasy in Singapore!
How to get there: After entering a passageway with the signage of Catchfly, take the lift at the end of the hallway to the basement and it opens straight up to reveal the entire bar.
Address: 101 Kallang Ave, #08-02 Victoria Wholesale Centre, Singapore 339504
Opening Hours: Fri-Sat 6PM-2AM; Sun 6PM-12AM (Closed Mon-Thur)
If there is a bar that really makes an effort to stay hidden, it is The Great Escape. Previously taking residence at Golden Mile Tower, this car park bar has recently made its new home in its third iteration as a city getaway. Gritty as always but definitely determined to provide a secret hideaway for the city dweller who is sick of all the shiny restaurants and cafes inundating the island.
When patrons are on site, they will see that they are actually on a rooftop equipped with a DJ console and scattered sitting areas. Enough said, the vibe that the bar gives off is undoubtedly chill. The bar menu comprises options of standard liquor like gin, whiskey and vodka, to Kona beers on tap and bottled craft beers.
Doubling as an event space, guests can expect movie screenings every alternate week or so, as well as arts and crafts markets that roll around every so often.
How to get there: Head to the Victoria Wholesale Centre and take the centralised lift to the 8th floor. The rooftop bar is sharing its common space with a coffeeshop canteen.
Highlights:
All-natural craft cocktail menu
Refined local dishes
Paramount quality of ingredients
One-of-a-kind art-perience
SLING is a hidden restaurant and bar that brings out the internationally recognised Singapore Sling for a new generation. First created in 1915, the national drink is considered treasure among Singaporeans and has gained popularity and recognition because of the history behind the famous drink.
What better way to enjoy the national drink than complementing it with other local cocktails? SLING offers the best concept that will bring you nostalgia: flavours that refine your childhood! The quality of ingredients they use is top-notch, as they make sure that everything is natural, free from any preservative. This ensures a genuine taste that will keep you coming back for sure!
For more information about this hidden bar, go to SLING's page via this link.
Address
20 Kandahar Street, 1st Floor, Singapore 198885
Contact Details
+65 6294 0078 | info@ethanleslieleong.com
Operating Hours
Tuesday to Sunday: 4:00 pm to 10:30 pm
Last Order: 9:30 pm
(Image Source: Burger Bar | Facebook)
Highlights:
Old-school American bar vibe
Highest quality produce
Offers burger and beer gift card
If you're looking for a burger place that's out of the mainstream, then Burger Bar is your next destination. Burger Bar serves genuine American Beef Burgers and international beers that are one of a kind. This hidden bar is a gem for those who rave about burger and beers.
Burger Bar was established in 2016. And, since then, they have been providing customers with a great selection of craft beers around the world. Feel like you're in New York as you go inside this old-school American-inspired bar. Follow them on Instagram and like their Facebook page to learn more about Burger Bar.
| | |
| --- | --- |
| Address | 115 Amoy Street #01-03Singapore 069935 |
| Contact Details | info@burgerbarnewyork.com | +65 6221 8648 |
| Operating Hours | Monday to Saturday: 11:30 am to 10:30 pm |
Highlights:
Fine and rarely-seen sakes
Wide range of premium spirits and liquor
Offers island-wide delivery
The Horse's Mouth Bar is a Japanese bar hidden on Orchard Road. Found behind a door in a ramen shop of a shopping mall, their menu and sets of drinks are as intriguing as the bar's location.
What's outstanding is the mysterious ambience of this bar. The walls are designed to be shelves overflowing with books and light fixtures that are geometric in design. Overall, this hidden bar is something to add to your bar-hopping list mainly because of the range of premium spirits and the enthralling vibe.
Address
583 Orchard Road, Forum The Shopping Mall |
Enter through Yoshi Restaurant, #B1-39 (On the left of Watson's) or
via #01-41 Uma Uma Ramen
Contact Details
info@horsesmouthbar.com | +65-8188-0900
Operating Hours
Monday to Sunday: 5:00 am to 10:00 pm
(Image Source: SG Magazine Online)
Highlights:
Modern tipples inspired by Little India
A wide selection of cocktails available for delivery
Culture-forward cocktail bar
Indulge with Indian flavours and spirits with The Elephant Room. This hidden bar houses the fanciest craft spirits and modern cocktail inspired by our very own Little India. This bar will tell you stories about heritage and culture you've never heard before – all through drinks and tipple.
One of the top favourite drinks from The Elephant Room is Tekka, a drink Susela, the brainchild of this bar, loves the most. This is named after the Tekka Centre in Serangoon. This drink is made from Old Monk Rum which is common in Little India but not entirely known in the mainstream drinks.
Sip one of their uniquely crafted drinks in The Elephant Room. There's a lot to find out about this hidden bar in Chinatown! You may visit their Instagram page for a little sneak peek, but, the rest is for you to find out!
Address
The Elephant Room, 20A Teck Lim Rd., 088391 Singapore
Contact Details
info@theelephantroom.sg | 91115131
Operating Hours
Monday to Thursday: 5:30 pm to 10:30 pm
Friday to Sunday: 4:00 pm to 10:30 pm
(Image Soure: Tsukurto)
Highlights:
Sake bar with 20 years of experience
Decent Izakaya-style food menu
High-quality sakes imported from Japan
True sake lovers wouldn't miss visiting the sake bar at River Valley Road, MoboMoga, but, for starters, this bar might be tricky to hunt down. Hidden in UE Square Residences, this bar is among the best sake restaurant bars in Singapore. With over 20 years of experience in providing exceptional drinks, you definitely won't regret finding this hidden gem!
Besides their interestingly unique and high-quality sakes, they also offer izakaya-style food. Get to taste their oden, cabbage rolls and chicken karaage along with the sake master's recommendation of your tipple. And oh, don't forget to reserve your slots ahead! MoboMoga gets kinda busy on some days so that would be our best tip.
| | |
| --- | --- |
| Address | 207 River Valley Road #01-58 UE Square River Wing Singapore, Singapore 238275 |
| Contact Details | +65 6219 3430 |
| Operating Hours | Monday to Saturday: 5:00 pm to 10:30 pm |
(Image Source: World's Best Bars)
Highlights:
Open until 4 am on weekends
Serves delightful libations
300 different finished products
Good food, great company, and the best drinks – experience all these by hanging out at one of the most chill speakeasies along Orchard Road: The Other Room. The Other Room is a hidden restaurant bar in Singapore that serves delightful food and drinks all night long.
Looking for a Sirloin steak? How about an Iberico ham? The Other Room is definitely the place to be! Visit their Facebook page and follow them on Instagram to stay updated with their latest promotions.
Address
Marriott Tang Plaza Hotel 320 Orchard Road #01-05, Singapore 238865
Contact Details
reservations@theotherroom.com.sg | +65 6100 7778
Operating Hours
Monday to Thursday: 6:00 pm to 3:00 am
Friday to Saturday: 6:00 pm to 4:00 am
(Image Source: The Dragon Chamber | Trip Advisor)
Highlights:
Unconventional Chinese dishes
Guerrilla-style food
Chinese mafia room
Behind a fridge door inside a local cafe is The Dragon Chamber. It is an immersive Chinese hidden restaurant that will make you reminisce the old-time Chinatown.
The Dragon Chamber brings you unconventional Chinese dishes for an unforgettable dining experience. The best part is that its ambience gives you that Chinese mafia vibe which is why The Dragon Chamber can definitely be your go-to secret society hangout haven. Their uniquely served guerrilla-style food will surely leave you coming back for more!
| | |
| --- | --- |
| Address | 2 Circular Rd, Singapore 049358 |
| Contact Details | +65 6805 8181 | contact@thedragonchamber.com |
| Operating Hours | Tuesday to Sunday: 11:00 am to 3:00 pm5:00 pm to 10:30 pm |
Highlights:
Inspired by a yakitori-ya in Japan
20% off on all self-pickup orders
Selection of meats, seasonal veggies, and seafood
Bincho is a hidden bar tucked inside a heritage coffee shop near Tiong Bahru. It is inspired by small grilling stalls in Osaka, serving the famous yakitori.
Bincho is an all-in-one unique restaurant that twists Singapore's past with the present. The concept combines a 7-year-old mee pok stall during the day, which transforms into a dining destination at night. Head down to the Moh Guan alley at Hua Bee and enter that metal door to see and experience the sensory escape yourself!
Address
78 Moh Guan Terrace #01-19, Singapore 162078
Contact Details
65 6438 4567 | info@bincho.com.sg
Operating Hours
Tuesday to Sunday: 12:00 pm to 3:00 pm
6:00 pm to 9:30 pm
This rounds off our list of the best speakeasy in Singapore. In a nutshell, notable hidden Speakeasies are the ultimate "secret hideout" for de-stressing from work and treating yourself to a good drink or two. That sense of exclusivity coupled with your favourite cocktail is truly an exquisite way to wind down your day and let you enjoy the blissful night ahead
Check out other articles: 7 Best Ready-Made Cocktail Delivery Services in Singapore
10 Best High-Quality Wines in Singapore
5 Best Wine Chillers to Buy in Singapore
Related posts
Subscribe for newsletter
* You will receive the latest news and updates on Singapore's best trends!