11 Best Solemnisation Venues in Singapore [2022]
Tanusha, 2 years ago
8 min

read
4573
White dress? Check. Floral arrangements? Check. Make-up? On point. Venue – to be decided…well not anymore! If you are someone who got engaged recently, or a bride-to-be looking for the best solemnisation venues, you have come to the right place!
With the restrictions brought about by the pandemic, the way weddings take place now is different from what it was before. It is really important to take note of all the information and keep up with the new style of solemnisation packages that are safe enough to carry out during the pandemic.
Lucky for you, you have come to the right place – let us make your work easier by taking you on a journey of exploring possible options where you can have your special moment while hitting a new milestone in your life. We have compiled for you The Best Solemnisation Venues right here in Singapore! So, what are you waiting for? Keep reading to find out more!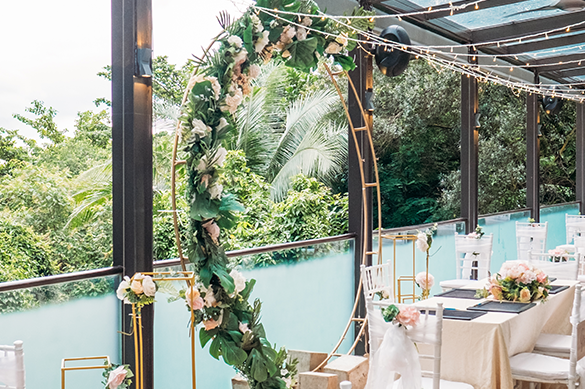 Sofitel Sentosa offers a few different packages for solemnisation venues, depending on your needs. "The Cliff" is a venue that's located on top of a cliff that overlooks the South China Sea – something that looks like it was taken out of a movie scene. A venue that is rather intimate, it would be perfect for couples who want a quiet but beautiful location for their solemnisation ceremony.
Another venue at Sofitel is Villa Du Jardin – amidst greenery and nature, for your solemnisation to take place in a private setting yet in a scenery refreshing to the eyes. A great choice to consider if you are considering an aesthetic along those lines!
For more information about their solemnisation packages, do take a look at their online brochure or you can feel free to contact them as well!
| | |
| --- | --- |
| Address | 2 Bukit Manis Road Sentosa, Singapore 099891 |
| Contact | +65 6708 8310 |
| Theme | Nature, Classy |
Located at Dempsey Hill, this venue is probably one of the most highly sought out ones for private events, and from the ambiance as well as the elegance this space holds, it really comes across as no surprise.
There are indoor as well as outdoor spaces, with outdoor spaces having sheltered areas as well, so there is always a plan B for you in case of wet weather – which is something really important to have in Singapore, where the weather is highly unpredictable.
With the options to choose from and the classy interiors, as well as the impressive foliage on the outside, The White Rabbit definitely is a venue that you need to have in your books for your solemnisation ceremony!
For more details about their guest capacity and their pricing details, you can always hit them up through this link.
| | |
| --- | --- |
| Address | 39C Harding Road, Singapore 249541 |
| Contact | +65 6473 9965 |
| Theme | Elegant, Classy |
Whenever one thinks about a venue for their solemnisation in Singapore, more often than not, we would associate it with one place – that is CHIJMES. And rightfully so, for the hall is a venue with beautiful interiors, with the architectural features dating back to history.
One of the things that was striking about the Chijmes Hall venue is how the organization managing it – Watabe Wedding, have actually prepared a suite just for the bride, that can be used as a make-up or a changing room for the event.
Not to mention, how incredibly picturesque the whole venue looks! The wedding photos will turn out amazing with a venue like this, and if that is something that you want to have in your perfect venue for your special moment, Chijmes is the place for you.
For more details regarding their pricing and guest capacity, please contact them here!
| | |
| --- | --- |
| Address | 30 Victoria Street, #01-28 (Chijmes Hall), Chijmes, Singapore 187996 |
| Contact | +65 6336 5320 |
| Theme | Elegant |
Lying within Singapore's first UNESCO World Heritage Site, The Garage is the perfect venue for a garden-themed wedding.
They offer an exclusive solemnisation package with two different venues, the main dining hall which is indoors, and the beautiful Garden Terrace which is outdoors.
An award-winning venue, it is perfect for couples who are nature lovers who wish to have the event in an intimate setting.
| | |
| --- | --- |
| Address | 50 Cluny Park Road, Singapore 257488 |
| Contact | +65 9831 1106 |
| Theme | Garden, Nature |
Specialising in Malay weddings, this venue situated at Stadium, with a large alfresco dining area complete with a refreshing scenery of the Kallang river right in front of it.
Located right in front of the Kallang MRT, this is a super accessible venue, perfect for your guests to find their way (giving them no excuses not to come!)
Fully equipped with AV equipment and a mouthwatering selection in their F&B catering menu – sounds like the right place for your solemnisation to take place!
Do contact them for more details on their pricing and guest capacity here!
| | |
| --- | --- |
| Address | Singapore Indoor Stadium, #1-05, 2 Stadium Walk, Singapore 397691 |
| Contact | +65 9006 1610 |
| Theme | Scenic, Elegant |
Yup, you read that right. If you thought that the Star Performing Arts Centre is only for concerts held by your favorite artists – think again!
Situated at the top of the Star, the venue for solemnisation is called The Star Loft, which is a private and exclusive event space taking the form of a beautiful terrace top.
Perfect for an intimate event such as your solemnisation, with a cozy and classy interior that can seat up to 150 pax in theatre style setting.
| | |
| --- | --- |
| Address | 1 Vista Exchange Green, #04-01, Singapore 138617 |
| Contact | +65 6636 0055 |
| Theme | Cozy and Classy |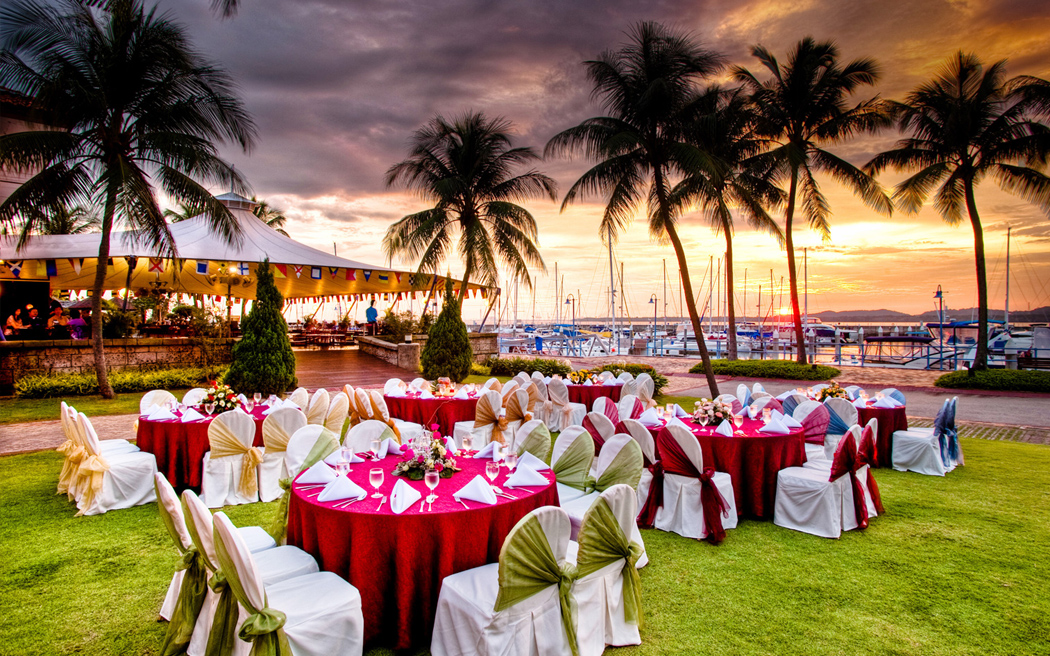 Located at the seafront in the extreme west, this is a private venue for your solemnisation for your guests and yourself amidst the refreshing scenery of the sea.
Raffles Marina offers a variety of packages depending on what your requirements for your wedding are, making it versatile and customizable to your needs and preferences. After all, you do need to be a little picky for your special day, right?
If you like the whole destination wedding aesthetic, but bummed because you can't really travel out of Singapore to do due to the pandemic – Raffles Marina is a good choice for you to consider!
Head over to their website to find out more about their pricing and package!
| | |
| --- | --- |
| Address | 10 Tuas West Dr, Singapore 638404 |
| Contact | +65 6861 8000 |
| Theme | Seafront, Nature |
Located on the 62nd floor, this is also a very highly sought out venue in Singapore.
Exchanging your vows would definitely be special amidst the unobstructed views in this sky-high wedding venue.
Extravagant, grand and magnificent would be the words coming out from your guests as they step into the venue – truly a venue that is like a dream come true. Furthermore, your guests can enjoy the rooftop bar venue for cocktails after the solemnisation event – maximum fun guaranteed!
Seems like the venue you'd consider? Find out more on their website today!
| | |
| --- | --- |
| Address | One Raffles Place, I Raffles Place, Singapore 048616 |
| Contact | +65 6438 0410 |
| Theme | Grand, Classy |
An award-winning venue, Wheeler's Estate follows the theme of holding a wedding "under the stars."
Its charm comes from the romantic atmosphere of the outdoors, sharing that special moment with your beloved under the stars amidst nature – and the classy interiors for your guests to socialize and mingle at.
Wheeler's Estate – being a versatile venue, is perfect to be customized to fit the couple's idea of how they want their ceremony to look like.
Contact them today to enquire more!
| | |
| --- | --- |
| Address | 2 Park Lane, Seletar Aerospace Park, Singapore 798386 |
| Contact | +65 6262 0001 |
| Theme | Rustic, Elegant |
One°15 Marina is one of the popularly sought out venues for solemnisation – offering a solemnisation package specially curated to adhere to the regulations set out in the pandemic.
In this package, the venue they offer is the glass-clad Nova Room which shaped like a ship's hull, making it look really spacious and scenic with the greenery around – a beautiful sight to see no matter what time of the day it is.
If you want your solemnisation to take place in a venue that is glamourous, an intimate setting with a spectacular view – this is definitely the perfect place for you.
Enquire here today for more information!
| | |
| --- | --- |
| Address | #01-01, 11 Cove Drive, Sentosa Cove, Singapore 098497 |
| Contact | +65 6305 6988 |
| Theme | Scenic, Grand |
Most of us might be familiar with the Village Hotel group but we would like to bring your attention to Village Hotel Changi in general – just look at that gorgeous view! With the seafront background and the beautiful interiors and exteriors decked in white – making the whole atmosphere appropriate for you to spend that special moment with your loved one.
They have a solemnisation package complete with food and beverages, as well as decorations – so you can just entrust them with the responsibility of making sure the venue is ready for you and your guests, and you can be assured that you will definitely be in good hands.
If you are looking for a hassle-free yet classy venue for your special day, this is the place you should definitely consider.
| | |
| --- | --- |
| Address | 1 Netheravon Road Singapore 508502 |
| Contact | +65 6379 7111 |
| Theme | Scenic, Classy |
There are so many beautiful venues out there and we definitely understand how spoilt for choice you can be. And we especially know the feeling of making sure that it is the right place for you. So, we hope our article has given you all the inspiration you need to choose your perfect venue for your special moment with your loved one!
Related posts
Subscribe for newsletter
* You will receive the latest news and updates on Singapore's best trends!
Trending Posts
May 30, 2023

What is Matcha? Matcha...

May 31, 2023

TLDR: In this article,...

May 31, 2023

TLDR: As an audio...