7 Best Smart TVs in Singapore [2021]
Gee, 3 years ago
10 min

read
13923
Smart TVs are considered one of the main entertainment equipment in any home. Of course, this means that you will have to take many factors into consideration when buying a television.
The universe of televisions has been constantly evolving in recent decades. So, it can be difficult to choose one due to the wide range of options in the market.
But at the end of the day, the most important thing is to make a wise investment. When you shop a television you have to choose a model that not only offers you a good image experience. But it can also last a couple of years before you need to think about changing it again.
When you start comparing aspects like size, 4K or HD TVs, OLED or QLED, and contrast ratio, it's common to feel overwhelmed. That's why it's important to take a moment and think about what do you actually need, and what your expectations are.
Smart TVs have been gaining popularity in recent years because they offer a more complete way to enjoy television and multimedia content. This new version of television brings with them an operating system that gives you access to apps. This means that you don't need to connect an extra box to access different features. A smart TV already comes with all these functions included.
If you are having a hard time trying to choose your new Smart TV, here we have created a guide that will help you make a good investment. Besides, you will be able to find the top 7 of the best smart TVs currently in Singapore.
Here are a Few Factors to Consider When Buying a Smart TV in Singapore
Because there are too many options on the market and new models get launched ever so often. It's important to look at the right specs before making any impulsive purchase.
Of course, each model will offer different options depending on its specifications. But the good thing about a Smart TVs is that its embedded software is often updated. So, you can always enjoy new functions, apps, and multimedia content without having to pay extra for it.
While when it comes to the hardware, as long as you shop a relatively new model, it should work flawlessly for at least 3-5 years. Below we listed a couple of specs you should look out at the time of your search:
? Screen resolution:
The resolution is one of the first factors that you should review. What is the point of having a large TV in your living room if the images look fuzzy and grainy?
Nowadays you can find 4K and 1080P Smart TVs. The best option, in this case, is going for a 4K TV because they have four times the number of pixels than a regular TV. This means you will have a better image quality. But if you are on a budget a 1080P Smart TV can also be a good option. Bear in mind that it all depends on your expectations.
? Screen size:
How to choose the right screen size? Well, it all depends on how much space do you have in your home, and your personal preference.
A good trick that will help you choose the right size is to measure the distance from you to the screen in meters. Then you have to multiply that number by a factor of 25, and you will get the optimal screen size.
Remember! Screens of 32 and 36 inches work well when you are sitting around 1.5 meters away. While TVs of 60 to 64 inches works perfectly when you are at a distance around 2.5 meters away.
? Refresh rate:
If you are a fan of action movies or fast-action in general, this is a factor that you should take into consideration. Surprisingly, not many people talk about this detail when buying a television. But the refresh rate helps you enjoy better graphic scenes.
You can go for a TV with a 60Hz refresh ratio, but we suggest looking for 120Hz and higher in order to enjoy a really good graphic experience from the comfort of your couch. However, the higher the refresh rate number is, the more expensive the equipment will be.
? Sound Quality:
The ugly reality is that despite how much a TV can cost, that does not mean it will offer you a good sound quality. We are not saying that it's going to sound bad or interrupted, but that clear and crystal sound, can only be achieved with a soundbar system.
If you want to enjoy a rich and complete experience that combines high-quality images and almost perfect sound, we suggest you consider purchasing a soundbar to upgrade your Smart TV.
Find Out the Top 7 Best Smart TVs in Singapore
Price $1,349.00
What makes the new Sony LED 4K Ultra HD Smart TV KD-43X7000G a great option is that it brings to your home the best of both worlds. That's right! This Smart TV offers you crisp images alongside rich and clear sound.
This Smart TV has a 4K HDR resolution powered by the X-Reality Pro for a more lively experience. This combined with ClearAudio+ technology brings you a new way to watch your favorite TV Shows.
Enjoy any multimedia content with the best quality and immerse yourself in any scene thanks to its realistic textures and colors.4K HDR X-Reality Pro
? ClearAudio+
? DVB-T2
? Access to your favorite Apps
Price $1,199.00
Samsung has been a favorite in the world of televisions for years. The brand has always been characterized by its innovative designs and cutting-edge technology. And you should not expect less from the new Samsung 50 inch UHD 4K Smart TV NU7090!
The NU7090 has advanced HDR technology, which offers you rich and high-quality images thanks to its 8.3 million pixels. This results in a colorful and more realistic viewing experience.
Its slim design and sharper technology make this Smart TV worthy of the price. Enjoy features like Samsung cloud and Smart Hub, and get access to a new world of entertainment in just one click. Finally, if you are a gamer you will also have the chance to play your favorite Steam game on the big screen thanks to the Steam Link app.
? Samsung's 4K Ultra HD
? PQI (Picture Quality Index): 1300
? Advanced HDR technology with HDR 10+
? Smart Hub in Samsung UHD TV
? Connect Samsung smart device to the UHD TV screen
Price: $ 838.00
Xiaomi has been gaining popularity in recent years. Nothing surprising at all! This brand has been characterized by offering cutting-edge technology in any of its products. Offering its users a wide range of varieties to choose from, including low to high range in both TVs and mobiles.
So, if you are looking for the latest technology at competitive prices, you cannot miss the opportunity to buy the new Xiaomi 65-inch 4K Ultra HD Smart LED TV.
Among its specs, we must emphasize it counts with 4K HDR 10-bit-display with WCG and a vivid picture engine for a complete viewing experience. Besides to 20W speakers Dolby Audio and 64 bit-Quad-core 2GB + 16GB.
? 4K HDR 10-bit-display with WCG
? Massive catalog of 4K content
? 20W speakers Dolby Audio
? 64 bit-Quad-core 2GB
? Google Assistant
Price $999.00
But besides brands like Samsung and LG, Hisense also offers a wide range of TVs worth buying. An example of this is your Hisense 65A6501Uw 65 "Smart Uhd Tv model.
This Smart TV offers a complete experience in images and sound. Its cutting edge technology allows the user to immerse himself in the plot of what he is watching and forget what is happening around him.
What we love the most about this TV is that it comes with HDR Technology, and display color depth of 8bit+FRC. In addition, it comes with Quad Core / MT5658EDEJ processor MPEG noise reduction plus Dolby Audio technology.
? HDR Technology
? Quad Core / MT5658EDEJ processor
? Dolby Audio technology
? RemoteNOW app
Price: $ 849.00
LG is another well-known brand in the technology industry that constantly seeks to innovate. The LG 49UK6320PTE Ultra HD 4K Smart TV brings to your home four times the resolution of Full HD TV, resulting in more clarity.
Its 4K Active HDR technology offers you the opportunity to experience a lifelike scene when you watch your favorite movies and TV Shows. Besides encapsulating sound effects, a Quad-core processor, and Bluetooth, which allows you to have a wireless connection.
Finally, it comes in a slim and elegant design that makes it even more dazzling.
? 4K Active HDR
? Quad-core processor
? AI TV
? Consistent images at any angle
? Encapsulating sound effect
? Bluetooth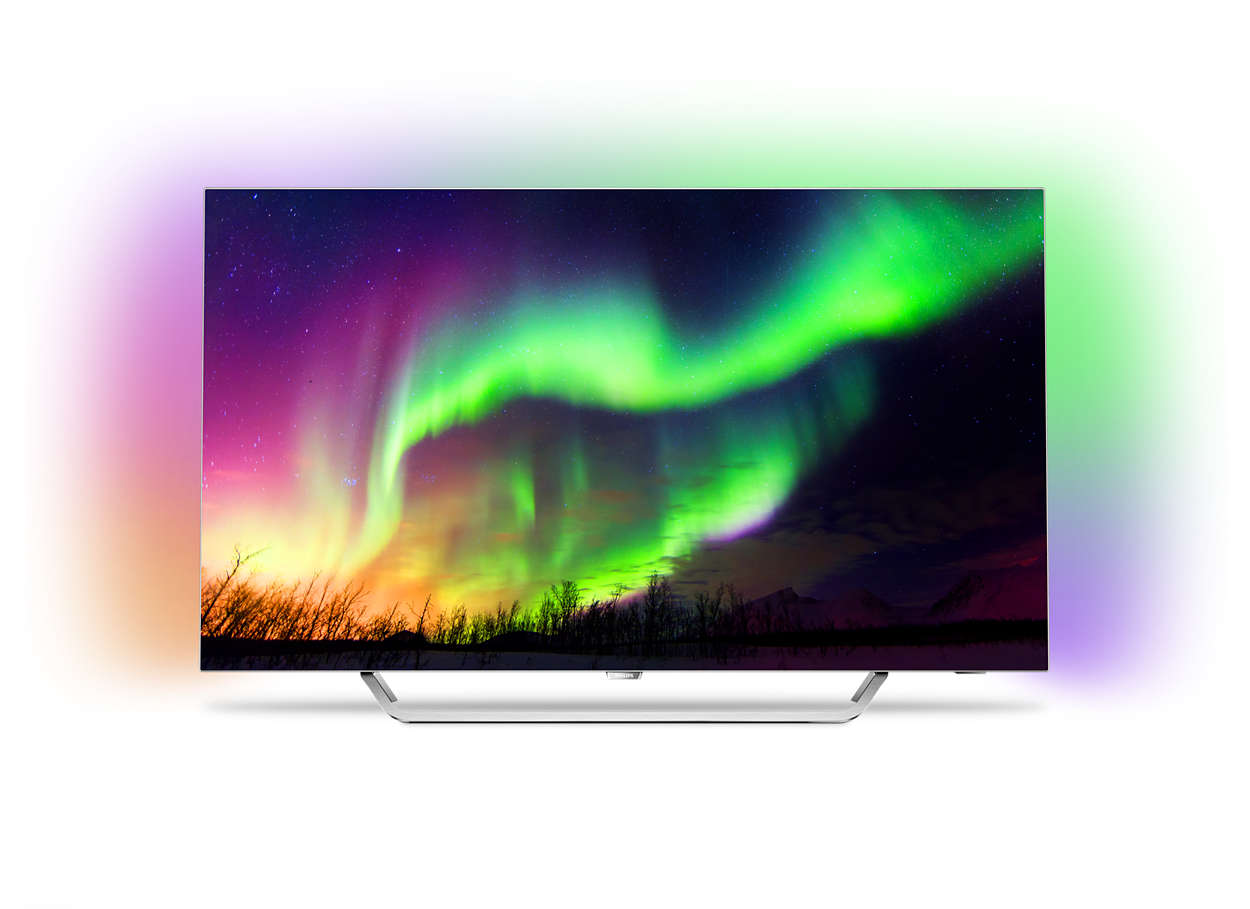 Price $ 1,799.00
For those looking a different experience! Philips 4K Razor Slim OLED Smart TV 55OLED873 / 98 may be a good option. It has 4K Ultra HD OLED which offers images in very good quality with contrasting colors.
In addition, its 55-inch screen alongside the Ambilight will make you live a realistic experience like you were actually inside the show or scene. While its OLED technology will make you feel like you never want to go back again to LED. Finally, this smart TV has integrated Philips TV remote apps. This will help you expand your entertainment experience at home.
? 4K Ultra HD OLED
? Quad-Core
? DVB-T/T2
? Micro Dimming Perfect
? Ultra-Resolution
? USB recording
? Philips TV Remote app
Price $ 699.00
For many people, Samsung is one of the best TV options. For this reason, it remains among the favorites of many users in Singapore.
The Samsung UA49J5250 49" Full HD Smart TV offers a more accessible option and excellent image quality. If you are not a picky person, you probably won't notice the difference between this TV and one with 4K resolution. That's how good the image quality is!
Among its specs, we can mention it offers a Full HD entertainment experience. It also allows you to watch movies and multimedia content from your USB. And finally, it's easy to install and has a very slim structure that makes it look graceful in any room.
? 1080P Full HD display
? Full HD picture quality
? Wide color enhancer
? Watch movies from your USB
? Energy Efficiency (NEA)
What You Need to Remember!
Smart TVs are the best option in the market right now. They offer you endless options in one device and you don't have to worry to add a box. Expand your entertainment universe! Get easy access to Netflix and online apps in just one click thanks to these TVs.
When buying a Smart TV it is always better to choose 4K devices. Why? Because 4K offers 4 times a better resolution than HD (1080p).
While when it comes to OLED TV vs LED LCD TV, the reality is that OLED brings a better visual experience for the user. That's why they are pricey.
Finally, make sure you are choosing a TV with at least a 120Hz refresh rate. Remember that this feature offers a better graphic experience, especially when it comes to fast-action.
Prioritize your needs, and then check features like screen size and resolution, refresh rate, and sound. Keep in mind that if you want to improve the sound quality of your TV you can always add a soundbar.
Related Topic: Stream Your Favourite Shows with the 8 Best Android TV Boxes in Singapore
Written by: Karlis Herrera
Related posts
Subscribe for newsletter
* You will receive the latest news and updates on Singapore's best trends!