10 Best Slow Cookers in Singapore [2022]
Emily Hopkins, 2 years ago
10 min

read
2803
A slow cooker helps you cook your food unattended. With the introduction of modern slow cookers in the market, it has now become easy to not only prepare meals that require low temperatures but also those that require a higher degree of the same. This includes roasted chicken or turkey, yummy steak, and many other dishes.
There are many different slow cookers in Singapore with varying functions that may confuse you when shopping for one. This article will help you to quickly spot what works for you. We have filtered down to the best slow cookers in Singapore. Tag along!
Salient features
Has a capacity of 0.7litres
Has a working indicator
Power: 70-85 watts
The Toyomi SC700 slow cooker is one of the best in Singapore. It is an electric cooker which is very easy and safe to use due to its unique mini design. The product is small in size hence it does not occupy a lot of space in your kitchen.
It comes with a working indicator which shows you whether the cooker is on or off. Moreover, it can cook a sufficient amount of food, especially baby food due to its 0.75L capacity. It nicely cooks all kinds of dishes from soup, curry, vegetables, and stews, all to your liking.
It cooks your food at adequate low temperatures for slow cooking and is especially one of the best when cooking baby food. With this one-of-a-kind cooker, you are guaranteed delicious unburnt food. The product comes with a one-year warranty in case of any malfunctions.
Salient features
Its capacity ranges from 1.2L, 2.5L to 3.5L
Made of heat resistant ceramic
Simple to use, clean, and maintain
Equipped with a thermal fuse as a safety precaution
Has high and low heat modes for different dishes
These are yet another amazing slow cookers that just had to make to this list. The slow cooker is very generous in space as it can hold up to 3.5L. It can prepare meals for up to five people and its inner pot has an eye-catching design and adds a plus as a serving dish.
This simple to use slow cooker comes with a heat-resistant ceramic inner pot that is suitable to use for direct heating. However, it should only be used over low or medium heat. It works well with most heat sources except induction.
The model does not limit your cooking experience as you are able to cook all kinds of soups and stews to your perfection. It does not consume a lot of power and therefore offers great energy consumption benefits. The lid is made of transparent glass which allows you to observe your food as it cooks without having to open the lid.
Salient features
Has a capacity of 3.5L
It is non-stick
Offers three heating modes: auto, low and high
The inner pot is removable
Easy to clean and maintain
Working light indicator
Prepares a wide range of foods
The Takada SC-3500A slow cooker is a must-have in the kitchen. It is not only aesthetically pleasing but also easy to use and maintain. It is crafted in such a way that makes it versatile because it can also be used as a serving pot. The fulfilling cooker comes with a working indicator light that remains lit while your food cooks. You are able to see this through the transparent glass lid.
What makes this cooker even more convenient and reliable is its non-stick feature. You do not require to stir your food all the time as you are sure that the food will evenly get cooked and not get burnt. Moreover, the cooker also ensures that your food retains much of its nutrients and moisture.
Salient features
8.5L Inner pot
Requires little to no supervision
Circular cooking
Allows boiling
Can cook a variety of foods
Efficient energy saving
Keeps the food warm
Comes with a 2L double boiler pot
This is one cool and very efficient slow cooker that you can find in Singapore. The capacity of the inner pot is large enough to feed your entire family. Talk about the circular heating mechanism. This ensures that the heat is equally distributed all-round the pot for evenly cooked meals.
The easy-to-use cooker is made of clay which makes it convenient for a number of reasons, one of them being the ability to boil your dishes. Its design and material also helps to preserve the flavour of your dishes and keep them from getting cold after cooking.
The slow cooker also comes with a 2L double boiler pot that comes in handy when doing other required preparations. If you are looking for an ideal slow cooker for your household, then this is the one.
Salient feature
It requires minimal to no supervision
Has a tempered thick glass
Easy to use
Energy saver
Offers a capacity of 1.0L
Best for baby foods
Prepares a variety of foods
Are you looking for a small and economical slow cooker? If so, then this is the best for you. The cooker is small in size hence does not occupy a lot of space. It is also very convenient as it does not use a lot of power and therefore saves you plenty of energy.
If you are a mother looking for a slow pot to prepare small meals for your little one, the bear digital slow cooker will serve you accordingly. The cooker offers a capacity of 1.0L and is regarded to be one of the best for preparing baby dishes.
Not forgetting, the ceramic pot prepares a wide range of meals from soups, stews, vegetables, porridge, herbal tea, and ginger tea. It also retains the flavour of your foods as well as the nutrients and moisture.
Salient features
Offers a capacity of 0.7litres
Best for cooking meat
It is small in size
Easy to use and maintain
Are you a fan of cooking meat-inspired dishes? If so, then these slow cookers will suit you perfectly. The easy-to-use cooker is regarded as one of the best for cooking meat. Not only does it give great service but its cleaning and maintenance aspects are also hustle-free. Its 0.7litres capacity allows you to cook meals just enough to satisfy you and your family. It is also very convenient as it requires minimal to no supervision when cooking. Its small size design makes it flexible to fit in tiny spaces in your kitchen.
Even though the Aerogaz slow cooker is best known for preparing meat dishes, it does not limit you from preparing other delicacies. With this slow cooker, you will also be able to cook other tasty dishes such as soups, stews, herbal tea, and porridge.
Salient features
Used as a slow cooker and a pressure cooker
Offers 6 litres' capacity
Has multi-cook options
Has a timer
Keeps food warm
The Phillips Deluxe cooker is among the best slow cookers on our list because of its top-notch and dynamic characteristics. The cooker is designed in a way that makes your cooking experience simple and convenient.
For instance, you can use it to serve various roles in your kitchen. It can be used as a slow cooker or as a pressure cooker when you want to speed up the cooking process. It also comes with a dual control system that controls the temperature while your food is cooking to ensure that food is of the best quality.
With this slow cooker, you are guaranteed to cook all your favourite recipes due to its multi-cook options. You can also save some of your favourites recipes. These features earn points for the cooker as one of the best in Singapore and we couldn't agree more.
Salient features
Offers 3.5L capacity
High quality ceramic pot
3 cook settings: low, high, and warm
Matte glossy design
Comes with a 2-year warranty
The above slow cooker is what you are looking for if you want something reliable with excellent functionality. It requires very minimal to no supervision at all. Its compact design makes it convenient to fit perfectly into your kitchen space.
Moreover, with the low, warm, and high cook options, its use is like a walk in the park. The 3.5 liter capacity is also efficient enough to feed a small to medium family to their satisfaction. The pot has a great finish and it is very attractive to the eyes. You can use it as a serving pot during family mealtimes.
The PowerPack slow cooker is also guaranteed to produce seasoned delicious food. This is because of its ceramic pot which ensures that your food retains its moisture and flavor during cooking. Another key feature that we can't leave out is its energy-saving ability. It does not consume a lot of power.
Salient features
Simple to use
High quality ceramic pot
Offers 1litre capacity
Good for baby foods
Even heat distribution
This slow cooker is a great option for beginners. It is not in any way complicated and you are assured of good tasty food. This is what makes it one of the best out of the many slow cookers in Singapore. The Kumix KSC-15 cooker comes with a simple control knob that allows you to set your preferred temperature in a matter of seconds.
The cooker requires very little effort to operate and we highly doubt that it will give you a hard time. The ceramic pot also allows heat to be distributed evenly to ensure that your food comes out evenly cooked. It also helps retain the moisture and flavour hence producing quality tasty food for your household
Moreover, if you want something for cooking minimal food portions specifically for the baby, you can try this slow cooker. It offers a small 1litre capacity and can work great with baby recipes. You'll also love its simple classy look. Its design and colour elicit an attractive modern vibe which is just in the right measure.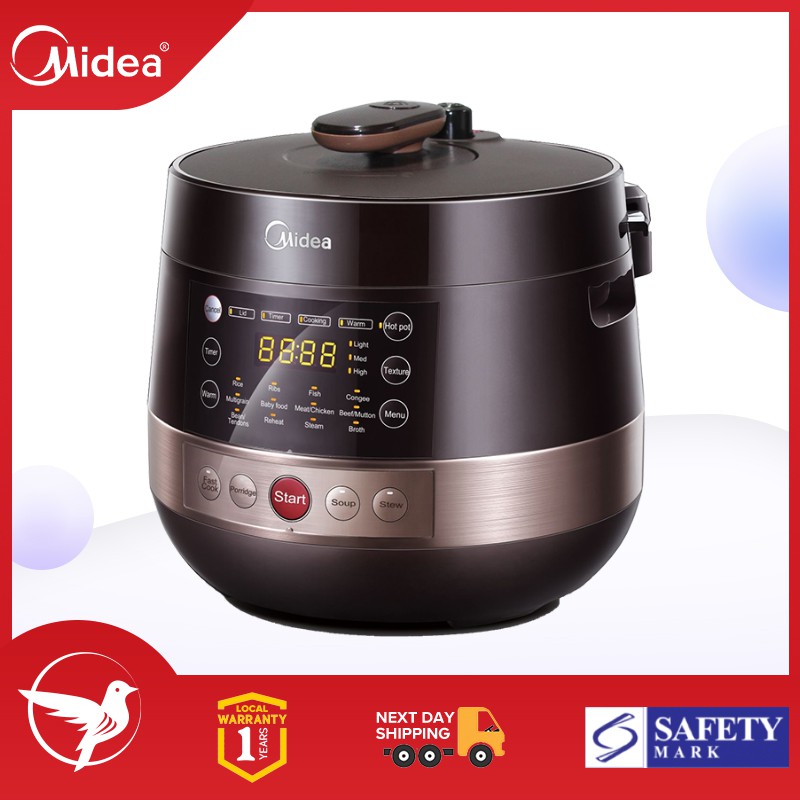 Salient Features
Has a 5-liter capacity hold
Keeps the food warm
Simple to use
Prepares various dishes
The Midea cooker is a master when it comes to slow cooking. If you are looking for something that you can effortlessly use and still produce the best results, then you should definitely go for this.
It comes with 2 cook settings, that are high and low to suit your different recipe needs when cooking. Additionally, it prepares various types of dishes such as soups, stews, a variety of herbal teas, and rice. It is really good for making soups and stews for a large number of people.
Another key feature that makes the above cooker one of the best in Singapore is its auto control function. This ensures that your food cooks with very little supervision hence saving you time to do other things while cooking.
The cooker is also generous when it comes to space as it can hold up to 5-liter capacity. This makes it convenient to use when preparing food for both small or medium-sized households. It also ensures that your food does not become dry and tasteless as it retains moisture and flavour. Moreover, it keeps your food warm up to the point when you are ready to eat.
There are times when you want to prepare delicious meals for your family but you are busy or caught up with other activities throughout the house that don't offer you quality time to monitor your dish. Investing in a good slow cooker can come in handy during such a situation. It is crafted in such a way that it has 3 layers, that is, the base, the pot, and the lid.
We aim to make shopping more convenient for you. Whether you want slow cookers to use at home, at your workplace, at a party, or while traveling, the above list will definitely direct you to the one you need.
Emily Hopkins
I'm an accomplished and detail-driven content writer with copious experience in producing compelling, engaging and flawless content for a variety of blogs and websites for several years.
Related posts
Subscribe for newsletter
* You will receive the latest news and updates on Singapore's best trends!
Trending Posts
May 30, 2023

What is Matcha? Matcha...

May 31, 2023

TLDR: In this article,...

May 31, 2023

TLDR: As an audio...