12 Best Electric Shavers For Men [2022]
Gee, 3 years ago
14 min

read
4757
One of the most common products that men shop for would undoubtedly be shavers. And it makes sense, too. Considering that many jobs in Singapore require men to be clean-shaven, as a way of looking neater and more presentable. I mean, you don't want to show up at a friend's party with a huge unkempt beard where your friends can literally see remnants of your breakfast in that shaggy pile of hair under your chin! Oh, the shivers. Hence, as shaving a lifelong hygiene practice, it is extremely sensible for you to be getting electric shavers instead of disposable ones. That being said, there are also many different brands of electric shavers you can choose from. That's why we have compiled this list of the best electric shavers in Singapore for you to choose from.
The obvious reason that this shaver is the first on the list is because it has caught our eyes despite the price tag. For something as precious as your face, we always want to pick the most trusted brand in the market.
If you prefer rotary shavers over foil ones, Philips is definitely the brand to go to and this particular model is our favourite. And for a good reason too! It can be used on both wet and dry conditions with minimal irritation to your skin, even during the adjustment period. Wow, sign me up as this electric shaver is hands down one of the best in Singapore.
Highlights
Extra-strong blades with sharp edges
NanoTech precision blades
Superb SkinComfort rings
BeardAdapt Sensor
Wireless Qi charging pad
3 shaving modes – Sensitive, normal and fast
Click-on trimmer for sideburns
Easy cleaning
Quick charge
Reviews
Here is a review from Brian, a very satisfied customer of a Philips Shaver S9000 Prestige.
"After being a wet shaver all my 64 years decided after purchasing a travel shaver from Philips to try something different as my face was suffering from razor burns lately, Glad I did purchase it, I have now had it two months and I am amazed at the results it gives time after time, leaves ones face silky smooth after use also glides over the face with little if no effort on my part, Very easy to keep clean also with a quick rinse under the tap, I am certainly now a convert to this shaver, While I always knew Philips do best shavers out there. Expensive but worth every penny as you only get what you pay for regards quality."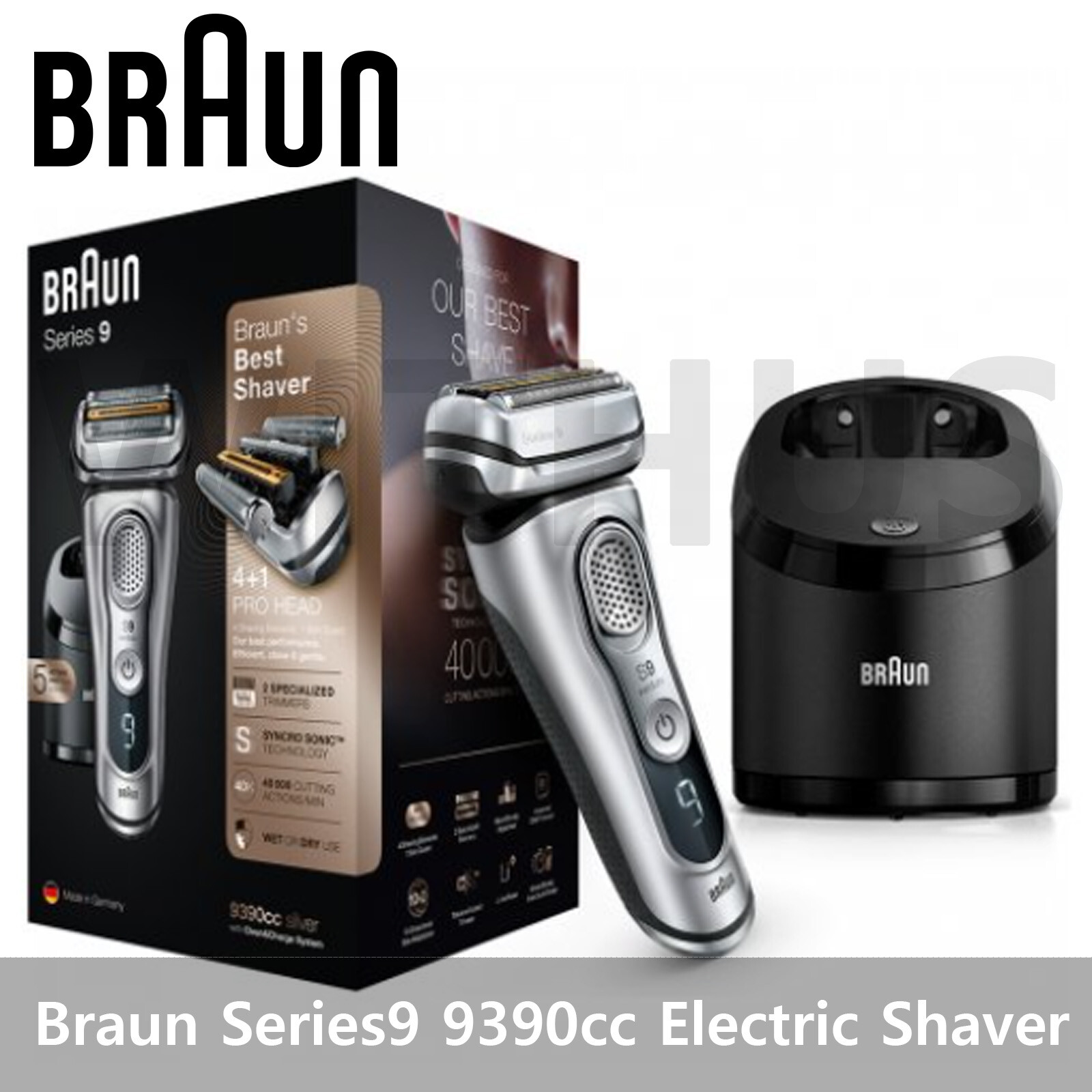 The Braun series 9 9390cc Shaver is the go-to shaver for men who prefers foil shavers. As with all the Braun shavers from the series 9, this shaver is also the most comfortable on the skin. With four specialised cutting elements multiplied with 40.000 cross-cutting actions per minute, this shaver is the most efficient shaver we can find in the market.
Braun shavers are manufactured and assembled in Germany, they are famous for the highest quality of shavers and after-sales services. So, rest assure that this is one of the best electric shavers in Singapore!
Highlights
Gentle on skin
Cleans and charges on demand
Advanced battery lasting 20% longer
Good with dry, water, foam or gel
Integrated precision trimmer
100% waterproof
Reviews
Below, we have a review from Neil.
"What a fantastic shaver!! I have always used Braun shavers and have been very pleased. This time i decided to treat myself to a top end model. Wow!! Best shave i have ever had, as good as having a wet shave. The moveable head is great for following your facial contour, leaving your face extremely smooth. The cleaning stand is great leaving the shaver fully charged and as new after every clean. I would certainly recommend spending that bit extra to achieve the best effortless shave ever."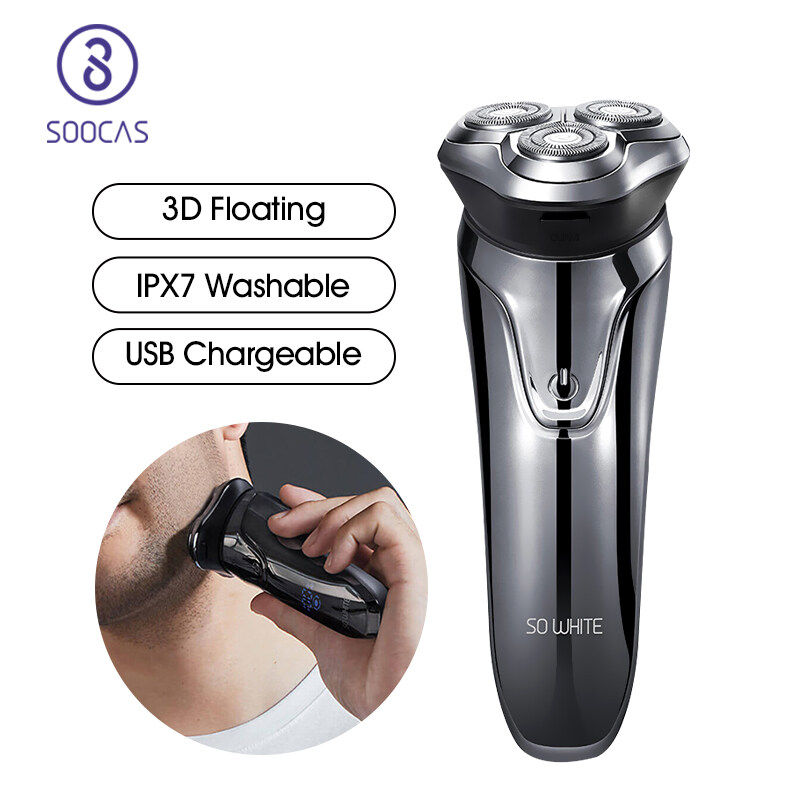 If you are a little more on the budget side, no worries, we have something for you, too. The Xiaomi Soocas So White is a SMART electrical shaver. It features an intelligent control system so you don't have to change the cutter as frequently.
Because there is a travel lock on this shaver, it is perfect if you travel often. One thing to take note is that the "So White" brand is renamed to the "Ping Jing" brand and the product trademarks will be switched from one to another. Therefore, you don't have to worry if you received your shaver in the "Ping Jing" brand. Overall, an extremely good shaver and indeed one of the best electric shavers in Singapore.
Highlights
Smart blocking protection
Battery reminder
Washing reminder
Smart anti-pinch shaving
Floating cutter head
Double ring knife net
Automatic grinding
IPX7 waterproof
Reviews
A review by Wuffie goes…
"This is an excellent product regardless of what name it goes by. Value for money and shaves well. Surely much better than the 4D shaver. I highly recommend this product to anyone looking for a close shave."
The next budget electric shaver we have on the list is from the Panasonic brand. A small shaver that fits nicely into your hand, it operates on two AA alkaline batteries (not included) so you don't have to wait for it to charge. Rather, just pop some new batteries in and viola, your electric shaver is ready to use.
The Panasonic ES3831 Men's Shaver is a single-blade wet/dry electric shaver with a floating head to deliver a comfortable shave. What we love the most about this shaver is that it cleans in seconds under running water, thus saving time for us when we are rushing in the mornings.
Highlights
Cordless operation provides comfortable shave
Ergonomic design
Compact size
Battery operated
8500 RPM motor speed
Stainless steel foil
Reviews
Here, we have a review by Duck on Amazon.
"I had many different electric shavers before. This one is the best! Here are my 2 reasons.
1) The on/off switch cannot easily be turned on accidentally. I had shavers in my toiletry bag where it got turned on and drained the battery. Battery is dead when I got to the hotel. This shaver needs quiet a bit of side force to turn it on.
2) This razor is much smaller with a flat form factor. I had razors where the head is slightly angled. For travelling, that makes it bulkier. This one packs nicely!"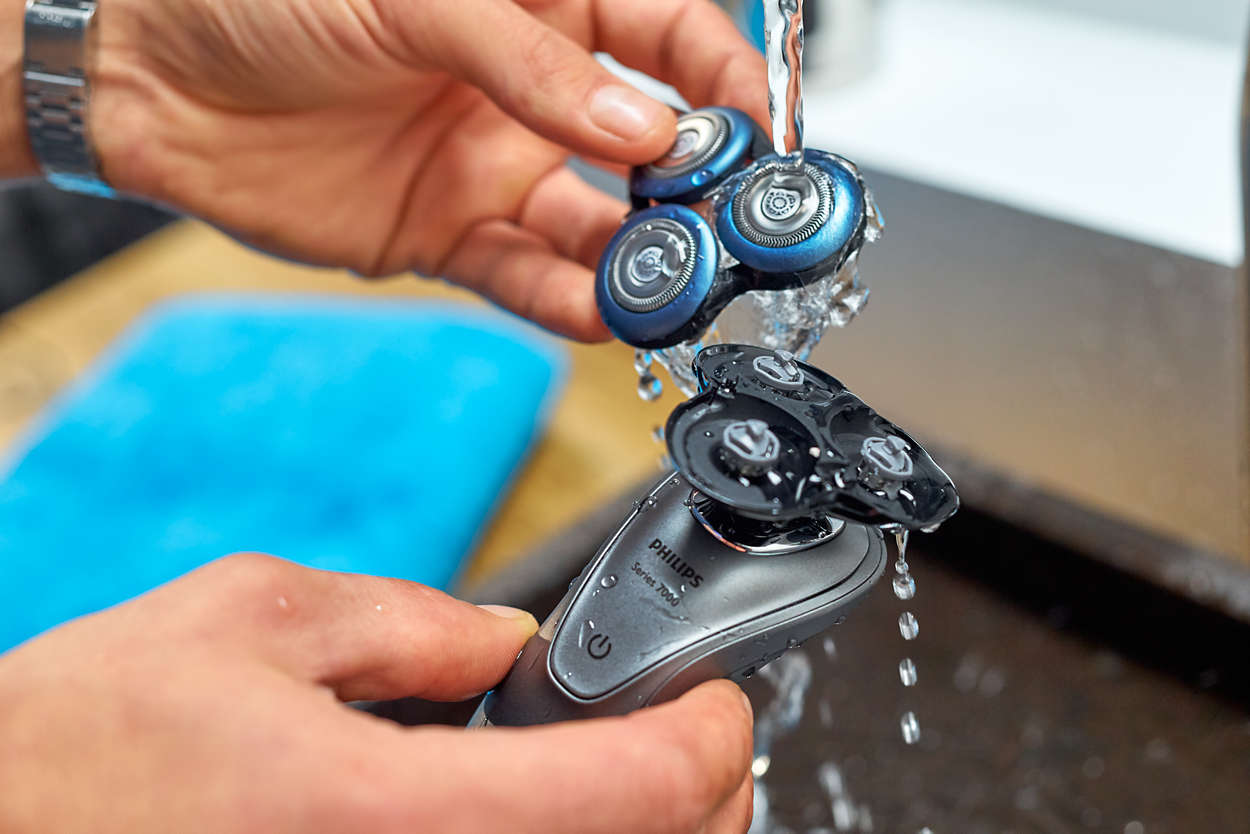 As every individual's unique, so is your skin. For people with sensitive skin, you might want to consider this shaver made specially with sensitive skin in mind.
The Philips Series 7000 Electric Shaver S7910 is co-developed together with dermatologists, specifically to help men with the sensitive skin issues they might encounter on a daily basis. It is so smart that it can sense the density of your beard and automatically adjust the power as needed.
For a more personalised shave experience, users can download the GroomTribe app on the App Store or Google Play for your personal shave tracking and advice from dermatologists. This shaver is indeed one of the best electric shavers in Singapore for all of you tech-savvy males.
Highlights
SkinGlide Rings
GentlePrecision Blades
BeardAdapt Sensor
Travel pouch included
SmartClean station
Philips Green Products – Reduce your carbon footprints
Reviews
Over here, we have a review from Jay,
"Excellent product . I have Sensitive skins and the Norelco Shaver 7900 has given me the best shave I've ever had . It leaves my skin smooth and fresh . Also the Personal shave plain is a great app . I love this product . I would definitely recommend you buy the Shaver 7900 !"
The Remington F5-5800 Foil Shaver is highly acclaimed for its ability to pre-trim longer hairs with the use of Intercept Shaving Technology. And when every charge can give you up to 60 minutes of cordless runtime, what is there not to love about this shaver?
This shaver is also perfect if you need to do some finishing touches on your facial hair and sideburns. Most importantly, it is also very easy to clean – Just run it under the faucet and you are done!
All these factors combined is exactly why this shaver made it on our list of best electric shavers in Singapore.
Highlights
Pivot and Flex Foil technology
Rechargeable battery
Pop Up Detail Trimmer
3 Stage Cutting system
Up to 20 days of shaving between charges
Reviews
There are quite a number of mixed reviews regarding this shaver but the people who wrote 5 stars reviews are very impressed with the shaver and has not looked back since.
"This is not my first electric shaver, however it is my first Remington electric. After reading the negative reviews I decided to ignore them and order it anyway because some people just can't be pleased, or they don't really know what to expect from an electric shaver. Used properly this Remington gives as good a shave as any other brand electric shaver. It arrived fully charged and after a dozen shaves it's still at 80 percent charge. It is very easy to use and clean, and gives consistently nice close shaves. I've experienced no "razor burn", no pulling or pinching of the skin or any other uncomfortable issues. I've even used it on my scalp. I'm pleased with this purchase…good electric shaver at a reasonable price….and if it lasts, the replacement heads are much less expensive than the other brands I've used."
Despite being light, the Andis 17150 Pro Foil Lithium Titanium Foil shaver is a high performance shaver that hugs close to your face when you shave, preventing stubs, hence giving you a neater shave.
This shaver also works very well if your facial hair is mostly curly, and is just an overall good shaver; definitely worthy to be on our list of best electric shavers in Singapore.
Highlights
Cordless
Staggered head design
Doubles as a shaver for bald hairstyles
Used by barbers in NYC
Reviews
Many people bought this shaver to shave their heads and face and have been loving it.
"I have owned quite a few electric shavers but this one is the best. It takes awhile for it to adjust to my face. I have been searching for an effective shaver for a black men or guys with super curly facial hair for the longest time. To get a close shave, I use passes in different directions across my face and I don't need to apply a lot of pressure. When I press too hard, it irritates my skin. It comes with an electrical recharger. One charge lasts for a really long time. BTW: I used the model with the gold-tinted foil shaver."
Wahl is a brand that has been in the industry and used by professionals since 1919. Requiring only one minute of charge for your quick grooming needs and up to 3.5 hours of runtime when fully charged, this model gives you 2 times the cutting power of the other models in this brand.
This shaver is also very comfortable to hold in-hand due to the fact that it comes with a rubber grip. For storage, the shaver has a zippered case. All in all, this shaver is a worthy contender on our list of best electric shavers in Singapore.
Highlights
All-in-one grooming
7 individual guide combs
Complete beard trimming kit
1 minute charge = 3 minutes runtime
Reviews
Below is a 5 star review from Amazon.
"I have used several trimmers over the years and this is definitely the best one that I have tried – mainly because it comes with so many useful attachments. Charge time is VERY reasonable and it holds its charge for a long period of time. I don't find myself needing to charge it very often. It also comes with a storage bag which is really useful for storing all of the different attachments. The quality of this product is unbeatable for the price. Great value, great product!"
We love this shaver mostly for its classy looks. It is definitely one of the best electric shavers in Singapore when it comes to its aesthetics.
Oster Professional has been providing such products for barbers and the general public for over 100 years. There's a reason barbers all over the world has chosen this brand. It has a lasting durability. Accompanied with a powerful motor and heavy-performance, this Oster clipper is manufactured to cut through hair of all types, with the ability to operate all day long in the most effortless way.
Highlights
Single speed universal motor – heavy duty usage
Detachable blades comes in sizes 000 to 1
Ultra-durable
Break resistant housing
Blade guard, lubricating oil, clipper grease and cleaning brush included
Reviews
Reviewers mostly compared this with Wahl shavers and preferring this one to Wahl shavers.
"Most people call these "The Beast" and that's because they eat through hair incredible fast and without a problem. I've never had a problem with this clipper and I've had it for over 6 years. Some people are intimidated by the speed and the fact that it may feel clunky or too big. Don't let that stop you from buying and enjoying this clipper. You can get used to it. As with most things, just practice and you'll be fine. You'll be able to do fades with it as well. Almost every barber that I know has this clipper or the Oster 111. Be sure to oil them regularly and clean the hair that falls within the housing – this advice is true for just about any clipper you have."
The best thing about this electric shaver for men is that it is multi-functional and fully waterproof. Hatteker is a brand that is quickly becoming popular on the market for its quality and reasonable price range.
This 4 in 1 shaver comes with extra attachments should you need to shave your nose and hair, and the package includes a small brush to help you keep your shaver clean and a travel pouch to keep your shaver in. This is an overall good shaver, and truly one of the best electric shavers in Singapore.
Highlights
IPX5 100% waterproof
4 in 1 – 1 x shaver, 1 x hair trimmer, 1 x nose trimmer, 1 x face cleaning
LED indicator
USB charge
Lithium power
Reviews
Below, we have a review from Jae.
"Product came in clean, well and elegantly packaged. Instruction manual is clean with pictures that tell me exactly how to use it. Functions perfectly with no defects, can finally clean my beard. Used to have a Phillips shaver for 10 years, I am liking the switch to Hatteker so far. The 4 in 1 part of this shaver I believe is the best part. Keep it up."
This is another one for the men who are on a budget. You can safely use this shaver in the shower without worry as it is waterproof. The styler comes with a trimmer that includes 3 combs, a shaver for close and comfortable shave, and last but not least, an edge to create the most defined lines for your finishing touches with the precision trimmer.
You will be pleased to know this Gillette styler is powered by Braun-engineered technology, and that it works with any Gillette 5-blade razor refill. Overall, definitely one of the best electric shavers in Singapore.
Highlights
Edge with precision trimmer
Safe for use in the shower
3 combs for customising your style
Reviews
Ashren bought this Gillette Styler for her husband and she never regretted her decision.
"I bought this trimmer for my husband, who has a short beard and is often complaining that he doesn't have the proper tools to keep it shaped. He loves it. It's small and easy to manoeuvre, and his beard has never looked better."
The last and definitely not the least, we have another Braun electric shaver on the list. Even the Braun series 9 are the latest in the brand, the series 7 shavers are the most popular.
Working very well on dense beards, the 7893S shaver comes with 4 shaving elements that includes 3 cutting elements and 1 skinguard. Together, they work as one to do finish the job two times faster than what you would expect from a shaver. All in all, this electric shaver rounds off our list of best electric shavers in Singapore nicely.
Highlights
Intelligent sonic and autosense technology
8D contour adaptation
5 modes
Precision head
Waterproof
Reviews
As a popular model, this shaver is well loved by many.
"Braun user for many years… needed a new shaver, looked at top reviews and the Braun series 7 was always amongst the best. Once I received it, it did not disappoint! Good build, fantastic shave! Definitely recommend!"
Related posts
Subscribe for newsletter
* You will receive the latest news and updates on Singapore's best trends!