20 Best Rooftop Bars in Singapore With The Perfect Views [2022]
Zoya, 2 years ago
16 min

read
4559
Looking for the best rooftop bars in Singapore? Escape from the sunny island to a bustling bars with stunning views!
Indeed, as a vibrant concrete jungle, Singapore has little real estate to spare. This is why feet-thumping bar hoppers and adventurous city revelers alike have made their way to the roof.
Ready to crack open a beer, or nibble on a plate of European tapas? We round up 20 rooftop bars in Singapore with the best city vibes.
1-V:U (pronounced "one view") is the hottest rooftop bar in Singapore. Perched high above the island of Sentosa, it overlooks Palawan Beach. This beachfront bar offers stunning views of the Singapore Straits. Party and lounge at the Day Club, or feast on a casual meal at its restaurant. Boasting spectacular ocean views, 1-V:U is a one-stop destination for island party life.
At 1-V:U, it is all about taking the time to bask in the sun! At the same time, don't miss out on its creative reinterpretations of popular Asian flavours! Sip on Asian-inspired cocktails such as the Moonlight Swizzle and dig into creative feel-good bites such as the truffle oil-infused loaded chips and loaded prawns pizza. Head to 1-V:U today for an exciting entertainment line-up! At this bar, international and local DJs stand ready to bring the house down.
The 1927 Rooftop Bar is a firm favourite for locals and visitors alike. In fact, this contemporary bar offers summertime vibes all year round. The bar's centrepiece is its infinity-edged rooftop pool. For a relaxing afternoon or evening out, relax on its sun lounges and enjoy the beats from the DJ decks.
Keep your gin up with the bar's bespoke cocktails such as the Coffee Negroni, French Oak Bottled Aged Negroni or the intoxicating Tiki Time Bomb. Nibble on the bar's best classics, such as the SO Hot Chix Wings or SO Tower, a stacked Wagyu Beef Burger. For an upbeat social experience and splashing fun, join the 1927 tribe for their monthly poolside parties and all-day happy hour!
Why travel to Japan when you can satisfy your sushi cravings right here? Kinki Bar and Restaurant is a hot favourite among bar hoppers. This stylish bar offers you unbeatable views of the city skyline. Can't wait to taste the freshness of the ocean in your mouth? Immerse yourself in the energetic vibes of Tokyo in this rooftop hideaway.
Unwind and dine under the stars with the bar's Japanese creations such as the Kickass Chirashi Don and Karaage Chicken Bao. Nothing quite melts in your mouth like the Salmon Belly Sushi or Hokkaido Sea Urchin Sushi. Ready for a brand new city experience? Visit Kinki Restaurant and Bar for a new-age twist!
Locating in the heart of some of Singapore's oldest shophouses has not taken the glamour out of this private sanctuary.
Sum Yi Tai is a retro-esque rooftop bar that recalls the mobs and triads of 1980s Hong Kong. On the first two floors are a tapas bar and karaoke lounge that exude mysterious, underground vibes. Head to the roof and you will find an artful alfresco space where you can loosen yourself after a hard day's work.
Explore the bar's colourful and varied drinks menu! Here, you can connect with friends and family over premium whiskey and wine. Chill out in style amidst attractive subdued lighting in this gangland bar, and enjoy the best of old-school Canto-pop.
High above the list of the best rooftop bars in Singapore is Bar Canary. Bar Canary is simply unique. Sitting atop Grand Park Orchard, it is a tropical poolside oasis. This nature-themed rooftop bar comes decked with carpeted grass. Its summertime outdoor furniture makes you feel like you are chilling out in a sleek open-air garden.
Here, you can clink glasses above the sights and sounds of Singapore's shopping mecca – Orchard Road. In addition, make a toast with the bar's signature boozy pops. These multi-flavoured ice-cold popsicles served dipped in a glass of cocktail. Don't miss the Day in Paradise! This famed signature drink features a coconut popsicle that is dipped in a creative concoction. Wrap up your evening with the Bittersweet Romance, a blood orange popsicle paired with champagne stirred with Aperol and Angostura bitters.
Another bar you can hit is Lin Rooftop Bar, which overlooks the vibrant shophouses and hipster vibes of Tiong Bahru. This quirky, minimalist bar features an Asian theme, complete with Japanese paintings and a replica of a Chinese terracotta warrior.
Lin Rooftop Bar specialises in in Asian-inspired cocktails, bar snacks and mains. Dine alfresco as you pair your burgers and tapas with the bar's signature cocktails such as Road to Ultra, Rustic Sky and Lin's Mojito. You will be delighted to find that Lin has given its creations an Asian twist by including ingredients such as chili padi, lime-infused plums, dragon fruit and Chinese dates.
Zafferano Rooftop Bar is a breath of fresh air for rooftop bars in Singapore. This glamorous cocktail destination sits atop Ocean Financial Centre, a 43-storey business hub in Collyer Quay, and offers you an unforgettable evening of all-round Italian hospitality.
Zafferano's chefs bring a lot more to the table than just food. The finest and freshest produce are sourced from growers and artisans all over Italy. A variety of Italian appetisers, pasta, main courses and desserts await you at Zafferano. Select from a varied range of red or white from the bar's walk-in wine cellar featuring over 200 premium Italian labels and a myriad of vintages.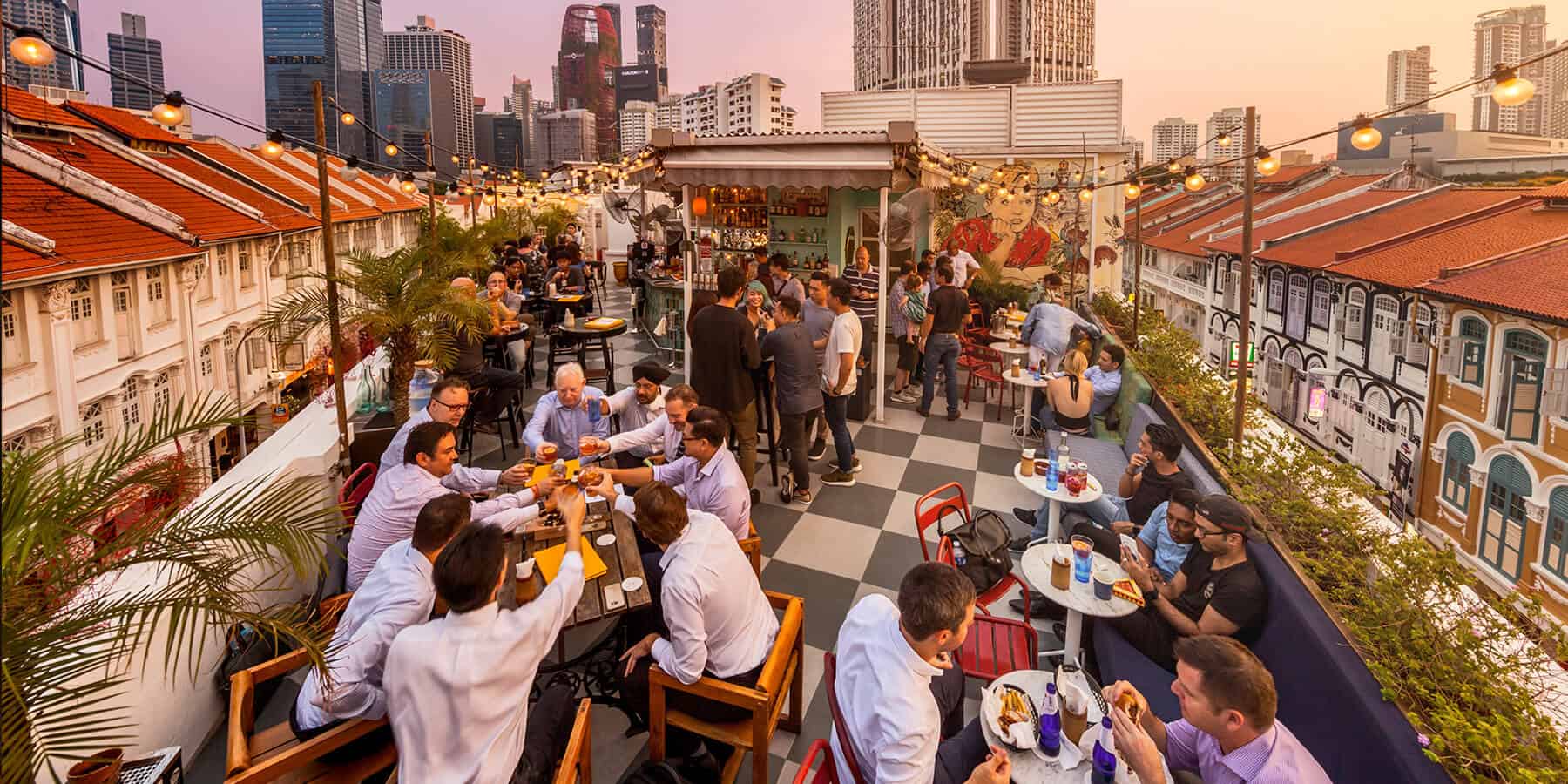 Featuring glittery fairy lights and whimsical interiors, Potato Head Singapore is always pumping and filled with a fun and friendly crowd. The open-air bar creates cool, vibrant vibes with its party-inspired rooftop setting and with a drink or two, you may even forget you're in the heart of Chinatown.
Chomp down on better-than-expected burgers and hot dogs as you enjoy the picturesque view of the Singapore skyline. Pair your meal to perfection with the Zombie #36, a refreshing mix of the bar's 5-rum blend that is complete with pomegranate and passion fruit syrup, as well as fresh lime juice.
Sophisticated and sleek, The Other Roof is the perfect spot to unwind with after-work drinks or to add to your rooftop bars bucket list. The team has merged the tea and spirit world in this revolutionary dining concept, so expect to find a varied range of bespoke tea-infused spirits.
Take for instance the Teaspresso Martini, which is a punchy cold brew mixed with XO and tiramisu tea vodka. For a more fruity drink, check out the Katong Collins, a tropical and refreshing concoction of coconut tea, coconut water and matsualem rum. The bar also serves excellent eats such as oysters with yuzu and ponzu, beef sliders, as well as Spanish sandwiches.
Dusk Restaurant & Bar is the ideal vantage point for picturesque, panoramic views over southern Singapore. A ton of greenery surrounds this little slice of paradise, which is tucked away from the hustle and bustle of the city. To experience your best sunset yet, reach this hilltop bar by 6 pm.
Dusk Restaurant & Bar is a vacation in itself. There are extensive champagne and cocktail lists that pair well with any item on the bar's European menu. All-time favourites include the Forest Mushrooms with Sherry tapas, Duck Confit, Tiger Prawn Capellini and Char-Grilled Prime Beef.
Elevate your dining experience with a stunning panoramic city view from the 33rd floor. LeVeL33 provides one of the best dining experiences you can get in Singapore. The outdoor bar offers an uninterrupted view of the Singapore skyline with views including Marina Bay and the flyer. Experience LeVeL33 where craft and tradition meet for the best content-brewery dining.
This is the world's highest urban craft microbrewery; beers made on-site include a Blond Lager, India Pale Ale and House Porter. There are plenty of vintage and boutique wines, too, plus a menu of contemporary European cuisine, complete with suggested beer pairings. Freshly brewed beer flows out of the heart of the bar.
Walk into LeVeL33 for a wonderful ambience that is perfectly set up for every event that you desire. Be it a casual evening or a special date night, LeVeL33 has got you covered.
Perched on the rooftop of the National Gallery Singapore, Smoke &Mirrors is known for its spectacular views of Singapore's skyline. Experience cocktails like never before with innovative and creative twists in flavours. A good selection of small portion dishes compliments the drinks with perfect balance and chemistry.
From most of the comfortable sofas indoor, there is also a stunning view of the Bay Area. With an emphasis on thought-provoking flavour profiles, Smoke & Mirrors continues to entice curious imbibers and cocktail aficionados alike. Take in stunning views of the Marina Bay Skyline while enjoying the petite Pony Express cocktails to refresh your day.
Shake things up behind the bar and leave the week's worries behind. Unwind in great company at the open-air rooftop bar and relax in the ambience.
Spago Bar & Lounge is a reigning favourite, offering fabulous views and a stunning setting for lunch, dinner or alfresco drinks. The indoor provides a spectacular ambiance and likewise, the outdoor with an equally stunning view. Relax while sipping on a wide range of quality wine for your palate.
Sit in the al fresco area with views of the iconic Infinity Pool as you tuck into signature light bites such as the Big Eye Tuna Tartare Cones, paired with artisanal cocktails. Experience top quality service with beautifully crafted dishes to make your day.
Order up everything from sushi and sliders to salads and sweets from the California-inspired menu by Chef Wolfgang Puck here in Spago Bar & Lounge
This award-winning Italian-American restaurant transforms into the perfect venue to take in the glow of the city at dusk. Offering spectacular views of the city, sip off your worries with beautifully handcrafted cocktails and generous portions of delicacies.
Tuck into sharing portions of LAVO's signature dishes such as the Charred Octopus and the famous LAVO Meatball. Be sure to leave space for the 20 Layer of Chocolate Cake that will leave you craving for more. The generously served portions of meals will leave you full and satisfied for the night.
Groove to live DJ sets and band performances at the sprawling outdoor bar and terrace, watching the serene starry night from 57 levels above ground.
The first standalone rooftop bar in Singapore, Loof is a place that celebrates and epitomizes local culture. Loof serves up whimsy, nostalgia and unbridled playfulness in an urban garden atop Odeon Towers in downtown CBD. Sip on a medley of locally-inspired Southeast Asian cocktails, Asian beers and whiskeys alongside gratifying bar snacks by one of Singapore's best culinary geniuses.
Bite into some of the best bar snacks like the juicy Truffle Mushrooms, the tender and crispy Chicken Satay and Wings leaving you licking your fingers. Take a trip down the memory lane with a postmodern take on the mom-and-pop shops featuring a wide selection of new and old souvenirs.
Look no further for your next big celebration, or just a chill hangout. Party hard on Loof's expansive alfresco deck and forget all your worries behind.
Nestled at the rooftop on Level 39, Mr. Stork is a destination bar providing a 360-degree view of the city. Sit in one of the photo-worthy teepee huts with a cocktail in one hand and an Impossible Thai skewer in the other. Relax yourself in a seating set amid lush tropical landscaping to best enjoy the breathtaking views.
Menu includes bar food/bar bites, alcoholic and non-alcoholic drinks. Sparkle your evening with the best Gin Martini you've ever had. Combine it with the star of the plate, the juicy Truffle Fries and reward you palate with a blast of refreshment. The ambience just beautifully adds to the experience like icing on a cake.
Mr. Stork is a truly romantic place to spend the evening with your loved one. The low music and the stunning sunset view makes your evening spectacularly lovely.
Artemis Grill takes patrons to new heights – the elegant restaurant hovers 40 stories above Singapore's glittering skyline. The terrace is an outside rooftop space that offers a contemporary terrace setting for dining and beverages. Have your mind blown with the stunning panoramic views of the sparkling city and of Marina Bay.
Kick off your meal with a drink or two, the dive into the flavourful Mediterranean menu, starting with charcuterie or a selection from the raw bar. Appetizers range from smoked eel to a mélange of wild mushrooms, and entrées include seared Boston lobster to Iberico Pork Secreto. There's a strong wine selection for pairing, and a solid cocktail list.
From informal and intimate celebrations to gorgeous and glamorous functions, having Artemis host your corporate event or special wedding is truly a one-of-a-kind experience.
The elusive wow factor being the views, from Singapore's highest rooftop bar, on the 63rd floor, are amazing in every direction. As sunset morphs into night, the party band entertains with diverse music genres from Top 40 to retro hits. Relish yourself with refreshing cocktails whipped up by the mixologists, premium liqueurs and champagnes on offer; all complemented with delectable gastro bites.
The Wednesdays, as the name suggests 'Ladies Night' provides free entry for the ladies and it is 50% off on all the drinks that are available. Satisfy your Sunday brunch cravings high up the sky. Expect a hearty fare and reinvigorating cocktails perfect for a lazy afternoon in the city along with quintessential progressive Australian cuisine at 1-Altitude.
In one of the most premium night clubs, the most extensive line-up of live bands and DJs of any single venue in Singapore sets the rooftop ablaze with hot dance beats from 10 pm till late.
Lantern, the rooftop bar at Fullerton Bay Hotel, is situated next to the hotel's 25-meter infinity pool. This is a glamorous, comfortable space, where you refresh yourself with great cocktails and also the gorgeous views over Marina Bay. Chill to sensual beats and savour gourmet snacks, fine champagnes, wines and signature cocktails.
The soft music only adds to the calm and soothing ambience of the place. Enjoy your evenings with a great range of drinks and the all-time favourite, Beef Cheeks, to satisfy your palate. The Lantern provides you with a lovely environment, gorgeous view and wonderfully pleasant and friendly staff who make an effort to make you feel comfortable and welcome.
In the afternoon you'll have the place to yourself but on Thursday through Saturday nights, you'll be rubbing elbows with well-dressed city folks.
At the periphery of the touristy seafood restaurants along Boat Quay, with a hidden back entrance, is an oasis of calm with an enticing drinks menu and great service. Southbridge, a refined but unpretentious bar with killer river views, is Boat Quay's answer to Marina Bay's predictable rooftops spots. The music is just perfect to bring out the ambience for a perfect date night or just a catch-up with friends.
An extensive list of champagnes, prosecco and craft cocktails awaits to be sipped on as you relax, admiring the stunning beauty of the Singapore River. Surprise your palate as you in an amazing selection of the best oysters from all over the world. Happy Hour is until 8 pm daily, with special prices on signature oysters, bubblies and spirits by the glass and bottle.
The alfresco rooftop is elegant yet unpretentious and serves up a fun experience with modern craft cocktails, unique champagne, and a small plates menu focused especially on seafood.
That brings us to the end of our list of the best rooftop bars in Singapore. Visit any one of them, and you're bound to be in for a great time. And after a great night of drinks if you're looking for authentic Korean food for dinner, then we've got your back. Check out our compilation of the 10 best picks in town.
Zoya
Queen of Obscure References and occasional writer. When not exercising my thumbs on Instagram, you can find me looking for good author bios on Google.
Related posts
Subscribe for newsletter
* You will receive the latest news and updates on Singapore's best trends!
Trending Posts
May 30, 2023

What is Matcha? Matcha...

May 31, 2023

TLDR: In this article,...

May 31, 2023

TLDR: As an audio...