10 Best Rice Cookers in Singapore For Perfect Steamed Rice 2021
Joanne, 3 years ago
9 min

read
7384
Whether you just want the perfect cooked rice or a fully-cooked meal, we have the right cooker just for you.
All rice cookers are not manufactured equally. While some are conventional than others, there are a variety of rice cookers for people from all walks of life. If you consume a lot of rice on a daily basis, or if you just eat it occasionally, we definitely got you covered.
In short, here are the best rice cookers that are widely available in Singapore for your purchase right now: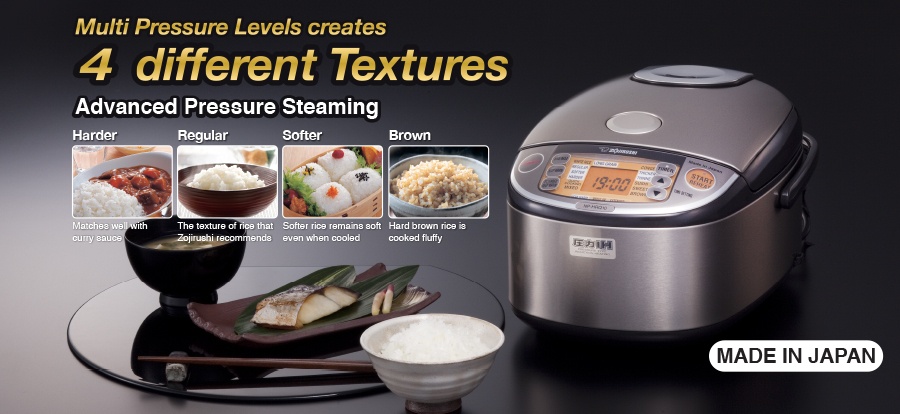 If users are really passionate about rice, then the Zojirushi Induction Heating Rice Cooker NP-HRQ18 is an ideal choice not to be missed. This rice cooker can handle just about any type of rice you throw at it (jasmine white rice, mixed rice, sushi rice, porridge, sweet rice, brown rice, and many more). One of the best rice cookers to buy in Singapore.
It cooks up to 10 cups of rice with a total capacity of 1.8 litres. The Zojirushi uses induction cooking with a magnetic field that heats up all sides of the non-stick platinum-coated pot, helping to maintain the temperature for perfect and uniform rice every single time.
The cooker automatically keeps a short warming time after your rice is done cooking, while it could be extended between eight and 24 hours without burning, overcooking, or drying out the fluffy rice inside. It even features a convenient handle; just in case you need to make rice on the go.
Lastly, it is easy to clean, making the Zojirushi Induction Heating Rice Cooker NP-HRQ18 ideal for anyone who cooks a lot of different types of rice and wants it consistent and delicious every time.
They have a promo ongoing. Grab yours here
The Xiaomi Mijia IH Rice Cooker is a revolutionised rick cooker that enables the user to control the cooking appliance using the smartphone app. This rice cooker features over 200 recipes and 3,000 rice cooking options, which far surpasses the capabilities of other rice cooker brands. The user can simply load the cooker with ingredients and set the timer to cook the preferred meal that one craves. It is that simple!
On the other hand, the compact structure makes the Xiaomi Mijia IH rice cooker easy to clean and maintain after cooking is done. The main bowl is made of cast iron with FPA non-stick coating from Daikin. Therefore, cooks at home can cast aside their worries of burning food dishes and having to scrub difficult stains off the cooking pot.
Saving the best for the last, the Xiaomi Mijia IH Rice Cooker comes with an affordable price tag. It will definitely be a worthy buy for a rice cooker of 3-litre or 4-litre capacity.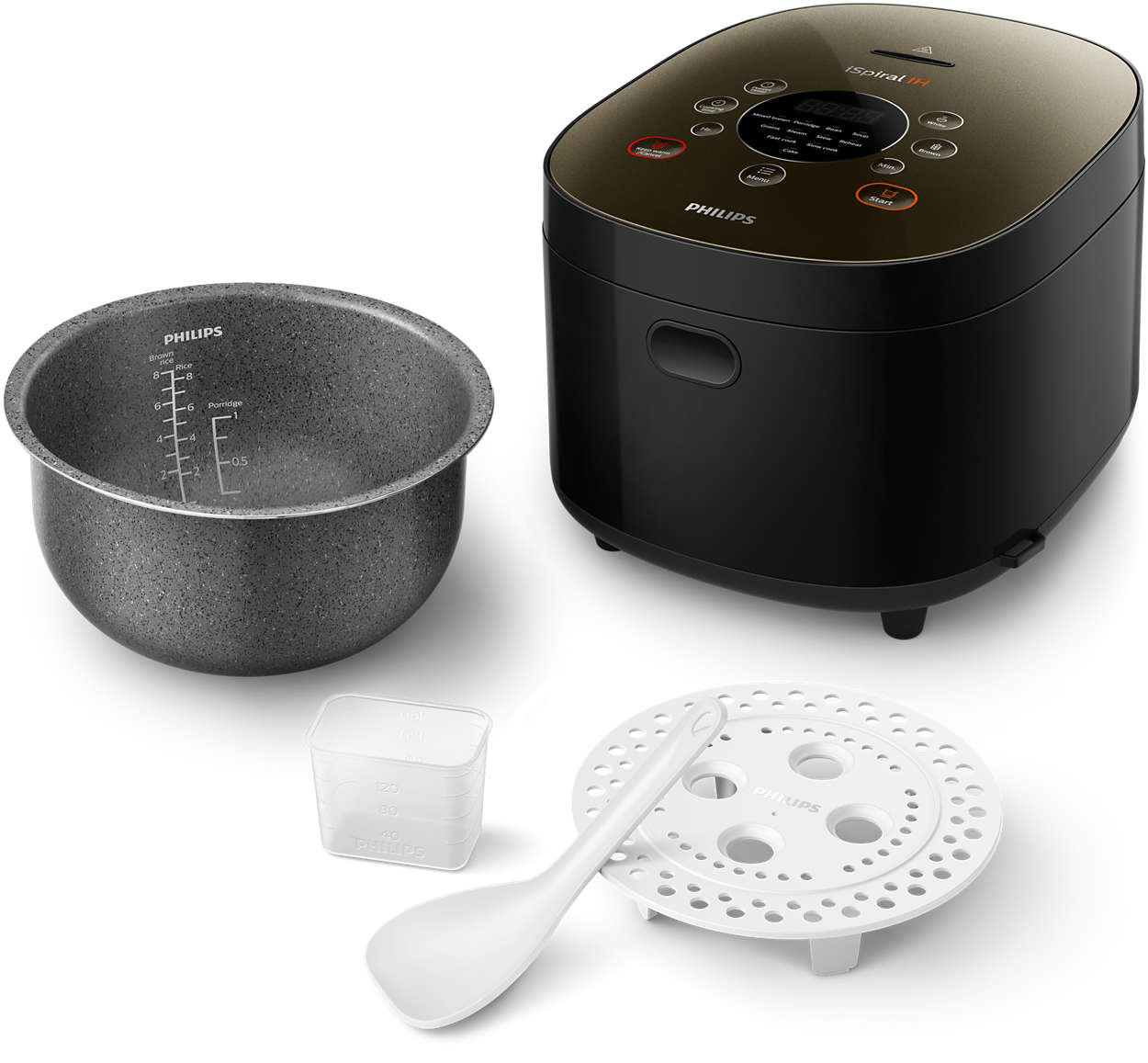 When it comes to smarter and innovative cooking technology, the Philips Avance Collection HD4535/62 is a recommendable choice. It features iSpiral IH technology that creates strong outside-in convection water flow in the form of a strong vortex to cook rice grains evenly.
The cooking pot comprises Bakuhanseki coating which contains minerals and trace elements that are essential to our body system and a 5-layer iron with superior heat conductivity and long durability. The sloping design of the lid also caters to more comfortable use and the inner lid is easily detachable for cleaning convenience.
The cooker also features a total of 13 dedicated multifunction programs with distinctive menus for rice and alternative varied food dishes. Pairing it with a large digital display, it allows the menus to be easily readable for contemporary cooks. Not to forget food that is cooked can be kept warm and in a fresh state for up to 12 hours. One of the best rice cookers to get in Singapore online.
Hurry and get yours now!
The newly released spherical pot series Optimal rice cooker by Tefal revolves around innovative spherical bowl technology which enables perfect heat circulation for constant and scrumptious cooking. With the inclusion of 48 rice and multi-cook programs, it widely provides home cooks with great convenience to cook a variety of food dishes; not forgetting white rice.
The programme incorporated in the cooker; DIY Chef allows the adjustment of cooking temperature, cooking duration, and cooking programs to customise and save your own recipes.
The durable spherical bowl in the cooker measures 3.0mm of thickness with 7 layers (inclusive of durable and resistant non-stick coating). Users can be reassured that the removable parts of the cooker are dishwasher safe. To sum it up, the accessories that will be included in the product itself consist of a steam basket, rice spoon, soup spoon, measuring cup, and a complimentary recipe book for viewing by home cooks.
Order here now!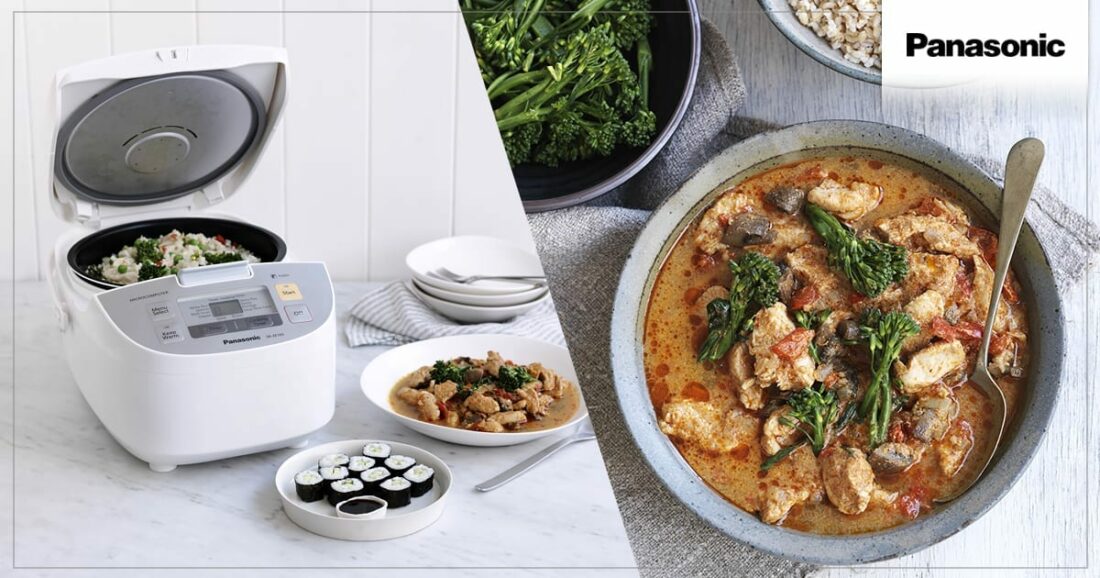 The Panasonic SR-DF181WSH Micom Rice Cooker, 1.8L 6 Auto Menus is affordable and acquired commendable ratings. It comes with a black cooking pan with white anodizing for better-tasting food. This cooker also has an auto, 12-hour keep-warm feature, as well as a large, digital LCD display with a clock.
Besides the extended options, this model also works for steaming and slow-cooking methods. For increased flexibility for the working class with busy schedules, this rice cooker has a 24-hour preset timer as well as 8 pre-programmed cooking options.
Compact in size, this cooker has a domed lid that prevents moisture from dripping back onto the food, evading mushiness, which is a huge plus point for all consumers. It also comes with a food scoop, measuring cup, and steaming basket.
Highlights:
Easy to Operate Big Slant Control Panel_x000D
6 kind of menus with only 4 buttons
Tiger Microcomputer Controlled Rice Cooker JAI-G55S can be used to cook a whole meal for your family. The rice cooker itself has multiple functions like a slow cooker, food steamer, and pressure cooker that works together to make mealtime a breeze.
Although it is minimalistic in design, the rice cooker specialises in creating synchronised meals without losing the flavour of each food element. That means you could cook rice, fish, and veggies together without each one smelling and tasting like each other. Tiger manages to do this with its specially designed cooking plate and pot that doesn't affect the flavour or texture of the rice.
To top it off, the rice cooker comes with a non-stick rice paddle and spatula, a cooking plate, a measuring cup.
This will be the perfect choice of rice cooker for any household that wants an appliance that will look alluring while displayed on the kitchen table. The CR-0631F Electric Heating Rice Cooker from Cuckoo emphasises on a wide LCD display, six cooking settings for slow and "turbo" cooking and can cook up to six cups of rice. The rice cooker also has an extended "keep warm" setting that can hold for up to 24 hours after cooking.
The cooking pot is made of aluminium with a Teflon coating to prevent sticking on the inside and a stylish and elegant white and pink design on the outside. One of the best made rice cookers to get in Singapore.
If you are interested in a simple, fuss-free rice cooker, then Zojirushi got your back. This rice cooker is as easy as they come. Just add the right ratio of rice and water (one cup of rice to two cups of water will usually do it) and press the switch of the cooker to turn it on.
Rice cooks in about 20-25 minutes and will automatically switch to warm once the rice is fully cooked. The non-stick stainless steel rice cooker does not have any fancy knobs or settings for different types of rice. Moreover, it does not have a delayed warming setting for extended waiting times. It just produces a simple and consistent batch of white rice with the ease of pressing down a switch to turn it on. Last but not least, the measurements are for white rice cooking but if you are the adventurous type of cook, you may experiment with it by cooking other rice types such as sushi rice, etc.
Highlights:
Made in Thailand
Easy-to-use single switch control
See-through glass lid with stay cool knob
Stay cool handles for easy transport
Durable nonstick inner cooking pan
Toyomi is a brand that most of us are very familiar with. They pride themselves on providing useful, stylish, reliable and high-quality electrical products to customers at economical prices. This rice cooker by Toyomi does just that!
Sporting an exquisite space-saving design, the 0.6 L Micro-com Mini Rice Cooker is great for those who are looking for a small rice cooker that performs.
Highlights:
With fuzzy logic micro-com, good for cooking rice/brown rice /soup/ porridge by one single touch
Heat-accumulating heating element, more effective cooking and ECO friendly
Can cook rice and steam food at the same time
With #304 Stainless Steel capsule bottom pot
With measuring cup, #304 S.S. steamer, rice scoop
Special low pressure & full- sealed structure to keep rice more moisture & nutritious
Automatic keep warm function for more effective heating
Detachable inner lid with anti-overflow safety design
Fashionable, exquisite and small design for less space
Song-Cho 1.8L IH Sous Vide Rice Cooker (SC-IH18S) is multi-functional with a Sous Vide function that enables you to enjoy low-temperature cooking without the need to buy extra sous vide equipment! It has 9 functions and 4 rice textures to choose from. IH technology allows even heat distribution.
This rice cooker also comes with a 3-ply 304 food-grade stainless steel inner pot that is uncommon in the market. No chemical coating, corrosion-resistant, safe to use and easy to clean. The stainless steel material allows fast and even heat distribution with superb heat retention capabilities, keeping warm for a longer period of time.
Back in the past when consumers like you and I could only make purchases of rice cookers from physical stores, we were now able to go online for a hassle-free shopping experience and even enjoy buying the rice cooker we need with attractive rebates! Lazada, Shopee, and Amazon are some of the top online platforms for shopping on cooking appliances.
Out of the entire long list of rice cookers in Singapore. We hope that the article above would serve useful to help all consumers out there narrow down and source the best rice cooker in Singapore for your residence. Happy Cooking!
Related Topic: 12 Best Cooker Hoods in Singapore to install in 2020
Related posts
Subscribe for newsletter
* You will receive the latest news and updates on Singapore's best trends!
Trending Posts
May 30, 2023

What is Matcha? Matcha...

May 31, 2023

TLDR: In this article,...

May 31, 2023

TLDR: As an audio...