10 Best Recruitment Agencies in Singapore [2022]
Joanne, 3 years ago
9 min

read
4604
In today's age of technology, many of you might have landed your first job by going through different job ads online. But after getting the experience and skills, wouldn't you want to land yourself on a job without trouble? Hence, to get a little help searching for the right employer based on your expertise, experience, and other such qualifications, going through a recruitment agency is the best option. So, what are you waiting for? Ready for the big leap? Here are the list of Best recruitment agencies in Singapore that you should check out!
Highlights:
Over 70 years of experience
Offices located globally
Responsible for large database of clients
Not only are they dubbed as one of the best recruitment agencies in Singapore, but Kelly Services is considered the top 1 recruitment agency in the world. With over 70 years of experience and offices located globally, they are responsible for a total of over 1 million professionals successfully hired to this day.
This company does best to provide work for professionals with technical and functional expertise in many industries like engineering, human resources, contact centers, banking & finance, and many more. They also help provide talents for top positions for multinational corporations.
| | |
| --- | --- |
| Address | 8 Marina View, #11-01 Asia Square Tower 1, Singapore 018960 |
| Contact Information | +65 6709 3388 |
| Business Hours | Monday to Friday: 8.30 AM to 5.30 PM |
Highlights:
More than 500 offices worldwide
Large applicant database
Specializes in various sectors
Adecco is the world's leading HR solutions expert. With over 5,100 branches and more than 33,000 passionate full-time employees globally. Each and every one of them is here to help you hire great people and find awesome jobs.
With an average of 1,400 successful hires in Singapore each year, and around 500 plus on-hire associates putting their skills to work, there is no doubt about Adecco being in the top 2 on our list. Based in Switzerland, and with more than 500 locations worldwide, Adecco prides its extensive applicant database and sources talents in several sectors like IT, engineering, finance, science, and legal sectors.
Most importantly, aside from deep connections, industry experts from Adecco know how to make you look great so that you are ready for the next job that is made for you!
| | |
| --- | --- |
| Address | 1 Scotts Road, #18-08 Shaw Centre Singapore 228208 |
| Contact Information | +65 6835 3400 |
| Business Hours | Monday to Friday: 9 AM to 6 PM |
Highlights:
Wide range of industry disciplines
Singapore's pioneering recruitment and human resource consultancy
One stop solution
The GMP Group is one of the pioneering recruitment and human resource consultancies in Singapore. Their "boutique" business units offer their own distinct services to cater to each niche their clients operate in.
In addition, their services are all-encompassing, with each of their five specialized divisions focused to completely meet the needs of their clients and candidates in every industry sector, offering a true "one-stop" solution.
GMP Recruitment specializes in the recruitment of junior to mid-management as well as blue-collared positions across a wide range of industry disciplines on permanent, temporary, part-time jobs, contract, or contingency basis. It is also one of the most prominent and more reliable headhunting offices for positions in the banking, manufacturing, IT, and chemical/oil and gas industries.
| | |
| --- | --- |
| Address | 1 Finlayson Green, #10-00, One Finlayson Green, Singapore 049246 |
| Contact Information | +65 6736 2022 |
| Business Hours | NA |
Highlights:
More than 25 years of experience
Dedicated team
Wide range of services
With more than 25 years' local market experience, Randstad Singapore offers dedicated and specialised talent recruitment services across a range of skills and disciplines to non-profit organisations, startups, small-and-medium enterprises, public agencies and multinational companies.
Randstad also provides companies with a wide range of HR services solutions such as payrolling, contract staffing, recruitment process outsourcing, managed services programs, and outplacement.
Aside from Singapore, Randstad agency has locations in 39 other countries. This global recruitment agency has worked with 90% of all Fortune 100 companies. They are also part of the top 5 best recruitment agencies in the world.
Furthermore, apart from the recruitment process, they offer services in helping employers build their teams and equip them with the latest industry strategies.
| | |
| --- | --- |
| Address | Randstad Pte. Limited, 50 Raffles Place, Singapore Land Tower, #17-02, Singapore 048623 |
| Contact Information | +65 6510 1350 |
| Business Hours | Monday to Friday: 9 AM to 6 PM |
Highlights:
More than 70 years of history
Large pool of candidates
Wide range of sectors covered
Manpower is part of ManpowerGroup – the world's leading workforce expert. Every day, all around the world, hundreds of thousands of people go to work because of Manpower; and hundreds of thousands of companies thrive because of the people they find for them.
With offices in 80 countries and more than 70 years of history, Manpower is the global leader in contingent and permanent staffing, providing organizations of all sizes with a continuum of staffing solutions to enhance business agility and competitiveness.
With the team's thorough understanding of staffing trends and their deep pool of highly qualified candidates, Manpower can deliver the talent, matching the right individual to the right job – faster and with better business results.
Additionally, this recruitment agency, under the Manpower Group, offers a wide range of sectors, with a vast number of positions focused on sourcing for the IT industry.
| | |
| --- | --- |
| Address | Manpower Staffing Services (S) Pte Ltd, 1 Wallich St, #09-02 Guoco Tower, Singapore 078881 |
| Contact Information | +65 6232 8811 |
| Business Hours | NA |
Highlights:
More than 20 years of experience
Specializes in Multinational Corporation positions
Consultative approach
Founded in 2000, this agency specializes in multinational corporation positions focusing on professionals, managers, executives, and technicians. With its founder's vast experience in the executive position himself, no doubt this exposure has helped the agency establish its name in Singapore.
Garner International takes a consultative approach to both clients' and candidates' solutions whilst ensuring total and complete confidentiality and ensuring compliance to privacy and data. In addition, they operate with a sense of corporate social responsibility through the maximization of local and global talent.
The team will also offer sound professional and constructive advice on interviewing techniques, expectations for interview and advice on finding the right career position for you.
| | |
| --- | --- |
| Address | 100 Beach Road #21 – 04/05, Shaw Tower Singapore 189702 |
| Contact Information | +65 6338 9119 |
| Business Hours | NA |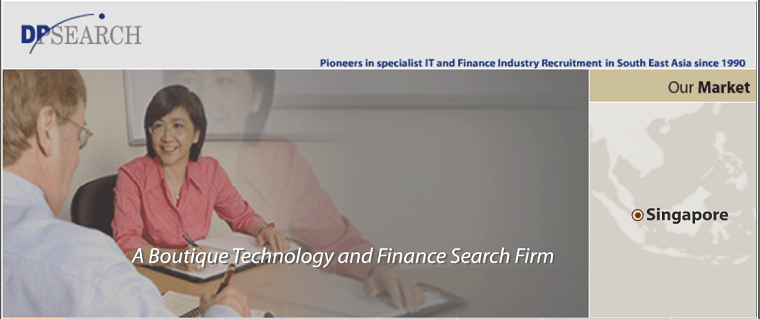 Highlights:
Offices in Singapore and South East Asia
Established for many years
Professional recruitment services
Are you eyeing for that executive-level position in the IT and Finance department? Get connected with DP Search so they can help you land the job. The agency offers work not just in Singapore but also in entire South East Asia.
Established for many years in the recruitment business in the South East Asian region, DP Search brings together the collective experience of Singapore's pioneers in IT and Telco executive search. They have strong search capabilities across borders in South East Asia as demonstrated through many assignments in Singapore, Malaysia, Thailand, Indonesia, and Vietnam. They are proven performers, results-oriented, and focused on delivering the right candidate to your organization. Their experience in this field is second to none.
DP Search is uniquely positioned to provide professional recruitment services. They conduct their business discreetly whether you are working with them as a client or candidate. As a value-added partner, they aim to achieve the best possible result in the shortest possible time frame!
| | |
| --- | --- |
| Address | 7500 Beach Rd, The Plaza, Singapore 199595 |
| Contact Information | +65 6339 3935 |
| Business Hours | NA |
Highlights:
Offices across 11 countries worldwide
Wide range of opportunities
Expert consulting
JAC Recruitment is a specialist recruitment agency that is part of the JAC global network. They have locations across Asia and Europe and are based in Japan. JAC Recruitment also provides expert consulting and job-change support to mid-senior level professionals and specialists seeking new opportunities and companies operating within a broad range of industries, worldwide.
Though based in London, JAC recruitment has made its name well-established in Singapore and across 11 other countries worldwide. Aside from their wide range of opportunities, they highly boast of their heaps of Japanese clients.
With more than 1200 professional consultants globally, they specialize in placing high-caliber professionals with major multinational companies throughout Asia and beyond. So, take the first step towards finding that perfect connection for you, and contact them today!
| | |
| --- | --- |
| Address | One Raffles Place, Tower 1, Singapore 048618Plaza, Singapore 199595 |
| Contact Information | +65 6224 6864 |
| Business Hours | Monday to Friday: 9 AM to 6PM |
Highlights:
Recruits for a wide range of clients
Global network and reach
Specializes in HR recruitment
Frazer Jones is the leading global specialist HR recruitment consultancy, and has been sourcing and securing the best talent in the market since 1996. They recruit for a wide range of clients in nearly every geographical jurisdiction worldwide, from their global network of 12 international offices in London, Bristol, New York, Singapore, Hong Kong, Sydney, Melbourne, Dubai, Dusseldorf, Frankfurt, Amsterdam, and Milan.
They believe that people are the driving force behind their business. Their global team of HR and specialist function recruitment consultants are expertly networked within their markets, delivering thought leadership and networking events.
Frazer Jones also delivers the highest levels of service in their recruitment and search assignments, going beyond the functional to provide a truly business advisory service.
In addition, if you are specializing in HR recruitment and dream of working overseas, Frazer Jones is the right agency for you! This agency is strongly suited to HR recruitment and searches locally and globally for the last 20 years.
| | |
| --- | --- |
| Address | 30 Cecil Street, #21-03/04 Prudential Tower, Singapore 049712 |
| Contact Information | +65 6420 0515 |
| Business Hours | Monday to Friday: 8 AM to 6PM |
Highlights:
Built Environment & Design experience sector
Extensive experience
Professional and consultative
Phoenix Recruitment is an agency made up of specialists for the Built Environment including Civil Engineering, Building, Architecture, and Interior Design sectors. With over 35 years of experience in Built Environment & Design experience recruiting in Singapore, Hong Kong, UK and the wider APAC region, you can be sure that Phoenix Recruitment will be the best agency to head to with regards to this.
In addition, they have extensive experience working with Main Contractors, Sub-Contractors, Engineering Consultants, PM/QS /FM Consultants, Developers, Architects, Interior Designers & Fit-Out Contractors.
Taking a professional, consultative, and results-driven approach that is designed to achieve a win/win scenario for clients, candidates, and consultants, they strive to over-deliver in their services. So, for services that exceed expectations, head over to Phoenix Recruitment!
| | |
| --- | --- |
| Address | 10 Anson Road, #10-11 International Plaza, 079903 Singapore |
| Contact Information | +65 6463 4941 |
| Business Hours | Monday to Friday: 8.30 AM to 6PM |
Landing your dream job is not always easy. Sometimes, despite having the correct qualifications, skills, and expertise, you still need to seek professional help. Hope our list of best recruitment agencies in Singapore can help you in your job search. Good luck job hunting! If you are looking for blogs to read with regards to finance and wealth along with your job search, check out our article here!
Related posts
Subscribe for newsletter
* You will receive the latest news and updates on Singapore's best trends!