22 Best Ramen Restaurants in Singapore [2022]
Joanne, 3 years ago
21 min

read
10397
It was love at first bite: a spoonful of broth hits your tongue, and a lifelong affair with ramen begins. Being one of gastronomy's most alluring temptresses, ramen's unpredictability and creativity never fail to turn ravenous gourmets into devoted pursuers. Lucky for us, numerous ramen chefs – among which the following are some of the best – have deemed Singapore worthy of its beauty.
Highlights:
Prestigious ramen chain
Rich broth and fork-tender chashu
A variety of sushi and other sides
Ippudo is a high-profile ramen chain with a multitude of awards and recognition under their belts. The founder Shigemi Kawahara is a three-time winner of the Ramen Masterchef Championships by TV TOKYO. Global standard Hakata style ramen featuring rich, silky Tonkotsu brothFounded in 1985 by Shigemi Kawahara or better known as "Ramen King" The brand boasts over 200 restaurants worldwide, while flagship outposts in New York and Hong Kong have been listed in the critically acclaimed MICHELIN Guides in their respective countries
The chef believes in keeping himself on his feet to continuously prove the worth of his brand. Most recently, he revamped his signature dishes "Shiromaru Classic" and "Akamaru Modern" in conjunction with their 30th anniversary in 2015. Nonetheless, the ramen at Ippudo commonly feature-rich broths, springy noodles and fork-tender chashu. The latter even takes centerstage in Ippudo's Pork Bun, sandwiched in a fluffy bun with lettuce and mayo.
Highlights:
Michelin one-starred restaurant
The original creator of shellfish broth
Affordable prices
If you're impressed by Ippudo's achievements, you'll gradually come to realize that the land of the rising sun has a lot more to offer in the ramen department. Case in point, Konjiki Hototogisu has been the proud recipient of a Tokyo Michelin Star for two consecutive years since 2019. It was also listed on the Tokyo Michelin Bib Gourmand from 2015 to 2018.
The ramen group is renowned for pioneering the shellfish broth, which elevates the irreplaceable flavours of pork with the sweetness of fresh clam. Seafood lovers on a hunt for the famed soup base could also get the Sawara Oyster Ramen, which is exclusive to the 100AM outlet. The new item adds oyster and Spanish mackerel to the concoction, further enhancing the addictive umami flavour.
Address
CHIJMES: 30 Victoria St, #01-17, Singapore 187996
100AM: 100 Tras St, Singapore 079027
Contact Information
CHIJMES: +65 6256 3155
100AM: +65 6694 7002
Business hours
CHIJMES:
12 PM – 2.30 PM, 5.30 PM – 10 PM (Mon – Fri)
12 PM – 10 PM (Sat – Sun)
100AM:
11.30 AM – 3.30 PM, 5.30 PM – 9.30 PM daily
Highlights:
Biggest ramen chain in Singapore with 21 outposts
Different concepts at every outlet
Superb Tonkotsu Ramen at Tonkotsu King
Ramen Keisuke boasts a mind-boggling number of outposts on our crowded island nation. In total, there are 21 outlets, each characterized by one of 17 unique concepts. The mastermind behind it all is celebrity chef Keisuke Takeda. The Hiroshima-born founder worked for 12 years as a chef at a French restaurant, then five at a Japanese one before moving on to start his own. Taking advantage of his early footing in the scene in 2005, he experimented with the boundaries of ramen, which eventually culminated in a vast range of renditions.
Among the outlets, there is Ginza Kamo Soba Kyudaime Keisuke, dedicated to duck cuisine enthusiasts. There is also Keisuke Kani King for the champions of crabs. But, none commands as much respect as the Tonkotsu King, where the Tonkotsu Ramen rightfully put a crown on Takeda's head, paving the way to his sprawling ramen empire.
Highlights:
Chicken-based Paitan soup (Strongest Point)
Home Made Ingredients & No MSG
Handmade wheat noodles
Specially-marinated charsiew that is braised for hours
Marutama Ramen may not have been blessed with the many haloes its contemporaries tout, but it still beat the others to an impressive feat. They take pride in their home made ingredients and consisting of no MSG. The joint spearheaded a chicken broth that could undermine the longstanding superiority of Tonkotsu.
Their signature poultry-based Paitan soup packs a bunch of flavours and is considered first of its kind in Singapore, making them the pioneer of chicken paitan soup.
Besides, Marutama Ramen believes in the virtue of labour. As a result, they like to do things in-house. This includes importing the best wheat flours from Japan to be made into chewy, firm noodles by hand. They also marinate their charsiew in a special soy sauce, before braising them for hours to ensure maximum tang.
Highlights:
Thick broth and rich flavours
Soup is poured at your table, resulting in a volcano effect
Hot Stone dishes allow food to be served at high temperatures
The term 'volcano ramen' sparks endless imagination: is it perhaps a flaming ramen with a kick? Or a gimmick to send ingredients erupting and flying about chaotically? Well, at Tonkotsu Kazan Ramen, volcano ramen simply alludes to the effect of steam flowing out from the tip of a reversed funnel, which covers your bowl after soup is poured over its content at your table.
If you order any Hot Stone dishes, said bowl would be a hefty stone container preheated to 300°C. So, do be mindful of coming in contact with it. The portion is generous enough to be shared between two diners of moderate appetite. The soup is of a thick consistency that would cling to the noodles to infuse every bite with rich flavours.
Address
Northpoint City: 930 Yishun Ave 2, #B1-188/189, Singapore 769098
Bukit Panjang Plaza: 1 Jelebu Rd, #01-64/65, Singapore 677743
Square 2 @ Novena: 10 Sinaran Drive, #02-68/69, Singapore 307506
Liang Court: 107 North Bridge Rd, #B1-23 Funan, Singapore 179105
JEM: 50 Jurong Gateway Rd, #03-09 Singapore 608549
Century Square: 2 Tampines Central 5, #B1-10, Singapore 529509
Contact Information
Northpoint City: +65 6265 5112
Bukit Panjang Plaza: +65 6767 2675
Square 2 @ Novena: +65 6397 6636
JEM: +65 6694 1221
Century Square: +65 6782 7389
Business hours
11 AM – 10 PM daily
Highlights:
More than 50 years of history
Clear, light Shoyu soup base
Noodles made at a special rate to maximize moisture
Sanpoutei Ramen has a history that traces back to 1967, when a modest ramen joint was established in the city of Niigata, Japan. The Shoyu broth builds upon a vegetable, tonkotsu and whole chicken stew, and derives more flavours through six hours of boiling from two different Japan-imported dried sardines.
The result is a clear, light stock that deviates from the familiar creaminess of other tonkotsu broths. The noodles swimming within are manufactured by a specific machine, set to produce the carbs at a slower-than-usual rate to maximize moisture. Menma, or bamboo shoots, provide an interesting texture to the ensemble of mushy components.
Address
Holland Village: 253 Holland Ave, Singapore 278982
Shaw House: 350 Orchard Rd, #B1-04/05, Singapore 238868
Contact Information
Holland Village: +65 6463 7277
Shaw House: +65 6836 4644
Business hours
11:30 AM – 9:30 PM daily
Highlights:
Bar concept incorporated
Islandwide delivery available
Premium Alba White Truffle
The story began with Wu Maru, a ramen shop owned in 1953 by the father of Uma Uma Ramen founder Masahiko Teshima. Teshima carried out a reform when he took over the business. Located on the fringe of Millenia Walk just off Marina Square, Uma Uma Ramen is an izakaya ramenya – a bar and ramen shop in one. Governed by the izakaya concept, it has plenty of bar snacks and alcoholic beverages.
Uma Uma Ramen has a handful of premium ramen recipes, including the Alba White Truffle Ramen. It consists of Hakata noodles, flame-grilled chopped charsiew and onsen egg, with exotic Alba White Truffle chunks to put things over the top. Other than that, there Creamy Spinach Ramen observes a Western twist with baby spinach, parmesan and Uma Uma Special Cream Sauce.
Address
Forum The Shopping Mall, 583 Orchard Road #01-41, 238884
Contact Information
+65 6235 0855
Business hours
11.30 AM – 10 PM (Mon – Sat)
11.30 AM – 9.30 PM (Sun)
Highlights:
Limited daily servings of toroniku (pork cheek) ramen
Use of kurobuta, premium black pig
Special donburi bowls to keep food at optimum temperatures
Ramen Santouka's founder Hitoshi Hatanaka approaches his food with the fervent and commitment of a mad scientist on the brink of a discovery. Through trial and error, Hatanaka crafted a white tonkotsu broth that constitutes its signature Shio ramen. It tickles your senses mildly at first, before evolving into a sumptuous taste once the layers of flavour unfold. The temperatures are kept at an optimum in specially-designed donburi bowls that delay cooling with their thick sides.
The toroniku ramen, ahighly sought-after item, are served in limited quantities daily. The tantalizing pork cheeks are obtained from quality black pigs to present a distinguished edge that sets them apart. Each slice is composed of the perfect fat-to-lean meat ratio and braised patiently to achieve an unparalleled tenderness.
Address
The Central @ Clarke Quay: 6 Eu Tong Sen St #02-76 Singapore 059817
City Square Mall: B2F, 180 Kitchener Road, Singapore 208539
Contact Information
The Central @ Clarke Quay: +65 6224 0668
City Square Mall: +65 9673 1083
Business hours
The Central @ Clarke Quay:
12 PM – 3 PM, 5.30 PM – 9 PM (Mon – Fri)
11 AM – 9 PM (Sat)
11.30 AM – 9 PM (Sun)
City Square Mall:
10 AM – 10 PM daily
Highlights:
Broths possess strong notes of ginger for extra heat
Recipes tailored for the Singaporean palate
Founded by the first Michelin-starred ramen chef
Before Konjiki Hototogisu, there was Chabuton. It was founded by the first Michelin-starred ramen chef Yasuji Morizumi, who happens to be fellow alumni of the TV TOKYO Ramen King contest that propelled Ippudo into stardom. Chabuton first made waves in Japan and Thailand, and the ripples eventually reached the shores of Singapore.
Upon the restaurant's launch, Chef Morizumi put together a recipe tailored for the Singaporean palate, which yields the Kurobuta Ramen. It comes with a sizeable slab of black pork that shows no resistance to sinking forks. The broth possesses strong notes of ginger, tainting the velvety liquid with an uncharacteristic piquancy.
| | |
| --- | --- |
| Address | Millenia Walk, 9 Raffles Blvd #02-15 Singapore 039596 |
| Contact Information | +65 6837 0335 |
| Business hours | 11.30 AM – 10 PM daily |
Highlights
The restaurant constantly improves their recipe
Simple ingredients, outstanding taste
Juicy, crispy gyoza
Bari-Uma is unabashedly cheeky and confident about their food – the name literally translates to "super tasty". The Bari-Uma ramen – the golden goose, of course – is constantly revised to live up to its title. The method to this perpetual refinement is rather fascinating: Bari-Uma acknowledges and gladly accepts the competition from their rivals to keep them on their toes.
It's precisely this humility and self-awareness that enabled Bari-Uma to whip up bowls of outstanding ramen with ordinary ingredients. Their efforts pay off handsomely, too. Among other accolades, the brand bagged Singapore's Top 25 Prestige Award, as well as the Food Excellence Award in 2014.
Address
Tanglin Shopping Centre: No. 19, Tanglin Road #B1-01/02 Singapore 247909
United Square Shopping Mall: 101 Thomson Rd #B1-08 Singapore 307591
Contact Information
Tanglin Shopping Centre: +65 6887 4484
United Square Shopping Mall: +65 6354 3711
Business hours
Tanglin Shopping Centre:
11.30 AM – 9 PM (Mon – Thu)
11.30 AM – 9.30 PM (Fri)
11 AM – 9.30 PM (Sat)
11 AM – 9 PM (Sun)
United Square Shopping Mall:
11 AM – 10 PM daily
Highlights
Limited edition Truffle Ramen
Voted Best Ramen in Fukuoka in 2014
No. 1 Ramen Restaurant in London in 2015
Kanada-Ya takes wherever they go by storm. In 2014, it was voted Best Ramen in Fukuoka, which is literally the birthplace of tonkotsu ramen. It was subsequently named the No. 1 Ramen Restaurant in London in a 2015 poll by The Telegraph London. When the chain set foot in Singapore four years later, it was their first attempt to penetrate the Southeast Asian market. Well, Kanada-Ya, colour us honoured.
The original signature is the Kotteri Tonkotsu Ramen, which is a Kyushu ramen with a milky, luscious tonkotsu broth. For a limited time, there will also be a Truffle Ramen, which is a favourite of Londoners. The tonkotsu soup is suffused with opulent black truffle oil, topped with truffle marinated belly chashu and truffle jelly.
| | |
| --- | --- |
| Address | PLQ Mall, 10 Paya Lebar Road, Paya Lebar Quarter #03-30 Singapore 409057 |
| Contact Information | +65 6966 0505 |
| Business hours | 11AM – 10 PM daily |
Highlights:
Jet Black garlic ramen coloured with squid ink
Secret sweet-and-spicy sauce
Interesting selection of ramen
The menus at Ramen Suzuki Bar are dominated by three contrasting shades we have come to associate with Japanese establishments: black, white and red. Respectively, they are the Jet Black Ramen, the Pure White Tonkotsu Ramen and the Cardinal Red.
The first dish houses the potent pungency of garlic in a broth tinted by squid ink. The second is the restaurant's forte, which highlights carefully simmered broth and thin, bouncy wheat noodles. The third is a fiery miso ramen. In addition, there is the Emerald Green with basil and cheese, as well as the prawn-based Sakura Pink. A common trait shared by these selections is the imbuing of a secret sauce, which adds a well-balanced sweet and spicy blend to the flavourful ramen.
Address
61, #01-01 Circular Rd, Singapore 049415
Contact Information
N.A.
Business hours
11 AM – 3 PM, 6 PM – 10 PM (Mon – Thu)
11 AM – 3 PM, 6 PM – 10.30 PM (Fri)
11.30 AM – 3 PM, 6 PM – 10 PM (Sat)
Closed on Sunday
Highlights:
Two-time winner of the Ultimate Ramen Champion
Customizable ramen bowls
Special sauce to complement housemade noodles
The word 'Ikkousha' in the restaurant's name is compounded from three characters: ichi (one), ko (happy) and sha (space). The ramen joint strives to bring happiness to their customers through bowls of hearty ramen. The chefs oversee every part of the cooking process to fulfil this vision. They check on the soup several times a day to monitor the taste. Apart from that, the noodles are made in-house to complement the sauce, which is a combination of three Fukuoka shoyu varieties, five types of fish mix, and more than 20 kinds of spices.
The restaurant allows you to fully customize your bowl of ramen based on personal preferences. While all dishes by this two-time Ultimate Ramen Champion winner are equally appetizing, adventurous gourmets can spice up their dining experience with the ultra-spicy "God Fire" ramen.
Address
Tanjong Pagar Plaza: Apt/Blk 7 #01-104B Singapore 081007
CHIJMES: 30 Victoria St #F1-07 Singapore 187996
Contact Information
Tanjong Pagar Plaza: +65 6538 1880
CHIJMES: +65 6338 8460
Business hours
Tanjong Pagar Plaza:
11.30 AM – 9.45 PM (Mon – Sat)
11.30 AM – 8.45 PM (Sun)
CHIJMES:
11.30 AM – 10 PM (Mon – Sat)
11.30 AM – 9 PM (Sun)
Highlights:
Cha shu roasted on lava stones
Unusual chicken-based yuzu broth
Mouthwatering buns with soft-shell crab, spicy chicken and kakuni
AFURI ramen is known foremost for its unusual broth, which is a chicken stock instilled with the zesty and refreshing flavours of yuzu. Ease into the novel pairing with the signature Yuzu Shio Ramen. Once you're accustomed – and possibly addicted – to the citrusy notes of the soup, graduate to the bolder Yuzu Tsukemen. It is a dipping ramen where thick noodles are dunked in a cold, dashi-based tare.
Another notable quirk of AFURI ramen is that they roast their gorgeously-charred cha shu on natural lava stones. Other proteins, such as soft-shell crab and kakuni (braised pork) can be found wedged between pillowy buns imprinted with the chain's logo. It represents Kanagawa's Mount Afuri, the wells of which their outlets in Japan supposedly obtain water from.
| | |
| --- | --- |
| Address | Funan Mall, 107 North Bridge Rd #B1-29 Singapore 179105 |
| Contact Information | +65 6970 1386 |
| Business hours | 11.30 AM – 10 PM daily |
Highlights:
Michelin-starred ramen restaurant from Tokyo
Awarded Michelin Bib Gourmand from 2015 to 2018
Broths made of Japanese blue crabs
By the same brains behind the acclaimed Konjiki Hototogisu, Ha-Oh Hototogisu Ramen has come a long way from its humble eight-seater tucked away in the alleys of Shibuya. With an outpost in the heart of Singapore's retail paradise, it is the third venture of chef Atsushi Yamamoto. A resolute and meticulous man, the chef's skills are commended by a Michelin star in 2019 and four consecutive Michelin Bib Gourmand wins from 2015 to 2018.
Shellfish takes the spotlight at Ha-Oh Hototogisu Ramen. The briny flavours of Japanese blue crabs are distilled through hours of simmering, while the tanginess of lemon and sour cream permeates the soup. Tomato paste further contributes to the flavour profile and tinge the delectable fare with a fruity saccharin.
| | |
| --- | --- |
| Address | Paragon, 290 Orchard Road #B1-47 Singapore 238859 |
| Contact Information | +65 6262 1304 |
| Business hours | 11.30 AM – 10 PM daily |
Highlights:
First Halal-certified ramen and donburi restaurant
Hokkaido ramen with strong umami flavours
Extensive range of ramen and donburi
Hailing from Hokkaido, Ichikokudo specializes in Hokkaido ramen. It differs from the Hakata ramen that we've grown accustomed to with creamy, shoyu-based broths instead of tonkotsu. Apart from ramen, the restaurant also has an extensive range of donburi and sides.
Ichikokudo is the first ramen and donburi restaurant with a Halal certification. Omitting the use of pork and lard, the broth is prepared primarily with fresh chicken and vegetable. On top of that, bonito, mackerel, kelp and Hokkaido-imported butter are used to inject the soup with a dose of Hokkaido flavours. The noodles are made of Hokkaido wheat to achieve a distinct elasticity.
Highlights:
Highly customizable
Fresh noodles made from scratch
Convenient location
Founded by the Tokyo Ramen of the Year 2012 Champion, Chef Satoshi Ikuta, the Ramen Nagi chain has since expanded throughout Japan, Taiwan, Hong Kong, Indonesia and the Philippines with 22 outlets in its native Japan and 28 overseas franchised branches.
Ramen Nagi is known to make their noodles fresh from scratch daily using only premium ingredients. This separates the brand from other ramen stalls that you can find elsewhere. In addition, you can customize your ramen on their "Omotenashi sheet" such as the richness of soup, spiciness level, firmness of noodles, heaviness of sauce, amount of garlic, and choice of pork shoulder char shu or belly.
The award-winning ramen restaurant's cult following means that when a Ramen Nagi comes to town, long lines form and ramen starts disappearing fast! This is true for both of their outlets! Conveniently located, you can find Ramen Nagi at Ion Orchard as well as Suntec City!
Address
Suntec City Tower 2, North Wing, #01-512/513, 038989
2 Orchard Turn, #B4-54, Singapore 238801
Contact Information
9144 7482 / 8163 2185
Business hours
11.30 AM – 9 PM daily
Highlights:
Affordable
Set meal options available
Multiple outlets
Takagi Ramen, founded in 2015, is a growing FnB brand, currently with 7 outlets. Takagi-san's vision for Takagi Ramen is to bring Singaporeans authentic, quality ramen at affordable prices. Japanese Ramen is originally a street food enjoyed in a relaxed, casual setting at owner-operated ramen bars around Japan. In Singapore, ramen is served in restaurants where the prices are quite expensive.
Takagi-san, originally from Tsuruga, Japan, wanted to bring ramen back to its roots and even dropped out of law school to pursue this passion. You can rest assured that every bowl of ramen served at Takagi Ramen is made with affection and precision.
You can choose among Butashoga Ramen, Mazeman, Chashu-men, Black Tonkotsu, Karaka Ramen, Miso Ramen, and their signature Takagi Ramen. Whichever ramen you choose, each bowl contains fresh handcrafted ramen noodles, tonkotsu soup that is boiled for more than 12 hours, as well as meat that is braised and marinated for more than half a day!
For affordable ramen with quality, keep Takagi Ramen in mind!
Highlights:
Central location
Generous portion
Wide array of toppings
Nantsuttei is a ramen chain that has branches overseas and in Tokyo as well as its main location in Hadano, Kanagawa. Located conveniently at Orchard Central, Nantsuttei's basic, famed ramen is their Nantsuttei Signature Ramen.
The simple combination of our rich, creamy pork bone soup, aromatic roasted garlic oil, and homemade char siu is the standard of this chain's unwavering popularity. The delicious broth is made from simmering pork bones, chicken bones, pork bone marrow, and plenty of garlic, for three hours every day.
In addition, unlike some stores that scrimp on their toppings, Nantsuttei provides a generous amount of bean sprouts and a handful of spring onions. They also offer a wide array of other toppings on their menu that is sure to give you fresh delights again and again.
| | |
| --- | --- |
| Address | 181 Orchard Road, Central, 07-12/13 Orchard, 238896 |
| Contact Information | 6337 7166 |
| Business hours | 11 AM – 10 PM daily |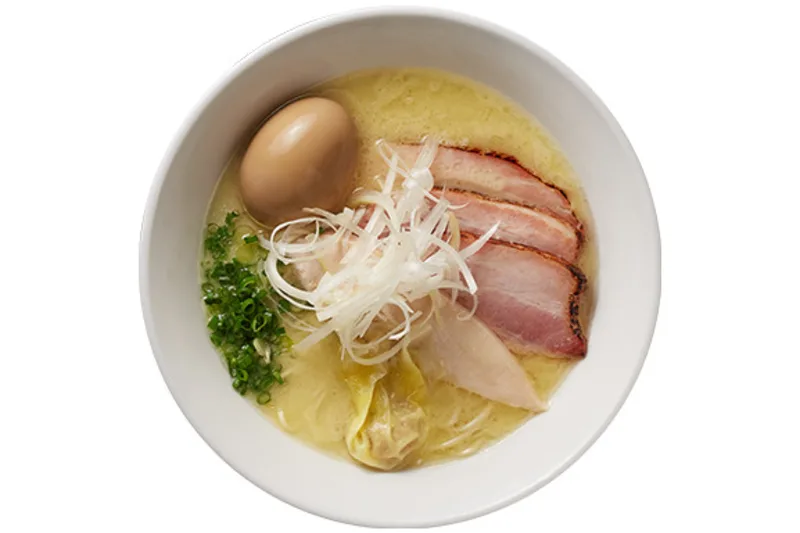 Highlights:
Affordable prices
Homegrown brand
Healthy, light broth
Run by brothers Cai Weili and Weisheng, Brothers Ramen is a Japanese ramen shop that is located at International Plaza. The homegrown brand offers menu items such as Brothers Ramen ($12.90), Chicken Ramen ($12.90), Spicy Ramen ($13.90), Chashu Ramen ($14.90) and the Supermen ($16.90) which would come with more pieces of pork chashu.
Unlike most broths offered by other chains, Brother Ramen's soup is cooked with a combination of pork, chicken, fish and vegetables, rather than just pork. This results in a soup that has a lighter and cleaner mouthfeel. Therefore, those who are no a fan of oily and creamy soups would very much enjoy this option.
At affordable prices, this is a great place to head to to satisfy your ramen cravings! Do note, however, that the stall is open for lunch and dinner, with a 3.5 hour break in between lunch and dinner services!
Address
10, #01-20 Anson Rd, International Plaza, 079903
Contact Information
9437 7267
Business hours
Monday to Friday: 11.30 AM – 2.30 PM, 6 PM – 8 PM
Saturday: 11.30 AM – 2.30 PM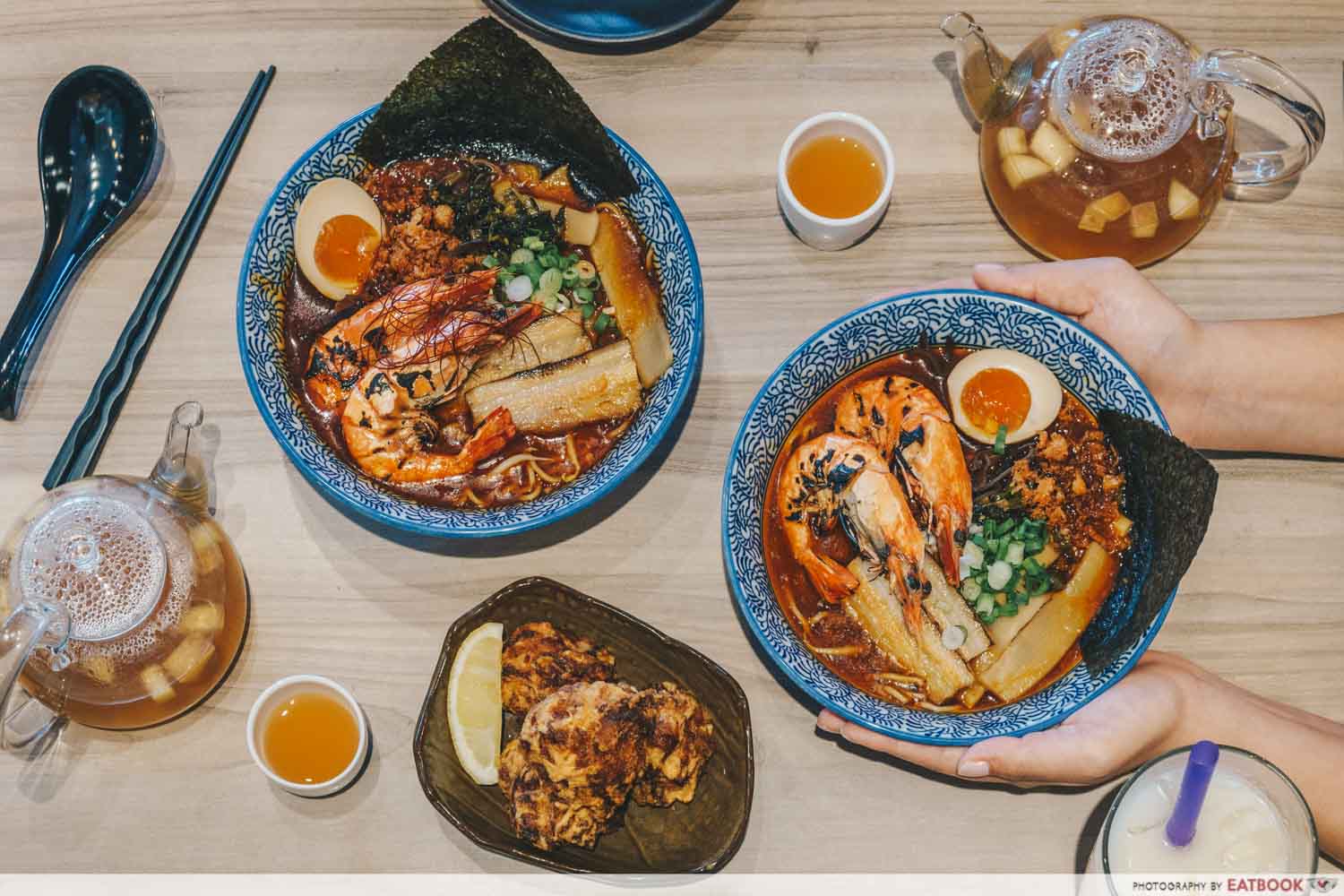 Highlights:
High-quality ingredients
Imported produce from Japan
Extensive menu
Menya Kanae is a ramen shop in Singapore that carefully chooses high-quality ingredients to offer original and tasty Hokkaido ramen. Menya Kanae's signature ramen is its Birikara Spicy Miso ramen, which is a unique mix of Hokkaido miso ramen, 7 kinds of spices, concentrated pork bone soup, and Sichuan peppers.
The team at Menya Kanae combines the rich and creamy notes of Japanese-style pork bone ramen broth fortified with the aromatic blend of grinded big prawns, lobster bisque to create Kanae's signature aromatic and luscious Ebi broth for our Ebi ramen.
The broth is then brought to life through a rigorous process and months of experimentation with hundreds of different ingredients. This produces a piquant broth that is boiled for hours and made with premium and quality ingredients that bring out the natural sweetness of big prawns. In addition, the brand uses miso from Hokkaido, the birthplace of miso ramen, from Japan!
At Menta Kanae, you can also enjoy ramen with an extensive side menu which includes items such as homemade gyoza and juicy fried chicken. So, head down to Menya Kanae to enjoy an unforgettable Hokkaido Ramen dining experience!
Address
275 Thomson Rd, #01-08, Singapore 307645
Contact Information
6261 6205
Business hours
Monday to Friday: 11 AM – 3.30 PM, 5 PM – 10.30 PM
Saturday and Sunday: 11 AM – 10.30 PM
Highlights:
Reasonably priced
Unique ramen flavours
Premium ingredients
Takeshi Noodle Bar is a new concept nestled within Hotel Soloha; a new boutique hotel that had opened just beside Hotel 1929 along Teck Lim Road, which is a street just slightly downwards from Keong Saik Road. This noodle bar focuses on serving up a modern take on Japanese ramen with the fusion of Western and other Asian elements.
At first glance of Takeshi Noodle Bar's menu, you would realize that the brand actually serves up quite a limited food menu. They have only three styles of Ramen, with each carrying a unique fusion element. The brand also offers a small menu of sides for you to choose from.
However, each menu item offered is done with superior quality and standard. Take, for example, their Signature House Ramen; also known as the Sliced Wagyu Beef. In this bowl, you will find premium items like Truffle Iberico Tonkotsu, Mizayaki A-5 Wagyu Beef, Nori Seaweed, Kikurage, Hon Shimeiji, Ajitsuke Tamago, Menma, Green Onion, as well as a Truffle Tonkotsu.
Takeshi Noodle Bar also serves up an extensive list of alcoholic options for beverages, as well as Yuzu Soda and Matcha-related offerings with soft drinks for those who do not enjoy alcoholic beverages!
All in all, Takeshi Noodle Bar is a great place to head to for affordable, unique, and high quality ramen!
| | |
| --- | --- |
| Address | 12 Teck Lim Rd, Singapore 088387 |
| Contact Information | 9232 8457 |
| Business hours | Wednesday to Monday: 12 PM – 3 PM, 5 PM – 10.30 PM |
​
Our love for ramen is often all-encompassing. It easily extends to the family of cuisines where ramen was born, namely Japanese food. Check out some of the best Japanese restaurants in Singapore here.
Related posts
Subscribe for newsletter
* You will receive the latest news and updates on Singapore's best trends!