15 Best Private Driving Instructors in Singapore [2022]
Emily Hopkins, 3 years ago
12 min

read
27496
There is nothing quite like your first driving experience. But before you get to that, you have to first learn how to drive. So who can give you lessons? Well, that's where private driving instructors come in. Fortunately, there are several driving instructors available in Singapore that can make your learning experience a breeze. In this review, you will find the best private driving instructors in Singapore. They are reliable and have high success rates among their students.
Check out our best picks of the Best private driving instructors in Singapore 2021.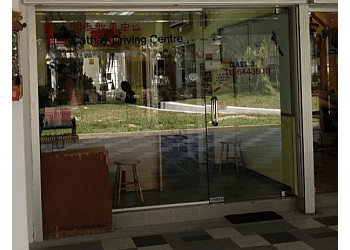 Located in Bedok town centre, Cathay Driving Centre is very popular in the area. It is known for having experienced instructors and affordable prices. Some of the services Cathay offers include foreign license conversion and class 3/3a driving lessons. Overall, hands down deserving of topping our list of the best private driving instructors in Singapore.
Founded in 1976, Cathay is undoubtedly one of the most trusted driving instructors in Singapore. For more information, call them at +65 6443 6011.
Highlights:
Knowledgeable and patient instructors
Affordable prices
If you are looking for a structured instructor that will let you move at your own pace, the Liberty Auto Driving School is right up your alley. Their services include defensive training, class 3/3a driving, and class 3 theory course.
Like Cathay, it is also located in the Bedok area and has a long-standing reputation for having good instructors. For more information about them and their services, call them at +65 6443 9696 or visit their Facebook Page.
Highlights:
Experienced and attentive instructors
Structured training
If you want to learn how to drive a bus, motorcycle, or motorcar, you should look into joining the Bukit Batok Driving Centre. As one of the most popular driving centres in Singapore, it boasts safe driving tutorials and driving circuit lessons.
Moreover, located just 10 minutes from Bukit Gombak MRT station, this driving instructor is known for its quality training that results in a good number of its students passing their driving test at their very first attempt. You will also love that they offer 1-year personal accident insurance.
Additionally, Bukit Batok is operational every day of the week apart from public holidays. To know more about their services call them on the telephone number (65) 6561 1233 or the hotline 1800 666 8888.
Highlights:
Good for those who want to learn how to drive a variety of vehicle types
High-quality training
The training is very systematic
Apart from training civilians, ComfortDelGro also provides training to police officers and corporations. They offer driving training for those that drive motorcycles and motorcars. Some of their services are a traffic police safe driving course, traffic police retraining, defensive driving, and regular driving training.
Above all, during this pandemic season, the fact that they have managed to incorporate Skype-based lessons for 2B/2A students is yet another reason that many people find ComfortDelGro attractive. Additionally, if you have a foreign license, you will be happy to know that you can use ComfortDelGro's services to convert it into a local one.
You can contact ComfortDelGro through the telephone number +65 6841 8900.
Highlights:
Over 300 highly qualified instructors
Unlimited circuit usage
A focus on safety
Just like what their name suggests, Passfast Driving Instructors are focused on helping you pass as quickly as possible! Thus, if you're in a time crunch, or simply can't wait to get on the road, learn how to drive safely quickly at PassFast.
They are extremely straightforward and fuss-free in their approach to teaching you how to drive. They will try their hardest to cut down on any unnecessary delays in lessons or practical test bookings. Thus, if you're looking to expedite the learning process, PassFast Driving Instructors is definitely the first place you should check out!
You can contact PassFast Driving Instructors through the telephone number +65 8333 8392.
Highlights:
Every instructor has over 20 years of teaching experience
Driving instructors offer to fetch & send services from over 20 MRT stations all over Singapore.
Cut down on any unnecessary delays in lessons or practical test booking.
Yes, you heard right… Le Driving Instructors is the only free service in Singapore that will help to pair prospective students with qualified driving instructors that are the right fit for them.
Think of them as a recruitment agency, but for driving instructors! Bid farewell to the days where you'll have to sieve through endless pages of private driving instructors' contact number. Simply register your details with them, and they'll do all the work for you! How convenient is that?
They have helped over 9000 students find their ideal private driving instructors. Their success rate when it comes to passing on the first try is also unparalleled.
You might think it's too good to be true, but trust us when we say that Le Driving Instructors is just THAT good. Definitely give them a try!
You can contact Le Driving Instructors through the telephone number +65 8782 6525.
Highlights:
Free-of-charge service
Driving instructors have a minimum of 2 decades of teaching experience
The remarkably high success rate for passing on the first try
As one of the oldest private driving instructors, the Singapore Safety Driving Centre (SSDC) has quite a huge following. Known for having an impressive multi-storey driving circuit, the SSDC offers driving training for those who seek to operate motorcycles, motorcars, and heavy vehicles.
Thus, what are you waiting for? If you are interested in attending their classes, you can check out their schedule on their website. Alternatively, you could call them on the number +65 6482 6060.
Highlights:
Offers a unique course for heavy vehicle driving
3-storey circuit driving
With over two decades of teaching experience, SG driving instructors offer one of the best driving lessons in Singapore. It offers class 3a and three driving courses. Those who need refresher courses can also enrol at SG driving school. Having a team of skilled instructors, your success rates as a first-timer are high. They also have affordable rates starting from $35 per hour and an enrolment fee of $85 making the establishment your go-to driving school.
Strategically located at Bukit Batok Driving Centre, Singapore safety centre, and Comfortdelgro driving centre, the driving school is accessible to many Singaporeans. SG Driving Instructors also has good testimonials from its students. It's no doubt that your driving lessons will be equally successful.
Highlights:
The instructors are patient in explaining the do's and don't
Their rates are competitive in the market
Convenient in term of arranging your pick-up point
Contact: +65 8118 0135
9. Driving Instructor – Reliable, quick and quality driving instructors
Driving instructor offers a user-friendly and interactive platform where you will be matched with an ideal instructor within two days. With efficient instructors who have more than three-decade experience in teaching, you enjoy your driving in the hands of experts. At Driving Instructor, you'll get a vehicle familiarity service, which would cost you extra at public driving schools. With an expert by your side, you get the attention and proper car familiarity.
The instructors are well versed in manual and automatic transmissions. Refresher courses are also available. Once you sign up, the driving instructor gives you a complete driving test guide. With rates starting from $57 and good customer recommendations, the private driving instructor will undoubtedly offer help in your driving journey.
Highlights:
It offers affordable rates.
Their driving instructors are patient with learners.
The instructors are well vetted.
Address: 815 Bukit Batok West Ave 5, Singapore 659085 (BBDC)
10. Pass Driving – Best profesionally proven driving system
Pass driving is among the best private driving instructors in Singapore. Mr Peck Chin is one of the efficient driving instructors at Pass Driving. With more than three decades' experience in driving instruction, the students passing rate is 60.3%. The rate is excellent for first-time students. The lessons at Pass Driving are systematic, very easy to understand and you will get practical driving skills. Once you pass your driving test, Pass Driving helps you get your driving license in a fast and cheaper way. Like other driving instructors, it offers driving lessons for manual and automatic transmission vehicles, motorcycles, and heavy-duty vehicles.
Highlights:
It offers affordable rates
Their driving instructors are well vetted
It has a team of patient and professional instructors
Contact: +65 9730 4050
Location various MRT Station: Ubi Ave 4, Yishun, Yio Chu Kang Admiralty & Sembawang
Private driving Instructor Singapore provides you with instructors with over three decades of teaching experience. It ensures gender balance whereby female students get female instructors. The instructors are thoroughly vetted to ensure that they offer the best services. At Private driving instructor Singapore, you meet a team of dedicated and patient instructors.
The private driving instructor offers class 3, 3A, and lesson refresher courses for its students. The driving instructors also help you get your driving license shortly and cheaply. To get quality customer care, customized driving needs, and to have access to a professional instructor, you can contact their customer service to book your slot today. Their rates start from $35 per hour.
Highlights:
It offers free driving instructors match-up.
Their rates are affordable.
Reliable driving instructors.
Location: 22 Sin Ming Lane #06-76 Singapore 573969
Contact: +65 8851 8360
12. Ocean One Driving Centre – Best for defensive training and upgrading courses
Ocean One Driving Centre provides comprehensive driving instruction to their trainees. It offers basic/ final group test and tuition, class 3/3A Driving course, license conversion, and license renewal. With a team of professional and highly skilled coaches, they offer support to ensure your learning process is easy. The theory and practical lessons are well presented in an easy to follow manner. Their learning environment is cosy and comfortable for the learners.
Ocean One Driving Centre is ideal for those wishing to take refresher courses, beginners, and adults. It has manual cars, automatic, motorcycles, and heavy-duty vehicles. Ocean One Driving Centre has amazing positive reviews from its customers making the establishment very reliable.
Highlights:
It has a team of skilled instructors.
Their rates are affordable.
Their instructors are patient and understanding.
Address: 113 Pasir Ris Street 11, Singapore 510113
Contact: +65 6582 0394
13. Chyuan Lih Services – Best for theory lessons and refresher courses
Chyuan Lih Services provides private driving lessons in Singapore and is an ACRA-registered business. Having many years of driving instruction experience, your driving lessons are thus handled by experts in the field.
With a team of skilled and patient instructors, you have higher chances of succeeding in your driving test. When you pass your test, Chyuan Lih Services ensures that you get your driving license in the fastest and more cost-effective way. With a variety of cars ranging from the automatic, manual transmission, motorcycles, and heavy-duty vehicles, Chyuam Lih services ensure that you have mastery of driving in the shortest time possible.
Highlights:
It offers affordable rates.
Their instructors are skilled and patient.
It's a registered and accredited driving school.
It offers a variety of vehicles for practice.
Address: HDB Jurong West #07-477, 535 Jurong West Street 52, (S)640535
Contact: +65 6443 9696
Youth Driving School is an experienced driving instructor in Singapore. With more than four decades' experience, you are assured of quality lessons. The instructors are qualified and always happy to offer support for any driving questions you may have.
At Youth driving school, instructors have a mission of ensuring that students gain a deep understanding of both practical and theoretical knowledge. The classes are easy to follow and well-structured to ensure students follow the lessons. With good recommendations from customers, youth driving school is the go-to private driving instructor in Singapore.
Highlights:
It has a team of experienced instructors.
Their prices are competitive.
Lessons are well structured for students to follow.
Contact: +65 6251 1111
Charles Safety Driving Lessons is another established private driving instructor in Singapore. It specializes in a variety of driving lessons, such as the class 3A, with a team of highly professional staff. It purposes to ensure that every lesson is aimed at getting you closer to getting your driving license.
Charles's Safety Driving Lessons offer their classes in a friendly environment. Their professional instructors ensure you gain car familiarity in the easiest way possible. With unbeatable rates in the industry, which are lower than other driving instructors, you have every reason to check out their services.
Highlights:
It offers a variety of driving lessons.
They have a team of trained instructors.
It offers competitive rates.
The classes are simplified to ensure learners understand.
Address: 30 Eunos Cres, Singapore 409423
Contact: +65 96732923
Ultimately, these driving instructors have proven to be the best that Singapore has to offer. They provide a variety of services ranging from defensive driving to foreign license conversion while still ensuring high standards of safety. Moreover, with their high driving test success rates and qualified trainers, there is little to complain about!
Check out our other related articles:
7 Best Affordable High-quality Car Cameras to Buy in Singapore
Emily Hopkins
I'm an accomplished and detail-driven content writer with copious experience in producing compelling, engaging and flawless content for a variety of blogs and websites for several years.
Related posts
Subscribe for newsletter
* You will receive the latest news and updates on Singapore's best trends!