Best 7 Private Driving Instructors in Singapore
Hopkins, 6 months ago
6 min

read
1052
There is nothing quite like your first driving experience. But before you get to that, you have to first learn how to drive. So who can give you lessons? Well, that's where private driving instructors come in. Fortunately, there are several driving instructors available in Singapore that can make your learning experience a breeze. In this review, you will find the best private driving instructors in Singapore. They are reliable and have high success rates among their students. Our top picks are: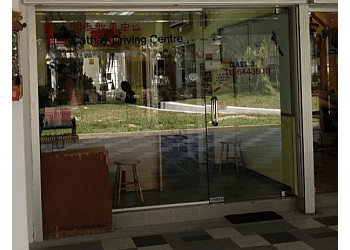 Located in Bedok town centre, Cathay Driving Centre is very popular in the area. It is known for having experienced instructors and affordable prices. Some of the services Cathay offers include foreign license conversion and class 3/3a driving lessons. Overall, hands down deserving of topping our list of the best private driving instructors in Singapore.
Founded in 1976, Cathay is undoubtedly one of the most trusted driving instructors in Singapore. For more information, call them at +65 6443 6011.
High Points
Knowledgeable and patient instructors
Affordable prices
If you are looking for a structured instructor that will let you move at your own pace, the Liberty Auto Driving School is right up your alley. Their services include defensive training, class 3/3a driving, and class 3 theory course.
Like Cathay, it is also located in the Bedok area and has a long-standing reputation of having good instructors. For more information about them and their services, call them at +65 6443 9696 or visit their Facebook Page.
High Points
Experienced and attentive instructors
Structured training
If you want to learn how to drive a bus, motorcycle, or motorcar, you should look into joining the Bukit Batok Driving Centre. As one of the most popular driving centres in Singapore, it boasts of safe driving tutorials and driving circuit lessons.
Moreover, located just 10 minutes from Bukit Gombak MRT station, this driving instructor is known for its quality training that results in a good number of its students passing their driving test at their very first attempt. You will also love that they offer 1-year personal accident insurance.
Additionally, Bukit Batok is operational every day of the week apart from public holidays. To know more about their services call them on the telephone number (65) 6561 1233 or the hotline 1800 666 8888.
High Points
Good for those who want to learn how to drive a variety of vehicle types
High-quality training
The training is very systematic
Apart from training civilians, ComfortDelGro also provides training to police officers and corporations. They offer driving training for those that drive motorcycles and motorcars. Some of their services are a traffic police safe driving course, traffic police retraining, defensive driving, and regular driving training.
Above all, during this pandemic season, the fact that they have managed to incorporate Skype-based lessons for 2B/2A students is yet another reason that many people find ComfortDelGro attractive. Additionally, if you have a foreign license, you will be happy to know that you can use ComfortDelGro's services to convert it into a local one.
You can contact ComfortDelGro through the telephone number +65 6841 8900.
High Points
Over 300 highly qualified instructors
Unlimited circuit usage
A focus on safety
Just like what their name suggests, Passfast Driving Instructors are focused on helping you pass as quickly as possible! Thus, if you're in a time crunch, or simply can't wait to get on the road, learn how to drive safely quickly at PassFast.
They are extremely straightforward and fuss free in their approach to teaching you how to drive. They will try their hardest to cut down on any unnecessary delays in lessons or practical test bookings. Thus, if you're looking to expedite the learning process, PassFast Driving Instructors is definitely the first place you should check out!
You can contact PassFast Driving Instructors through the telephone number +65 8333 8392.
High Points
Every instructor has over 20 years of teaching experience
Driving instructors offer fetch & send services from over 20 MRT stations all over Singapore.
Cut down on any unnecessary delays in lessons or practical test booking.
Yes, you heard right… Le Driving Instructors is the only free service in Singapore that will help to pair prospective students with qualified driving instructors that are the right fit for them.
Think of them as a recruitment agency, but for driving instructors! Bid farewell to the days where you'll have to sieve through endless pages of private driving instructors' contact number. Simply register your details with them, and they'll do all the work for you! How convenient is that?
They have helped over 9000 students find their ideal private driving instructors. Their success rate when it comes to passing on the first try is also unparalleled.
You might think it's too good to be true, but trust us when we say that Le Driving Instructors is just THAT good. Definitely give them a try!
You can contact Le Driving Instructors through the telephone number +65 8782 6525.
High Points
Free-of-charge service
Driving instructors have a minimum of 2 decades of teaching experience
Remarkably high success rate for passing on the first try
As one of the oldest private driving instructors, the Singapore Safety Driving Centre (SSDC) has quite a huge following. Known for having an impressive multi-storey driving circuit, the SSDC offers driving training for those who seek to operate motorcycles, motorcars, and heavy vehicles.
Thus, what are you waiting for? If you are interested in attending their classes, you can check out their schedule on their website. Alternatively, you could call them on the number +65 6482 6060.
High Points
Offers a unique course for heavy vehicle driving
3-storey circuit driving
Ultimately, these driving instructors have proven to be the best that Singapore has to offer. They provide a variety of services ranging from defensive driving to foreign license conversion while still ensuring high standards of safety. Moreover, with their high driving test success rates and qualified trainers, there is little to complain about!
Check out our other related articles:
Hopkins
I'm an accomplished and detail-driven content writer with copious experience in producing compelling, engaging and flawless content for a variety of blogs and websites for several years.
Related posts
Subscribe for newsletter
* You will receive the latest news and updates on Singapore's best trends!
Trending Posts