10 Best Pressure Cookers to Buy in Singapore [2022]
Ron Rollorata, 3 years ago
5 min

read
8336
Always pressured to cook hearty meals for the family but you have little time? Want to surprise your husband with a sumptuous home-cooked dinner but you only have basic cooking skills? Living alone but want to have decent meals anytime you want? If you answered yes to one of our questions above or just want a reliable piece in your kitchen, then we think it's best for you to buy a pressure cooker! We believe that pressure cookers are magic pots that get the job done quickly and efficiently. Just throw in your ingredients and you can have soup, meat stew, rice, chicken roasts, and even cakes! Yes, you can have your cake and eat it too just by using a pressure cooker. Thus, without further ado, let's kick off our list of the best pressure cookers to buy in Singapore.
This all-in-one pressure cooker is branded as the all-in-one solution for your cooking needs. Buy this one if you are looking for an affordable yet multi-function and easy to use a pressure cooker.
Price: $299
Capacity: 6 liters
Features:
Durable and non-stick
Easy to program timer
Direct menu buttons
Slow cook with high and low temperature for up to 12 hours
Nine safety protection systems
Easy to clean
Where to buy: Shopee
Cooking enthusiasts will know that Instant Pot is the brand that started it all. A decade has passed since this brand was launched and it still sells like it was just introduced to the market, making it the most popular brand of pressure cooker.
Price: $325
Capacity: 6 liters
Features:
Easy to use
Energy saver
Cooks up to 70% faster than other brands
Stainless steel
Fourteen built-in programs and 3 temperature settings
Ten safety mechanisms
Where to buy: Shopee
With an eight-liter capacity, Noxxa multifunction pressure cooker is perfect for occasions where you need to cook for a large number of people. It also comes with ten cooking functions enabling you to try out several dishes by using just one cooker.
Price: $309
Capacity: 8 liters
Features:
One Touch to Cook system
Time and energy saver
Delay timer
10 cooking functions with 3 temperature and time settings
Where to buy: Shopee
Don't belittle this cute-sized pressure cooker because it is packed with all the functions you need. This small but terrible multi-cooker is perfect for people living alone and for couples living together. Definitely one of the most compact and best pressure cookers available to buy in Singapore!
Price: $83
Capacity: 1.6 liters
Features:
Automatically keeps food warm for up to 24 hours
Eight safety measures
One-touch button
Eight cooking programs
Energy and time saver
Easy to clean
Automatically adjusts pressure
Where to buy: Shopee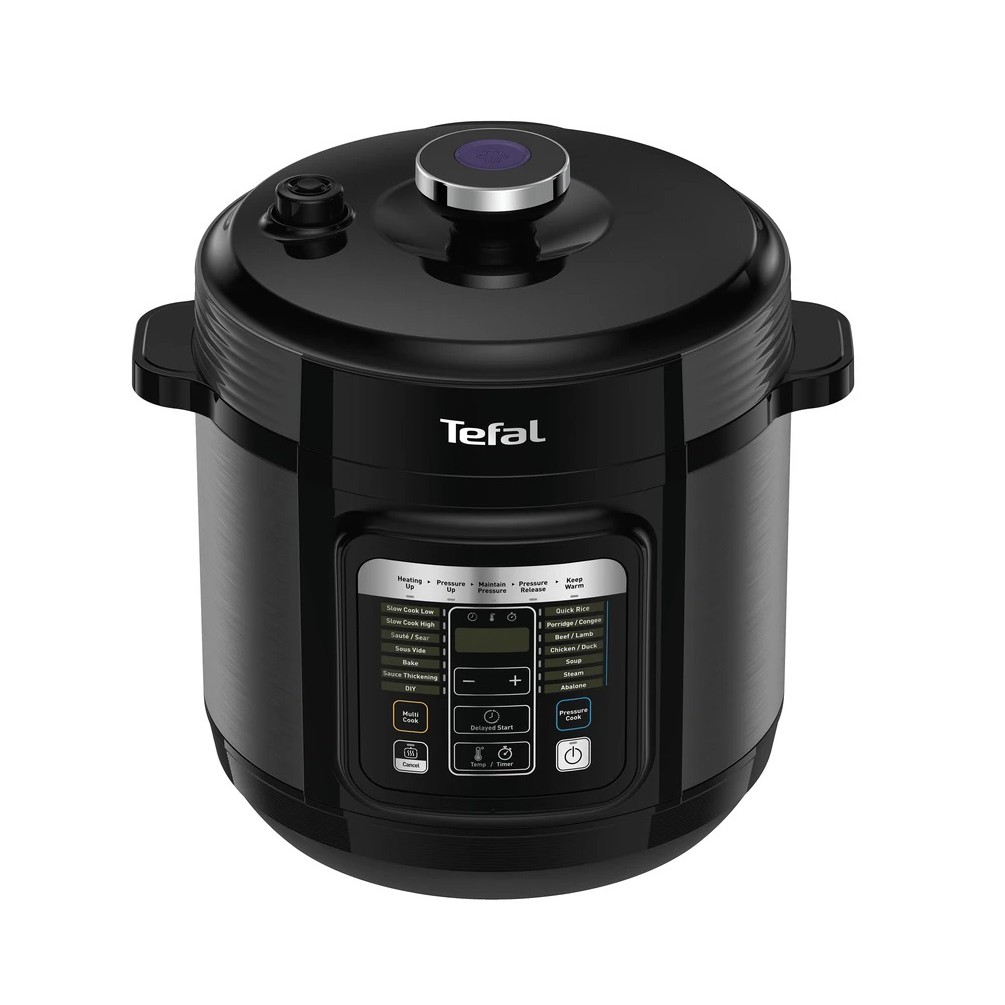 Tefal is a popular brand worldwide so you can never go wrong if you buy this one. Hailed as one of the top brands in 2019, this multi-function cooker lets you cook rice, soups, meats, seafood, and steam and stew. It is also lightweight and very affordable given its versatility.
Price: $139
Capacity: 6 liters
Features:
Cooks up to 80% faster
Fifteen pre-set programs and two special functions
Easy to use, easy to clean
Special recipes such as sous-vide, abalone and quick rice and special functions such as sauce thickening
Twelve safety features
Automatic keep-warm function and pre-set timer up to 24 hours
Where to buy: Shopee
6. Ninja Foodi OP300 3.7L Pressure Cooker
Buy the Ninja Foodi OP300 3.7L Pressure Cooker if you want to have a multi-function cooker and an air fryer in one. The air fryer craze has recently been getting the attention of cooking fanatics because air fryers can cook food very quickly, in just 8-20 minutes!
This Ninja Foodi cooker comes with two separate lids. The first one is for pressure cooking while the second one is for air frying. Do not worry about grilling, baking, roasting, steaming, slow cooking and frying because you can do all these and more with just this cooking machine.
Price: $499
Capacity: 6 liters pressure cooker; 3 liters air fryer
Features:
TenderCrisper™ – cook meals that are juicy on the inside and crispy on the outside
Frozen to crispy – In as fast as 20 minutes, defrost frozen meats to be cooked quickly
Reversible rack
Non-stick pan
Dishwasher safe
Where to buy: HarveyNorman | Ninja | Qoo10
7. Fissler Vitaquick Pressure Cooker
Stainless steel for durability? Check. Large capacity? Check. Looks elegant? Check.
If you need to cook for large groups most of the time, we recommend getting this 10-liter Fissler Vitaquick Pressure Cooker. It can be used on all kinds of stovetops, whether electric, gas, ceramic and induction cooker. It also comes with a removable handle and locking indicator for safer and efficient cooking.
Price: $864.77
Capacity: 10 liters
Features:
Removable handle: makes cleaning the pressure cooker even easier
Functional: it has an internal measuring scale for measuring liquid ingredients even without using a measuring cup
Locking Indicator: when the locking indicator light turns green and you hear a click, the pressure cooker is securely closed and ready to cook
Where to buy:
Amazon | Lazada | DesertCart
There you have it – our list of the best pressure cookers to buy in Singapore! Start cooking with ease and confidence with the pressure cookers we have recommended. Share your love for cooking with your loved ones and discover the recipes you've always wanted to try. No pressure!
Ron Rollorata
Ron loves travelling and watching sunsets. She also dabbles in travel photography, and wishes to see the aurora borealis someday.
Related posts
Subscribe for newsletter
* You will receive the latest news and updates on Singapore's best trends!