12 Best Prenatal Yoga Classes in Singapore [2022]
Emily Hopkins, 2 years ago
11 min

read
5178
When you get pregnant, your body will undergo many changes. You will experience great physical and hormonal changes. Prenatal yoga classes help you to mentally and physically prepare for the changes your body will undergo. Your abdominal, pelvic floor, lower back, and core muscles need to be stretched and strengthened during pregnancy.
With prenatal yoga classes, you get amazing results in your pregnancy and also after birth. Your body will be well-toned, common pregnancy mood swings and fatigue will be reduced, thus the whole labour process will be stress-free.
Yoga classes will also help you form relationships and share experiences with fellow pregnant mothers. Such friendships form a good support system that is important during the low moments of pregnancy.
Here are the best prenatal yoga classes in Singapore;
Beauty Mums & Babies is a one-stop maternity and baby wellness centre. We offer wellness services including Prenatal Massage, Home-Service Post Natal Massage, Jamu Massage, Prenatal yoga, Lactation Massage, Baby Massage, Child Tuina, Slimming & Contouring Treatments, Facial Works, & more. Our team of WSQ-certified professionals are specialised in both Traditional Chinese Medicine (TCM) and Javanese methods to provide a complete and holistic approach for the wellness of mothers and mothers-to-be in Singapore.
With a team of skilled and professional therapists, a mother and baby enjoy the best care. Most of the therapists are certified professionals specialized in offering Chinese medicine and Japanese therapy thus providing a holistic approach to the wellness of mothers in Singapore.
Beauty Mums and babies offer a variety of services which include, prenatal massage, jamu massage, home-service post-natal massage, child tuina, slimming, and contouring treatment.
Other service highlights include:
Offers prenatal and postnatal care.
Provide specialised clinic services.
A wide range of educational workshops to equip mums with necessary skills.
| | |
| --- | --- |
| Address | 290 Orchard Road Paragon Tower 1 Lobby F, #14-11/12, Singapore 238859 |
| Contact Details | +65 6235 0688 |
| Email | enquiry@beautymumsbabies.com |
| Working Hours | Mon-Fri 10am-8pm | Sat 10am-6pm | Closed on Sunday and PH. |
Bliss Shala is among the best yoga centres in Singapore, steered by Krisa Qiu, a specialized facilitator. At Bliss-Shala, yoga is used as therapy so that one heals from previous traumatic disorders and scenarios. Due to her expertise and great wealth in yoga, she is among the few certified prenatal facilitators. When pregnant women feel the need to have better mental and physical health, her classes are the first place people visit.
As a mother, you should always have a strong view and be concious about birth. This can be achieved through prenatal yoga. She advocates for constantly meditating to get great results during pregnancy. Through developing inner awareness in pregnancy, one grows tremendously.
The service highlights include:
Offers cost-friendly classes once you purchase in packages.
Small and individualized small yoga classes are available.
Classes touch on a large spectrum of yoga such as smell, sound, and also props.
| | |
| --- | --- |
| Address | Block 648, Ang Mo Kio Avenue 5, Singapore 560648 |
| Contact Details | +65 9061 2229 |
| Email | info@blissshala.com |
| Working Hours | Monday to Friday 10am to 8pm, Saturday and Sunday 10am to 4pm, prior booking required |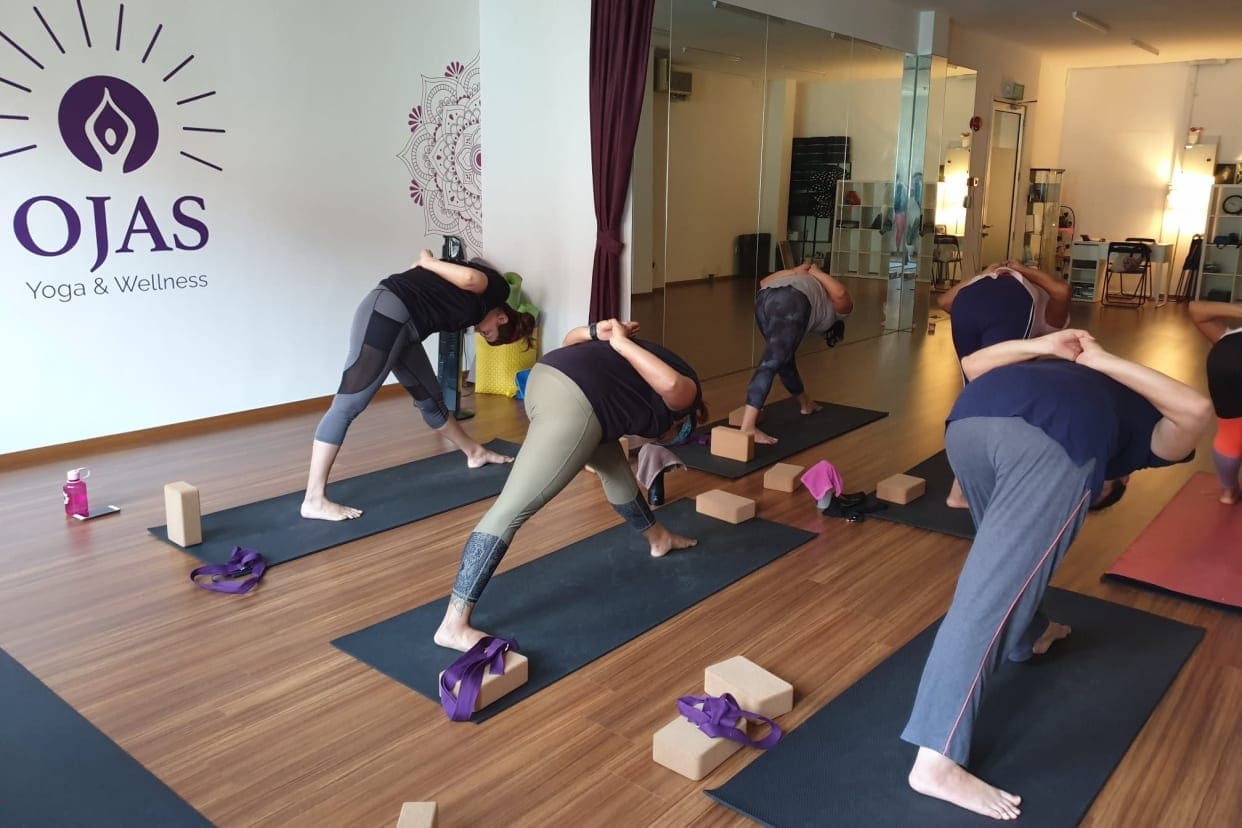 Ojas refers to important energy that the mind and body need from consuming good food as well as practicing yoga. At Ojas yoga, they aim at helping yoga enthusiasts lead a stress-free, enjoyable, and above all, a happy life.
With a team of well trained and passionate instructors, they believe that Yoga is important to all people. It promises to walk with you through the whole journey of achieving your health objectives. You will enjoy the immense support they offer you all the time.
Ojas yoga also offers the best yoga classes for those who wish to maintain and improve their health during pregnancy.
Other service highlights include:
Provides virtual yoga for those who need to practice yoga at home.
Offers group class packages.
Offers corporate wellness at affordable packages.
Private yoga classes are also available.
| | |
| --- | --- |
| Address | 359 Joo Chiat Road, Singapore – 427604 |
| Contact Details | +65 8191 2862 |
| Email | info@ojasyog.com |
| Opening Hours | Mon – Sat, 6AM – 8PM ( Closed on Sunday) |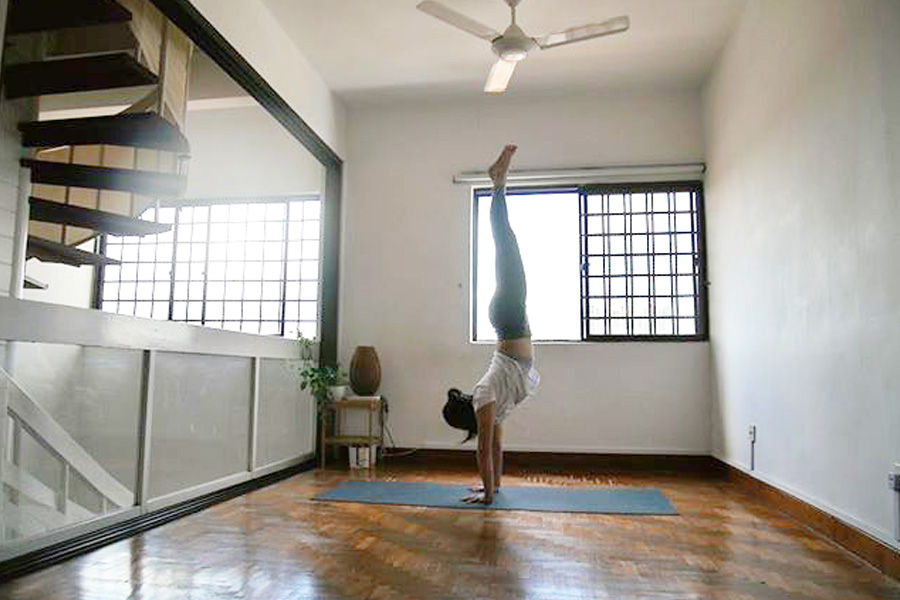 Yogakripa is a yoga brand that offers a variety of yoga classes. Classes begin from novice to skilled classes. Expectant mothers get the best yoga classes at yogakripa. You get supportive yoga instructors who will offer classes on both private lessons and studio lessons. With a deep understanding of yoga, instructors give simple instructions from anatomy, chiropractic, and anatomy classes.
Besides, Yogakripa promotes the view that yoga is instrumental in supporting your lifestyle and spirit. Your sessions at Yogakripa will offer you the best service that will be instrumental in guiding a composed and calm life. Lessons focus on pre-natal yoga which ensures expectant mothers and also young children are relaxed and calm.
Other service highlights include:
Customized yoga classes are available.
Classes incorporate dynamic and safe prenatal poses which are so empowering.
| | |
| --- | --- |
| Address | 587 Bukit Timah Road, Coronation Plaza, #04-03, Singapore 269707 |
| Contact Details | +65 9778 3336 |
| Email | kazu@yogakripa.com |
| Opening hours | Mon-Fri 9am-5pm | Sat 8.30am-4pm | Closed on Sunday |
Strategically located in the central and eastern side of Singapore, Yoga Lab offers the best yoga classes. They have a mission of ensuring that everyone enjoys and experiments with Yoga through the instructions of their experienced Yoga instructors. At Yoga Lab, all students are empowered to play with Yoga and challenge prospects that make them feel better.
Yoga Lab also conducts small classes for easier management. Besides, tutors offer simplified instructions that make yoga more enjoyable. Prenatal classes aim to equip pregnant women to be calm and ready for birth. The classes are tailored for women after the first trimester. Yoga is appropriate for ladies who can't engage in vigorous exercises.
Other service highlights include:
Excellent classes which are reasonably priced.
Offers a wide range of workshops for all level practitioners.
| | |
| --- | --- |
| Address | 135 East Coast Road, #03-01, Singapore 428820, 10 North Canal Road, #02-00, Singapore 048823, 27A Loewen Road, Singapore 248839, 27 Boon Tat Street, Level 2, Singapore 069623 |
| Contact Details | +65 8181 3476 |
| Email | yoga@labstudios.com |
| Working Hours | Differs for every outlet. Check out their schedule here. |
At Tirisula Yoga, you enjoy Yoga sessions that are tailored with nature and instructed most naturally. They have a mission of helping Yoga enthusiasts to experience the harmony of spirit and mind through Yoga classes. Their Yoga instructors have a deep understanding of Yoga hence offer quality lessons.
Trisula Yoga offers Yoga classes that are ideal for beginners who are pregnant. Their Yoga pranayama is a breathing exercise that trains your lungs to breathe well. Yoga pranayama improves your nervous system and helps improve important functions such as heart rate, blood pressure, and respiration. Expectant mothers will be more calm, relaxed, and thus enjoy healthy body functions.
Other service highlights include:
Trisula offers affordable packages.
Personalized classes are available.
| | |
| --- | --- |
| Address | 720 Geylang Road, TY@ Paya Lebar, #02-01, Singapore 389631, 50B Smith Street, Singapore 058958 |
| Contact Details | +65 6299 5181 |
| Email | info@tirisulayoga.com |
| Working Hours | Differs for every outlet. Check out their schedule here. |
Nawal Haddad Fitness is one of the Yoga fitness that stands out as a female yoga fitness studio. It celebrates women in achieving their fitness goals. Besides, the Yoga studio has been featured in newspapers for its outstanding work in making ladies enjoy yoga.
At Nawal Haddad Fitness, you can have package classes or pre-class reservations. The instructors are strong believers in the importance of Yoga for pregnant women. The yoga studio encourages pregnant women to participate in Yoga. You, therefore, enjoy the labor knowledge and comfort of how to handle pregnancy difficulties
Other service highlights include:
Enthusiastic instructors who make the classes fun.
Comprehensive prenatal yoga classes for women only which creates a great feminine atmosphere.
| | |
| --- | --- |
| Address | 116 Changi Road, WIS@Chan, #02-08, Singapore 419718 |
| Contact Details | +65 8606 7515 |
| Email | info@nawalhaddadfitness.com |
| Working hours | Thur, 7.30PM – 8.30PM | Sat, 12.30PM – 1.30PM | Closed on Mon, Wed, Friday & Sun |
At Como Shambhala, expectant ladies are guided on how to have emotional, physical, and also mental harmony. With a one hour thirty minutes' class, the sessions are tailored to help improve your spinal code alignment, build stamina and also tone on your reproductive muscles.
Classes begin from $40 for one session while unlimited monthly classes cost 4300
Other service highlights include:
Unlimited monthly offer packages are available.
Customized classes are available.
| | |
| --- | --- |
| Address | #06-01/02 Delfi Orchard, 402 Orchard Road, Singapore 238876 |
| Contact Details | +65 6304-3552 |
| Email | singapore@comoshambhala.com |
| Working Hours | Scheduled classes. Check out here. |
At ohmSantih Yoga, the classes are tailored to help you get accustomed to the changes that your body goes through during the pregnancy period. You enjoy easy exercises that give you minimal discomfort while preparing you for the smooth delivery.
The classes are 90 minutes long and include posture workouts, breathing exercises, and also relaxation exercises.
At OhmSantih Yoga, the breathing exercises have a calming effect which helps your body remain calm and additionally, regulate hormonal imbalances. It will also be beneficial in reducing and managing pain, thus helping you remain calm.
Other service highlights include:
It offers Yoga teacher training.
Customized classes according to abilities and ages are available
Besides, it offers highly instructive Yoga classes for kids.
Offers a wide variety of Yoga classes at an affordable price.
| | |
| --- | --- |
| Address | 219 JIn Kayu, #02-01 Singapore 799442 |
| Contact Details | +65 9040 8379 |
| Email | enquiries@ohmsantih.com |
| Working Hours | Scheduled classes and courses. Check out here. |
Yoga mala is ideal for prenatal yoga. It focuses on meditation and breathing techniques. You get to enjoy reflexive and thoughtful Yoga practices that promote both mental and physical wellness.
With a team of experienced Yoga instructors, you enjoy a variety of Yoga classes. Their traditional Yoga classes help offer relaxation and calmness as one prepares for birth.
Yoga Mala offers different kinds of exercise which include Hatha flow, traditional Hatha, pranayama, meditation, and also vinyasa. Expectant women will find small personalized classes easy to follow. In a cozy and home-like environment, Yoga becomes fun and also enjoyable to all.
Other service highlights include
It offers yoga teacher training services.
It offers corporate and private Yoga classes.
Integrates spiritual traditions to the context of a modern lifestyle in Yoga exercises.
Offers flexible membership plan.
| | |
| --- | --- |
| Address | 49 A, Circular Road, Singapore 049404 |
| Contact Details | +65 6803 5031 |
| Email | contact@yogamala.com.sg |
| Working Hours | Mon-Fri 11:30 am-9 pm, Sat: 10am-3pm, Sun: 10am-3pm |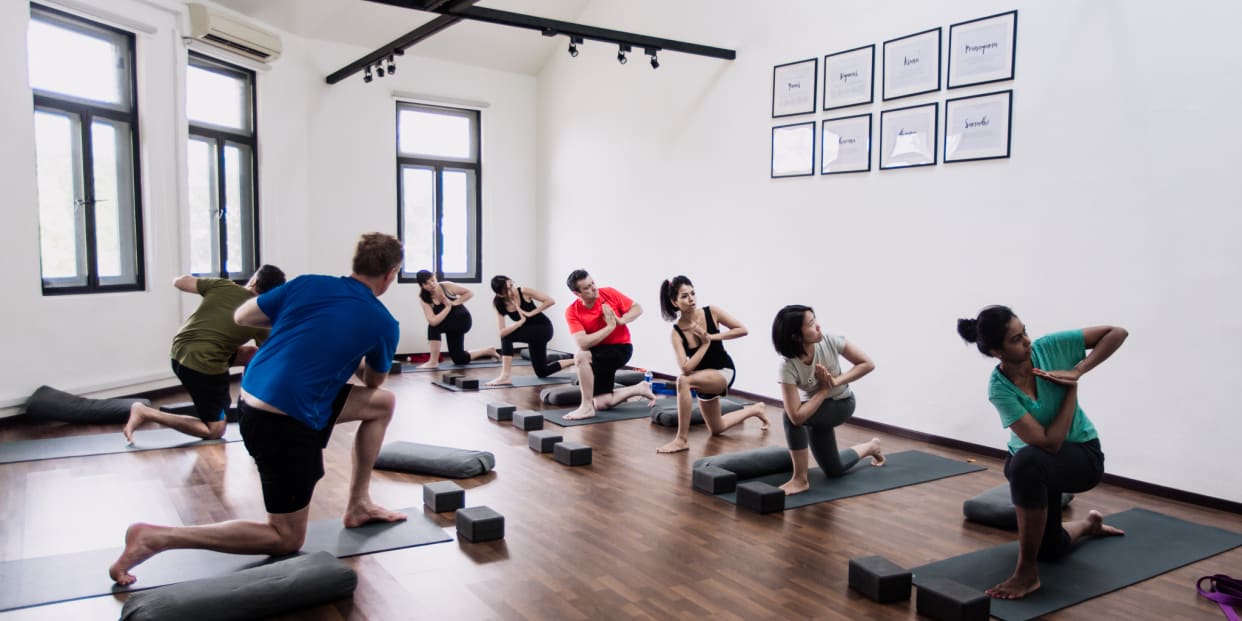 Art Yoga has been in business since 2013. It offers a wide range of Yoga classes such as Hatha Yoga, Vinvasa Flow, Ashtanga Yoga, and prenatal Yoga. The Yoga studio has a passion for helping individuals to understand themselves. Its prenatal Yoga classes help pregnant ladies develop relaxation skills and also breathe appropriately as they prepare for labour.
It has a strong community of students who meet to offer support as they discover their mind in addition to body connection. You enjoy how dedicated and passionate instructors help you enjoy your Yoga journey.
Other service highlights include:
Personalized care and attention are offered to each student.
Offers prenatal classes for couples to bond through yoga exercises.
| | |
| --- | --- |
| Address | 121 Upper East Coast Road, Singapore 455245 |
| Contact Details | +65 9863 9610 |
| Email | info@artofyoga.sg |
| Opening Hours | Differs for every class. Check out the schedule here. |
Becoming a mother is a life-changing experience but it can also be overwhelming at the beginning. Many changes take place in the body as well as the mind of a mother-to-be. With that said, we at Sweatbox Yoga understand the importance of preparing for childbirth and motherhood. This is why we offer Prenatal Yoga Classes dedicated to pregnant women.
Our prenatal classes are meant to prepare women for labour. It involves the execution of various poses accompanied by deep breathing techniques. The sequences are tailor-fit and safe for every trimester of pregnancy. Also, we have highly skilled yoga instructors that will lead expectant mothers to a practice that will strengthen their bodies and relax their minds. These classes will also allow the moms to connect with their little ones.
Giving birth is a very challenging moment that we want our soon-to-be mamas to be physically, mentally, and emotionally ready for.
Other service highlights include:
Prenatal and post-natal yoga classes
Prenatal yoga teacher training
Offers affordable packages.
Address
200 Turf Club Road #05-03/04, The Grandstand, 287994,
545 Orchard Road, #03-11, Singapore, 238882
32 Tras Street, Singapore, 078972
Contact Details
+65 6468 0836
Email
hi@sweatboxyoga.com.sg
Opening Hours
Scheduled classes. Check out here
The above Yoga classes in Singapore are the places to go for your prenatal yoga sessions. It does not matter whether you were active before pregnancy or not, prenatal Yoga helps you stay healthy and fit during pregnancy. Its low paced workouts have helped ladies remain fit since they can't practice other fast-paced exercises.
In many Yoga classes, you will have an instructor take you through the Yoga exercises. You will bond with other mothers and share valuable experiences. If you feel any discomfort, however, you need to see your doctor.
Emily Hopkins
I'm an accomplished and detail-driven content writer with copious experience in producing compelling, engaging and flawless content for a variety of blogs and websites for several years.
Related posts
Subscribe for newsletter
* You will receive the latest news and updates on Singapore's best trends!