15 Best Prawning Places in Singapore You Need To Go [2022]
Zoya, 2 years ago
15 min

read
8883
Feeling tired of the usual fishing? So why don't you get your hands on some real action? Singapore offers a vivid variety of choices, and prawning is one such activity that has evolved as an interesting and popular adventure way to pass the time among Singaporeans and foreigners alike. All that you need is a rod, a bait, a sprinkle of luck, and a tank full of patience.
Unlike their finned relatives, prawns propose unique yet exciting challenges so it's like shooting a fish in a barrel. And the biggest perk over other marine sports is that you don't need to search high and low for a sea full of opportunities. Singapore offers its natives and tourists a real-life prawning experience that can be found right in the heart of the city.
Now some places have a catch and let go policy but there are a plethora of places that give you a chance to grill your loot. We hope that you awake the fisherman deep inside you to hunt prawns down. Here is the list of the top amazing places that give the chance to test your fishing skills in the real field
It may have a location that is way-off the usual track and accessible only by car, but we believe that this only adds to the beauty of the prawning location. The picturesque environment makes the drive even more worthwhile. Being located farther off in Singapore, Irwana brings in a sense of solitude and peace for the people who would like to spend some time with themselves.
It is a perfect place for lone-wolves to satisfy their hunger for prawning, with an abundance of prawns and a lack of competition. Aquarium Irwana also provides family grilling services, which means you will get an exclusive grill to roast and enjoy your catch.
For $10.50 an hour this is an amazing deal, so when you're tired of the hustle and bustle of the city, just pack your bags, get your rods ready and enjoy some peace over at Irwana.
| | |
| --- | --- |
| Address | 70 Pasir Ris Farmway 3, Singapore 518234 |
| Contact | +65 8714 2313 |
| Timings | Monday to Sunday from 09:00 am to 06:00 pm |
This prawning facility works 24/7 to offer their customer a place to enjoy the simple pleasures of life while providing them with unadulterated relaxation. Situated next to Punggol Golf Course in the northeast of Singapore, the Riviera Prawning facility stays quiet during weekdays.
You can even purchase refreshments from their on-site store to satiate those pesky hunger cravings that may awake while you're busy catching prawn. And here's something that's a huge incentive for you guys. They often tag a few prawns and release them. If you manage to catch these tagged prawns, you can win $10. A good way to enjoy prawning indeed.
Their prices start at $18 for one hour, $28 for two, and $33 for 3 hours. So bring in your squad and take them on a challenge to catch those tagged prawns.
| | |
| --- | --- |
| Address | 60 Punggol East, Golf Club, #01-11, Singapore 828825 |
| Contact | +65 6886 4998 |
| Timings | Monday to Sunday, open 24×7 |
Longing for that trip to memory lane, then Paris Ris Town Park is the place that should be there on the list for prawning lovers. Claiming to provide the best fishing experience with the only fresh-water fishing pond in Singapore, Paris Ris Town Park makes a place in this list.
Thoughtfully decorated and with several huts, it takes you back to the older days with its feeling of serenity and it's like you're back in the past. With the vibe of the traditional era, Paris Ris Town Park is an ideal place to spend time with family and older family members so that they can relive their memories.
The size of this prawning facility ensures that there's space for everyone even during those busy weekends. The facility is divided into 2 ponds, namely the Pasir Ris Main Pond and the Pro Pond, where one is assured of a hefty bounty. You can catch fishes and prawns of the best quality over here.
Paris Ris Town Park has something for everyone, and that's because the park homes kid entertainment and games for the little ones to enjoy and gives elders a chance to enjoy themselves. Prices start at $52.50 for a session during the weekdays and $63.20 for weekends. Night fishing for weekdays and weekends cost $46 and $52.50.
| | |
| --- | --- |
| Address: | 90 Pasir Ris Central, Singapore |
| Timings: | +65 6583 9030 |
| Contact Details: | To check their timings, you can click here. |
Go big or go home right? Well, seems like Orto didn't just go big, they went huge. Being the biggest prawning site in Singapore, Orto is like a mini-prawning village. Don't believe us? They're the size of almost 7 football fields and have 10 ponds. That's huge.
Apart from the wow-factor, holding 10 ponds certainly gives them an upper hand. For prawning lovers, it's like a paradise filled with big-head prawns and yabbies.
Sounds awesome, doesn't it? They also provide longkang fishing, which brings us the experience of how our elders would pass the time. That's not all though, Orto doesn't stop at prawning. This behemoth also homes several adventurous sports like freshwater sport-fishing, futsal, paintball, a trampoline park, and drift karting.
Their entry fees may be on the slightly pricy side, but with all that they have to order, it's more than worth it. If you want to get the experience of a lifetime, Orto is the paradise to go with its gate open for its customers 24/7. Rates start at $20 for an hour, $30 for two, $36 for 3 hours, and $108 for 10 hours.
| | |
| --- | --- |
| Address | 81 Lorong Chencharu #01-01, Singapore 769198 |
| Contact | +65 6257 8858 |
| Timings | Monday to Sunday, open 24×7 |
A renowned name among the prawning enthusiasts, Hai Bin, follows the grand mantra of '˜The More You Prawn The More You Save'. With $20, it's just you, your skills, and those prawns waiting for you. And if you are one of the seasoned grandmasters, then the 10 hours session for just $100 is the perfect soulmate for the prawning master deep inside.
There's no shortage of prawns as they are continuously poured into the ponds and one can be sure to not go home empty-handed. The presence of Banyan Bar and Kitchen is only an additional boon. The wait for those prawns is made much more enjoyable and relaxing with a pint of their beer. After all, what's a better way to pass the time than to visit a prawning place and sip on some cold beer.
Over at Hai Bin, there are 4 big ponds including a Yabby prawn for the same entry price! A space of relaxation, catering to those with a passion for fishing! Get the thrill of catching something with your own hands while cooking your haul afterward with free BBQ pits. Feel free to come down anytime as its gates are open for customers for all ages 24/7!
| | |
| --- | --- |
| Address | Punggol, 6 Tebing Lane #01-04, S828835 |
| Contact | 6447 8693 |
| Timings | Monday to Sunday, open 24×7 |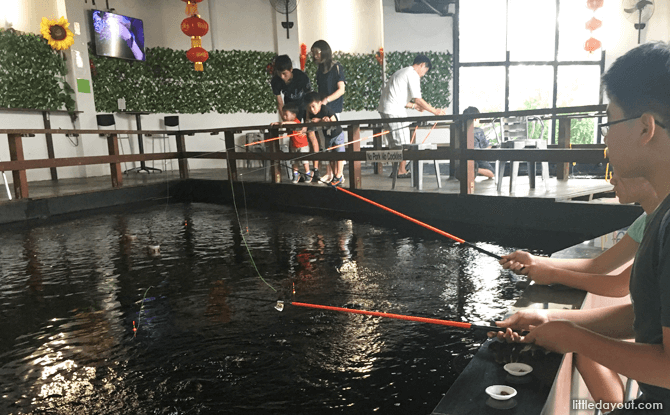 Who said that you need to sweat while prawning? Well, with Fun@Fish, one can enjoy the prawning sport without breaking a single drop of sweat. Yes, you heard us. Fun@Fish is one of the top names in providing an air-conditioned fishing facility, which gives its customers the enjoyment of premium sports with a relaxed and comforting approach.
The BBQ grillers give you the chance to roast those looted king prawns and lobsters and what's better than enjoying those delicacies with an all-time favourite glass of beer. The weekend soccer screenings organized in their beer garden is a perfect hangout place for your guys to hang out.
But that's not the only way to relax because they also have a 'Physio-Fish' session is there to scrap away that dead skin sitting around your feet and to make that glowing skin amazingly smooth. You're killing two birds with one stone, with getting beautiful skin and prawning. Prices start at $10 during weekdays. For weekends, prices start at $18 for one hour, $29 for two, and $35 for 3 hours. A steal during the weekdays.
| | |
| --- | --- |
| Address | 190 Ang Mo Kio Ave 8 Singapore 568046 |
| Contact | +65 8338 6530 |
| Timings | Every day from 9:00 am to 6:00 pm |
Although Punggol point was once well-known for its quiet and compact nature but is now a famous prawning place. Fishermen from all over the place visit this prawning and fishing hub once in a while to cast their rods and luck. The main reason for this once-secluded spot to become this famous is the close distance from basic amenities and the picturesque sceneries around.
With a playground, lookout decks, and various restaurants, there is something for every member of the family to do, they just have to pick their choice of fun. If not prawn, some of the exotic fish species that you can catch for your dinner are barramundi, grouper, rabbitfish, and sand whiting.
Suppose it's not your day and you don't catch even a single prawn, you can always cheer up your mood by hitting up the exotic restaurants near the boardwalk. That's exactly why no one returns from the Punggol Point Jetty empty-handed as it has something for everyone.
Address: Punggol Promenade Nature Walk, Punggol Rd End, Singapore
Located on the outskirts of the rustling Singapore, Changi Beach Park is known for the peaceful prawning session with oneself. This peaceful fishing paradise has four prominent fishing spots which ensure that everyone takes home a catch for themselves.
This beach park is home to some of the famous members of the fish family like the javelin grunter, goatee croaker, brown stingray, sickle fish, barramundi, and veined catfish which can very well satisfy those adventure cravings kicking in the gut. Of course, you can't forget about the exceptionally large prawns.
Next time, do spend your prawning session in the soothing and relaxing lap of this prawning paradise. You also get the chance to admire the beach.
Address: Nicoll Dr, Singapore, 498991
If you want to feel the adrenaline rush pumping through your veins and want to do some outdoor activities, but are worried about the sweltering Singapore heat, then why not try the prawning at Fish@Bugis+.
This novel prawning and fishing hub comes with a bar, a fish spa, and longkang fishing for the kids, and various other services. To make prawning more exciting, they mark their prawns with different colours for their clients. Each colour has a different incentive and each prize is exciting and majestic.
Fish@Bugis+ gives its customers a taste of experiencing prawning in a luxurious way. Another perk that the facility has is the in-house restaurant with some of the mouth-watering delicacies.
| | |
| --- | --- |
| Address | 201 Victoria Street, #07-05, Bugis+Singapore |
| Contact | +65 8338 6530 |
| Timings | Every day from 9:00 am to 6:00 pm |
Being the longest jetty in Singapore and along with the support of Woodlands Causeway as a barrier, the Woodlands Waterfront Park is among some of the most prominent prawning spots in Singapore.
The barrier provides the park with the calm and still flow of water, without any currents thus providing the best possible conditions for prawning. The place is not only popular for its prawns but also for the whooping 6kgs barracuda. This can be one of the star attractions for your fishing and prawning portfolio.
But good things take time, but you don't need to worry about their numerous well-furnished public seats. So just take your rod, bait, and gear and drop to the prawning hub to hunt down those prawns.
Address: You can take the bus service 856 from Yishun Interchange or Woodlands Interchange
If you're on the look-out for a good challenge then you're gonna love this one. It may be located at another secluded spot, but this only adds to its quiet environment. You'll love the fresh air, and super clear water through which you can easily spot those prawns. Now, catching them is the tricky part.
There are plenty of ponds in their ponds, and you have a high chance of getting some fresh prawn. The chances of catching those small and medium prawns are higher, while you need to be wary of the big ones. They might catch you off-guard after all!
Apart from prawning, you also have the option of feeding the koi. You can feed them by hand using hand-fed milk bottles. This is very different from just throwing the feed into the water, as there is an element of touch involved. For $20 per hour, and $36 for 3, you can choose this place for team-building purposes.
| | |
| --- | --- |
| Address | 10 Neo Tiew Lane 2, Singapore 718813 |
| Contact | +65 9125 2088 |
| Timings | Monday to Sunday, open 24×7 |
The western side of Singapore has plenty of places to visit like the Jurang Bird Park, and the Science Centre but did you know that there's an amazing place there as well? The area behind Jurang Hill boasts of a place which is famous and really good for prawn fishing. That's ATC Fishing Village, and people come here regularly to cast their lines just to catch prawns.
Join others in the quest of catching the biggest prawn, and flex your win while barbequing it on the grill. You're sure to leave more than a few jealous. Just sit back and relax with your friends, and family while you await your win!
For $12.50 per hour with the tagged prawn reward system in which you have a chance to win $2, $5, $10 or one free hour of prawning, based on the colour of the tag attached on the prawn. So when you are tired of your daily routine and want to spend some quality time with your friend and family you can always come to the ATC fishing village.
| | |
| --- | --- |
| Address | 241 Jln. Ahmad Ibrahim, Singapore 629143 |
| Contact | +65 6265 8268 |
| Timing | Monday to Sunday, open 24×7 |
Looking for a place where u can pick up the fishes at the same time you are prawning then D'lifestyle Corner is one of the best places you can visit. Located in Paris Ris Town Park, this facility is pretty big so even if it gets crowded at weekends you can easily find a spot for you and your friends and family.
This place if thoughtfully decorated along with several huts which make it one of the bests to visit with your family and friends. With the fishing facility provided here, if you are keener to fishing you can pick it up while your friends enjoy the prawning.
With $18 per hour and $54 per 4 hours for prawning, and $25 per hour and $75 per 4 hours for fishing D'lifestyle Corner is a great site to catch prawns, train your skills and bond together with family and friends.
| | |
| --- | --- |
| Address | PasirRis, Singapore |
| Contact | +65 6584 8620 |
| Timing | Monday to Sunday, open 24×7 |
One of the new kids on the block, Ammel Prawning is full of potential and guarantees a great time! Their ambience is super friendly, and they offer free drinks with every hour of prawning purchase. If that doesn't set them apart from the rest, we don't know what will. Choose from plenty of options like their 3-in-1 coffee, tea, or milo that you can sip on while catching prawns, or you might like to grab a chilled bottle of water.
With promotion events like the tagged prawns, and big freshwater prawns competition this place turns out to be one of the best prawning sites to enjoy and relax out from your daily busy schedule. The cost ranges from $18 per hour, and $36 for two, and you also get an hour free. along with free drinks with each hour you purchase.
| | |
| --- | --- |
| Address | No.11 Northshore drive Marina country club, Singapore 828670 |
| Contact | +65 8687 0048 |
| Timing | Monday to Sunday from 10:00 am to 07:00 am |
Prawning enthusiasts and those who want to improve their skills will love this spot. And even those who adore grilled prawns, because you can prepare your own freshly caught prawns on-site without additional charges. Based on self-service, this place is growing popular by the day. They even offer free wi-fi so you can explore new recipes online as well!
If you come along with children, you can send them to enjoy longkang fishing while you kick back and enjoy prawning. Besides all this, there's even a fish-spa and a fish-feeding pond. A great way to spend some time with the family. This place is going to cost you around $15 for an hour, and $30 for three. The longkang fishing costs around $12 per hour.
Address
60 PasirRis Drive 3, Singapore 519497
Contact
+65 8522 2915
Timing
Monday to Thursday from 11:00 am to 03:00 am
Friday and Saturday from 12:00 pm to 12:00 am
Sunday from 04:00 pm to 04:00 am
That ends our list for the best prawning places in Singapore. If you're in the mood to catch some prawns, but can't, We suggest checking out our list of the best halal food deliveries in Singapore. Most of them sell the most delicious prawn to help you wait till you can finally go prawning.
Zoya
Queen of Obscure References and occasional writer. When not exercising my thumbs on Instagram, you can find me looking for good author bios on Google.
Related posts
Subscribe for newsletter
* You will receive the latest news and updates on Singapore's best trends!